And he's here!*
As I mentioned a while back, I had enough Apple Cash saved that I could afford to get a new MacBook Pro M1 MAX laptop (with trade-in). When my base-model iMac with an M1 chip can run circles around my Intel chip laptop, it's a performance gain that I simply cannot ignore. I use my laptop for serious work far too often, and time/speed equals money.
Which is to say he's money and he's pretty...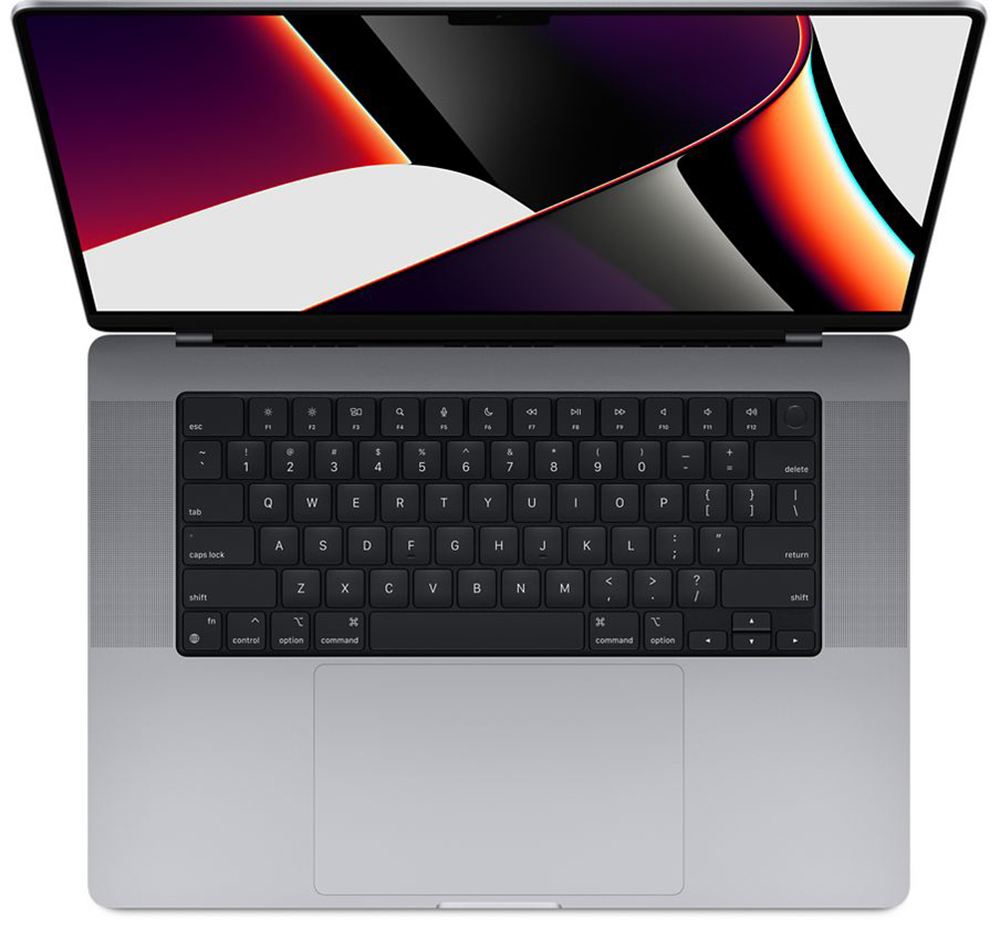 And let me tell you... this thing is a frickin' beast. Not just for M1-optimized apps, but for all apps... even old apps running under emulation. Which is not surprising. The GeekBench score for my old laptop was 1010/5293. The GeekBench for my new laptop? 1764/12380. That's 75% faster for single-core processes and a whopping 134% faster for multi-core processes. But those are just numbers. The more important metric is that my new MacBook Pro feels faster.
Like, a lot a lot faster.**
And now, because I'm sure you're dying to know my thoughts, here we go...
DESIGN
The look of the laptop is gorgeous... but different that what we've come to expect from Apple in recent years. It's actually looks a bit retro to me because it reminds me of my beloved Titanium PowerBook G4 (which was way ahead of its time)...

2021 new hotness on the left, 2001 retro goodness on the right
Instead of tapering to the edges, the new model is flat all the way out. And while it isn't much bigger than my old 16-inch model, the flatter stylings makes it look a little more "chunky" by comparison. Given my love of the TiBook, I don't hate it at all. I am using this laptop to work, so if the trade-off for ditching a curvy chassis is more battery life and a more powerful machine? WHO GIVES A SHIT?! Yeah, it's a more utilitarian look, but that's the hit for what a pro machine should be. If I want thin and curvy at the expense of performance, I'll buy a MacBook Air. Apple has gotten this wrong for far too long. But whereas the look is fine... the extra weight takes some getting used to. It's not just a hair heavier than my old one, it's noticeably heavier (by nearly a half-pound). But, again, I'll gladly take the extra weight if it means I am getting pro performance and great battery life. 100% worth it. Apple also made the Apple logo bigger on the lid, which is just pure cool points. As you can see in the above photo, it's back to the size it used to be. Note that the name "MacBook Pro" is nowhere to be found on the display bezel like it used to be... it's emboss-stamped on the bottom. Also impossibly cool.
DISPLAY
The "Super-Retina" display on my 2019-era laptop was very nice. I have zero complaints. Vivid, bright, accurate... it's everything I could want. Until I saw the new one. The deep blacks and clean highlights creates a stunning contrast that makes stuff look amazing. The color is full-HDR-native, which means I can edit in HDR colorspace right on the laptop, something that I could only do with a special external monitor before. This thing is gorgeous. It makes my old display look positively dim by comparison. So bright. So rich. So responsive. And that responsiveness is due to the 120hz adaptive display rate which makes things buttery-smooth when scrolling or dragging. I honestly didn't think I would notice it that much, but now I have a tough time going back to a 60hz display. It just feels wrong. The small bezels on the side of the display are great because they maximize your real estate. The rounded corners at the top (which don't eat into the screen because it's in the menu bar) look classy as hell. An interesting aside... the native resolution of the display is so dense that it feels easier to "read" than my old one despite elements being slightly smaller. Things that could get a little fuzzy on my 2019 model are razor sharp now. That's pleasing to my aging eyes. Putting all the other benefits aside, the display alone makes me happy that I upgraded.
THE NOTCH & CAMERA
First of all... whatever. If you really hate the notch you have an option in the Get Info box to force apps to put the menu bar under the notch. Doing so just gives me the same screen ratio I had previously (the space around the notch is actually extra space you can use... it doesn't take away from anything) so no harm no foul. I got an app called De-Notch-ifier that camouflages the notch by turning the menu bar black (since the display has such deep blacks this makes the notch become invisible). But while I am not bothered by the notch, I actually do have a beef: no FaceID is included. WHAT THE FUCK, APPLE?!? You have it on your frickin' iPhones, and the MacBook Pro is bigger than that by a country mile. So why the hell did you leave it out? TouchID to unlock is fine, but just using my face like my phone does would have sure been nice. I can only guess that Apple is saving this so they have a "new feature" to sell future generations, but this is not a new feature. It's been on my iPhone for years. Literally. At least we finally get a 1080p camera for video conferencing. It's damn embarrassing that it took Apple this fucking long to upgrade from 720p. All is not golden, however. With the camera on the iPad Pro, Apple has a "Center Stage" technology that can zoom and follow you as you move through the camera's field of view. This allows you to get up and move around while video chatting. Nice! The MacBook Pro doesn't offer this, however, and I don't understand why. This is your premiere laptop and it is less well-equipped than a frickin' iPad? Are you kidding me? Ultimately, the fact that the only thing actually in the notch is a camera is kinda stupid. If that's all that's going to be there... then just punch a camera hole in the top of the screen. Why notch at all?
SOUND & MICROPHONE
At the keynote where the new MacBook Pros were introduced, Apple went on and on about how much better the new laptop sounded due to the new speaker tech they had put into it. My comment was something like "Nice, but they're still laptop speakers, so I'm not expecting the moon here." But then... Apple actually gave me the moon. This thing sounds incredible. Especially the "spatial audio" that attempts to trick your ears into thinking that sounds are playing around you. It's very impressive. Bass response is surprisingly good... not just for a laptop, but for a computer of any kind, really. No, my MacBook Pro not going to replace my SONOS home theater setup, but it does have me thinking that I won't be so quick to reach for my Beats Pro headphones. If I have a criticism, it's that the highlights are not so bright... a little fuzzy... but it's not a deal-breaking by any means. When it comes to the microphone, Apple claims that the new "Studio Quality Three-Mic Array" is vastly superior, but people I Zoom Chat with say that they can't really tell a huge improvement when I bounced between my old and new MacBook Pros.
KEYBOARD
I'm not sure about the black background for the keyboard. It looks very cool, but dust shows up easier and the keys are a little hard to pick out, even with back-lighting turns on. Fortunately I am a touch-typist and don't need to look at the keys in order to type, but on those occasions when I do have to hunt-and-peck, it's not quite as easy as it used to be. AND MAY I PLEASE GET AN AMEN THAT THE STUPID FUCKING TOUCHBAR IS GONE?!? I was ambivalent about the thing when it was introduced... until my TouchBar MacBook arrived and I was forced to deal with its bullshit. Since the layout of the controls on TouchBar is fluid, you can't just memorize where the volume buttons are... you have to stop what you're doing, angle the keyboard towards you, look down at what's where, adjust the volume slider, then put the laptop back to where it was so you can look back up to the display and keep working. How THE FUCK Apple ever thought this productivity-killing crap was a "feature" is beyond me. It's one of those things that sounds cool until you actually experience it. I thought I might use the TouchBar all the time because it could morph into applicable controls. But I used it only when forced because it was just so shitty to deal with. The actual typing "feel" is almost identical to my old MacBook Pro. A good laptop keyboard. Unlike that shitty fucking "butterfly keyboard" that Apple insanely stuck us with for FIVE YEARS. I still get infuriated by that idiocy.
BATTERY
Stunning battery life. Stunning! For much of the time I just kept my old laptop plugged in so that I'd have enough power to get through a long work day. But now? Not even necessary. It may be a different story if I'm cranking out complex renders all day, but for now I only plug it in overnight. I think of how awesome this would have been pre-pandemic when battery life on the road was always a concern and my mind boggles. This is probably the one thing that shocks me more than any other. A pro machine that does pro work on a battery??! No need to plug in so you can get the fastest performance. You have the option to initiate "low power mode" (saves battery) and "high performance mode" (runs the fans more often) but I just set it to "automatic" and let the MacBook figure it out. Performance doesn't seem to suffer compared to when I have it plugged in and set on "high performance." Interesting to note... the battery is reported to be fairly easy to remove, WHICH MEANS YOU CAN REPLACE THE FUCKING THING ON YOUR OWN (assuming you're not squeamish about that kind of thing). That's a pretty huge change, because Apple is fond of gluing every damn thing together.
MAGSAFE 3
When Apple introduced their magnetic-attaching power cable (dubbed "MagSafe") they basically said that the old click-plug-style power cables were stupid. And they were right. Which makes it surprising that Apple would reverse direction and get rid of MagSafe on their MacBooks. They made their laptops stupid... by their own metric! I was furious. Well, it's back. You can still charge via USB-C if that's all you got (cool!) but I'm thrilled that I don't have to. Needless to say, the new standard "MagSafe 3" is not compatible with MagSafe 1 or MagSafe 2. That's understandable given how much more power is getting shoved at the newer machines (the only way to "fast charge" my new laptop is to use MagSafe... it's not available over USB-C). BUT I HAVE A BEEF! To buy a new MagSafe 3 cable so I can use it with my old USB-C chargers costs FORTY-NINE DOLLARS!!! WTF?!? Is it made with diamonds in the cord wrap? Guess my "couch charger" and my "travel charger" will just continue to use USB-C cables. That's frustrating. That cable should be $20 TOPS. This is a rip-off cash-grab of the most egregious kind (and ripe for third party manufacturers to step in and make affordable). But, hey, at least you can replace it. Apple's old pre-USB-C chargers were shitty because if the cable ever became damaged you have to buy an all new brick. AND SPEAKING OF THE BRICK... in every MacBook I've ever purchased, the brick had an extension cord and a plug that you could swap out for the cord to save on space in your bag. I never used the plug. I always used the extension cord because the plug comes out of the wall too easy and the extra cord length is handy for hotel rooms with limited outlets. This new MacBook Pro? No cord. You only get the plug. This is pretty crappy... and Apple knows this because they will sell you the cord for an additional $19. Fortunately I have a half-dozen cords from my old power bricks, so I'm covered. But, damn. This is a computer costing thousands of dollars! They can't toss in a cord that costs maybe $2 to manufacture? That's a weird omission.
WI-FI
Like my iPhone and iMac before it, this new laptop has Wi-Fi 6, which can be over twice as fast as the older Wi-Fi 5 standard. This works nicely with my Wi-Fi 6 router, giving me the highest speed currently possible. And, believe me, I notice. Especially when it comes to accessing my local network storage. There have been times that I've actually trudged upstairs to use my 24-inch iMac just because transferring files to my SSD drive is so much faster. No more of that, so thanks, Apple.
PORTS
My old laptop came with four USB-C ports and a headphone jack. That's it. I had to run out and buy dongles to be able to read an SD card or hook up to a projector. This time around I got three USB-C ports, an HDMI port, and an SD card reader. The only way this could have been made more perfect would be if they also had a USB-A port, but I guess you can't have everything. It's puzzling that Apple is using older standards though. HDMI is at 2.1, but the MacBook Pro has 2.0. So no future-proofing there. But it's the fact that you only get UHS-II in your SD card slot that's really puzzling, since UHS-III is standard now (and the newer EXPRESS standard is showing up everywhere). This is really unforgivable, and I have no clue what the reason could be. When it comes to the ports, the headphone jack is the only thing ahead of the curve because it's said to support high-impedance headphones that pro audio mixers use. As for me? I'm just happy there's still a headphone jack at all. I like my AirPods and wireless Beats Pro, but I still have a couple pair of really nice headphones that are corded. Good to know I can still use them if I need to.
FEET & AIR-FLOW
I ordered my MacBook Pro before the review embargo was lifted, so I haven't seen a lot of reactions to it. But the reactions I have seen (or read) mention the feet. They are bigger to allow for a bit more air-flow when sitting flat on a table, but it's not as big a deal as some people seem to be making out it. I don't even notice. And speaking of air-flow... Apple has made some changes to the case in order to open things up and allow the motherboard to vent more hot air more easily. There's slots on the sides just like before... but there's more, deeper slots at the hinge. Apple really wants the fans to run as little as possible. And I'm like "Hey, whatever you gotta do..." because I don't like fan noise. Except the fans aren't quite as bad this time around. And speaking of...
FANS
My 2019 MacBook Pro would kick the fans into high gear whenever a 3-D render was processing. It was annoying, but not overwhelmingly so once I got accustomed to it. But still... distracting. The M1 MAX chip uses less power and runs cooler, so the fans don't turn on unless I'm really cranking through a heavy render. Even then, they are fairly quiet and unobtrusive (and don't turn on for very long). It's as if my new laptop is bored performing the intensive tasks that I give it, and doesn't stress about it. On one hand that's a little insulting to the HUGELY IMPORTANT WORK I DO... but on the other hand, how nice is THAT?!?
HEAT
It will come as no surprise that the M1 MacBook Pro runs considerably cooler than my old Intel MacBook Pro. Even doing minimal work would make the laptop uncomfortably hot sitting on my bare legs. But now? Not a problem. It does get hotter as I do more intense work (like renders), but even then it's not blistering.
PRICE
Look, these are not Macs for the casual user who mostly writes Word documents, watches an occasional movie, checks their emails, and surfs the web. These users will be better served by a much more economical MacBook Air or an iPad. No, these machines are built for power users whose time is money and being able to do more in less time has a tangible monetary benefit. That's precisely me. I am spending money to save money. Or, at the very least, be able to work faster so I don't have to work as many hours. That would sure be nice. All those minutes of waiting around being unproductive add up. I have the M1 MAX 10-Core CPU, 32-Core GPU, with 32GB of Unified Memory and 1TB of SSD Storage which is $3,500. Subtracting my $1,210 trade-in, that's still a whopping $2,290... plus $400 AppleCare plus $223.10 tax... equals $2,913.10. Yikes. But... worth every penny for what I do. Worth more than that to me. People have dunked on "the Apple tax" for years because their stuff is more expensive than non-Apple stuff. But you get what you pay for, and Apple has always delivered value for the money. At least to me. With the 2021 MacBook Pro, this is even more true than usual.
CONCLUSION
In the end, this is a pro laptop that actually feels like it was made for professionals. That hasn't happened in a long, long time (and fuck you, Apple, for shitting on your pro users like that for so long). I don't know if it's because Apple engineers actually listened to what their pro customers were telling them this time around... or whether the Apple engineers were forced to use their shitty "pro" laptops and got so tired of them that they listened to themselves. Whatever the case, I'm very happy to be working on a MacBook Pro that lives up to its name. Powerful, lightning-fast, and possessing the features that professional users need, it's worth the jaw-dropping price tag.
And speaking of that...
When I bought this machine, I lamented that I couldn't get 64MB of memory and instead ordered 32MB because I couldn't afford the $400 price tag (so close to my dream machine!). But now that I've been using it, I have to say that the 64GB isn't really needed for what I'm using this machine for. It's unified (shared) memory, so there's no duplication between the CPU and GPU which helps you do more with less. Also? The MAX chip has super-fast access to the SSD storage, which means virtual memory swaps are very fast.
Ultimately this entire machine is overkill. The new M1 architecture is so good that I could have saved myself more money by skipping the M1 MAX and getting the mid-tier M1 PRO, which would have saved me another $800. The 16MB of memory would be tight when I'm working on larger files, but even without the larger MAX SSD pipe, virtual memory is pretty speedy. Oh well. Live and learn. That's five months of payments I could have avoided, but I know that I will get enough use out of the extra resources to make it worthwhile.
At least that's what I'll be telling myself as I live off of peanut butter and ramen for the last four months of 2022.
AND THAT'S A WRAP!
I'm guessing there will be more to follow as I live with the machine longer. I am especially looking forward to seeing what happens with video editing, something I don't do a lot... but steals huge chunks of time from my life when I am doing it. The M1 Pro chips have support for ProRes video built into the hardware, so I'm sure Final Cut Pro going to be darn impressive.

---

*Yes, yes... I know that things like cars, boats, and computers are usually female. But I'm studying Russian at the moment and "компьютер" (computer) is a "male" word, so it's a "he" to me. That way I'm conjugating him correctly in my head (because Good Lord is Russian conjugation a frickin' nightmare!). Hopefully those who are deeply offended can deal.

** REGARDING SPEED: Simple things like navigating the Finder are instantaneous. Complex things happen at a noticeably faster clip than with my old MacBook Pro. The most processor-intensive stuff I do is 3D rendering and, while I haven't timed anything yet, I'm not sitting around tapping my fingers any more. With my old laptop I could go to the kitchen, grab a Coke Zero and a bag of Lay's, then go back to the living room and still be waiting for a big render to finish. Now those same renders are complete by the time I've set the laptop down and managed to get my ass off of the couch. Which is to say I can do more work in less time. My cycle of render-tweak-render-tweak-render is a productivity void that has been drastically reduced.
But the rendering package I use (Blender) is (mostly) M1-optimized. What about old Intel apps? Those have to be run via emulation (which Apple is calling Rosetta 2). Surprisingly, most of my most recently used apps (including most Adobe apps like Photoshop and Illustrator) are M1-optimized already. The most intensive Intel app I use is Home Designer Pro, which is a 3D home-building and visualization tool. It's what I use to design all the locations for the comic book I've been working on. And by "use" I actually mean "abuse" because I am using this software in ways it was never designed to be used. I don't just design a home... I design a frickin' estate with two massive homes and a hotel, all in the same scene, all of which have been fully furnished! I've even used it to design space ship interiors because it's just so wonderfully flexible. But anyway, the true test of my M1 MAX MacBook Pro is viewing 3D renders in real-time from Home Designer Pro and, to the shock of nobody, the M1 ship handles it like a champ. When Chief Architect (the company behind the app) optimizes Home Designer Pro for Apple silicon, it's going to be an entirely new ballgame for me. But don't worry... I'll just find new ways to abuse it!