Honestly, I have tried to work the word "hate" out of my vocabulary. Because I have seen where it leads. So I endeavor to not hate anybody, anyplace, or anything.
And sometimes end up failing miserably.
Like with AT&T.
After being forced into a new plan so I could have access to 5G data, my bills were never right. The amount I verified I was to pay never ended up being on my bill. So I would call AT&T... they would see I was correct... then fix it. Until the next month. All in all it took them SEVEN FUCKING MONTHS to get it straightened out. At which time I was done. I was more than done. I wanted nothing to do with this shitty company that can't figure out how to bill people the amount they promise. So I switched to T-Mobile. Called AT&T and canceled my plan on April 24th. Called for my pay-off amount on May 5th (that's the day after my billing cycle). Provided my credit card. Paid my canceled account off. Then verified that the transaction went through on my bank statement (which it did on May 7th). Fourteen years as a loyal AT&ampT customer down in flames because they can't figure out a fucking billing statement.
But at least I'm done, right?
NOPE! Nope de nope nope nope.
Because today I received a balance overdue notice. On a canceled account. That I paid in full. To an AT&T representative. Over the phone. Not some random amount I pulled out of my ass... the amount I was told I owe to close out my account.
So I called the fuckers to tell them that I don't owe them a damn thing.
It didn't go as well as you would expect. Even though it's obvious to anybody with a fucking brain in their head that they made a mistake. My bill is always $152 to $157 a month. With the exception of November-December where my brother and I bought new iPhones and had to pay bullshit activation fees even though AT&T doesn't do a fucking thing because it's all automated...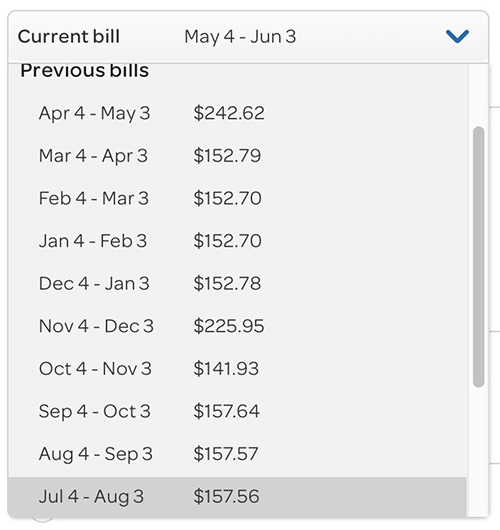 But I digress.
For no reason at all, AT&T decided my final bill was NOT the amount on my closed account that the representative gave me and took my credit card for... I owe them $89.83 more. Even though I was out of contract and there were no cancelation fees or anything. But nobody could explain WHY I owed this additional money. Nor could they explain how my bill jumped extra money AFTER I HAD PAID IT. Nor did they find it strange even though I was on auto-pay until my last bill, so they automatically took the amount out of my checking account. Nope. They just wanted the money. And, depending on whom I talked to, it was either old money owed on my wireless account, old money owed on my Direct TV account (that I canceled three years ago), or just money I owed period and I should shut up and pay it.
After being transferred to FIVE DIFFERENT PEOPLE IN FIVE DIFFERENT DEPARTMENTS OVER TWO HOURS, I finally told the last guy that I wasn't paying them a fucking thing because I don't just throw money away when I don't owe it. They weren't hearing me, so I screamed "EITHER ZERO MY ACCOUNT OR TAKE ME TO COURT BECAUSE I DON'T OWE YOU THIS MONEY AND I'M NOT PAYING IT! WHICH WILL IT BE? So they turned me over to collections, which offered the same party line. After TWO AND A HALF LITERAL HOURS and I'm not making that up because my phone keeps track...
...I decided I'd just try the online chat. Which has mostly been useless, so I stopped using it...
Six minutes later... while I was still on hold with the fucking collections department... Josie, bless her heart, saw that it WAS strange my bill jumped $89.83 for no reason with no explanation, then got a supervisor to zero out the account.
Jesus Christ.
So this is how people become homicidal maniacs.
If nothing else, this only confirms that my absolute hatred of AT&T is entirely justified and I'm more relieved than ever I got the fuck out of that shitty company who doesn't know WHAT the fuck they are doing and doesn't have a billing system that's worth a damn.
Until next month when I'm assuming I'll get a new bill for a canceled account.