This biggest news to come out of this past week? I made a major discovery about Jenny, and I have no idea how I failed to realize it before now.
As I've mentioned a couple times, there are nights that Jenny refuses to eat her wet food. It's the same stuff she always gets... mixed with water and mooshed up so she can lick it up... and yet she is 100% uninterested. It drives me crazy, because it's NOT because she's not hungry. That cat is always hungry. So why? Why does she take one sniff and walk away until the dry food is dispensed? Why?
I'll tell you why... odds are I cooked with yellow onions.
There I was having just cooked the filling for some bean and onion flautas. The Alexa alarm rings for dinner time and Jake and Jenny are incredibly excited about it because I'm already in the kitchen. So I dish up the food, mix Jenny's up, microwave for 6 seconds to take the chill off, then set it down. Jake starts wolfing it down immediately. Jenny walks away.
The next evening she's back to normal and laps it right up.
The evening after I am frying up the rest of the onion to use in a tomato sauce. The Alexa alarm rings. I put the food out. And... nothing.
It was as if a light switch turned on in my head.
So I tested my theory three nights later... and yep, there it is. Onion stank is the reason. Apparently if the house has that smell in it she can't smell the wet food enough to think it's "safe to eat" and takes a big ol' pass.
And so I guess any time I am cooking onions I need to start after the cats have been fed and make a late dinner of it. Problem solved.
In other food-related news... last night I had baked potatoes for dinner. Right after taking them out of the oven and getting them dresssed up for consumption, Jake was all over me. He followed me from the kitchen into the living room and stared at me the entire time I was eating...
Look at those owl ears!
I tried multiple times to explain that this was my dinner and he had finished his dinner just ten minutes ago, but he was having none of it.
And in other Jake news... When I came home earlier this week, he didn't come running to the door to meet me like he usually does. When this happens it's 95% likely that the heat is running. And if the heat is running, he climbs the cat tree so it will blow down on him. He loves that. So I take a look and, sure enough, he's up in the cat tree with the heat on. And that's when I notice that this is not the only thing that has happened.
Apparently his lunch did not agree with him, because he projectile vomited it onto the window where it slid down and piled on the window sill...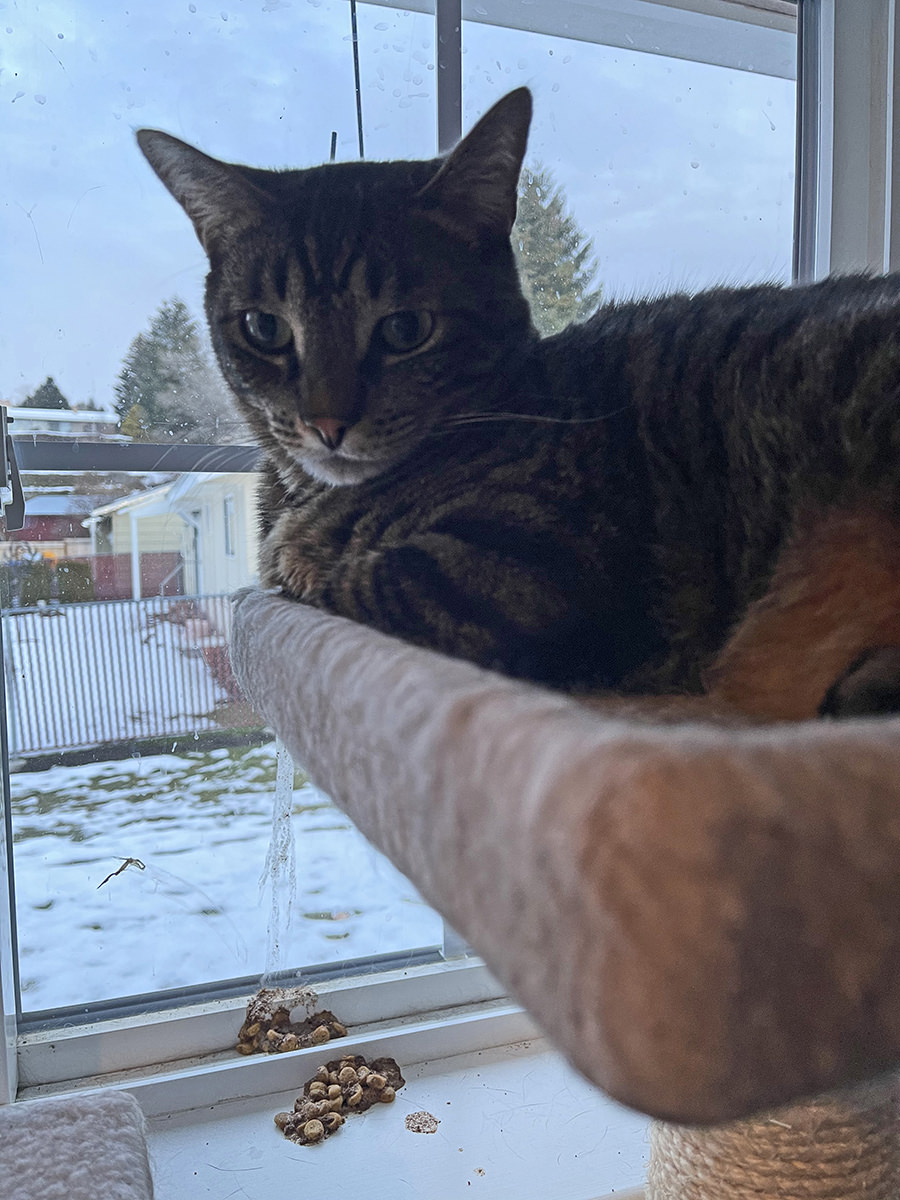 Lovely.
Since he pukes so rarely, I guess I really don't have cause to complain. It's just that he really knows how to pick his moments, doesn't he?
Oh well. It could always be worse. He could have puked on my bed.