This morning I woke up with Jake passed out on top of me... which has become his new normal since he got back from the vet. He doesn't like sleeping alone anymore. Also normal? Him running off to pee first thing after waking up. Ever since the procedure to unblock his bladder, he's been peeing... a lot. Ten times a day.
What was not normal was him digging a hole in the Litter-Robot... peeing... covering it up. Digging another hole... peeing again... covering it up. Digging another hole... peeing again... covering it up. Digging another hole... peeing again... covering it up. Digging another hole... peeing again... covering it up. That's five times peeing with one trip to the litter box.
His frustration was obvious, and I felt so bad for him that I decided to call the vet and find out if he should come in.
The answer, of course, was "yes."
Which caused my heart to sink, because my cats do not travel well. It's hugely traumatic. Jenny goes catatonic. But Jake? Jake just freaks out. He meows and howls and cries the entire way. Which is odd, because normally he can't meow. This time was even worse than last. More "howling" instead of "meowing"...
I usually try and time my arrival at the vet very close to the appointment time so my cats aren't left fretting for too long. Because whether it's in the car or in the waiting room, being trapped in a kitty carrier is not their idea of a good time...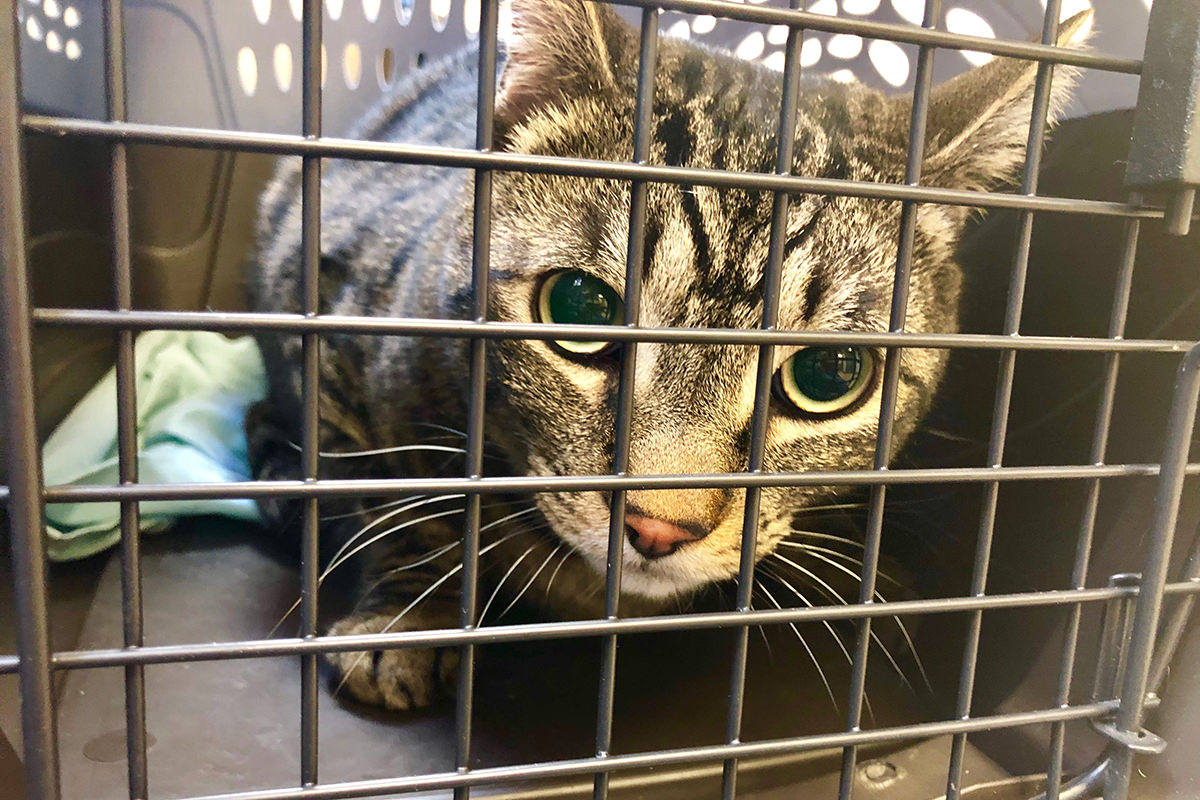 Things were running about 20 minutes late at the vet, which made a bad situation worse. Eventually Jake just kinda collapsed in exhaustion...
Once in the examination room, Jake was so whipped from the trip that he didn't have the energy to do anything but cower on the table. He was clinging to me like glue, which was pretty tough to take. Poor little guy. The doctor explained that there could be any number of things going on, but a urine sample was the best place to start trying to figure things out.
That sounded logical to me... except Jake had peed in the kitty carrier (something he's never done before), so I didn't know if he had anything left in him. Turns out he did, so they went up his peepee spout to go get it. Yikes.
For the ride home, Jake was more inconsolable than usual. He was thrashing in the carrier so hard that I was terrified he'd hurt himself. And so I did something I never thought I would do because it seems like it would be even more traumatic... I let him out. I didn't care if he peed all over the place, I had to try something...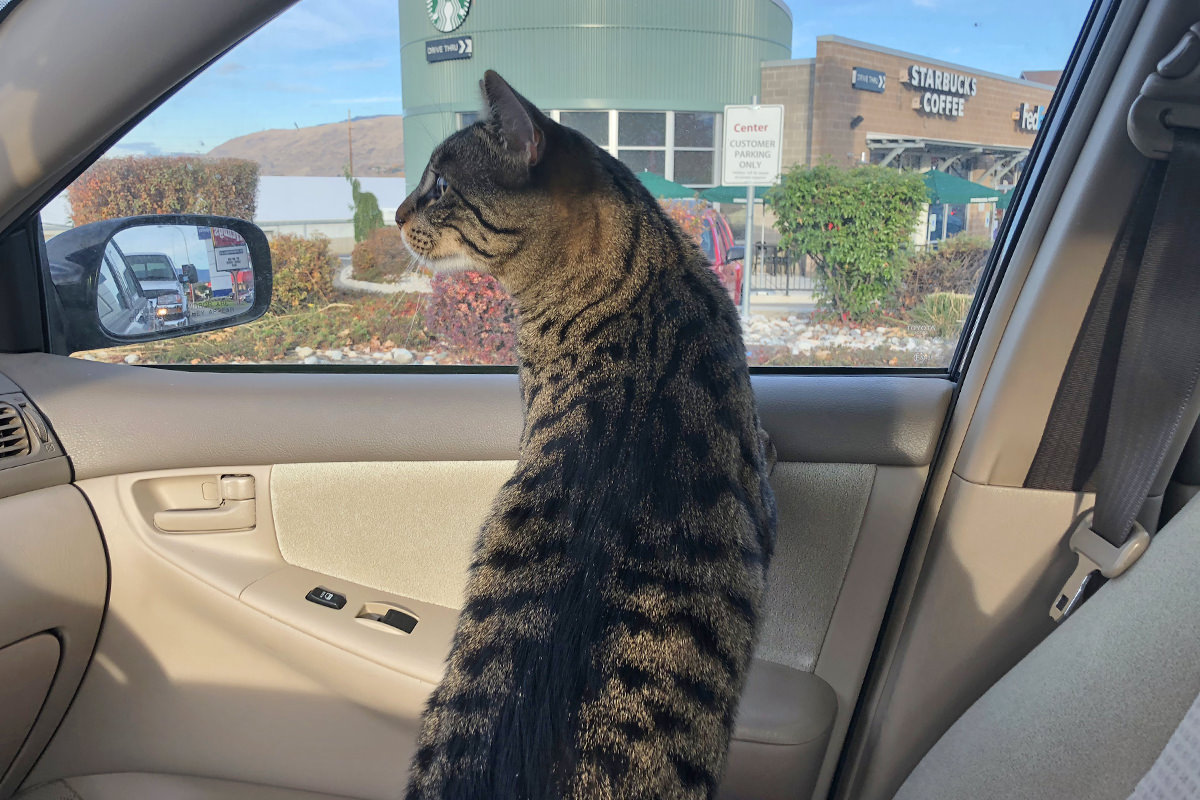 At first things were going great. He stopped crying and started exploring. Things got a little crazy when he decided he wanted to drive though...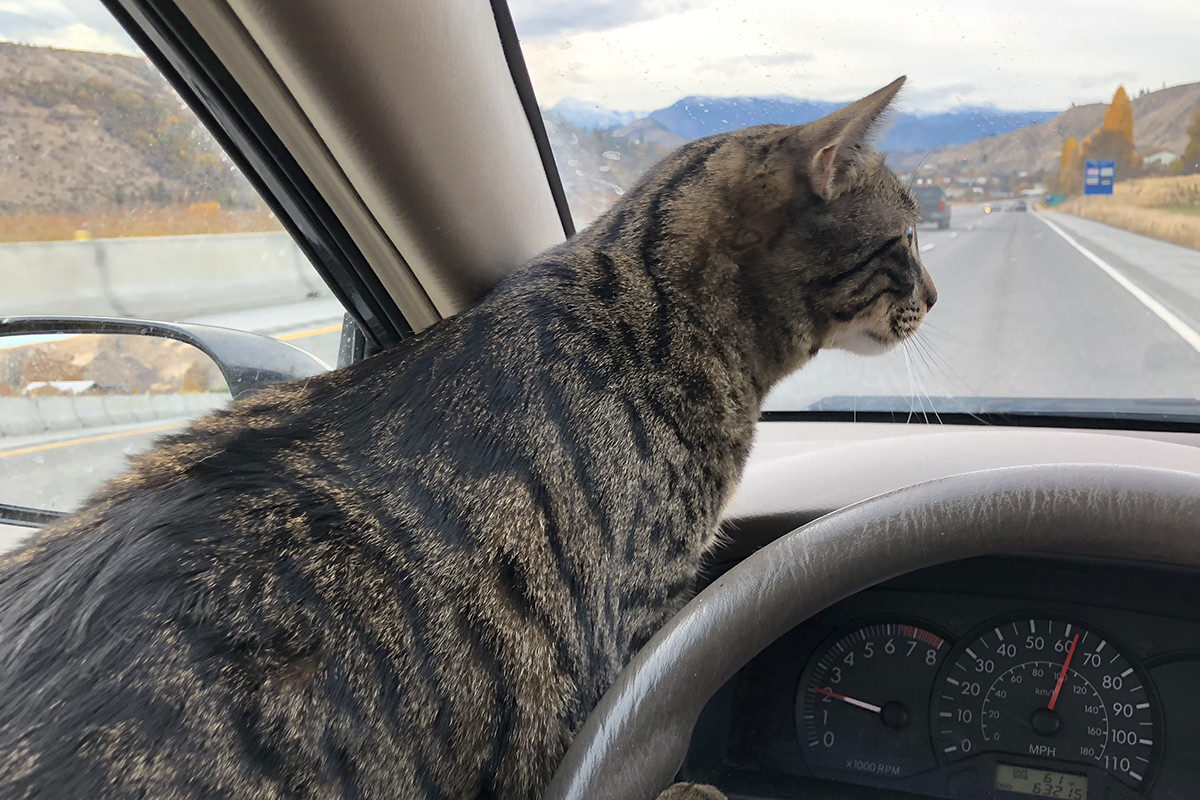 And then things went bad again.
Very bad. He ran to the back window and started howling at passing cars... howling at the scenery... howling at road signs... howling at everything. Suddenly I felt like I might have made a terrible mistake...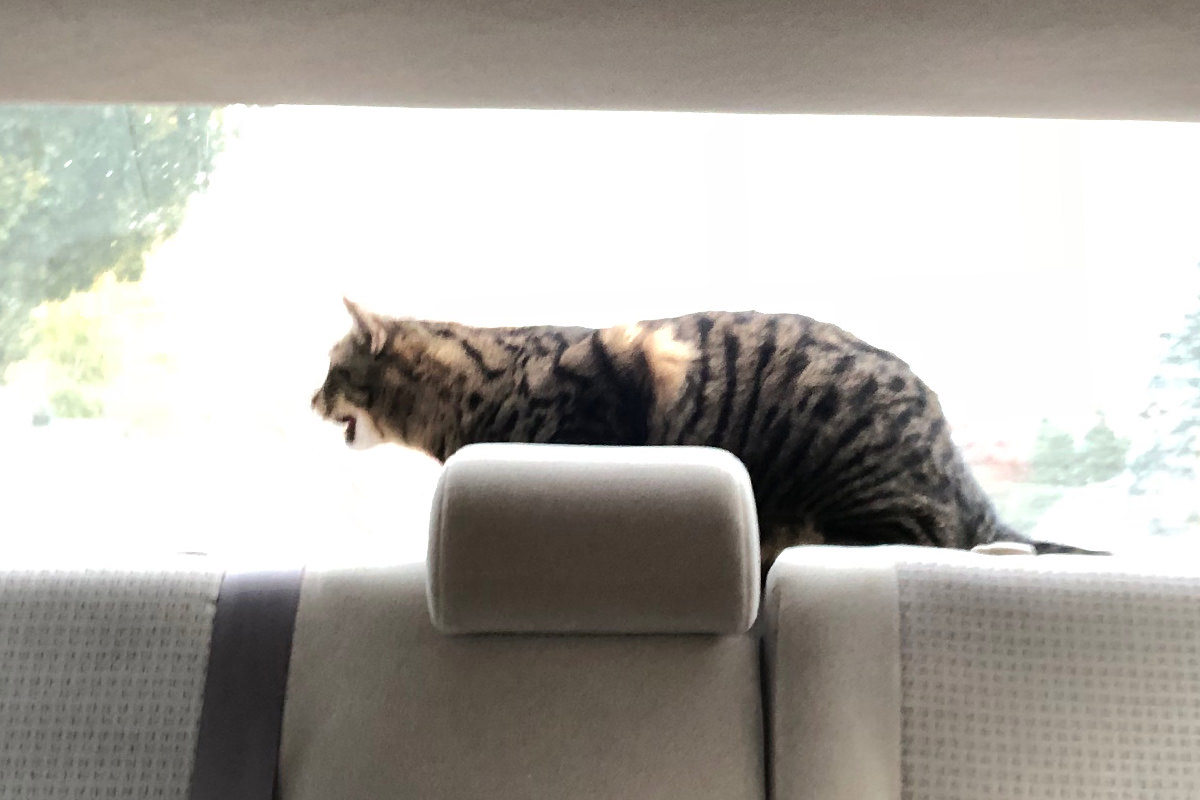 And then? Right after we pulled into town he relaxed and just kind of whimpered the rest of the way home...
After pulling into my driveway I closed the garage door behind us, opened the car doors, and let him dash into the house.
Where he proceeded to drop and clean off all the vet smell...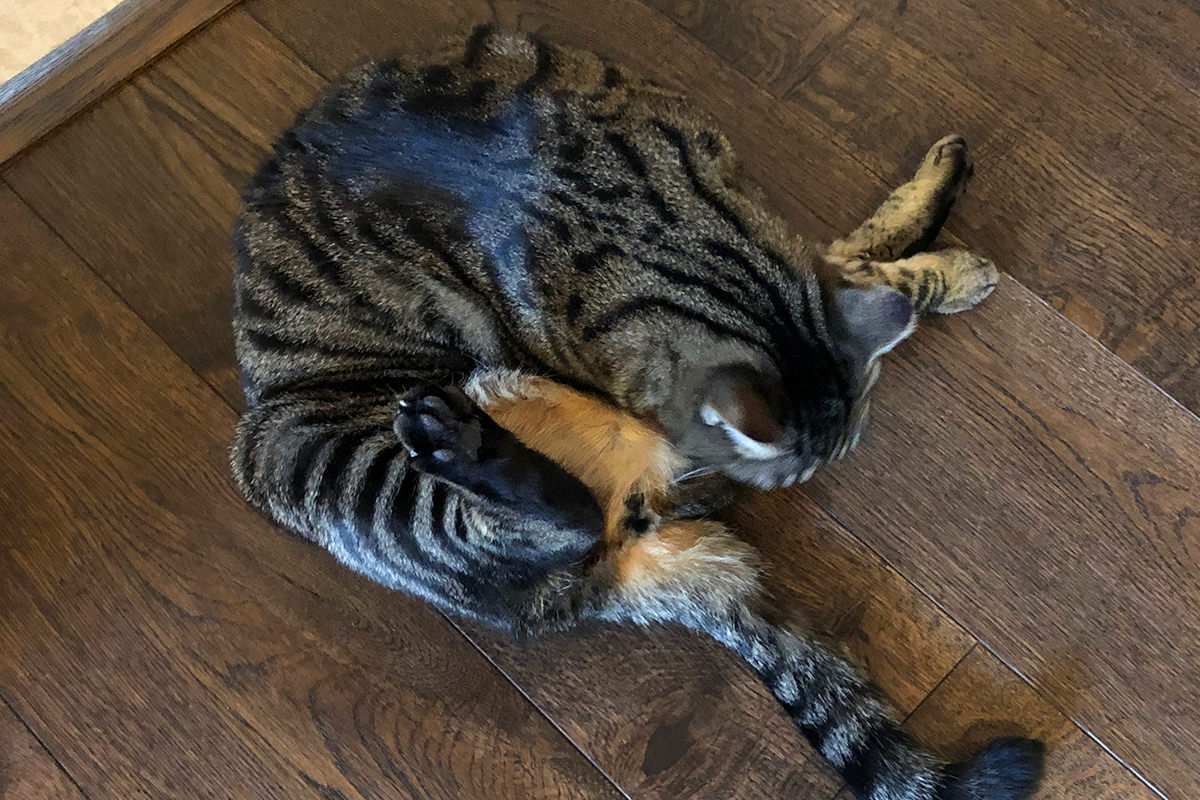 Jenny had a tough time when Jake came home last time because he didn't smell right. This time he hadn't been gone long enough to develop a bad smell, so she was unfazed. That was good news.
Another piece of good news? Jake has lost almost a pound from when he was last at the vet! Now he's only about 1-2 lbs. overweight!
Though when I compare photos of Jake to really chubby cats, it doesn't look like he's doing so bad...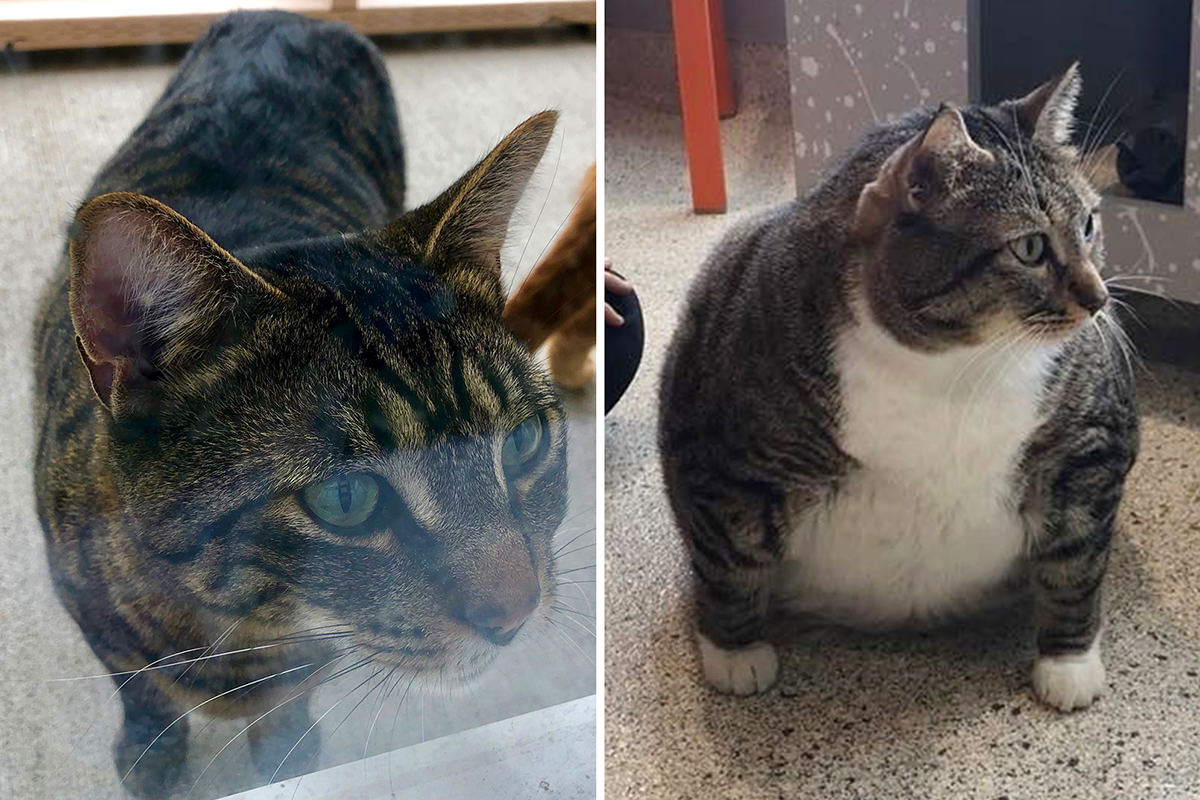 And now I wait for test results.
Hopefully they tell us something.
Hopefully it's an easy fix.
Hopefully I don't have to take Jake back to the vet any time soon.