Home again and all is well... because an all new Bullet Sunday starts now...

• Homeward. And, just like that, Hawaii is over for me. I would have liked to have stayed another couple days to hang out with my friends and relax but, alas, I've got a cat back home that is undoubtedly really, really anxious to get out of the hospital. I did get bumped to First Class, which is kinda like a vacation. A vacation with a bowl of warm nuts...
The last time I came to Hawaii for fun was when I managed to tack a few days on the back-side of a work trip in 2011. The four times since then were all work all the time. And while I wouldn't have missed this wedding in Oahu for anything, coming to photograph an event is still work!

• Salmon. I have been this close to flying Alaska Airlines' Salmon-Thirty-Salmon too many times to count. But I'm always a gate or two away. Like today...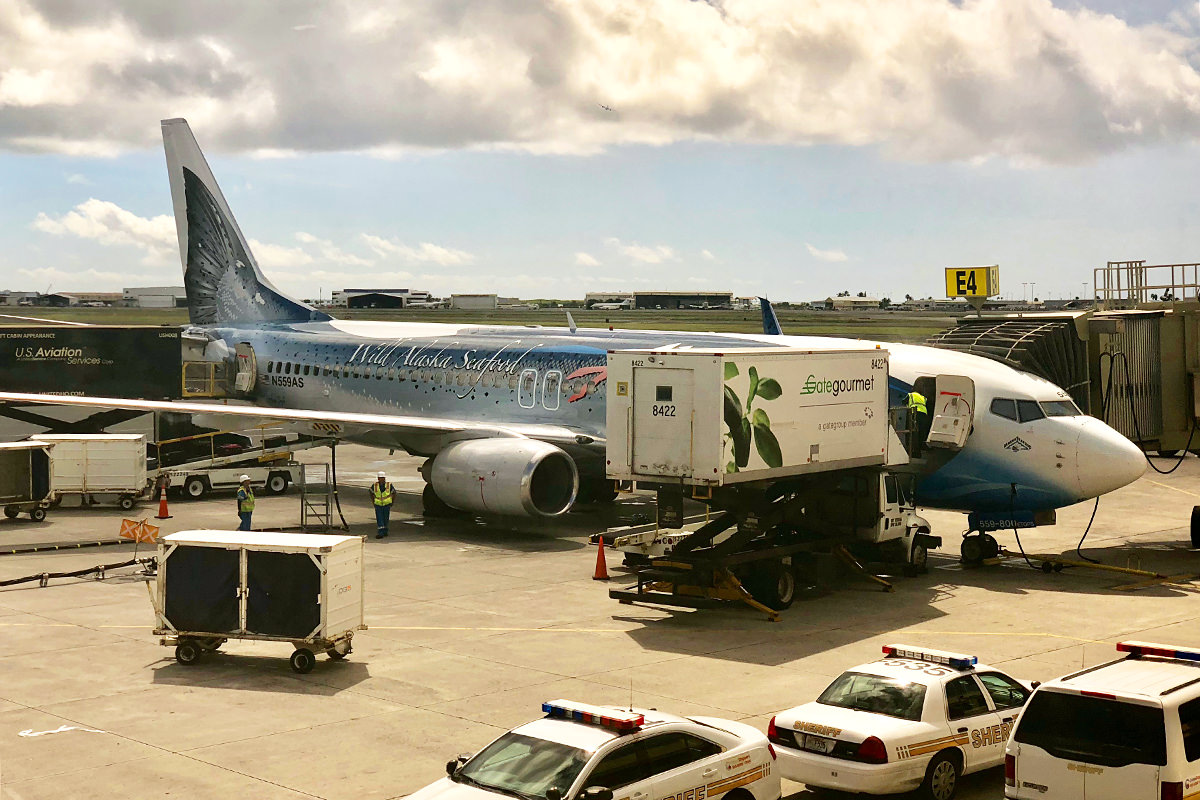 It's not every day you get to fly in a plane painted to look like a big fish... and, alas, today is not my day either.

• Simon. On my trip to Honolulu on Friday I saw the available movies I hadn't seen (Tomb Raider, yawn... Won't You Be My Neighbor, awesome... and Blockers, surprisingly watchable) and so on my trip back I watched movies I enjoyed that I've already seen... Deadpool 2 and The Disaster Artist... and also Love, Simon...
This movie is so amazingly good (despite a rough start to the third act) and has an ending that's ten tons of wonderful. I've seen it three times now, and one thing continues to stand out... the casting on this film is phenomenal. Not just the main characters, but supporting roles as well. In particular, Josh Duhamel and Jennifer Garner as Simon's parents. I knew Garner could pull off the emotional weight... but Josh Duhamel?!? And yet...
And that clip has been edited down from the original scene.
The first coming-of-age-love-story with a gay lead character from a major studio was going to be a landmark film regardless of how good it was. Or how terrible. The fact that Love, Simon turned out to be something great is just icing on the cake. One can only hope that more films like this entering mainstream culture becomes a step towards more acceptance and less bullying in our schools. Because isn't high school hard enough?

• Haerts. In addition to being one of the sweetest, most charming, funny, genuine films in recent memory, Love, Simon has a great soundtrack. It was especially awesome that Wings by Haerts got a snippet into the movie. It's such an amazing song...
And now I'm addicted to it all over again.

• Photography. It didn't actually rain on the wedding yesterday, which was nice. A lot easier to shoot photos when you're not soaking wet. The problem was my poor back, which was in spasm the entire day. I was eating muscle relaxers like candy in an attempt to keep being able to move. The good news is that the photos turned out pretty good. Not so much because of my talent as a photographer, but because the bride and groom are phenomenally good-looking... and patient.
And... despite my not being a professional photographer (and especially not a wedding photographer), this was my sixth wedding shoot. No idea how this keeps happening to me.

• Home. Jenny meowed when I walked through the door. Meowed after me when I rolled my bag in. Meowed after me when I went to the bathroom. Meowed after me when when I went upstairs. Meowed after me when got undressed. Meowed after me when I got in bed. She did not stop. "Sheesh. I am sorry I had to leave you all alone! Are you going to calm down if I can bring your brother home tomorrow?!?"
Such a sweetheart. I hope that Jake and Jenny's reunion goes well.

And... I turn into a pumpkin at midnight, so... much aloha.