I should really know better.
And yet I never learn, because I keep ordering stuff through Kickstarter. I've only been really burned once where the people took the money and ran, but I was dubious at the start and "only" ended up losing $25 (which is still too much to lose, in my humble opinion, because I'm no Elon Musk). Out of all the projects I've backed, I've only been truly thrilled with about 10% of them. Another 20% were less than stellar. And the remaining 70% were scams or absolute garbage.
But, when it comes to taking care of my cats, I'm a total sucker, and ended up backing the "Kitty Spring" cat fountain an eternity ago. The idea of having multiple fountains around the house while I travel appealed to me, and I thought it was smart to find different approaches to the challenge of keeping my cats hydrated when I'm gone.
Turns out, I should have just stuck with a big bowl of water.
Or bought another ceramic fountain, because both my cats absolutely love that thing.
The first problem I encountered when I finally received my Kitty Spring was the size of the thing. For whatever reason I thought I'd be filling a 2-liter bottle... but it ended up being 1/4 that size. This thing is tiny.
The next problem is that it's just not that great of a design. If you don't have it on a perfectly level surface, then the water won't flow out of it like it's supposed to.
The other problem is that the dish with water in it is SO small and shallow that there's barely enough water in it to let the cats know they should drink from there.
And it's this last problem that ended up being so entertaining that it's almost worth the money I paid for a failed product! Jake was the first to drink from it. As he was drinking for that first time, the bottle made a GLUG! GLUG! GLUG! sound as water refilled the bowl that scared him.
So what did he do?
Jake attacked the thing. And even though it comes with a rubber base to hold it to the ground, the fountain is so small and light that it pops right out and spills water everywhere...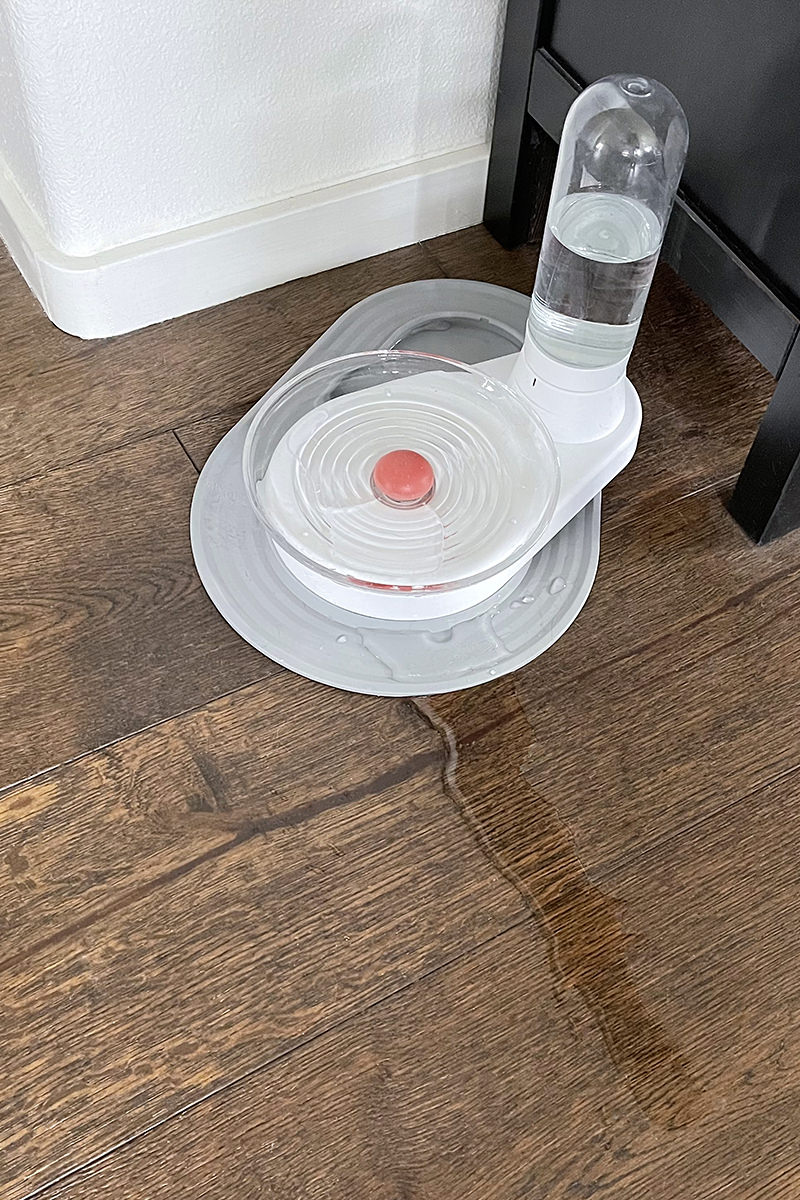 Jenny has taken a few drinks from it, but not enough to make it a source of water for her since she mostly ignores it.
Jake will drink from it sometimes, but also not enough to justify the $44 it cost me (seriously not worth it). He is no longer startled by the GLUG! GLUG! GLUG! sound... but he still beats up on it just for fun, spilling water everywhere.
AT LEAST I THOUGHT THAT'S WHAT WAS HAPPENING!
I was wrong.
The reason he smacks it around is because he's learned that doing so causes more water to come out! And I know this because I actually saw him demonstrate twice this past week. First he'll walk up to it. Then he'll start smacking the bottle around. Then he'll drink from the full dish instead of the meager amount of water that was there.
It's really genius when you stop to think about it.
There are two geniuses in my house. I'm growing increasingly aware that one of them is not me.