Posted on Saturday, January 1st, 2022

Tonight while I was waiting for my dinner to get out of the oven, I glanced into the kitchen after I heard Jake and Jenny romping around in that direction. To my horror, I saw Jake on top of the kitchen counter. This is exceedingly rare. The only thing I will (gently) yell at my cats for is to get off the counters. After a couple years, they finally get the message, and just don't do it. I have a motion alert from my cameras that tells me when they've been up there so I know to sanitize and steam clean them... but it hasn't gone of in months. Probably even a year now.
So seeing Jake up there was pretty shocking.
And after I (gently) yelled at him to get down twice (I don't ever scream at my cats... just raising my voice a little is enough for them to get the message), I was disappointed that he was still up there.
So I walk into the kitchen to shoo him down and...
...it wasn't Jake. I left my backpack on the counter. Which is apparently Jake-shaped from a distance.
And now I felt bad, so I found him cowering in the guest bedroom and told him how sorry I was and gave him lots of pets so he would know that I wasn't mad at him. I was mad at me, apparently.
I ordered some things from Amazon that I couldn't get locally. It all came in a nice big box with a long string of packing pillows, so I was sure to set it out for the cats. They both love a nice-sized box filled with packing pillows. Jake just likes to stand around in there looking at everything. Jenny will jump in and smack all the pillows around and roll around like a maniac. It's adorable. The excitement usually wears off after a few days but, in the meanwhile, something new to do that's indoors where it's warm! They go out in the catio from time to time, but never for more than a few minutes now that the temperature gets below freezing.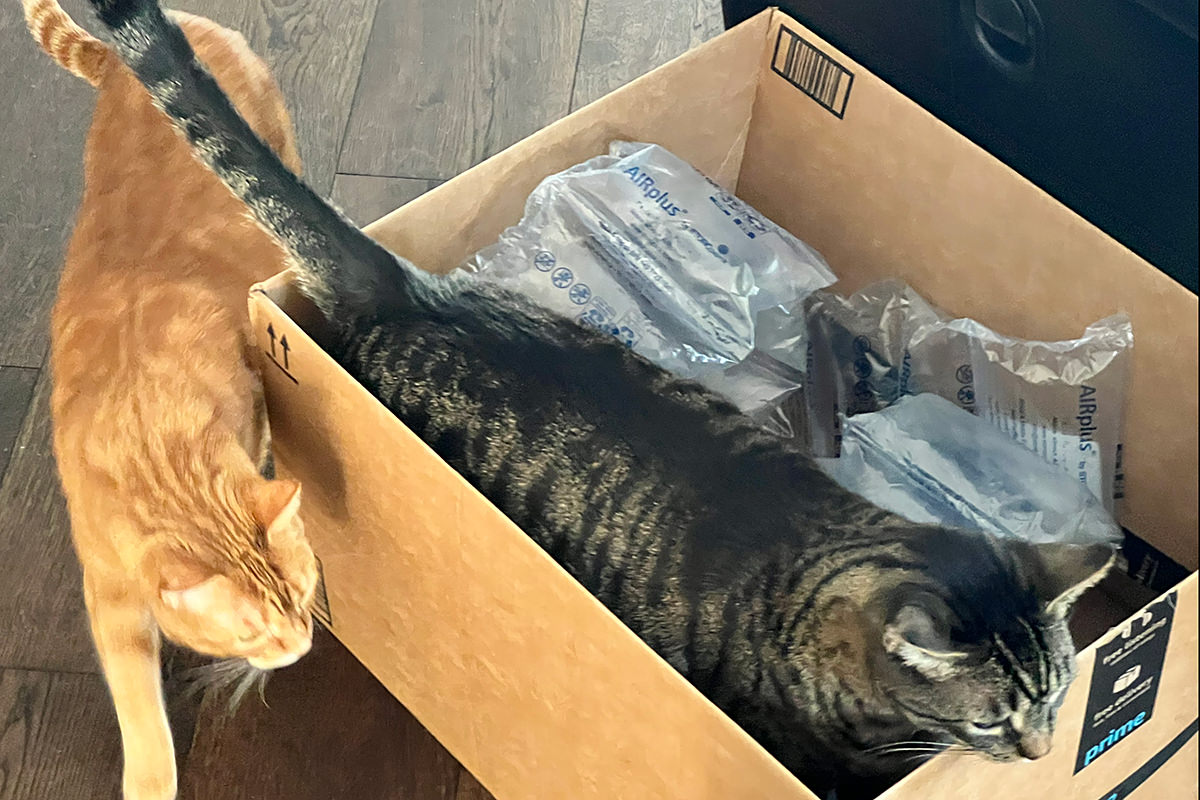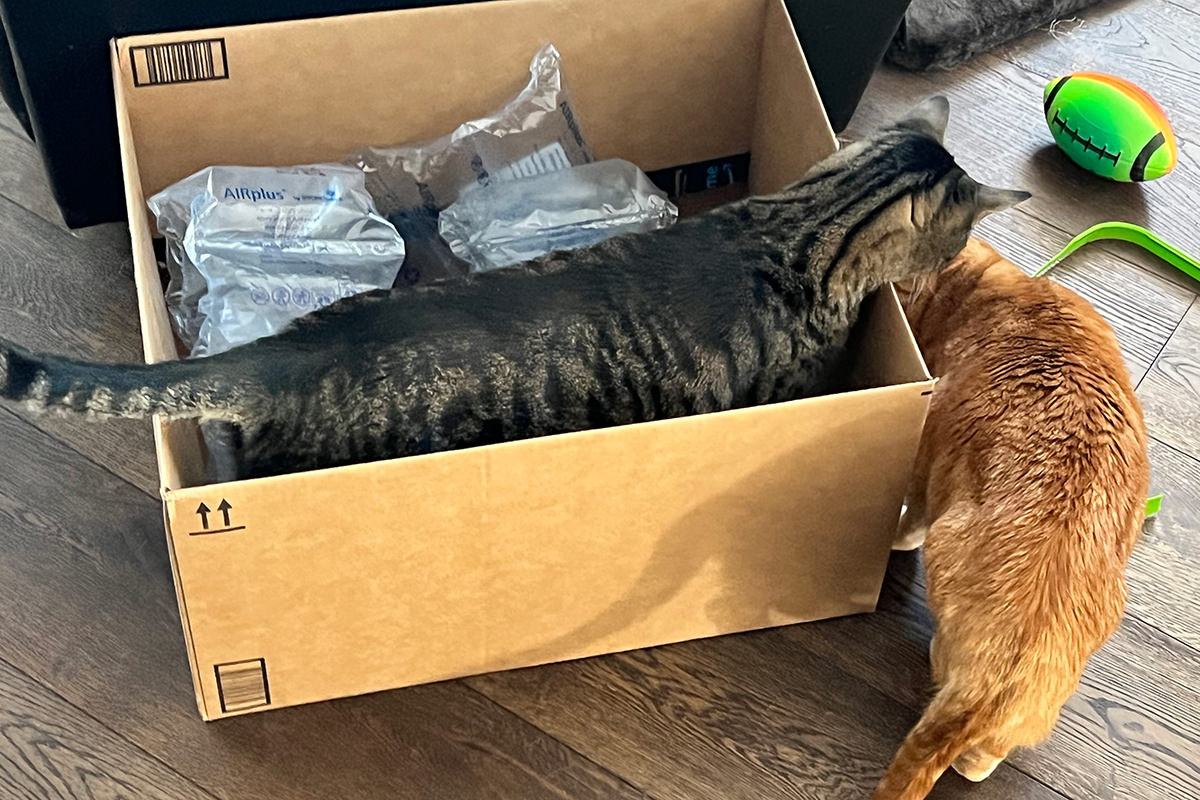 A box. Best toy money can buy!
Posted on Saturday, January 8th, 2022

This morning while I was working I decided to have New Carl vacuum the house. But first I had to pick up a few things, including the big cardboard box that my cats have been playing in this past week off-and-on. I set it on the sofa and almost immediately Jenny climbed up and jumped inside it. Then she wanted to see out... went towards the side that was on the edge of the couch and... well... there she went. It was hysterical. It started so slowly. She realized she was moving, her little ears laid back flat, her eyes opened wide, and you could see she was trying to process what was happening. Just before the box hit the floor, she hopped out... nearly landing on Jake who walked in to see what the ruckus was about. She was not happy.
My cats are growing more different from each other.
When I am on a Zoom call, Jenny comes walking up meowing and wants to be petted. Then she'll sit and stare at me until my call is over...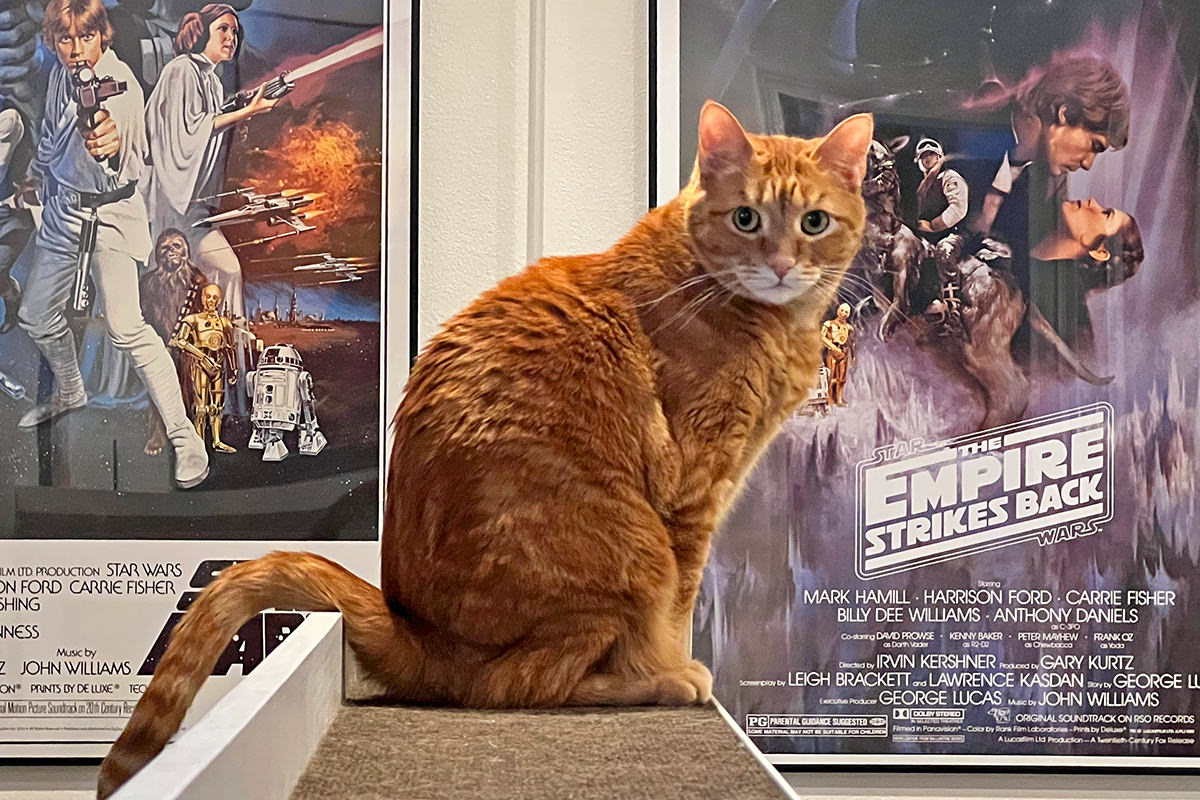 Jake waits too... but from a safer distance...
Jenny comes in after breakfast and wants to nap next to me, but she insists on belly rubs while she falls asleep...
Jake just wants to curl up next to me and fall immediately asleep...
In other cat news, Jenny spotted some birds outside and went running to the catio at top speed. They eventually flew off, and she laid there waiting for them to come back, which must have been cold with her belly on the frozen concrete...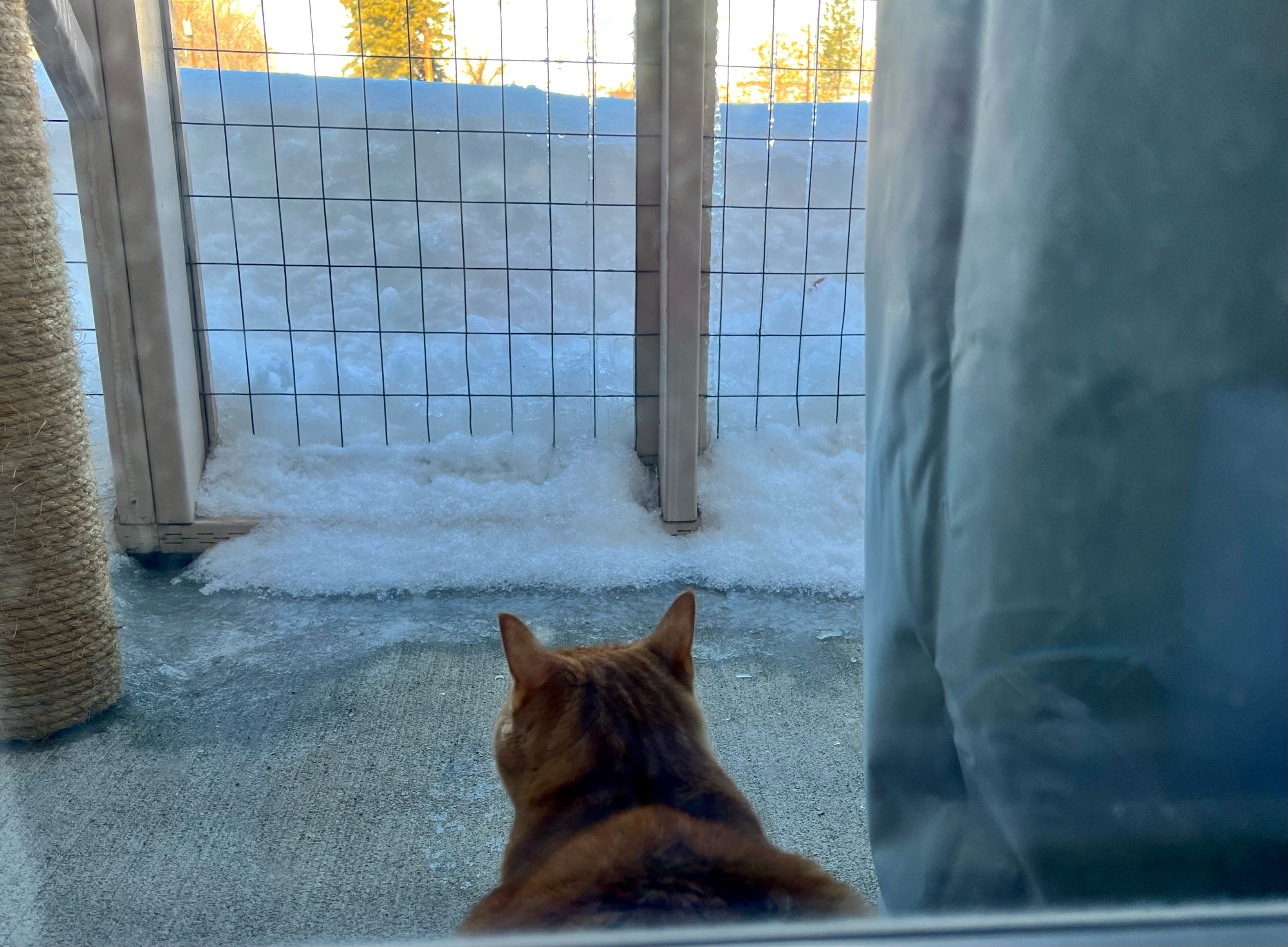 Eventually she gave up and came inside so she could thaw out on a warming pad.
And lastly, I leave you with this. Kinda reminds me of how Jenny used to plop down and watch TV with me... completely absorbed by what was happening on the screen...
Jake has never really been into television. No idea why.
Posted on Saturday, January 15th, 2022

Even though Jake and Jenny can't really go anywhere outside the house except the catio, they are still seem restless and feeling trapped because out every window is nothing but snow. Every once in a while they will go out and meow at it just because... but, for their sakes, I'm anxious for Spring to arrive.
And for my sake.
With each passing day, it seems as though my cats are looking more and more like they want to eat me...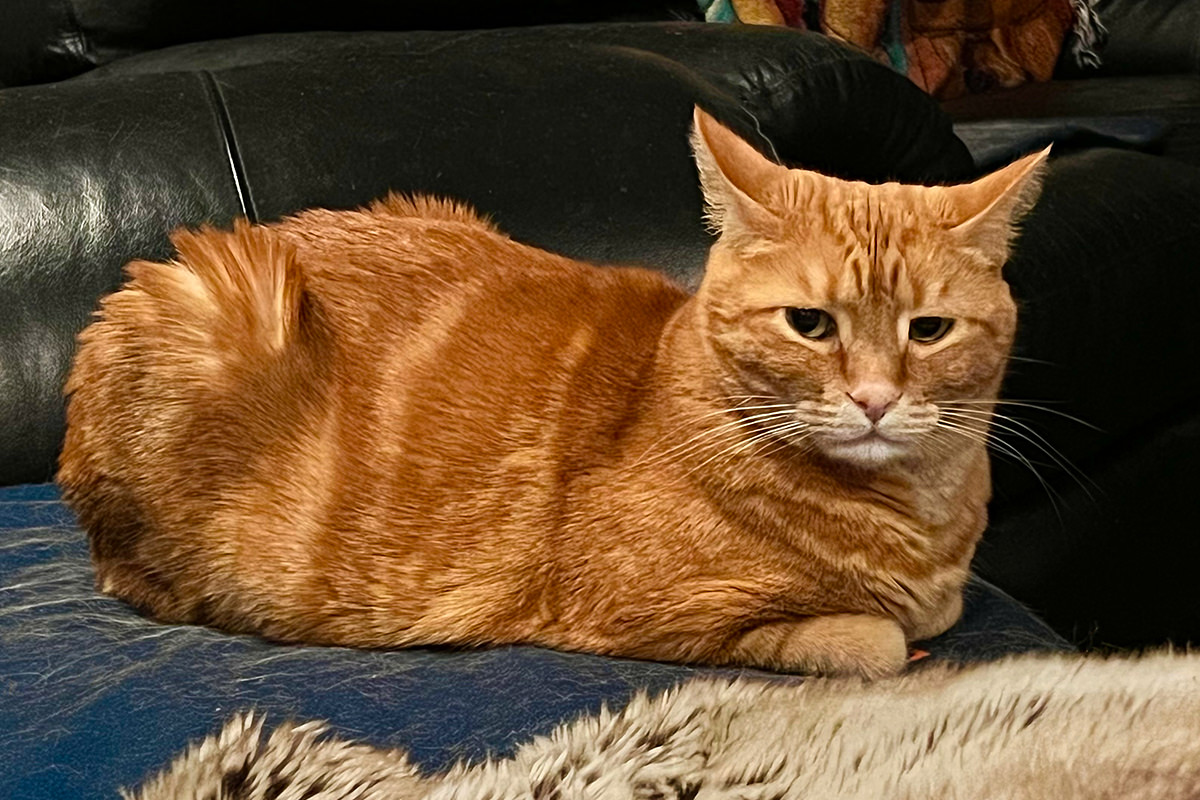 It's The Shining all over again.
And now I leave you with... KITTENS! (here's a link if TikTok is being a dick)...
Times like this I feel like I need another cat.
Posted on Saturday, January 22nd, 2022

Jenny likes a vigorous massage. Earlier this week she was complaining because I was half-assing it, focusing more on my work than her. So I used two hands to really rough her up... and she went bananas.
BELLY RUBS AND BUTT SCRATCHES AT THE SAME TIME?!? MORE!!!
Boy was that a mistake. Now she complains when she doesn't get two hands! She meows. She looks at me in disgust. She paces back and forth next to me.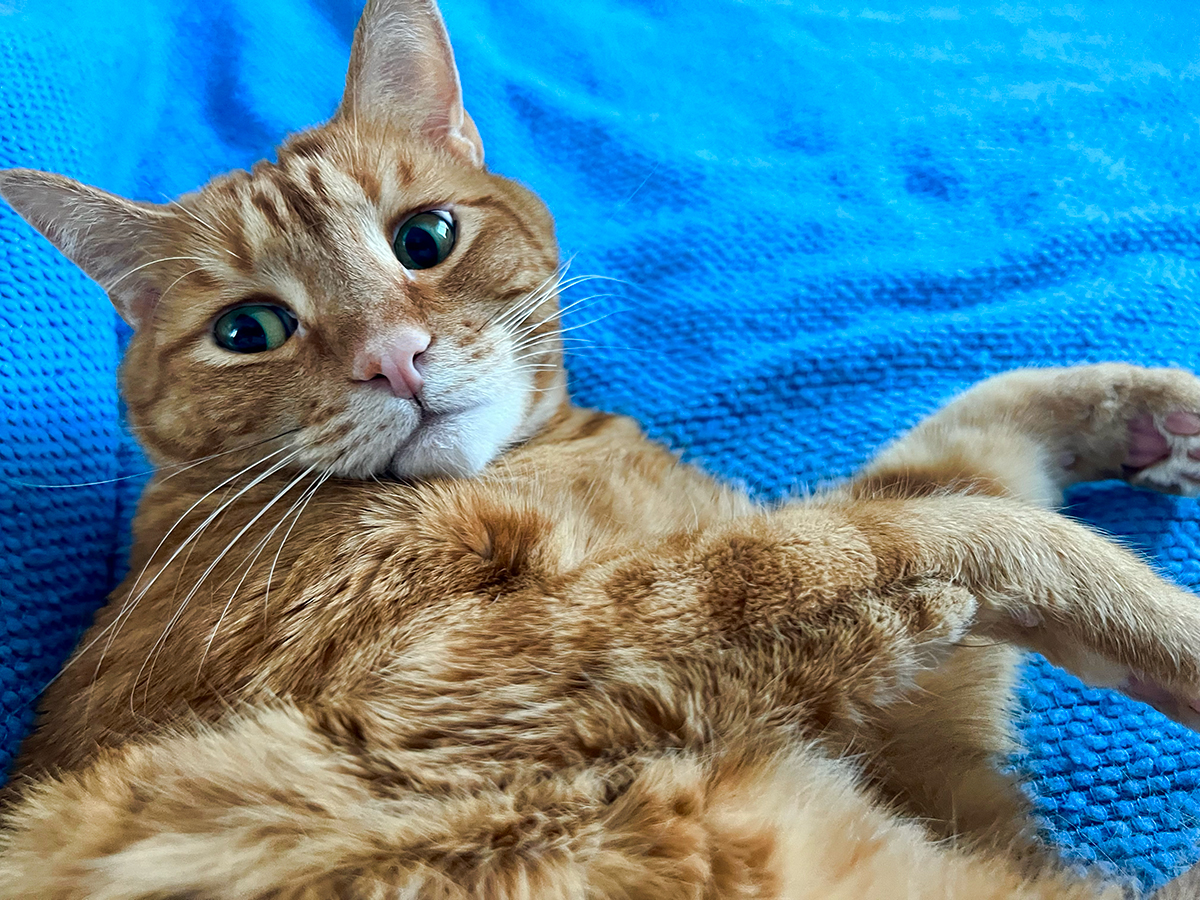 But since I have to work, I've just gotten better and making sure she gets a good one-handed massage and that seems to be okay...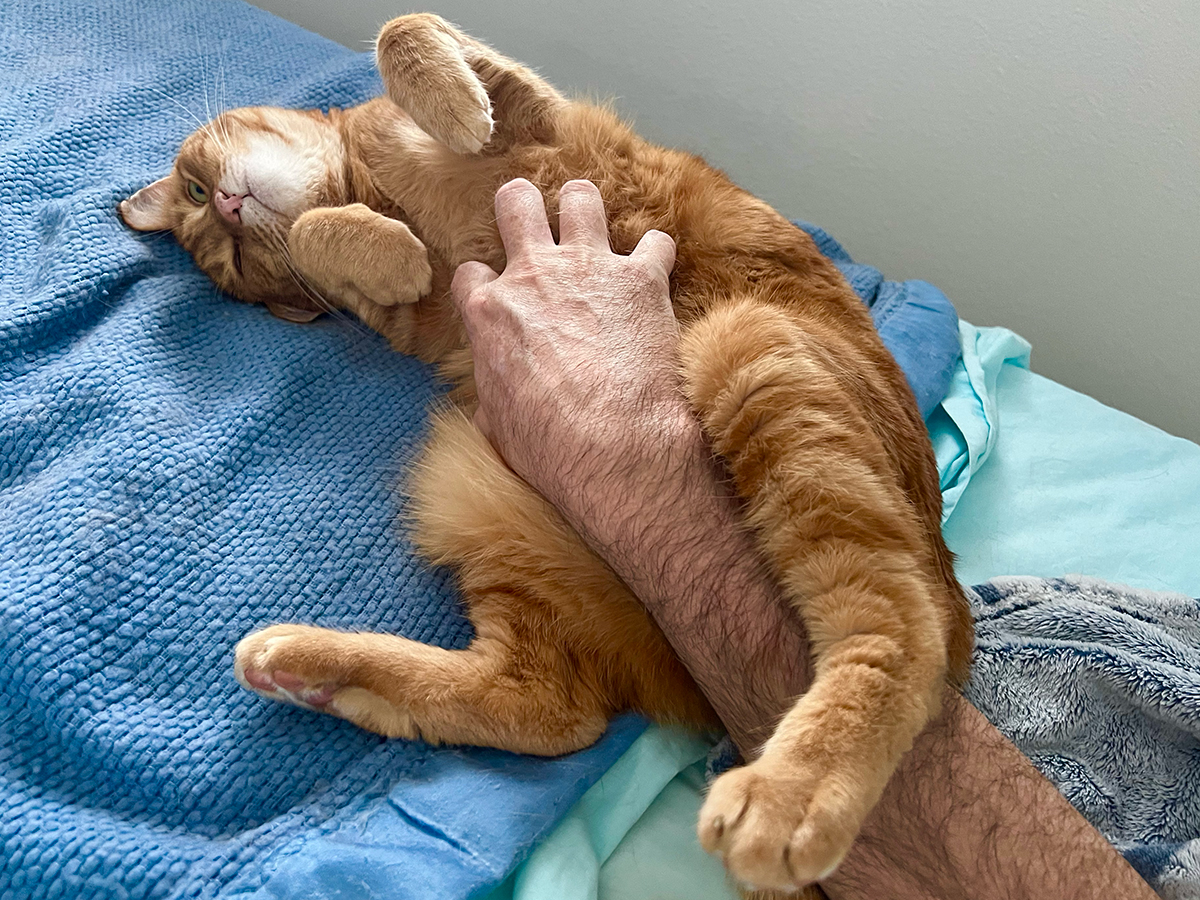 But sometimes I can't resist that sour little face, so I give in and give her that full-body two-hand massage she loves. What a hit to my productivity!
A couple people have been asking for an update on Fake Jake. He's still doing fine... though apparently he doesn't want to sleep inside my neighbor's house much any more. I guess now that the most bitter days of winter are behind us, he prefers his freedom and sleeping in the shelter I made for him. The old warming pad was dying, so I installed a new one that is at 65° when he's off it and gets up to 80° when he's sleeping on it, so he's pretty comfy...
We've had rain which has created a thick enough crust that Fake Jake can walk on it, so I went out and made sure there's no bird feed left out in the open to lure birds for him to attack...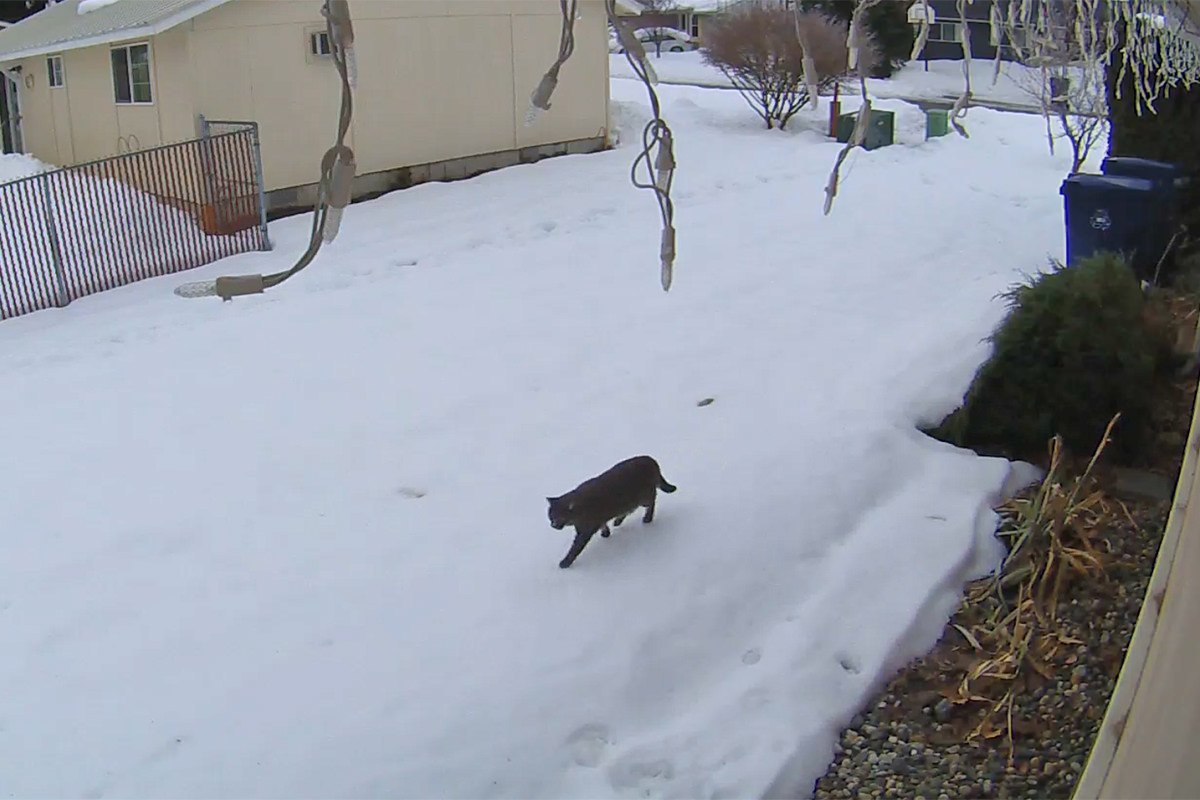 So... all-in-all he's not doing bad at all. I still worry about there being no heat from above when he sleeps, and I know the cold will be harder on him as he gets older, so I think for next winter I will build something to address that. Maybe even find a way to build a caged run in my garage that he can enter that would make sure he doesn't get run over? I dunno. I've got the whole summer to think about it!