Remember how last week I was lamenting that Jenny is ignoring me because I put the warming pads out?
Well, now the newness of the warming pads are over for her. She'll still lay on them, of course, but she's back to preferring my body heat again because I'm more comfortable, I guess. And she has a total routine for it most days...
But she ends up getting a little too comfortable, because her claws come out. She doesn't "make biscuits" like Jake does, but she does like to dig into me when she's really happy to be here and the scratches are good...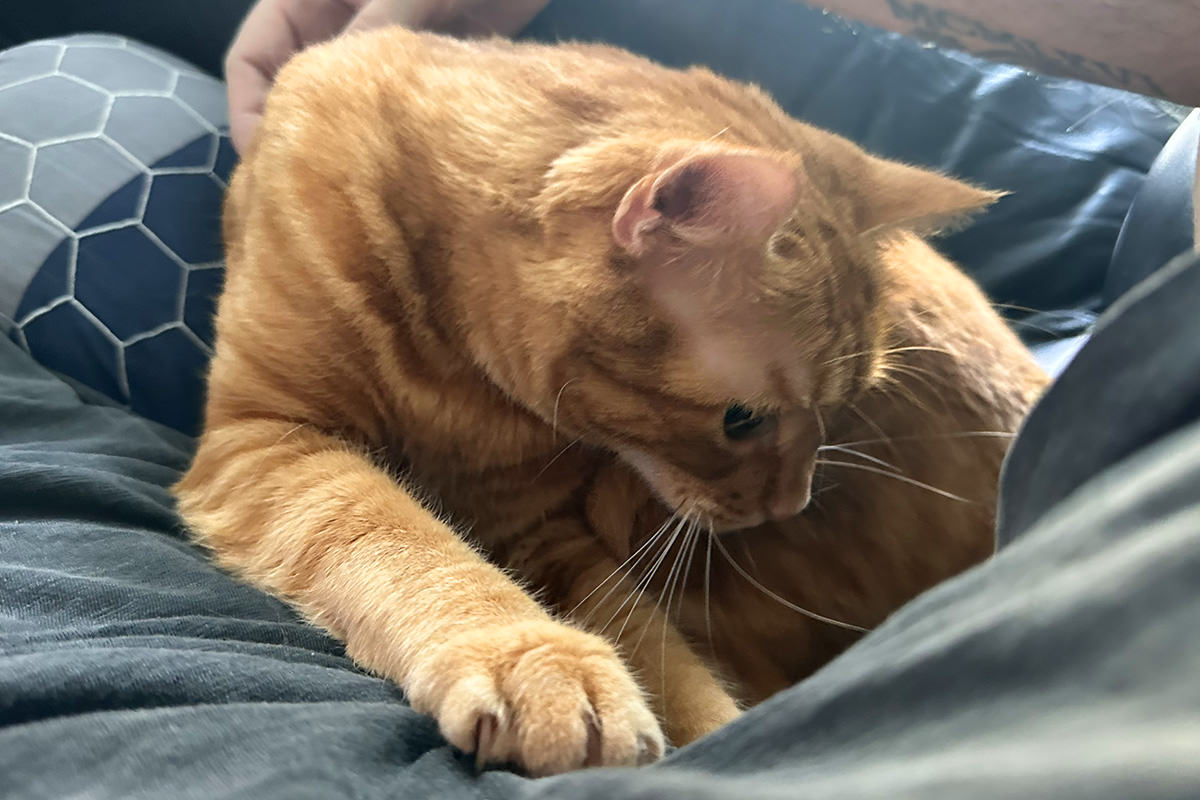 Once I say "Ouch!" she actually knows to stop clawing me and turn her attention to getting the smell of me off her paws!
Eventually she's ready for belly rubs...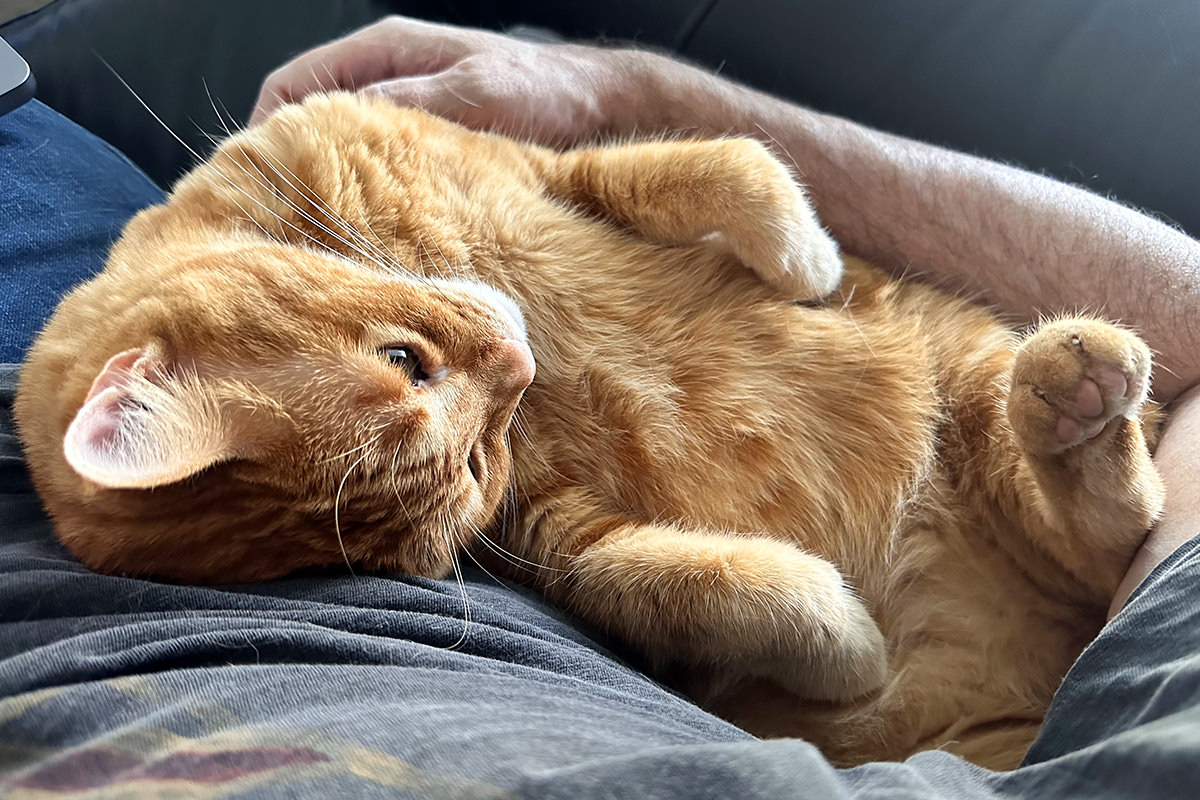 At which point she's just minutes away from curling up and going to sleep...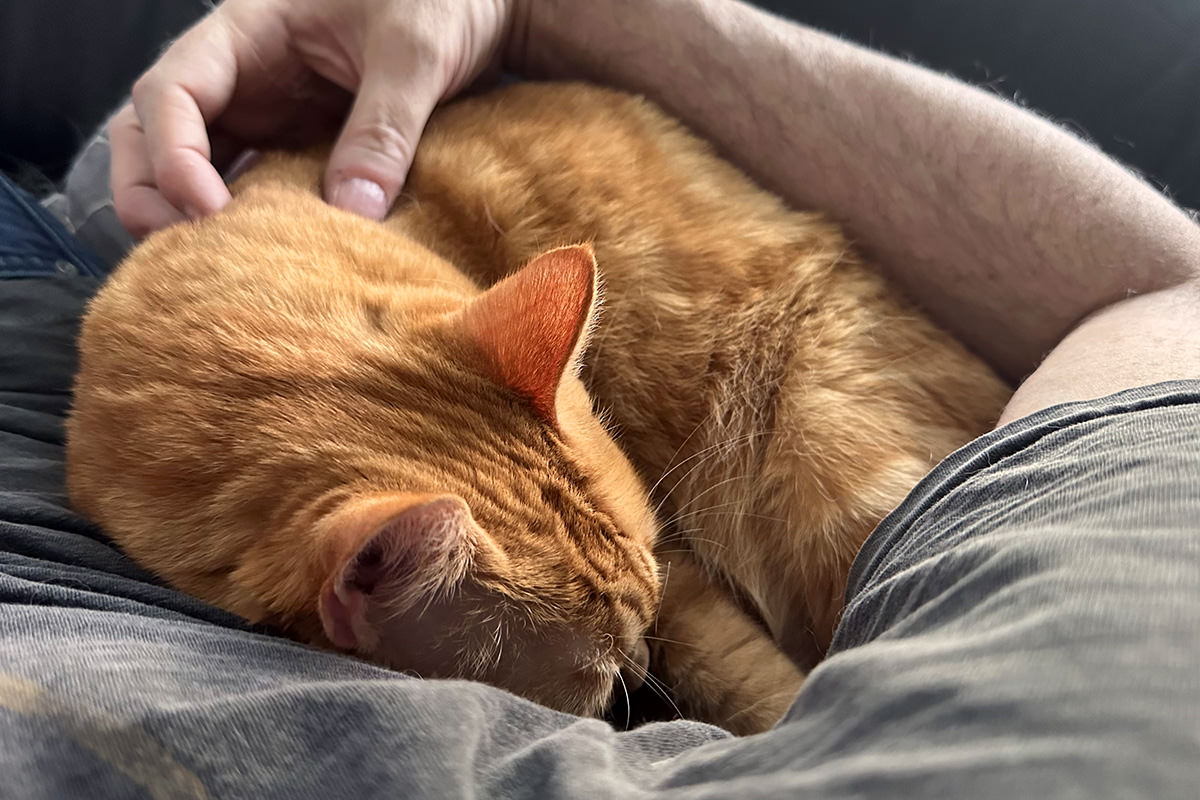 Yesterday she didn't even go through her routine. She just curled up and immediately fell asleep...
In that photo, she actually started snoring a little bit, which is about the cutest thing ever.
Wildfire smoke this past week has been about as bad as it gets. I'm hacking up a lung most nights, because I spend all day on drugs to keep me from coughing at the office and don't want to overdo it by being drugged up 24/7. And yet... Jake has been playing nursemaid to me the entire time. I get home feeling awful and he's checking in on me from the minute I step through the door.
And at night? He's next to me when I go to bed...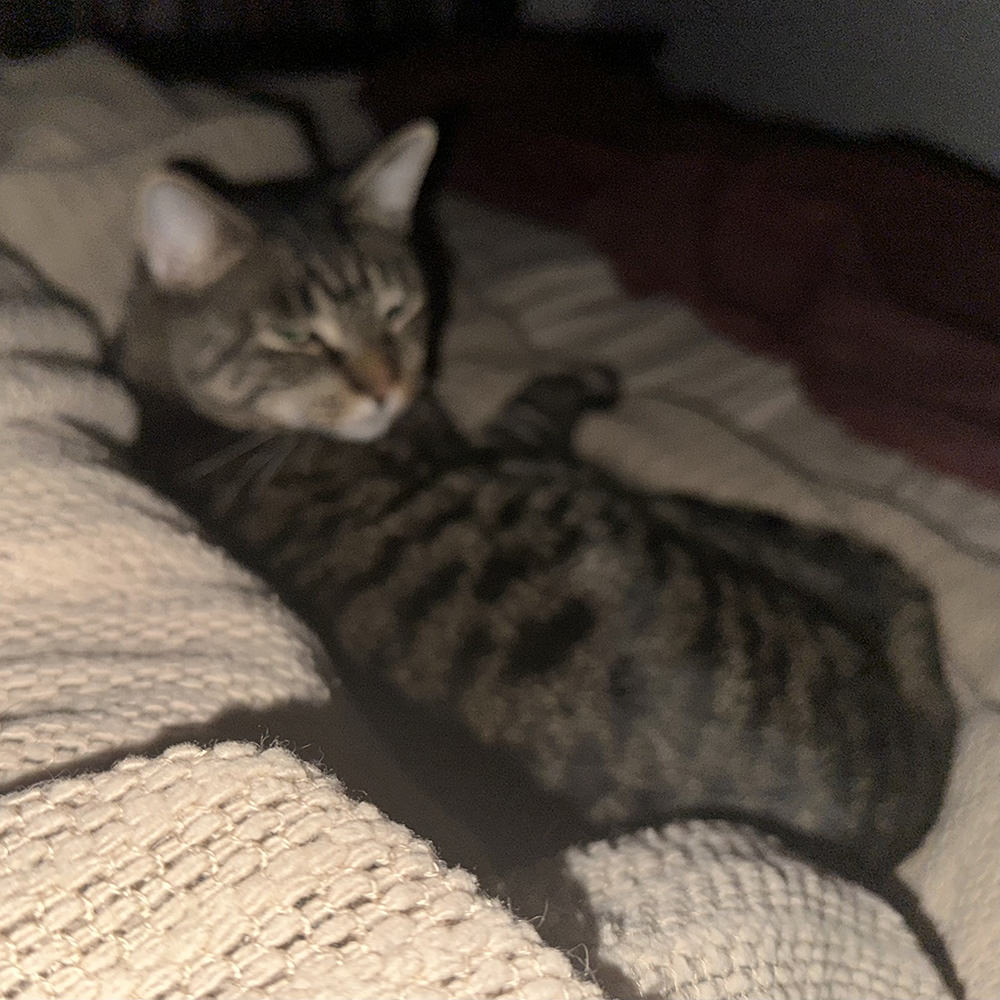 And still there when I wake up in the morning...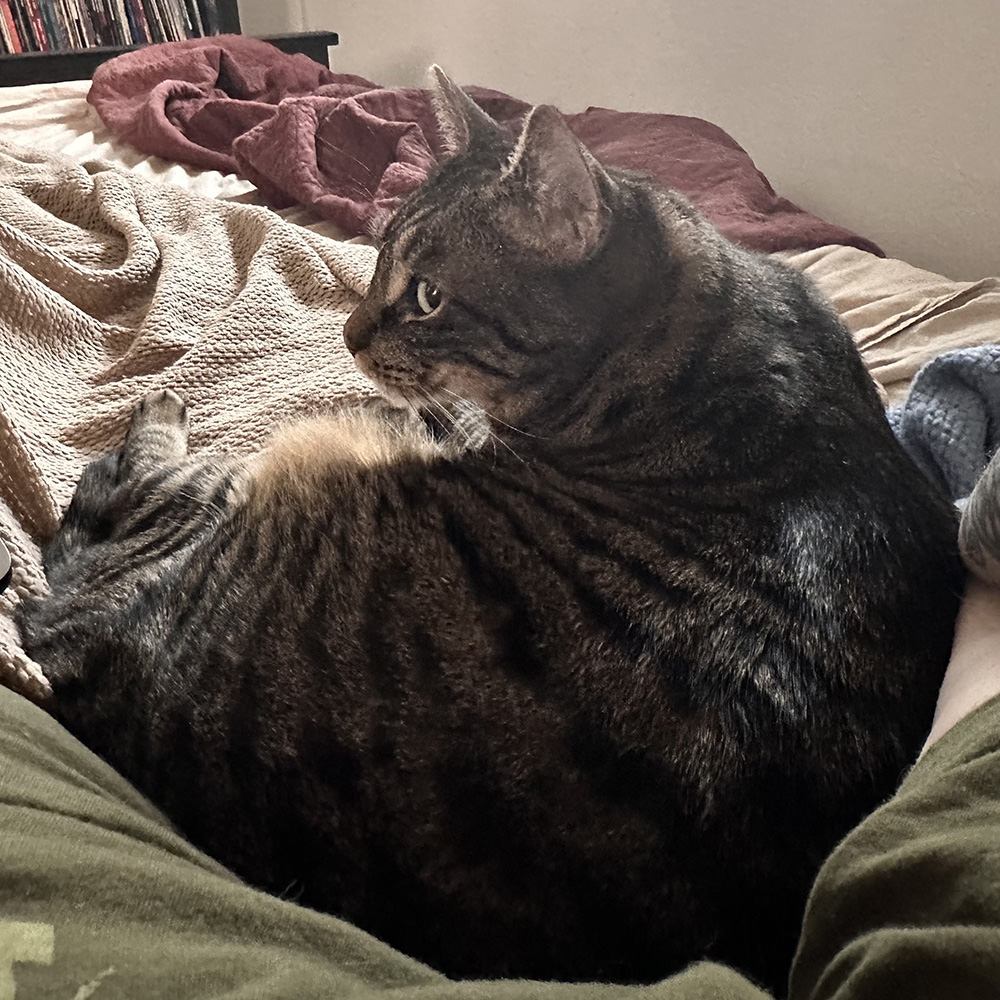 Which is nice, but I feel terrible for him because what he likes most during the moderate temperatures of Autumn is to be outside. But because of the smoke I have the catio closed off. And so he's at the door crying all the time... and even attempting to get the door open. But, alas, I worry about his little kitty lungs outside...
I finally relented yesterday because the smoke was not as bad in the morning (I could see the nearby hills!), and he was out there until lunch...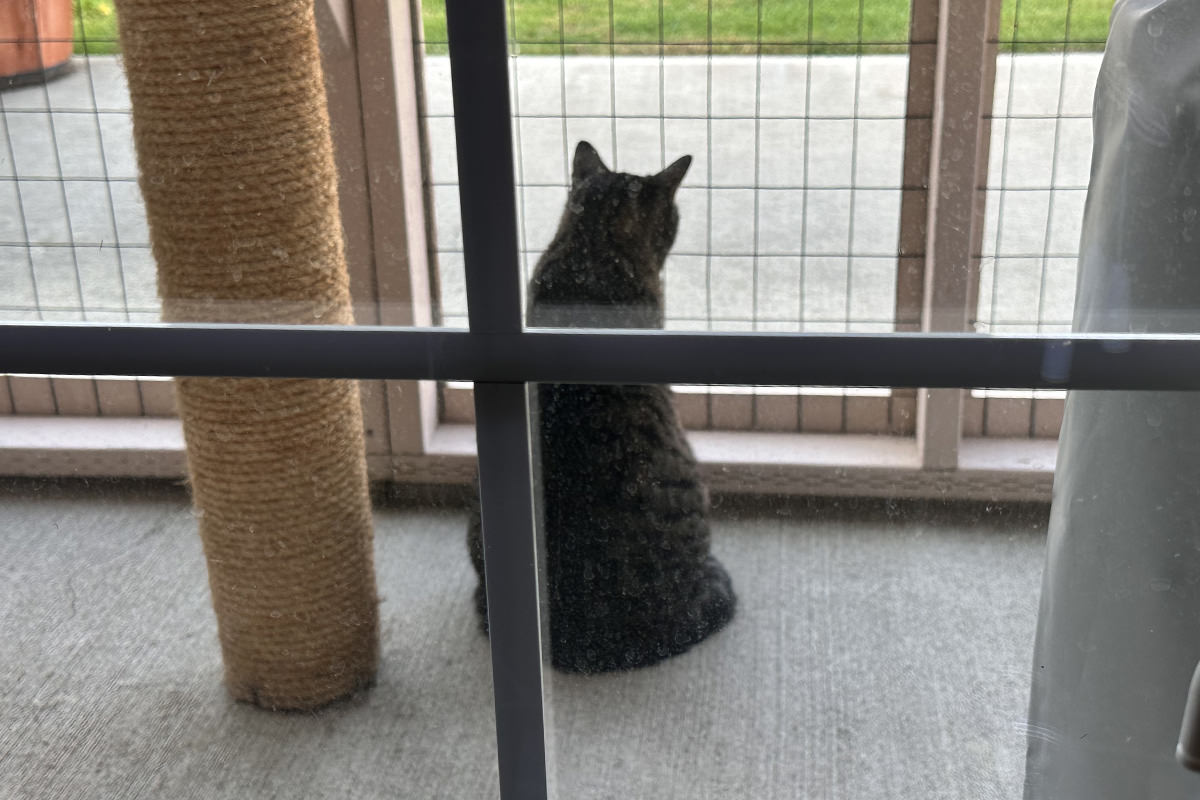 There are times I really wish I could explain to my cats why I do what I do... because it's always in their best interest in keeping them safe. But, alas, they just have to be mad at me when I deny them what they want.
Such is the life of a pet owner.