My world may be on fire and I feel like I'm dying from smoke inhalation, but never fear... because an all new Bullet Sunday starts... now...

• Todd! Skylar Astin's new show So Help Me Todd is surprisingly great (he was in Zoey's Extraordinary Playlist and Crazy Ex-Girlfriend). If you're looking for something good on TV, this is worth your valuable time...
Please please please can we get a second season of this show. There's so few series on TV now that I really love, and this is definitely one of them. If you've cut the cord like me, you can stream it on Paramount+

• Speaking of Awesome TV... You guys... YOU GUYS! Late last night I watched the Marvel Studios Werewolf by Night special on Disney+ and it's BEYOND good. Exceeded all my wildest (and very high) expectations. I watched it a second time so I could be more detached to catch all the references I might have missed the first time (no spoilers, but there are some amazing tidbits for Marvel Comics fans!). I highly recommend watching it late at night first like I did, because that's really the best...
The clever story... the brilliant cast... the incredible music... the gorgeous cinematography (lovingly shot in black & white)... it's all so wonderful. Especially if you're a fan of all those old monster movies like I am. I'm not posting the trailer because it's best to watch it with no warning, but I give it my highest recommendation. Seriously hoping that Gael García Bernal and Laura Donnelly return for more Marvel projects. They could do a new story like this every Autumn and I would be thrilled. I would subscribe to Disney+ for this and She-Hulk alone... Marvel Studios is really firing on all cylinders.

• Speaking of She-Hulk... I've been loving Marvel Studios She-Hulk: Attorney at Law up until Episode 07, which was kinda boring and pointless. I get that it was supposed to be a dive into who Jennifer Walters is and what she's going through, but it never hit as essential to what the show needs to work. But they totally made up for it with the current episode! I've been looking forward to it ever since they've been advertising Daredevil was in it... and It OVER-delivered (ZOMG! GOLD DEVIL!)...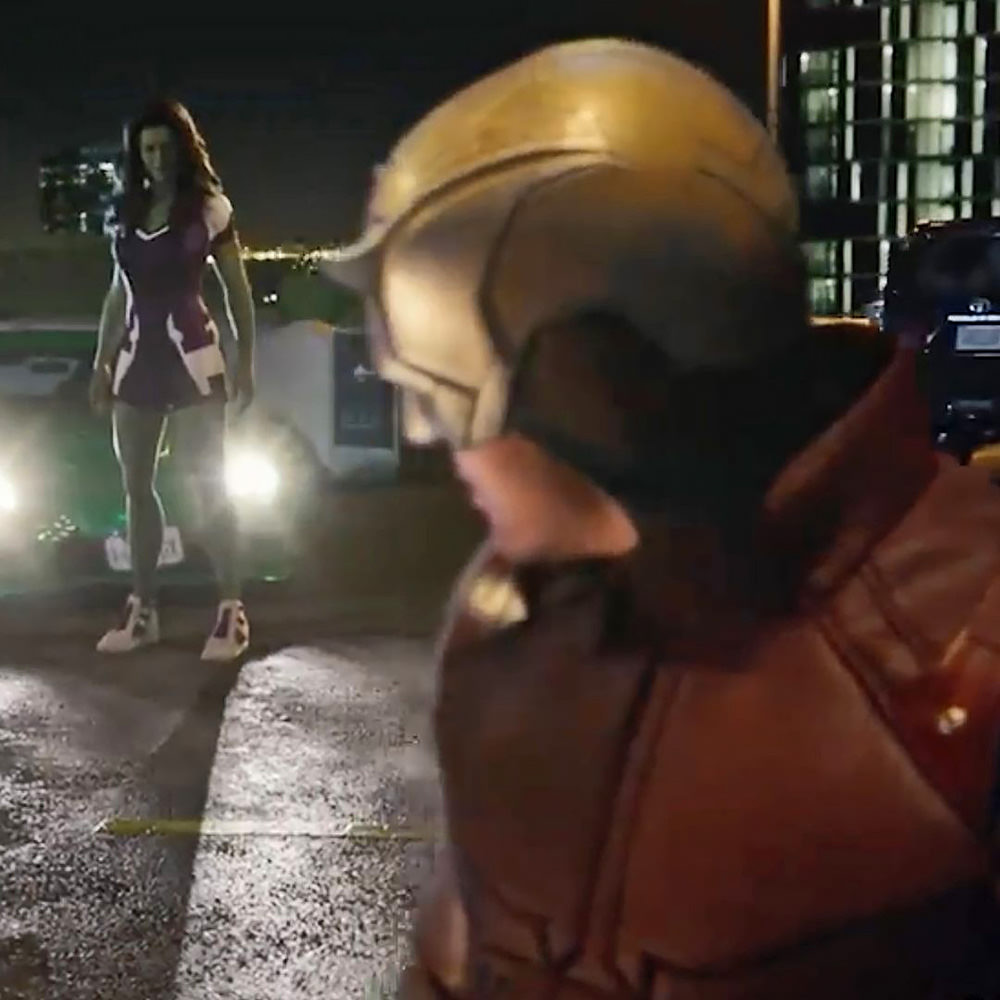 And the very end of the episode actually accomplished more than the previous episode could. This show has been brilliantly shining a spotlight on misogynistic crap that is systemic to our society (which, of course, has the dude-bro incel brigade up in arms)... and when you watch the coda to this penultimate episode, it's ALL driven home. Everything She-Hulk is shamed for is what men are celebrated for. I cannot wait for next week's finale. This is my favorite Disney+ series after Hawkeye, and I am really, really hoping for another season. Just back up a dump truck full of money to Tatiana Maslany's house and get it done.

• And One More Thing... I'm not going to post spoilers past what's already been spoiled in all the ads for the amazing latest episode of She-Hulk... but there is a huge bomb dropped which doesn't spoil the story that I am still reeling from as I watch it a second time. It's a throwaway line where they say "The Sokovia Accords were repealed..." And it's like... WHAT?!? That's a huge deal that drove an entire film (Captain America: Civil War) and popped up in other films as well. And they dropped it as a nothing line in frickin' She-Hulk? It's actually kinda awesome. And impressive. This is such a great episode. Everything that came before doesn't prepare you.

• Hasan-Bhai "See, that's the crazy thing they never tell you about adulthood. Life gets very real when 'don't want' becomes 'can't have.' " There are so few comedians who can do what Hasan Minhaj does in the way he does it. The guy is hilarious... but so very, very smart in his comedy. To the point that it can be devastating. I have missed him A lot after Patriot Act was canceled. Well, he's back and worth your valuable time on Netflix...
His previous special, Homecoming King, is the best piece of standup I've seen. The King's Jester is almost as good.

• Taking the Temp! Yesterday I installed the warming pad in Fake Jake's shelter... and have a WiFi temperature gauge set on top of it inside the wind-breaker berm. The good news is that he's spending most nights inside my neighbor's house, which will be a lot more comfortable as he gets older. But I still want a place he can go if he's outside so he doesn't freeze on nights when it's below freezing. I used to have a camera inside so I could check in on him and be alerted when he's there, but all my Wyze cameras have finally died, and I don't plan on buying any more because of their abusive WHY THE FUCK AREN'T YOU SUBSCRIBED TO WYZE-PLUS?? pestering in the Wyze App. What's interesting is that I can still tell when he's laying in the shelter because the warming pad heats up once he lays on it. Here you can see where he was on it at about 2am, then left an hour-and-a-half later...
One of these days I might find a replacement camera that will work, but everything is so expensive that my wallet may not agree to it.

• Toasted! Oh noes! I had half an avocado left and felt bougie as fuck, so I made avocado toast with flakey salt, crushed red pepper flakes, diced green onion, and fresh-ground toasted peppercorns for lunch today... and it turns out FOX "News" was right... now I can't afford my house! AND IT'S ALL MY OWN FAULT!!
I do like me the avocado toast though. Especially when paired with my potato salad, which I made with cayenne pepper in the sauce, and it tastes amazeballs.

We now return to my wildfire-smoke-filled existence already in progress.