Posted on October 17th, 2022

And so I took a week off blogging. I have to take so many medications to function at work during the day that I have to stop taking them when I get home so that I'm not in a 24/7 stupor. It's very difficult to form coherent thoughts while coming off medications, coughing your head off, and having your nose and eyes running like a faucet.
Thank heavens I was smart enough to not post right away, but wait until morning so I could review what I wrote.
And I wrote such gems as "...wishing I had time off so I could take time to not have to worry about not having time to do stuff..." and "I wonder if I wonder the smoke will ever stop smoking."
And so I decided to have a one-week sabbatical, visit my sister (where it is significantly less smokey), and spare everybody my incoherent ramblings.
Which, admittedly, is a minor step down from the semi-incoherent ramblings I usually drop on Blogography, but a guy has to have his standards. Mine are low, but not in the basement. Yet.
We may get there in short order if I have to suffer through this wildfire smoke much longer.
Posted on October 3rd, 2022

It's frickin' October. Why are we still plagued with wildfire smoke?
Every morning I get up and look out the window to see how bad of a day I'm going to have with my smoke allergies. If I can see the hills clearly, I can get away with minimal drugs so I can breathe, speak, think, and live. But if I can't see the hills...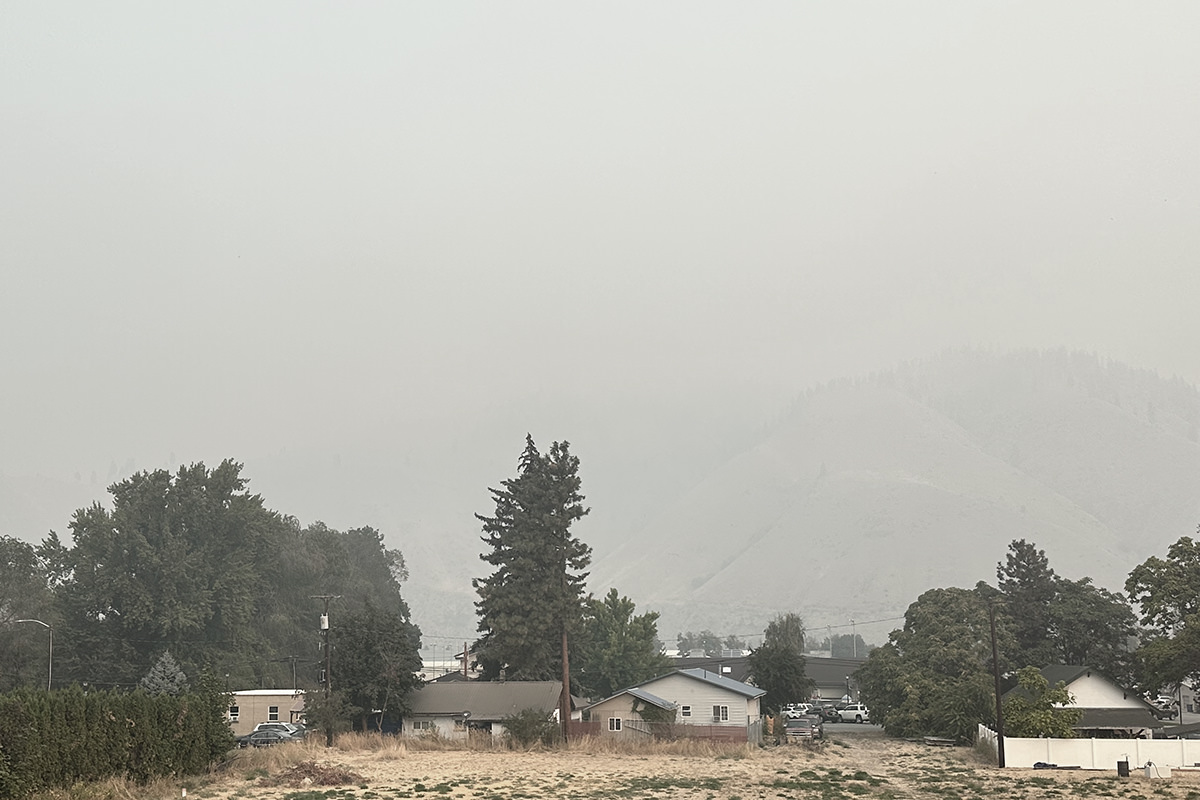 And it's supposed to continue all week. Oh what fun.
Once again my heartfelt thanks to those firefighters out there battling it out with the flames. Where would we be without you?
Posted on September 29th, 2022

This morning the wildfire smoke was the worst it's been yet this year (no, I have no idea how this is the case in late September) so I closed off the catio. When I got home Jake was crying and crying and crying at the back door, so finally I was like "OKAY! Go outside! But I tried to warn you!"
After ten minutes, he was still out there, which bothered me greatly because his little lungs are more susceptible to smoke damage than mine, and mine were burning.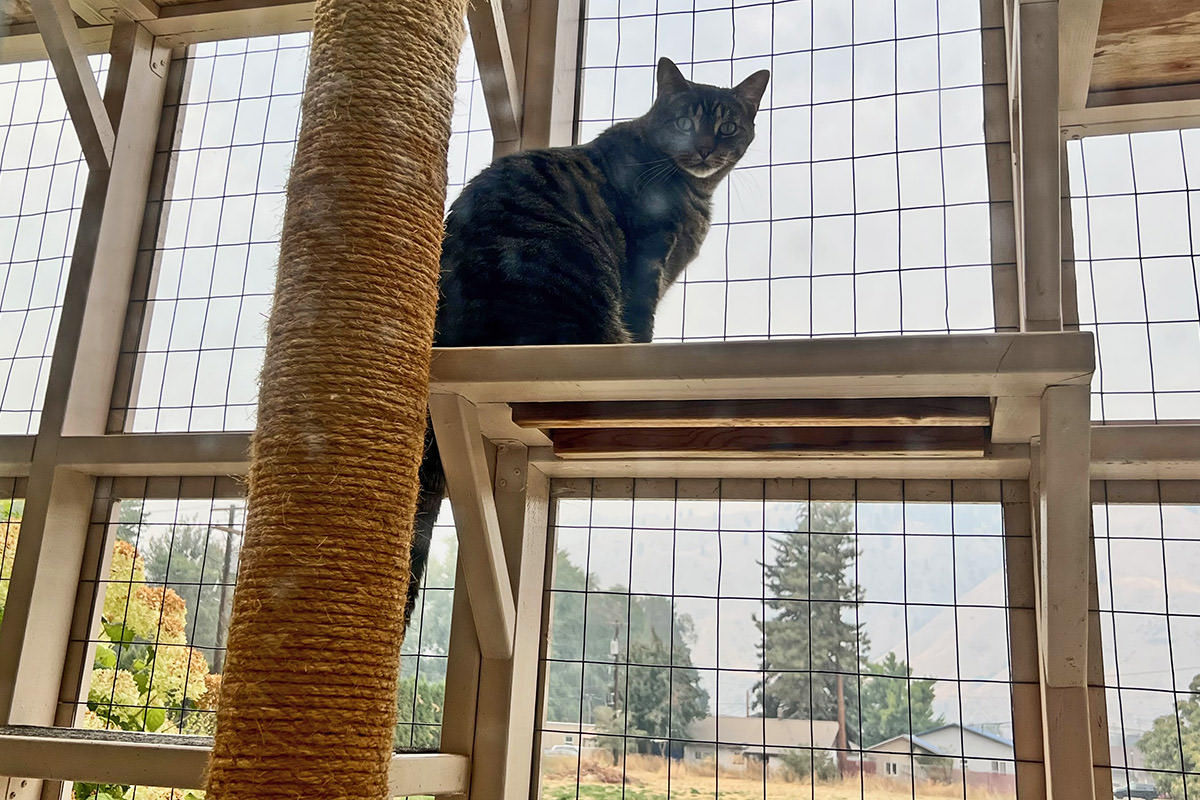 Eventually I shook the bag of treats to get him back inside. That's the one thing that's more of a motivator than anything else in his life.
Certainly more than me.
Posted on September 15th, 2022

I have had enough of this smoke.
I guess you could say that it is looking a little better today, but the smell is still hanging in the air and the hills are still hazy. It would be nice if they could manage to get the wildfires contained... not just for my sinuses, but for all the little woodland critters that are being made homeless.
IN OTHER NEWS...
Since I can't go outside except to drive to work, I have been staying indoors huddled up next to my air purifiers and watching a lot of television. And holy crap have I got a winner. If you want to see one amazing television show, then tune into Netflix for лучше чем люди (which translates as "Better Than People," but has been retitled Better Than Us by Netflix). It takes place in the near future where robots are around to help humans... but a new kind of robot prototype escapes, and her programming is not like other robots!
This series is gorgeously realized. The tech that's integrated into people's lives all seems remarkably intuitive and real. The world that's been created is amazing... not so far from our own, but jusssst different enough to be fascinating. And the cast is incredible (the young girl who plays Sonya is so good). Seriously one of the best things I've watched in a minute. The more you watch, the more it sucks you in! I have no idea why Netflix didn't promote the heck out of this show. You can watch all sixteen episodes dubbed into English, but the original performances are so good it's better with subtitles.
You're welcome!
Posted on September 13th, 2022

I am getting close to my breaking point here. I am doped up on allergy medication all day, which means I'm falling asleep all day. The irony being that the constant drainage of my sinuses makes it impossible to actually sleep.
This is Day 3 of being held hostage by increasing amounts of wildfire smoke. Except I still have to go into the office, which involves my opening the door to the smokey hellscape outside, dashing out of the house, then closing the door as quickly as I can (then hoping that the air purifiers will get rid of any smoke that crept inside).
But the cats? They don't seem to care about the smoke at all. Both of them are out in the catio several times a day. You'd think that their enhanced sense of smell would be overwhelmed, but apparently they care less about that than having a few remaining warm days outside (though it's not so warm here any more!). I worry about their tiny lungs... but they're so low to the ground that there's not much smoke there. But the smell is still fierce.
I remain hopeful that they'll be able to put out the fires very soon thanks to dwindling heat and occasional rains, but every time I look at the wildfire map the fire perimeter seems unchanged.
I'm destined to have smoke on the brain for a while longer, I guess.
Posted on September 12th, 2022

This year we've been blessed with few wildfires plaguing us. And those that have been around haven't really blown into the valley all that much.
Until now.
Very early Sunday morning I woke up smelling smoke, which always provides a small amount of trauma because my mind instantly transports back to when I was in the middle of a fire and panic sets in. Once I realized that it wasn't my house on fire, but was instead smoke from one of the three fires in the mountains, I was flooded with relief. For about 5 minutes. Then I had to think about how this would affect my serious smoke allergies...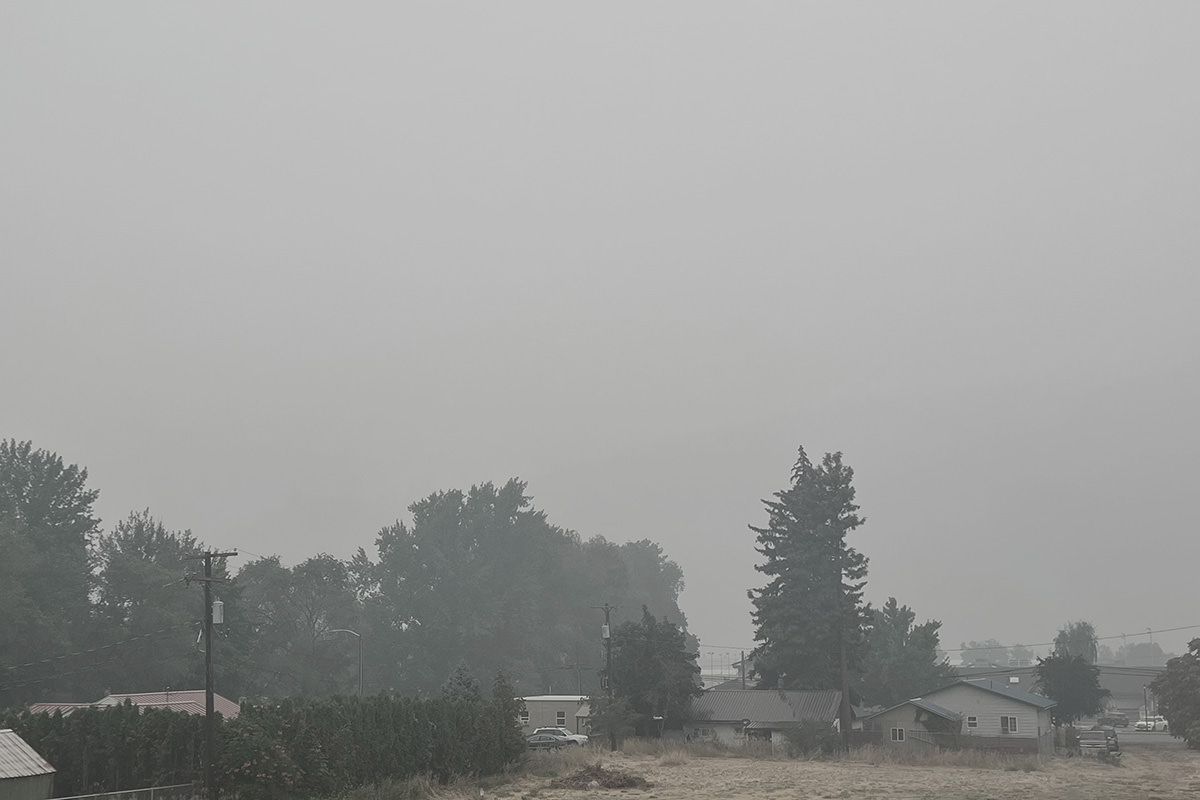 The nearby hills are completely missing here
Here is the treat that I get to endure when the smoke gets terrible...
Cramping. This is not "ooh, my insides hurt a bit" bad, it's more like "ZOMFG! SO THIS IS WHAT IT'S LIKE TO GIVE BIRTH!" bad. I end up laying down doubled-over in agony. And it's not just smoke... any incense that's burning will have the same effect.
Diarrhea. No idea why. Probably a side-effect of the cramping?
Shortness of Breath. This one is kinda obvious, but it's not as bad as the cramping, so I can deal with this so long as I'm not exerting myself.
Loss of Apetite. This is a bit of a big deal because I gain/lose weight so easily. Two or three days of not eating and my pants are falling off of me. I usually force myself to eat something when my stomach starts rumbling.
Vomiting. If I eat in small amounts, it's not so bad. But anything more than a small handful and I might as well not eat at all.
Dry Heaves. What's that? "Just don't eat and enjoy the weight loss," you say? Doesn't matter. Even worse than throwing up anything I eat is getting dry heaves for something I never ate.
So... not a great day to be me! Hopefully you're having a better day being you.
Posted on August 7th, 2017

The smoke-filled air has become so bad that going outside for even a minute is like painting my lungs with glue. Most days now the haze is so bad that I can't even see the surrounding hillsides. The paper said air conditions would be improving, but that hasn't happened at all.
Which has resulted in my cats being upset at me for limiting their time out in the catio.
I only let them out when I can see through the air... and even then just for an hour. Any more time than that and I worry what might happen to their little lungs.
Needless to say I really worry about the animals (like Fake Jake) that are out in the smoke all day and night. This cannot be good for their health.
Ironucally, my Solar Eclipse viewing glasses and camera lens cover arrived today. Don't know if things will be cleared up enough for that to matter, but here's hoping.
Posted on August 2nd, 2017

Yesterday was fairly uneventful. Woke up hideously early to make my flight out of Boston... changed planes in Seattle... and... eventually made my way home to Redneckistan. Easy!
Except...
Thanks to wildfires in British Columbia and the Okanogan, things here have become quite dire. Smoke is so thick that the entire county has been declared a hazard. THIS was my view of the valley after pulling over on the way home...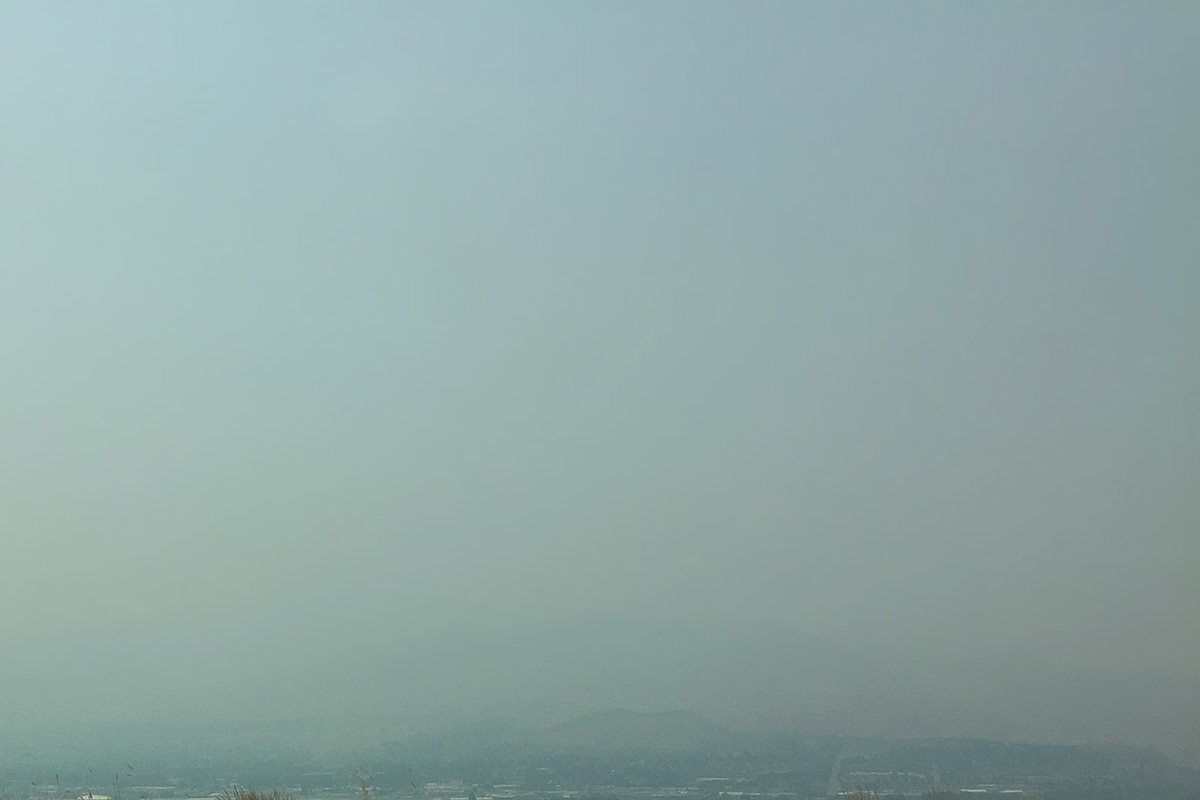 Pretty nasty.
When the total eclipse happens later this month, I'm supposed to be able to see the moon obscuring 92.1% of the sun from my house. I bought viewing glasses and a filter for my camera and everything...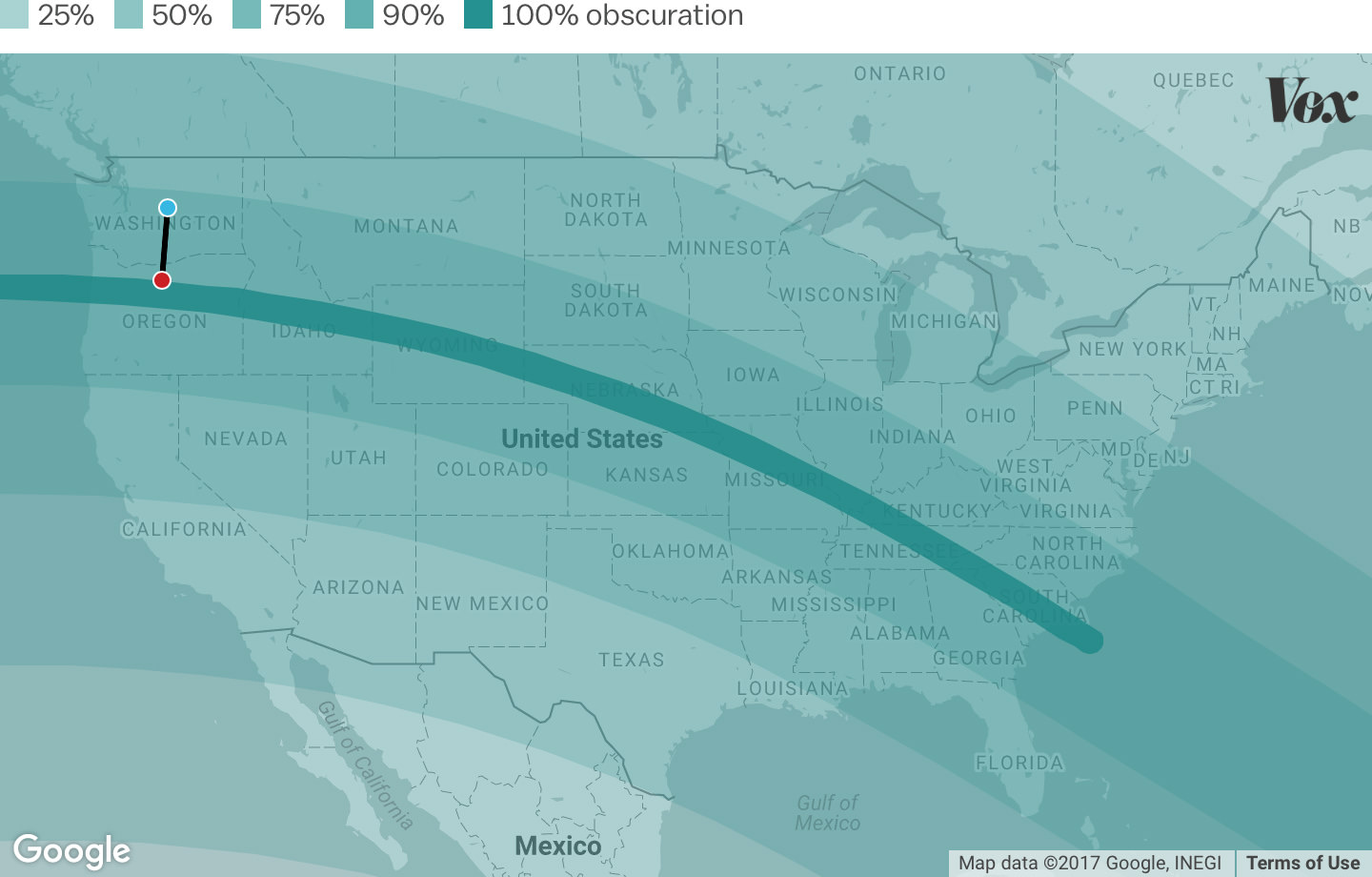 But, if this smoke keeps up, I won't be able to see much at all.
It'll be a real bummer if that happens.