This is a long one, so strap yourself in.
When I adopted my cats one year ago today, I was supposed to take them back to the vet in six weeks as follow-up for their spay/neuter surgeries and to get a booster for a shot they had just gotten. It was never going to happen. As feral rescues, they were still hiding under the couch most of the time at six weeks. I called the vet and was told that since they were indoor cats they could probably get away with waiting for their annual check-up in a year.
Which was today.
This was something I absolutely did not want to do. In preparation I had read several stories from people who had said that their cats became hostile towards each other after their first visit. Something about the vet smell screwing them up or whatever. Jake and Jenny are so sweet to each other that this would kill me, so I was about as nervous as I've ever been. My first time having sex was not nearly as nerve-wracking as this. Needless to say, I did not get any sleep last night.
And then, before I knew it, it was time to go.
Months ago I bought new pet carriers that had doors on the top. I had numerous people tell me that it was the best, least traumatic way of loading your cat for transport.
Thank heavens I did.
I had been training them to go into the carriers for the past several weeks by bribing them with treats. It never failed. Until today of course. Jake went right in. Jenny refused for some reason.
My whole plan was to lock Jenny in first, because she was the one I was most worried about getting to stay in the box. So I grabbed her, with the intent of dropping her through the top of her carrier. She put up a fight, but I got her in on the third try. The commotion agitated Jake, but I was able to shove him in his carrier before he could back all the way out of the box. I quickly locked all the doors, sprayed a shot of Feliway to calm them down, and... voíla... two cats, ready for transport...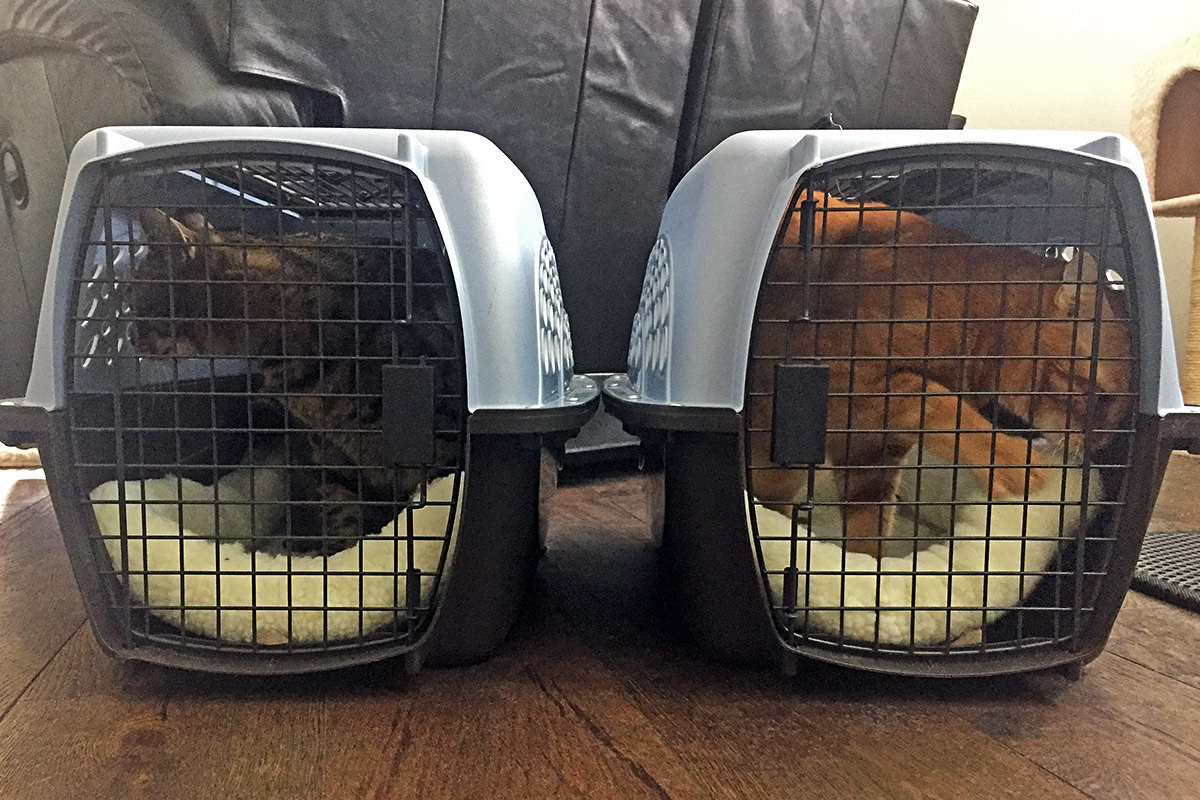 At first, they were quite calm about the situation. Yes, they were trying to open the doors and get out, but they were more curious than upset about their predicament. After giving them a few minutes, I hauled them out to the car. I had put a 2x4 in the back seat so they wouldn't be at an angle, then faced the doors towards each other so they could see they weren't alone.
Two minutes after pulling out of the garage, I honestly thought I was the luckiest person alive. My cats were still calm and collected. This was going to be a piece of cake!
Three minutes after pulling out of my garage, Jenny started crying. Seconds later, Jake had joined in. Guess I wasn't going to be so lucky after all.
But the real drama began once I hit the highway. Jake started yowling. Then he was thrashing in the carrier so violently that I was worried he was going to hurt himself. Jenny went catatonic and just laid in her carrier frozen in terror.
Eventually Jake calmed down, but still went into howling fits from time to time. Jenny was in some kind of shock and didn't make a peep.
22 minutes after leaving my house, I pulled into the veterinary clinic. It felt a lot longer than 22 minutes.
When I got out to check on the kitties, I noticed Jake was panting hard and his bedding was flipped on its side. On top of that, his nose was scraped up, the poor guy. His efforts to escape had him in a sorry state. But by the time I had checked in and came back out to get him, he was calm again.
The nurse weighed and took Jake's temperature first. He took it like a champ, then went exploring. Jenny had to be dragged out of her carrier, but managed to be weighed/temperatured without too much of a struggle.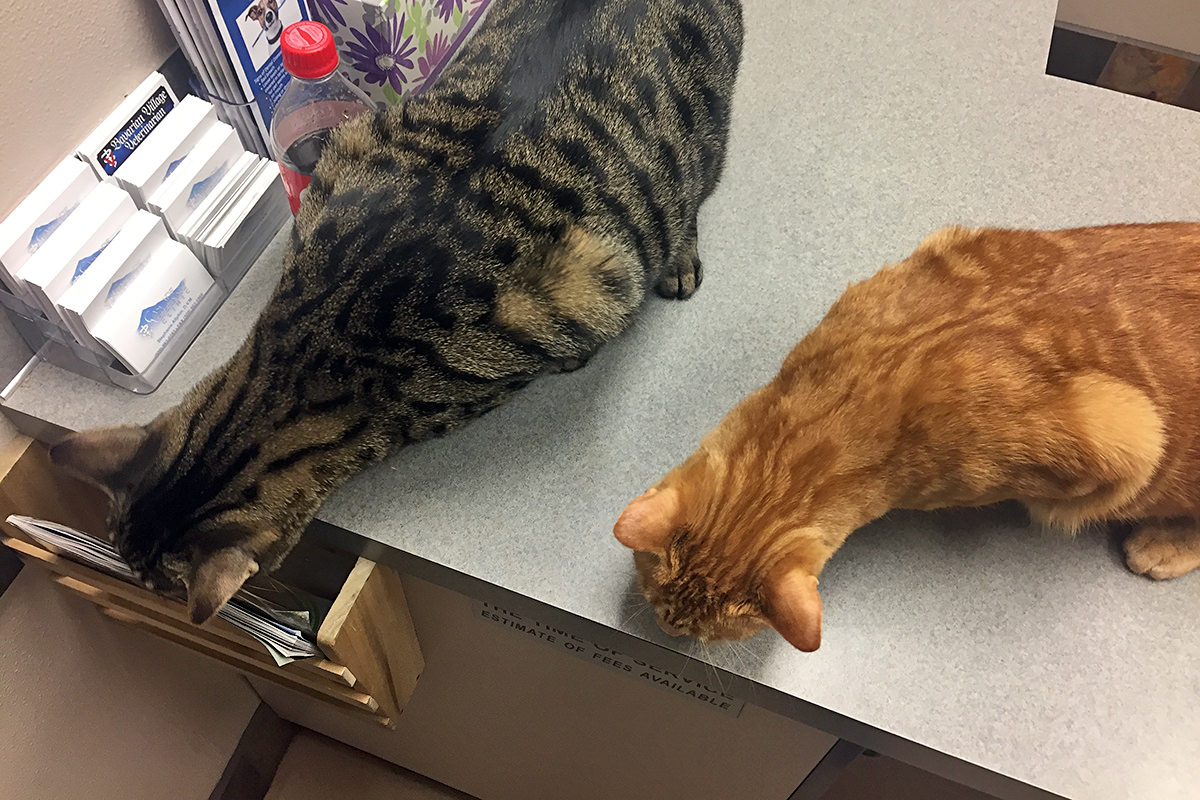 The nurse left, then the adventure really began as we waited for the doctor. Jenny ran to hide immediately. First trying to hide under the paper towels...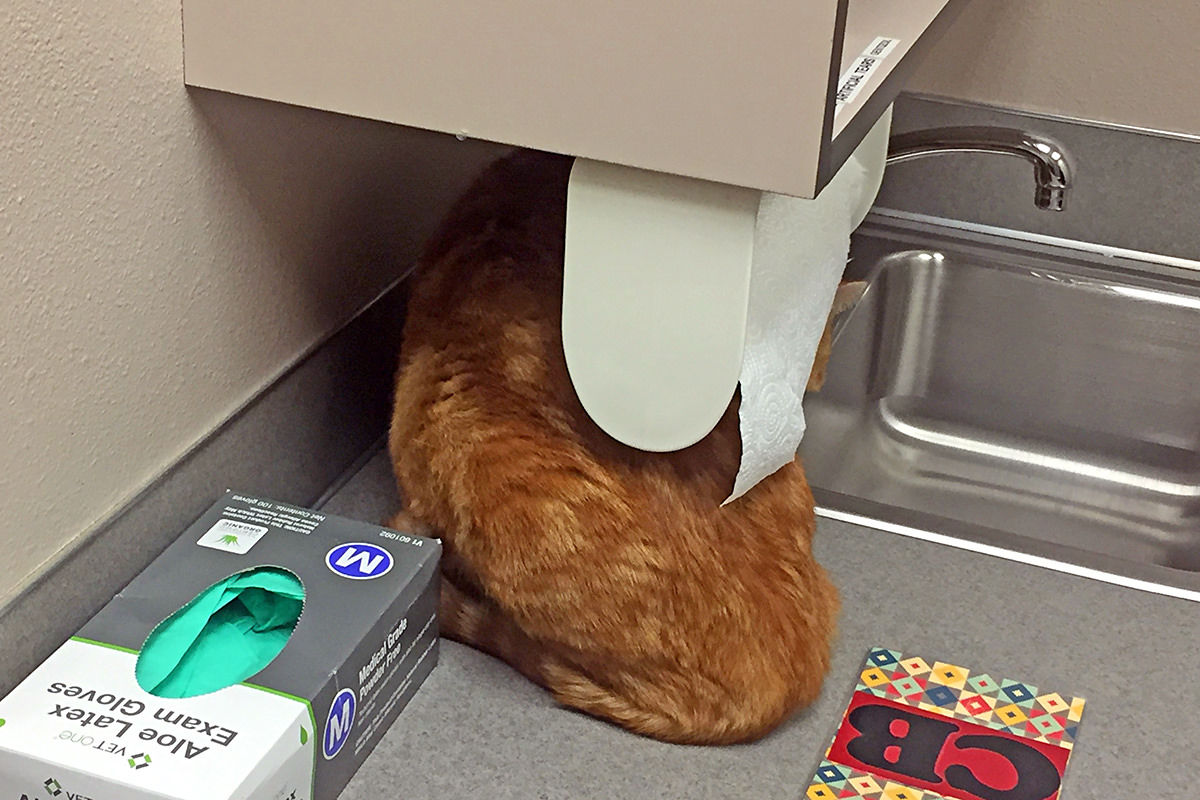 But eventually finding a much better spot...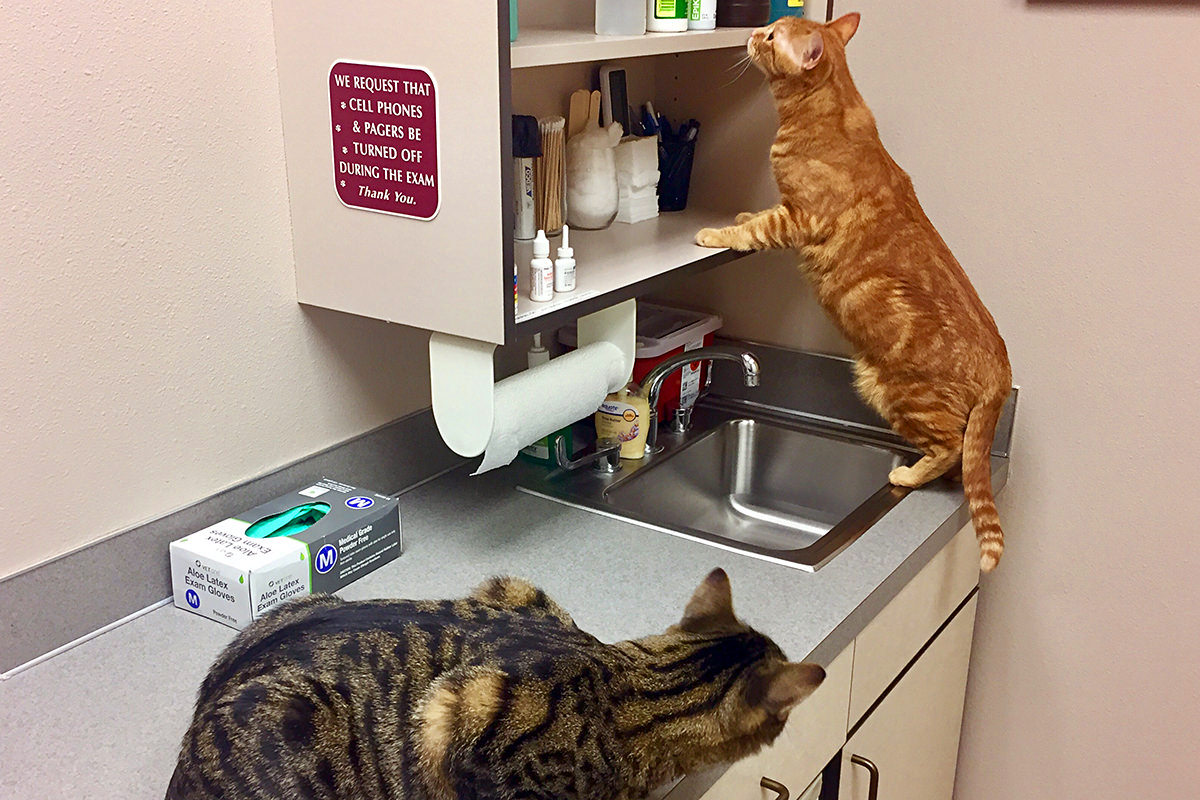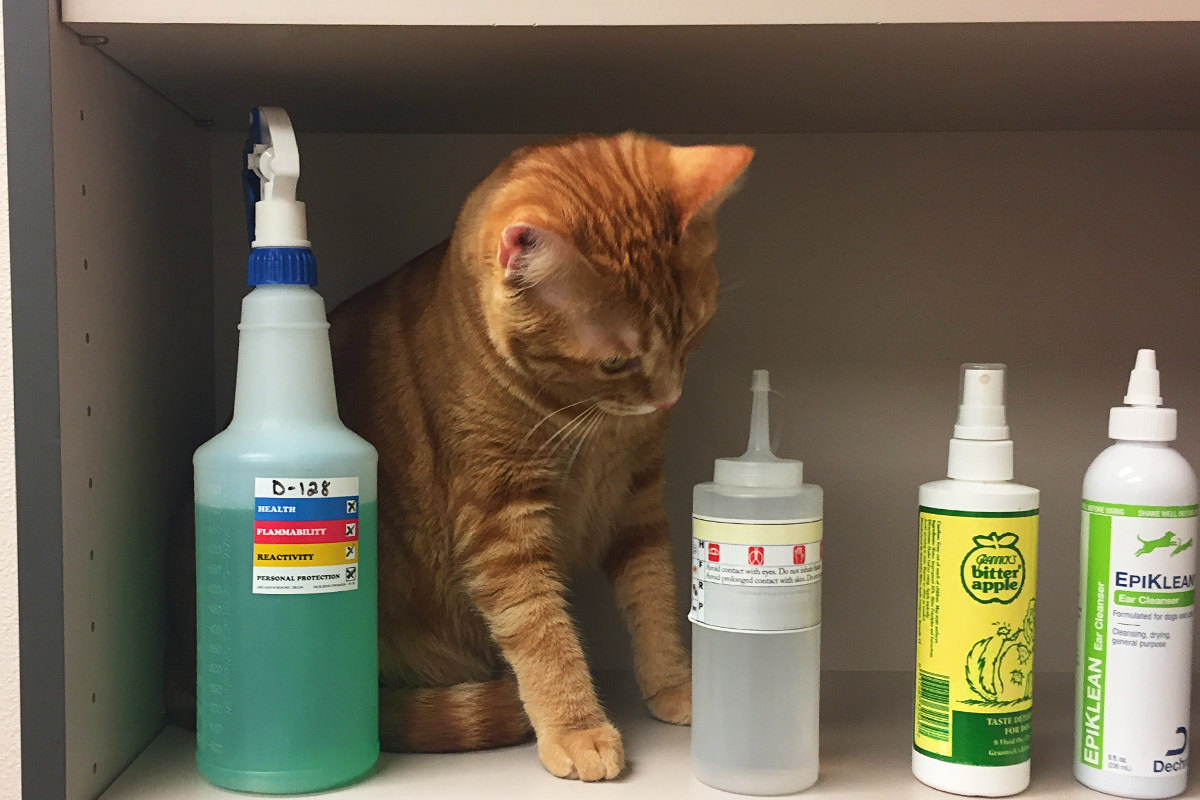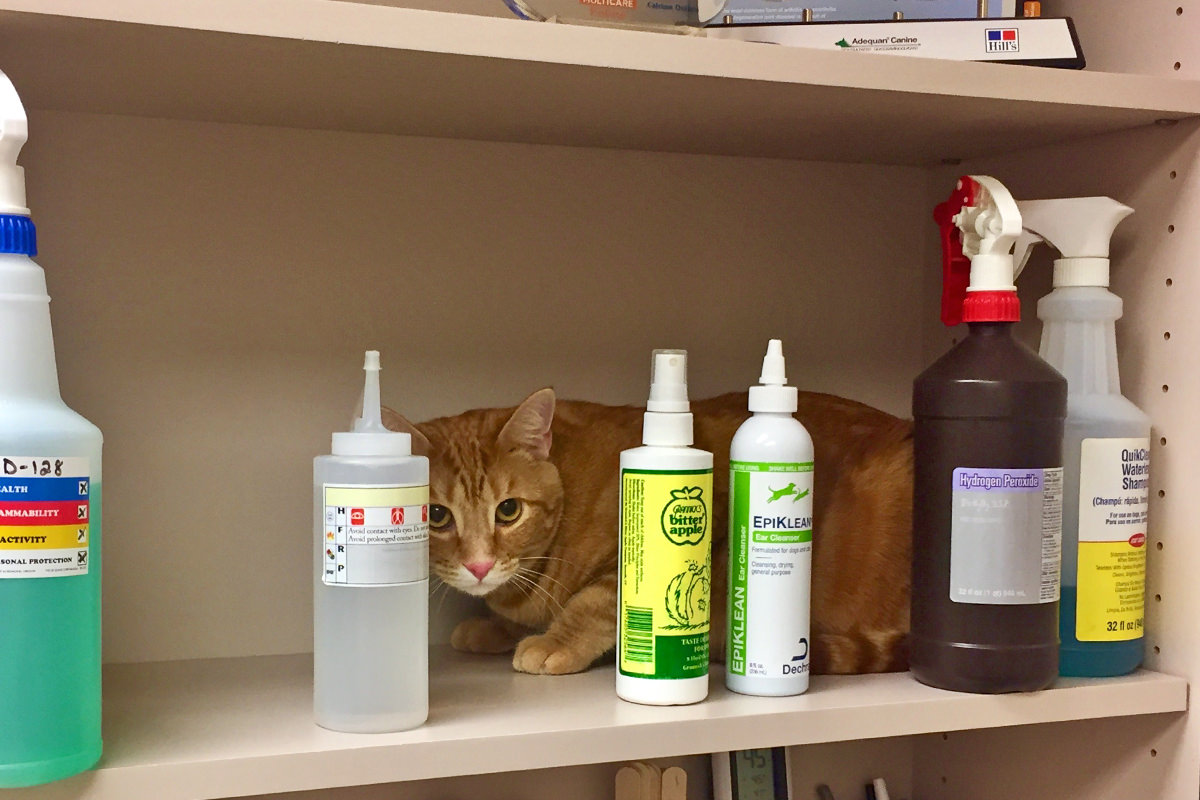 She would stay there until forced to leave.
When the doctor came in, he let Jenny be and took a look at Jake first. The good news is that Jake is in perfect health... but, not surprisingly, could stand to lose 3 or 4 pounds. While I distracted Jakey-Bear with head rubs, he got the vaccinations he needed and didn't even flinch. Then he tried to escape by jumping to the TOP SHELF of the cupboard, and failed miserably. Lucky for him, the doctor had quick hands and caught him before he hit the sink. "Wow. That was pretty good for a cat his size! If he was four pounds lighter he would have made it!"
For safety's sake, we loaded Jake back into his carrier.
Then it was Jenny's turn.
Bless him, the doctor was really sweet in trying to calm her down and make her comfortable. He even let her stay put for the first half of her exam...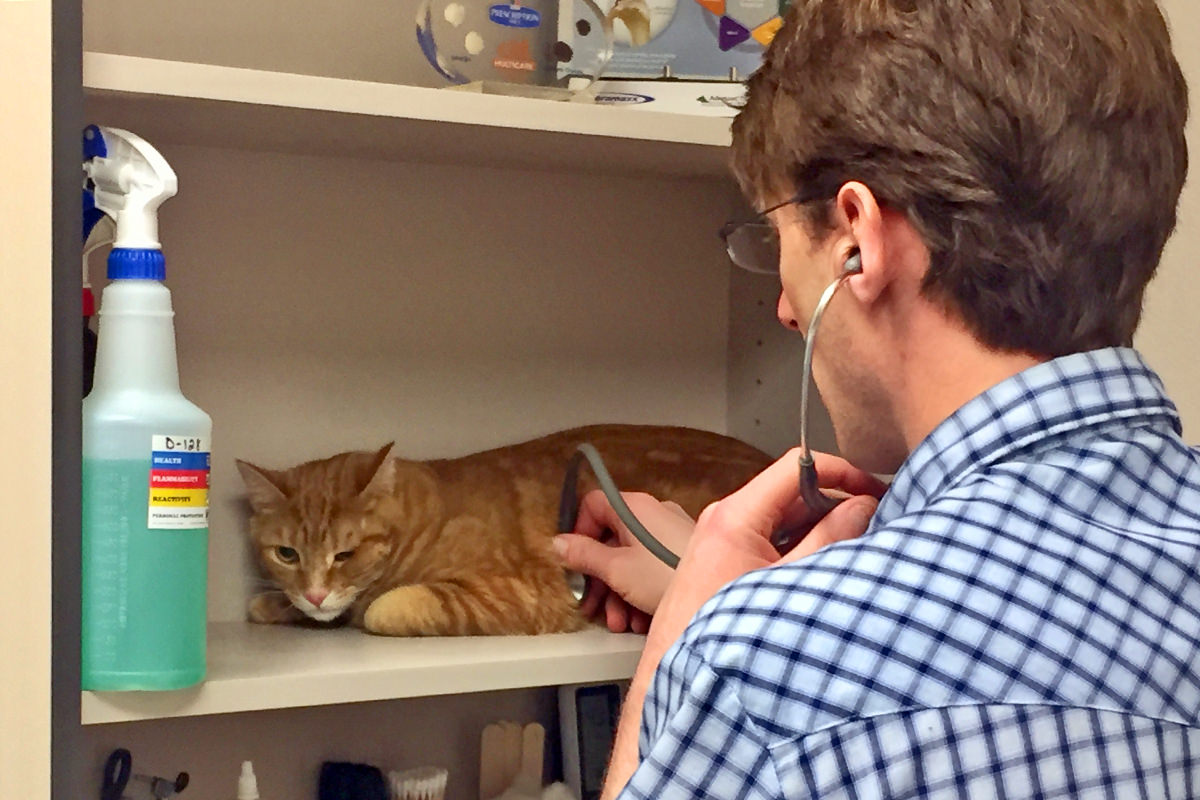 He finally had to pull her down to give her vaccinations. It wasn't too bad... though I did have to hold her down because she was just not into being exposed in the open like that. The doctor said "you have beautiful cats," and then... $200 later... it was over.
Jake started yowling a bit as we were half-way home, but he wasn't thrashing around hurting himself this time. Jenny never made a peep, but I think she was just exhausted and not catatonic again.
When we got home, Jenny immediately ran upstairs. Jake started walking around the room smelling everything.
Eventually Jenny came downstairs to forgive me for such a betrayal...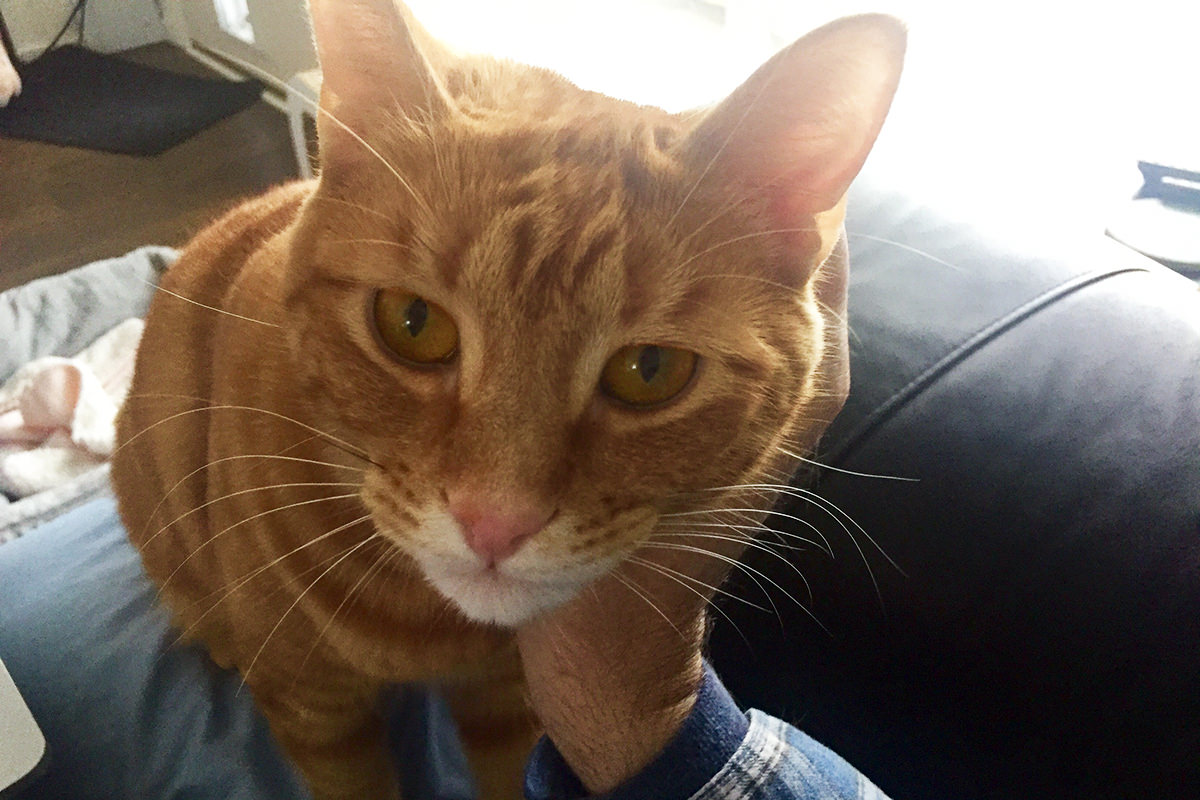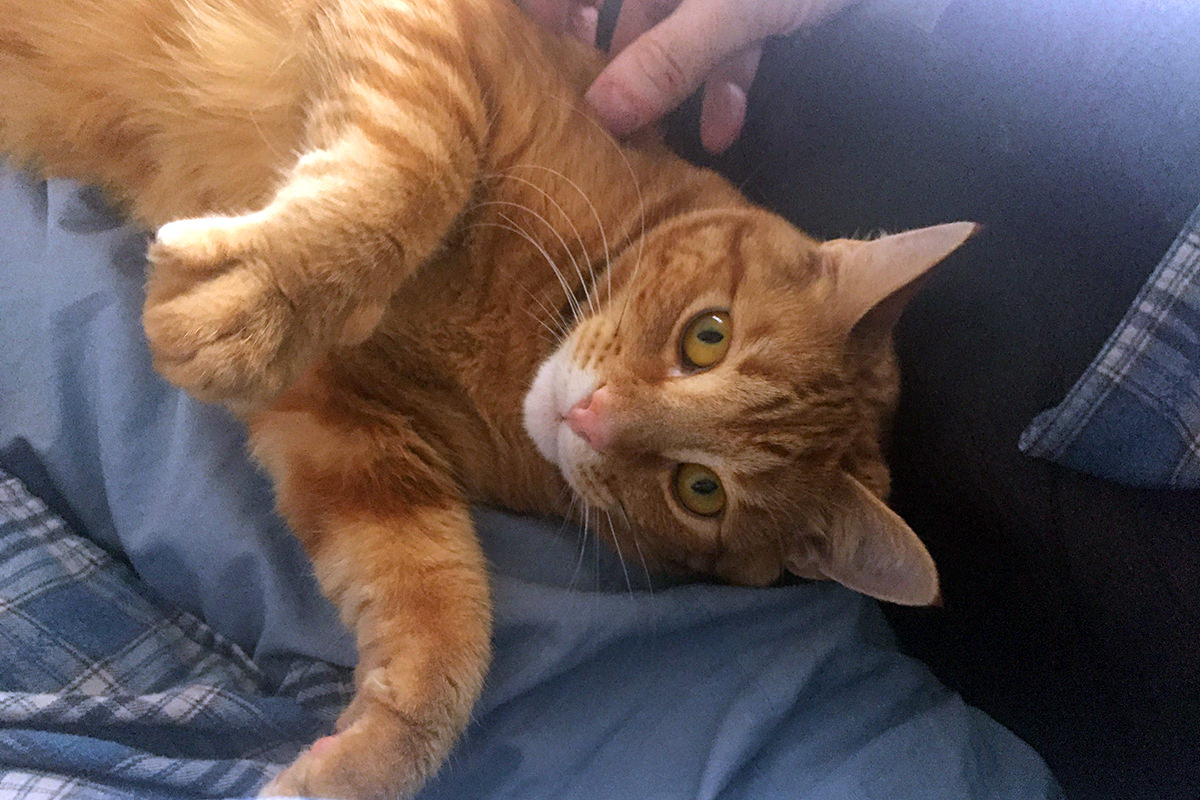 Jenny usually likes gentle petting. But the harder I scrubbed her, the more she liked it. This left her looking a mess, but I think it helped get the vet smell off of her, which I'm guessing was the goal...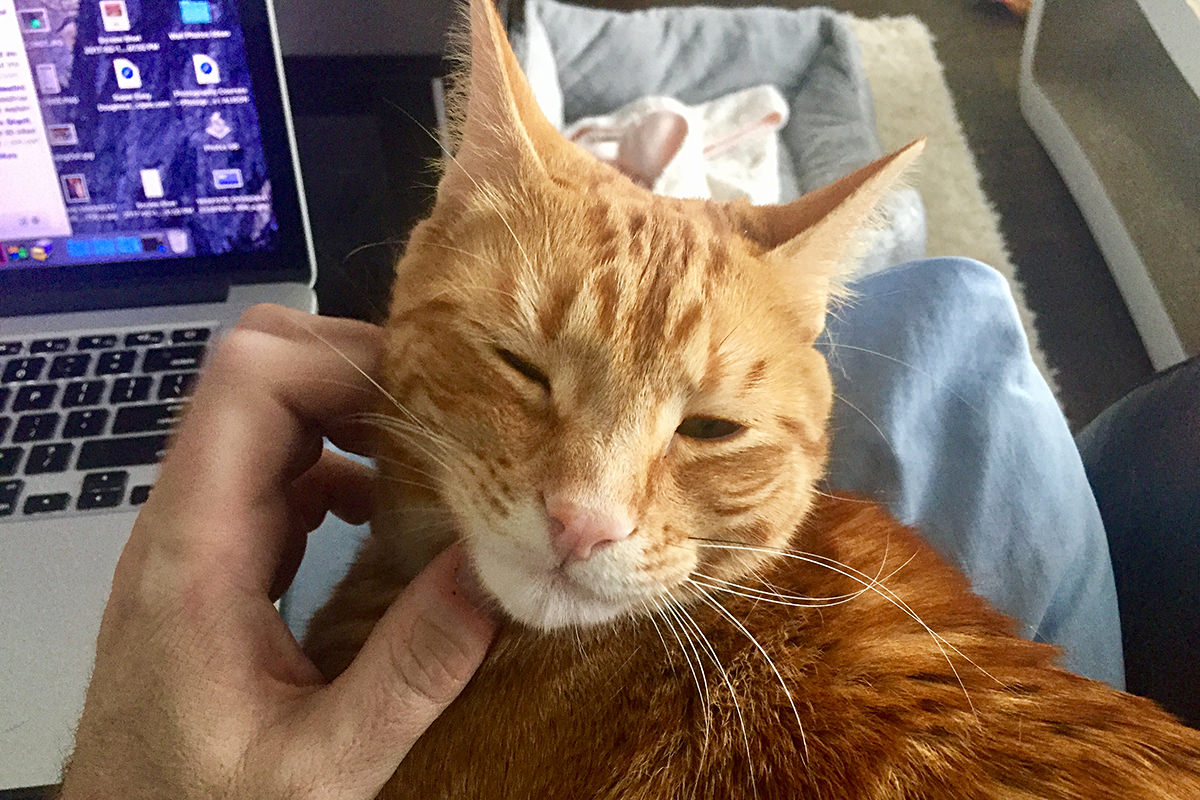 After twenty minutes or so, Jenny hopped off so Jake could have his turn. He was still pretty freaked out...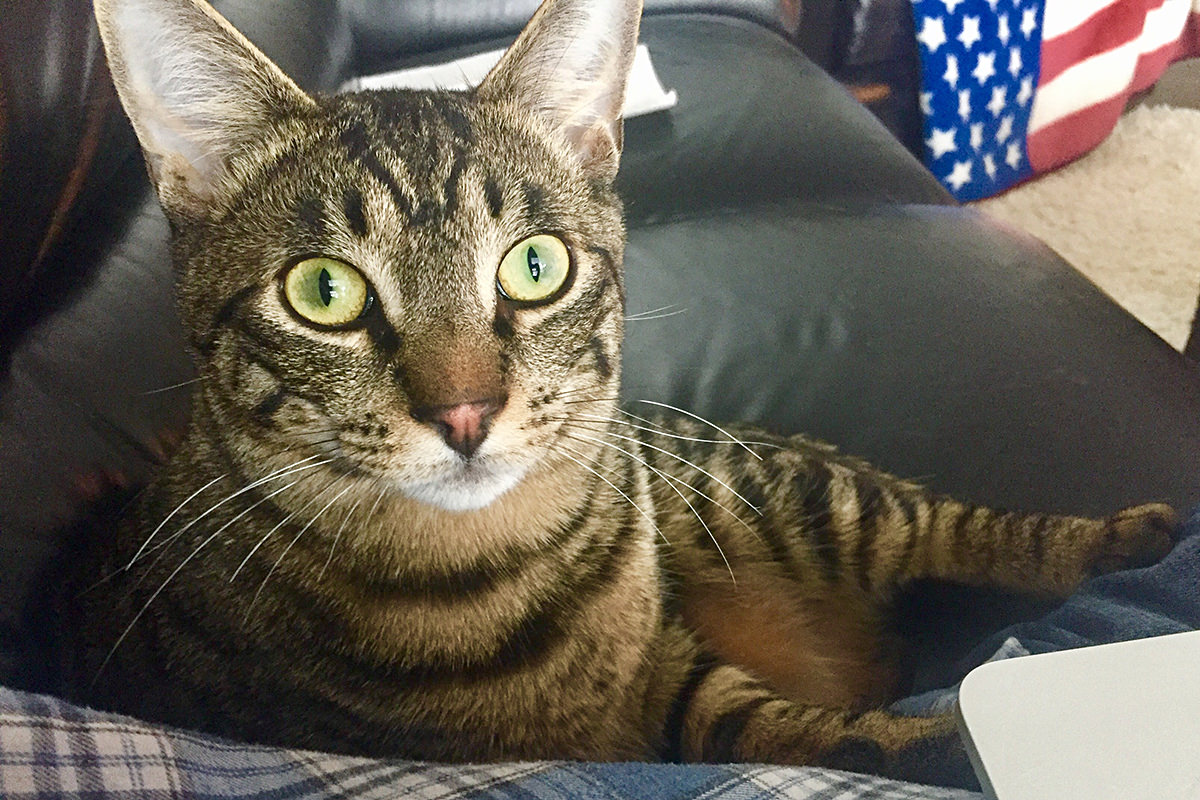 But calmed down after five minutes or so...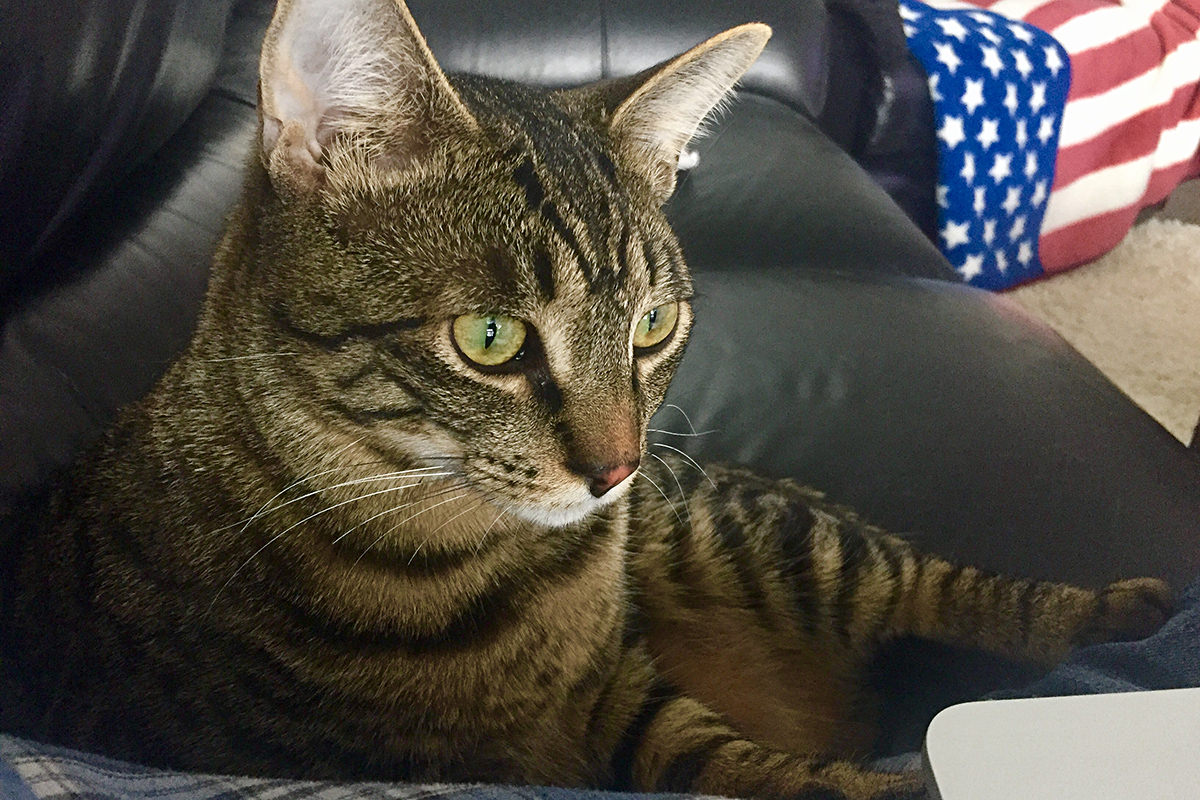 So... probably more traumatic for me than them, all things considered. Or so I'm guessing. What I do know is that =knock wood= I am so very glad I won't have a vet visit for another year...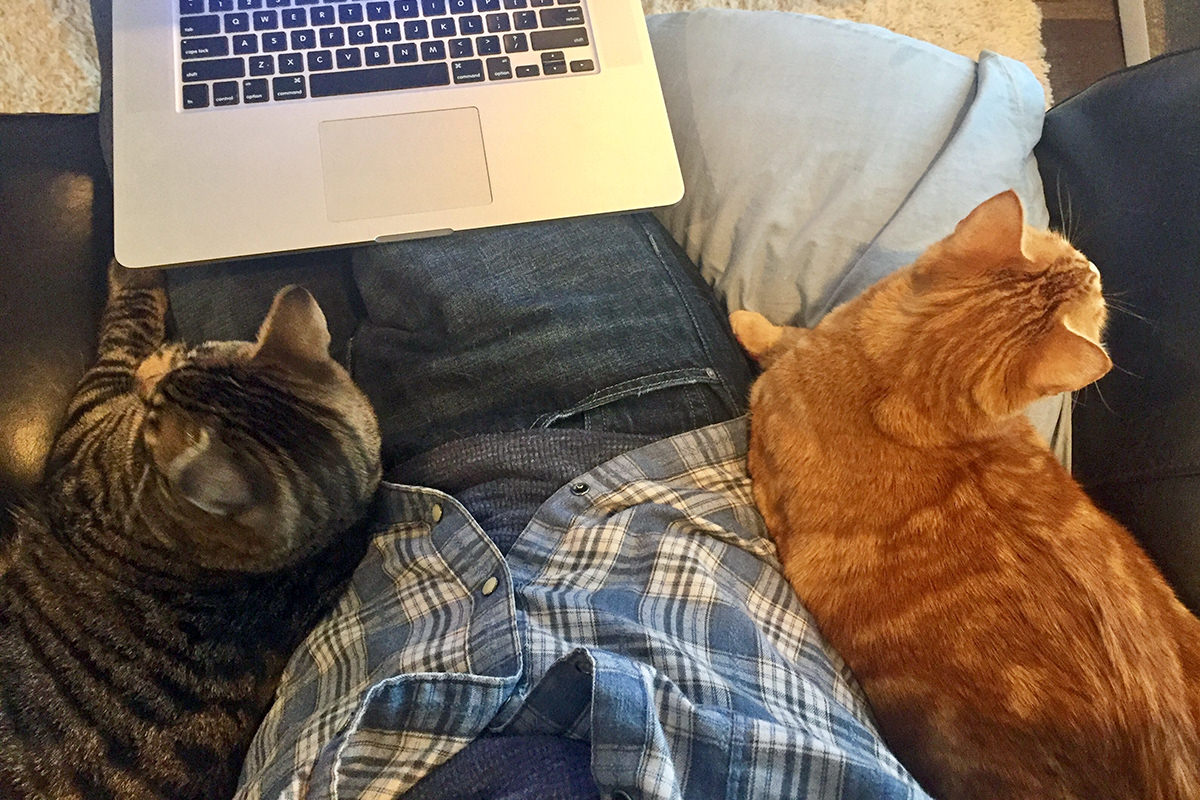 In the meanwhile... all is well...