I found out that my long-time blogging friend Anissa died this morning.
Words completely escape me. There's nothing I can say that could encapsulate just how painful this is. And yet... I'm going to give it a try, because powering through life in the face of tragedy is what she was all about.
Anissa is joy to all those who knew her. No matter what she was going through... no matter what hardship she was facing... no matter how much she was struggling... you would never know it because her grace, humor, wit, and spirit always made you feel as though she hadn't a care in the world. Life, such as it is, was her bitch.
The irony of my last interaction with her on Facebook is not lost on me...
Tacos.
And here's where we go back to the start.
Though I had known her online for years prior, the first time I met Anissa in person was at Davelanta 3 in 2009...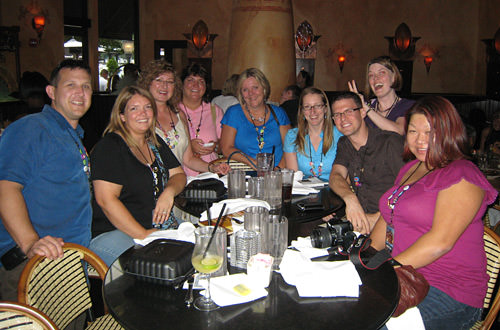 Kevin, Beth, Diana, Kim, Val, Mr. & Mrs. Muskrat, Heather, and Anissa... not pictured is Julie, who ditched our sorry asses so she could go to a much better party with a group of much classier people!

I fell in love with her that night.
Which is not at all unusual, because everybody who met Anissa fell in love with her. She's STD-level infectious like that.
I sat next to her at dinner and remember it like it was yesterday. We were at The Cheesecake Factory, and a lot of our discussion revolved around their Deep-Fried Macaroni and Cheese Balls. We had much to discuss on the topic. Mostly because she was nibbling on my balls the whole time.
And then...
Not long after that infamous first meeting, Anissa had a stroke and her whole world changed.
Not that you would know it because, despite being confined to a wheelchair, Anissa herself did not change. She was still the same brilliant, beautiful, snarky, and entirely inappropriate person she had always been. Just slowed down a bit.
We finally met up again at another blogger meet in 2011...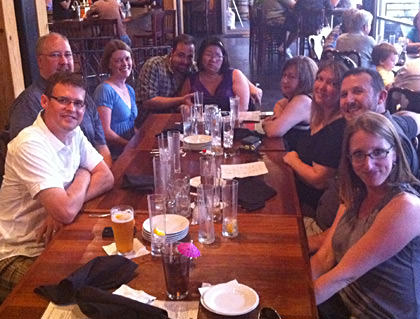 Mr. Muskrat, Tyler, Heather, Adam, Anissa, Anissa's Friend(?), Beth, Kevin, and Mrs. Muskrat!

Seeing how Anissa was struggling was not easy.
Seeing how she was overcoming adversity was truly inspiring.
And she continued to inspire everybody she encountered for almost 6 years to the day I last saw her.
My heart is broken. What's left of it goes out to her husband and three children, all of whom were Anissa's everything. That she had a heart big enough to share with the rest of the world too is everything you need to know about her.
Well, that... and the fact that she really couldn't keep her hands off my balls that night. Not that I can blame her... they were delicious. If there were a Cheesecake Factory anywhere near me, that's where I'd be. With a Long Island ice tea and big ol' plate of deep-fried macaroni and cheese balls in her honor.
Rest in peace, my dear friend. You were loved so much by so many, and your having to leave us hasn't changed that.