I was supposed to fly home today since work is done, but I decided to stick around and hang with Mickey Mouse instead. The last time I was in Disneyland was four years ago. A lot has happened since then.
And I don't just mean that The Pirates of the Caribbean ride is closed for repairs... though that is irritating since it's my favorite theme park ride ever, and the Disneyland version is better than the Disney World version by a long shot.
No, what's happening is a shockingly large expansion of the park to include the new "Star Wars Land" that's being built just above Frontierland. You can catch glimpses of it from the top of the Big Thunder Mountain Railroad ride and the Splash Mountain ride, but Nearmap has an aerial view that reveals the true scope of the project...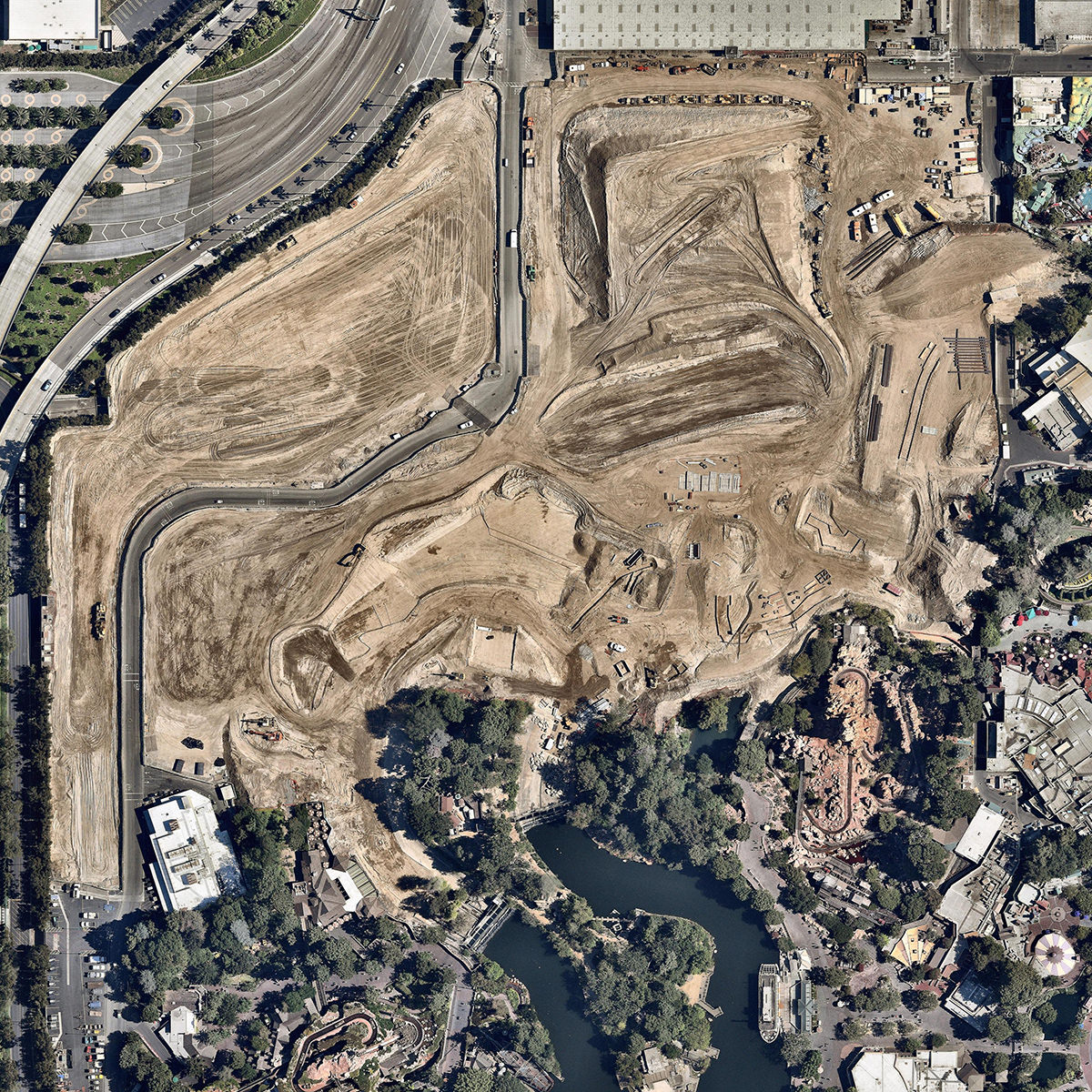 Image copyright NearMap... CLICK HERE FOR FULL RESOLUTION
To give you an idea of just how huge that is, I've draw it on a Google Map of the entire park...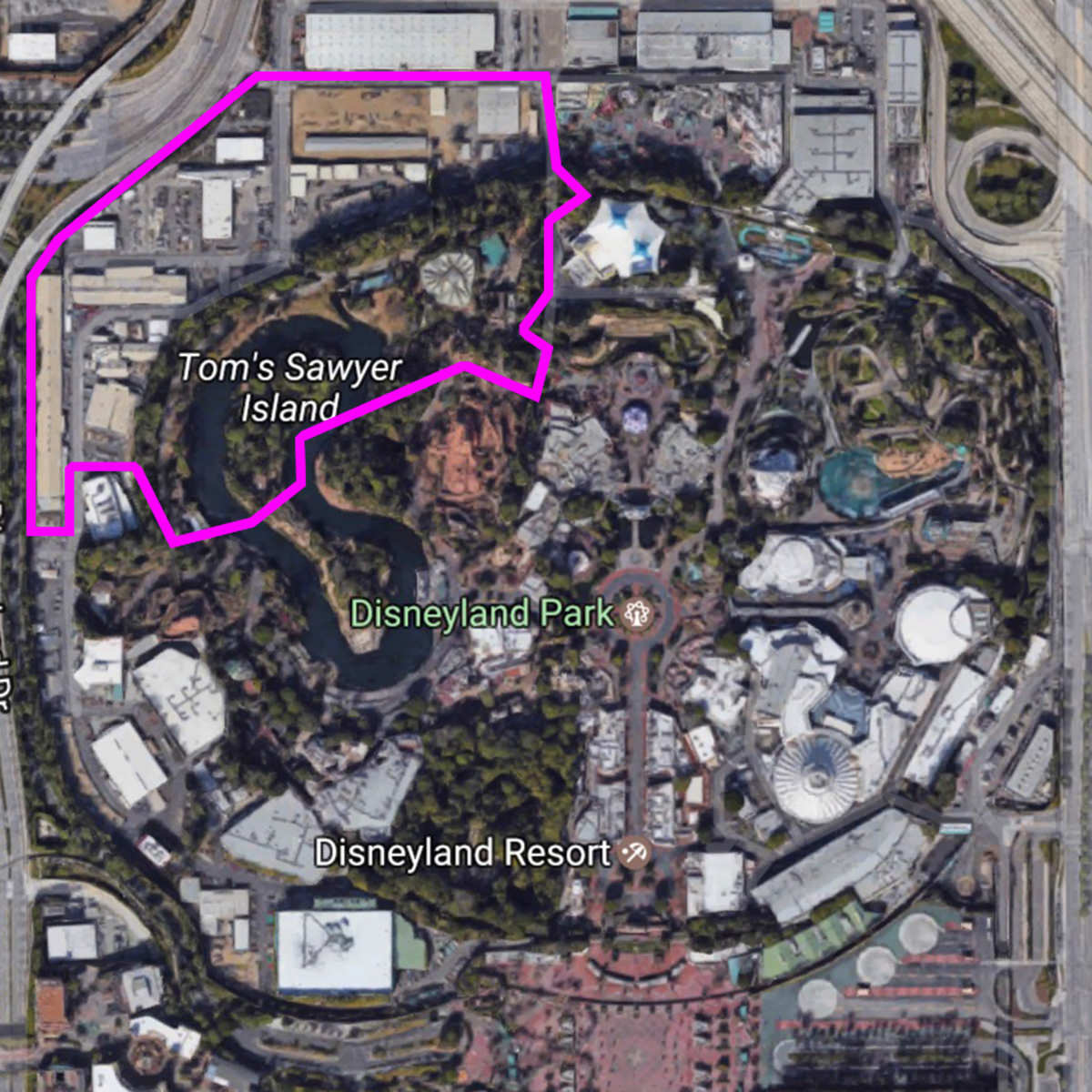 It's a safe bet that eventually "Rivers of America" will be made back into a loop so that the river rides and Tom Sawyer Island will be running again... but they're probably having to make adjustments to keep Star Wars Land separated off from Frontierland so the illusion of being in a "world" won't be spoiled.
Even so, that's a massively huge addition to Disneyland. I figured that since Disney World has so much land available that theirs would be big... but Disneyland? Who knew? The end result is probably going to be double the size of Tomorrowland, and they've still got room for future expansion.
Here's some concept art from Disney showing what Star Wars Land will look like...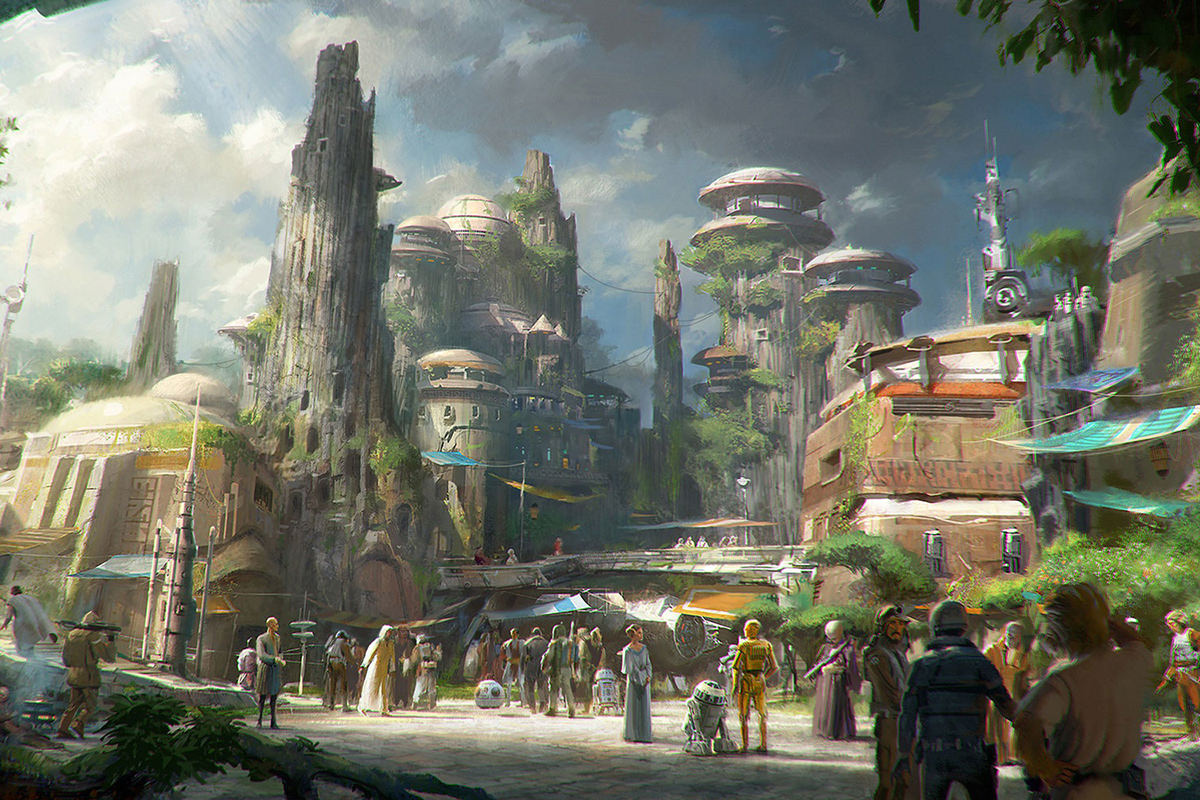 Yeah... definitely returning to take a look at that.
But I first need to get back to Disney World because they've got "Pandora: The World of AVATAR" opening up in May.
In other news... The Disneyland Main Street Electrical Parade is back. As I was leaving the park last night, I heard the music start up. It's the same music they used for the parade when I first visited Disneyland in 1976. The minute I heard it, I was ten years old again. The floats look to be the same as well... but, hey, that was forty years ago, so I could be mistaken. Interestingly enough, the parade doesn't seem dated at all.
Given that this is February, the crowds at the park were surprisingly dense.
I usually stay at Disney's Grand Californian Hotel (one of my favorites, because it reminds me of the Wilderness Lodge at Disney World), but that was booked solid. The Disneyland Hotel was likewise unavailable. I thought I might finally get to stay at Disney's Paradise Pier Hotel, but that was a no-go as well. Why aren't all these kids running around in school?
Pirates of the Caribbean being closed wasn't the only disappointment. Tower of Terror is closed as well because it's being re-themed as a ride for Marvel's Guardians of the Galaxy movies. Prepare yourself for Joe Rohde and his absurdly stupid earring...
On one hand... it's upsetting that Tower of Terror will be no more. It was a great ride that perfectly integrated The Twilight Zone into the narrative. On the other hand, it will be nice to have something new... and it will feature movie characters I love.
Guess there's always Tower of Terror at Disney World... but that ride was never as good, because so many of the cool features of the Disneyland version were abandoned (such as the elevator car leaving the shaft to venture out into the hotel).
One transformation which has already been completed is "Space Mountain" becoming "Hyperspace Mountain" back in 2015. Decked out with all-new Star Wars theming, it is an even more awesome experience than before. I rode it last night and was surprised at just how well it works. They try to make it seem as though you're in a high-speed space battle, and you actually feel it. Sure, the glimpses of Star Wars elements are brief... you're on a roller coaster after all... but they've added laser blasts and other nifty things to really sell it. That alone was worth the price of admission.
And speaking of the price of admission...
Holy crap is Disneyland expensive. Usually I get free tickets from work, but that program ended back in January. I went to buy my own tickets and nearly fell into shock. I was going to get three days for $315, but four days was only $20 more so I thought "What the hell?" and did that. Even two days is a whopping $244 (Park Hopper), so you might as well go full boat. Especially if the park is busy, as you'll spend most of your time standing in line.
And now... time to go out and enjoy the lovely weather they're having here. Though it still gets cold at night, the days are ll sunshine and clear skies. A nice change of pace from the overcast skies and snow back home.