Today was long-time blogging friend Howard's 50th birthday!
And to celebrate, he rented out a theater at The Alamo Draft House Denver so a group of us could watch Guardians of the Galaxy: Volume 2.
Given my love of the first film, I was really, really looking forward to seeing it...
And my verdict? Not as good as the first movie, but a fantastic film that's high on entertainment value.
For more of my spoiler-filled thoughts, you'll have to read on in an extended entry...
BUT BEFORE YOU PROCEED, A WARNING... I am spoiling everything, so see the movie before proceeding.

Alrighty then.
Guardians of the Galaxy: Volume 2 is a movie that's ultimately about family, though it's filled with enough action scenes to almost obscure the message.
We start out the story with The Guardians being hired by a planet of perfect people known as The Sovereign to slay an intergalactic beast that keeps stealing (eating?) the valuable batteries that power their world. It's here where we are introduced to Baby Groot dancing his way through the opening credits, and he is about the most adorable thing you'll ever see...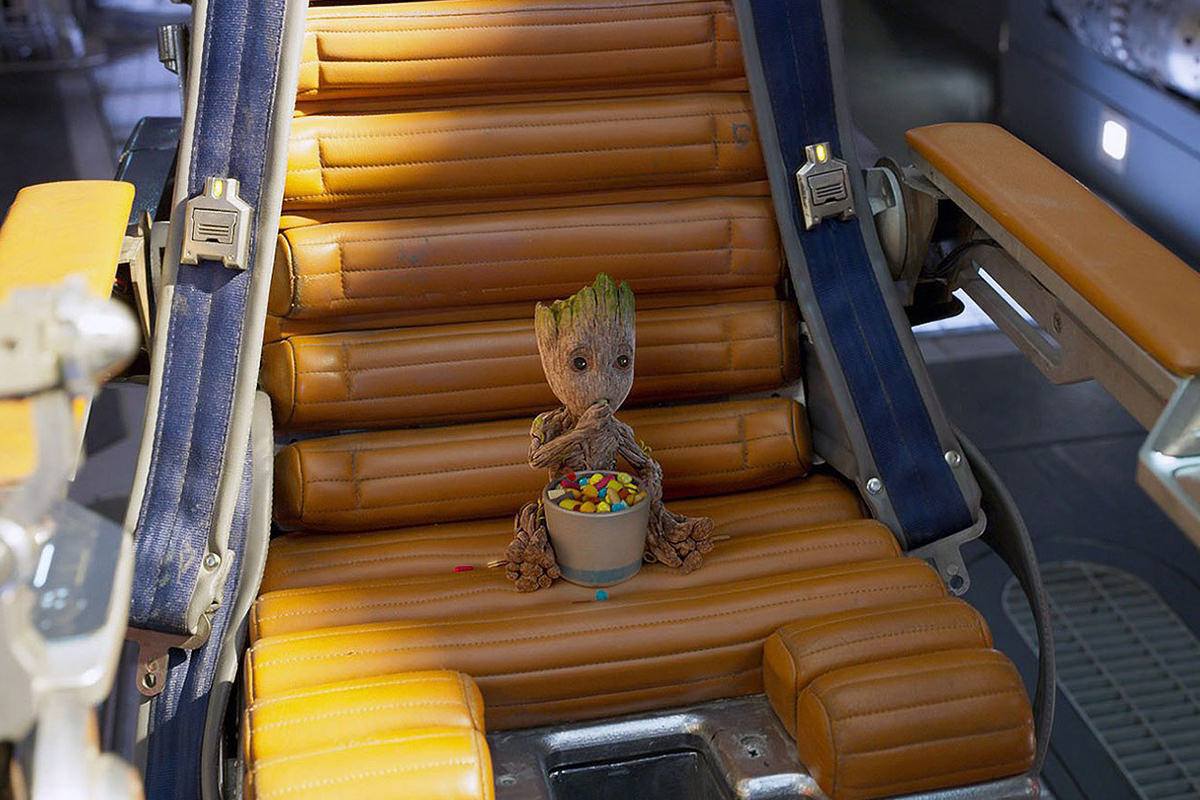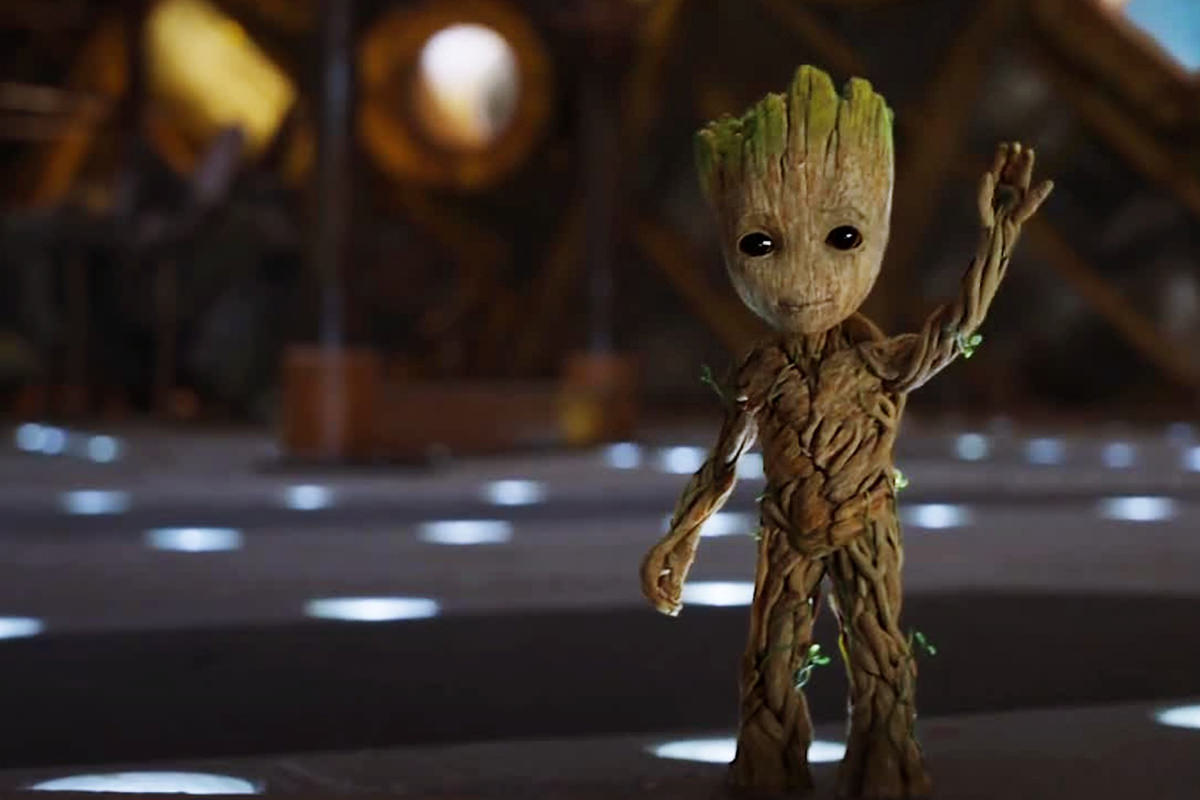 After slaying the monster, The Guardians waste no time getting into trouble because Rocket decides to steal some of the batteries they were hired to protect. They have made a new enemy in The Sovereign, and it's likely a plot-point that will continue into the next film. But given that the perfect race prove to be nigh-incompetent despite massive resources and advanced technology, I don't know how much of a threat they will turn out to be.
A side-story running throughout the film is Yondu's struggle to remain in power with The Ravagers given his soft spot for Star-Lord Peter Quill. It doesn't end well for just about everybody involved, and seems an unnecessary distraction. But it does set up some funny moments... including Baby Groot and a severed toe... so there's that.
Now we get to the meat-and-potatoes of the film, an appearance by the god-like Celestial known as Ego (The Living Planet). Who just happens to be Peter Quill's father. And who just happens to be played by Kurt Russel. While the casting is perfect, this is where things start to go sideways for me. Mostly because of an extended scene of expositional dialogue by Ego accompanied by massive shape-changing plastic dioramas he just happens to keep around in case he needs to explain his origin story. It's so very, very lame... and unnecessary. If visuals just had to be used, why not go with flashbacks? They started that way (with a surprisingly realistically de-aged Kurt Russel!) so why change to big plastic eggs? While not enough to ruin the movie, this puzzling scene did bring everything to a screeching halt and had me wondering why nobody said anything to James Gunn about coming up with a better way to present the back-story.
The rest of the movie has a woefully underutilized Gamora dealing with the return of her sister Nebula. Rocket being Rocket. Yondu joining up with The Guardians. Drax stealing every scene. And Baby Groot never stop being adorable.
And, oh yeah... Ego ends up being a complete maniac who has been mating with every species possible in the hopes that one of his offspring will inherit his Celestial genetics so they can join together... and destroy all life in the galaxy?!? Well okay then.
As you probably guessed from the way Star-Lord was able to hold an infinity stone in the first film, Peter Quill is that offspring.
In the end The Guardians prevail over Ego, Yondu dies saving Peter, Nebula takes off after Thanos (hello Avengers: Infinity War!), and the team gets a new member with the empath, Mantis, whom Ego kept around to help him sleep... though it's never explained why in the hell a cosmic being like Ego would need to sleep or why he had problems sleeping, or what that even means.
Now that Ego is dead, Peter loses his Celestial abilities, The Guardians reaffirm that they're one big happy family, and all is right in the universe. The end.
Or not, as there are five tag-scenes in the credits...
Kraglin. While a funny moment, Kraglin playing with Yondu's arrow is kinda lame. I'm guessing this scene implies that Kraglin is the new Yondu and will be joining the team?
Stakar. I'm not exactly sure why Gunn added some needless complication with the whole Sylvester Stalone Stakar/Starhawk stuff... there was plenty going on in the movie without it... but here we are. I can only assume that this is some sort of precursor to the post-Guardians team of new Guardians. Which are the old Guardians in the comics. But whatever. Kind of nice to see Martinex on-screen though (he's the shiny crystal guy). And is that Ving Rhames as Charlie 27 and Michelle Yeoh as Aleta?
Adam. And so it looks like Adam Warlock is finally coming to the Marvel Cinematic Universe! Eventually. You would think he'd appear in the Avengers: Infinity War movie, since he was such a critical part of the comic book story... but apparently he's not. Guessing that's going to be a Guardians: Vol. 3 thing.
Groot. And so Baby Groot is now Teen Groot. Which I'm guessing will be his form for Infinity War. Unless they fast-forward age him for that. All-in-all a shame, because I loved Baby Groot so much, but it will be nice if original Adult Groot is back for the next Guardians film, so it is what it is.
Watchers. Stan Lee's cameo appearances up to this point make no sense other than the fact that they end up in every Marvel movie. But now we finally have an explanation... and it's incredibly cool. Apparently he's a cosmic entity on-par with The Watchers who wanders through the universe he created in order to be a part of it. Yeah, very cool. Perhaps he's even an actual Watcher? Stan Lee is Uatu? The mind boggles.
And so...
Another winner from Marvel. I enjoyed Guardians of the Galaxy: Volume 2 almost as much as the original (despite a few stumbling blocks) and am now really, really looking forward to Guardians of the Galaxy: Volume 3.
Time to update my "Y2K Super-Hero Comic Book Renaissance" scorecard...
The Avengers... A+
Avengers: Age of Ultron... A
Batman Begins... A
Batman Dark Knight... A+
Batman Dark Knight Rises... A
Batman vs. Superman: Dawn of Justice... D
Big Hero Six... A+
Blade... B
Blade 2... B
Blade Trinity... B-
Captain America... A+
Captain America: The Winter Soldier... A+
Captain America: Civil War... A++
Catwoman... F
Daredevil... B-
Daredevil (Director's Cut)... B+
Deadpool... A
Doctor Strange... A
Electra Woman and Dyna Girl... B-
Elektra... D
Fantastic Four... C
Fantastic Four: Rise of the Silver Surfer... D
Guardians of the Galaxy... A+
Guardians of the Galaxy: Vol. 2... A
Ghost Rider... C
Ghost Rider: Spirit of Vengeance... D
Green Hornet... D
Green Lantern... C+
Hellboy... A
Hellboy 2: Golden Army... A
Hulk... C-
Incredible Hulk... B
The Incredibles... A+
Iron Man... A+
Iron Man 2... A-
Iron Man 3... A+
Jonah Hex... F
Kick-Ass... B+
Kick-Ass 2... B-
Man of Steel... F-
Punisher... C+
Punisher War Zone... C
Scott Pilgrim vs. The World... C
Spider-Man... B+
Spider-Man 2... A
Spider-Man 3... D-
Amazing Spider-Man... D
Amazing Spider-Man 2... D-
Suicide Squad... D
Superman Returns... C+
Thor... B+
Thor: The Dark World... B
Watchmen... B
The Wolverine... B
X-Men... C
X-Men 2: United... D
X-Men 3: Last Stand... F-
X-Men Origins: Wolverine... D
X-Men: First Class... B
X-Men: Days of Future Past... B-
X-Men: Apocalypse... D+