Since this was a work trip and my work is indoors, I didn't really equip myself for outdoor adventures. So when I woke up to pouring rain and realized neither my jacket nor my hoodie were waterproof, hiking in Acadia had to be scrapped and I needed new plans for my Sunday.
I didn't want to stay in my room all day so I decided to drive somewhere interesting. But where? Someplace far away so most of my time would be in a dry car instead of the wet outdoors. At first I thought I'd head inland in hopes of better weather. But the weather service said it was raining there as well. Bar Harbor is the furthest north I've been in Maine... so maybe up the coast? I decided to Google the area, which is known collectively as "Down-East" (or "Downeast") to see what's there.
And that's when I saw it.
Two hours and twenty-one minutes north of here is the USA's easternmost point... West Quoddy Head Light (lighthouse). I've already been to the southernmost point of the Continental USA in Key West, Florida, so why not?
I decided to head UP* the DOWNeast to go to the EASTern most point in WEST Quoddy.
That's more than a little confusing, but okay. Off I went. The drive isn't that bad, but the gusting wind and driving rain meant it was slow-going. And when I finally got to West Quoddy Head Light? I don't know what "gale force winds" means**, but this is probably what they are talking about. There were times I was almost blown over while trying to walk it was so bad. The rain was relentless, which meant I had to seek cover to wipe off my camera lens ever 60 seconds. Plus? The sun was blotted out, so it was dark.
All in all? Probably not the greatest idea I've ever had, but I made it. Achievement unlocked. Apologies for the blurry photos but... rain and all that...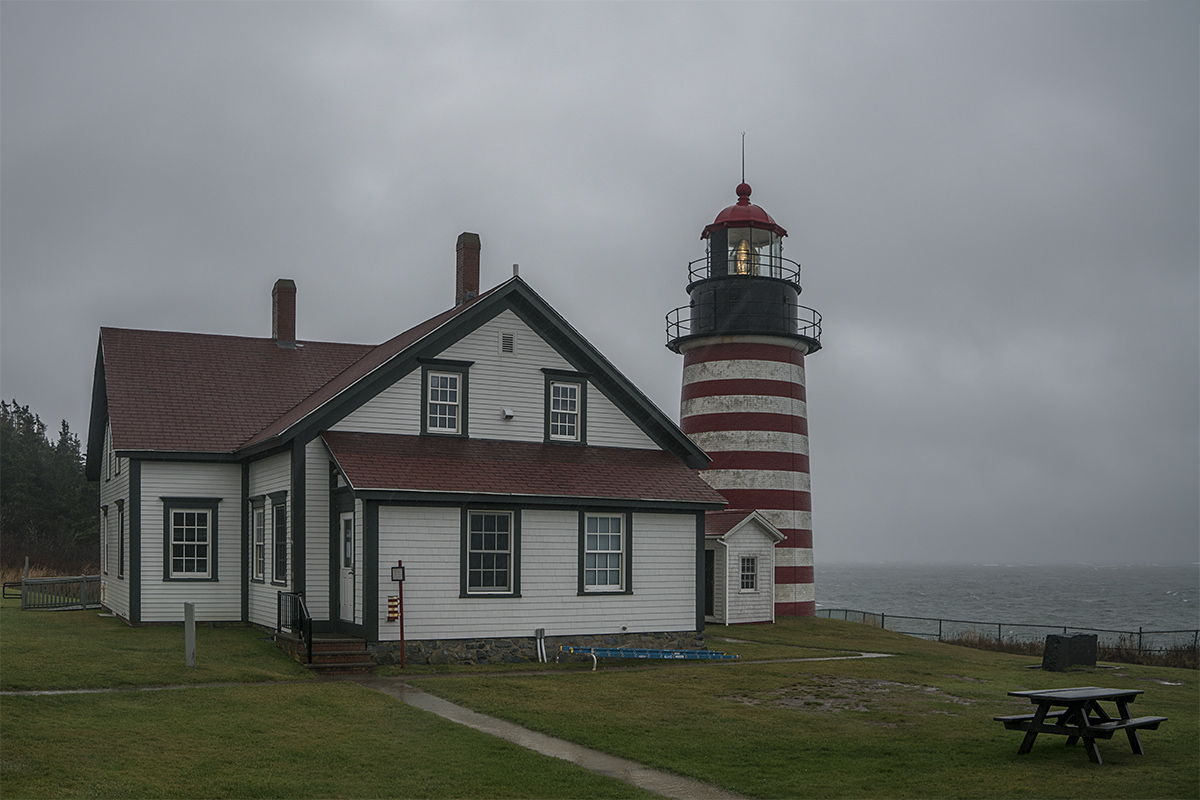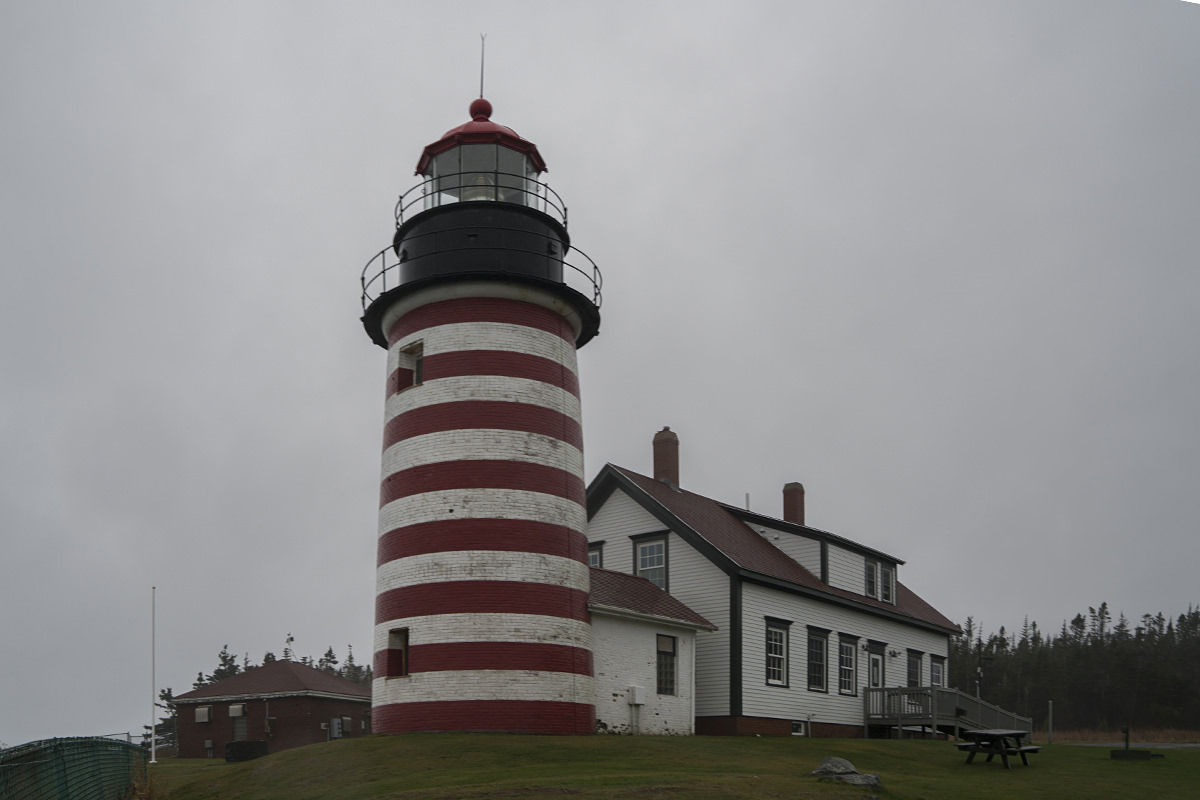 In case there was any doubt as to your standing in the easternmost point in the USA, they have a gravestone(?!) to make it official...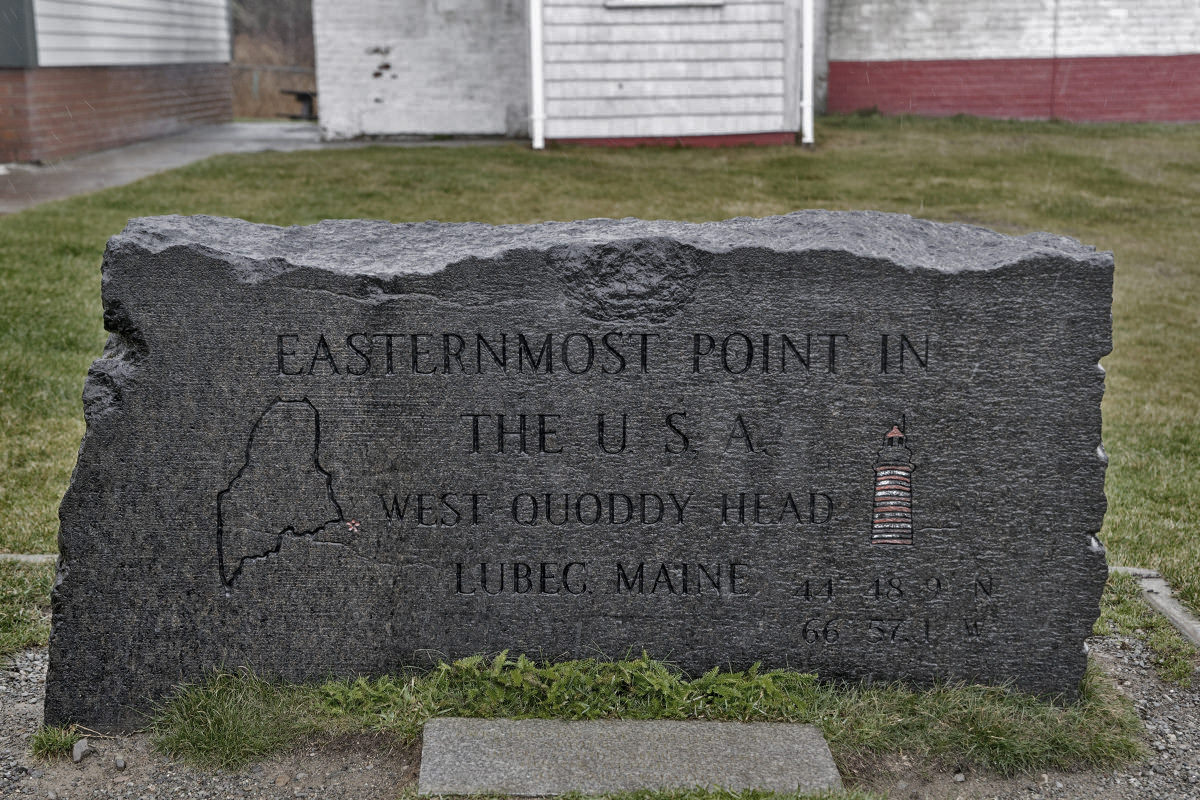 Interesting to note that the door to the lighthouse was open. I thought that maybe somebody was working there so I was going to shout "Hello?" but decided it'd be best not to scare anybody if they were up there. Which seemed doubtful because mine was the only car around. One thing was for sure... I was not going to go climbing up for a look when the lighthouse tower is not open to the public. Something tells me that's an invitation to getting shot...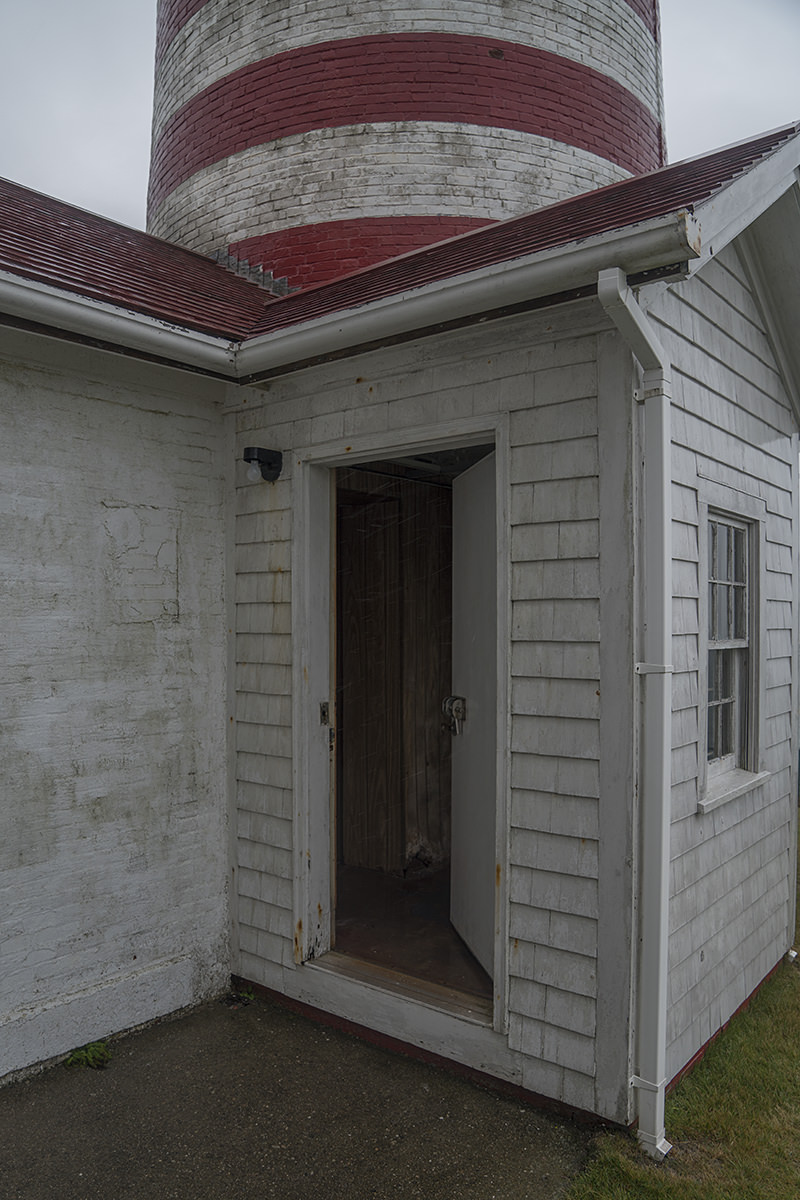 I tried to photograph the ocean, which was not looking friendly at all, but the wind kept knocking me off balance. Only one photo really turned out (rain splotches and all). Alas it's not that interesting to look at...
With nothing else to do, I got back in my car and headed back down (up?) to Acadia. Guess my day was over.
My room back in Bar Harbor overlooks a brook. A brook where ducks like to hang out at all hours. For the most part they're quiet, but every once in a while a fight will erupt and much quacking will ensue. When I got back, there were far more ducks than usual with far more quacking going on...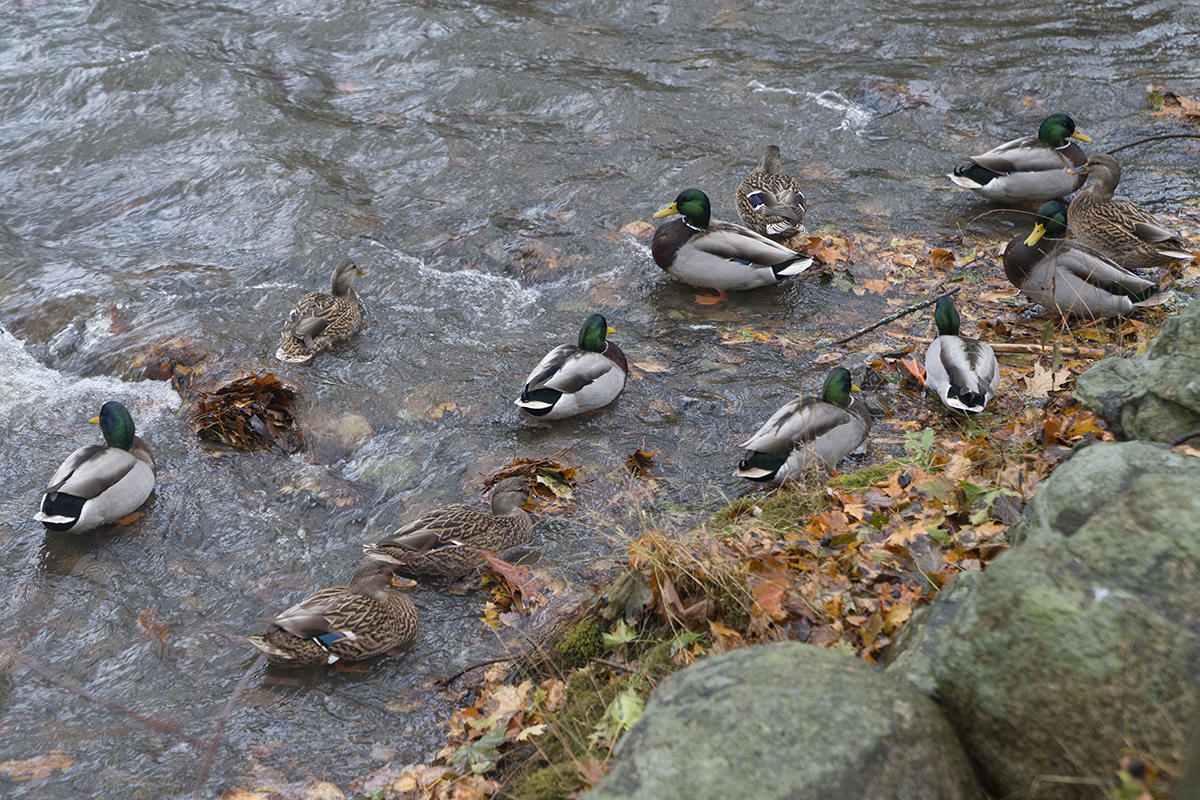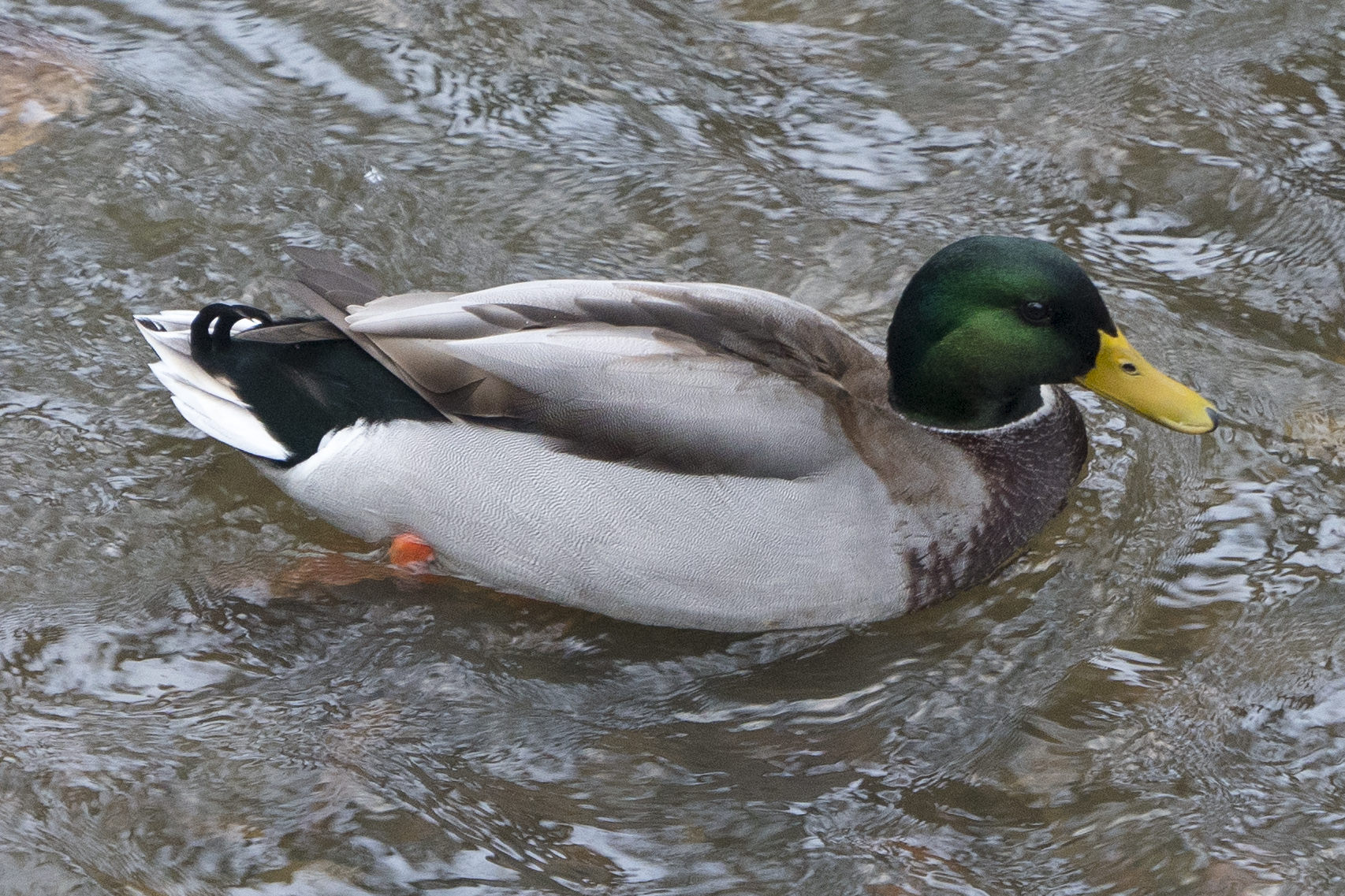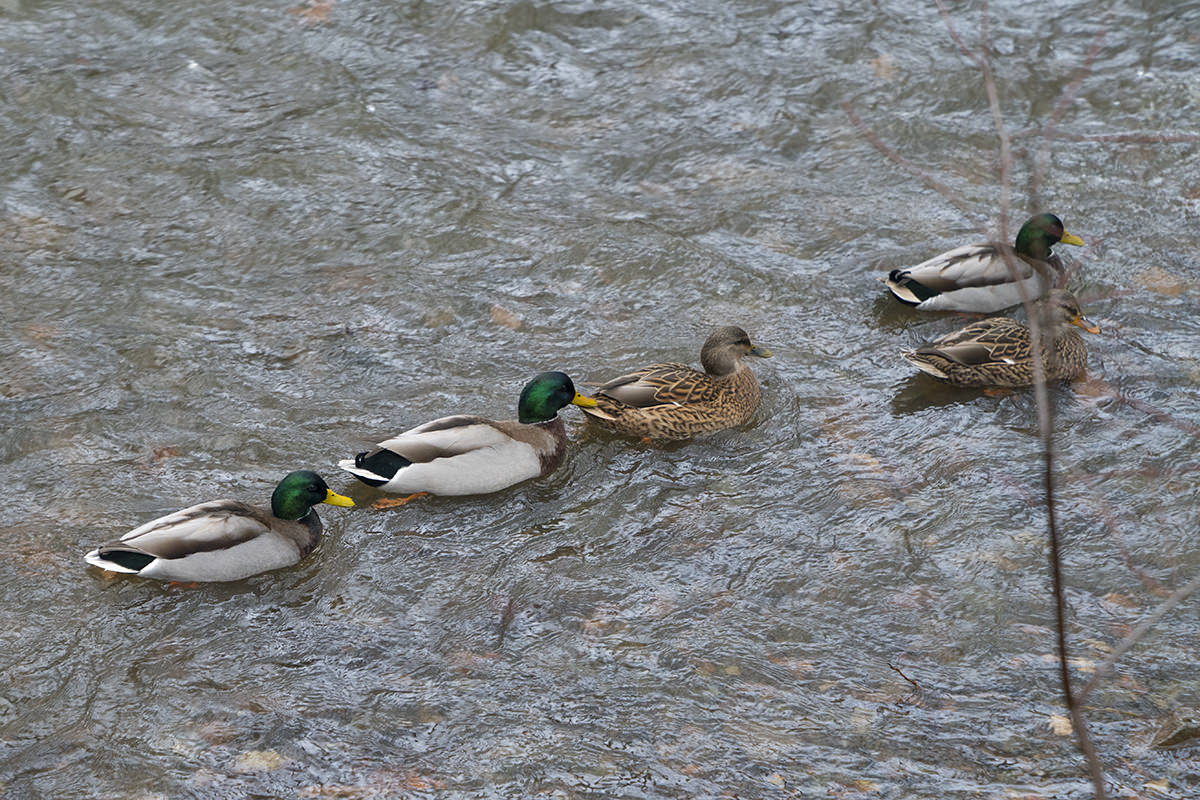 Annnnnd... the end.
I suppose now I should plan a trip to Northwest Angle, Minnesota so I can check off the Contintental US northernmost point. Then I need to take a hike to Cape Alava in my home state of Washington so I can check off the Continental US westernmost point. It seems the completist thing to do, doesn't it?
*People in Maine would never say they were going "up the coast" like this. To them, up is down because Downeast is up. I found this out when people at my work kept saying things like "You came down from Boston today or yesterday?" and "When are you headed back up to Boston?"
**Turns out these were probably not "gale force winds" after all because Wikipedia says that a "gale" is 39 to 54 mile-per-hour winds. Well, whatever. They were very strong winds, that's for sure.