"Hey, you're half-way there!" I said.
"Ugh. Is it worth it?" he replied.
"You get to see a giant rock hanging over the edge of a cliff and a glorious view of Jordan Pond, so I'd say it's worth it." I said, trying to sound enthusiastic.
"Hmph. Okay..." he huffed, as he walked past.
Yesterday I shot everything on "Full Auto" because I was tired. Today I thought I'd get creative and use my own camera settings. It's a decision that would come back to bite me in the ass* but dems da breaks. Still. I did play around with HDR** a bit, so that was fun.
But before we get to all that... first a word about squirrels.
I love the little guys. They're industrious, clever, cute, and move like magic. And they're everywhere in Acadia. I took tons of photos of them all day long, which is easier said than done given how skittish they are and how quickly they move...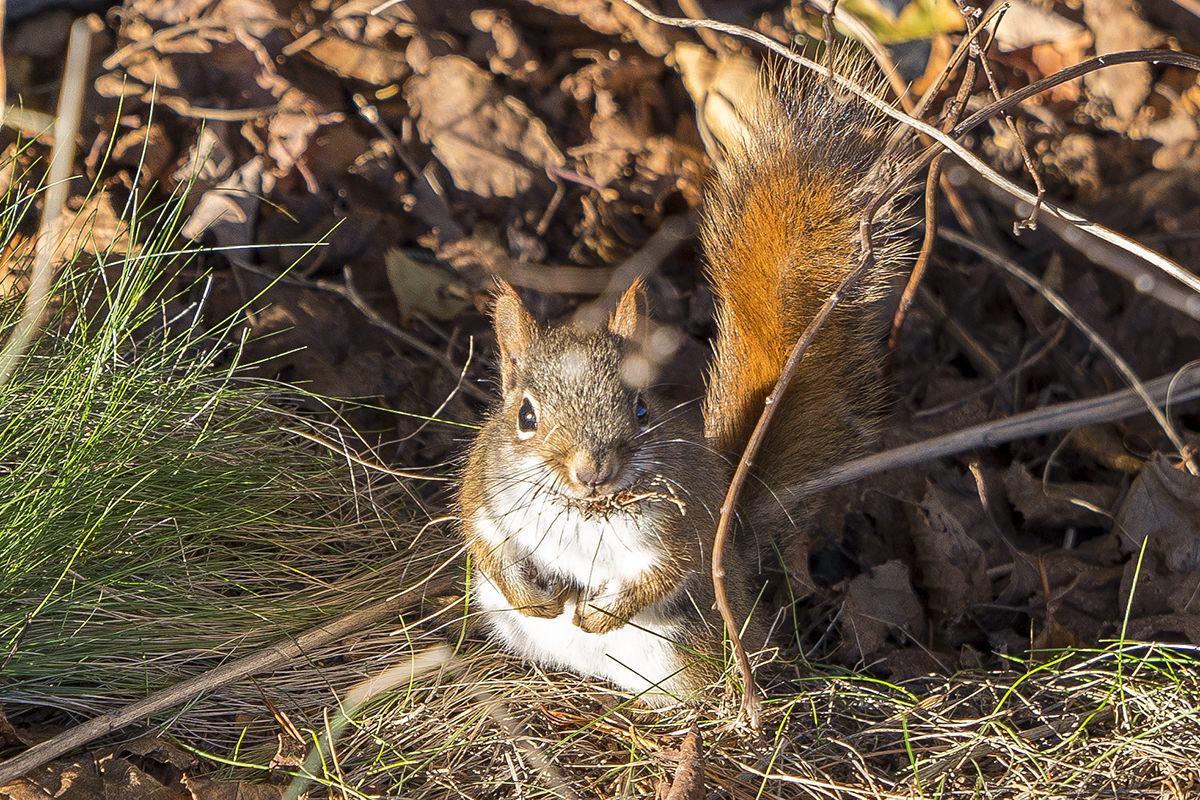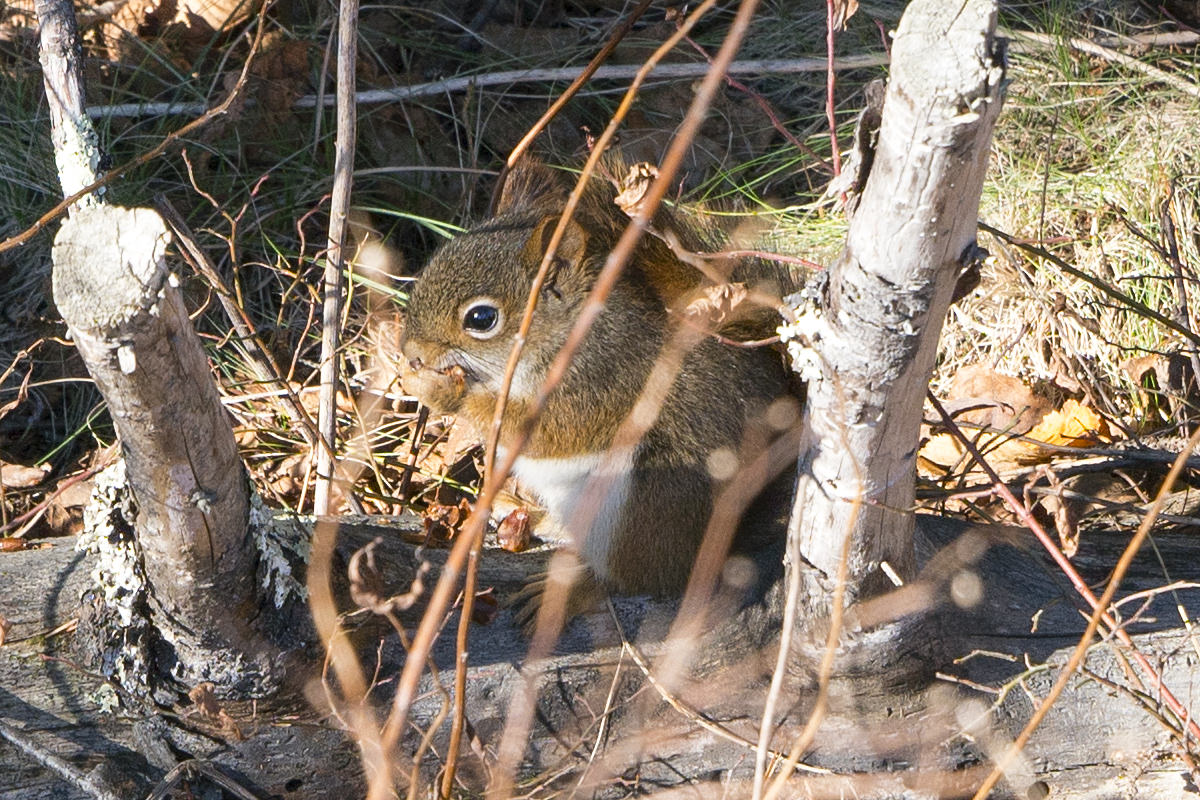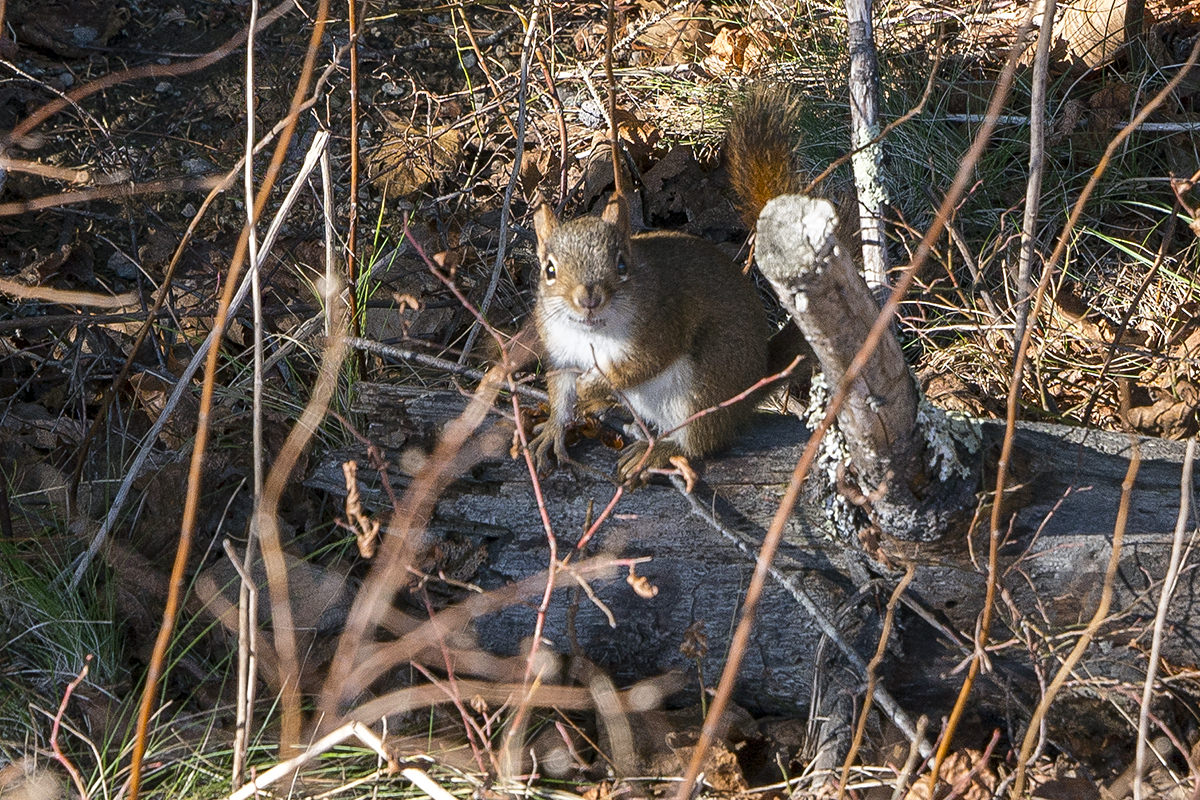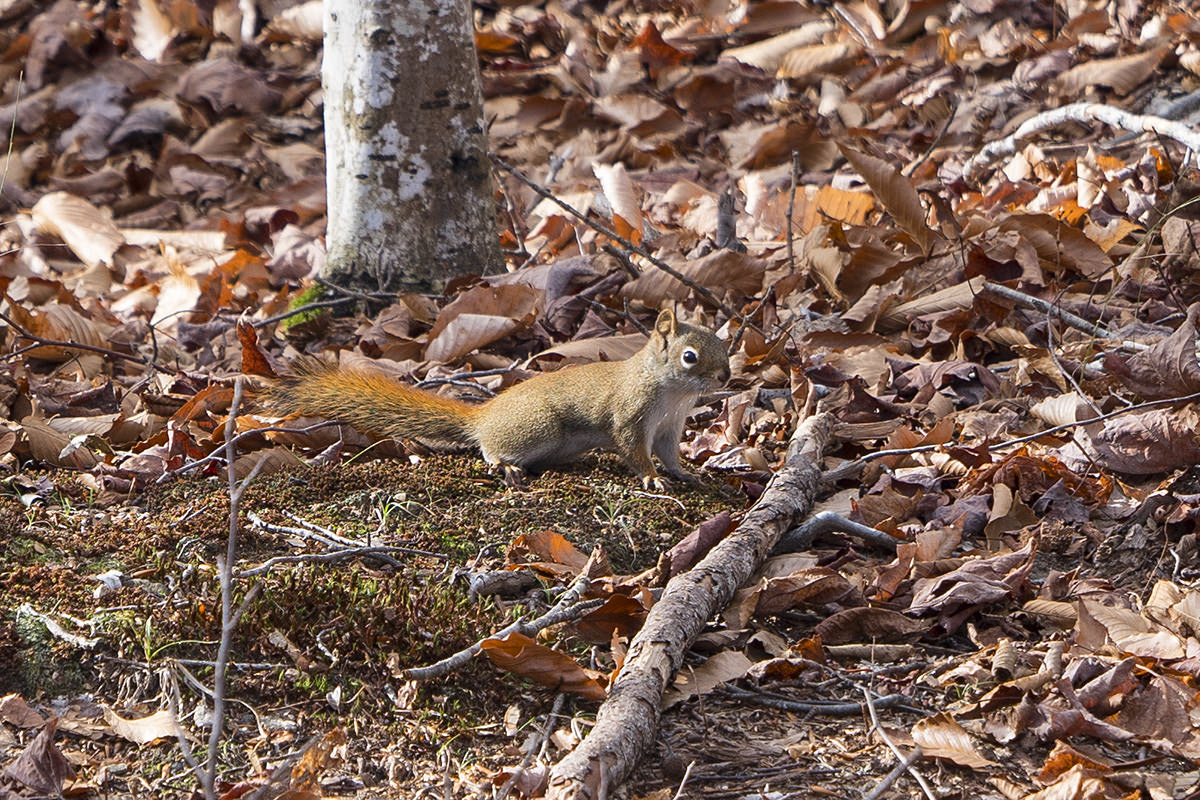 Needless to say, photographing squirrels through the underbrush is a manual-focus affair.
My first stop this morning was Sand Beach. You know that sand beaches are rare in Maine when they are inevitably called "Sand Beach." Sure enough, as advertised, there's sand...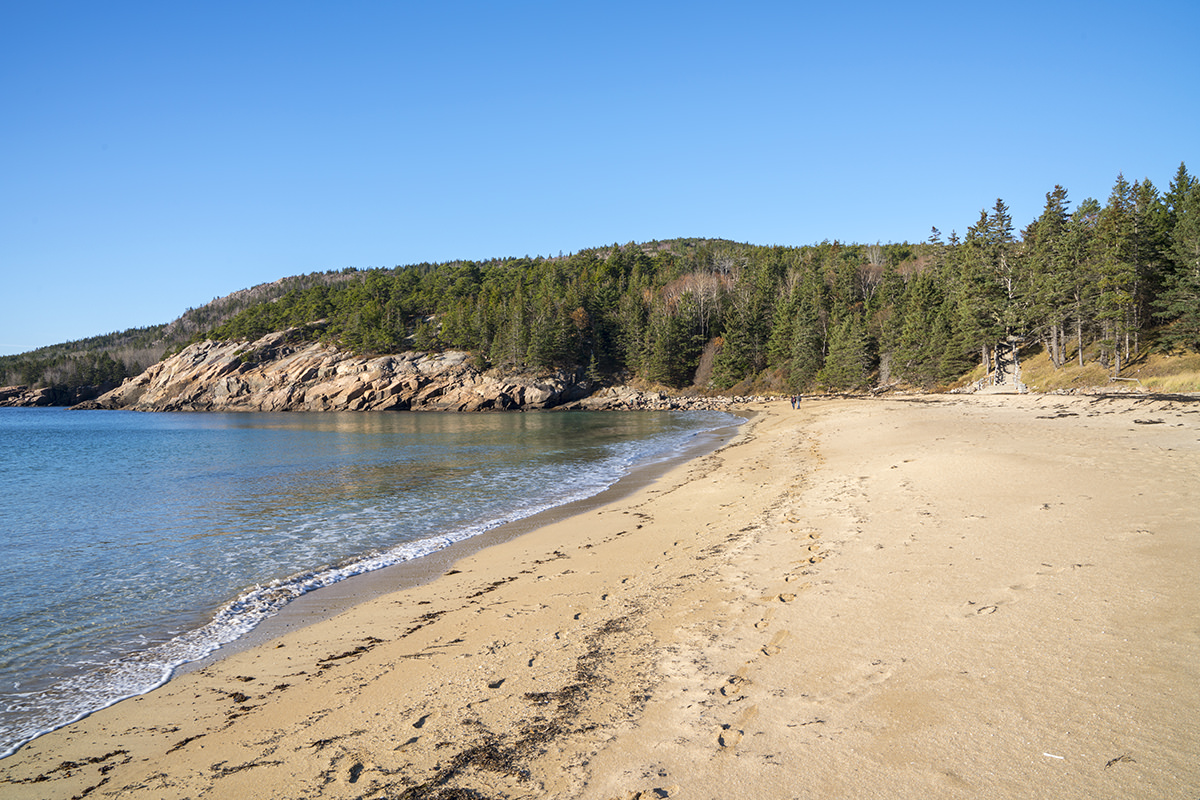 From shortly after Sand Beach there's a trail that wanders along the coast for two miles. I did a walk-drive kind of thing. Sure the rocky coast is pretty, but it looks much the same as the rest of Maine's coast, which I've seen a lot of. Occasionally there's a a small difference. Like a seagull wandering into the shot...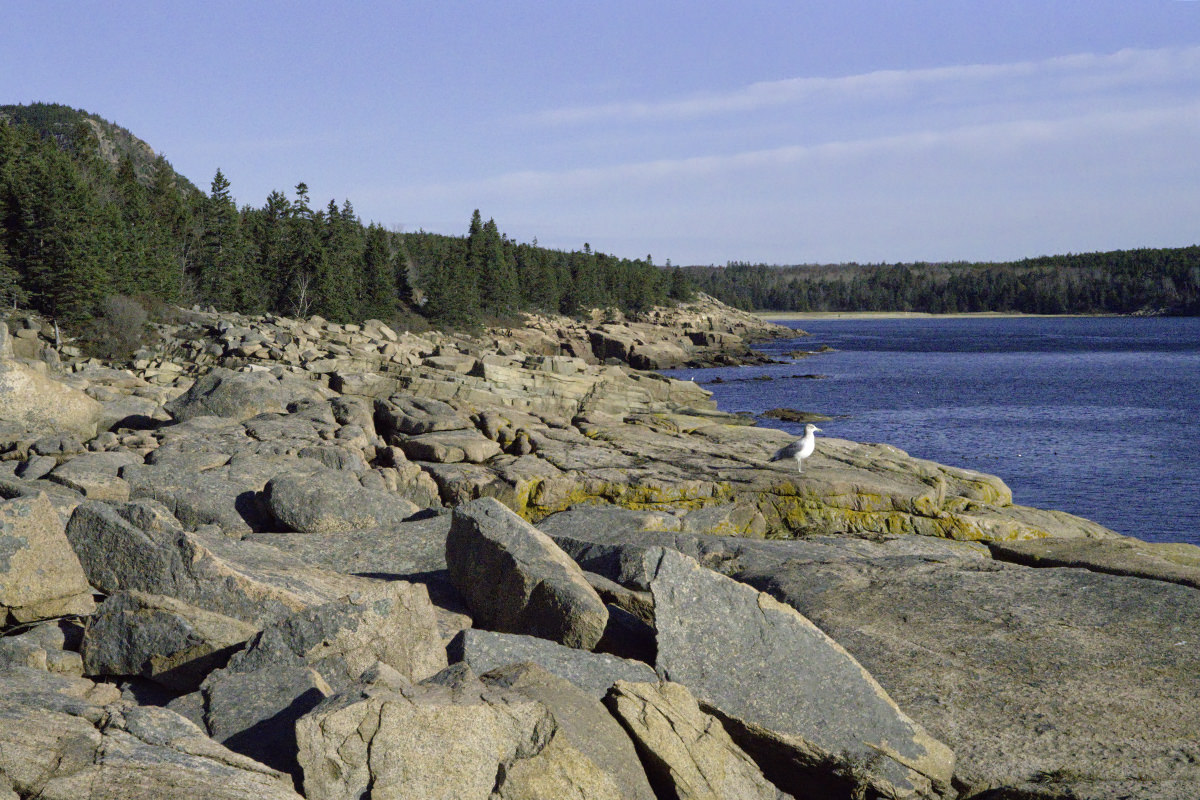 Another thing that was different? Something... I don't know what to call it. I was wandering along the rocks when I spotted what I thought was a tiara or some kind of jewelry bauble glinting in the sun...
Turns out it was ice. Weird ice that had somehow formed to look like pearls! Crazy stuff I've never seen before...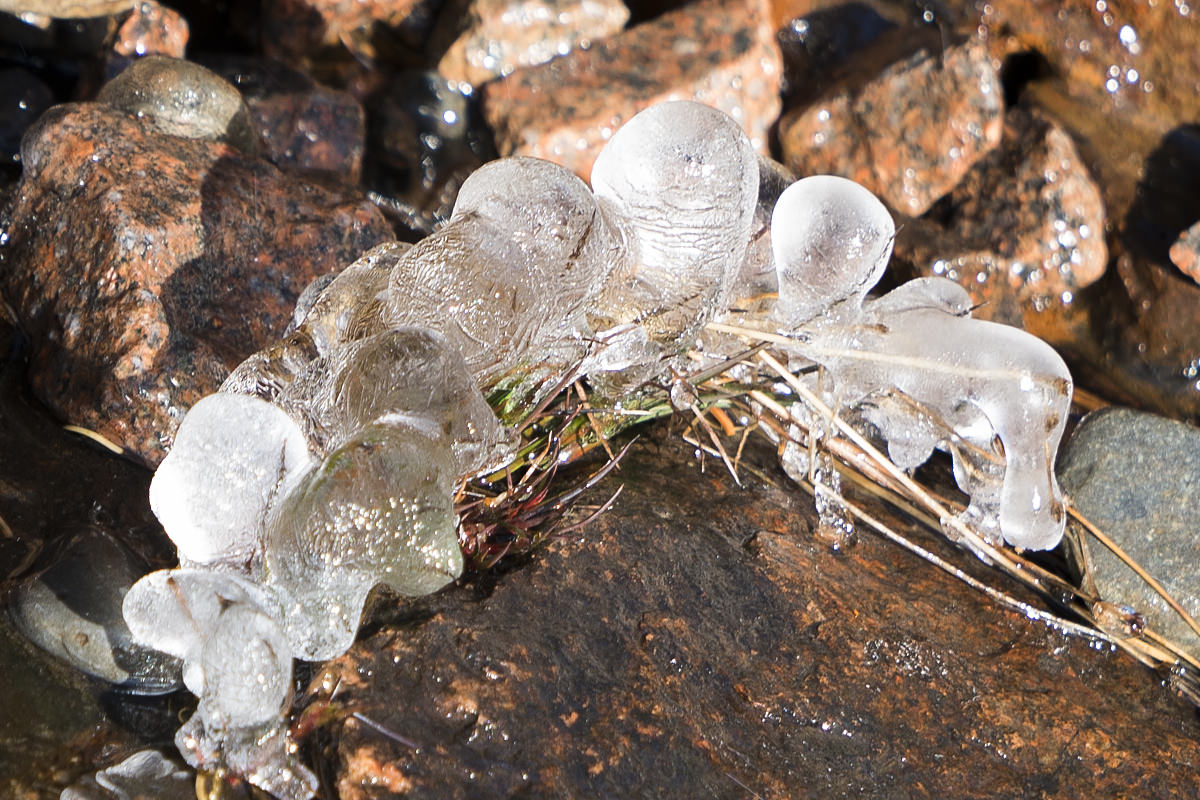 Another animal (other than squirrels) there's a lot of in Acadia right now? Deer. I know this because they kept bolting in front of my rental car. Not just once, but three times. I was driving 35mph (the speed limit) which is probably too fast given that these creatures would have had to have been scraped off my grill if my reflexes were any slower...
My next stop was Jordan Pond. It's home of the Jordan Pond Restaurant, which is famous for popovers that are apparently more addictive than cocaine. I wouldn't know, because the restaurant was closed for the season (like most things in Acadia just now). The pond, however, was open...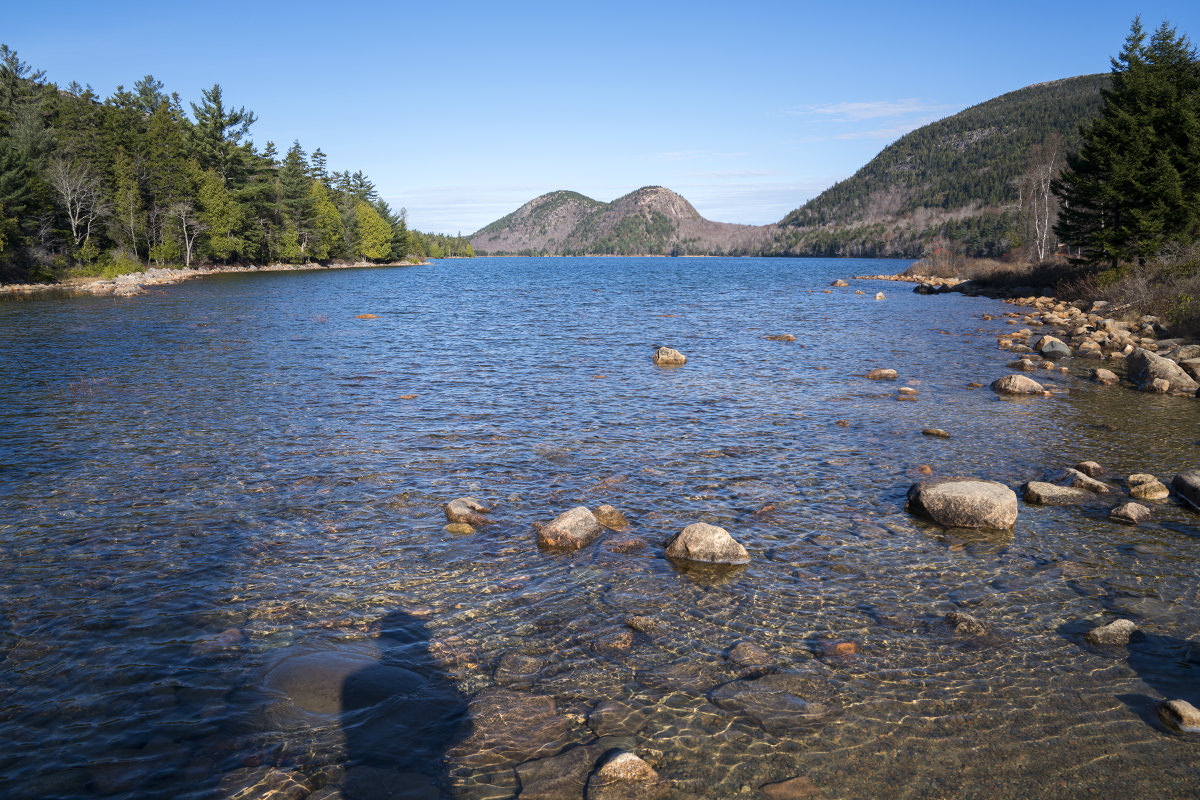 Jordan Pond is so pure and clear that it's used as a drinking water source. Which means you can't swim in it or have pets near it. The sun was not at an optimal angle for me to photograph the clarity, but I gave it my best shot...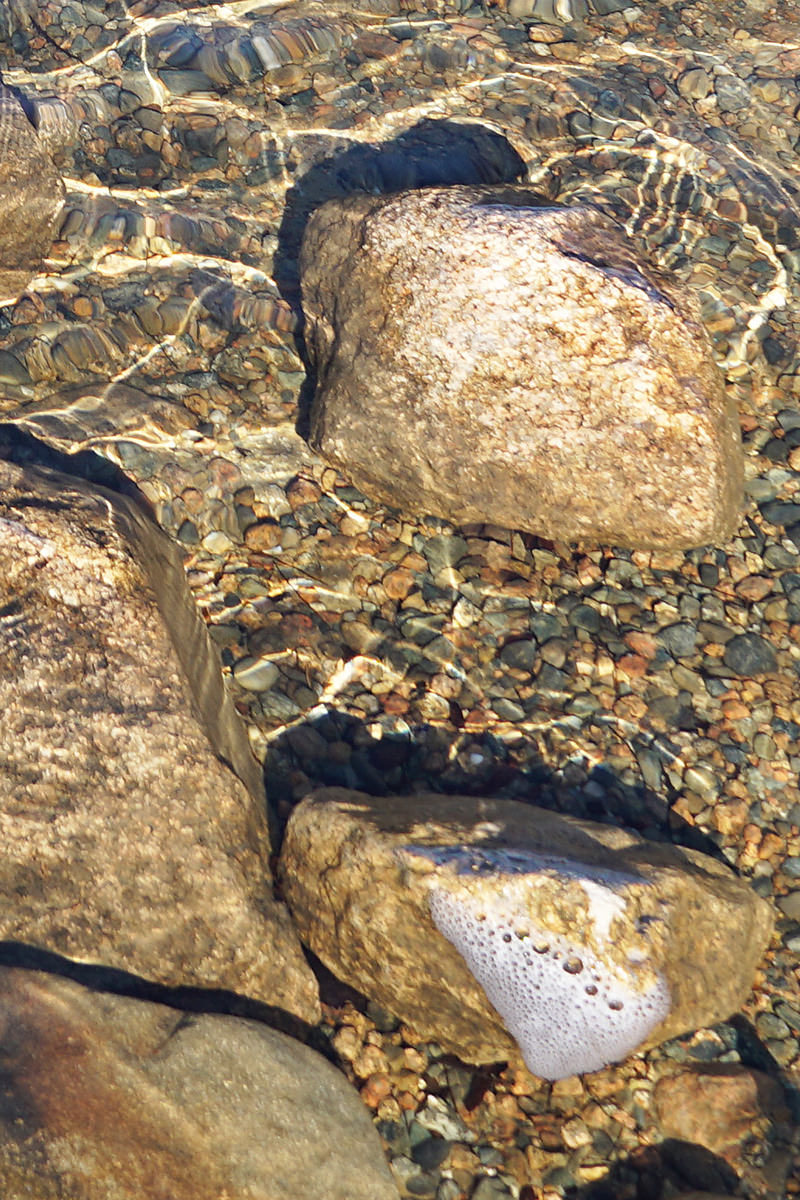 An interesting feature of Jordan Pond is the sea-foam (pond-foam?) that had frozen at the water's edge...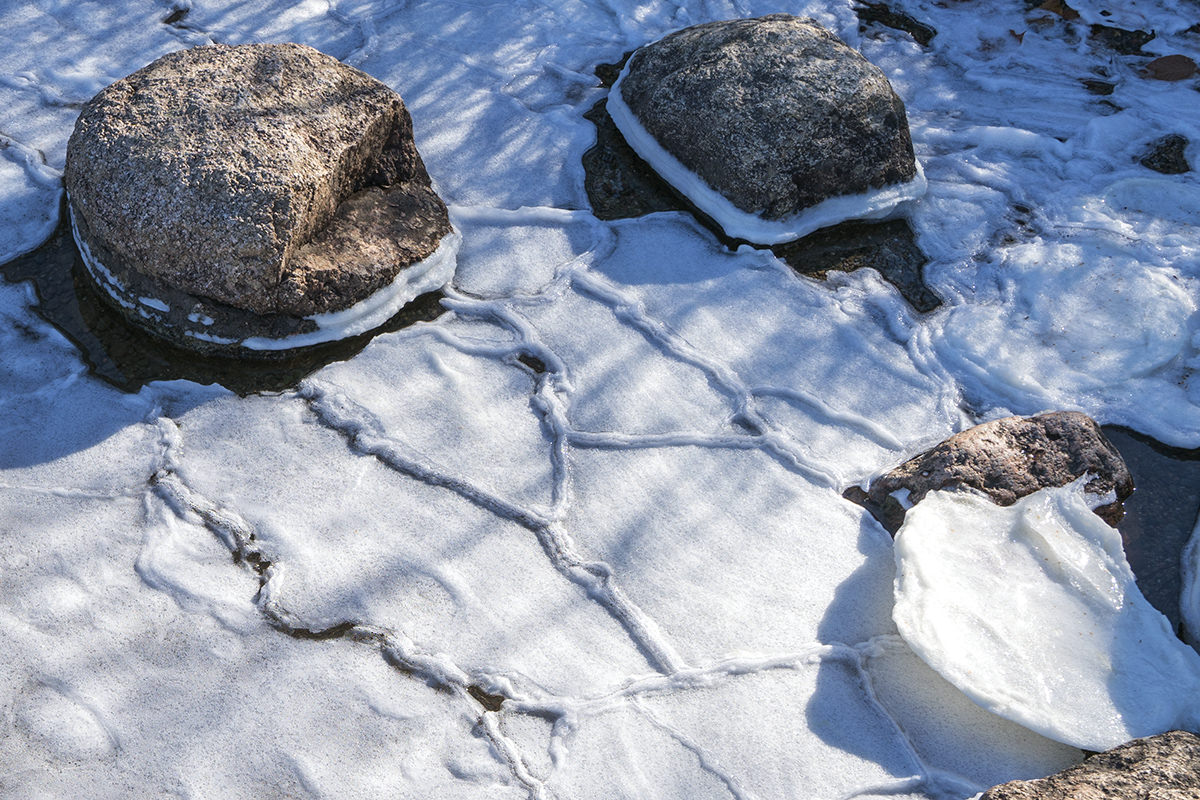 After goofing around at the pond photographing a lot of squirrels, I headed to the Big Event of the day... a hike up the Bubble Mountains.
If you scroll back up to the first photo of Jordan Pond I posted, you'll see two twin "mountains" in the background. Those are the "Bubble Mountains" and are easily hike-able. The trail is tricky in parts and has a bit of a rise, but pretty simple overall. The trees along the way had lost all their leaves but were still pretty to look at. I can't fathom how beautiful they must be in the Fall...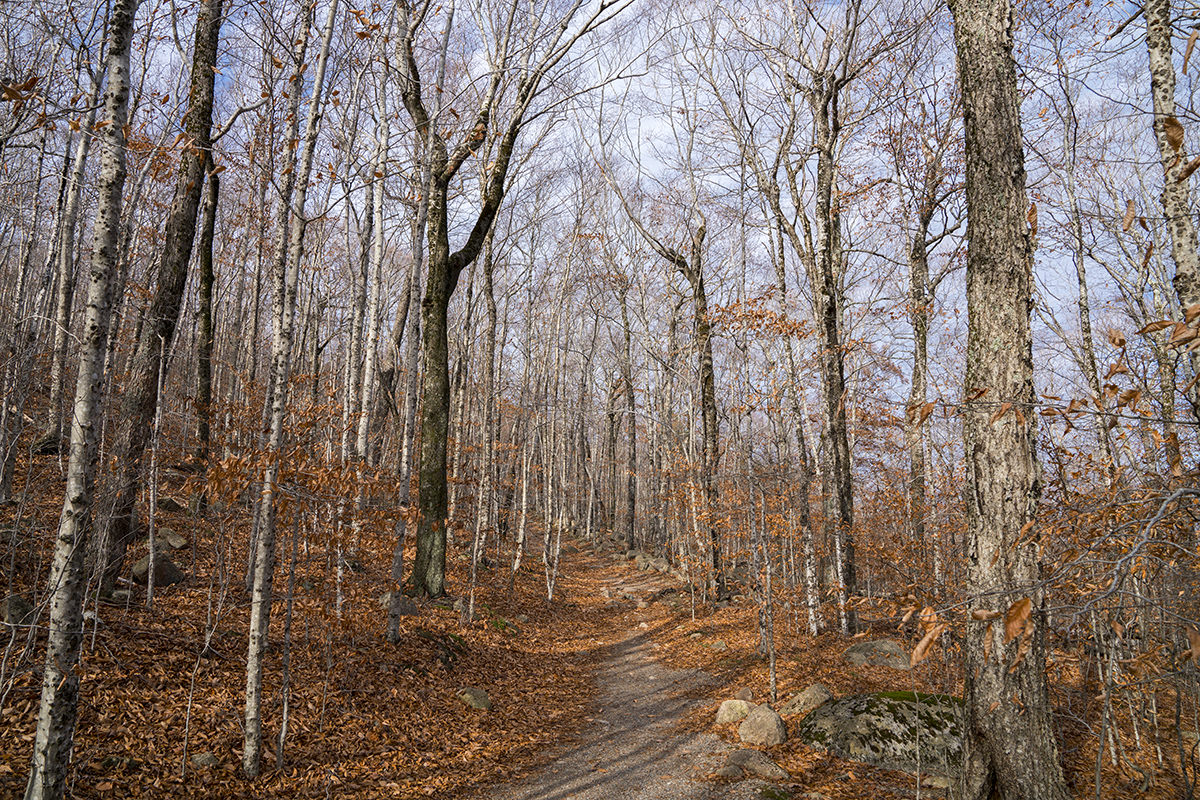 The trail itself was interesting for two reasons. First, water forms around the rocks embedded in the trail, which then freezes, expands, pushes the dirt away, then melts. Leaving all the rocks in little holes...
Second of all, water also freezes in crystalline shapes all along the trail. You see it everywhere, and it's really cool to look at...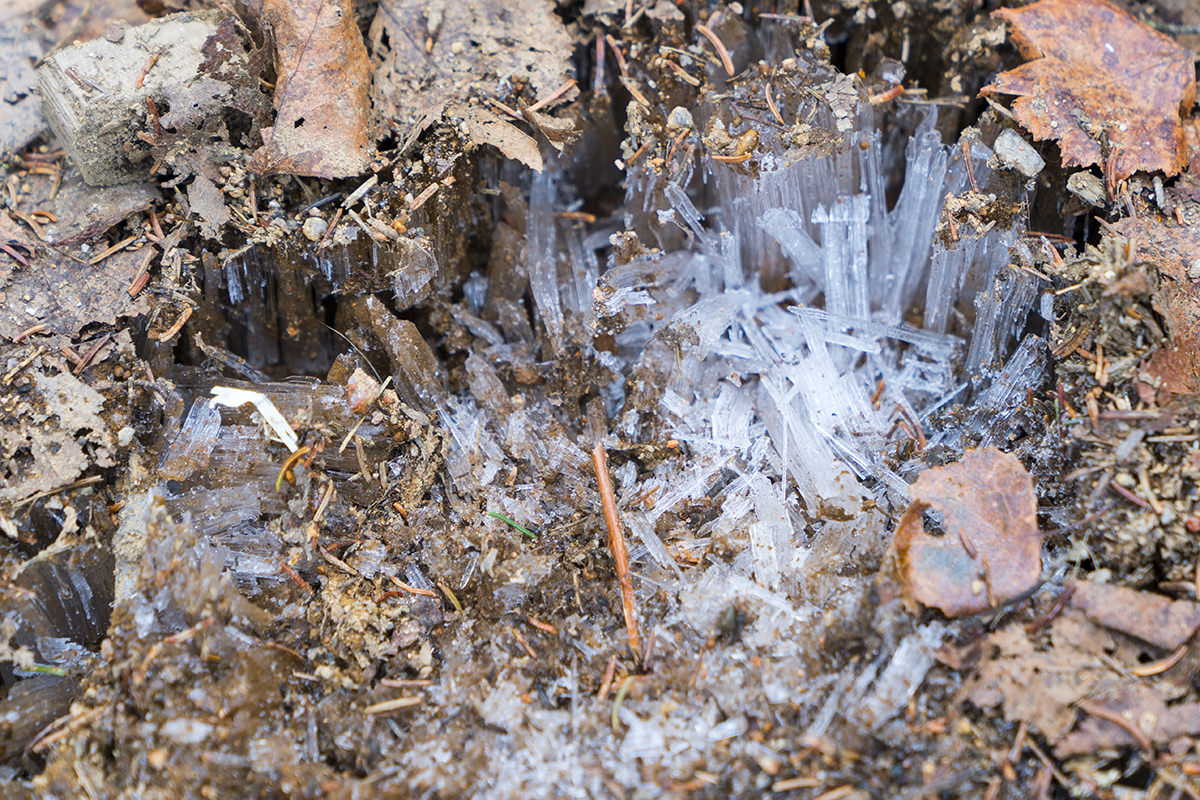 I decided to hike the "South Bubble Mountain" because it has a feature that's entirely too cool. "Bubble Rock" (also known as "Balanced Rock"). When you cross the crest of the trail, the rock isn't that impressive. Looks kind of like a massive baked potato...
But then you climb around to look at it from a different angle, and it's a different story...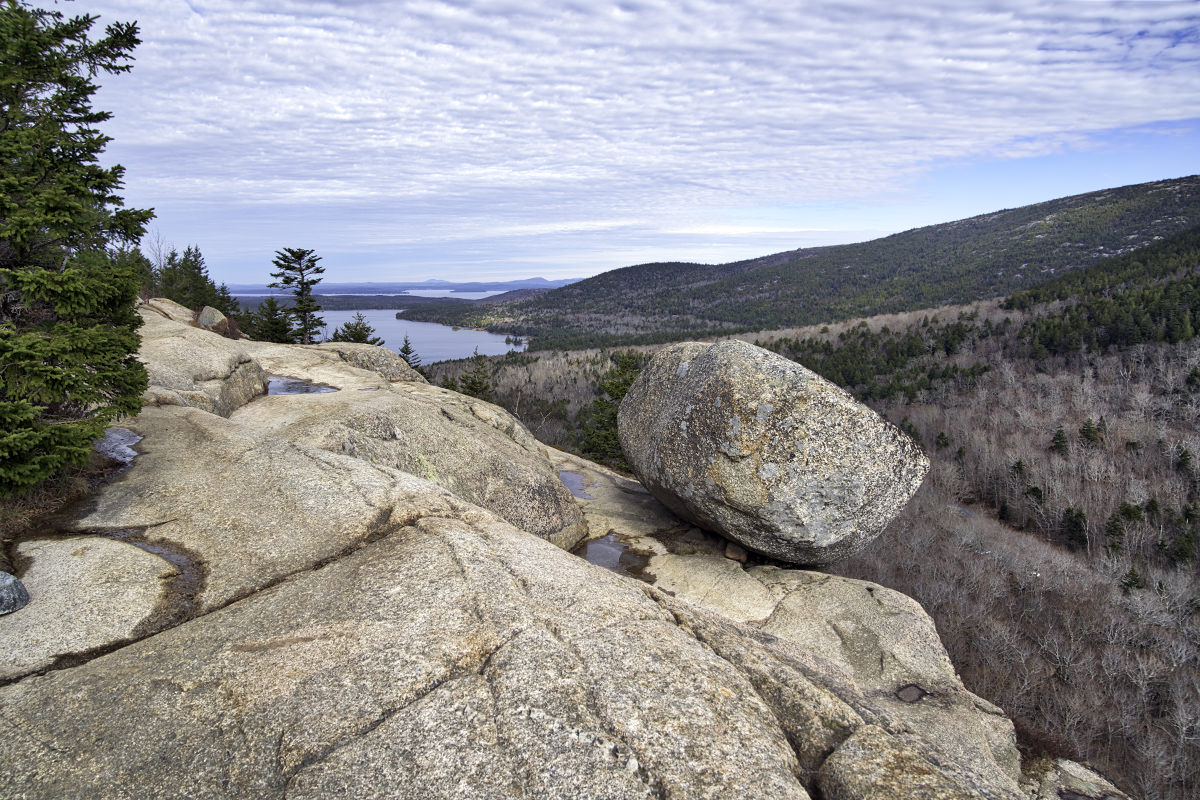 Uh. Wow. Definitely worth setting up an HDR photo so I could shoot into the sun and still see it...
If you keep going past Bubble Rock, there's a great view back down to Jordan Pond. That's where I met the ladies from the blog Love Maine Adventures who were soaking up the view and taking photos. They asked me to take a photo of them with their camera, which I did. Then I decided since I was shooting HDR that I would ask to experiment with them and shoot some "people HDR" photos, which are tricky because everybody has to stand perfectly still. They were nice enough to grant my crazy request and did a great job...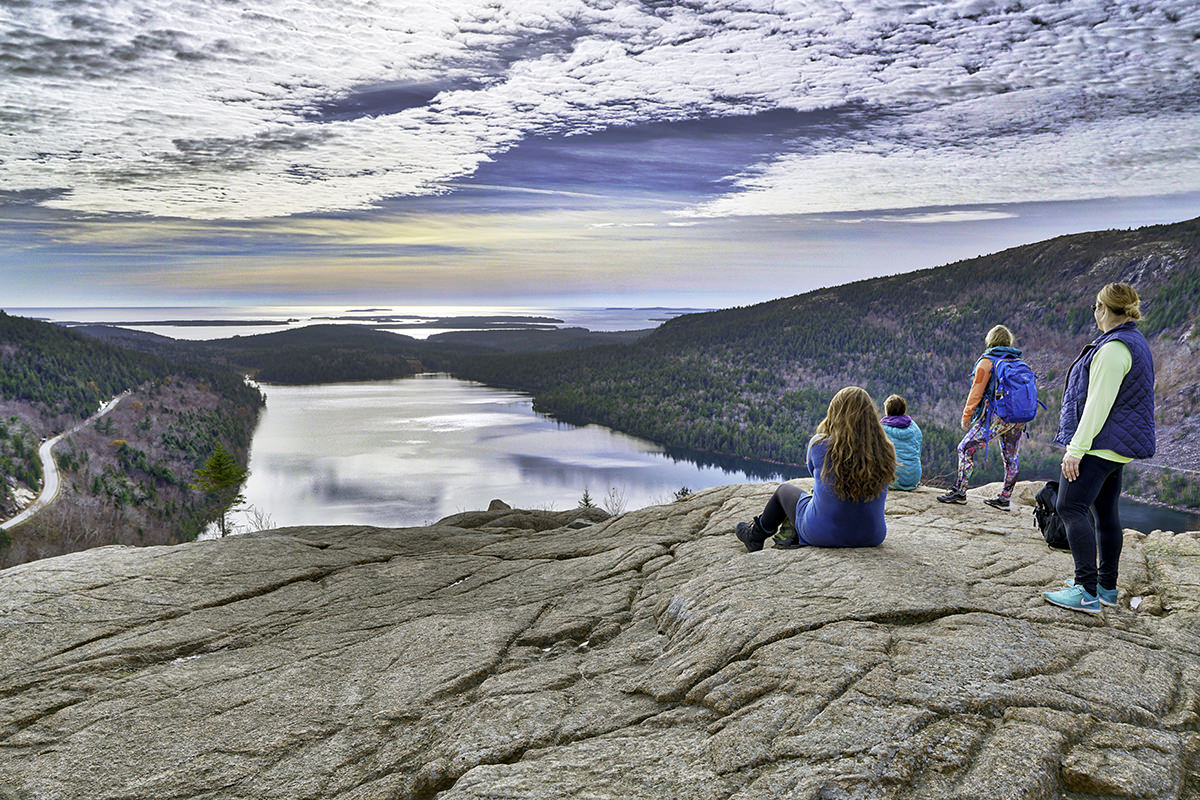 I was going to call it a day because the trail down to the Jordan Pond overlook had CAUTION signs on it. But Love Maine Adventures encouraged me to risk my life and give it a try because they said it really wasn't that dangerous. Turns out they were right, it wasn't. And the view was great...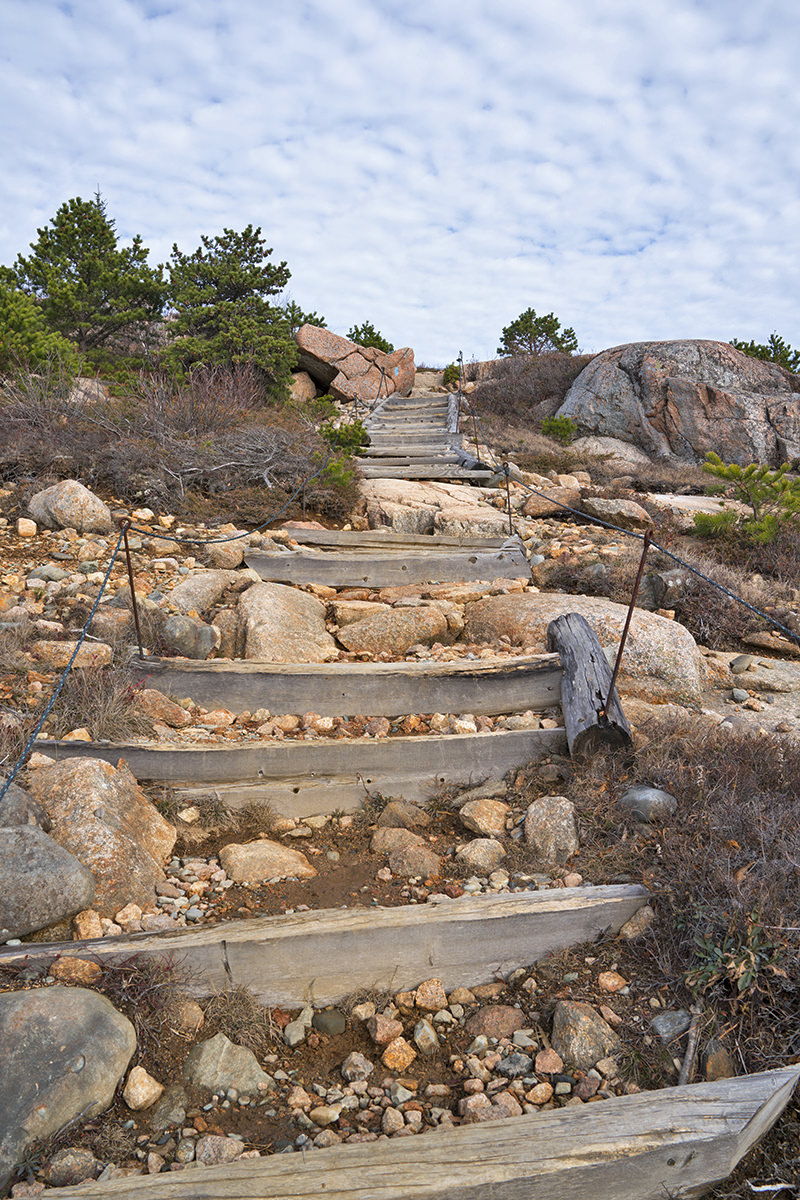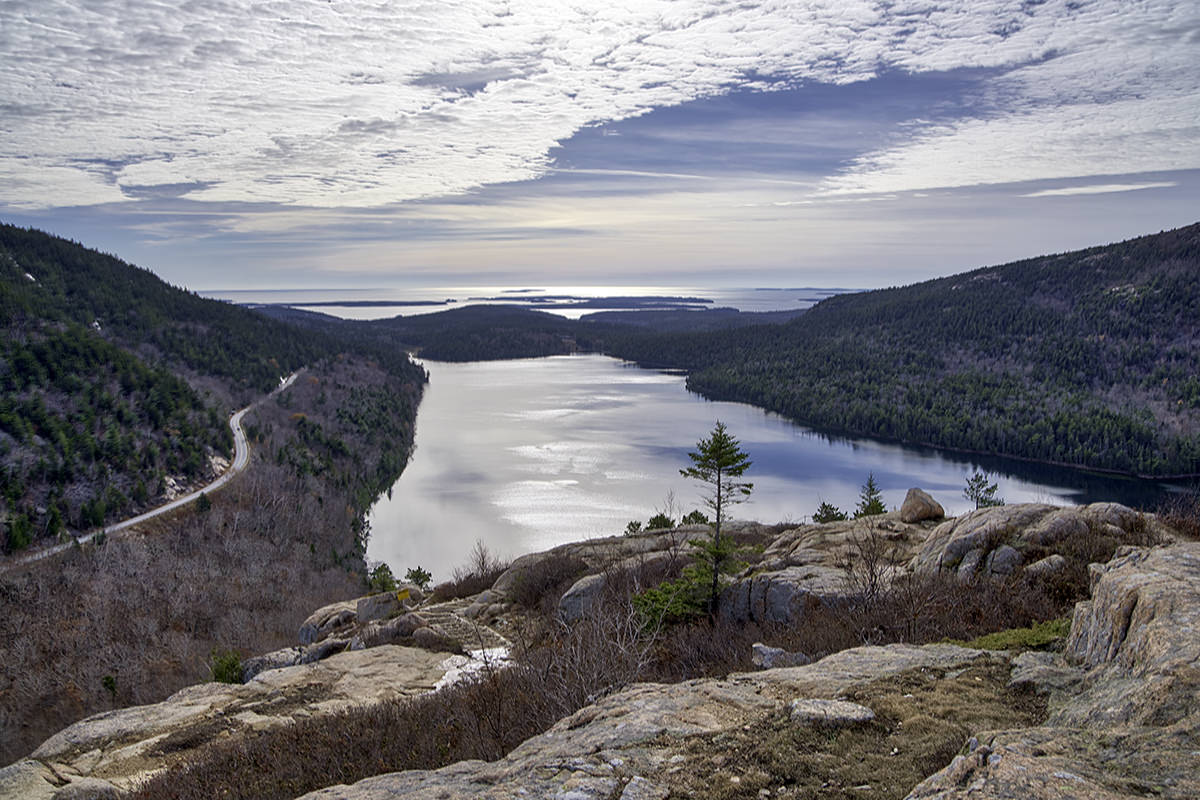 As I headed back down the mountain, I took once last look at Bubble Rock as I passed... and saw something strange. Right beneath the rock was my rental car all the way down in the parking lot! If you scroll back up to the second Bubble Rock photo I posted, you can actually see it there... I just hadn't noticed! Here's that same photo, but zoomed in...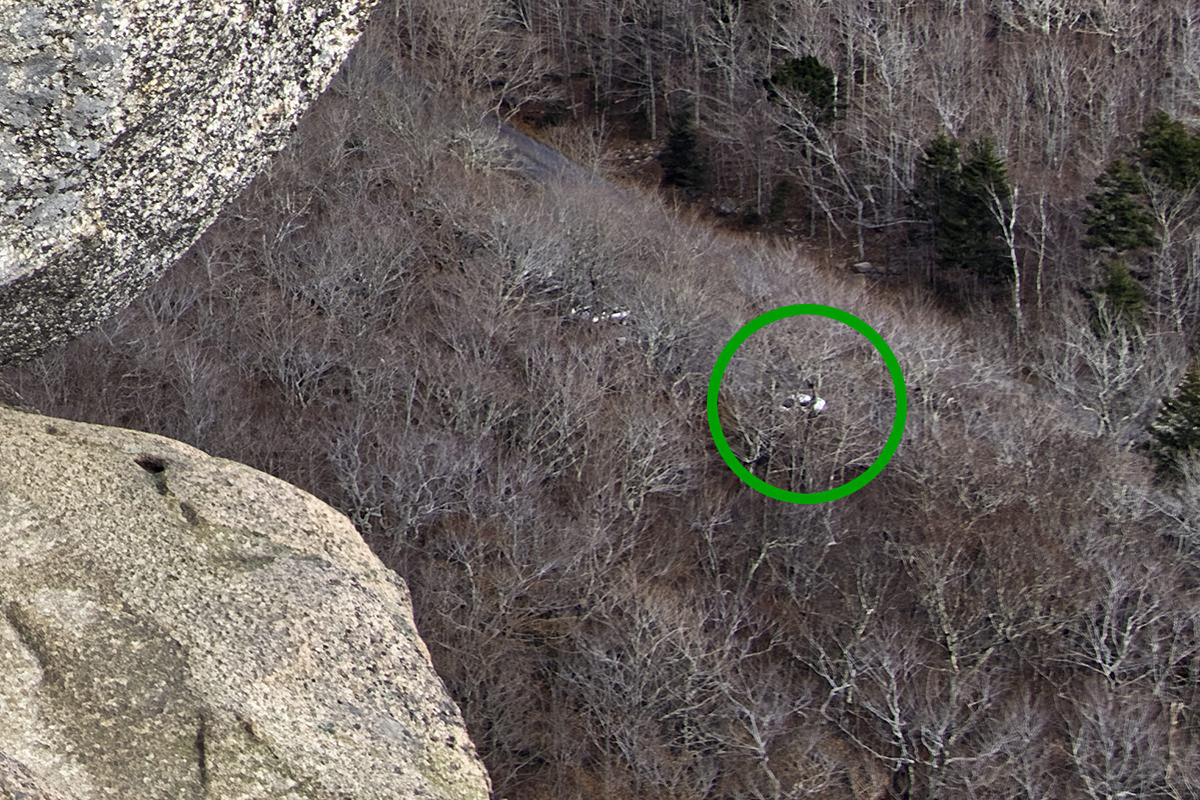 When I got back down to my car, I looked back up and took a reverse-angle shot. You can just make out Bubble Rock through the trees. It's smack-dab in the middle of this shot...
Curious to see if I could see Bubble Rock around the trees, I hopped in my car to backtrack so I could take a look. Sure enough, when I zoom in on maximum...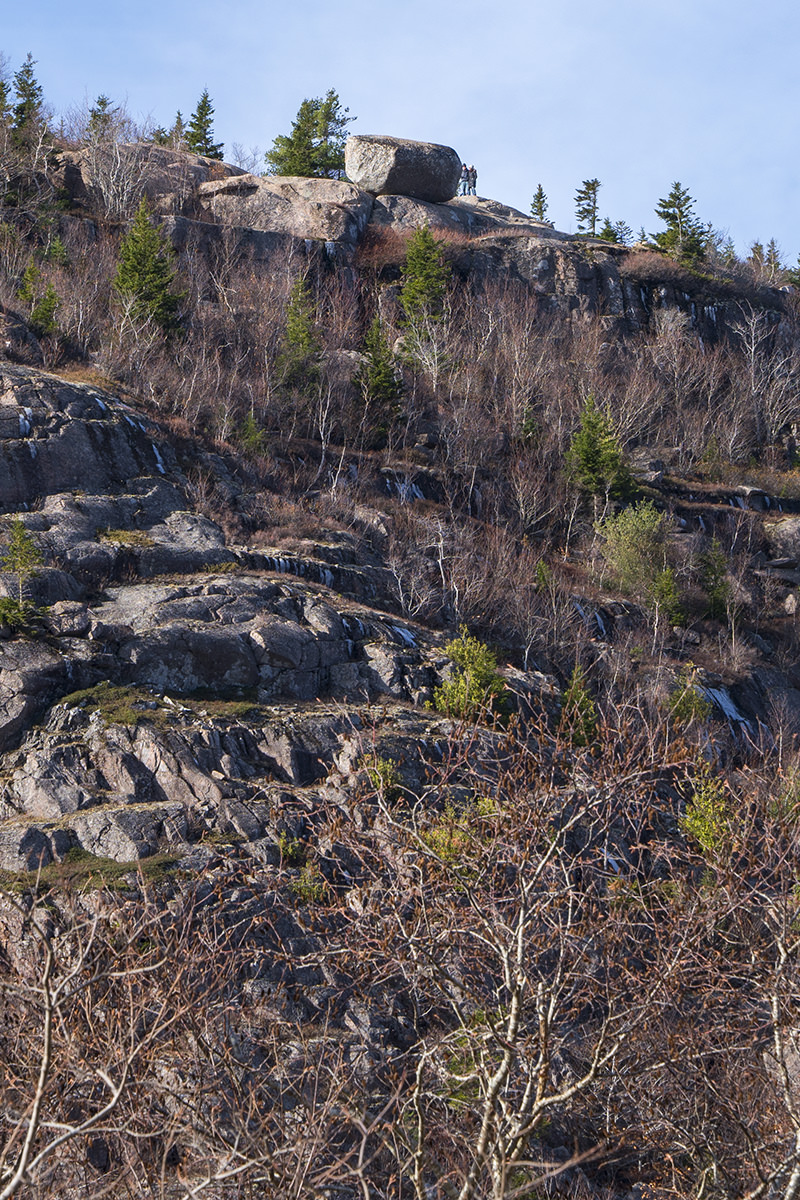 And, hey... if you zoom in even further, there's people there!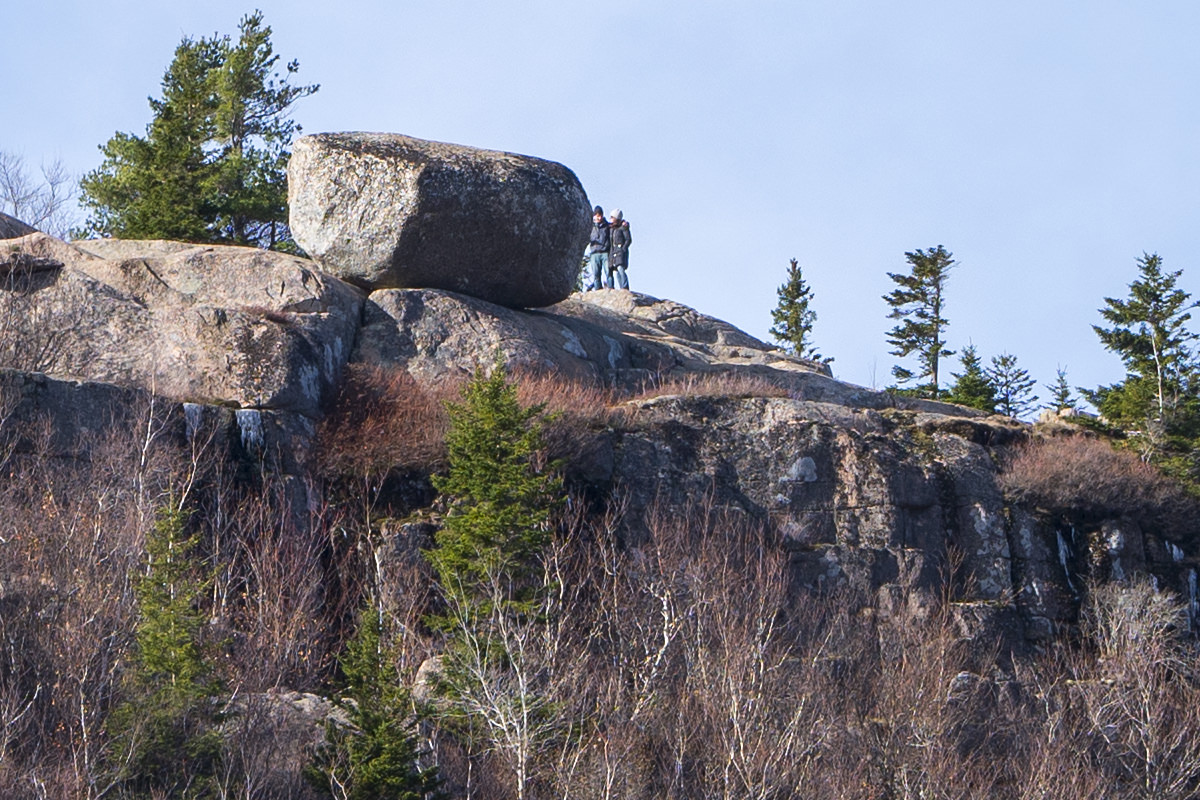 And thus ended my second day in Acadia. Time for a nap!
*The last time I used my camera, it was so I could photograph the eclipse back in August. In order to do that, I had to cover the lens with a piece of plastic that blocks out much of the light, then shoot at an ISO of 64,000. In a rookie mistake, I never reset my camera, and I didn't notice until I was half-way through my adventures today. Luckily, I shot some of the photos on "Full Auto," because a nice chunk of the photos from today where I tried to get creative were ruined because they were shot at grainy 64,000 ISO. Keep that in mind as you pour through all the photos in this entry. There could have been a lot more of them!
**High Dynamic Range... a photo technique where you blend photos together so that bits that are too dark and bits that are too light are evened out. I talked about it here.