Posted on October 23rd, 2017

Welcome to Old Photos Week! Every day I will post a photo or two from the batch of film I had scanned recently. Since I sent it in blind, some of the images that came back were surprising. Some I had forgotten. Some I never even knew existed.
My current home is four doors down from the home I grew up in as a kid. That home was built in 1972 and we moved in immediately after it had been completed. As I mentioned last week, it was the first time I had my own bedroom, so it was my Shangri-La for the dozen years I lived there.
Since the home was brand new, we were starting from scratch on everything. Including the yard. This photo is of my brother "helping" to plant grass in the front of the house...
Interesting to note that the garage walls are unfinished. It's interesting because I don't think we ever bothered to finish them! They looked exactly like this the whole time we were living there.
This, however, is far from the most interesting thing about my old homestead.
That would be the fact that it was built on a Native American burial ground.
This photo of the back yard was taken after at least a year living at our new home. The grass is filling in and (though you can't see it very well) my brother and I are standing next to a tree that has just been planted...
Eventually, my parents decided to add an addition to the back of the house so we'd have a larger living room. In order to build it, they had to dig up the back yard to pour a new foundation. As they were digging they ran across some bones. Then some more bones. Then still more bones.
They were human skeletons and our home turned out to be built on a Native American burial ground.
This was confirmed when archeologists excavated our back yard. We made the local papers and people were flying in to study the graves because they were intact and so well preserved.
Local tribes were consulted to find out what to do, and they requested that we relocate the remains to another part of the property. Which we did. My dad terraced the hillside behind us and we re-buried them there.
Somewhere, I know there are photos of the excavation. Hopefully I will run across them one of these days.
Posted on January 7th, 2015

Yesterday I talked about my photos and how the death of Apple's Aperture has forced me to move to Adobe's Lightroom. This entry talks about how that all went down.
Since the Aperture import plugin didn't work and I was starting from scratch, there really was only four decisions to be made in building my Lightroom catalog and new photo library...
Will I be converting all my RAW files to Adobe's open DNG format?
What size previews will I be rendering for when my library isn't available?
Will I be creating "Smart Previews" for all my images?
How will I organize my photo library?
To DNG or not to DNG?
When you shoot RAW, odds are your camera is saving the "digital negative" in a proprietary format. My Nikon D90, for example, saves them as .NEF files, which is proprietary to Nikon. My Sony A7, for another example, saves them as .ARW, which is Sony's version of RAW. I shot on a Canon for a while, and they use .CR2 for their RAW format. I also have .RW2 files from a Panasonic underwater camera I used and .ORF from an Olympus that I borrowed. What a mess. Unlike JPEG which is standardized, RAW formats rarely are. Which is why Adobe created the .DNG format. But, unlike what's used by camera companies, it's not proprietary... it's open, and anybody anywhere can read the specs that Adobe provides for free. This does two very important things...
Future-proofs your files. If Sony closes up shop or kills the .ARW format tomorrow, eventually this version of RAW will die out and stop being supported. And because it's proprietary, you would have to hope that somebody out there would reverse-engineering the format in order to read your images twenty years later.
Establishes and open standard. Because the specs are publicly available, no reverse-engineering is needed to read the .DNG format. And anybody can use it. Some camera manufacturers have already abandoned their proprietary RAW formats in favor of .DNG and I am hopeful all other manufacturers will follow suit.
There are other advantages to .DNG as well... my favorite being that it doesn't use external EXIF sidecar files, but instead stores the information internally. The fact that the files are also validated by an internal checksum means that you can tell when bits of a file go missing or are corrupted. The list goes on and on (did I mention that .DNG files are also smaller?).
So, ultimately, I totally embraced .DNG and had all my RAW image files converted upon import. Yes, this adds significant time to your import, but the benefits are worth it.
Alas yon Preview, What Size Art Thou?
When my 8TB external hard drive is connected to my laptop, all my photos are available to me at full resolution. When it's disconnected and I'm half-a-world-away, however, my photos are not available, and all I have to look at is whatever preview Lightroom has available in the catalog of my local drive. Lightroom's "Standard Size" preview is 1024 pixels along the image's longest side. That's fairly decent for looking through your images and won't take up too much space. Except Lightroom stupidly doesn't default to "Standard" but instead renders "Minimal" previews which are pretty much worthless (so be sure to switch to "Standard" in the Catalog Preferences or else you'll have to re-render all new previews!). You also have the option for 1:1 previews, which will speed up your workflow and look great on-screen... assuming you have room on your hard drive. As for me? I compromised. I changed the "Standard" size preference from 1024 to 2048 pixels and left the quality on "Medium." That's double the size of what you usually get, but generally ends up smaller than 1:1. My reason for taking the hit to my hard drive is twofold... 1) I have a Retina Display, and larger images display better... and, 2) If my library drive AND both backups are lost for some reason, I can probably live with 2048 as my only image size, but would be devastated if all I had were 1024 images. In the end, it's up to you... but with display resolution climbing and hard drive sizes escalating, it seems as though the bigger you go the better off you'll be.
If Thee Be Smart, Where Be Your Brains?
A couple versions ago, Adobe came up with "Smart Previews" which opened the door to all kinds of cool things. Primary of which is that you can EDIT images with Smart Previews... even if you're not connected to your library (usually, you can't do this). Once your library gets connected, the edits will be written to the original photo file's dataset, and it's just as if you had changed the original all along. As if that weren't enough, Smart Previews can also be viewed and worked on with an iPad via Creative Cloud. Pretty cool stuff, right? Except... "Smart" Previews are not exactly "smart" in that you are still required to have "regular" previews as well. So, effectively, you've got an entire catalog of previews taking up valuable hard drive space... twice? Or at least that's how I understand it to work. I don't have that kind of space available on my laptop's SSD, so I skipped stupid "Smart Previews." Hopefully one day they'll make it so you are only required to have ONE preview per image. Until then, it's nice to know that I can build Smart Previews for those times I plan on editing photos on the go.
But Soft! In What Organization Through Yonder Library Breaks?
With Aperture I never had to worry about the physical organization of all my image files. I created projects and folders within the app and let Aperture worry about where the files went. With Lightroom this is not possible. So what I ended up doing was mimicking the structure I was used to... a folder for each year and a sub-folder for every event/trip/session that was preceded by a date. If you take a lot of photos, it's a pretty good idea. The drawback being that if you've visited Milwaukee twenty times and want that photo you took of the Milwaukee Art Museum, you have to know when you visited in order to track down the photo. If that's a concern for you, might be better to not organize by date... but to instead organize by subject. Regardless of how you choose to organize your images, it's critical to keep organizing the same way. Once you get tired of the effort and just start dumping your photos wherever, you never be able to find them unless you spend a lot of effort applying keywords to each image. That takes considerably more time than organizing from the get-go... though, if your import groups are small enough, you might be able to apply keywords when you import to save time. Still, given Lightroom's inability to manage your photo files, you really need to come up with something yourself and stick with it.
Now that I've made my decisions... we're ready to import.
Getting your photos into your local Lightroom catalog and writing out your .DNG files to your external library is pretty easy. You click the "import" button, choose what you want to import... choose where you want them to go... add your settings for previews, keywords, and such, and away you go.
Since I was converting to .DNG and rendering rather large previews, my later years took a very long time. Five hours or more. And the bad news is that there's no way to pause the import and resume it at a later time... at least not that I've found. Yes, you can cancel and then re-do the import (Lightroom will run through everything again and skip the images it's already worked on) but this is a far from ideal solution. Even worse, absolutely no estimate on how long the import will take is given. You get a progress bar and that's all. Thankfully, you'll (hopefully) only have to do massive library imports once in your life, but it would sure be nice if Adobe were to allow you to pause the process. My suggestion? Break your imports down into more manageable chunks. You can uncheck folders you've already imported to keep Lightroom from doubling up (though, inexplicably, Lightroom will still go through all your photos if you have "Don't Import Duplicates" selected... whether you've checked or unchecked the folder in question).
It took me five days to get everything cataloged/imported. Usually I would import a chunk before going to bed and find everything completed when I woke up.
So how am I liking it now that I'm a Lightroom guy?
To be honest, I'm not liking it at all.
Lightroom is a massively confusing program that makes practically no sense. Compared to the elegance and ease of Aperture, I'd go so far as to say that Lightroom is crap. I hate just about everything about it. The interface is a complete mess and takes up way too much of the screen. Even simple things are difficult. Want to zoom in on a photo? I still don't understand how it works. Click once you zoom. Click again and you don't zoom in further, you zoom back out to some totally random percentage? Crazy. Instead of an intuitive, fluid zoom tool that operates like every other zoom tool in every other program (including Adobe Photoshop!), with Lightroom you have to click on a drop-down menu and choose 1:4, 1:2, 1:1, 2:1, 4:1, etc. etc. in order to get closer to/further from an image. It's about the stupidest fucking thing I've ever seen. I'm trying to use gestures on my trackpad for zooming, but it's so clunky and spastic that I can never end up where I want to be. And that pretty much defines everything you do in this program... clunky and spastic. There are times I make adjustments to an image... increase the saturation or sharpening or whatever... and nothing happens, even though the sliders are showing I've made the adjustment. WTF? It's enough to drive me insane. There are times I have to step away from the program because I'm getting so frustrated and angry that it feels as if my head is going to explode.
I'm hoping that eventually I'll get used to the shitty way Lightroom works, but I sincerely doubt it. The program is a hot mess of epic proportions, and I simply don't understand how anybody manages to get anything done with it. Yes, it's usable and I can (eventually) figure out how to do what I need to do... but it has a long, long way to go before it's as beautifully intuitive as Aperture is. Was. Whatever.
But, thanks to Apple being complete assholes and canceling one of the most wonderful apps for organizing and working on photos ever made, this is where I'm forced to be.
Maybe there's a better solution out there... maybe I should take a second look at Capture One... but the thought of having to go through all this mess again makes me want to stick my head in an oven.
I'm probably better off not using a photo cataloging program at all. I'll just go back to files and folders on ZIP drives and call it a day.
So much for progress.
UPDATE: More problems popping up every day. The worst of which is that Lightroom crashes... a lot.

Yeah. Definitely don't understand how people are using this thing.
Posted on January 6th, 2015

This is the first post in a two-part entry that will be discussing digital photo storage. Not a topic that most people will be interested in, but I very much want to document my process just in case somebody else out there on the interwebs is in the same boat as I am.
But, before we begin, a disclaimer.
I am a huge, huge, massively huge Apple Aperture fan. When it comes to working on photos, it's lagged behind Adobe Lightroom for years... but, when it comes to cataloging photos, it's pretty much the cat's meow. And since it's the cataloging that's of primary importance to me and my tens of thousands of photos, that's where my heart has been since Aperture debuted back in 2005. I will never, ever forgive Apple for canceling the app, and consider it just one of several stupid moves for the company as of late. But anyway...
Apple did cancel Aperture, so I am forced to migrate elsewhere.
My choice ended up being Adobe Lightroom. I am still not convinced it was the best choice, but I do think it's the right choice... for me anyway. Yes, I preferred the way photos looked using the RAW import on Capture One Pro better than Lightroom... and there were features in Darktable (among others) that were appealing... but it just seemed easier all the way around to go with Adobe since I know they're not going anywhere. The last thing I want to do is to have to go through this crap all over again if another app closes up shop. On top of that, the tight integration with the Adobe apps I use every day (Photoshop and Illustrator in particular) is too alluring to ignore. As if that weren't enough, I get Lightroom as a part of my Adobe Creative Suite subscription at no extra charge. Sure I could wait and see what Apple's replacement app, Photos is all about, but it looks unlikely to include the professional features I need.
So here I am.
And now a little background so you know who that is...
I have been into photography for as long as I can remember, and I've loved it all that time. So when it came time for a high school graduation gift in the mid-80's, all I wanted was a professional camera. My parents got me a Canon A-1, which was the most advanced camera of its day. The "Killer Feature" being the first SLR camera to have a digital autoexposure controller. Something I took advantage of frequently as I was learning how to properly use shutter and aperture settings. The A-1 was both a joy and a revelation over the fifteen years I used it as my primary camera, and I shot as much film as I could afford to have developed.
Then in the mid-90's the digital age was upon us. I was an early adopter, buying an Apple QuickTake 1 the day it was released in 1994. By modern standards, it was a pretty shitty camera. 640x480 pixels max and, unless you had flawless lighting, the images were pretty terrible. But... it was new. And it was cool. And I kept investing in digital technology despite not taking it very seriously. Why should I when what I was getting from my film camera was so much better?
Then the year 2000 came along and I got a Sony Cyber-Shot DSC-D700.
Suddenly, my digital photos were getting close to what I was getting on film, all without the pain (and expense) of developing the images. All summer long I went back and forth, testing and re-testing, contrasting and comparing. I was lugging around two cameras everywhere, not fully trusting the Sony after over a decade with my trusty Canon. But then the moment of truth arrived... in October I took a trip to Asia and the only camera I brought was my DSC-D700. The results were so encouraging I went ahead and did the same for a trip to Rome that December. By 2001, I was 99% digital, only dusting off my film camera when I had a project that required it.
Cataloging my photos in 2001 was a pretty simple affair. I stored all my photos on a Zip Drive, making two copies each on separate cartridges, one of which was kept in a bank safe. As image size kept climbing, I would eventually switch to Jaz Drive cartridges. Every project had a separate folder, which got a bit complicated after a while, so I then started creating Master Folders titled by year to sort them into. It worked just fine, and I didn't even think about the need for cataloging software until that infamous day in 2005 when I purchased Apple's Aperture.
And it was glorious. Especially during those heady early years when Apple was updating the thing. They added "Places" so you could tag all your photos with a location (if they didn't have one already). They added "Faces" so you could automate tagging the people appearing in your photos. And then there were the Vaults... dead-simple ways of backing up your catalogs and precious photo information which was quickly becoming every bit as important as the photos themselves. Everything in Aperture was so convenient, easy, and powerful. I quickly organized all my photos into Projects by year and Folders by project, since that mimicked the file structure I had been using for five years. Apple's amazing app made dealing with my huge library of images almost effortless.
Until they decided they didn't want to any more.
Enter Lightroom.
At first I thought the migration would be a piece of cake, because the Aperture import plugin I had been waiting for was finally released. It was a huge relief to know that all the hours/days/months of inputting photo data into Aperture wouldn't be lost. Except I could never get the plugin to work. It would hang after a while no matter what I did.
And so I gave up and decided I would just start over completely from scratch. The first step was to extract all my images from the Aperture catalog and convert them to "managed" files so I could access the individual, original photo files, which subsequently transferred to a spare 1TB drive I had laying around.
I then purchased a new 8TB Thunderbolt RAID unit from Western Digital which would give me 4TB of mirrored storage to work with. The old Aperture RAID drives were removed and popped into my bank safety deposit box just in case I ever need them.
And then the horrendous chore of importing all my images into Lightroom began.
The first years were easy. In the year 2000 I had a measly 250 photos, and they were all JPEG files that were either 2048×1360 or a tiny 1600×1200 pixels in size. NOTE TO YOUNGER SELF: Always shoot at the maximum resolution of your camera. I know that 1600×1200 seemed like a huge amount of pixels back in the day, but in the future that will be insanely inadequate for just about every purpose.
As we move forward in time, the number of photos increases considerably from year to year (especially when I decided to start bracketing most of my shots). And, because the size of the photos keeps going up as well (especially when I started shooting RAW), the storage space needed (hence the amount of time to import them into Lightroom) increases exponentially. NOTE TO YOUNGER SELF: Always shoot RAW. I know they're a lot bigger files, but if you could experience the pain of having to look back at your trip to the pyramids of Egypt with all that JPEG artifacting, you'd know the extra size is well worth it. And it's no small amount. In 2007 I shot one trip RAW. In 2008 I shot half of them RAW. In 2010 I was shooting all RAW all the time. Just look at what happens...
2000 • 244 photos (320MB)
2001 • 338 photos (456MB)
2002 • 633 photos (782MB)
2003 • 399 photos (691MB)
2004 • 2,489 photos (6.2GB)
2005 • 2,706 photos (7.1GB)
2006 • 386 photos (861MB — no vacations this year!)
2007 • 2,803 photos (7.5GB)
2008 • 7,342 photos (36.4GB)
2009 • 9,167 photos (63.2GB)
2010 • 16,561 photos (149.8GB)
2011 • 15,422 photos (135.8GB)
2012 • 15,788 photos (140.1GB)
2013 • 16,038 photos (149.6GB)
2014 • 18,532 photos (184.2GB)
Now, to be honest, most of the photos I took in later years are not keepers. As memory cards kept getting bigger and cheaper, I was a lot less selective in what I shot... and I would shoot the same thing several times so I could pick the best image and delete the rest... except I never seem to delete anything. Perhaps one day I'll have the time to purge all the bad/redundant shots, but it ain't happening any time soon. Good thing hard drive space is getting so cheap!
Okay then. Now you know about me and what I shoot... I guess it's time to start importing everything into Lightroom!
Which I will be talking about in tomorrow's entry.
Posted on July 11th, 2009

Today I was supposed to work, but couldn't make it because I awoke with a splitting headache which made me so ill that I was fighting the urge to vomit all morning. I'm not sure what the problem is, but I had to make severe changes in my diet at the request of my doctor, and it's been wrecking havoc with my system.
So, in-between dry-heaves, I set about sorting through twenty years of memories that have been stacked up in boxes. It mostly photos, post cards, travel souvenirs, and maps... but occasionally I run into other cool stuff. Like money. I found $46 in US bills scattered amongst the crap I've collected. Not to mention what probably amounts to hundreds of dollars in expired foreign currency.
My main goal is to track down any loose negatives that might be hiding so I can get them scanned. Otherwise, I'll miss the opportunity to see such gems as these (which were scanned in my last batch)...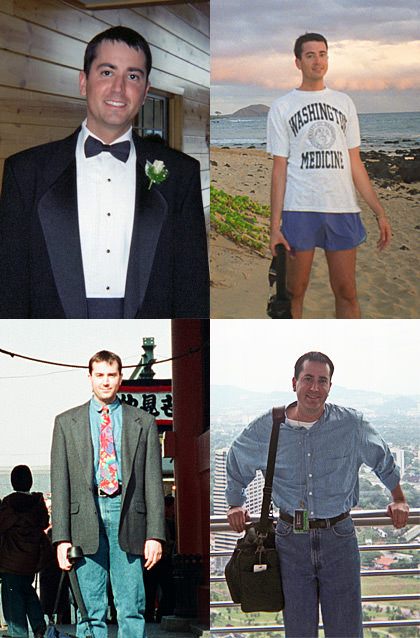 Clockwise... That's me in a tux at my good friend's wedding. Me in Hawaii circa 1986. Me at the top of Petronas Towers (Kuala Lumpur) circa 2000. And me being all business-casual in Tokyo circa 1990.
Rummaging through crap for hours wasn't doing my headache any good, but it's all worth it because every once in a while, I run across something like this...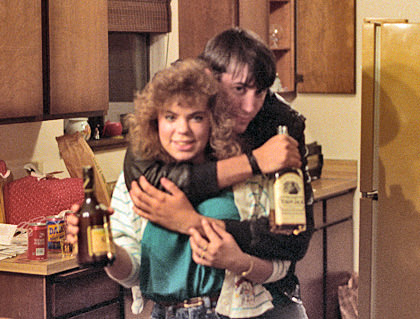 That's me and my sister, circa 1987. If I remember correctly, we had finished off all the alcohol in the apartment except Yukon Jack Whiskey and some kind of Bailey's Irish Cream knock-off. Not knowing what else to do, we mixed them together and did shots.
Googling this horrific concoction, I now know this drink actually has a name... it's called a "Yukon Jackoff."
That sounds about right.
And so I made it half-way through my memories today and was very happy to learn that most of them are actually worth remembering.
That's kind of a nice thing to have happen on a Saturday, isn't it?