Posted on Wednesday, January 22nd, 2020

For years now... a decade really... I've been experimenting with setting up a personal NAS (Network Attached Storage) media server that's connected to the internet. There are a lot of reasons I'd like to have such a thing, but the big one is that I want to be able to access my vast photo library from anywhere on earth. If I'm in Germany and want to show a friend a photo of the Hard Rock Cafe Yokohama (something that actually happened) it would be great if I could do that. Sure I have the option of paying for a photo service, but then I have to convert all my images from RAW format and lose the ability to access/edit the original photo remotely if I want to.
So I purchased a 1 Terabyte single-drive, internet-enabled "WD My Book Studio" NAS back in 2010 with that in mind. Everything ended up being a total mess and didn't work at all like I was hoping. It's been sitting in a drawer ever since.
Fast forward to 2019 and I decided to try again. I used money I had saved in 2014 for a trip to Norway's fjords with my mom (that we never got around to taking) and purchased a QNAP TS415+ NAS and two Western Digital 8 Terabyte RED drives to put in it. The drives are mirrored in a RAID configuration so I don't lose any data if one of them dies. Note that there's a television remote. That's because this model has an HDMI port so it can hook up directly to a television...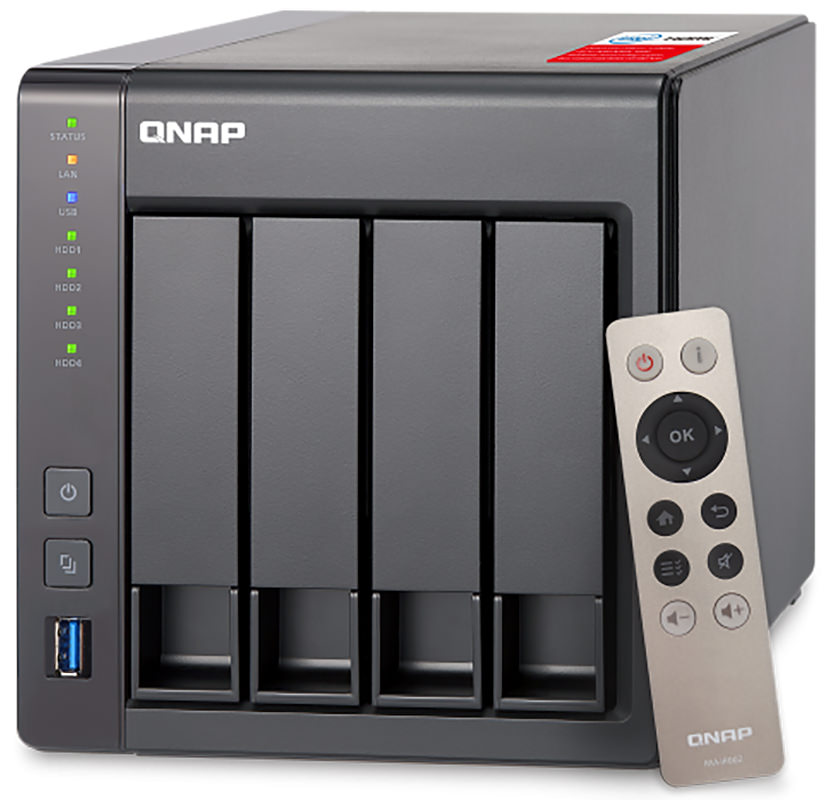 Today I finally set it all up. It was fairly straightforward, though not the most user-friendly thing to do. It spent hours doing a "RAID resync" (whatever the hell that is), which makes zero sense. The drives were empty and freshly formatted. How can it take over 24 hours to "resync" NOTHING? Note that QNAP doesn't bother with beta testing their apps. If they did, somebody might have noticed that the displayed percentage overwrites the text label, making it tough to read its progress...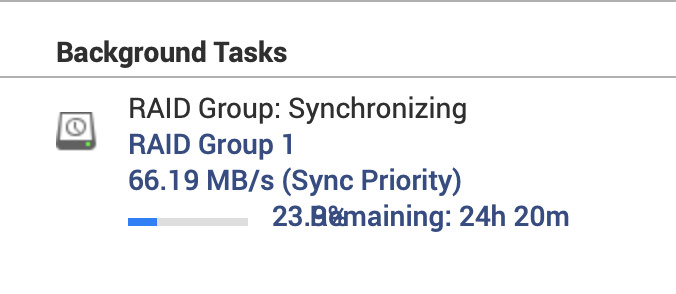 Before you can do anything, you have to set up a "Storage Pool" from your drives. I maxed my pool out at 100% of my available drive space, because why only use part of your drives? QNAP is pretty brain-dead when you choose to do this... it will endlessly pester you with alerts because it defaults to a threshold of 80% usage. Insanity. If somebody sets their pool to 100% of drive space, why not ask if you want to disable the threshold alerts? I had to do it manually. Sadly, after setting things up, my 8TB mirrored drive resulted in only 7.1TB of space available. No idea what happened to nearly a FULL TERABYTE of storage (this seems high for overhead), but whatever.
Anyway...
Rather than have to install a third-party app, I decided to give the QNAP "Qmedia" app a try on my AppleTV since it's the "native" application from QNAP. It is complete and total shit. Despite "pretending" to remember where you left off when viewing videos, it doesn't. You can't even fast-forward the video you're watching, which is mind-blowing. I have no fucking idea why they even bothered. Qmedia is useless.
I'd rather not have to switch television video input sources from my AppleTV every time I want to watch something off the NAS, but apparently that's going to be how this goes. So I grabbed the QNAP remote and went for it. First I had to install an app (of course) but no big deal. Then I actually tried to use the thing and it's a total clusterfuck. The "VideoStation" app is just a fucking web browser interface. It's difficult to read because it's not sized for a television. It's impossible to use with the included remote because the remote doesn't do anything. You have to plug in a mouse and keyboard to make it work.
There's an "HD Player" app that looks like it's geared more towards television displays and using the remote control but it's fucking useless too, having many of the same problems as Qmedia. It goes non-responsive constantly, doesn't allow fast-forwarding (pressing the up arrow to skip forward is not the same thing), starts at the beginning of a video even if you tell it to resume from where you stopped, has a shitty interface that makes sorting through a large number of videos a nightmare, has crap video quality that you can't adjust for brightness or anything else, and is an overall steaming pile of fail.
I swear, QNAP is the most ridiculous fucking company. Why bother to make claims of being a multimedia center that can connect directly to your television if it does THIS shitty of a job of it? The whole thing is a fucking joke.
Fortunately there's plenty of options for serving your media from a NAS if it has a computer onboard like the TS451+ does. The "big two" are Kodi and Plex. Kodi is open source and free. Plex is free, but you can support the project by paying to subscribe to "Plex Pass" for additional features (like being able to download media on your phone for local playback instead of streaming it). Most people I know who started on Kodi ended up with Plex, so I just skipped a step and installed Plex Server on my NAS.
For what it is, Plex Server is pretty sweet. It transcodes just about anything you throw at it. Including the RAW Digital Negative photo format from Adobe (DNG) that I use. Which means I don't have to save out JPEGs in order to access my photo library remotely. Nice! I need to work on settings for this, however, because Plex compresses things pretty heavily for transmission. This results in some ugly visual artifacts, banding, and color shifts...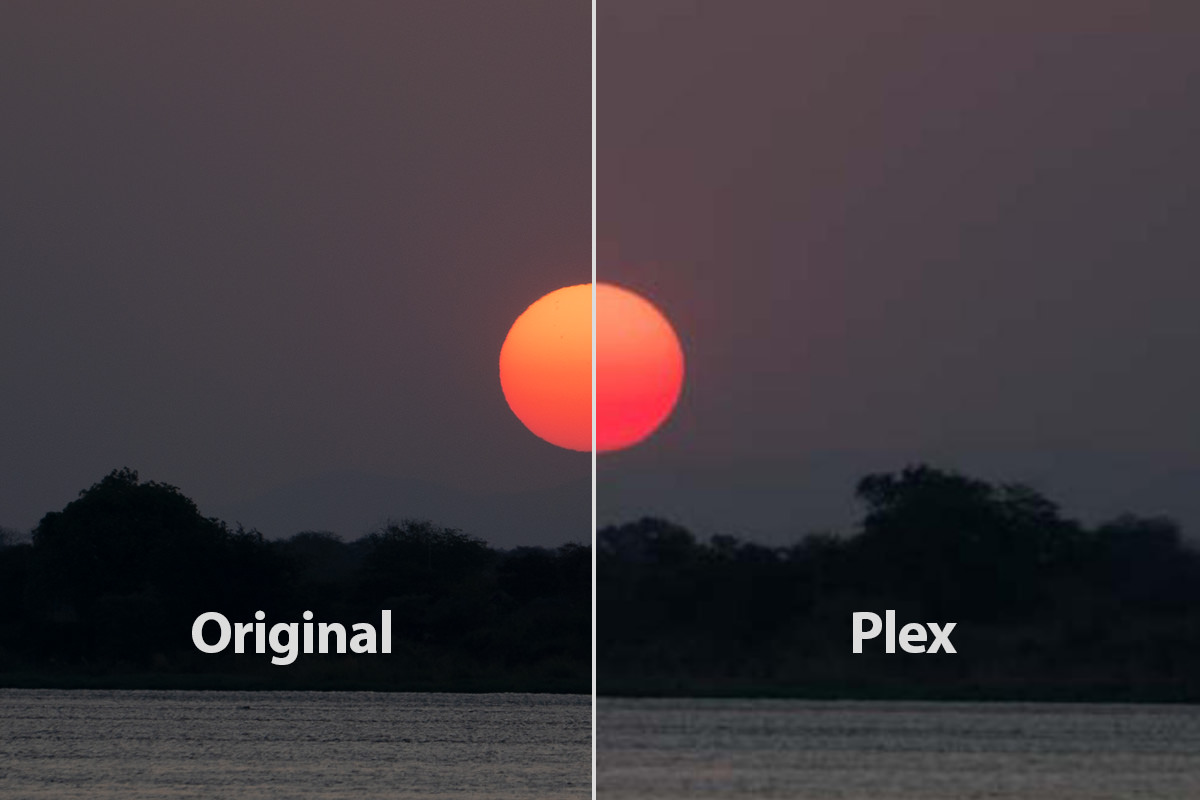 Video works brilliantly from Plex BECAUSE YOU CAN ACTUALLY FUCKING FAST FORWARD THROUGH IT ON APPLE TV! Plex does a really good job of cataloging it as well. Thank heavens, because I'd light my QNAP NAS on fire if I had to suffer through their shitty apps. The only problem I've run across is having the video stop and tell me that my connection isn't fast enough, which is absurd because AppleTV is literally plugged into the same high-speed hub as the NAS! There must be some kind of setting for that I'm missing. Fortunately, it's a rare event.
I don't steal media. All the movies and television shows I have are on DVD/Blu-Ray or purchased on Digital. Well, with two exceptions... Cupid (the Jeremy Piven original) and Oh Grow Up! (one of my favorite shows of all time)... are not available to purchase. Lord only knows I wish they were, because my digitized versions of VHS tapes are really poor quality. I've used Vudu's Disc-To-Digital service to convert the bulk of my DVD/Blu-Ray collection to Digital legally. But not all of my stuff is available for conversion. Now I have the option of ripping them to the NAS and viewing them digitally no matter where I am via Plex Server. Technically, any time you break the protection on a DVD you are breaking the law, but that's a bullshit law. I would happily pay to convert them to digital if the studio who owns them would allow them to be converted. What I'm not going to do is buy the same movie all over again. Fuck that. I already paid for it, I should get to pay a small fee for a new format, not have to buy it all over again. And so... I have a small collection of DVDs ripped to my NAS temporarily until the studio allows them to be converted and I can pay for that. Plex does a great job of streaming from my living room to remote locations in HD. No, the video quality is not as good as what comes off of iTunes... especially if the iTunes version is 4K... but it's plenty good enough for my iPad or iPhone. I'm sure if I didn't have tons of security cameras flooding my bandwidth I could set the quality higher, but it's really not necessary.
Music streaming (local and remote) is handled quite well through Plex, and my SONOS system can address Plex directly. This means I can download all my music from iTunes, put it on the NAS, then drop iTunes Music Match and iTunes itself with no problem.
And so... bravo Plex.
I'm going to try out "Plex Pass" for a month and see if I want to upgrade to the lifetime membership for $120. Something tells me that's a purchase I will end up making. I certainly can't do without Plex if my alternative is the QNAP crap.
UPDATE: Yeah. Easiest decision to make to get the Plex Pass... the apps for streaming are included and you're helping the team behind it to keep developing the app.
So okay... the QNAP multimedia is bullshit. What about the NAS itself? Well, I'd love to report on that, but the minute I login, it either immediately disconnects me...
...or it allows me in but gives me a shitload of error messages. My favorite? Telling me it's running out of memory. If 2GB is not enough memory to do even the most basic tasks, then why ship with just 2GB memory? QNAP has their own version of Microsoft "Clippy" to break the bad news, which is a weird choice...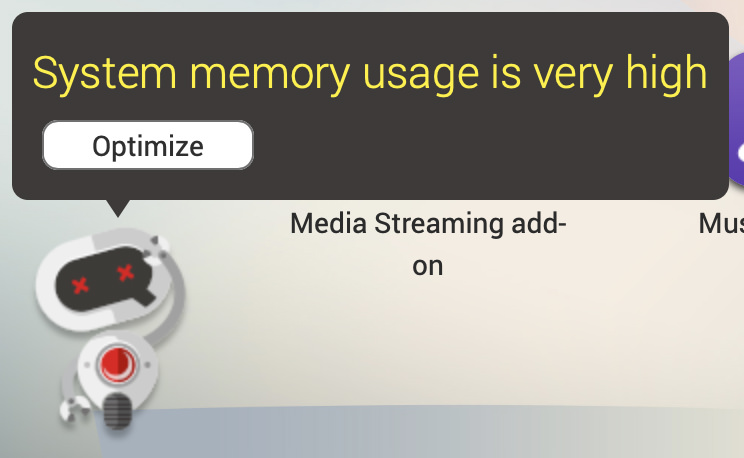 Even better? If you choose "optimize" he does a happy dance when he recovers 0MB of memory! Once I can log in again, I'll turn off and uninstall absolutely everything except the bare minimum I need (which includes Plex Server, of course), so I'm hoping that will fix these problems.
My NAS can act as a Time Machine backup for my Mac, but I really don't need that any more. All my data is stored in the cloud, so the only thing that would need to be replaced on my MacBook if it were destroyed are the apps, which I can just download from the developer again.
QNAP provides Apple File Services so I can access my NAS over my local network easily. Weirdly enough, you are required to install Windows File Services in order to install Apple File Services, but (luckily) you can kill the Windows File Services after installation to save precious memory and everything seems to work fine.
Speaking of memory... QNAP is happy to sell you more, but they charge outrageous pricing for the stuff. I mean laughably outrageous pricing. Far better to buy it yourself (which I'm guessing I'll have to do sometime soon if killing apps don't work).
Remote management and access to my files is a breeze thanks to QNAP's tools and a service they call CloudLink. The NAS talks with QNAP so even though its IP address may change, you can still reach it with no trouble.
And so...
I fucking hate the fact that QNAP doesn't really work as a media center as advertised. THAT'S WHY I PAID EXTRA FOR THIS MODEL!
Their video apps are worthless garbage that can't even do rudimentary shit like fast forward video.
They don't include enough memory to do even basic tasks.
Their HDMI television output can not be altered for settings like brightness, contrast, color, etc., which is no big deal considering it's fucking useless without decent apps for it anyway.
The included remote control doesn't control shit. And what it can control is garbage and doesn't work.
Their web interface is brain-dead idiocy that confuses even the most simple things.
Nothing about operation of the QNAP unit is even remotely intuitive. Nothing is easy to find and the byzantine menu system is difficult to use. The fact that they don't have an abstraction interface for moderately-experienced users makes zero sense. They ONLY want to serve the professional market? How strange.
I am still relatively new to the QNAP TS451+ NAS and the Western Digital RED drives, so I can't comment much about them. I can say that Western Digital are the only brand of hard drive that hasn't disappointed me so I'm hoping that trend continues. Also, despite the shitty media center aspects and overly-difficult controls, QNAP is highly respected in the IT industry. I just wouldn't bother paying extra for an HDMI port and remote that you will probably never use because their software is shit. Put that money towards a Plex Pass where it will do some good.
Tags:
Apple
,
DaveLife
,
Internet
,
Movies
,
Music
,
NAS
,
Plex
,
Technology
,
Television
Categories:
Apple Stuff 2020
,
DaveLife 2020
,
Internets 2020
,
Movies 2020
,
Music 2020
,
Television 2020
—
Click To It:
Permalink
—
4 Comments: Click To Add Yours!
Posted on Monday, February 3rd, 2020

There's a difference between "I really connect to your lyrics"... and "I'm going to break in."
I never gave much thought to Taylor Swift. Her music was originally Country, which I don't listen to. Then she dropped into the world of Pop music with 1989 but I wasn't "in that place" at the time, didn't like the single Bad Blood at all, and ignored it. When Reputation was released I didn't much care for the first single, Shake it Off and ignored that album too.
Then I heard the song Mean while shopping in a store somewhere and didn't know who sang it, but Shazamed it even though it was Country because I was hooked by the lyrics...
Someday I'll be living in a big ol' city
And all you're ever gonna be is mean
Someday I'll be big enough so you can't hit me
And all you're ever gonna be is mean
I made a mental note to take another look at Taylor Swift because that one song impressed me so much.
When I finally remembered to pull up her catalog on Amazon Music Unlimited while brushing my teeth one morning, the first song to come up was New Romantics...
Cuz baby I could build a castle
Out of all the bricks they threw at me
And every day is like a battle
But every night with you is like a dream
I remember just standing there, toothbrush in hand, toothpaste dribbling out of my mouth, trying to really listen to the lyrics, which were pretty great. From there I blew through all her music, consistently impressed with her songwriting, even if I didn't always like the song itself. But most of the songs from 1989 and Reputation I did like quite a lot.
Then the singles from Lover started dropping and I was suddenly full-on fan of Taylor Swift... putting Lover in the top spot of my favorite albums of 2019.
And now, just when I didn't think I could love Taylor any more than I already do, a documentary dropped on Netflix called Miss Americana...
I enjoyed it quite a lot. The film is an intimate look into the highs and lows of Taylor's life and gives a glimpse into her songwriting process (which is worthy of a documentary all on its own). There's also a good chunk of time devoted to Swift's decision to unleash her political beliefs, even though she knew full well what the consequences might be for her life and career. The scene where she's about to unleash a political tweet that changes everything was almost a hold-your-breath moment.
It would be really easy to watch her struggles and think "Oh boo hoo! Go cry into your millions of dollars because nobody cares!"
But any such snap judgements are made out of ignarance. Swift built herself a castle out of all the bricks that were thrown at her and earned her millions of dollars with hard work and talent. The fact that she uses her popularity and fame to speak out against bigotry and injustice when her life would be a lot easier if she just sat quiet and smiled is what makes Taylor Swift be Taylor Swift.
Even though she all too often gets burned for it.
And so... Miss Americana is recommended for Taylor Swift lovers and haters alike. If you have Netflix, give it a look.
Posted on Saturday, February 15th, 2020

What in tarnation is happening here? There's no need to check your calendar... because an all new Bullet Sunday on Saturday starts... now...

• Red Sox! And so it begins... the team is converging on Fort Meyers for Spring Training, which begins full-squad workouts on Monday. Well, full-squad except Mookie Betts, who got traded to L.A. for some stupid reason (okay, it was probably to fall under the Competitive Balance Tax threshold for 2020, but still stupid)...

Photo from NBC Sports
I sure hope Boston has a better season this year than last year.

• 1917! If you know me, you know I love maps. This is so frickin' cool.

• You Better Work! As somebody who loves RuPaul, there was no way I was going to miss his new 10-episode series on Netflix...
From the trailer I expected it to be entertaining and funny. I did not expect it to be as deep, smart, and genuinely sweet and touching as it. Bonus: There's a lot of familiar faces popping up throughout, including many, many contestants from Drag Race. What sabotages the show is two things. 1) The kid is irrationally bratty and shitty at random times, screaming her head off for no reason. I have no idea why Ru and Michael Patrick King felt it necessary to go that far. And, 2) It doesn't have an ending and absolutely everything was left in the air with no resolution whatsoever. If Netflix doesn't give it a second season, viewers are screwed. Still, worth tuning in for.

• Miss Jackson! Janet Jackson Herself has announced that her new album and tour, Black Diamond, will be dropping this summer.

• Great Scott! These deep fakes are just getting more and more frightening...
Frightening because they are looking more and more realistic.

• Goo! If you did any kind of graphic design work in the 1990's, odds are you know of Kai Krause. His design tools allowed you to create some truly wondrous stuff... but had the absolute worst possible interfaces to get there. I never understood why they were so utterly wacky and nonsensical. Apparently, it was to spur creativity... to get people to just "play" with things until they were intuitively doing what they wanted to do. It never worked like that for me. I'd much rather have proper menus and tools that made it clear what was happening. Kai's Power Goo, for example, was just a mess. But it was Photoshop "liquify" before there was Photoshop liquify, and you have to respect that...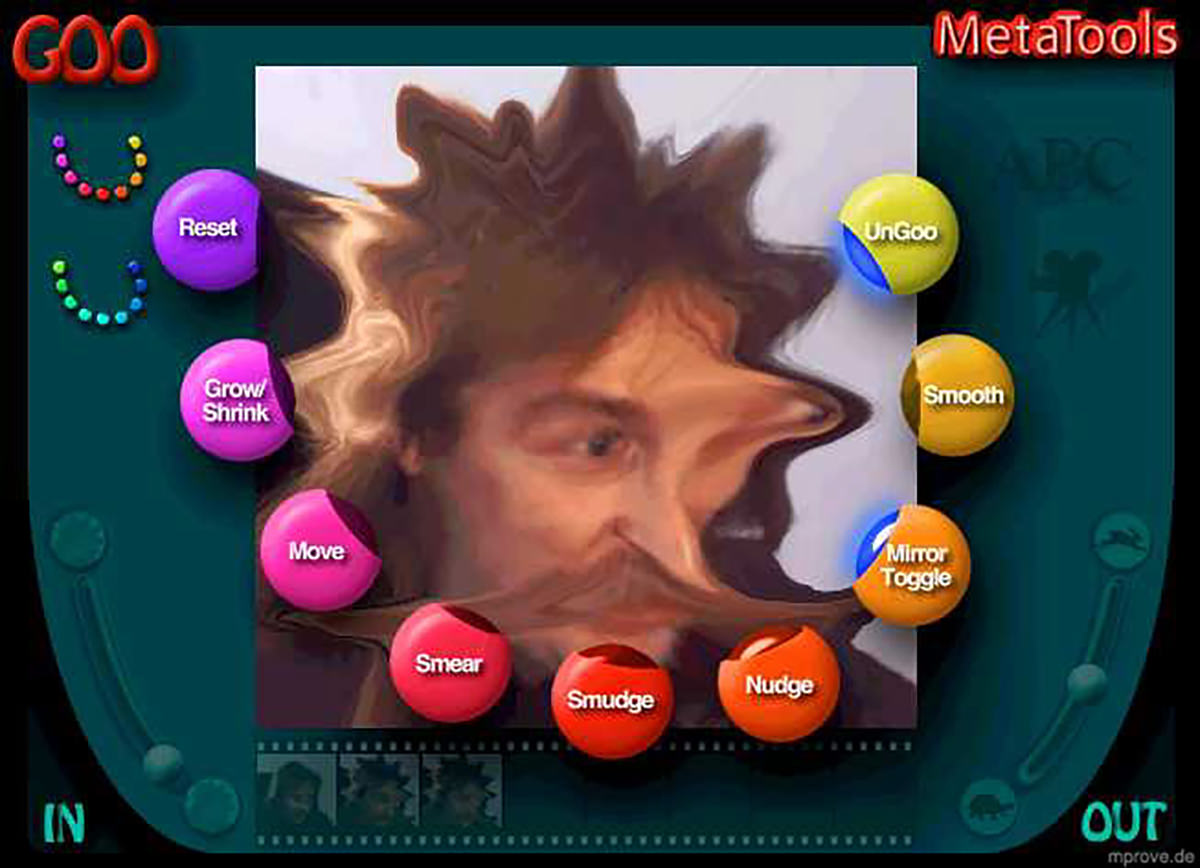 I owned absolutely everything Kai ever released. Used his tools all the time, even as I hated the way they worked. Even so, I found the story of his interface design an interesting read.

And that's Sunday Saturday Bullets.
Posted on Sunday, March 29th, 2020

The news has been anything but cheerful lately, but hang in there... because an all new Bullet Sunday starts... now...

• U-S-A! U-S-A-! U-S-A-! But before we get started... this video is two minutes long. I encourage you to take a hard look at every second of it. This is what happens when you call the coronavirus a "Democrat hoax" and don't take things seriously early on. And, for us here in the USA, we're not even at peak coronavirus yet because there are still states which are refusing to do anything because "We don't have many cases here." Well, yes, you dumb-fucks, the whole point is to KEEP IT THAT WAY...
Stay healthy everybody. You could end up breaking a hip or having a heart attack or chopping off a finger only to find that you can't be seen at a hospital because it's been overrun with coronavirus patients. You may consider yourself able to survive COVID-19... and that's great. But your actions could infect others who end up taking up hospital space you might need for other emergencies. It's in everybody's self interest to keep hospitals from piling up. Let's all pray it's not too late already.

• Trump Is Risen! Thank heavens that President Trump actually listened to people who know shit and reevaluated his plan to cancel quarantine by Easter. But before that happened, there was this, and if you close your eyes...
And if you think this parody is an exaggeration, Cheeto Jesus has been Tweeting about how big the ratings are for his Coronavirus Press Briefings, despite the fact that more and more people are dying due to the snowball effect of his initial inaction. Holy shit what a narcissistic asshole. And he just keeps getting so much worse every damn day.

• Warz! If you don't know who Max Brooks is, you really should. His book World War Z is sublime apocalyptic zombie-fiction which reads so realistically because his research into pandemics was brutally extensive. He's so well-studied and important to the field of disaster preparedness that he has lectured at the U.S. Navy War College, for heaven's sake. Which is why his viewpoint on current events is worth noting: 'All Of This Panic Could Have Been Prevented': Author Max Brooks On COVID-19. This is some scary shit, and goes to show just how buffoonish the Trump Administration's handling of a crisis of this magnitude has really screwed us.

• ACCESS! Just in case you aren't watching Star Trek: Picard... and you absolutely should be... here's your chance to do so for free. I did not like Star Trek: Next Generation that much, but am loving Picard. I loved Star Trek: Discovery even more (especially the first season), and this freebie unlocks all of CBS All Access, so you can take a look at that one as well!

• Live! There was a meme running through Facebook where you are asked if you can name a band you've seen live for every letter of the alphabet and one that starts with a number. I did pretty good...
# - (The) 1975
A - a-ha
B - B-52's
C - Cheap Trick
D - Depeche Mode
E - Erasure
F - Foster the People
G - Green River
H - Heart
I - Idol, Billy
J - James, Etta
K - Ke$ha
L - (The) Local Strangers
M - Matt & Kim
N - Nirvana
O - Orchestral Manoeuvres in the Dark
P - Pet Shop Boys
Q - Queens of the Stone Age
R - Rogers, Nile (and Chic)
S - (The) Shore
T - Thompson Twins
U - Ure, Midge
V - (The) Vapors
W - Wrabel
X -
Y - Yanni
Z - ZZ Top
Many of these letters could have had multiple answers. I'm fairly certain I saw at least one band with a name starting with "X"... especially some of those indy bands that were playing during the whole "grunge" movement in Seattle when I was hitting the clubs... I just can't think of any.

• Museum Project! People are getting way creative in finding ways to spend their quarantine time. One of my absolute favorites are those who are recreating famous paintings. Some of them are absolute gold, and there's a terrific Instagram feed where they showcase some of the best ones...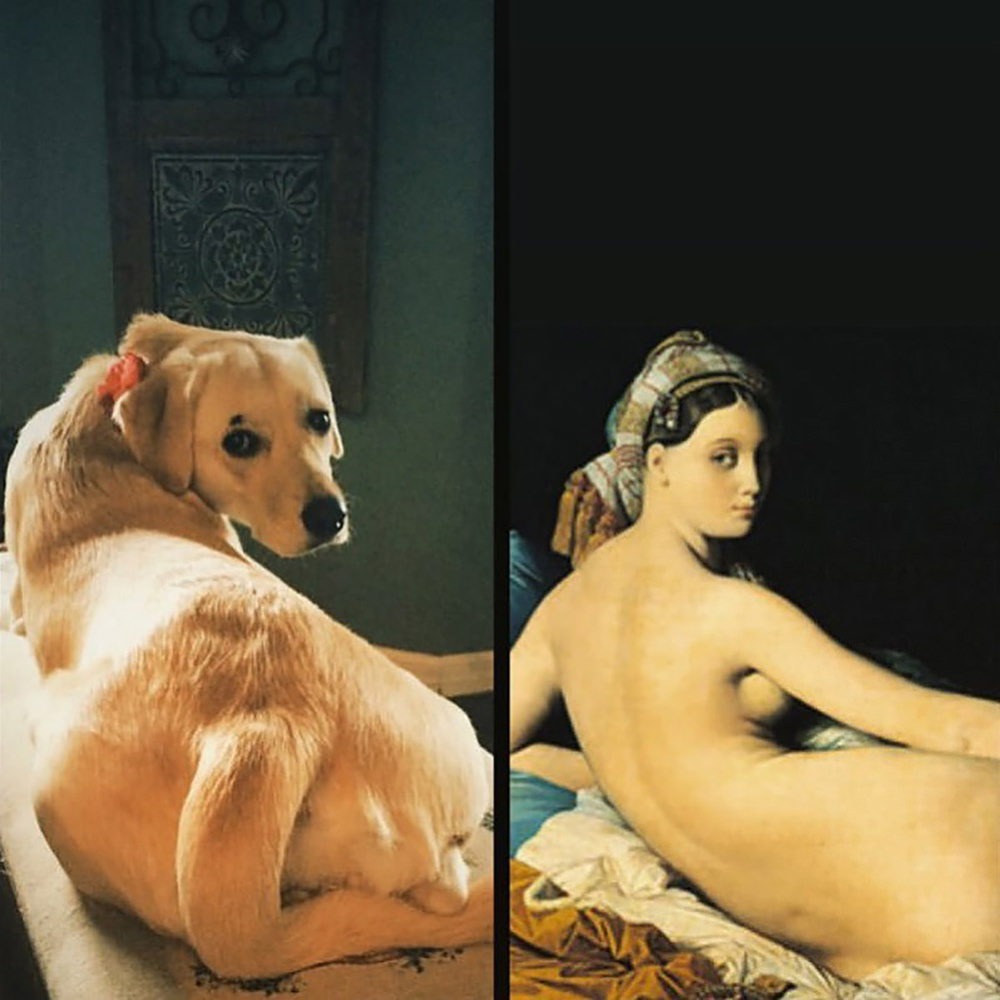 A lot of creative use of toilet paper in that Insty-feed!
And there have also been some professional reimaginings that are absolutely sublime. My favorites by a wide margin are those that popped up by Dutch photographer Jenny Boot. Here is Pearl inspired by Vermeer's Girl with a Pearl Earring (housed at Museum Mauritshuis in The Hague)...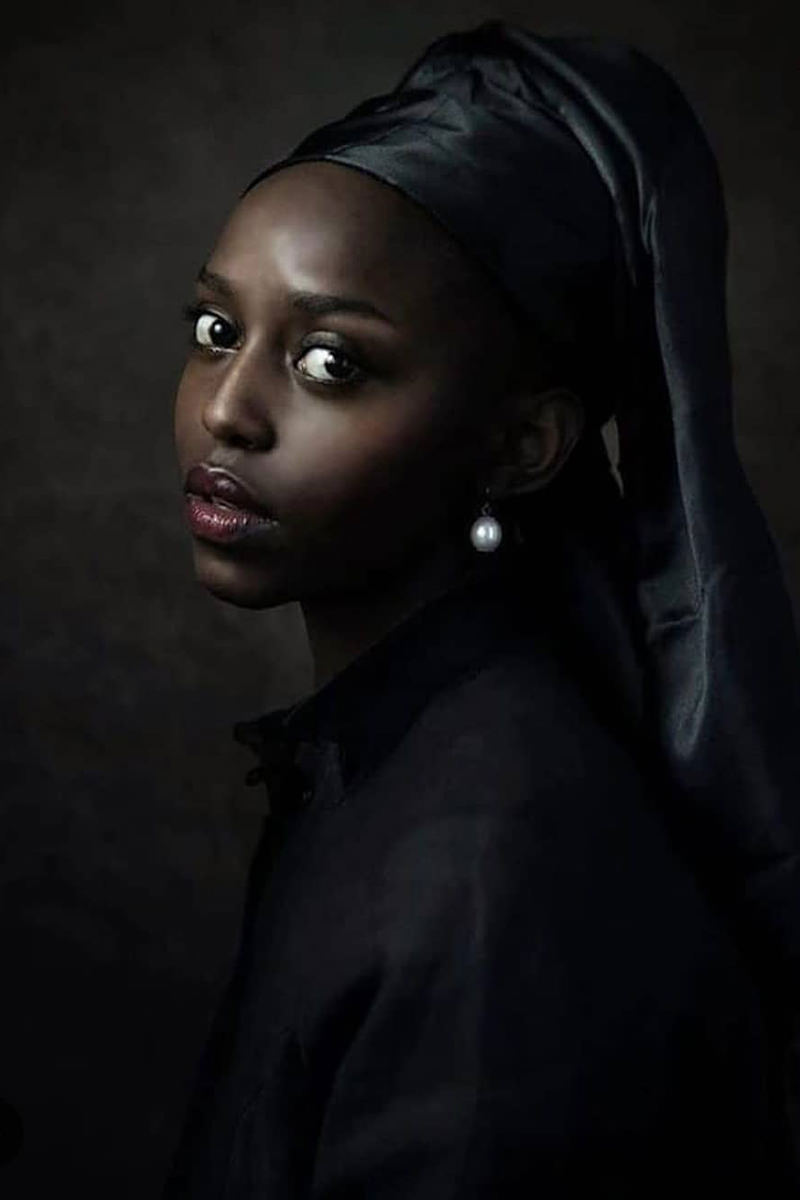 ©2019 Jenny Boot Photography
The original Vermeer...

© Museum Mauritshuis
Here is de Kus, inspired by Vermeer's The Kiss (housed at Museum Belvedere in Vienna, which I was lucky enough to see in person)...

©2019 Jenny Boot Photography
The original Klimt...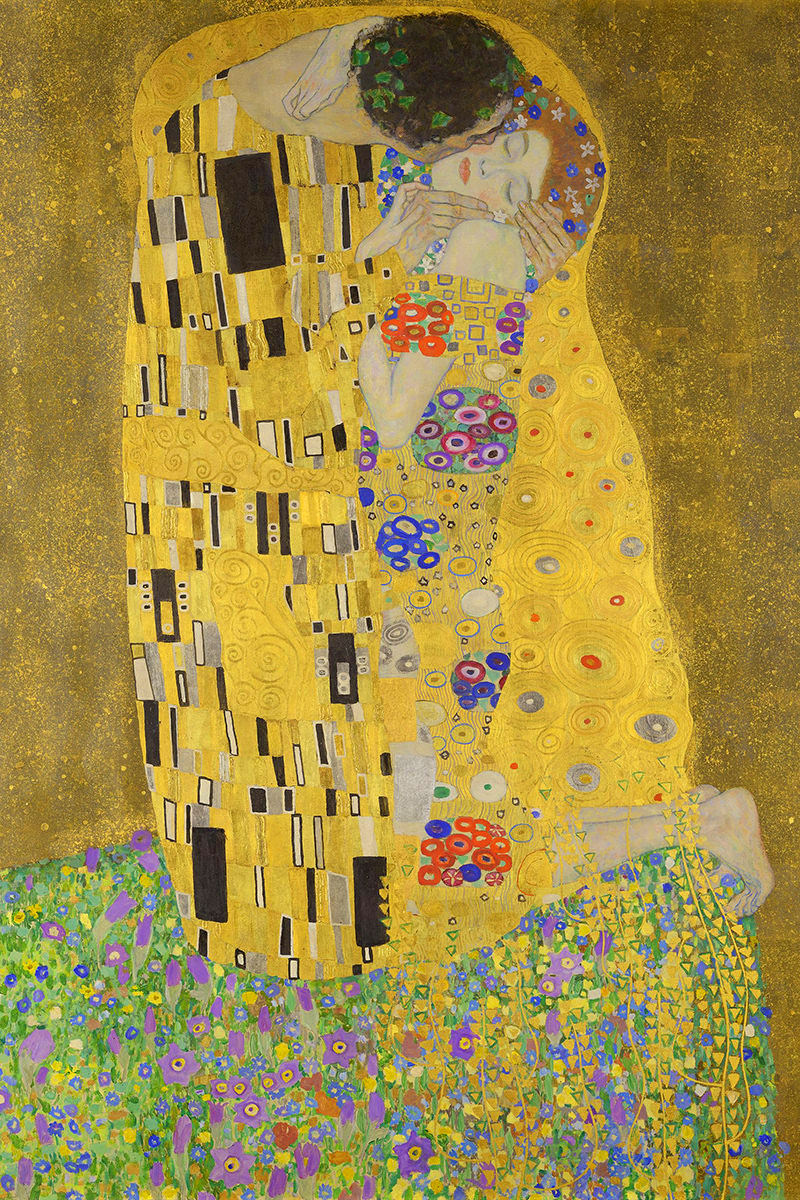 © Museum Belvedere
And here is Davinci's Cat inspired by Lady with an Ermine (housed at Muzeum Czartoryski in Krakow)...

©2019 Jenny Boot Photography
The original Da Vinci...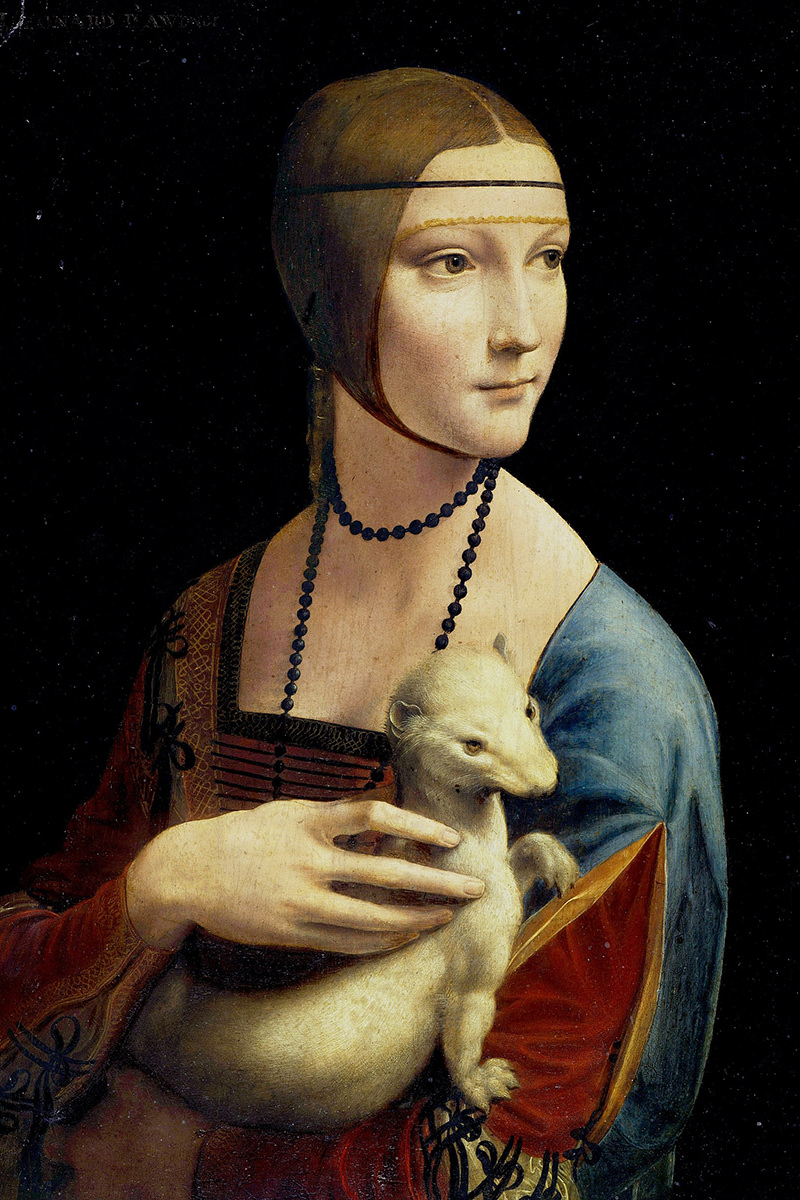 © Muzeum Czartoryski
For more of her insanely gorgeous Jenny Boot photography, you can visit their Instagram and website.

• Disneyland-ish? It's not just fine art which is being recreated while people are in quarantine... people are recreating Disneyland and Walt Disney World rides at home! Some of them are just beyond cool...
I guess if you can't visit in person, this is the next best thing? Kudos to those who are using their alone-time to be so creative!

And now we resume our self-imposed exile.
Tags:
Art
,
Disney
,
Memes
,
Music
,
News
,
Photography
,
Politics
,
Trump's America
Categories:
Bullet Sunday 2020
,
Memes 2007+
,
Music 2020
,
News – Politics 2020
,
Photography 2020
—
Click To It:
Permalink
—
1 Comment: Click To Add Yours!