I'm bored out of my mind without being able to hang out with my friends, but excitement awaits me... because an all new Bullet Sunday starts... now...

• Nadiya! One of my favorite Great British Bakeoff contestants, Nadiya Hussain, has a new Netflix series out... Nadiya's Time to Eat. Not all of it is vegetarian, but I've gotten some good ideas from her show. Including this gem...
Sounds amazing, right? And how charming is she with her lovely British accent? Nadiya's got some cool ideas for quick and easy meals that makes her show a great thing to watch. Just keep in mind that the British terms for certain foods can be different ("caster sugar" there is "fine baker's sugar" here), and sometimes products (such as Double Cream, which is 48% milkfat, for example) may not even exist where you live (the thickest I can get is Whipping Cream, which is only 36% milkfat. Also? Nadiya provides all oven temperatures in Celsius, so you'll need to convert to Fahrenheit.

• Facebook "Standards!" It's gotten to the point where I can't understand the point of Facebook any more. They are so wildly inconsistent with the posts they ban that you can't really know what is acceptable or not. Take for instance this tweet I reposted that is clearly a joke on all the "5G causes the Coronavirus" conspiracy theorists...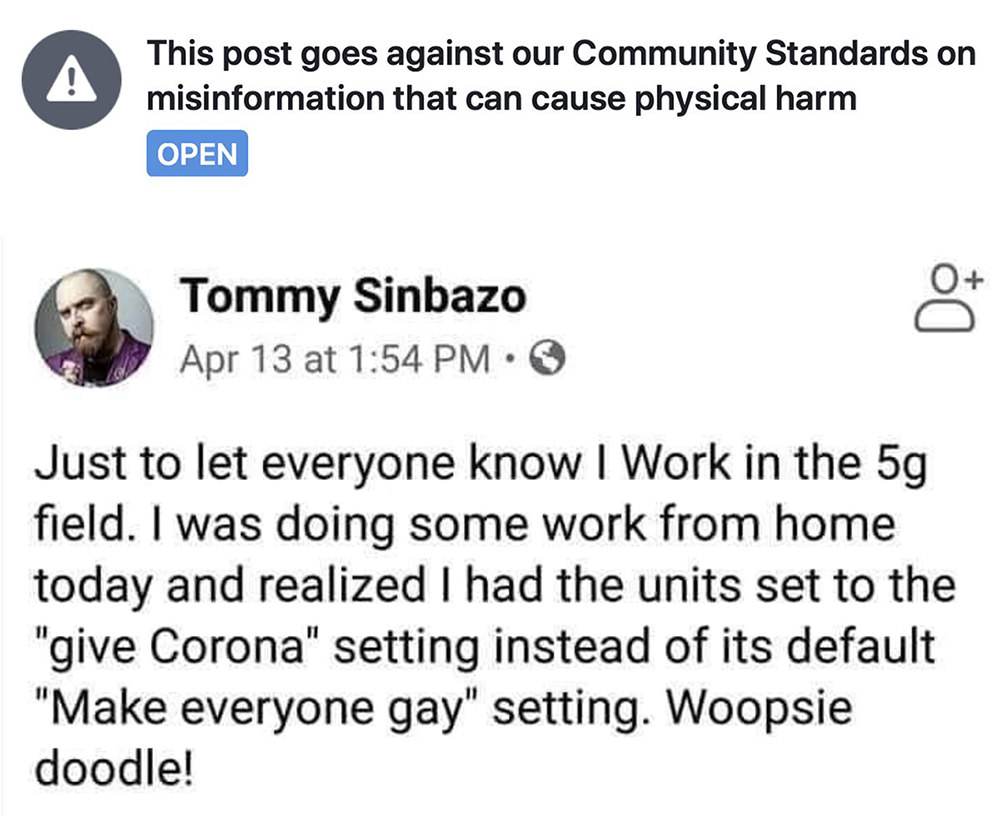 Meanwhile, some of the anti-vaxers and homeopaths and flat earthers and other morons are posting shit that is ACTUALLY MISINFORMATION THAT CAN CAUSE HARM and have free reign? Dafuq? I have posts taken down more and more lately, and in no case did I agree with the decision or even see why they took it down in the first place. Facebook has no concept of context or humor and are acting like total dipshits with this ban-hammer crap.

• Love Is Love! One of the members of my "Bible Study for Non-Christians" group brought up the movie Road to Edmond, which they decided to watch because it sharply divided Christians who saw it. None of the rest of us had heard of it, but it was free to watch on Amazon Prime Streaming, so we all agreed to take a look so we could have a discussion about it. I honestly don't know what my takeaway is. I almost stopped watching 20 minutes in because one of the characters was driving me crazy and the non-budget and amateurish acting was almost too much to take. But I stuck with it because I didn't want to be left out of the conversation with my group. Turns out that everything was building to something, not everything is what it seems, and it's actually a fairly remarkable film. I definitely understand why some people are completely incensed with it... heaven only knows there's enough to provoke that reaction. But I also understand why some people have fallen in love with it too. As I said, I honestly don't know how I feel about it... maybe I'll have more perspective once I've discussed it. All I definitely know is that I love the closing credits song as much as I could possibly love any song... it's Love is Love by Trey Pearson.
Trey Pearson has a lot of great songs, this one is called Silver Horizon and is every bit as good...
And if not for Road to Edmond, I likely never would have found it.

• Download! Boo! BOOOOOOOO! AMAZON'S GREAT NEW SHOW, UPLOAD, ENDS ON A HUGE CLIFFHANGER! And what are the odds that they won't renew it? Fuck all the television studios who refuse to show a complete story in a season. All this does is fuck over fans of the show when they cancel it.
BOOOOOO! And what's so frustrating is that they didn't need the cliffhanger. It's just lazy writing, and NO show should end a season on a cliffhanger unless they have the next season already started. So rage-inducing. If Amazon cancels Upload I'll be more furious than usual when this happens.

• After! Somebody edited together the underlaying narrative of grief that runs through one of my favorite shows so far this year... and it's almost unbearable to watch. What makes After Life so amazing is how it tempers the grief with humor. Without the humor though? It's a serious exploration of the human condition. Spoilers, obviously...
Ricky Gervais really knocked it out of the park with this show. He's already said that he's been so touched by the outpouring of love for the show that he's working on a third season. And, oh well yeah, HE DOESN'T END HIS SERIES ON A FUCKING CLIFFHANGER BECAUSE HE KNOWS THERE'S NO GUARANTEE THAT THERE WILL BE A NEXT SEASON! He's talented enough to come up with a way to start a new season without cliffhangers.

• Suess Raps! These videos of a guy rapping Dr. Suess over Dr. Dre beats is total genius...
I hesitate to guess how many times he had to practice these before getting this good.

• Better! TIME IS JUST A SOCIAL CONSTRUCT TO KEEP YOU FROM DOING WHAT YOU WANT TO DO WHEN YOU WANT TO DO IT! WELL SCREW THAT! I AM IN CONTROL OF MY OWN DESTINY! SO... MORNING DRINKING at 9:00AM IN MY UNDERWEAR WITH CHEETOS AND TELEVISION, BABY! — MY DAY IS BETTER THAN YOUR DAY!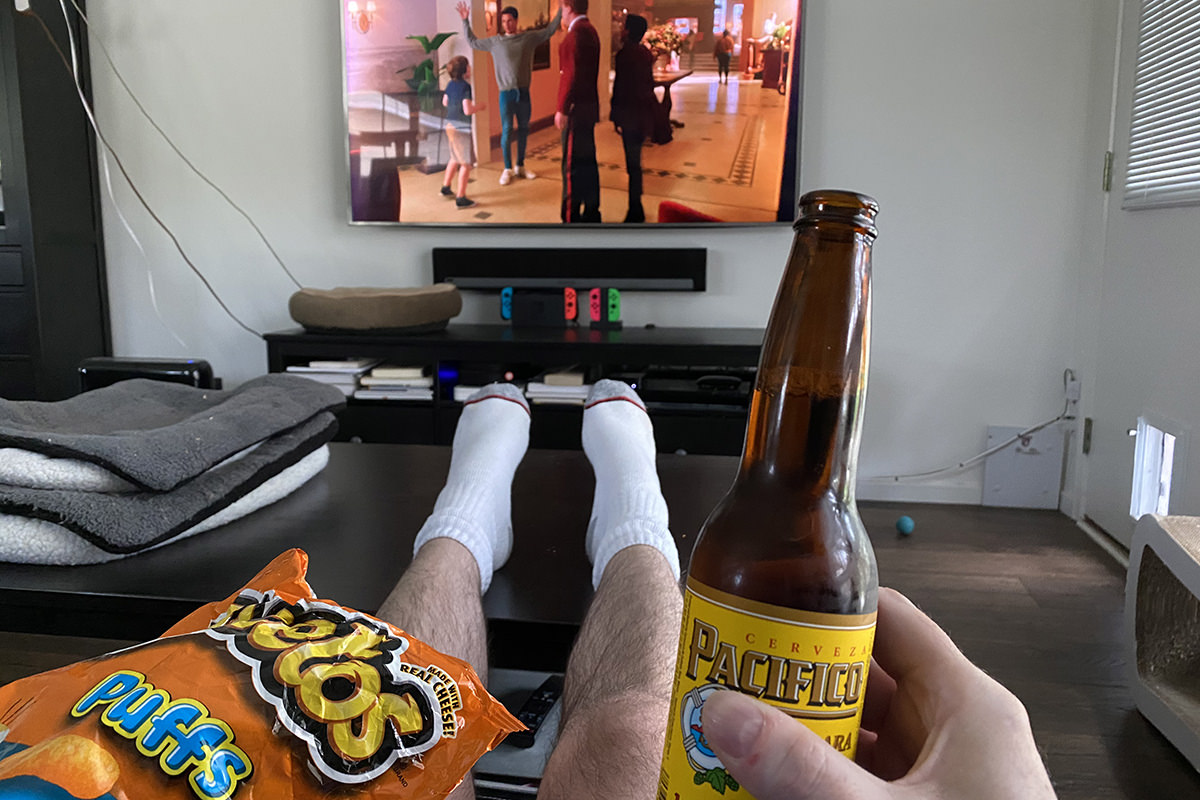 So how was your day?

And that's that for bullets on this fine Sunday in quarantine.