In the war for smart assistant domination... Amazon Alexa vs. Apple Siri vs. Google Google, I'm firmly in the Alexa camp. I was so impressed with what Amazon had done that I built my entire "smart home" around devices which were compatible with Alexa. And it's been mostly glorious. I have Alexa-enabled SONOS speakers everywhere and can tell Alexa to control anything and everything just by talking to her in any room in the house.
Then Apple dropped Siri and I figured that it was all over. As a massive fanboy of Apple's computers and smart devices, switching over to Siri was inevitable.
Or was it?
Siri wasn't even a fraction as capable as Alexa was at the time. Siri relied on "HomeKit" to control your home, and it was so utterly bad that I dubbed it "HomeShit" and gave up. I tried once again to get Siri and HomeKit working for me when I bought a HomePod speaker, but that was such an epic disaster that I returned the speaker and gave up a second time.
Google's smart assistant which, from what I can tell, is also named "Google" was never on my radar. I had a Google WiFi router mesh network that left me cold when Google dumped IFTTT. The only smart devices I have are Nest cameras which Google bought out. But I was fine using my phone and MacBook Pro to interact with the cameras and nothing further was required, so getting into the Google ecosystem wasn't in the cards. The only thing I didn't like about this was that the Nest Cam integration with Alexa is awful, and telling Alexa to display a camera feed on my Alexa Fire TV rarely worked.
Enter the Google Nest Hub Digital Photo Frame which was on sale for $50. Down from its regular price of $90. I don't really have $50 to kick around, but I ended up taking it out of my Black Friday money just to have a look. If I hated it, I could always return the thing.
Yeah, this ain't being returned.
My only regret in buying it was that I didn't buy two of them.
The Google Nest Hub Digital Photo Frame is designed to display photos which means the screen is of pretty good quality. And while it's nice to see photo memories from my Google Photos account flash by, but that's not why I bought it.
"Hey Google! Show me the front yard."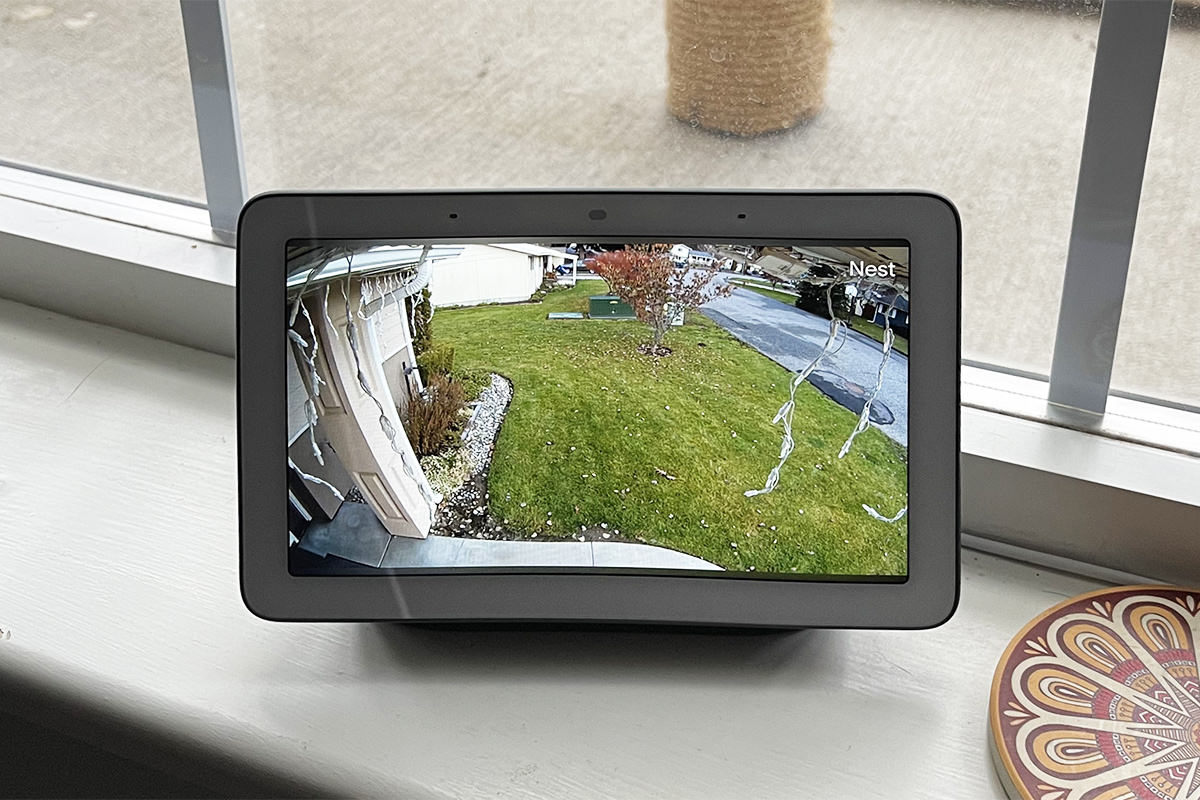 Now instead of scrambling for my phone whenever I get an alert, I can just glance over at the photo frame and Google will display the camera feed I asked for. Immediately.
That alone would have been worth the $50. But it gets better. Google Assistant is faster and more accurate than Alexa. I have thrown every ridiculous command I can think of at Google, and it simply does not falter. Compare that to Alexa, which has been getting increasingly finicky. I honestly don't think that Google misunderstood a command or query in the near-two weeks I've been using it. The difference is so nice that I'm seriously thinking about looking into how to bridge my INSTEON smart home devices to Google, convert all my SONOS speakers to Google Assistant, and train myself to say "Hey Google" instead of "Alexa."
The problem is my music.
I go with Amazon Music Unlimited which is ridiculouly easy to control with Alexa. Needless to say, Google doesn't play well with Amazon because the two companies hate each other. Which means I would have to switch to Apple Music, Spotify, Pandora, or something. Since Amazon Music Unlimited is just $6.60 a month because I have a Prime membership, I don't know that it makes economic sense to switch. Apple Music, for example, is $3.40 more a month. In which case I'd probably just buy Apple One to keep AppleTV+ when my free subscription ends in February (gotta have my Ted Lasso!) which also gets me Apple Arcade and a bump in iCloud storage.
So I dunno. Something to ponder in March, I guess? Or in May when my Amazon Music Unlimited runs out.
All I do know is that I wish I had a Google Nest Hub Digital Photo Frame on my bedside table. And in my kitchen. Maybe next Black Friday when they go on sale again?