I didn't really do much for Black Friday despite it being the most important shopping day of the year for me in past years. But I did make a purchase on Cyber Monday that I had been wanting to make for a while now... new wireless over-ear headphones.
While I live alone and can blast music as loud as I want to, I don't actually end up doing this because it is tough on my cats with their sensitive ears. Sometimes I watch a movie with the sound loud and they don't seem to mind... or run upstairs if they do mind... but I generally don't do that because it's not really fair to them since they can't escape the noise.
Enter the Beats by Dr. Dre Solo Pro WiFi Headphones which were knocked down to $170 (from their usual $300 price tag). And since I had $50 in reward certificates piled up at Best Buy, that knocked the price down to a reasonable $120...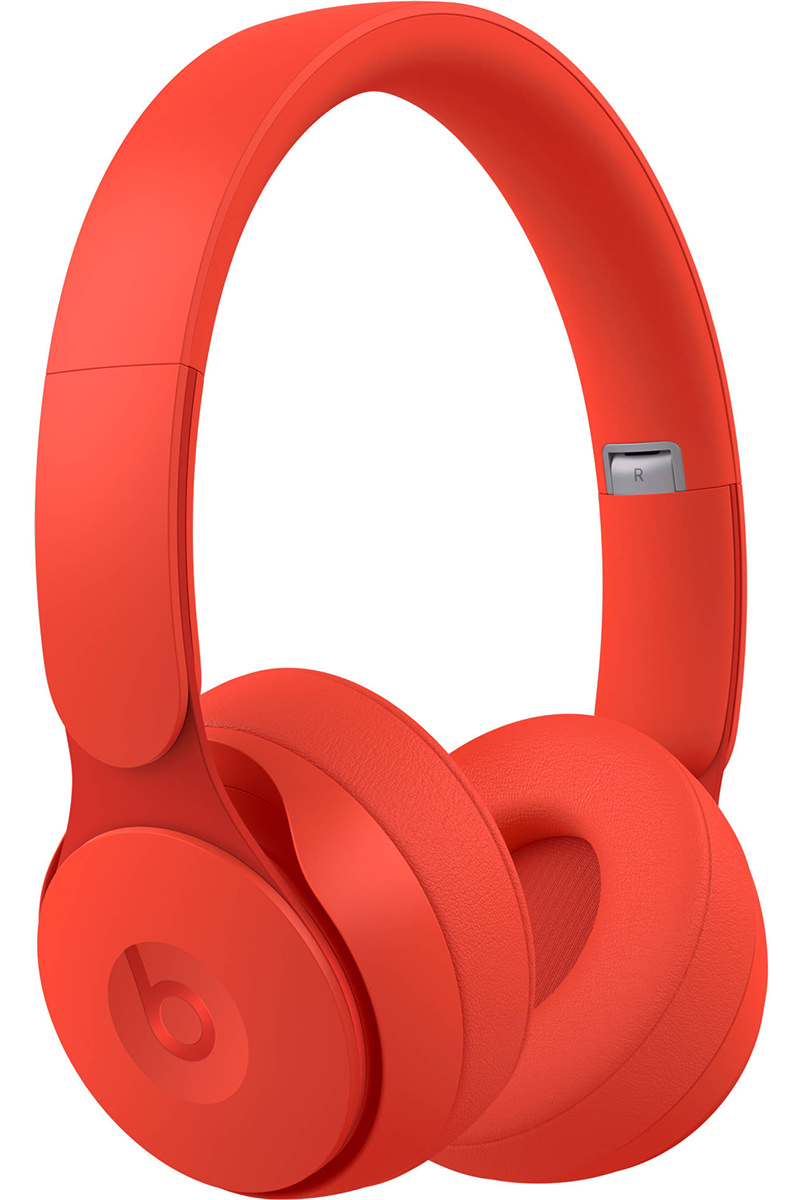 Sexy, aren't they?
Not in the same league as Apple's incredible new AirPods Max headphones, but those cast $550, which is half a mortgage payment, so they're out of my league.
Probably the easiest way to review these is to just run through the pros and cons, so that's exactly what I'm going to do...
PROS:
The WiFi pairs effortlessly with Apple products. My iPhone recognized them immediately and, now that my iPhone knows I have them, I'm told that the firmware will be kept up-to-date automatically. Likewise, my iPad, AppleTV, and Mac can all have their sound sent to the Beats Solo Pro cans with minimal effort. This is how wireless should work.
No matter what music source I'm listening to... iPad, iPhone, MacBook Pro, or AppleTV... if I get a phone call, the Beats Solo Pro will ring through. That's a nifty feature, and why staying withn the Apple ecosystem has a payoff.
The sound is top-notch. Really well balanced without the horrific bass fuzz overload that plagued the older Beats I had tried.
Very good wireless range. I can listen uninterrupted everywhere in my home except the garage (though, admittedly, my house is fairly compact).
Stylish to the last detail as only Apple can manage. I love love love the red model I bought because it (mostly) matches my Product(RED) iPhone case.
They feel like a quality product... not at all cheap and weak.
The sound cancellation is phenomenal. Seriously good. Puts the BOSE and Sony sound canceling models I tried to shame.
"Transparency mode" (which allows outside sounds to permiate the headphones) works really well, but is not going to make a difference when listening at high volume.
Invoking Siri with a long-press of the Beats right-side plate controller is a flat-out cool feature. And since it is getting info from your iPhone connection, you can literally ask Siri for just about anything.
Includes a soft case that's not going to offer much protection, but it's better than nothing and will at least keep them clean.
Battery life is very good. I was only down to 50% after about 10 hours of off-and-on listening in "transparency" and "noise cancelling" modes. If you run out of juice you can get a 10-minute quick charge that will last you 3 hours.
To turn them on, you unfold them. To turn them off, you fold them. This is elegant and smart because you'll always know whether your battery is draining just by looking at them... but I do wonder if it will cause more wear and tear on the hinges this way. In any event, it's smarter than a switch, which I always seem to forget to turn off and drain the battery. It's habit after only three days to "fold them off" when I'm done listening.
The packaging is gorgeous.
CONS:
Despite being a Product(RED) color Or close enough to it), from what I can tell no money from my purchase actually went to Product(RED). Absolutely no idea why Apple, who has been such a big supporter, didn't go all Product(RED) with these?
I disregarded the complaints in reviews from people saying they are "too tight" because I have a thin head. Didn't make a difference. These are tight on my pin-head and definitely lead to fatigue. This is categorically absurd and I have no idea what the hell Apple was thinking. If you have a normal size head, they're going to be uncomfortable. If you have a large head, these are going to be painful. And thank heavens I have thin wire frames on my glasses, because if I had regular frames these cans would be excruciating. I hope that they loosen up over time.
Not only do they get uncomfortable after a while because they're so tight... they also get hot. There's absolutely no breathability with the vinyl ear pads, and you'll be taking a break after a couple hours or it just gets too warm to be comfortable because of how tight they are pressed against your ears.
Does not support Apple's new "spatial audio" feature. At all. It's just stereo and nothing but stereo. But wait... it gets worse! While most movies played the sound in stereo as expected, some shows... most notably Ted Lasso on AppleTV+ played the center channel through the right-side and the rest on the left-side? Likely an Apple problem, which leads me to believe that it will happen on others as well. If Apple can't get it right 100% of the time, what hope do I have for others?
The sound doesn't auto-switch between Apple devices. Listening to music on your iPhone then turning on AppleTV does not switch the audio to AppleTV... in fact, your AppleTV won't even remember that it was last playing to your Beats Solo Pros and will have to be told. Again. Even worse? Sometimes the connections are janky. My work computer recognizes them immediately and I can manually route the sound to them, but on occasion no sound will play even though they are confirmed to be receiving a stream.
While the sound, as noted above, is excellent overall... there are times I feel the treble is a bit too crisp, and since you don't really get equalizer controls out of most apps, that's what you're stuck with. Not terrible, but could be better. I wish there was a way to adjust this globally in the headphones themselves.
There's no obvious way to tell whether you're holding them with the right side on the right and the left side on the left because these look identical however you hold them. I thought that maybe Apple had devised a magical way to know which way they were situated on your head and adjusted the stereo feed accordingly, but nope. You have to be sure to look for the tiny "R" or "L" to make sure you have them on correctly. This is a serious design flaw.
They get plenty loud for me, but I'm surprised that they don't get louder than they do. There are a few tracks that I really want to crank, and these headphones are not having it. Probably a good thing because it will save my hearing.
The microphone for talking to Siri or answering phone calls is pretty good... but not great. I made a test call to a friend who said that I sounded okay, but they could tell I was not using the handset microphone.
You can invoke Siri hands-free by saying "Hey Siri"... but if you have other Apple devices (like my MacBook Pro) running, it will intercept the command and force you to do a long-press on the Beats plate to get Siri to listen.
The charging is via Apple's proprietary "Lightning" port because of course it is. Everything else in the world has gone USB-C (including Apple's own iPad) but because Apple doesn't give a fuck what's logical or convenient, they have to go with the cable that's dying and will soon be discontinued (as I'm sure iPhones will be going wireless-charging-exclusive any day now). Lord how I fucking HATE this bullshit. But it's Apple, and this is the kind of crap that Apple does.
The controls are kind of janky. The right ear-cup has a "Beats" logo plate on the side. Pressing on the top increases volume... on the bottom decreases the volume. Pressing the plate in the middle will pause/play or answer the phone... but you have to hit it just right or else it doesn't work. You have to push dead-center to get it to play/pause and it took me a while before I was able to get it to hit every time.
The controls for skipping forward or backwards (double/triple clicking on the Beats plate) doesn't seem to work outside of Apple's apps. When listening from the Amazon Music Unlimited app, for example, it does nothing. WTF? Likewise, telling Siri to skip a track outside of Apple apps doesn't work either.
And that's a wrap. Most everything I have in the "cons" column can be overlooked or dealt with except the tight fit. And I cannot for the life of me fathom what Apple was thinking here. Surely they had people try them on before releasing them to manufacturing? If I were to return these, it would be for that reason alone. It's absolutely infuriating that this is a huge concern and outright complaint on these cans by so many people yet Apple has chosen to ignore the feedback. Infuriating but not surprising... just look at Apple's idiotic "butterfly keyboard" that they stuck to like glue despite years of massive outrage by customers telling them it was shitty. Apple always does what they want and doesn't give a crap about how it affects usability or comfort. You either live with it or you don't. And what a shame.
I guess we'll see if having my head squeezed is a dealbreaker and I end up returning these. In the meanwhile, I sure do like the sound I'm hearing.