Posted on November 8th, 2020

The election may be (mostly) over, but don't destress just yet... because an all new Bullet Sunday starts... now...

• FAME! One of my earliest blogging friends is Heather Scarbro Dobson (formerly of Coal Miner's Granddaughter). She's an author and paranormal investigator living in Georgia. We've met up several times when I was in town for work and I've been on two investigations with her. The first was to Waverly Hills Sanatorium in Louisville, Kentucky in 2011 (which I wrote about here). It was on that trip where we saw a board that had photos of all the "famous" paranormal teams who had investigated there. I knew none of them. But one of the photos stood out because it was a glossy, fully-staged production which had a team of brooding, pouty badboys... and it was autographed!
I mentioned to Heather that their tagline might as well be "Bustin' Ghosts and Breakin' Hearts!" And ever since then we've been joking back and forth about who the sexiest member of the team was. She picked Chris, I picked his brother Brannon, and we've had a faux fight going on ever since...
I mean, seriously, Brannon is totally the hottest, amiright? Anyway, Heather writes about the time that we met up in Jefferson City to go on an investigation with The Wraith Chasers in her new book, Recollections of a Future Ghost...
Naturally I wrote about the trip here on Blogography. If you want to read about it, here's your link.

• Count! I laughed way, way too hard at this...
The best part about visiting Australia is the Australians.

• Chappelle Show! Just like after the last election, the host for Saturday Night Live this election was Dave Chappelle. He is one of my most favorite comedians because his form of insightful commentary illuminates in a way comedy so rarely does...
"Don't let hunger dictate your life" is almost prophetic about where we're headed.

• Trebek! Many times, the host of a game show just has to rely on their personality to get the job done. It's not like Pat Sajak requires anything past the bare minimum of smarts to get through a game of Wheel of Fortune. But the host of a show like Jeopardy really has to be on their toes. They have to review all the clues prior to the show. Be sure to grab the right clue from 30 clues. Read the clue in a fluid way that makes it easy to understand. And be sure to pronounce even the most complex words from clues correctly in order for them to be correct. On top of having a winning personality. Alex Trebek has done all this by reading the answers on Jeopardy in the most brilliant way possible for years. That alone deserves kudos... but the fact that he was such a good sport about being lampooned over it all was what made him so beloved...
Trebek was parodied for years on Saturday Night Live, but the best bit was when the Alex Trebek himself made a cameo appearance...
Business Insider did a really cool behind-the-scenes with Trebek last year...
But my favorite appearance out of everything he's ever done? When he was a man in black on The X-Files...
What a sport. I've been watching Alex Trebek on Jeopardy for most of my life... and was saddened that he passed away at 80 years old today, losing his battle with stage 4 pancreatic cancer. He was a truly great and talented personality and will be missed.

• Masked! At this point, I don't know why anything more on this subject needs to be said, but here you go...
Science has laid it all out on the table. There it is. Masks can halt the horrific effect of the pandemic and save lives. But too many people refuse to fucking listen, so here we are.

• Maya! I tell you... every single time I see Vice-President-Elect Kamala Harris speak, all I can think of is just how totally on-point Maya Rudolph's impression of her is...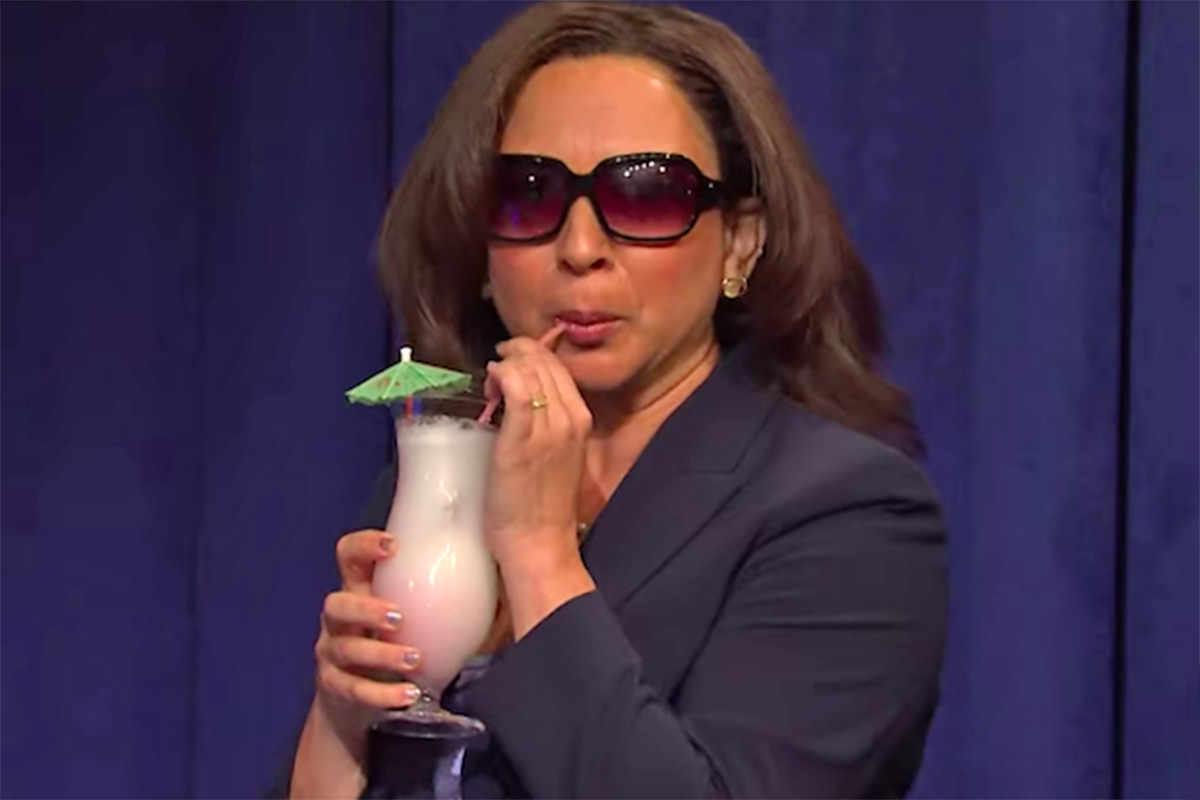 I sure hope that this means we'll be seeing more of her on Saturday Night Live!

• Burn! Soooo... is Bernie Sanders psychic?!? No. He just saw what so many people saw was going to happen...
"For whatever reason?" Come on, Bernie. Democrats were specifically told by Biden to vote safely by mail. Republicans were specifically told by Trump to vote in person. What happened is exactly what was always going to happen given how Republicans were cutting into Post Office operations, restricting drop-off locations, and doing whatever they can to delay or eliminate votes coming by mail... up to and including calling those votes "illegal" with no evidence at all. What's funny is that they also dictated in some states that votes couldn't be counted as they were received, but instead had to be counted after Election Day... once again to provide the illusion that votes were being "found" after Election Day. It's such a transparent load of bullshit. But that's politics for you. Don't hate the players, hate the game for allowing this kind of stupid shit to keep happening.

And that's your election coverage for this fine Sunday.
Posted on November 2nd, 2020

Friday night when I got home I decided to make the Linguini Walnut cream Sauce that I had been craving all week. I never made it because I was too tired after work to even think about cooking or cleaning up the mess. Friday was no different, but I decided to do it anyway because I was tired of frozen burritos and peanut butter sandwiches.
I've made the recipe so many times that I just do it all from memory. Chop the shallots, add garlic and butter to soften, add crushed walnuts 'til toasted, cook pasta, add pasta, parmesan, mascarpone, sour cream, pasta water, salt, and pepper. Serve with parsley and parmesan. As usual I made extra so I had leftovers for a couple meals.
After cooking I threw together a salad and decided to post my amazing dinner to Facebook so everybody could be jealous that I was eating home-cooked fabulousness on a Friday night...
...and was mortified that I couldn't find a clean spot on my kitchen floor to photograph against. I had spilled stuff, dribbled stuff, and even had a leaky tub of ice cream which made messes that I wiped up but never truly cleaned. Eventually I gave up and zoomed in close so my dirty floor wouldn't show...
The following morning I took a hard look at my floors and couldn't believe how bad things had gotten. I'm meticulous about keeping my countertops spotless but, without guests to impress thanks to quarantine, I had been neglecting my floors. I hadn't steam-cleaned them in months, so I guess it was time. Once I was done I removed the cleaning pad and... holy shit...
THAT'S JUST FROM MY SMALL KITCHEN ALONE! Remember when I first got my steam-mop how mortified I was seeing the pad AFTER CLEANING MY ENTIRE HOME? This is what grossed me out after steaming a kitchen, living/dining room, two bathrooms, a laundry room, two hallways, and three bedrooms...
I've always been obsessive about keeping a clean house... especially my kitchen. It's highly disturbing that I've used the pandemic and subsequent lack of houseguests as an excuse to just "let things go," and this is where it's gotten me.
But I'm going to try and not beat myself up over it.
Like everybody else, the mental toll of being isolated while the world goes to hell has changed my perspective when it comes to things I allow myself to beat myself up over.
Eh. You know what I mean.
Posted on October 18th, 2020

Cooking on Sunday seems like a tough sell before facing your Monday, but sometimes life throws you an easy recipe... because an all new Bullet Sunday starts... now...

• LEWKS! Dolly Parton is one of my favorite people on earth. This video of her looking back on her leaks over the year is a great indication why...
National. Treasure.

• Rona! Thinking that overcoming COVID gives you immunity is most probably a mistake.

• UnHallmark! SQUEEEs in Hallmark...
Amazing how some of the best Hallmark movies aren't actually made by Hallmark any more. This film, for example, features an interracial couple. That is so exceedingly rare at Hallmark that you could reasonably argue that it doesn't exist. But, hey, they're producing a gay Hallmark Christmas movie this year, so maybe anything is possible?

• Meow! This made my week. Do not mess with a cat's pet!
The cat is fantastic, yes... but that puppy is too adorable.

• Pete! I think it's important to revisit this moment in Pete Buttigieg's "town hall" on FOX "News" from 2019. It's where he's asked about what people are labeling "late-term abortion"... something which is not medically accurate ("late-term" is past an expected due-date for birth), but generally accepted to mean 21 weeks or later in pregnancy. I keep seeing "late-term abortion" pop up in conversation lately, and I honestly don't think people truly get what it is. As explained by Mayor Pete in the video below, for the vast majority of women who have been carrying a baby for 21 weeks, they're expecting to carry it to term. They want that baby. So if they're needing to get an abortion into the third trimester, it's not because they've changed their mind, but because of a catastrophic medical problem for either the mother or child. So to deny women a necessary medical procedure under those circumstances is both horrifying and cruel (read this, as just one example... there are thousands more). Yet this is what some very unreasonable and sadistic people are wanting to deny a woman in need at one of the worst times in their lives.
I was initially a fan of Buttigieg, but ultimately problematic in some areas. That being said, I'd sure pick him over Trump or Biden. His thoughtful, measured response to serious issues is something we are sorely lacking in government.

• Flix! I laughed far more than I should have at this...
Lord only knows what people would think when looking at my Netflix!

• T-RAV! One of the best things about visiting St. Louis is their "Toasted Ravioli" (AKA "T-Rav"). Which, most places, is actually deep-fat-fried instead of toasted. It's amazing stuff. It's not always easy to find a non-meat version, but it's always worth it. My problem is that St. Louis is 1600 miles away, so the only way I'm going to get it is to make it myself. Fortunately, it's pretty easy, and I'm giving my recipe below...
I use Buitoni Fresh ravioli (in the refrigerator section at the grocery store) because it's smaller and I don't have to worry about the center not cooking completely. Freeze it for about 10 minutes until the outside of the pasta is chilled. You can use frozen ravioli, but you need to thaw it enough that the center is thawed, then re-chill it because the outside must be cold for stuff to stick properly.
While the ravioli is chilling, mix 1-1/4 cups of panko breadcrumbs, dash of rosemary, dash of garlic salt, scant teaspoon of dried oregano, scant teaspoon of dried basil, and a 1/3 cup of fine-grated parmesan cheese. Beat three eggs until smooth.
After the pasta has chilled, drench each piece in the beaten egg, shake a bit to get the excess off, then put in the breadcrumb mixture. Cover and press down a bit to make sure the crumbs have adhered. Place each piece on a cookie sheet to set.
Put the tray of coated ravioli in the freezer for 15-20 minutes so the batter is frozen to the pasta. If you're going to cook much later, you'll need to transfer to an air-tight container. Otherwise... heat up 3/4" of oil to medium to med-high (range tops vary... you want to quick-fry until golden without burning). Cook about one minute each side and set on paper towels to drain.
Serve with fine-grated parmesan and dried parsley on top and marinara sauce to dip. Enjoy!


And that's a wrap on this delicious Bullet Sunday. THIS TIME!
Tags:
Bullet Sunday
,
Cats
,
COVID-19
,
Food
,
Hallmark
,
Movies
,
Netflix
,
News
,
Pandemic
,
Politics
Categories:
Bullet Sunday 2020
,
Cats 2020
,
Food 2020
,
Movies 2019
,
News – Politics 2020
—
Click To It:
Permalink
—
0 Comments: Click To Add Yours!
Posted on October 2nd, 2020

The world won't slow down even for a minute and it's so overwhelming that it's getting tough to know where to turn, what to do, where to go... and how to feel.
I didn't realize exactly how bad it had gotten until I tuned into the season finale of Ted Lasso and felt like bursting into tears two minutes in. As good and inspiring and hopeful as the show is... and it is 100% the best show of 2020... it's just ridiculous that a frickin' TV series should have that kind of effect on a person, right?
Well...
Maybe not. Because it ended up being one of the most sublimely perfect episodes to air on the silver screen in the history of television, and you wouldn't be human if you didn't feel like bursting into tears at least ten times while watching it.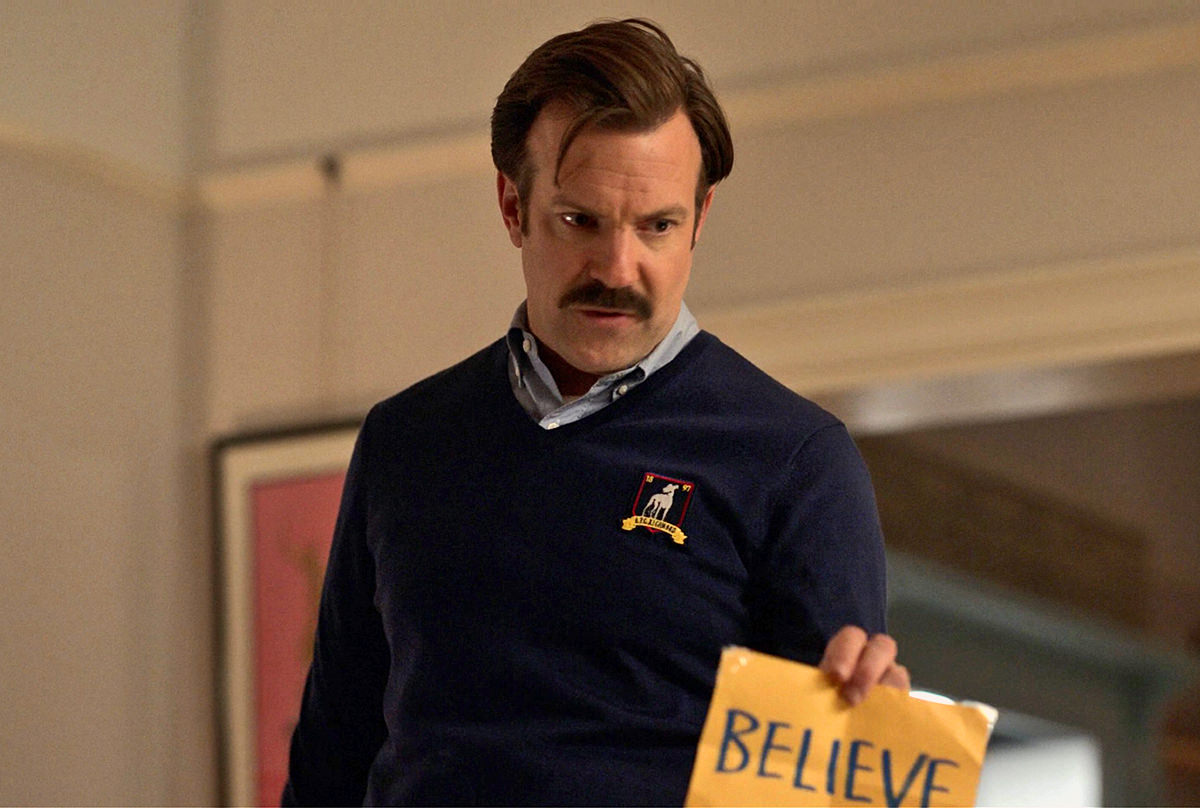 A bright spot in the pile of shit that is 2020 to be sure.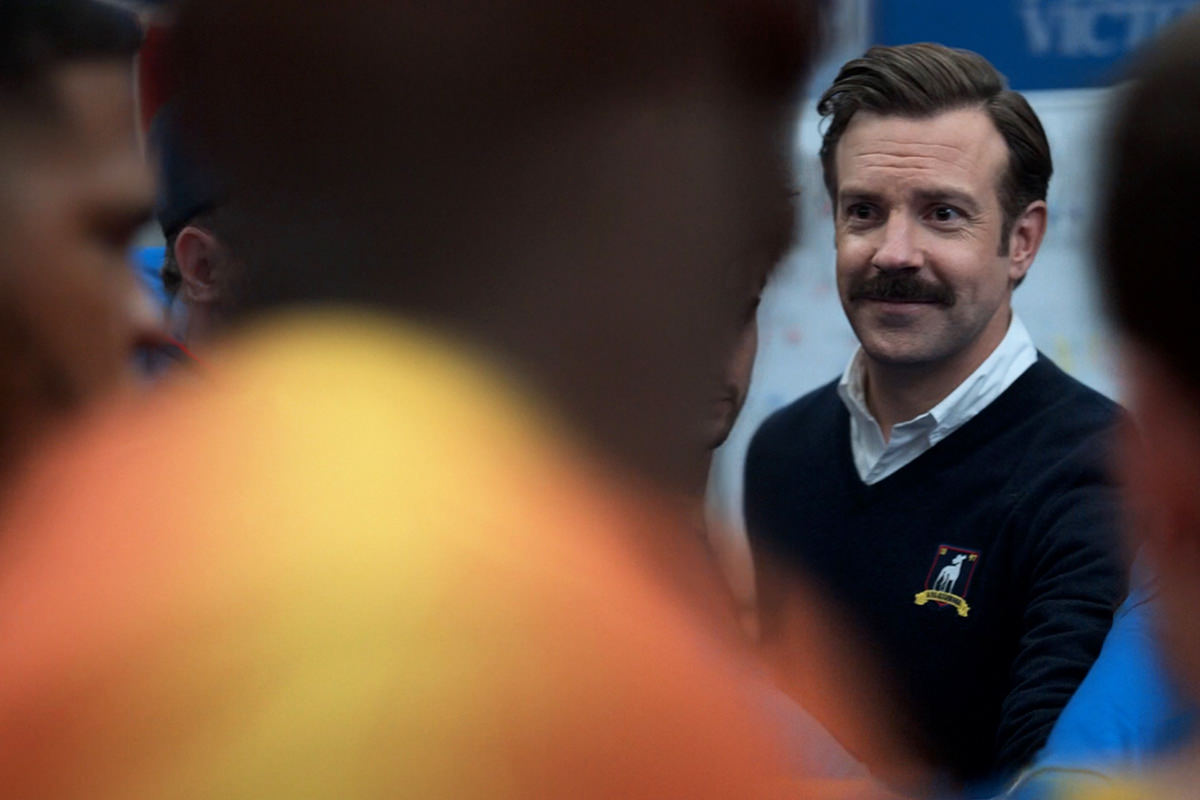 As for the rest?
Well... as tempted as I am to show President Trump and his Now-Revealed-to-be-Equally-Horrendous-First-Lady the exact same lack of concern and dismissive attitude that they have afforded the 200,000+ American citizens who have died from COVID-19 or COVID-19-related complications, I'd like to think I'm a better person than that. Because all I can think about is their fourteen-year-old son who has done nothing to deserve losing a parent... or contracting the virus himself... being yet another victim here. His dad may be blaming everything on China when he was ultimately the one to address how we dealt with a global pandemic, but what does Barron have to do with that? Was he the one to say "Hey, dad... I know that countries like Italy have been completely overwhelmed with death and destruction from the coronavirus and you might think we should be acting quickly to make sure it doesn't happen here... but can you instead lie to everybody and tell them it's a hoax that will disappear without us doing anything so that your billionaire friends have their stock investments protected at the expense of American lives?"
Of course not.
So, no. I absolutely do not wish death or harm on anybody here. Instead I'll just say "Best wishes for a speedy recovery Mr. President and First Lady Melania! I'm sure the exceptional round-the-clock health care afforded you both by your wealth and position will ensure you are safe as houses... even though it's a shame that you are doing everything you can to strip even the most basic healthcare from a great many American citizens whose lives you hold in your hands during this crisis."
Well, okay... maybe I do wish that President Trump loses his sense of taste and smell so he can't enjoy all that KFC and McDonald's that he eats... the asshole deserves it after what he's done to this country... but he's a human being like the rest of us and deserves compassion and our best wishes.
Not much of a human being, admittedly, but still... we're all in this together. GO TEAM AMERICA... BREAK!
Tags:
Apple TV+
,
Assholes
,
COVID-19
,
Fucking Assholes
,
Fucking Scumbags
,
News
,
Pandemic
,
Politics
,
Ted Lasso
,
Television
Categories:
Apple Stuff 2020
,
News – Politics 2020
,
Television 2020
—
Click To It:
Permalink
—
0 Comments: Click To Add Yours!
Posted on September 10th, 2020

With the exception of a quick drive to Spokane and back last week, I haven't gone anywhere. I likely won't end up going anywhere else for the remainder of this year. Perhaps a trip over the mountains at Christmas, but even that isn't a certainty.
Even more jarring is that I haven't had any houseguests since early January.
Used to be that I would have weekend guests sporadically through the Spring and Summer... then a non-stop parade of guests in Fall and Winter as friends stay with me so they can enjoy the festivities in Tourist Town down the road.
But this year? Zero. Zero houseguests. I just can't do it given that my reduced lung capacity puts me in very real danger of death should I contract COVID-19. Not that it matters, because I think all the festivities in Tourist Town have been canceled for the year anyway.
As you might imagine, any incentive to keep my home clean has vanished like a fart in the wind.*
The RoboVacs have been turned off and I just manually vaccum a couple times a month. I haven't mopped my floors all year. I bought a steam cleaner for disinfecting my floors, but haven't bothered to turn it on even once. Rather than hiding all my kitchen utensils, gadgets, appliances, pots, pans, storage containers, and everything else neatly in the garage while I remodel, they're just stacked on the dining room table and laying around. Needless to say I haven't dusted in months. Why bother if only me and my cats are here to see it? They don't care and I don't want to be bothered. Far better to sit on the couch watching television and eating potato chips than to make my life any less pleasant than it already is.
Nah. No need to clean. I'm good.
And don't even get me started on my garage, which is part wood shop and part dumping ground for crap I don't want to deal with. Like empty cardboard boxes and literal garbage.
Except you kinda do need to get me started on my garage, because before you know it Autumn frost and Winter snows will be here and I need to be able to park inside.
I've decided that cleaning my garage will be my weekend project. But only because it HAS to be. Otherwise I'll have to scrape my car off every morning, and I think we all know how much I absolutely don't want to be doing that.
Check back Monday to see if I actually managed to get motivated to dig in... or whether I've just kicked that football down the field to next weekend.
Right now I think my chances are 50/50.
Probably less than 50/50 if the massive cloud of smoke from Oregon and California blows up this way as it is expected to do. But in that case it's totally not my fault, right?

*Many thanks to the movie The Shawshank Redemption, which has made this analogy a part of my vocabulary.
Posted on August 24th, 2020


It's not the pandemic... it's the people.
Posted on July 27th, 2020

The global COVID-19 pandemic has been hard in so many ways, but the toll it hass taken on businesses has been devastating. Without money coming in, there's a large number of them that will likely never fully recover, and many of those will probably end up closing. From shops and stores to markets and museums, everybody is hurting. But the industry that seems hit harder than any other is food services.
A lot of restaurants barely scrape by even when fully operational. And while some have reopened for takeout or have partially opened their dining rooms, that's not enough to keep them operating for much longer... if they haven't had to close already.
I'm not a huge restaurant person (it's an expense I can rarely justify), but I've visited more than my share of Hard Rock Cafes. So measuring the effect of the pandemic on restaurants is fairly easy for me to do when I look at the number of Hard Rocks that have closed since the coronavirus came calling...
UPDATE August 6, 2020: Well crap, Aruba just shuttered. I visted in March, 2012, and always hoped to go back one day so I could get a T-shirt since they were out when I was there. BOOOOOO!
Hard Rocks open and close all the time... but that's like... a lot. And, sadly, I'm sure that's not going to be the end of it.
If we ever see the other side of this pandemic, meaning we get a vaccine or find a cure or something, I have to wonder how long it will take for our restaurants to start coming back. And this is assuming that once we see the other side of this pandemic that we aren't hit with another soon after. For all we know, that could be life on earth from here on out. All we can hope for if that's the case is that governments are more receptive to the science of surviving... and people aren't a bunch of stupid assholes who refuse to do their part.
But I'd be fooling myself to think that's never going to be a factor.
Posted on July 16th, 2020

Ever get the feeling that the government is actively working against your best interests and is happy to endanger your health by pandering to ignorance, denying science, and covering up the data that reveals how badly they are fucking over the American people?
Call me paranoid, but it's tough to see it any other way when you follow the headlines...
Florida tops its single-day record for coronavirus deaths as the UK and France seek to mandate mask wearing. — The Chicago Tribune, Posted July 14, 5:11pm Eastern
Trump administration cuts CDC out of data collection on hospitalized COVID-19 patients. The move has immediate effect. — USA Today, Posted July 15, 9:27am Eastern
Coronavirus data has already disappeared after Trump administration shifted control from CDC. — Posted July 15, 9:31am Eastern
COVID-19 power shift: Experts have 'deep worries' about hospital data sent to Washington. — NBC News, Posted July 15, 2:19pm Eastern
Out of View: After Public Outcry, CDC Adds Hospital Data Back to Its Website — for Now. — ProPublica, Posted July 15, 2:38pm Eastern
Did Trump Admin Remove CDC as Overseer of COVID-19 Hospital Data? • TRUE. — Snopes. Posted July 15

If the pandemic is such a huge hoax involving a conspiracy of doctors and scientists around the globe, then why try to control infection data unless it contradicts your claims? THIS DATA IS HOW STATE AND LOCAL GOVERNMENTS MAKE DECISIONS AS TO THE HEALTH OF THOSE PEOPLE THEY REPRESENT!
Not that some State and local governments give a shit...
Data shows new COVID-19 cases steadily climbing in Georgia. — FOX 5 Atlanta, Posted July 16, 8:47am
Report: As COVID-19 cases continue to grow, Gov. Kemp sues Atlanta for requiring masks. — Decaturish.com, Posted July 16
Kemp is so far up Impeached President Cadet Bone Spurs' ass that he can give Trump a colonoscopy just by looking out his fucking window. And the people of Gerogia are suffering because of it. Just goes to show that you get what you vote for.
The truly awful thing is that people who trust our government to do the right thing are subsequently finding out the hard way that the government can't be trusted. Former game show host Chuck Woolery infamously declared the COVID-19 pandemic as some kind of hoax by the CDC, the media, Democrats, and doctors... then had to backtrack the very next day because his son was diagnosed...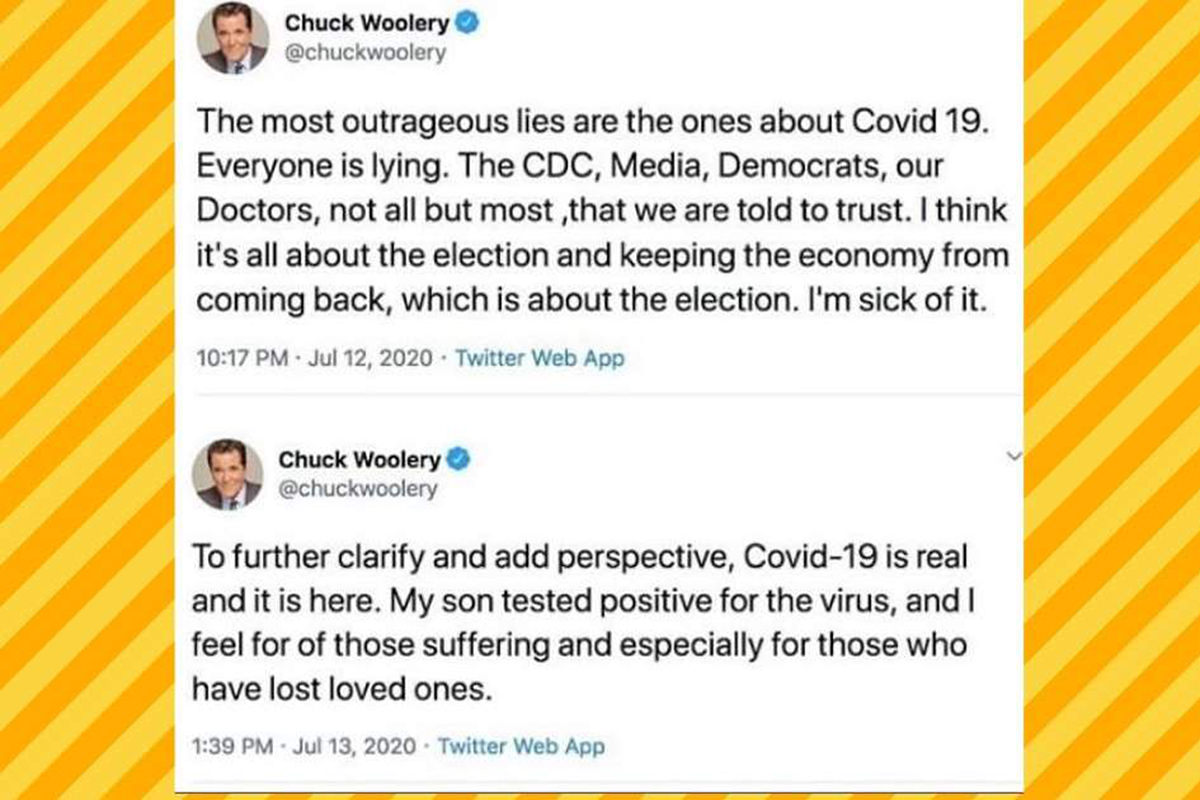 SOURCE: Snopes: Did Chuck Woolery Say His Son Tested Positive for COVID-19?
Do people or their loved ones REALLY have to be infected with COVID-19 before they take this shit seriously? People like Chuck Woolery are why this country is so fucking fucked. I wish his son the best... not just for recovery from the coronavirus, but for having to deal with having a fucking ignorant piece of shit for a father.
Masks help prevent the COVID-19 virus in the moisture we expel in our breath from infecting others. Masks don't weaken you or cut down on your oxygen intake. Countries which have mandated masks have drastically cut their infection rates by as much as 90%! And then there's this...
Hairstylists with COVID-19 didn't infect any of their 139 clients. Face masks may be why.
People who deny masks are working... or bitch and complain because a mask is uncomfortable so they shouldn't have to wear one... are assholes. WEARING A MASK SAVES LIVES! SO WEAR A FUCKING MASK!
Or ignore the headlines and keep dying, I guess. It's entirely in your hands.
Posted on June 17th, 2020

Today was the first time I've had a semi-normal day in a very long time. Nearly four months, which seems like forever given lockdowns and such.
After canceling appointments and locking myself away at home for everything except grocery shopping, today was the day I finally threw caution to the wind and headed out into the wilds of Redneckistan. I had an appointment that I really didn't want to reschedule for a third time. That went fine. Everybody I spoke to was masked and respected social distancing norms. Pretty much all that I could hope for.
So then I decided to get really crazy and get some take-away lunch (I'm not quite to the point where I want to chance dining in). I decided to get an Impossible Whopper at Burger King as a "thank you" for continuing to support vegetarians. I was so excited that I actually took them up on a "Two for $6" special. They so rarely include Impossible Whoppers on specials, so I decided on a second one instead of fries.
They tasted incredible.
I ate them slowly, savoring each bite, while sitting in my air conditioned car.
Surprisingly, most people visiting Burger King were masked and respecting the 6-foot rule! The only customer not masked was a construction guy two people ahead of me. Color me shocked.
Then I went to Petco because I was running out of kitty litter. Same thing. Most people masked again! Could it be that Redneckistan and their idiotic "FUCK GOVERNOR INSLEE!" rhetoric were finally getting a clue? That Inslee isn't out to kill their businesses and strip them of their freedom... he's just following expert advice of people smarter than him when it comes to pandemics to try and keep Washingtonians safe?
Maybe!
And then I went to Safeway to pick up some rice noodles, Sriracha sauce, and Tamari sauce so I can make loads of the Coconut-Peanut Rice Noodles with Blistered Green Beans that I love so much...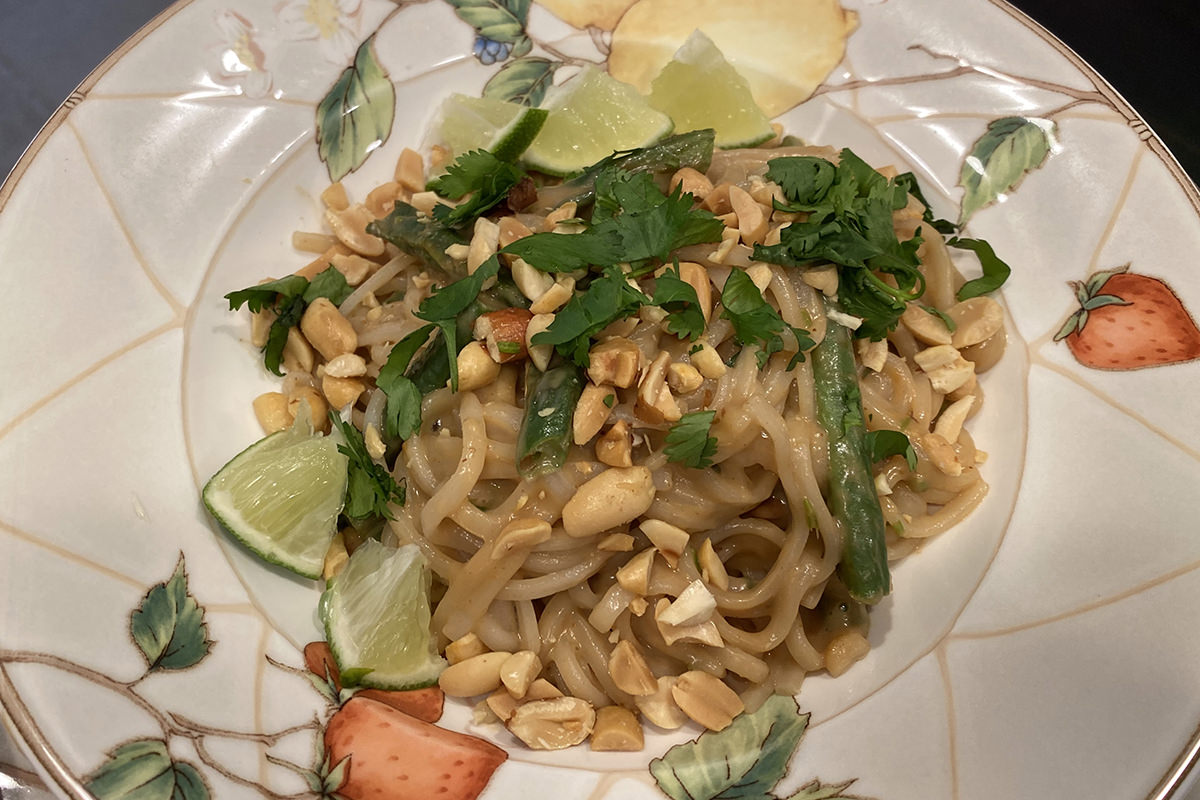 And... there I was... right back in the Redneckistan I know and love.
Not only were at least half of the people going without a mask, some of them were acting like outright assholes about going unmasked. Not that they have to go out of their way... the fact that they weren't wearing a mask is enough to tell me that they're an asshole. We wear masks to protect others in case we're infected! So of course there are selfish people who don't give a fuck about other people. Of course! Never mind that research shows a 90% drop in COVID-19 infections where masking is mandatory. Never mind that it's such a simple fucking thing to do. THAT'S AN ASSAULT ON MY FREEDUMB! And since Washington State went into lockdown before the the infections in Seattle came across the mountains in force, I'm guessing a majority of the people here still think that the pandemic is overblown (at best) or a Democrat hoax (at worst). But, when you think about it, who can blame them? Those who worship all things Trump see him setting a horrifically irresponsible personal example and are just following suit.
But hey... even if I did end up with the Coronavirus, at least my cats have something to poop in and I managed to get my first fast food in nearly half-a-year. That's not nuthin'.
In other news, I picked up some contact lenses to try out today. I stopped wearing contacts almost a decade ago when I started needing progressive lenses. Problem is... glasses fog up when wearing a mask. So now I'm trying to figure out a contacts/reading glasses combination which will make things a little easier (and less foggy) in our new COVID-19 reality.