Posted on May 3rd, 2021

I am at the end of my rope with the pandemic response.
Where I live here in Redneckistan, we've made INTERNATIONAL NEWS because there was a super-spreader event in the city of Republic, Washington on April 9 through 11. Now 10% of the population there has been diagnosed with COVID. And that number is sure to climb because the people who got it from the people who were at the event haven't shown their symptoms yet. That will start happening any minute now, because we just passed three weeks out. Their 25-bed hospital has been completely overrun, so patients are being shipped to other counties where they can fill up their hospital beds. Yikes.
And now I steel myself for hater Democrats to say "TYPICAL DUMBASS REPUBLICANS!" because that's always their response when something idiotic here makes world news. Except... it's not as simple as that. In the 2020 election held in Ferry County, which is where the city of Republic is located, 1/3 of the people voting there did not vote for President Trump...
Washington State is a blue state. In fact, it's one of the bluest states (if not the bluest state) across all demographics in the entire country. Most of that "blue" is on the West side of the Cascade Mountain Range, it's true, but the blue is spreading. Where I live, the vote was only 53% Trump, 45% Biden, and 2% Other. To which a lot of people across the state were saying "HALF didn't vote Republican?!? Because this would have been absolutely unthinkable even ten years ago. So when people look at idiocy in my region and their immediate response is "TYPICAL DUMBASS REPUBLICANS!"... they are thinking of the past, not the here and now.
Though the Republican demographic IS likely responsible for what happened in the small city of Republic.
There's just no sugar-coating it... the data claerly shows that the people more likely to engage in dangerous and reckless pandemic behavior are Conservatives. Though, to be honest, I don't really blame them for being ignorant as to how their actions are dangerous. I blame the "news" organizations which cater to them. When you have Tucker Carlson regularly spreading outright bullshit and lies when it comes to masks, vaccines, and COVID, well... the people who trust him as a "news" source are going to be roped into that kind of thinking. The outlet they choose to keep informed is misinforming them. You tune into a channel called "FOX NEWS" because it's the "news," and it doesn't occur to you that it's not actually reporting facts. FOX "News" lawyers infamously argued that people can't sue them for spreading misinformation because "FOX persuasively argues, that given Mr. Carlson's reputation, any reasonable viewer 'arrives with an appropriate amount of skepticism' about the statement he makes." But that doesn't get reported on FOX "News." There's no disclaimer at the start of Tucker Carlson's show letting their viewers know that most everything he says is utter bullshit. And so they continue to believe him.
This is backed up by the above-linked article in the Tri-City Herald...
"The county previously had relatively few COVID-19 cases, and many in the conservative, rural community saw mask mandates as infringing on their liberty. Less than one-quarter of the county's residents have received a vaccine to date, according to the health district, but officials said the outbreak has increased interest in it."
Because apparently it takes hospitals being overrun and people dying to get people to start thinking seriously about COVID? Thank you, Tucker Carlson.
I've lived in Redneckistan for 50 years. I understand that things are not so cut-and-dry when it comes to the people, the attitudes, and the lifestyle here. And it's for that reason that I have always tried my very best to be compassionate when it comes to the conservative school of thought which drives our society. Outsiders judge us without knowing us... or without even trying to understand why things are the way they are here. And while I get frustrated... a lot... because of the horrific level of willful ignorance that goes hand-in-hand with a public that's been duped by FOX "News," OAN, and Newsmax, I try to keep my head and heart on track. I do not wish ill on my fellow Redneckistan residents. They are my friends, family, and community. I choose to live here, so any problems I have are on me... not them.
But it's not always easy.
And it's just going to get worse, because Governor Jay Inslee has no choice but to start phase rollbacks as COVID cases here continue to explode. And, as you can just imagine, the people who have been conditioned to hate masks, hate vaccines, and hate science, REALLY hate our governor, even though he's just responding to a problem that their actions are largely responsible for. Businesses here don't have signs saying "State Mandates Require a Mask Be Worn On These Premises"... instead it says something like "DUE TO GOVERNOR INSLEE DECREE, YOU HAVE TO WEAR A MASK! DON'T BLAME US, BLAME YOUR DICTATOR!" Which is to say that people are being conditioned to hate Governor Inslee as well.
In all honesty, I've given up trying to convince people. My voice simply cannot compete with "The News" that everybody here believes in.
All I can do is find voices of reason to listen to, try to be understanding, try to be respectful, and carry on as best I can... all while resisting the urge to run around screaming "WOULD YOU PLEASE JUST WATCH THIS VIDEO FOR GOD'S SAKE!"
Mostly because, while all of John Oliver's information is good and the way he presents it entertaining, the condescending snark in the way he presents it would not go over here well at all. And I get it. Last Week Tonight caters to a liberal audience just like FOX "News" caters to a conservative audience.
The "middle ground audience" is grossly underserved.
And so I'll just keep biting my tongue, try to convince people to trust science where I can, and go on living my life.
Such as it is in the middle of a global pandemic that's exploding out my back door.
Posted on April 28th, 2021

Just two days ago I wrote about how utterly awful people are with their stupid shit. And today it all reached a peak that had me wishing an asteroid would nuke the planet. I am so done with awful, ignorant, stupid people. Like really done. Good thing my Buddhist philosophy promotes and existence of non-violence!
The nice thing is that the CDC realeased new guidelines for those who have been fully vaccinated which, as I understand it, is two weeks after your second dose (which is May 5th for me). It's quasi-normal stuff...

Click the image to embiggen it.

I was supposed to fly out to New Orleans in June... plans which were made back in December of 2020 when the vaccines were rolling out... but canceled them this morning. That will make my first trip be in September, by which time I will hopefully feel better about crawling on an airplane with people and their nonsense for five-and-a-half hours.
Just my luck there will be a new COVID strain that hits at the end of August which isn't stopped by the vaccines. Then I'll have to wait for a Pfizer booster shot or something.
All because people are selfish dumbasses and, in the absence of reason, those who are fighting the good fight against COVID are facing an uphill battle. Because the pandemic isn't the enemy any more... it's the morons who don't trust science and take COVID seriously that keeps the war going on and on and on.
Posted on April 26th, 2021

Every damn day there's stuff going on that's worse than the day before, and I am exhausted. I just want to crawl under the covers and forget the outside world exists before I even get to my lunch hour because something in the news was the last straw for me.
Flat earthers. Anti-vaxxers. COVID deniers and mask deniers. Q-Anon conspiracy dipshits. Politicians selling us out to their wealthy corporate owners. Asholes making life so much harder for anybody who isn't a billionaire. The list goes on and on, but it generally boils down to mean people and stupid people. And most of the time the worst offenders are both. Those who lack compassion and kindness. Those who are willfully ignorant and not willing to acknowledge truth. It's depressing just how bad things have gotten because these people are intent on fucking it up for all of us.
The good news is that I finally set aside some time to reinstall Wordpress so the PHP update is no longer killing my blog, so there's that.
So I guess there's nothing stopping me from kicking my Monday to the curb a little early and crawling under the covers to play video games for the rest of the day.
Though I'm pretty sure my cats will want dinner come 6:00.
Tags:
Assholes
,
Blogging
,
Cats
,
COVID-19
,
DaveLife
,
Dumbassery
,
Dumbasses
,
Life As We Know It
,
Pandemic
Categories:
Cats 2021
,
DaveLife 2021
,
News – Politics 2021
—
Click To It:
Permalink
—
0 Comments: Click To Add Yours!
Posted on April 23rd, 2021

Last night my web host updated PHP for my blog. Now nothing works. I'm sure it will all get figured out eventually... perhaps I'll just have to reinstall WordPress or something, but I really don't have the time to look into it right now. So I guess I'll keep writing entries and post them when I can figure out what's going wrong.
Wonder how many people will think I died because I got vaccinated? Too many, I'm guessing.
Where yesterday I had a little soreness in my arm, but was otherwise feeling great... today I have no soreness at all. It's as if the vaccinations never happened.
Except they did, which means my immune system will be up to speed to better deal with COVID in two weeks... which is May 5th, I guess. My plan is to go out and eat IN a restaurant. Something I haven't done in what... a year and a half now?
I will, of course, still wear a mask in public. Even though my immune system knows how to attack COVID, there are other people out there whose immune system is not, and I want to keep them safe. It's just a nice thing to do.
In a world where "doing the nice thing" is increasingly rare.
Posted on April 22nd, 2021

For the first dose of my Pfizer vaccine, I had a sore arm the next day that lasted around 7 to 8 hours.
This second time? I woke up feeling fine. My arm was a little sore, but not as much as last time. So instead of laying in bed playing video games all day as I had planned... I went into work. I lasted about 4 hours until I started feeling a little feverish and did a temperature check. Even though I felt fine. Even through it was obviously my immune system ramping up from the vaccine. Even though there was nothing else wrong with me... I ended up going home because my workplace has a zero-tolerance for any COVID symptoms (whether or not they are actually COVID-related). My temperature of 102º was enough to send me packing.
When I got home, I was feeling even hotter. A new temperature check had me at 104º
About a half-hour later my eyeballs started to ache... like they were being boiled out of my skull. A new temperature check had me at 105º. I decided to take a couple sleeping pills and go to bed so my immune system could do its thing while I slept.
When I woke up two hours later, my eyes felt fine and my temperature was down to 99º
And that was it.
By 10:00pm my temperature was normal, I felt perfectly fine, and as I sit here in bed typing this I can't even feel any pain in my arm. It's as if the second dose never happened.
Most people don't have any side-effects. But, for obvious reasons, the people who do have side-effects are the people who get publicized. I had a fever for two hours. Which I slept through. Big deal.
Except the actual side-effect of getting vaccinated... namely not having to die or be hospitalized if I happen to catch COVID... is the real story here.
At least it should be.
Posted on April 21st, 2021

Originally my "Phase Group" was to be vaccinated in February. Then it was moved to March. Then it was moved to April. Then Washington State surprised me by opening my group on March 31st. I expected that I would have to wait weeks to get an appointment, but managed to get shot on the same day... having no trouble getting an appointment and breezing through the mass-vaccination site with only two-dozen-or-so other cars around.
On April 15th, Washington State opened up vaccination to anybody 16 and older. I was thrilled, but worried over whether or not I could get an appointment for my second shot. Except it was a non-issue, and today was the day of my vaccination part deux.
Thank God they made Washingtonians wait weeks and weeks to get the vaccine! The demand is incredible! Hundreds of cars waiting in line! A complete madhouse — Oh... no... wait a second... I totes misspoke. I WAS LITERALLY THE ONLY ONE THERE!!! No other people getting vaccinated. Just dozens of workers and somebody getting dropped off for work...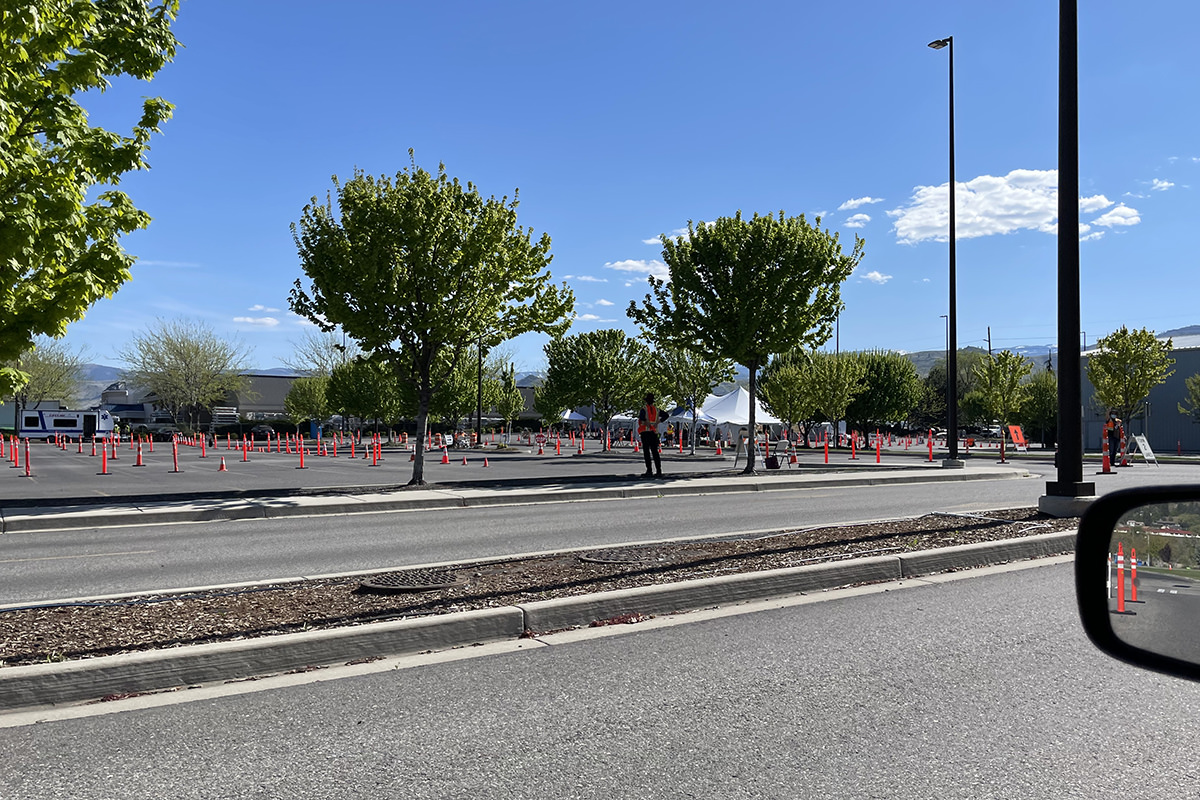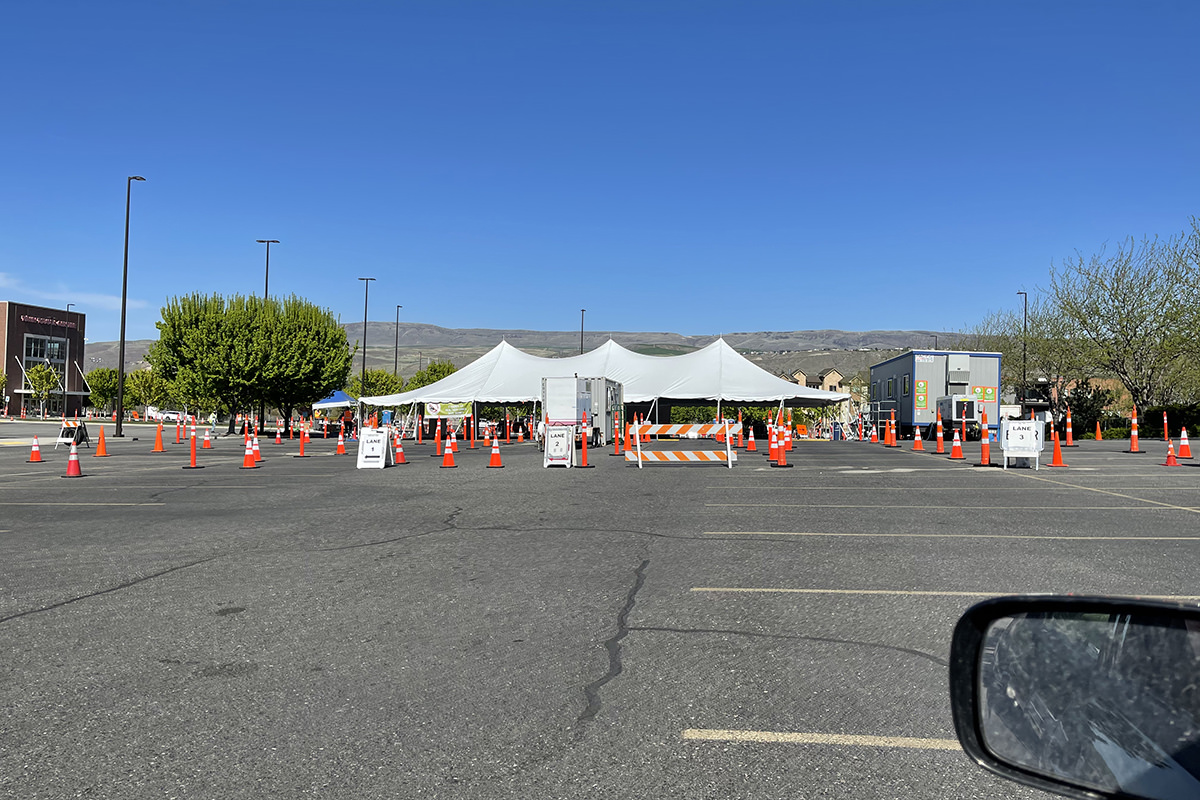 The massive maze they built to handle hundreds of cars was laid out like a queue at Disneyland, but completely unnecessary. At least it was when I was there. Not a single other person getting vaccinated. I worked my way through the maze for checkin... I worked my way through the maze for the vaccination line... then rolled right up to the vaccination tent without seeing a single other vehicle. After immediately getting shot, I went to the waiting area where there were six other cars, whose 15 minutes were up right away so they left. And then there was only me. Before I left another car pulled up next to me, but that was it.
I don't understand what's happening. Now that Washington State is open to everybody age 16 and over, I thought that we'd be doing better than this. Maybe it's busier on the coast because nobody in Redneckistan is getting vaccinated?
That's... crazy.
We're never going to get heard immunity at this rate. A target of 95% is needed, but right now the country is just a little above 50%? Unironically, the people who seem to complain about lockdowns the most are the same people who keep the pandemic going.
Oh well. We tried. Vaccination is open. Literally no waiting.
Posted on April 6th, 2021

Well that was a day.
The plan was to work just a half-day since I worked on Good Friday, which was supposed to be a holiday. That way I could tear apart my living room to deep clean all the stuff that's been neglected during the pandemic. Now that I've been half-vaccinated I'm starting to think about the day that people will be able to visit me again, and that's inspired me to clean house. Finally. Which is very Mary Sunshine of me given that COVID infection rates are on the rise again. The vaccine rollout has lured everybody into a false sense of security, so people are doing some crazy-ass shit. Even those who haven't been vaccinated. Especially those who haven't been vaccinated (and are proud to announce it).
Yesterday the Texas Rangers hosted a baseball game with 38,238 in attendance. A lot of them unmasked, of course. Doesn't seem especially smart given that the UK variant is now the dominant strain in the USA. It spreads more easily and has a higher mortality rate than "original COVID." Even worse, now there's "Post COVID Syndrome" where healthy people who recover from COVID end up with serious long-term effects. And the statistics are staggering. 30% of people who had COVID continued to have symptoms up to 9 months later. And that's just the tip of the iceberg. We don't have enough data to know what can happen after that 9 month period. Doctors worry about everything from immune system deficiency to long-term permanent brain damage.
As if COVID killing young healthy people wasn't bad enough?
But anyway... I ended up working a full day (and then some) after which I was too exhausted to clean. Instead I made tacos for Taco Tuesday then plopped on the couch and watched movies for the rest of the night... The Birdcage (81% on Rotten Tomatoes), Kingsman (74% on Rotten Tomatoes), and The Secret Life of Walter Mitty (51% on Rotten Tomatoes). AKA "Those movies I love and never get tired of watching even though I've seen them a million times." It's the last one that has always puzzled me when it comes to the reviews...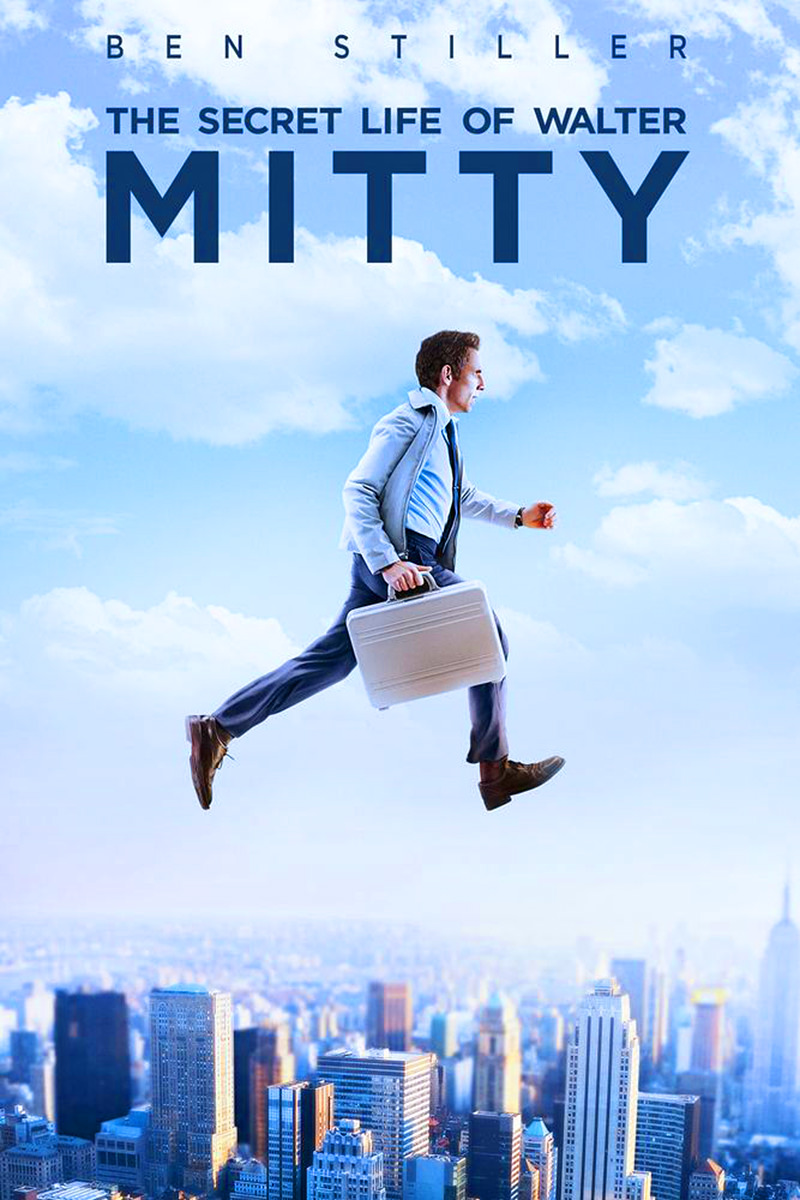 Despite not being the biggest Ben Stiller fan, I love this movie. Really love it. And for oh-so-many reasons right now, I find myself relating to it more than ever. Yet it got mediocre to negative reviews and I honestly don't get it. I found it to be refreshing escapist fun that shows what happens when you start living the life you've always dreamed about. Stiller is incredible in it, which is all the more remarkable when you consider that he directed the film as well. And just look at the supprting cast! Kristen Wiig, Shirley MacLaine, Kathryn Hahn, Adam Scott, and Sean Penn... does it get much better than that?
Oh well. Everybody's entitled to their opinion. It's just a shame that the critical consensus likely kept people from seeing it. But I guess I've watched it enough times for ten people, so there's that.
Say... does anybody remember The Secret Lives of Waldo Kitty?
What a great series! I think along with Top Cat this was one of my all-time favorite cartoons as a kid. They don't make 'em like that any more!
And since it's close to midnight now, I guess I'll clean house tomorrow. Maybe.
Posted on April 4th, 2021

You may be tempted to go hunting for eggs, but hold onto that basket a minute... because an all new Bullet Sunday starts... now...

• Bunny! Easter was kinda a big deal for my mom. She was 100% all-in on the Easter baskets, decorations, hiding eggs, candy, Easter Bunny, and the whole bit. Because of it, I have a lot of fond Easter memories...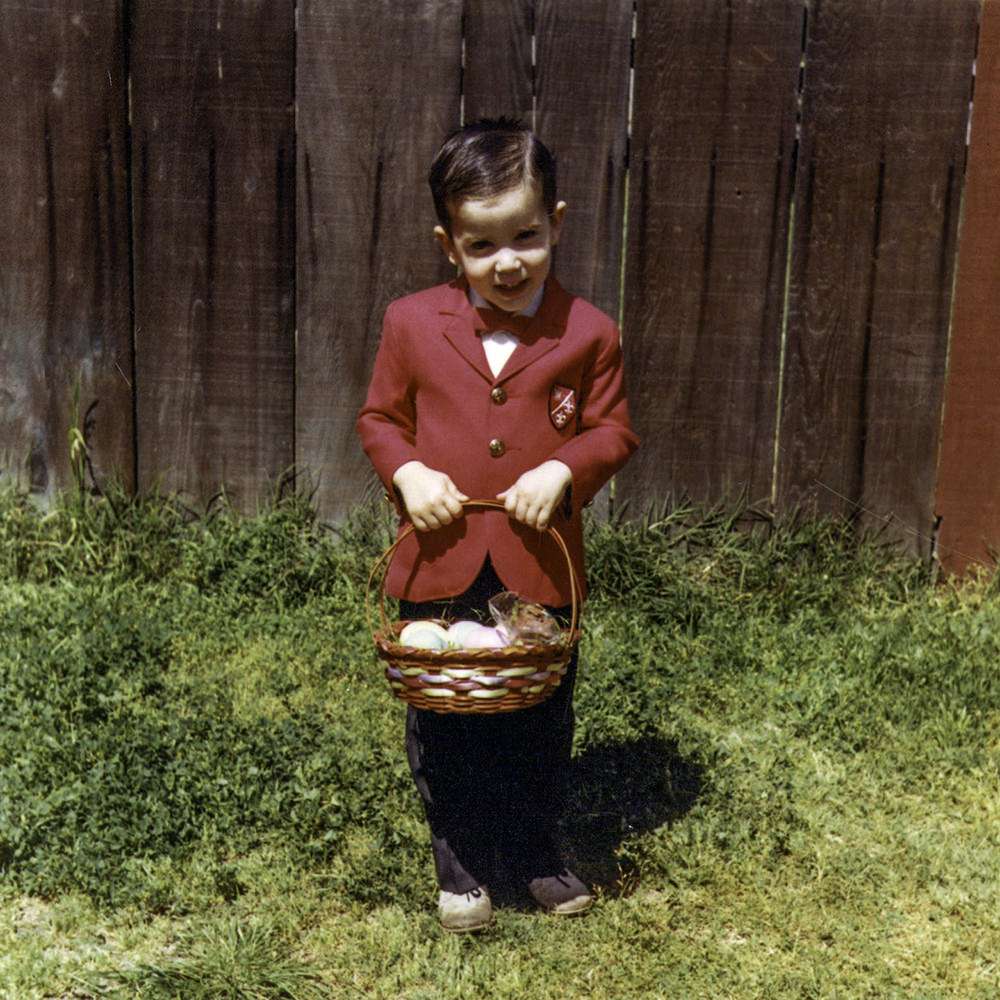 Meanwhile I celebrated the holiday by giving myself a terrible haircut, cleaning a little bit of my horrifically filthy house, and washing my sheets. Now I am eating Chili Cheese Fritos and drinking a Coke Zero (I think Chili-Cheese is my favorite Frito because they contain more MSG than any other snack chip). Jake and Jenny are celebrating by taking a nap. And now I think I'll call it a day. It's 10am, and I'm done. Happy Easter!

• To The Louvre! I did not know that The Louvre had put so much of their collection online. This is amazing. I wish all museums would do this...

Image © Musée du Louvre Paris

Image © Musée du Louvre Paris

Image © Musée du Louvre Paris
You can even download low-res images to make your own personal collection! Nice! Even more interesting... they are offering virtual tours since the museum itself is closed because of the pandemic. I really hope they keep this all going when we get back to "normal." Some people will never get to visit The Louvre any other way, and it's not like it will take the place of an actual visit for those who can visit in person. But anyway... you can find it all on their website.

• RICK! Oh thank heavens...
Seriously some of the smartest stuff on television. Cannot wait.

• The Poverty! I think I laughed for five solid minutes after watching this...
Soooo... guess it's a good thing that I got the Pfiezer vaccine! I now have luxury running through my veins!

• Unreal! And speaking of vaccines... I am so fucking sick and tired of stupid...
Nobody gives a shit about reality any more. They just create whatever idiotic bullshit they want to fit their narrative. And people are happy to keep listening to them even when their crap is completely debunked.

• Engineering! If you've ever had one of those paper-box beverage containers, the way they open is rather cool. As you open the lid, it cuts the seal on the container inside. I've always wondered about how it works, but never bothered to cut one open to find out. Now I don't have to...
Pretty nifty stuff!

• Paper! The U.S. measurement standards are SO stupid. Bypassing the metric system is about as idiotic as it gets. This very, very cool video explains just one of the reasons why...
One of these days I'm going to rewatch all of CGP Grey's videos from start to finish. That would be a day well-spent.

And that's all she wrote.
Tags:
Art
,
Bullet Sunday
,
CGP Grey
,
COVID-19
,
DaveLife
,
Easter
,
Pandemic
,
Rick and Morty
,
Television
,
Vaccination
,
Videos
Categories:
Bullet Sunday 2021
,
DaveLife 2021
,
Movies 2021
,
Television 2021
—
Click To It:
Permalink
—
0 Comments: Click To Add Yours!
Posted on March 31st, 2021

On this day of Trans Visibility, I think of my good friend who is stronger in who she is than many of us will ever be.
It seems inordinately cruel that yesterday Arkansas became the first state to ban healthcare for trans youth. And, to be quite honest, I have to wonder if lawmakers did any research whatsoever before doing something so horrific. They think of being transgender as some kind of "fad" that kids will grow out of... meanwhile trans kids can end up living a miserable existence, even going so far as to take their own lives. Not only that, but if people would take 5 minutes to read how young kids can just be given puberty blockers that merely delay the effects of puberty until they are older and can make an adult decision, they'd understand that even it it was just a fad, they can stop taking the puberty blockers at any time and go right back to their previous puberty progression.
How much of an absolute monster do you have to be to deny a kid something that may keep them from harming themselves? Regardless of what you believe, it doesn't have to do with you. Believe whatever you want to believe. But your beliefs don't get to dictate how other people live their lives. I'd rather see a happy kid living their best life at no cost to me than to want them damaged or even dead.
In other news...
Washington State opened up my vaccination tier today. I hopped on the computer this morning to make an appointment and couldn't get through, so I was thinking "Yikes, I'll probably be lucky to get an appointment weeks from now." But when I tried later on in the morning, appointments were wide open... including today. Weird.
I booked an appointment for the mass vaccination site in The Big City. It was amazingly well-run. I thought the line would be a mile long, but I drove through the Disneyland-like queue maze with nobody ahead of me. Got right up to the check-in station. Then drove over to the vaccination site. Had two cars before me. I was sure to ask for a vaccine with extra lizard DNA and 5G. Then, before I even realized anything had happened, I had my first dose of Pfeizer vaccine. Didn't even realize it had happened. Didn't feel it. Thought maybe something had gone wrong. But, nope. That was it. A 15-minute wait later and I was on my way. Still don't feel anything. This is nothing compared to the flu shot that had my arm aching for days. So I guess it's the second shot that gets you.
Now I'm wondering if I start turning into a lizard person immediately... or if I have to wait for my second dose? I'm happy to know that Bill Gates can track my location to find out when I take a shit. That's just a bonus right there! This deuce is for unleashing Windows on us, ya bastard!
Because, yes, my life IS so interesting that Bill Gates wants to know where I'm at at all times.
Posted on January 31st, 2021

I don't mean to alarm anybody, but this is the last Bullet Sunday of the 600's... because an all new Bullet Sunday starts... now...

• Good News, Everyone! After a shitty year of all bad news, it's nice to know that there's a best-case scenario happening right now... People Who've Gotten Both Shots Simply Aren't Getting COVID. And when they do get COVID because it's a mutant strain or whatever... they aren't requiring hospitalization and don't suffer such damaging effects. Nice! Much love to the scientists and researchers who have been working overtime to get us a vaccine.

• Residential! Alan Tudyk is one of my favorite actors, and I was pretty stoked when I randomly happened across his new series... Resident Alien. This is a comic book series I've glanced at, and I had no idea it was being adapted for television. As you'd expect, Tudyk is flawless at playing a quirky alien trapped on earth in disguise as a doctor, and I really loved the first episode...
The premise is pretty darn good, and it will be interesting to see how they play this one out.

• TikTok On The Clock! AMAZING tip for getting more coverage when painting! Thanks, TikTok!
Oh yeah. That's a painting trick I can use!

• Reelection Matters! Still no comment by Patty Murray or Maria Cantwell on Wall Street trying to protect wealthy hedge funds over average Americans? I may die of unshock. Can't upset their wealthy owners who bankroll their campaigns! Stock manipulation is fine... when rich people do it. Markets are free... until rich people lose money. Wall Street makes the rules to exploit the American people to benefit our wealthiest citizens. And the minute it doesn't, they change the rules. And Murray and Cantwell are still fighting for that status quo, apparently.
Say... here's an idea! We know Republicans can't win against our senators in Blue-Blue Washington State, but what about another Democrat? A Democrat not content to have Washington State sit on the sidelines or take a wait-and-see attitude when it comes to stuff going on Right Now?? A Democrat who doesn't check with their owners before acting? A Democrat that charges into battle for Washingtonians AS SHIT IS HAPPENING. Because hand-wringing after the fact is getting SO tiring. Alexandria Ocasio-Cortez was going on interviews, posting to social media, and had a live Twitch feed yesterday to address Wall Street protecting wealthy hedge funds over the American people. Where were our Senators? Planning their re-election campaigns, probably.

• Change! This right here is what I love about TikTok in a nutshell...
Cute story and a SpongeBob Squarepants reference? Yeah... sign me up.

• Flyover! Last night my Apple TV went to screen saver while I cleaned up my filthy kitchen (I swear, that onion/poblano Quesadilla filling is lethal). As I was sitting down I saw that the screen saver was flying over Buckingham Palace which is pretty easy to recognize. Then they keep flying over London and I see that so many of these old buildings have amazing car parks inside! I had no clue when I visited the Churchill War Rooms museum that they had this gorgeous rotunda car park within their walls...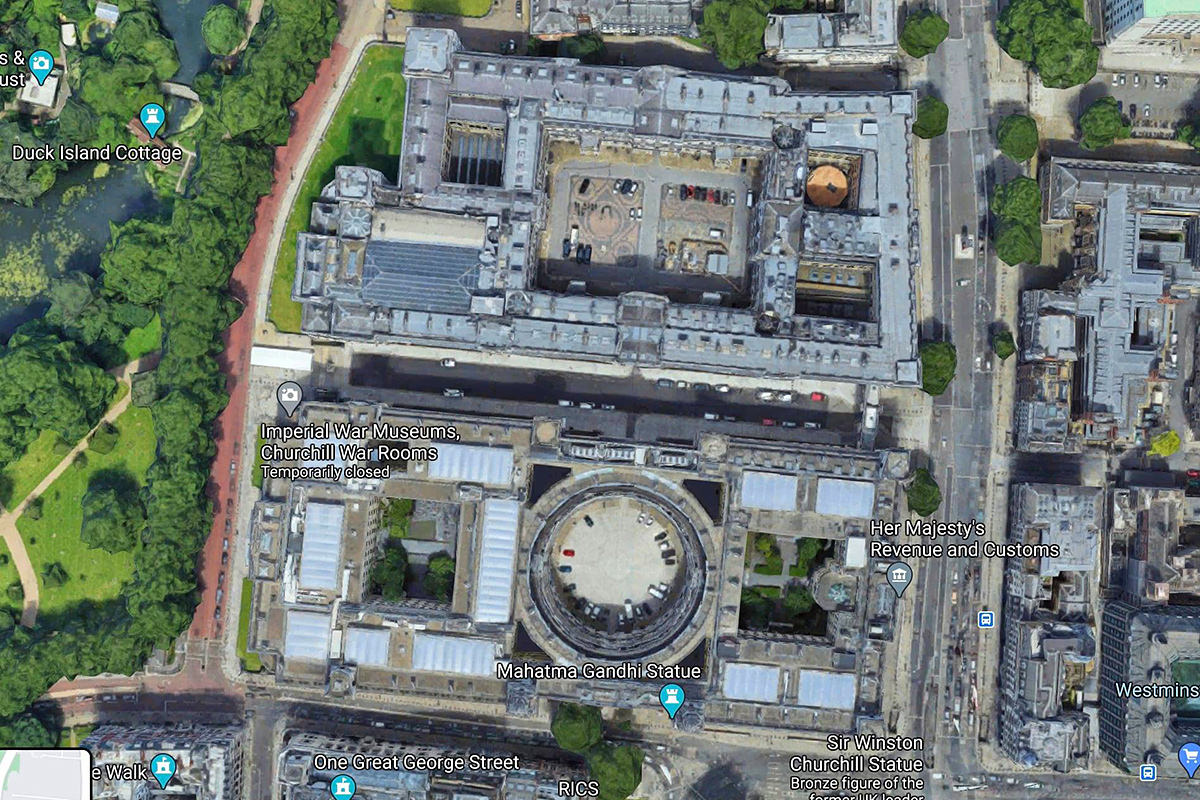 Image taken from Google® Maps Satellite View
Isn't this amazing? And the more I explored, the more interior car parks I found. That's pretty cool. I've seen some of these in person, but never knew how prevalent they are.

And that's a wrap on Bullet Sunday No. 699.
Tags:
AppleTV
,
Bullet Sunday
,
COVID-19
,
Maps
,
News
,
Pandemic
,
Politics
,
Television
,
TikTok
Categories:
Apple Stuff 2021
,
Bullet Sunday 2021
,
News – Politics 2021
,
Television 2021
—
Click To It:
Permalink
—
0 Comments: Click To Add Yours!