2022 may be feeling even worse than 2021, but I'm still spitting out those bullets... because an all new 2021 RETROSPECTIVE Bullet Sunday starts... now...

• Pizza! As anybody who's been reading Blogography for any amount of time knows, I've been searching for a decent frozen pizza for decades. And in 2021 I've finally found one. It's Red Baron Fully Loaded Five Cheese Pizza!
The sauce it great. The crust is amazing. The amount of cheese is a little excessive, but perfectly acceptable. Put it all together and it's the best frozen pizza I've ever had. With a caveat! As good as it tastes fresh out of the oven, it tastes horrible once it's gone cold. And reheating it in the microwave or oven does not bring it back. I've been sawing them in half and cooking only half and a time so I can eat the remainder at its best as well.

• Potato! As somebody who loves fries, I usually end up making them from scratch out of freshly-cut potatoes that I soak, pre-cook, freeze, then fry to get the best tasting ones I can get. But that's a horrible amount of work. So whenever I see a new frozen fries product, I give it a try. Usually I spray them with oil then put them in the rotisserie basket of my air fryer and they turn out okay. But in 2021 I discovered "McCains Quick Cook Fries." And they are a world different from anything else on the market...
The secret of the reason they cook "quick" with no flipping is that they are coated in oil. This is not a new trick. Ore-Ida did this years ago. But, for whatever reason, McCain's fries taste far better. Even though they do lie about the timing. Even when I preheat my oven, it takes closer to 20 minutes than the 13 minutes they advertise to get perfectly-cooked fries. Usually I don't bother to preheat. I just put them in and set the timer for 25 minutes. Bliss. Their crinkle-cut fries are so good that I'd rather have them that restaurant fries. Possibly even more than my own hand-cut fries! A half-bag is the perfect serving size for me and I anticipate eating a lot of these things in 2022.

• Sustained! I have been really trying to minimize waste more in 2021, recycling whatever I can and eliminating disposable plastics from my life. It's the least I can do, even though it's a ridiculously small dent in the amount of pollution produced (corporations are vastly more responsible than individuals, but convince people it's not their fault). One of the bigger steps I took was to stop buying Saran Wrap (plastic wrap). I used to go through a couple boxes every year, but the one I bought back in March will hopefully be my last. I've also greatly reduced the number of plastic bags I've been buying. My favorite replacement is "BioBag" products which decompose quite quickly in a landfill. They're expensive as hell though, so I've also brought "brown paper bag" sandwich bags for regular use...
They work great! But I also buy Reynolds wax paper bags for things that get sloppy (like the veggie burger with extra mayo I eat on my morning commute!). Or when I'm out of brown bags (like I am now). They have little stickers to keep them closed, which probably makes them bad for the environment, but they are fun to pack for lunch....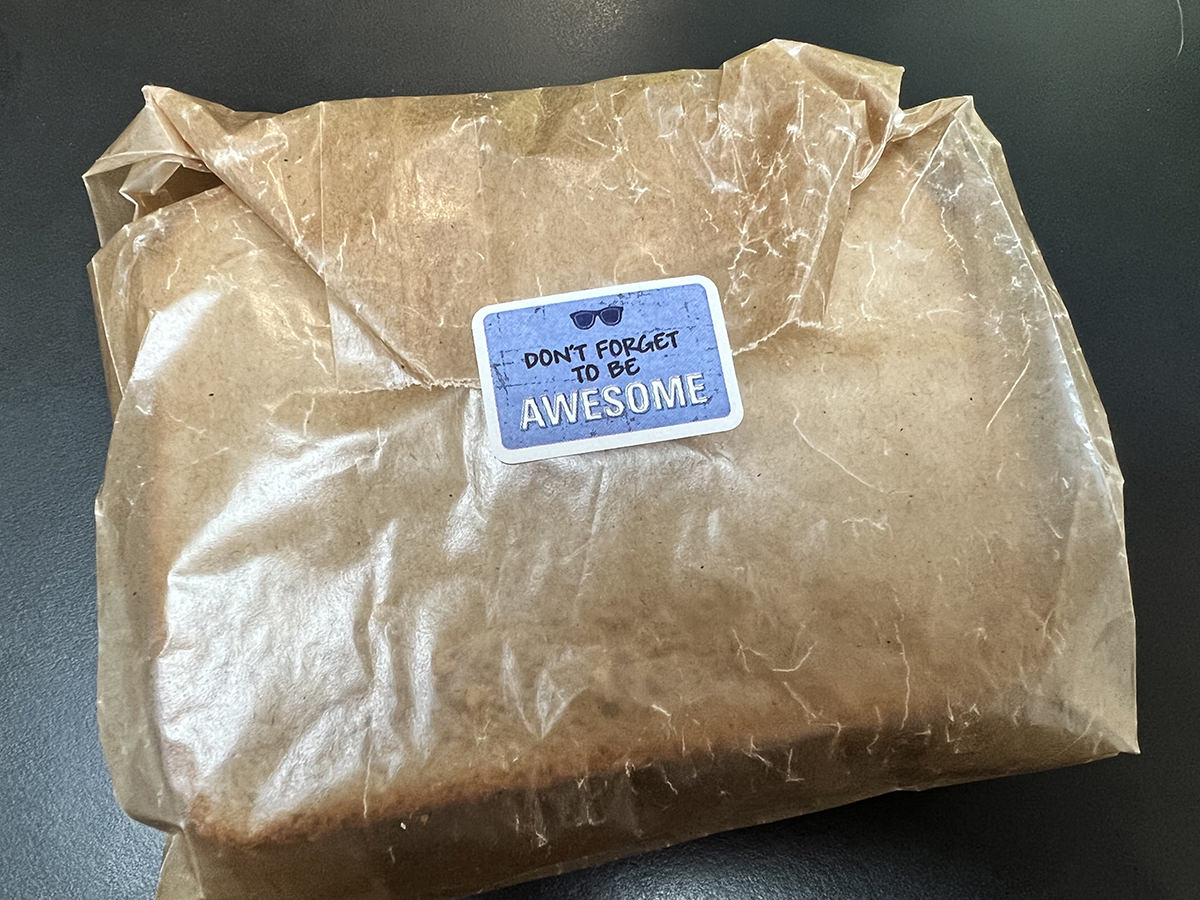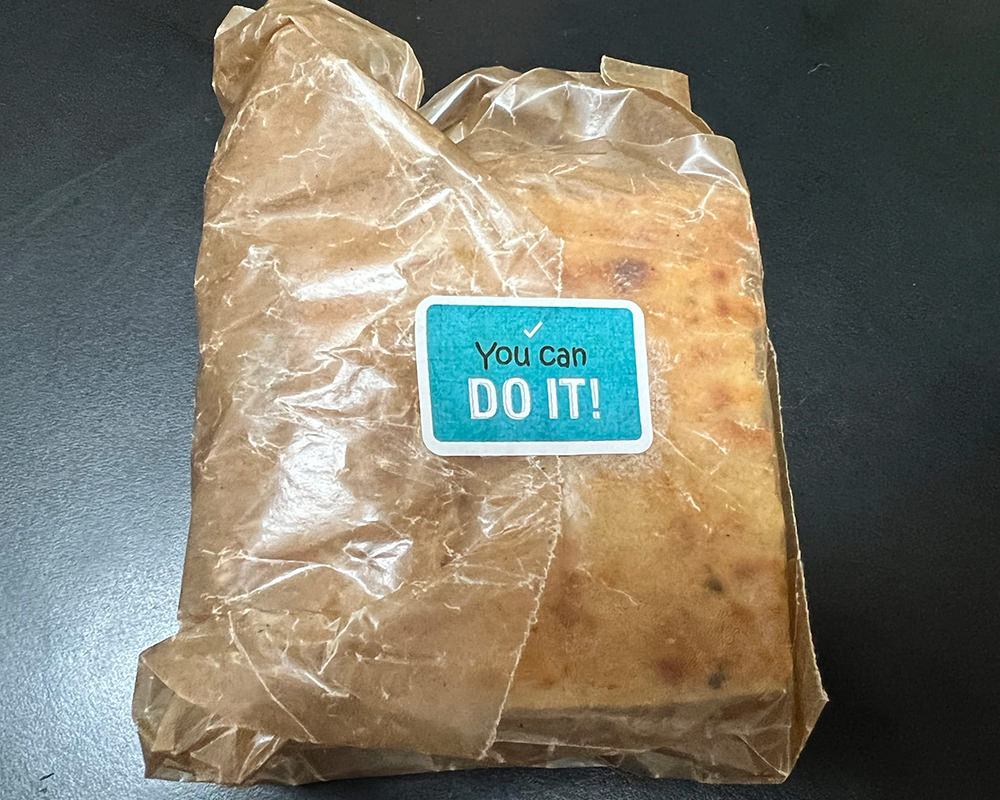 Wax paper doesn't biodegrade like raw paper (or BioBags), but it does biodegrade better than plastic. And uses more natural materials, so I'm chalking that up as a win (even though I'm trying to use them less and less since biodegradable bags are better). The best solution seems to be using glass containers with plastic lids which you can wash and reuse for years, so I've bought more Pyrex as well. Maybe one day they will come up with lids that aren't plastic but, in the meanwhile, they have lasted me over a decade so far, which is far less than if I were using plastic bags.

• Apples to Apples to Apples! This past year was a tough year for me financially because Apple ended up getting so much of my money. But boy was it money well-spent! My new iMac M1 is a (relatively) inexpensive Mac that flies through even my most demanding work. Despite it being on the low-end of the spectrum, it's the best desktop Mac I've ever owned. Then I traded in for the iPhone Pro Max 13, which is the best phone I've ever owned (and the heaviest). Then I traded in for the MacBook Pro M1 Max. Legit the best computer I've ever owned. And my favorite. Not even a contest...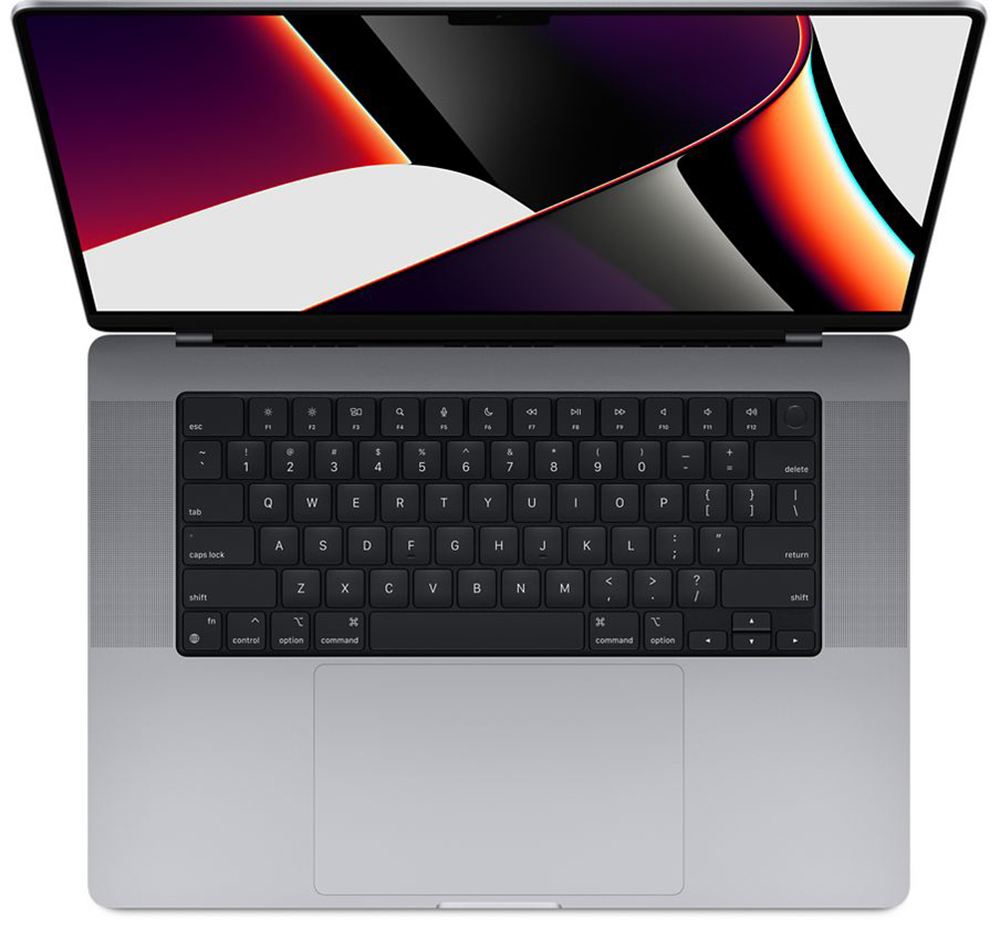 It is ridiculously fast and powerful, has incredible battery life, and is an absolute joy to work with. THIS is the kind of "pro" computer Apple should have been making for the past decade instead of the form-over-function bullshit they were married to. The weird thing is that this MacBook is still really beautiful despite being constructed for function over form. Yet "curviness" was more important than power to Apple for a decade, so that was what we got. Blergh. Hopefully they won't slide back to old habits. The wild acclaim for this computer by pundits and customers alike should tell them they are finally on the right track.

• Travel-less! It has been genuinely strange going from dozens of trips each year to zero in 2020 and one in 2021. Unless some miracle cure arrives which eradicates COVID from the face of the earth, I'm expecting the same for 2022. Because right now I have no plans to go anywhere. But still, that one trip I did take during Delta but pre-Omicron reminded me of what "normal" is like. Even though I was masked most of the time...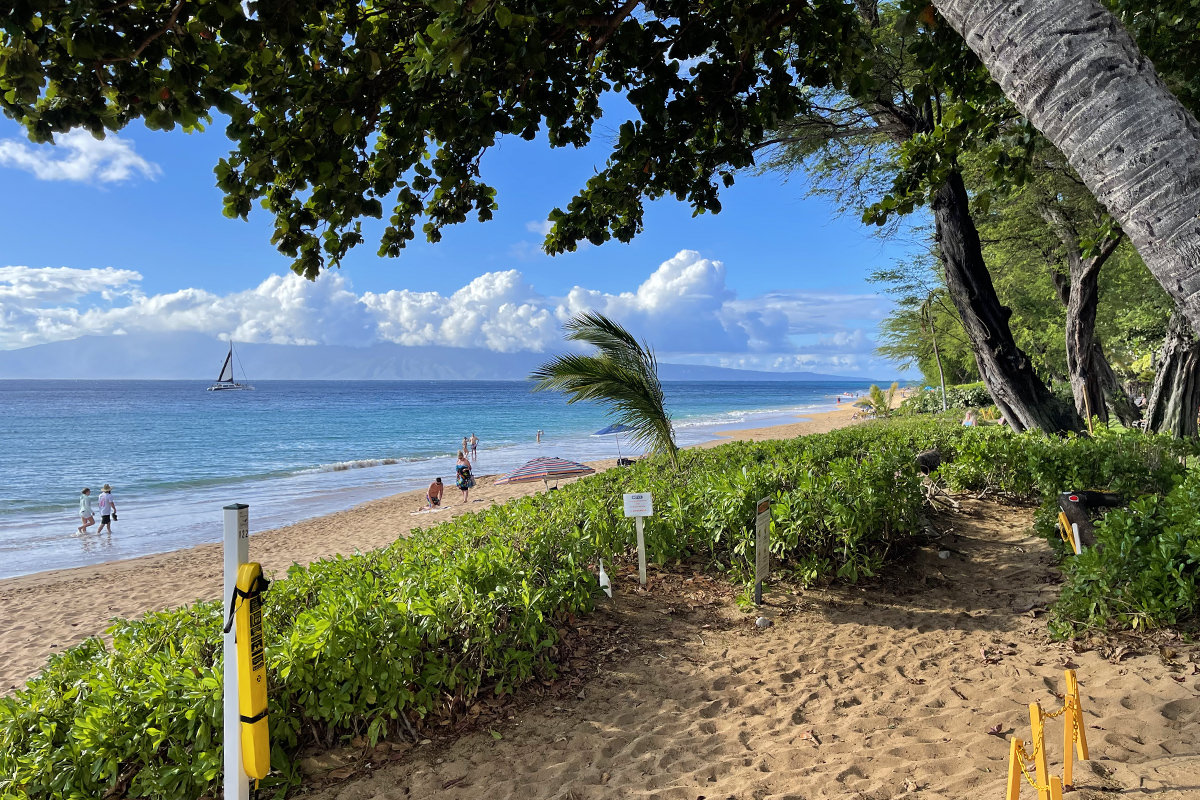 So maybe after they announce a fourth booster I will make a trip just to remember what "normal" used to be like? If I do, it will probably be a trip to San Francisco because that's where my tattoo artist is, and I've been wanting new ink for years now. Fingers crossed.

• Kitty! Once again the thing that saved me in 2021 were my cats. Even at times when I was at my lowest and didn't care about myself, I always cared about them. In 2021 Jenny learned to manipulate me better than in previous years, coming up with an entire menu of meows and behaviors to get what she wants. Jake and I have conversations now. He meows (or tries to) and I meow back. Then we go back and forth for a while. I have no idea what I'm saying, but it must be interesting enough to him that he feels a need to respond!

• Betty! I'm still crushed. I've been avoiding social media and the news so I'm not seeing news about her death over and over. What a shitty end to a shitty year.

• Boosted! I've had people sneer at me for getting boosted, saying that the COVID vaccine obviously doesn't work if you need to get a booster... "WHAT ARE YOU GOING TO DO? GET BOOSTER SHOTS FOREVER??" And the answer is yes. Fuck yes. Because there are mountains of data showing that staying current with vaccinations vastly reduces incidents of serious illness, hospitalization, and death. MOUNTAINS OF DATA! So give me all the shots. This is no different than getting a flu shot every year. Except COVID mutates so fast and the vaccine is so new that we may end up getting two boosters a year instead of one. As the science gets better, the boosters will get better. Eventually we may even have the option for a combo flu/COVID booster, and I will take that shot. 1000% I will take it. I have faith in the science which has given us so much. There's a learning process which goes along with scientific research, and I am happy to be a part of it. I have cats to take care of, after all.

So... yeah. Not a lot else happened in 2021, so I guess that's it. Pizza, fries, sandwich bags, Apple stuff, one trip, cats, the passing of a legend, and COVID. Not a banner year, to be sure.