Posted on May 29th, 2022

A three day weekend (for a lot of us here in the good ol' U.S. of A. isn't even the best thing to look forward to this fine Sunday... because an all new Bullet Sunday starts... now...

• You're Our Only Hope! I was not expecting the world from the new Obi-Wan Kenobi series on Disney+, even though it was focusing on one of the best parts of the shitty Star Wars prequels. But, then again, The Mandalorian proved that it could be good if they wanted it bad enough...
Well, apparently they did want it bad enough, because the show is looking darn good from the first two (or six) episodes which have aired. I don't want to spoil a single frame, as I was careful to not learn too much about it before it started running. Suffice to say that the premise for the series is not what I expected, despite being a very good one (and kinda obvious). Even if you've given up on Star Wars, this might be worth a look.

• More Hope? This past week was Star Wars Celebration, the annual lovefest for A Galaxy Far, Far Away. The most interesting thing to come out of it was the trailer for Andor, which I've been anticipating for what seems like an eternity...
Looks great, doesn't it?

• Mavericky! Top Gun is one of those seminal 80's films that I have seen multiple times since first seeing it in the theater. When they came out with a sequel: Top Gun: Maverick I kept my expectations in check, because it seemed absurd that they could possibly have more to say. Or at least not enough to warrant a sequel. But it was actually quite good despite covering a lot of the same territory. This is largely thanks to very cool practical fighter plane shots which were far better than a bunch of CGI special effect shots could have ever been...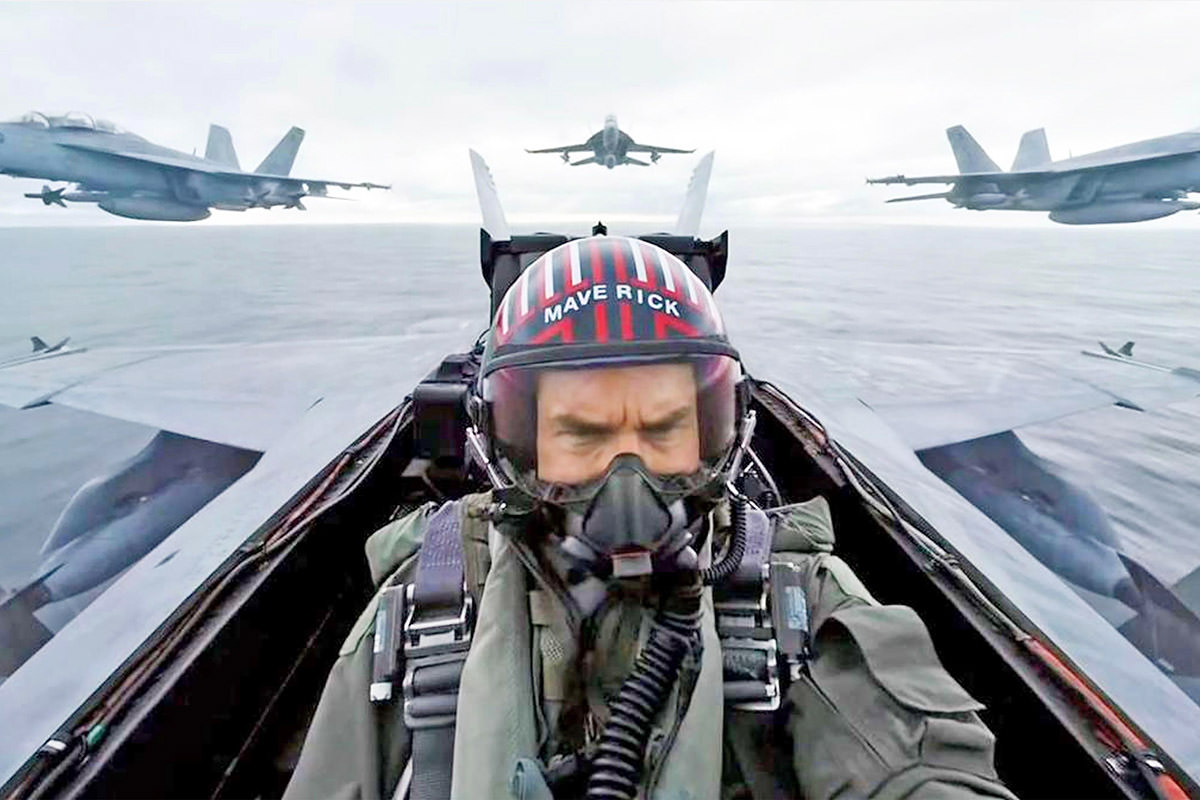 Tom Cruise was... well... Tom Cruise. Jennifer Connelly was good as she always is. And Miles Teller, who hasn't impressed me much in anything he's ever done, inhabited his role as the son of Goose in a way that really made you believe he could be the son of Meg Ryan and Anthony Edwards. Do I think it was risk getting COVID to go see? Probably not. But it should have no problem making my best-of list for 2022 because of the huge dose of retro thrills it provides.

• Thanks, Jims! While there's a lot of attention being focused on Obi-Wan Kenobi, Top Gun: Maverick, and the return of Stranger Things, I can tell you right now that the entertainment to beat is Shoresy. Based on the unseen (but not unheard) hockey-playing character from Letterkenny, it's a fantastic (and very funny) look at "the dirtiest player in the game"...
If you're a Letterkenny fan, this is a no-brainer. But even if you aren't this is nice diversion from the horrors of the real world.

• Fletch! I was very sad to hear that Andrew "Fletch" Fletcher from Depeche Mode had died. As one of my all-time favorite bands, I've collected all their music and have seen them in concert a half-dozen times. Rest in Peace, sir...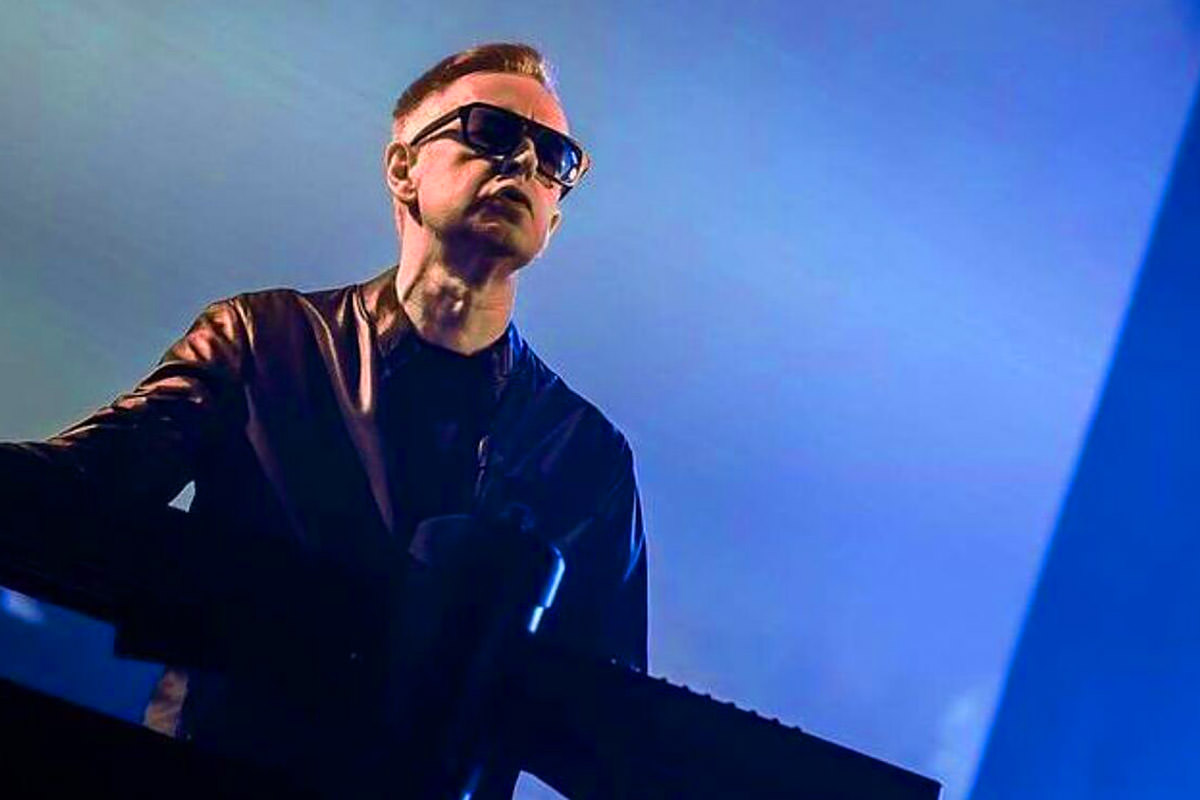 • Less Strange? And speaking of Stranger Things... I'm more than a little disappointed in Season 04. Each episode is bloated in a bad way, focusing more on distraction, filler, and "side-quests" than the show I was hoping to tune in for. And it's like why? Why deviate from what made the show so darn good in Seasons 01-03? I guess everybody wanted a bigger paycheck and the only way to get it was to film more material? I dunno. The show isn't exactly bad... but I'm really hoping they stick the landing in the final two episodes in five weeks to make this time investment worthwhile.

• Subway. This video from Last Week Tonight is fascinating stuff. And you OWE it to yourself to watch the Korean Meatball Drama at the end! Glorious...
The fact that Subway knew that Jared was a kid-raping pedophile and ignored it so he could keep selling their sandwiches means that they can fuck off forever. Interesting to note that Kidfuckers is the ONLY chain restaurant in my small town, which is just further evidence that they do indeed push their franchises to the breaking point and put them everywhere.

Until next Sunday then...
Posted on January 2nd, 2022

2022 may be feeling even worse than 2021, but I'm still spitting out those bullets... because an all new 2021 RETROSPECTIVE Bullet Sunday starts... now...

• Pizza! As anybody who's been reading Blogography for any amount of time knows, I've been searching for a decent frozen pizza for decades. And in 2021 I've finally found one. It's Red Baron Fully Loaded Five Cheese Pizza!
The sauce it great. The crust is amazing. The amount of cheese is a little excessive, but perfectly acceptable. Put it all together and it's the best frozen pizza I've ever had. With a caveat! As good as it tastes fresh out of the oven, it tastes horrible once it's gone cold. And reheating it in the microwave or oven does not bring it back. I've been sawing them in half and cooking only half and a time so I can eat the remainder at its best as well.

• Potato! As somebody who loves fries, I usually end up making them from scratch out of freshly-cut potatoes that I soak, pre-cook, freeze, then fry to get the best tasting ones I can get. But that's a horrible amount of work. So whenever I see a new frozen fries product, I give it a try. Usually I spray them with oil then put them in the rotisserie basket of my air fryer and they turn out okay. But in 2021 I discovered "McCains Quick Cook Fries." And they are a world different from anything else on the market...
The secret of the reason they cook "quick" with no flipping is that they are coated in oil. This is not a new trick. Ore-Ida did this years ago. But, for whatever reason, McCain's fries taste far better. Even though they do lie about the timing. Even when I preheat my oven, it takes closer to 20 minutes than the 13 minutes they advertise to get perfectly-cooked fries. Usually I don't bother to preheat. I just put them in and set the timer for 25 minutes. Bliss. Their crinkle-cut fries are so good that I'd rather have them that restaurant fries. Possibly even more than my own hand-cut fries! A half-bag is the perfect serving size for me and I anticipate eating a lot of these things in 2022.

• Sustained! I have been really trying to minimize waste more in 2021, recycling whatever I can and eliminating disposable plastics from my life. It's the least I can do, even though it's a ridiculously small dent in the amount of pollution produced (corporations are vastly more responsible than individuals, but convince people it's not their fault). One of the bigger steps I took was to stop buying Saran Wrap (plastic wrap). I used to go through a couple boxes every year, but the one I bought back in March will hopefully be my last. I've also greatly reduced the number of plastic bags I've been buying. My favorite replacement is "BioBag" products which decompose quite quickly in a landfill. They're expensive as hell though, so I've also brought "brown paper bag" sandwich bags for regular use...
They work great! But I also buy Reynolds wax paper bags for things that get sloppy (like the veggie burger with extra mayo I eat on my morning commute!). Or when I'm out of brown bags (like I am now). They have little stickers to keep them closed, which probably makes them bad for the environment, but they are fun to pack for lunch....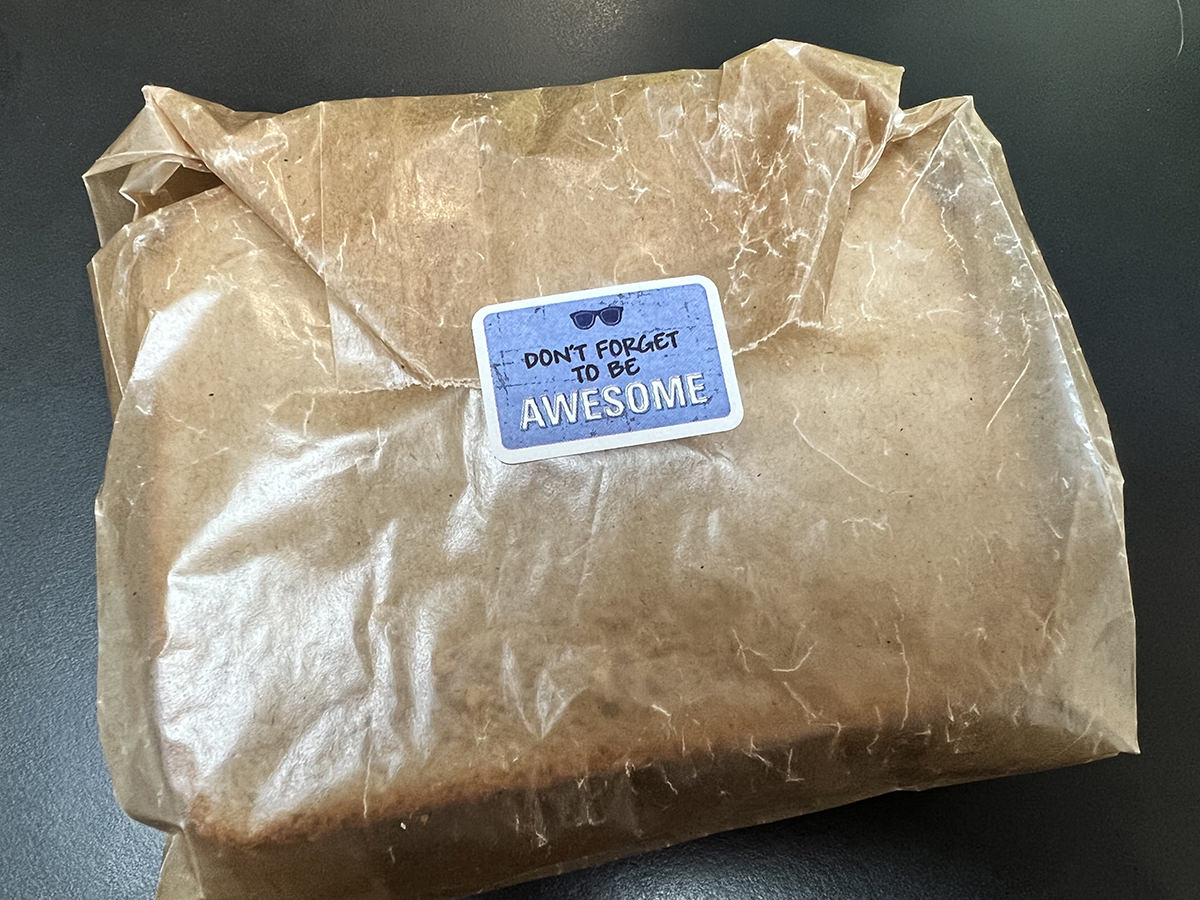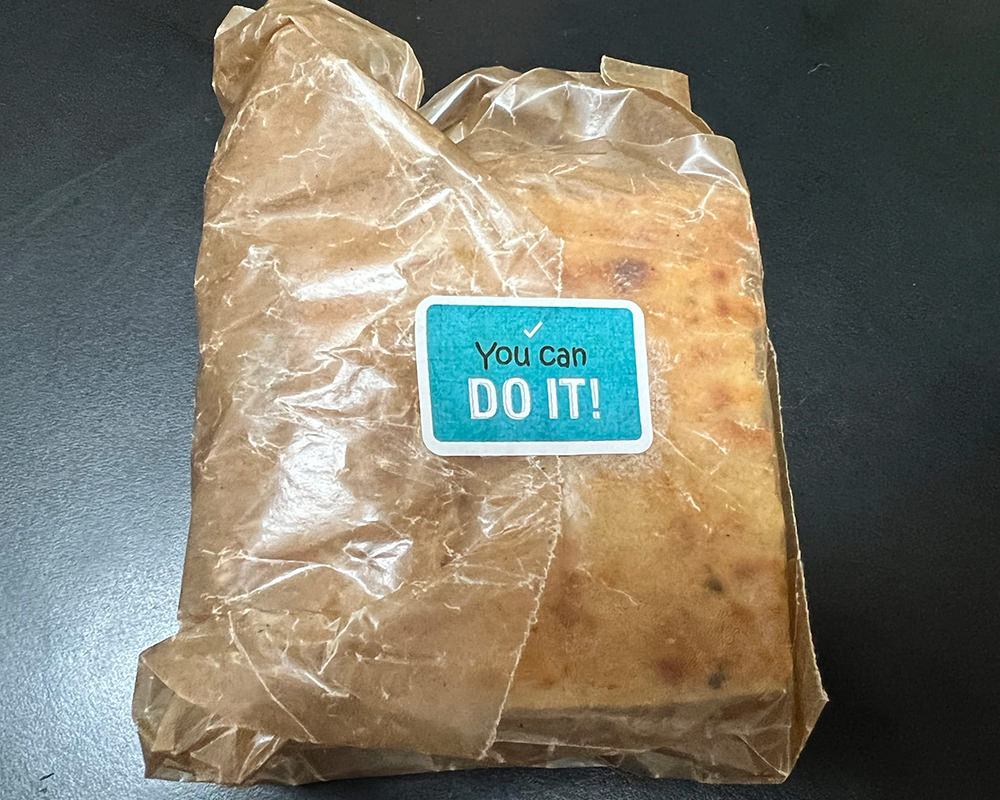 Wax paper doesn't biodegrade like raw paper (or BioBags), but it does biodegrade better than plastic. And uses more natural materials, so I'm chalking that up as a win (even though I'm trying to use them less and less since biodegradable bags are better). The best solution seems to be using glass containers with plastic lids which you can wash and reuse for years, so I've bought more Pyrex as well. Maybe one day they will come up with lids that aren't plastic but, in the meanwhile, they have lasted me over a decade so far, which is far less than if I were using plastic bags.

• Apples to Apples to Apples! This past year was a tough year for me financially because Apple ended up getting so much of my money. But boy was it money well-spent! My new iMac M1 is a (relatively) inexpensive Mac that flies through even my most demanding work. Despite it being on the low-end of the spectrum, it's the best desktop Mac I've ever owned. Then I traded in for the iPhone Pro Max 13, which is the best phone I've ever owned (and the heaviest). Then I traded in for the MacBook Pro M1 Max. Legit the best computer I've ever owned. And my favorite. Not even a contest...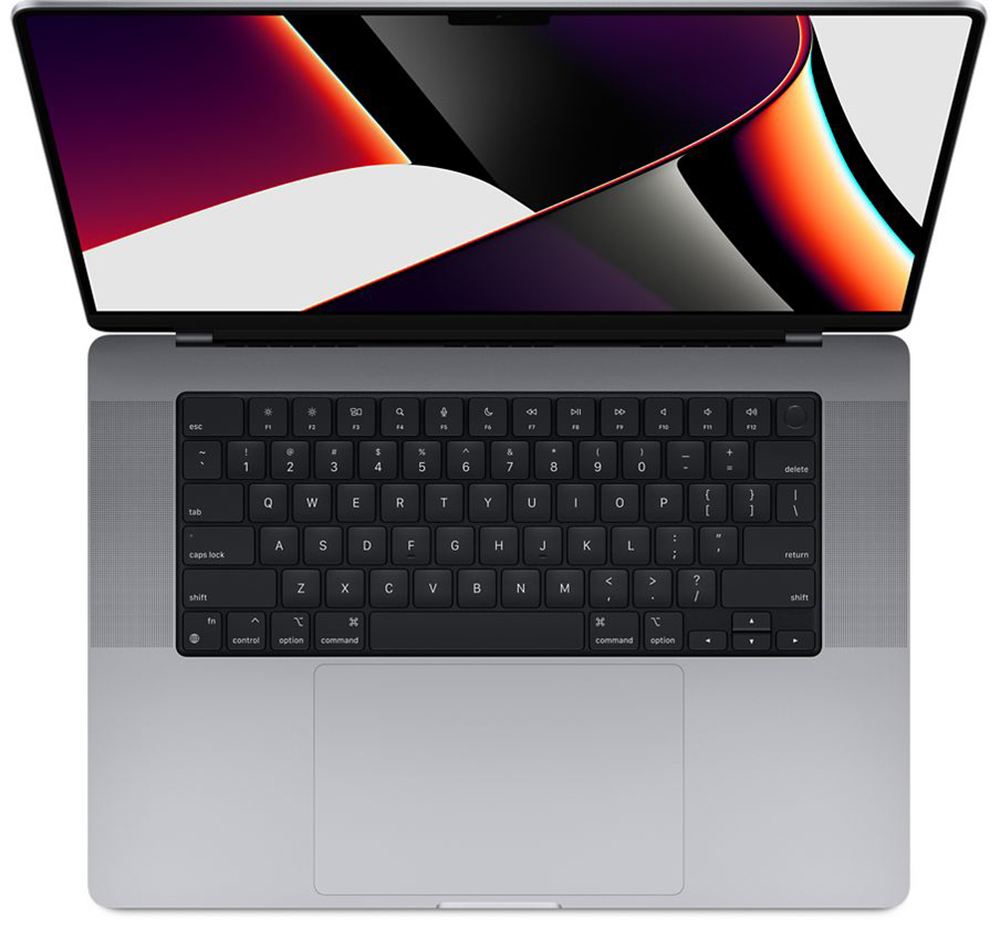 It is ridiculously fast and powerful, has incredible battery life, and is an absolute joy to work with. THIS is the kind of "pro" computer Apple should have been making for the past decade instead of the form-over-function bullshit they were married to. The weird thing is that this MacBook is still really beautiful despite being constructed for function over form. Yet "curviness" was more important than power to Apple for a decade, so that was what we got. Blergh. Hopefully they won't slide back to old habits. The wild acclaim for this computer by pundits and customers alike should tell them they are finally on the right track.

• Travel-less! It has been genuinely strange going from dozens of trips each year to zero in 2020 and one in 2021. Unless some miracle cure arrives which eradicates COVID from the face of the earth, I'm expecting the same for 2022. Because right now I have no plans to go anywhere. But still, that one trip I did take during Delta but pre-Omicron reminded me of what "normal" is like. Even though I was masked most of the time...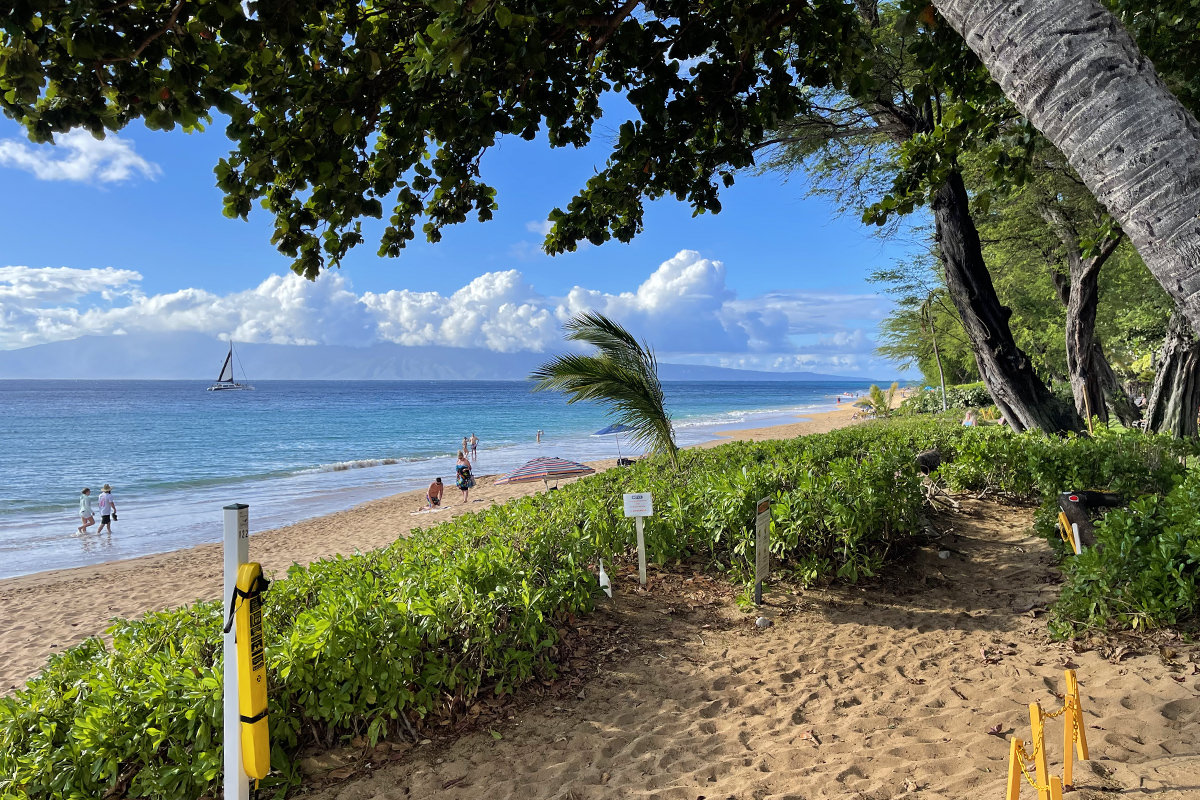 So maybe after they announce a fourth booster I will make a trip just to remember what "normal" used to be like? If I do, it will probably be a trip to San Francisco because that's where my tattoo artist is, and I've been wanting new ink for years now. Fingers crossed.

• Kitty! Once again the thing that saved me in 2021 were my cats. Even at times when I was at my lowest and didn't care about myself, I always cared about them. In 2021 Jenny learned to manipulate me better than in previous years, coming up with an entire menu of meows and behaviors to get what she wants. Jake and I have conversations now. He meows (or tries to) and I meow back. Then we go back and forth for a while. I have no idea what I'm saying, but it must be interesting enough to him that he feels a need to respond!

• Betty! I'm still crushed. I've been avoiding social media and the news so I'm not seeing news about her death over and over. What a shitty end to a shitty year.

• Boosted! I've had people sneer at me for getting boosted, saying that the COVID vaccine obviously doesn't work if you need to get a booster... "WHAT ARE YOU GOING TO DO? GET BOOSTER SHOTS FOREVER??" And the answer is yes. Fuck yes. Because there are mountains of data showing that staying current with vaccinations vastly reduces incidents of serious illness, hospitalization, and death. MOUNTAINS OF DATA! So give me all the shots. This is no different than getting a flu shot every year. Except COVID mutates so fast and the vaccine is so new that we may end up getting two boosters a year instead of one. As the science gets better, the boosters will get better. Eventually we may even have the option for a combo flu/COVID booster, and I will take that shot. 1000% I will take it. I have faith in the science which has given us so much. There's a learning process which goes along with scientific research, and I am happy to be a part of it. I have cats to take care of, after all.

So... yeah. Not a lot else happened in 2021, so I guess that's it. Pizza, fries, sandwich bags, Apple stuff, one trip, cats, the passing of a legend, and COVID. Not a banner year, to be sure.
Tags:
Bulle Sunday
,
Cats
,
COVID-19
,
DaveLife
,
Food
,
Pandemic
,
Travel
Categories:
Apple Stuff 2022
,
Bullet Sunday 2022
,
DaveLife 2022
,
Food 2022
,
Travel 2022+
—
Click To It:
Permalink
—
2 Comments: Click To Add Yours!
Posted on August 30th, 2020

Summer may be coming to a close, but the bullets are just beginning... because an all new Bullet Sunday starts... now...

• Forever! This weekend I held a Chadwick Boseman memoral marathon... starting with 42, Gods of Egypt, and Marshall yesterday... then blowing through all his Marvel movies, Captain America: Civil War, Black Panther, Avengers: Infinity Gauntlet, and Avengers: Endgame today. Mr. Boseman was diagnosed with third stage colon cancer in 2016. Which means he had to be feeling effects while filming Civil War and Marshall... and was battling it in force while filming Black Panther and the Avengers movies. His amazing acting talent is on screen for all to see. But the strength it took to be filming while undergoing treatment for cancer? You never saw that...
It's been weighing on me all day. I've read that he said that he prayed that he would get the role of Black Panther before he was cast. I can only imagine that playing the character kept him going. I don't know. What I do know is that I sure would have loved to have seen more movies from him. But, man, what we got was sure amazing wasn't it?

• Jeopardy! Seems an apt time to remember when Chadwick Boseman was responsible for one of the funniest sketches to ever air on Saturday Night Live...
And now I want potato salad.

• EXCELLENT! One of my favorite movies of all time is Bill & Ted's Excellent Adventure. Far from being a high school stoner comedy (albeit without the drugs), it was actually an incredibly smart film. Time travel was handled exceedinly well, the soundtrack was fantastic, and the casting was genius. George Carlin was an inspired choice as Rufus... and of course Keanu Reeves and Alex Winter were genre-defining in the title roles. The sequel, Bill & Ted's Bogus Journey fell short, but was still a fun ride. And now, 30 years after the original debuted, Bill & Ted are back...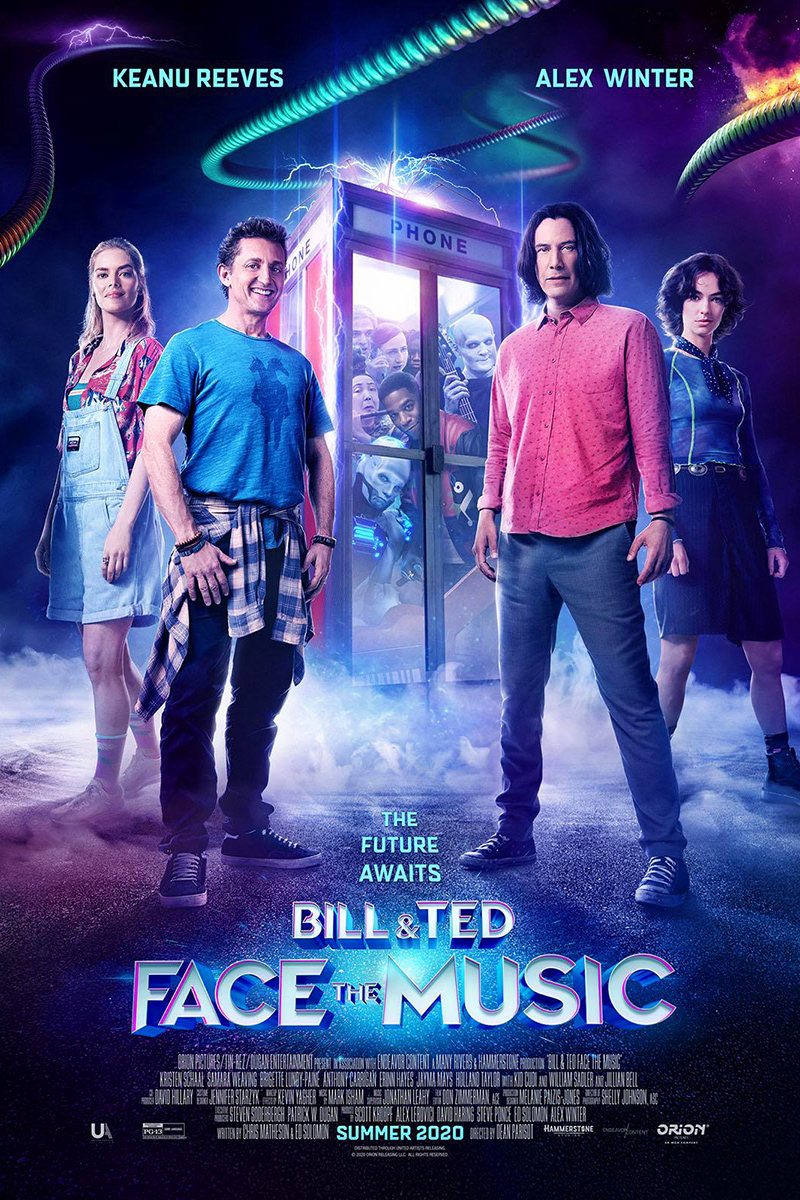 While it's not in the same league as the original... and how could it be when George Carlin is gone?... it was still pretty darn entertaining. I am not going to say a word about the movie because you really need to see for yourself. And you can do that with a $20 rental or $25 purchase price through iTunes and other streaming services. I don't know if it's worth the first-run cost, but it's not like you can run out and see it in theaters.

• #GiantMeteor2020! Well, dang.

• Bird Shit! Johnny Harris does it again... this time with a fascinating video on why the US has all these islands scattered around the Pacific...
Truth is so often stranger than fiction.

• HAN SHOT FIRST! Restoring old films so they will appeal to modern audiences is nothing new. Cleaning up the dust and scratches. Minimizing grain. Sharpening the picture. It's pretty cool what technology can do to help make old films look new. But there is such a thing as going too far. I first remember this kind of controversy when Turner Network Television "colorized" old black-and-white movies. I never thought this was so terrible, but a lot of people did. What I do think is terrible is when classic films are altered so that the story changes. Guns becoming walkie-talkies in E.T. The Extra Terrestrial... and, of course, Greedo shooting first in Star Wars.
There was a lot of outcry over Star Wars... so much so that when they released the modified "Special Edition" on DVD they included a "Bonus Disc" which had a cleaned up version of the original film. I was happy to have it, because the only way I could watch the original was on my LaserDisc copy, which was a very nice picture for 1982, but disappointing for 1997. I didn't mind so much that they replaced the special effects shots with new CGI versions... but the other changes (like Han not shooting first) were pretty crappy.
Now there's a new technique for "stacking" multiple sources of the film so that you can build a more detailed picture...
Here's a still from the original film off LaserDisc...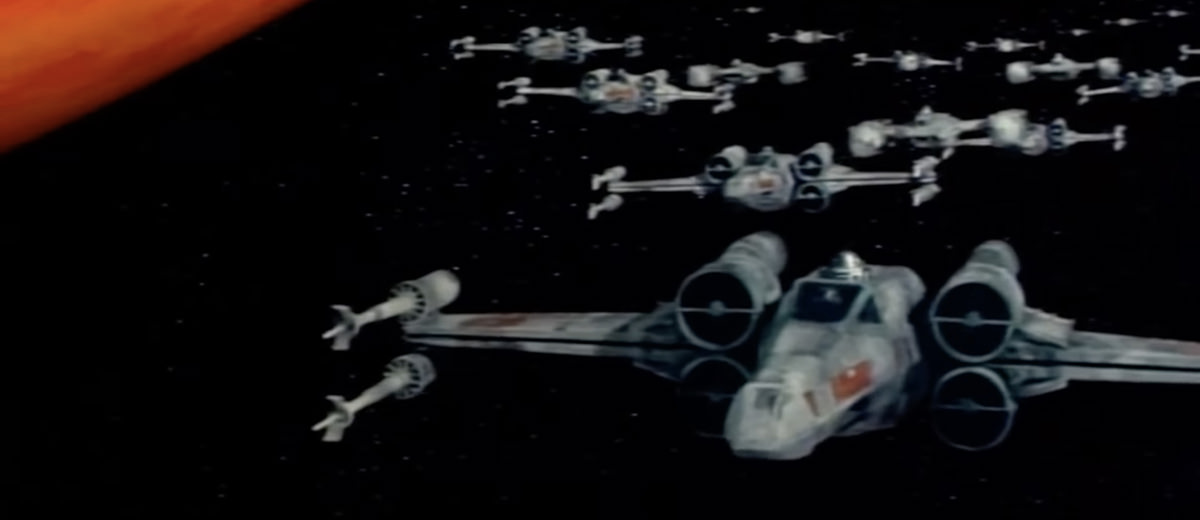 Here's the same still from the DVD Special Edition Bonus Disc of the original film...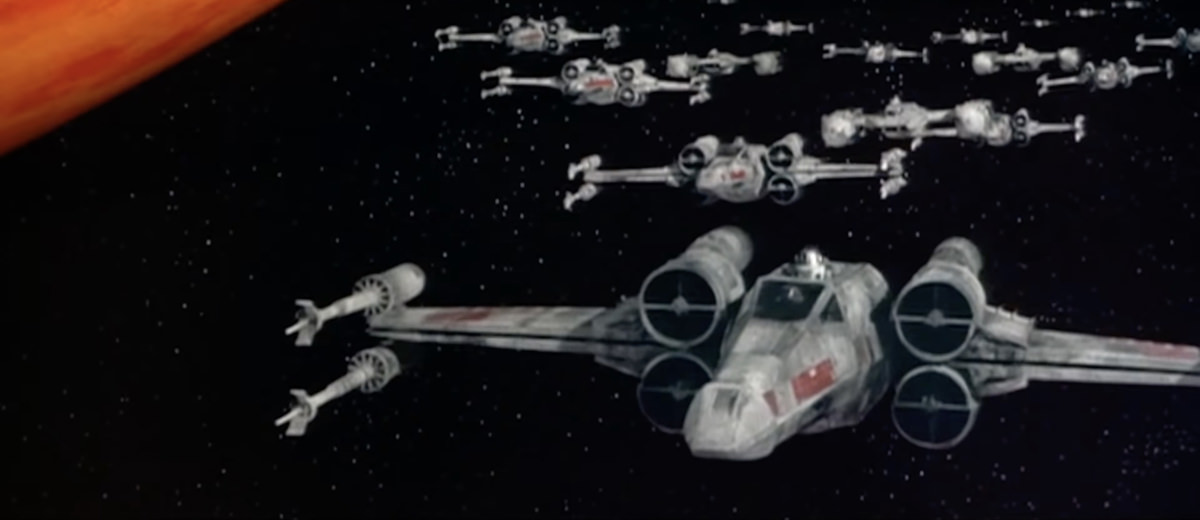 And here's the restoration version which uses details from multiple sources to create a far sharper version...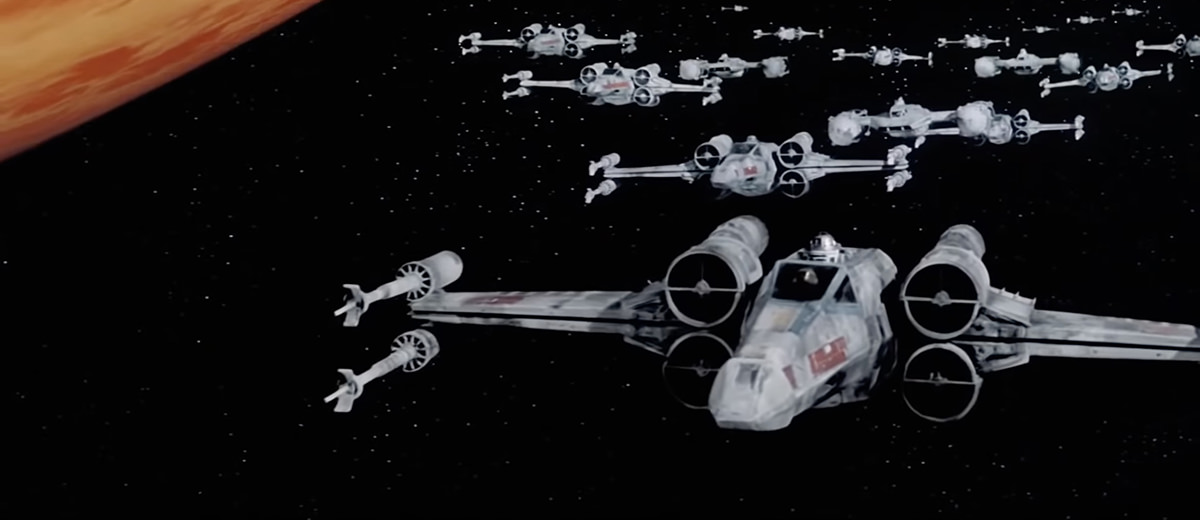 Pretty amazing. Here's an explanation video. Fast forward to 40 minutes if you just want to see what's happening...
Technology so nifty, eh? THIS is a kind of restoration that does more good than harm.

And that's a wrap on my Sunday.
Posted on August 23rd, 2020

Fan conventions may be on hold, but don't get your super-suit tights in a bunch... because an all new DC Comics Fan Dome Edition of Bullet Sunday starts... now...

• FAN DOME! In the absence of fan conventions (like Comic-Con) there's been an awful lot of "virtual cons" happening. DC Comics held their own virtual con event this weekend, called Fan Dome. The only thing I actually tuned in live for was Wonder Woman 1984 and Suicide Squad. Everything else was just when it hit YouTube. Precious little information was dropped for Aquaman 2, Shazam 2, or a new Superman film, but everything else happening in the next 2-3 years was touched upon. Let's take a look, shall we?

• THE SUICIDE SQUAD! Technically, this is Suicide Squad 2, but in order to distance James Gunn's take on the franchise from the previous installment, they added "The" in the front and left "2" off the back. Packed to the gills with characters even more obscure than the original team, Gunn promises a unique take on the material which follows his incredible success with the Guardians of the Galaxy flicks over at Marvel. Out of all the films DC is unleashing on us, this has the best shot of my liking it...
ODDS TO LIKE IT: 85%

• WONDER WOMAN 1984! I was completely unprepared for Patty Jenkins' incredible Wonder Woman movie, released in 2017. It was a fantastic, faithful, and fully entertaining representation of everybody's favorite Amazon for the silver screen. Three long years later, we're finally getting a sequel. I am not 100% sure how exactly how this wacky throwback is going to play out, but the trailer sure looks encouraging...
ODDS TO LIKE IT: 75%

• THE BATMAN! When it comes to Batman live-action movies, the character has fared better than most, but there have been some serious missteps...
Batman (1989) Demented Tim Burton Batman fun!
Batman Returns (1992) Memorable for Danny DeVito and Michelle Pfeiffer and an absurd story.
Batman Forever (1995) Joel Schumacher taking a huge, stupid dump on the franchise.
Batman & Robin (1997) Joel Schumacher's nail in the coffin of Batman movies.
Batman Begins (2005) Christopher Nolan reinvigorates Batman for film in a new trilogy.
The Dark Knight (2008) The pinacle of Batman movies with the definitive Joker.
The Dark Knight Rises (2012) A drastic step down has Batman ending on a whimper.
Batman v Superman: Dawn of Justice (2016) Zack Snyder shits all over Batman, specifically, and super-heroes, in general.
With the exception of The Dark Knight Rises, the best Batman going has been the LEGO games/movies and the animated cartoons. And here we go again, this time with Matt Reeves directing Robert Pattinson in The Batman. Alas, it's looking like a bit of a mess in the trailer, but who knows?
ODDS TO LIKE IT: 25%

• BLACK ADAM! I hate hate hated the Shazam! movie. Now we're getting a movie around one of Shazam's biggest villains, Black Adam. I have no clue what this is supposed to be. Is he fighting Shazam? Is he going to be an actual villain? Who knows. I'd abandon all hope, except Dwayne "The Rock" Johnson is starring in it, so I guess that's something.
ODDS TO LIKE IT: 20%

• THE FLASH! One of the worst parts of Zack Snyder's shitty Justice League was his take on The Flash. Wrapped in one of the shittiest movie super-hero costumes of all time, Ezra Miller's godawful versions looked like a pile of junk instead of the sleek, elegant character from the comics. And those horrific "jokes" that he simply would. not. shut. up. with (courtesy of Joss Whedon, I'm guessing?). has me not giving a crap about this movie. About the only thing even remotely interesting to me is the fact that Michael Keaton's Batman will be making an appearance. Otherwise? Ugh.
ODDS TO LIKE IT: 10%

• JUSTICE LEAGUE: THE SNYDER CUT! One of the worst super-hero films ever created, Justice League was a horrific pile of shit that followed Zack Snyder's truly awful Batman v Superman Dawn of Justice and Man of Steel fiascos. While the fact that Snyder has created it guaranteed it would suck, the fact that Joss Whedon was brought it to make it "funny" in the hopes it would perform like his two Avengers movies made it even worse. An inconsistent mish-mash that I hated more than I ever thought possible. Now Zack Snyder has been given millions of dollars so he can "restore his vision" for the film. Which means it's still going to be a pile of shit... it's just going to be a consistent pile of shit.
ODDS TO LIKE IT: 2%

I suppose if theaters ever open up in the USA again, I might actually get to see some of these. But, more likely than not, I'll just be waiting for home-video. If I'm going to risk death in a theater, it won't be for anything coming out of DC Comics, that's for sure.
Posted on May 24th, 2020

You may be stuck in the house, but you won't be lacking for televised entertainment... because a very special Streaming Video Edition of Bullet Sunday starts... now...

• Big Eden! For better or worse, small-town rural America has been saddled with a shiny veneer of down-home values and a sense of strong community. And, having lived that my entire life, it feels an accurate way of looking at things. But this image kind of glosses over the general bigotry and specific homophobia that seems to permeate it all. Big Eden is a movie which shows what happens if it didn't permeate it all...
This is such a warm, charming, and wonderful movie. I don't want to spoil a thing, but suffice to say that it's flawlessly realized cinema. After finishing it, I had to watch it all over again because there are dozens of tiny moments happening in the backgrounds by actors performing at the top of their game. This won a slew of LGBTQ awards, but I'd hardly call it a "gay movie." It's just a movie about a place that you wish existed.

• The Ultimate Gift! I had ZERO expectations for yet another "spoiled rich brat loses his fortune and turns his life around" movie... but The Ultimate Gift was a really good take on the genre...
James Garner is a multi-billionaire with a truly horrible family. This includes a spoiled grandson who spends money like it was water and hasn't worked a day in his life. Everybody gets short-changed in the will when James Garner dies, but the grandson is given a second chance at an inheritance. All he has to do is complete a series of challenges which will win him gifts... ending with "The Ultimate Gift" after all the challenges have been met. But the challenges are not easy and are designed to push him into being a better person. Yes, there are some over-the-top moments to create artificial angst and drama but, overall, I walked away really enjoying this one.

• Hide Away! (Josh Lucas, James Cromwell • 2012) — This movie has polarizing reviews. Some people hated it. Some people loved it. I absolutely loved it. Josh Lucas shows up at a small coastal town and buys a beat up old sailboat to refurbish. The entire movie is a metaphor for rebuilding your life after tragedy, and has been filmed beautifully. I mean really beautifully...
Some of the reviews were screaming "NOTHING HAPPENED IN 85 MINUTES OF RUN-TIME... NOTHING!!!" To which I can only respond "Maybe everything happened and you just weren't paying attention?" The movie 100% relies on Josh Lucas selling it, and he does not falter. From beginning to end, his nuanced performance and commitment to the story were pretty incredible. The ending takes a little thought to process, but was well-handled, I think.

• Kid Brother! This was one of those films where I pretty much had to trust Amazon's recommendation because I would have never given it a second look had I just seen the poster on the Prime Streaming page. A reclusive janitor's life takes a very different turn when his kid brother comes to stay with him...
Do not let the trailer fool you, there is some really good subtle humor and great performances. Where did Alan Longstreet come from and why hasn't he been in like A HUNDRED MOVIES by now? Clever, charming, and some real heart, Kid Brother is worth a look.

• The Lovebirds! Amazon doesn't have an exclusive on enjoyable movies. Netflix just dropped The Lovebirds, starring Issa Rae and Kumail Nanjani. I'm big fans of both, so I was planning on tuning in even if it looks kinda slapsticky and goofy...
And, don't get me wrong, it's absolutely slapsticky and goofy... but it's not without its charms, and I thought Nanjani and Rae did an incredible job of selling it. When all is said and done, it's a cute, sweet film that manages to overcome its weaknesses. It also take place in New Orleans, which is a definite plus.

• Mythic Quest: Quarantine! And, lastly, a lot of television shows are doing "quarantine" episodes or finding other imaginative ways to carry on. Late-night talk shows are thriving in the age of COVID-19. But none of them... none of them... can compare to the sheer brilliance that they came up with for an all new episode of Mythic Quest: Raven's Banquet...
The trailer shows none of the ingenuity which makes the episode so bloody brilliant, which is actually pretty great because it doesn't spoil anything... including an amazing finale. I really enjoyed the first season of the show from Apple+... this is just icing on the cake.

And that's all the movie bullets I got. Stay safe, everybody.
Posted on March 15th, 2020

We all may be in social distance, self-quarantine exile, but you're in good company... because an all new Bullet Sunday starts... now...

• Rise? I both liked and hated Star Wars: The Rise of Skywalker when I first saw it. On one hand, seeing many of the original trilogy characters come back one last time was pretty great, and the special effects were visionary and sublime. On the other hand the script was complete and total shit. JJ Abrams perverting The Force into whatever he wanted it to be in order to fill in a few of the many, many plot holes in his crap story was embarrassing and insulting. And the fact that almost nothing in the movie made sense, had past precedent, or was ever explained, was ten buckets of lame. Nowhere was this put into such vivid relief than in a reply by Elijah Wood(!) to one of several expositional chunks of story left out of the film, but dropped in fucking tweets...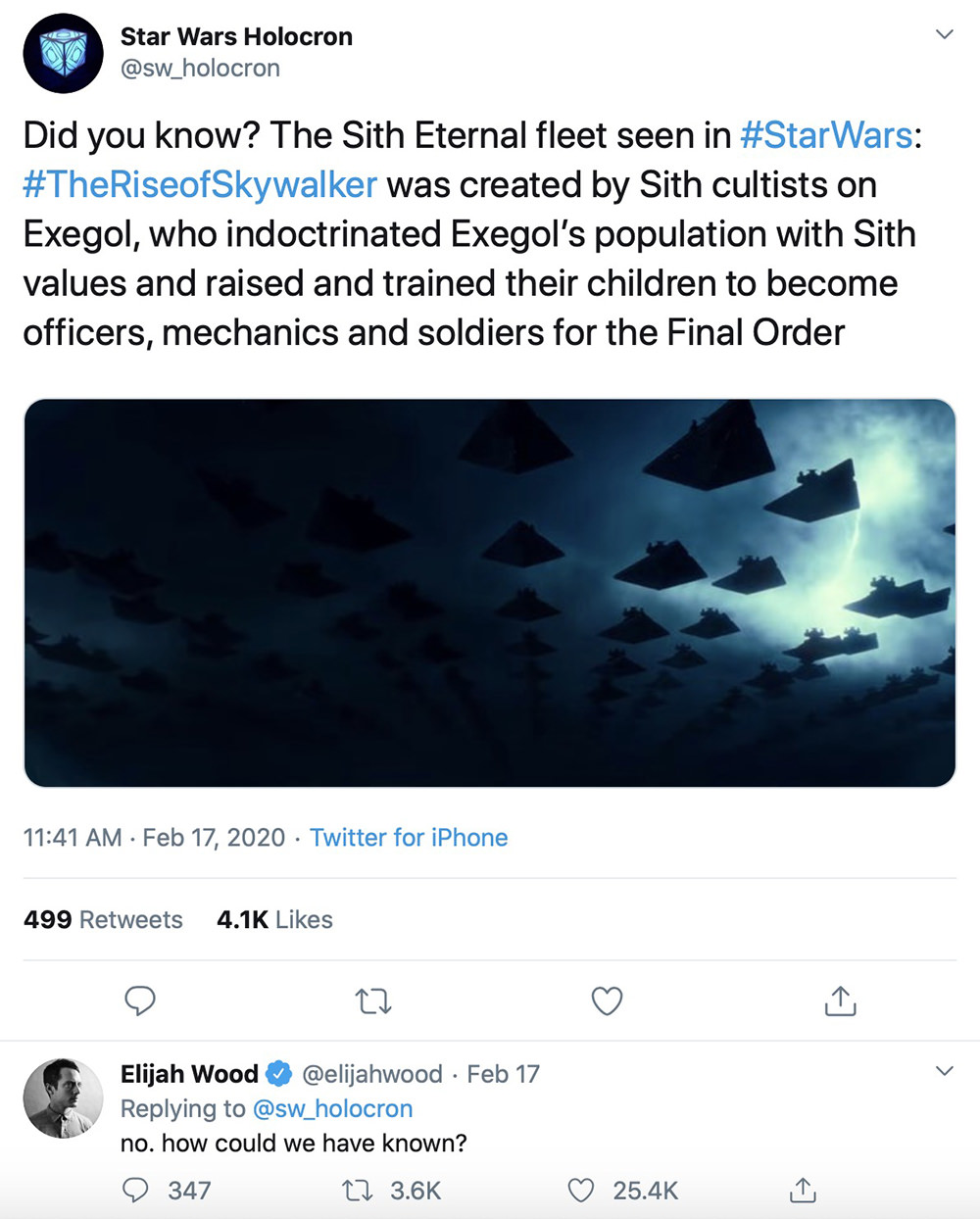 On Friday I got an email from Apple telling me that my digital copy of Star Wars: The Rise of Skywalker was available to watch (a few days early because Disney is doing their part to keep people home). I ordered it when I didn't think I'd make it to the theater to see it... then forgot to cancel after I finally saw it. And so I watched it again. Now I've totally changed my mind on the film, I just outright hate it now. What a shitty, SHITTY way to close things out. My only consolation is that the shitty sequel trilogy was marginally better than the horrendously shitty prequel trilogy when taken as a whole...
Thank God that whole mess is over. Now just let the Skywalker crap finally die like it should have done after Return of the Jedi. As the excellence of the Disney+ series The Mandalorian has shown us, there's far better things to do with the Star Wars Universe than continuously rain shit upon it.

• Do You Want to Build a Snowman? Along with the digital release of Star Wars: The Rise of Skywalker, Disney also released Frozen 2 three months early. I guess they figured they might as well try to drive up subscription numbers for their streaming service since they've had to shutter most all of their movie/television productions...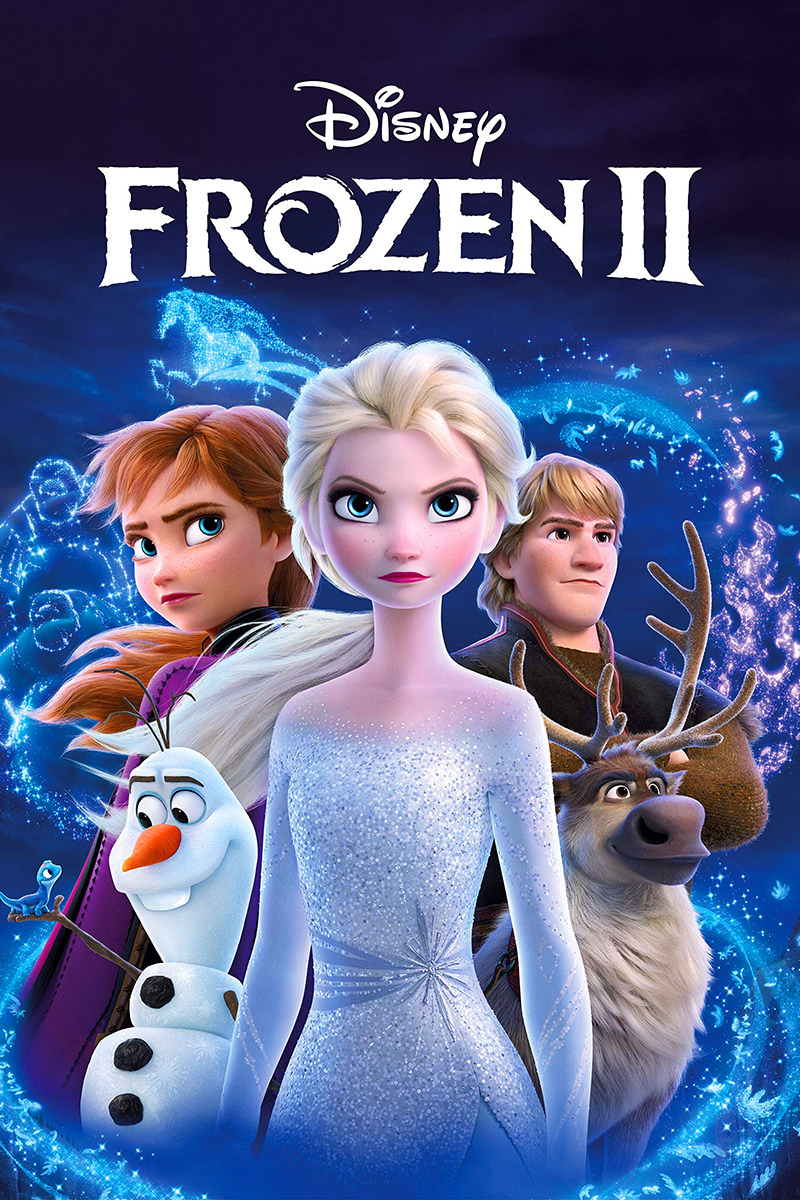 I'm going to be perfectly honest... I am not a fan of musicals. Some of them I like more than others, such a The Lion King, for instance. Live-action is more difficult, but tolerable if I like the soundtrack (like Grease and Xanadu, for example). The first Frozen was annoying musically, but I loved the character of Kristoff (wonderfully brought to life by Jonathan Groff). And so I tuned into Frozen 2 to see what his character was up to. Turns out he's acting weird and being made to play the fool while a really tacked-on story unfolds. It's not that this was a bad movie, it's just that I didn't get what I wanted out of it. Still, better than nothing, I guess? Or is it? I can't help but feel that things should have been left alone after the first one. Except... the animation and design is phenomenal, beautiful, mind-blowing stuff.

• Joy! In addition to crap Star Wars and an unneeded animated sequel, I've been delving back into all five seasons of Killjoys. The show always amazes me. It has fairly good (but not extravagant) production values which are complimented by complex stories and multi-faceted, highly interesting characters. Every episode feels as though they made the best possible use of budget and resources while never losing sight of the big picture of the universe they were building...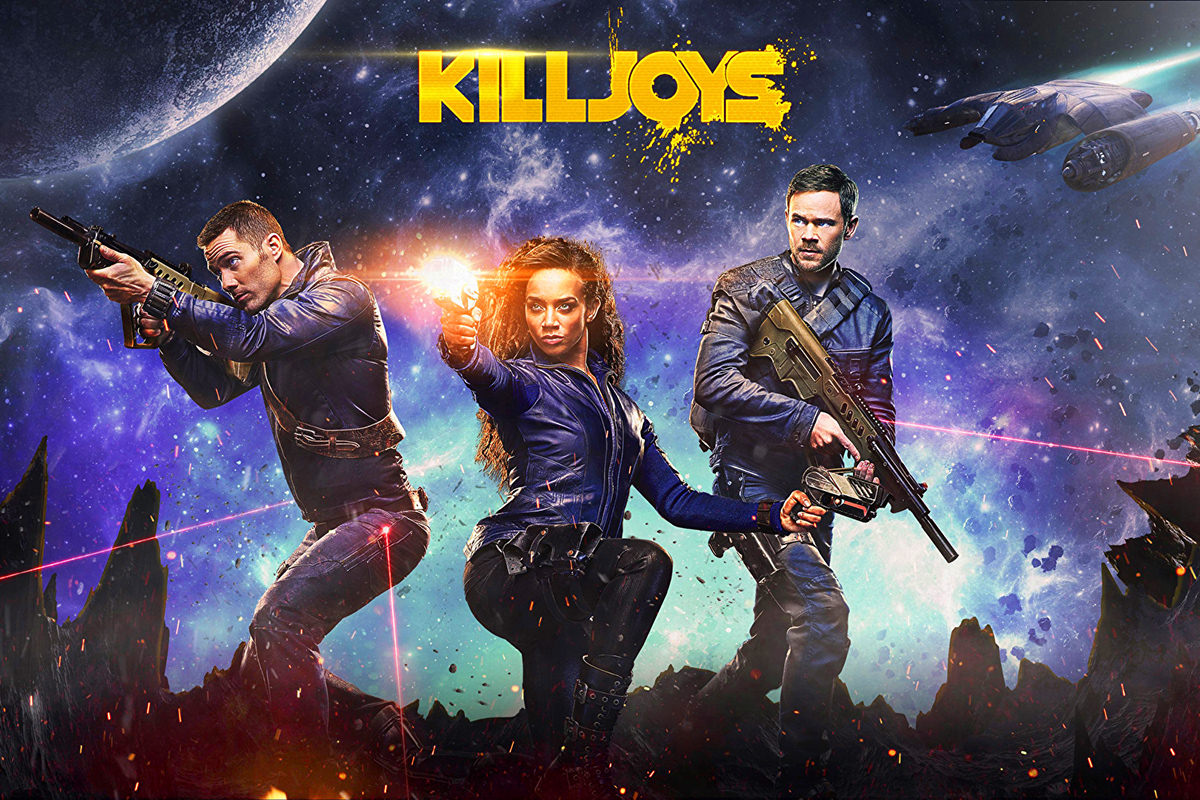 Smart, funny, violent, serious, disturbing, and all-around good sci-fi, this is the whole package. My amazement only grows as I rewatch it from the beginning (the fifth and final season ended last September). The series follows three "killjoys"... bounty hunters... as they work through their personal demons while trying to skate a moral divide between doing good and doing their job. It started strong. Got better. Kinda dropped off a bit at the end, even though I can't really complain about how it ended. It probably was good to cancel it before the show bottomed out, but I can't help but think there were more stories to tell. And could be more stories still if we get some movies or specials or something.

• MAR10! March 10th is known in Nintendo circles as MAR10 (MARIO) because a number of games and Mario products end up with a discount. One of the games on sale was Yoshi's Crafted World for $20 off, so I snatched it up. The game itself is a simple, fun, and clever platform puzzler which has a cool "handcrafted" look where everything is made from paper, cardboard, and other crafting junk...
Yoshi games have always been fairly easy to play... slightly more difficult to complete at 100%... which makes it a perfect choice for a casual gamer like me who wants a distraction instead of a serious challenge. Oh yeah... it's adorable too.

• Go West! And so... the third season premiere of Westworld is finally here. I had read some seriously mixed reviews of the first four episodes that were made available to the press. I, of course, have only seen the first episode. It was... interesting? I mean, they've completely jettisoned what made the show be the show... i.e. Westworld... so it's pretty much just fake people on a murder-spree in Futureworld, but I don't think that's necessarily a bad thing...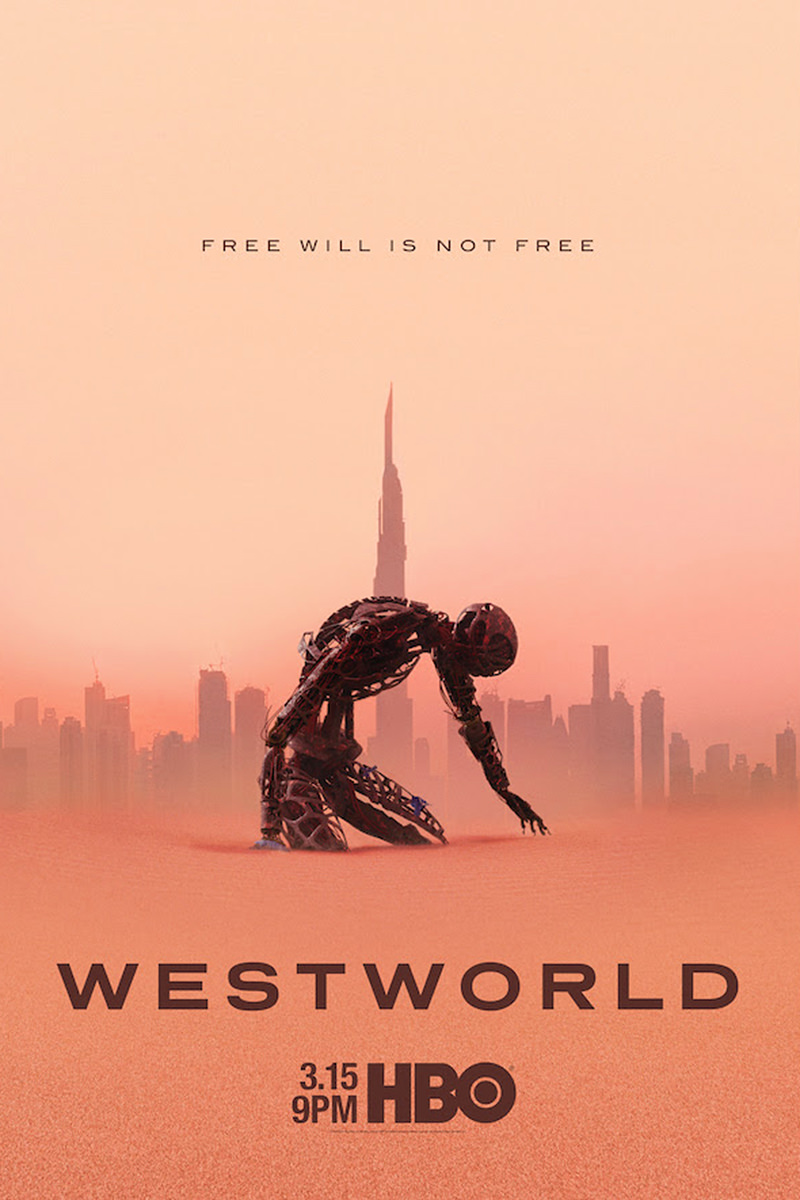 Watching Delores go full-on Terminator in a wonderfully-imagined future is pretty great... so even if that's all we get, I'll keep watching. The thing about the first season which made it so fantastic is that it was so beautifully plotted and deep in concept. The second season was far shallower, but attempted to compensate by going non-linear with the story to poor effect (the first season played with the timeline amazingly well, so I don't know what happened there). It looks like they are not bothering to play with the timeline this time around... unless this really IS Futureworld and Delores is a GUEST? How mind-bending would that be? Well, Evan Rachel Wood, Thandie Newton, and Jeffrey Wright are phenomenal, regardless, so I'm hoping this reduced 8-episode season is worthy of their talent.

• FIVE! Tonight was also the finale of Avenue 5, a fantastically funny space farce starring Hugh Laurie. I have been loving the show, even when it took a decidedly dark turn last week (in a way that was actually still pretty darn funny). The ending isn't an ending, which would have me furious if not for the fact that HBO has already renewed it for a second season...
It's surprising that HBO is fostering such a delicious series when I know that the twisted humor is not going to appeal to the masses. But it very much appeals to me, which is all I care about. I am really hoping that they can manage to expand on the show for next season instead of retreading what they've already done (something that was already starting to happen at the end). And thank you to HBO also for giving the show such a massive special effects budget. I mean that... the sets are expansive, beautiful, and look like they cost a fortune. Worth a look if you haven't seen it yet.

And that's enough of that... keep washing those hands, everybody.
Posted on July 7th, 2019

It's a glorious day to be alive... because an all new Bullet Sunday starts... now...

• IN THE NEWS: Mississippi makes it a jailable offense to call plant-based or cultured-meat patties "burgers."
Seeing as how Mississippi ranks 49th out of the 50 states in education. Perhaps it's understandable that their state government thinks the populace is TOO FUCKING STUPID TO KNOW THAT A VEGGIE BURGER ISN'T MADE FROM A COW. But are they smart enough to know that a veggie dog isn't made from a dog or do hot dogs confuse them too?

• Ski! Somehow I missed this excellent short video on Jim Niehues, the guy responsible for painting so many of those ski run posters you see at all the resorts...
Incredible stuff.

• Dreaming! Any comic book series is going to have its ups and downs. A series which had less downs than usual was Neil Gaiman's Sandman. A complete reimagining of the cheesy DC Comics character...
My favorite thing to come out of the series was Sandman's sister, Death, as she appeared in the mini-series spin-offs by Gaiman Chris Bachalo...
Death: The High Cost of Living is easily one of my all-time favorite comic books.
And now comes the news that Netflix has commissioned a Sandman TV show. Despite the fact that Gaiman himself will be involved, I am more than a little nervous. The series seems all but unfilmable given the visual language of Sandman's world. And the stories are wildly tied to the medium they were created for, and I question how well they will translate to television. I hope it's good. I hope Death makes an appearance...
"A wizard attempting to capture Death to bargain for eternal life traps her younger brother Dream instead. Fearful for his safety, the wizard kept him imprisoned in a glass bottle for decades. After his escape, Dream, also known as Morpheus, goes on a quest for his lost objects of power."

• German! I ran across one of my favorite Trevor Noah's Between the Scenes the other day...
I mean, they're all good... but his wit is at its sharpest here.

• Mermaids! Disney has found their latest live-action princess when they cast Halle Bailey as Ariel in The Little Mermaid. She's incredibly talented and I know of her from appearing in Grown-ish (the TV spin-off from Black-ish)...

Photo by Evan Agostini
Disney, being the savvy company they are, cast who they felt was best for bringing the character to life... regardless of race. She's a Grammy nominee, for heaven's sake. But of course the bigot brigade is all #NotMyAriel because the idea of a fictional half-fish girl being played by a Person of Color is just too much for their tiny brains to process. Time will tell If Bailey will make a good Ariel. Personally I am trusting Disney on this. But holy crap... give the young woman a chance! They haven't even started filming yet! I sure hope she isn't bothered by all this nonsense.

• Plus Plus! Speaking of Disney... as if the Marvel and Star Wars series in development weren't enough reason to compel me to subscribe to the Disney+ streaming service when it debuts later this year, now they've got a new series called Life and Deaf in development with one of my all-time favorite actors, Marlee Matlin. Somebody at Disney is very, very serious about competing with Netflix!

Have a great Sunday!
Posted on June 2nd, 2019

The summer heat has arrived, but it's cool here... because an all new Bullet Sunday starts... now...

• Mufasa! I'm mostly indifferent to all these Disney live-action remakes, having taken a pass on Dumbo, Aladdin, Alice in Wonderland, and the rest. The exception being The Jungle Book, which was exceptional. And now there's another I will absolutely be tuning into... The Lion King. I mean, just look at this screen grab...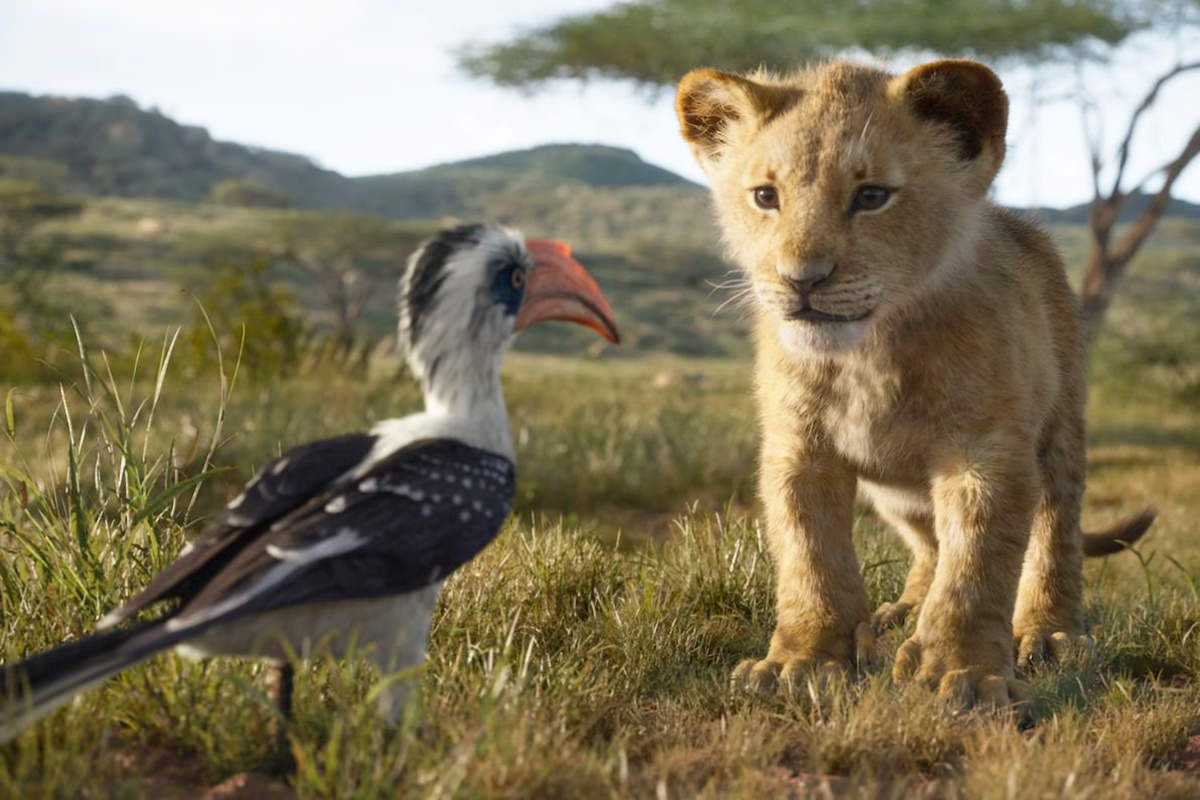 The teaser trailer sure looks great...
And, the icing on the cake? Disney wisely got James Earl Jones to reprise the role of Mufasa...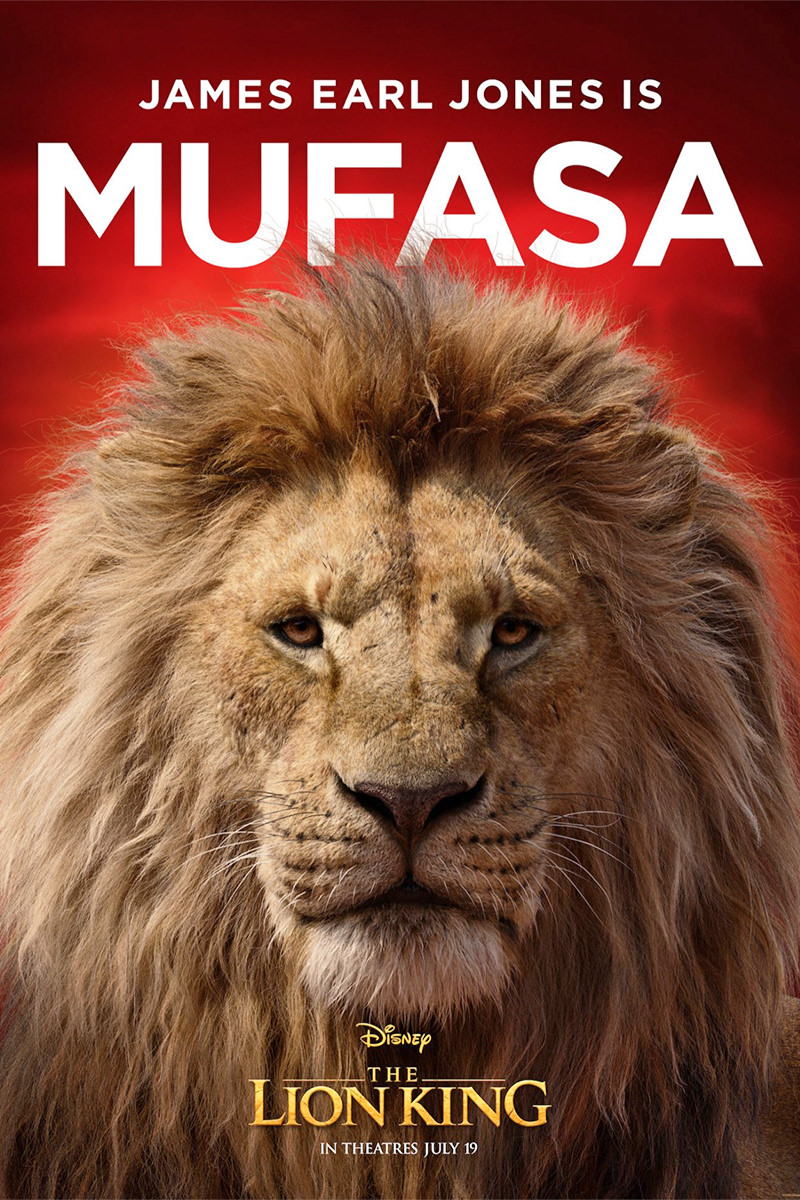 While nothing could ever replace really good animation for me, really good CGI can also be fun.

• Fake! I don't know what's more impressive. Bill Heder's incredible impersonations... or the "Deep Fake" technology that puts their faces over his...
I'm going to go with "both" on this.

• Codex! One of the highlights of my visit to Milan, Italy was a visit to Biblioteca Ambrosiana (Library of Ambrose) so I could view pages from the Codex Atlanticus, a collection of works and writings by Leonardo DaVinci. Much to my surprise, they've now put this master work online, which you can look at here. It's pretty spectacular stuff...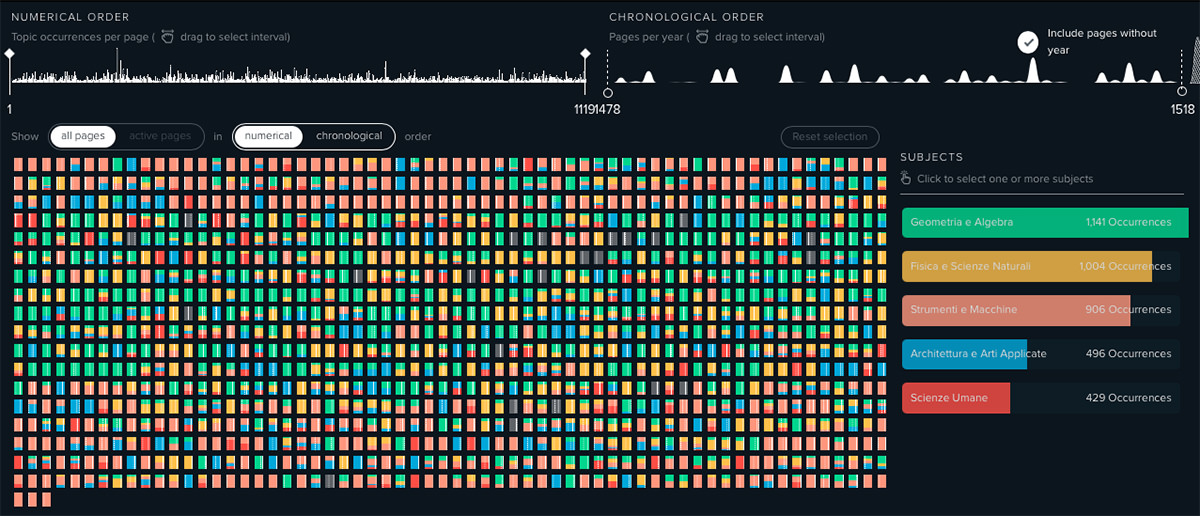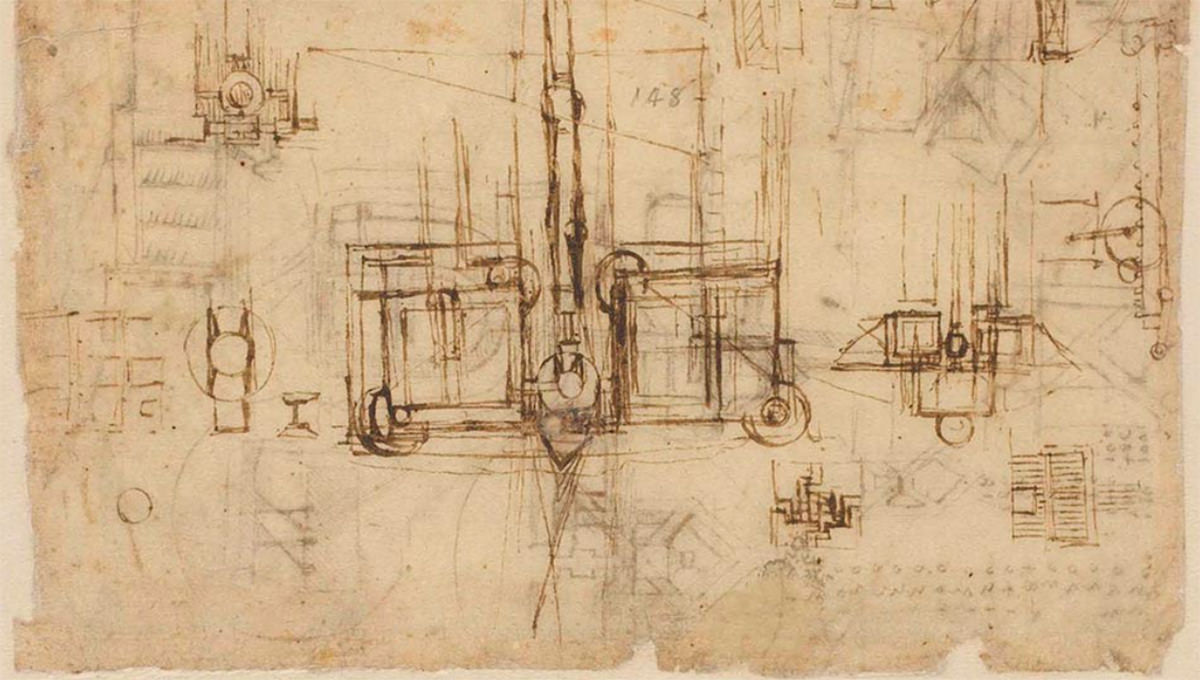 All too easy to lose a lot of time exploring.

• Cracker! Remember the good old days when you wanted to eat crackers in bed... AND THE FUCKING PACKAGE WOULD ACTUALLY OPEN AT THE SEAMS INSTEAD OF YOU HAVING TO RIP INTO IT LIKE AN ANIMAL?!?
So stupid. How difficult is it to go back to packaging that actually opens, PREMIUM BRAND SALTINE CRACKERS?

• Burnt! I guess the money for all those golf trips has to come from somewhere. But cutting wildland firefighting jobs ahead of fire seasons that just continue to get worse and worse is insanity. Guess this country is literally going to go down in flames.

• Once More For the People in the Back! I've posted this before. It can't be shared enough...
I keep seeing misinformation as to how tax brackets work over and over and over and over again. I can't believe that there are people who don't get it.

And that's a wrap. if you're in the Northern Hemisphere, don't overheat!
Posted on February 10th, 2019

Don't go fretting that you aren't in touch with what's new in life... because a Very Special Edition of Bullet Sunday starts now...

• NEW Disco! I tell you what... Star Trek: Discovery has been knocking it out of the part again this season. Even slow, throw-away episodes (like the latest one) have surprising depth. But, then again, any time spent with my favorite Kelpien, Saru, is time well-spent...
There is a campaign to get Doug Jones an Emmy for his work as Saru, and I can't think of another actor more deserving. Jones has flawlessly constructed movement, voice inflections, and mannerisms that feel completely alien, and the skill to be doing all that while completely encased in makeup and facial appliances is remarkable. He had better at least get nominated.
If you like sci-fi and are not watching Disco, you owe it to yourself to take out a free trial for CBS All Access and see what you've been missing. I am a diehard fanatic of Star Trek: The Original Series, and feel that this is the best series to come out in the Star Trek Universe since then. I was not impressed with any of the Next Generation/DS9/Voyager/Enterprise shows, but this? This is great stuff (despite the bitching and moaning from "Star Trek fans" that hate it... which, if that's you, don't worry... you'll be getting your Next Generation pablum when Captain Picard comes back with his new show).

• NEW! Netflix has just unleashed the third season of the One Day at a Time reboot, and it did not disappoint...
If there's a flaw, it's that the show feels the need to continue addressing absolutely every social issue in existence. It's handled really well, but it can still be exhausting. Yes, it's great to see the show address current events, but it's at its best is when it focuses on the people behind the issues. Fortunately there's plenty of that as well, and I'm hoping we get a fourth season.

• NEW Boys! Pet Shop Boys have a new EP that just dropped called Agenda. And it's as relevant and interesting as you would expect...
And then there's thinly-veiled political message, perhaps?
Yeah. Just when we needed it most.

• NEW Ellen! What would it take to coax Ellen DeGeneres to do her first standup special in 15 years? Apparently it's the $20 million that Netflix ponied up for Relatable, which was released back in December...
I just watched it again last night and I gotta say... it's worth the money. Ridiculously funny. Probably my favorite of all her specials so far. Until Netflix lures her back with $50 million maybe?

• NEW Boarding! CGP Grey released a new video this past week on how to best board an airplane. It's an interesting discussion, to be sure...

• NEW Country! With rare exceptions, I am decidedly not a country music fan. Though recently Casey Musgraves has me re-thinking this stance with her amazing Country-Pop fusion, which is some of the best music I've heard in a while. Because of that, I found this analysis on the current state of Country to be a fascinating watch...
The fact that the finger-snapping madness is becoming such a predominant force in music today is pretty disheartening. Time will tell if it's eventually replaced by something even worse.

No more new for you. See you next Sunday.