Since today is Friday, it's a work day... even when I'm in St. Louis. But I did manage to get out a bit in the morning and afternoon to see some of the sights, so it's all good.
I've been to St. Louis exactly two times. Once to visit the Hard Rock Cafe on my "Hard Rock Run" road-trip in 2000 (which included Indianapolis, St. Louis, Memphis, Nashville, Gatlinburg, Myrtle Beach, Atlanta). And again for work in 2002. When I went to visit The Gateway Arch on my first trip, it was closed. On my second trip, I became violently ill, and couldn't even think of being trapped in an enclosed space.
So when Ajooja won the "Dave Event in Your City" Grand Prize for Blogiversary 5, I swore to myself that I would go up The Arch this time, even if I had to climb it on the outside. Fortunately, this wasn't necessary. When I got to park at 8:00 this morning, there was hardly a line at all, and I was the first person to the top when they opened the doors.
It was totally worth the wait...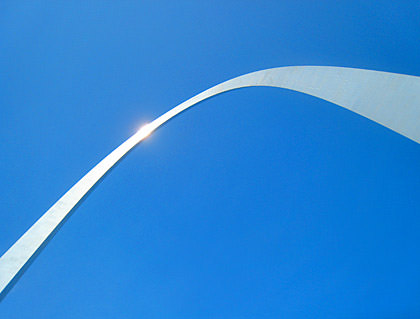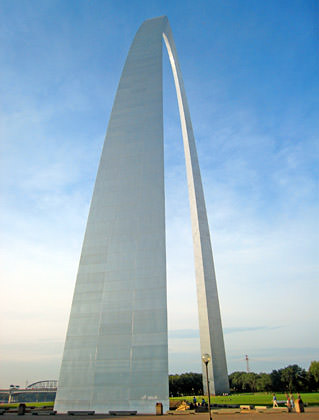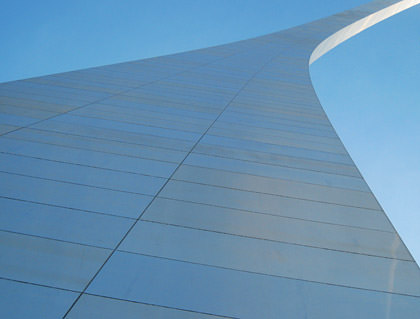 The structure is sublimely beautiful, and photographs simply cannot do it justice. To the naked eye the steel exterior reflects the ambient light in a way that makes parts of The Arch seem to "disappear" into the skyline, giving it an almost ethereal quality.
To get to the top, you have to board one of eight tiny five-seater cylindrical elevator cars that are chained together and pulled upwards. Gina summed them up perfectly when she said they have a "2001: A Space Odyssey" feel to them. As you climb The Arch, a recording describes the system as "part elevator, part train, and part carnival ride." This sounded very interesting, but there is NOTHING detailing the elevator system in any book, brochure, or postcard I could find. When I asked the nice Park Rangers questions about how the cars worked, I got precious little information (and 9-11 thrown in my face as the reason why). Oh well. Still very, very cool...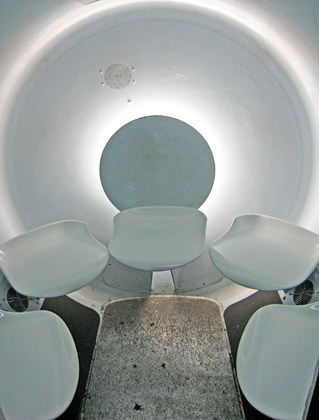 For some reason I was expecting the top of the arch to be a tiny cramped room (like the Statue of Liberty, perhaps), but it was actually quite roomy...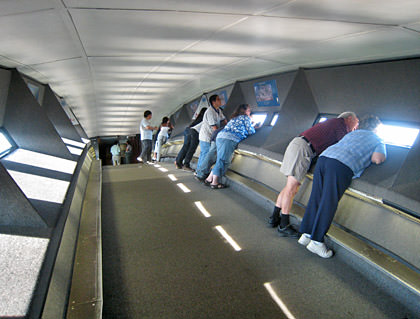 I was blessed with beautiful weather (despite the crappy forecast I had looked up yesterday), so I had an excellent view of the city...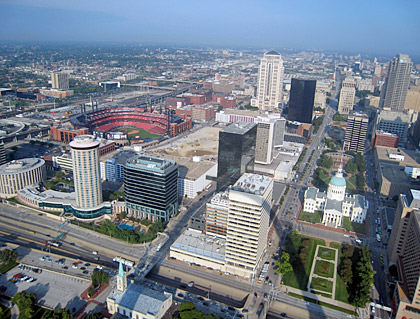 Here's a pano I stitched together. If you click on it, it will open a bigger view...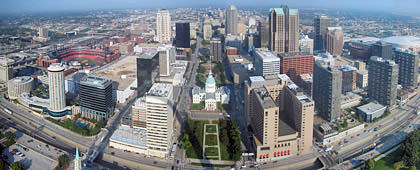 Once safely back down to earth, I headed across the street to "The Old Courthouse." This is a famous monument because of the infamous Dred Scott trial where slavery was upheld. The building is quite remarkable because of the beautiful dome interior...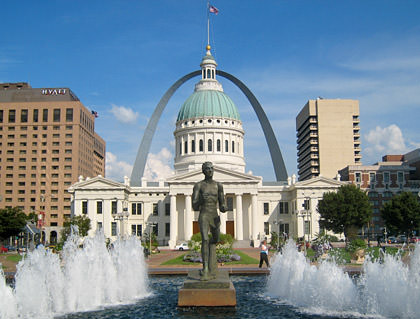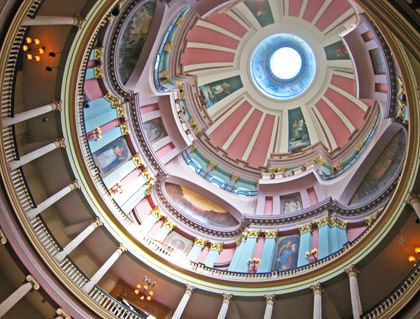 As I was walking back to my hotel, I happened across "St. Louis Bread Company" which uses the exact same logo as my beloved Panera Bread. Closer inspection showed that they have the same exact menu as Panera as well. A quick look on Wikipedia on my iPhone told me that St. Louis Bread Co. was bought out by Panera, but they kept the original name in St. Louis (for obvious reasons). A delicious Mediterranean Sandwich made the perfect brunch-time meal...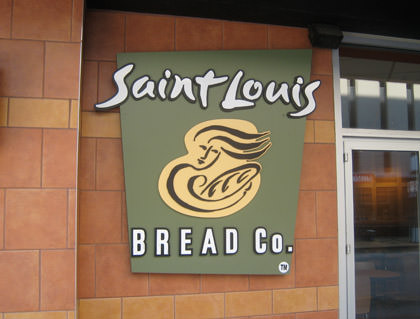 After getting some work done, I decided to take the MetroLink to Union Station so I could visit the Hard Rock Cafe to see if anything had changed in the past eight years. The location was originally a massive train station, but they made a kind of shopping mall out of it with a lake in the middle...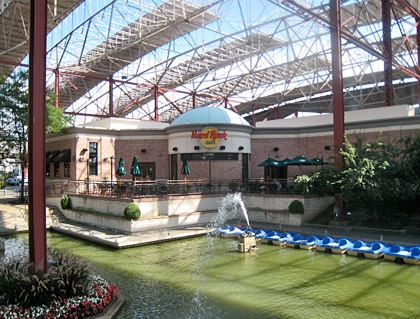 Since I've been dying to see Hellboy 2: The Golden Army, I decided to catch a movie, but couldn't find it playing anywhere. So instead I went to see Star Wars: The Clone Wars. I wasn't a fan of the prequels, but love cartoons and thought the poster looked kind of badass cool...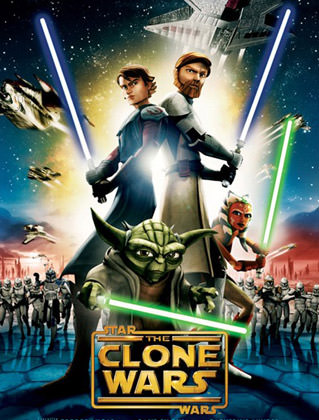 Uh huh.
Due to massive amounts of profanity and adult situations, I've decided to put my "review" in an extended entry.
As for me, I'm going to call it a night so I can attack the city fresh in the morning. There's a lot left to do, and only one day to do it all.
Star Wars is a huge part of who I am.
When I saw it as a kid, the film completely consumed my imagination and changed my life forever. I don't say this lightly, because it's true. It has to be true, because I've spent every day since dreaming of a galaxy far far away and being obsessed with science fiction in every form I can get it.
I remember borrowing my dad's 8mm movie camera and filming my own Star Wars adventures using stuffed animals which were painstakingly moved in tiny amounts, frame by frame. Special effects were draw directly on the developed film using a Sharpie marker and a magnifying glass. My home movies were shit, but they were a labor of love that continued the Star Wars story onward.
Years later, George Lucas decided to revisit the Star Wars universe and unleashed the crappy prequel trilogy upon an unsuspecting world. Reduced to fart jokes with shitty stories about trade negotiations, and devoid of the sci-fi brilliance that made the first two films so engaging, I pretty much hated all of them. After my review of Revenge of The Sith, I laid it out in a ranking chart like this...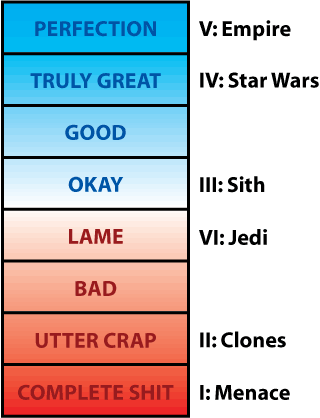 Heaven only knows that my expectations were not high for the Clone Wars cartoon movie, but I was completely unprepared for just how bad it turned out to be. It was so horrendously bad that my ranking chart was grossly inadequate to describe the complete and total suck that I witnessed. I had to extend the chart to a whole new level...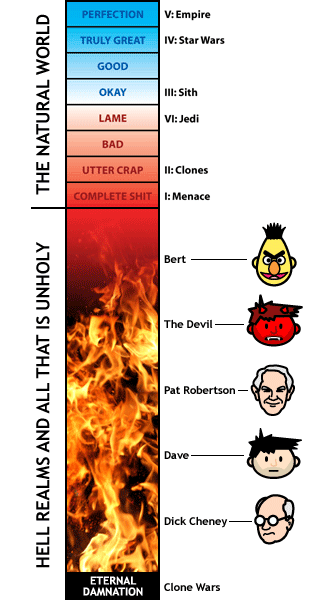 WHAT THE FUCK?!?
Seriously... WHAT THE FUCKING HELL IS THIS SHIT?!?
Did writer/producer George Lucas run out of money? Did he lose a bet? Has he gone fucking insane? I'd honestly like to know, because I've run out of possibly excuses as to why he would ever release this pile of excrement.
Everything that I fucking hated in the shit-infested crap that perverted every Star Wars film after the masterpiece that was Empire Strikes Back is in full force with the utter travesty that is Clone Wars. Fucking whiny annoying kiddie characters. Fucking fart jokes. Fucking boring ass stories. Fucking lame-ass characters. Fucking American slang diction. Fucking stupidity at every turn. From every conceivable angle, this "movie" was a total turd stain that has finally put the last nail in the Star Wars coffin for me. I don't care if I ever see anything Star Wars ever again.
I know a lot of people will read this and say "well, it was a cartoon that was made for kids... that's why you found it childish and stupid, because it wasn't made for you."
Bullshit. Bull fucking shit.
I love cartoons. I love animation. Watching a cartoon film made for kids is not a problem for me.
Watching a cartoon film made for kids that sucks ass is a problem for me.
Even if you discard the dull-as-a-box-of-rocks storyline that attempts to be exciting by having repetitive battle scenes every five minutes... even if you ignore the cheap and shitty animation... even if you excise the awful musical score... even if you eliminate the cheesy gag-inducing dialogue... this "film" is an abomination. George Lucas should be so ashamed that this pile of shit was released with the Star Wars name on it that he commits seppuku in the lobby of Industrial Light and Magic (which is about the only good thing left to come out of Star Wars).
I hate this movie. Fucking HATE it.
I could go on to describe what the movie is about, but that would involve me having to relive Clone Wars, when all I'm trying to do is desperately forget I ever saw it. Who the fuck wants to remember such as vapid absurdity as Jabba The Hutt's gay uncle (I am so not kidding) and such insipid idiocy as Anakin's plucky alien teenage girl sidekick constantly calling him "Sky Guy." Give me a fucking break. I never thought there could possibly be a character more annoying than Jar Jar Binks, but here she is!
So thank you George Lucas for once again raping Star Wars to create garbage that has rained shit down upon the fans who made you a billionaire in the first place. When you released Phantom Menace I thought perhaps your magic had gone. After you released Attack of The Clones I was sure of it. Now I'm thinking that this isn't the case at all... you just hate us. You actively despise anybody who ever loved Star Wars, and now you've decided we need to suffer. Again and again.
Of course, there's still the live-action Star Wars television show you're working on that's yet to come.
I can't even fathom what horrors are going to come out of that shit.
Fortunately, it doesn't matter anymore. Thanks to Clone Wars, I don't give a flying fuck.
And obviously, Mr. Lucas, neither do you.