When I looked out my window this morning I was excited to see that it was still overcast, yet not raining. Perfect weather for exploring!
One of the many nice things about the city is that Helsinki has an excellent tram system for getting around. Even so, I usually like to walk so I don't miss anything between stops. Having cooler weather makes the walking so much nicer.

Hammers aren't the only thing swinging here... LOOK OUT!
My first stop was someplace I wasn't interested in going. But I went anyway because I really didn't want people screaming "ZOMG! I CAN'T BELIEVE THAT YOU WENT ALL THE WAY TO HELSINKI AND DIDN'T VISIT THE ROCK CHURCH!" at me. And so I give you... Temppeliaukion Church...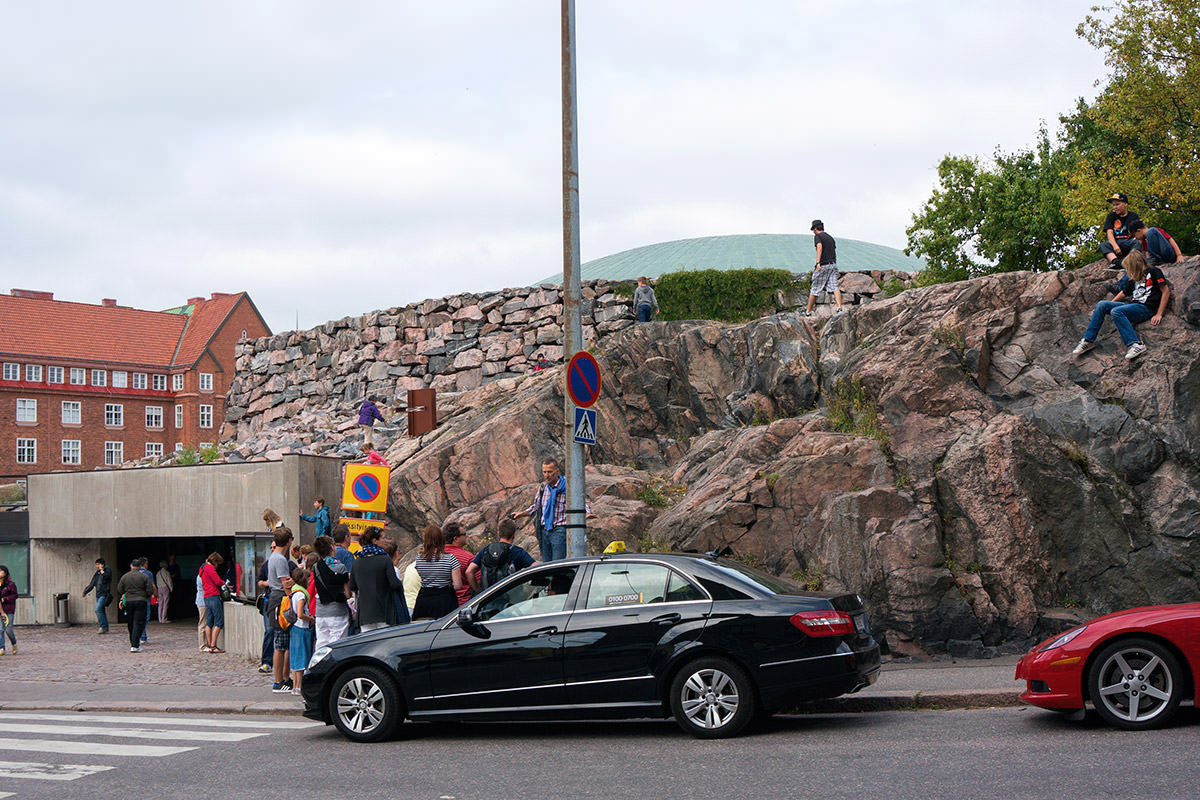 Thrilling, I know. But it does get more interesting on the inside...
It's nice enough, I guess, but I like churches for their artwork, so this one really doesn't do it for me. I did like the way that accents, like this prayer candle rack, are bolted onto the rock though...
As I was walking to Senate Square, I saw a statue of a little girl riding a tiny dinosaur. You're welcome...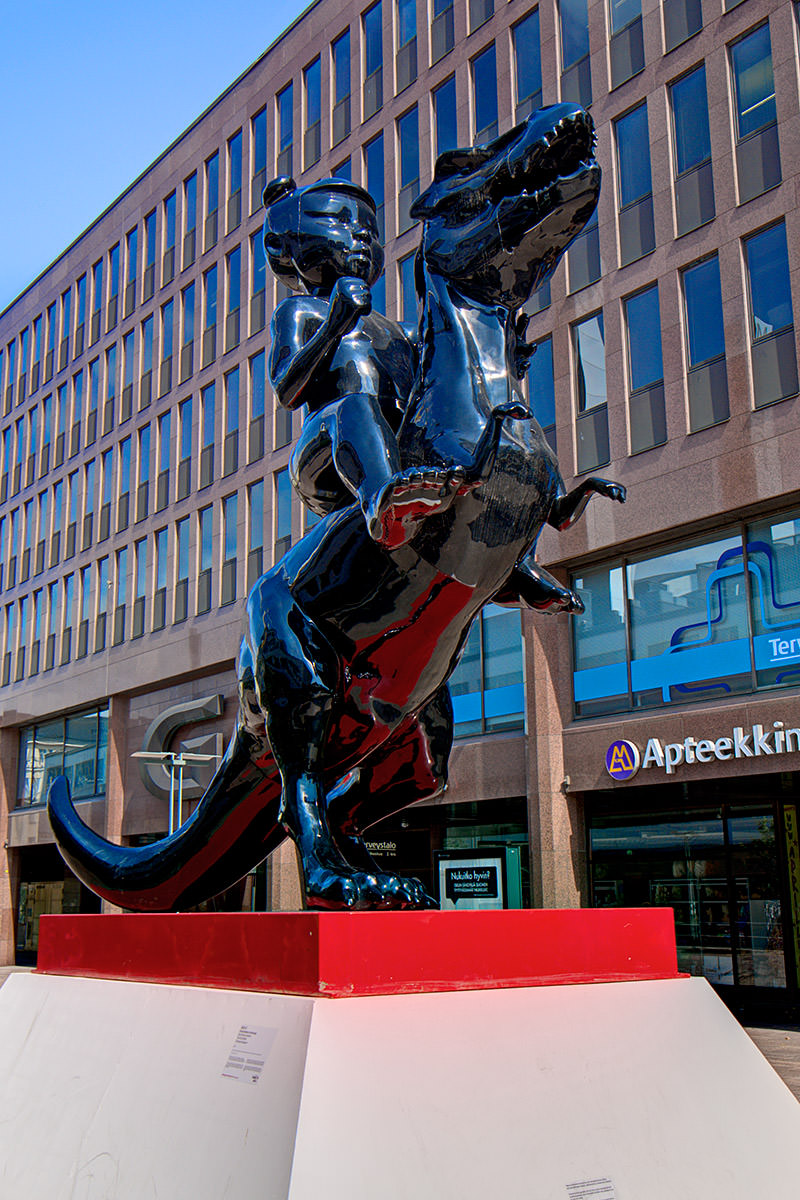 The top of Senate Square features The Cathedral of Helsinki. It's absolutely beautiful on the outside... but kind of boring on the inside...
Below Senate Square is Market Square, where vendors are selling all kinds of delicious goods. Including berries, which are incredibly popular here...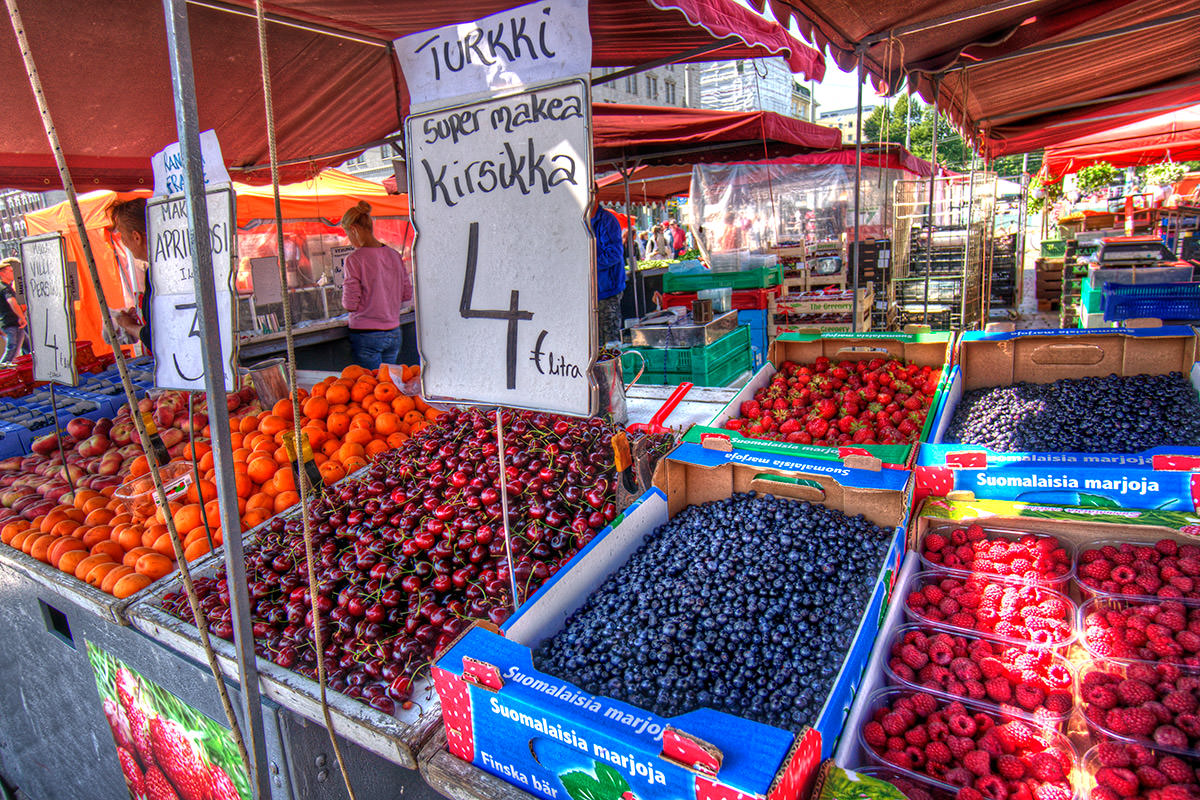 From there it's a short walk to beautiful Uspenski Cathedral...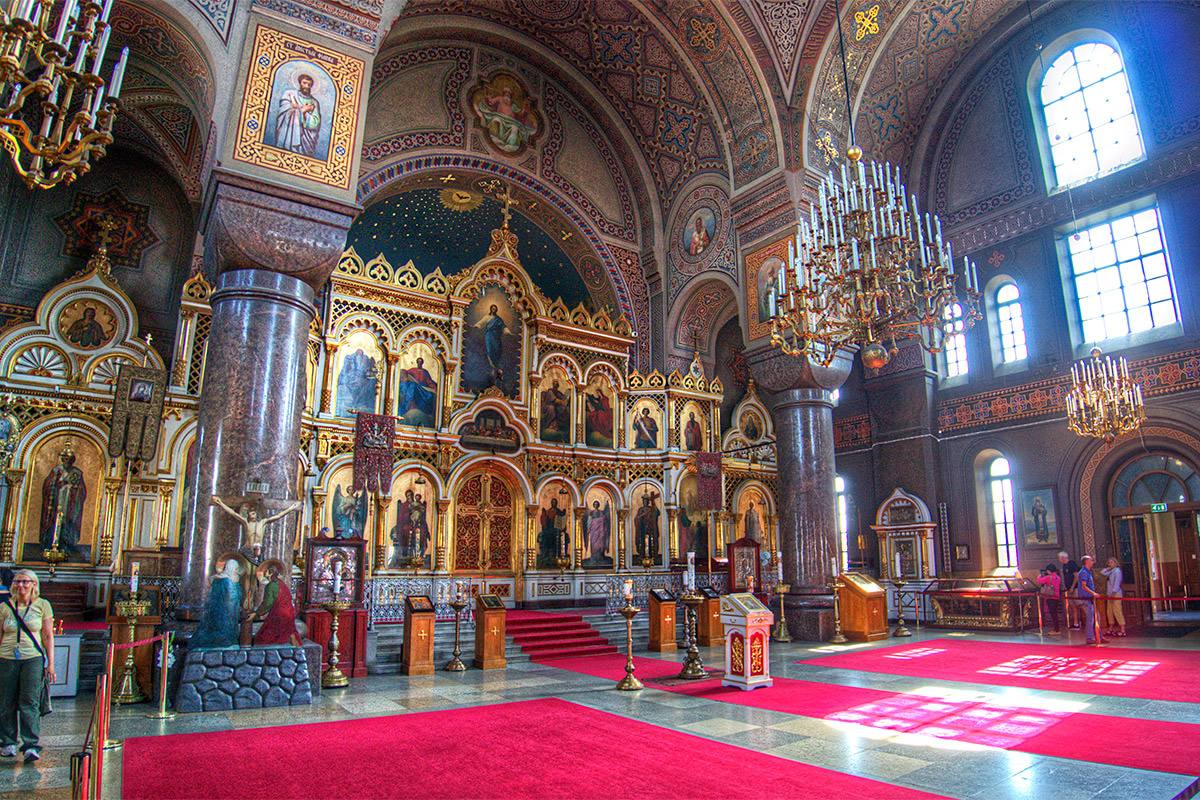 As you can tell from my later photos, the overcast skies did not last long. By 2:00 it was so hot that I had to retreat to my hotel room for a couple hours until I could brave the heat again. This time so I could travel to the very awesome Jean Sibelius Monument north of the city center. The guy was a famous composer, and this work is supposed to symbolize his music...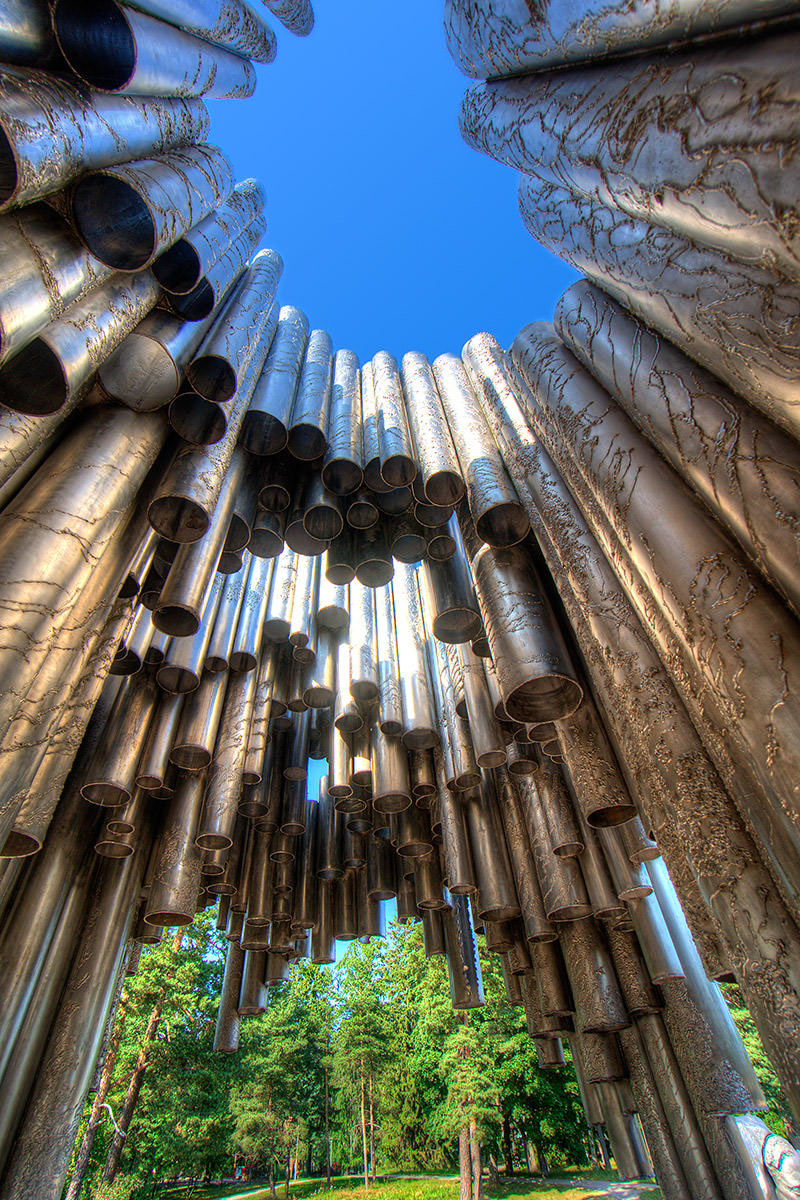 And then it was time for the Museum of Finland, which is an amazing, amazing insight into the history and culture of the country...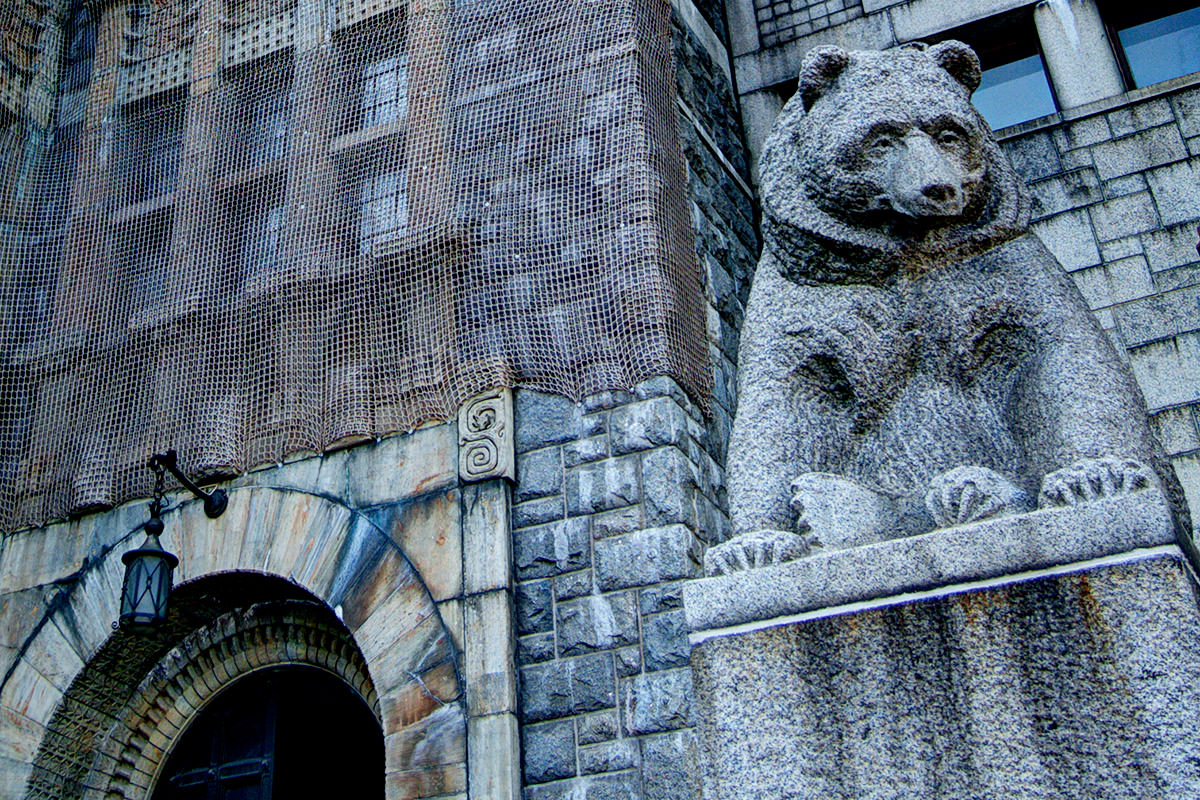 They had a map room, which was heaven for a map fan like me...
The exhibits are really well done, but some of them were kind of creepy...
The last stop on my itinerary today was Kamppi Chapel of Silence. It's a stunning architectural achievement that's incredibly beautiful inside and out...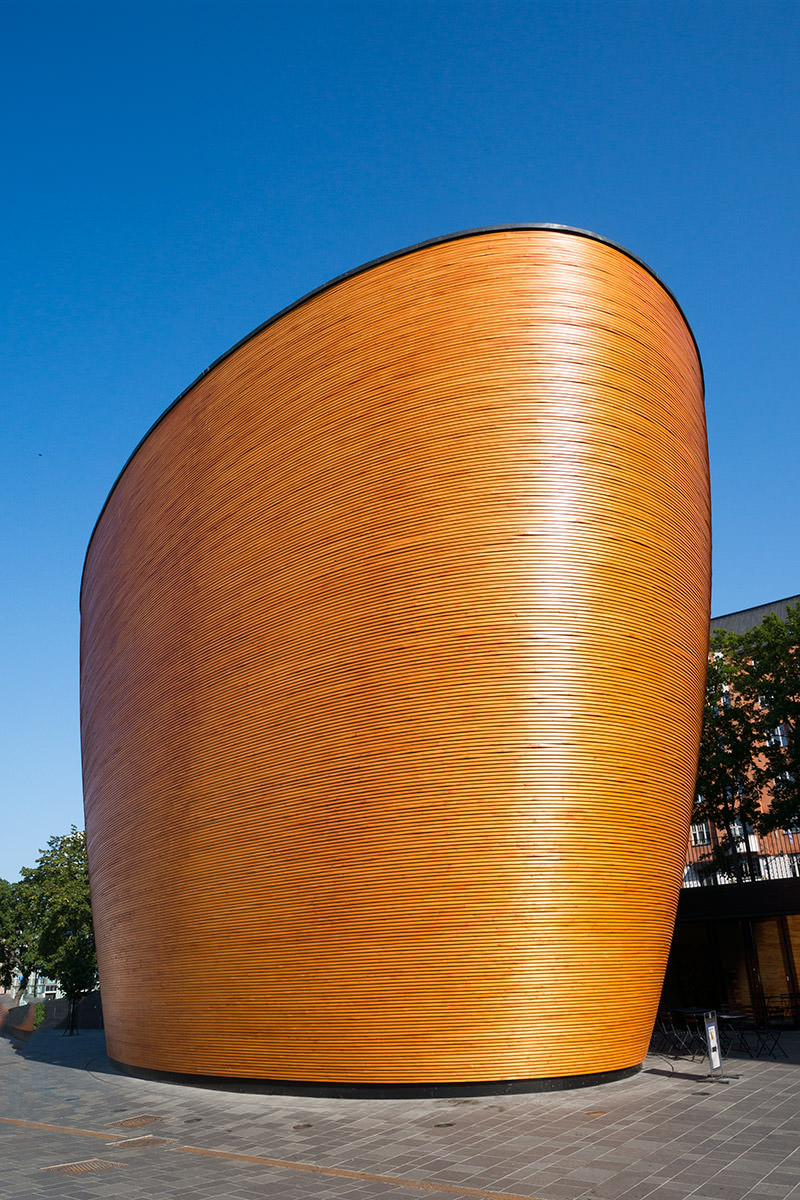 The interior is indeed a pleasant retreat from the noises of the city, and really is silent if all the people inside are quiet.
And that's a wrap. Tomorrow is an early start for me, so it's off to bed I go...

"Why in the hell are you going to Helsinki?"
I must have heard that (or a variation of that) at least a dozen times. Which is fine, I suppose, because it doesn't seem to be a big travel destination for Americans.
The honest answer is "Because I haven't been there before."
Or, more accurately, "Because I haven't been there before and they have a Hard Rock Cafe."
The interesting thing about my day was how shocking the weather was. In no way could it have been identified as "summer"... or even in the same ballpark as "summer." It was cold, windy, rainy, overcast, dark, and very much "Fall-like." Some people would find this horrible. I look at the weather back home where it's 100°F and I am totally loving it.
Since it was raining, I decided to wander around the more non-touristy areas and save the "big attractions" for tomorrow when the weather is supposed to improve. This allowed me to soak in the Finnish architecture, which is mind-bogglingly great. Especially the human column support designs, which are awesome...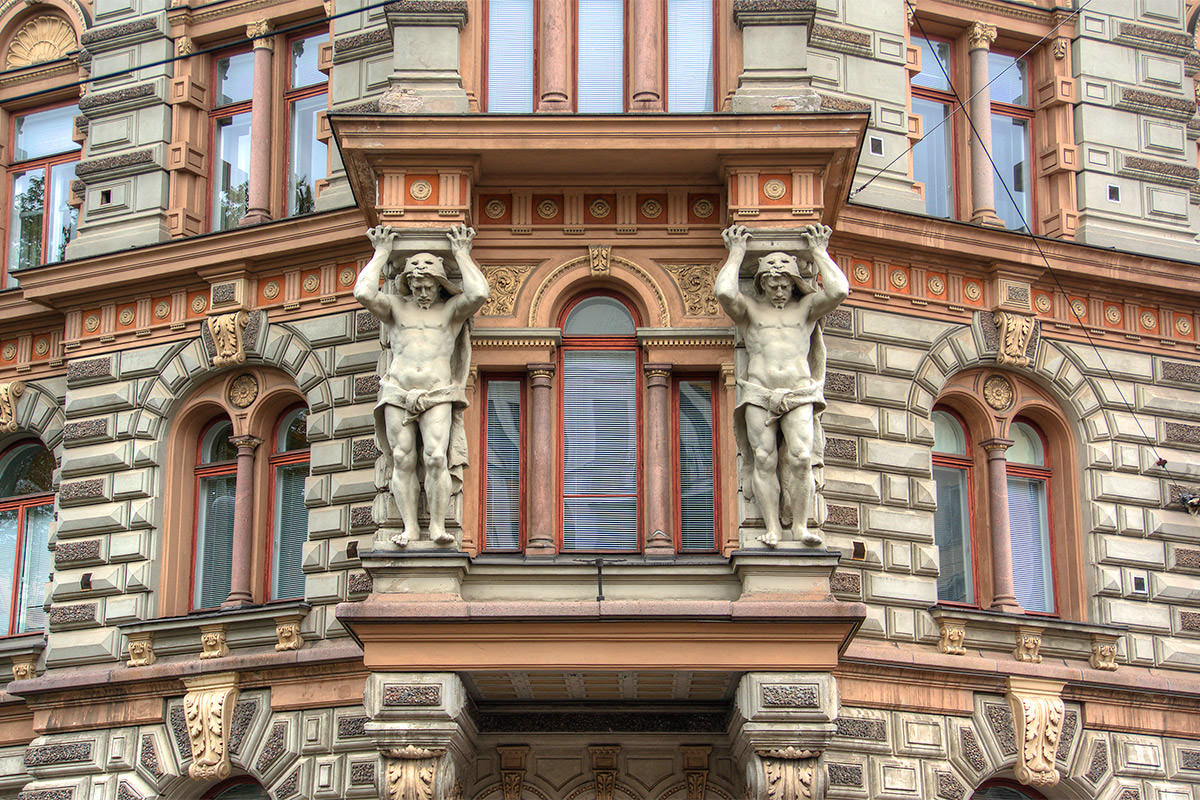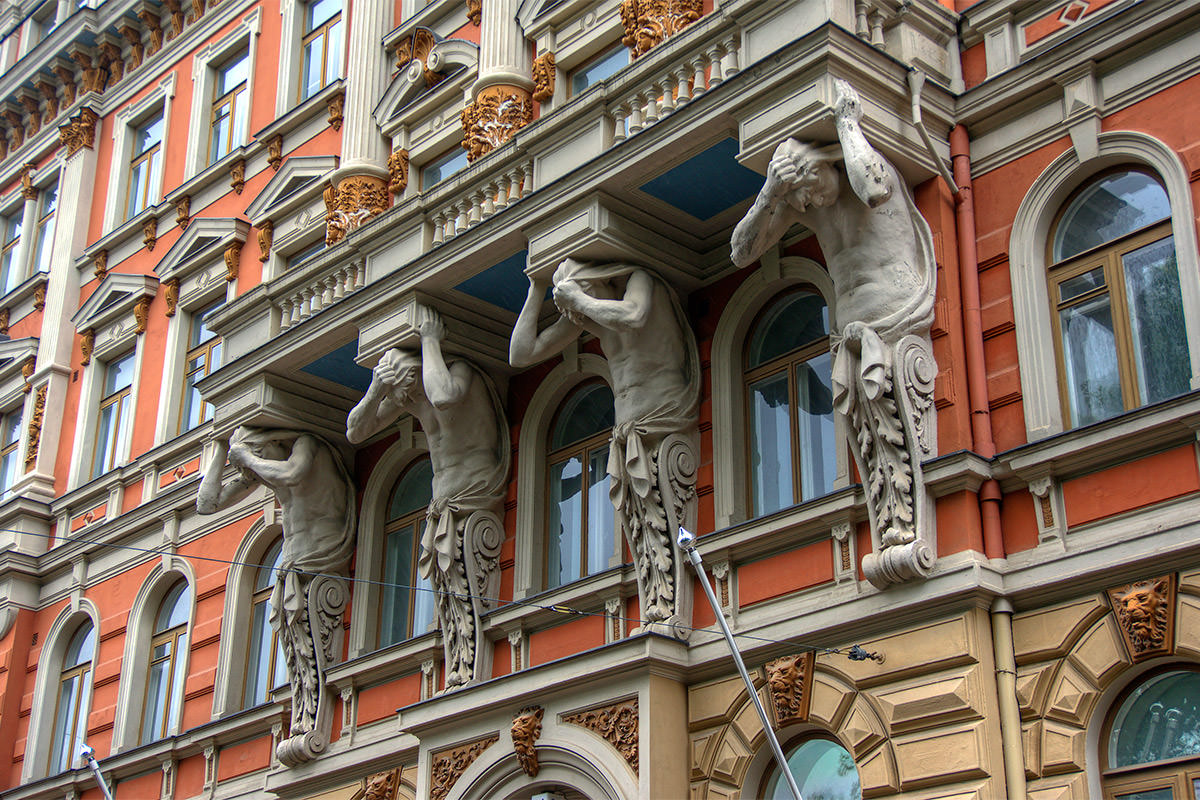 Trying to stay dry in the rain, I suppose...
Then it was off to St. Johns, which is a very nice church with an especially nice painting above the altar...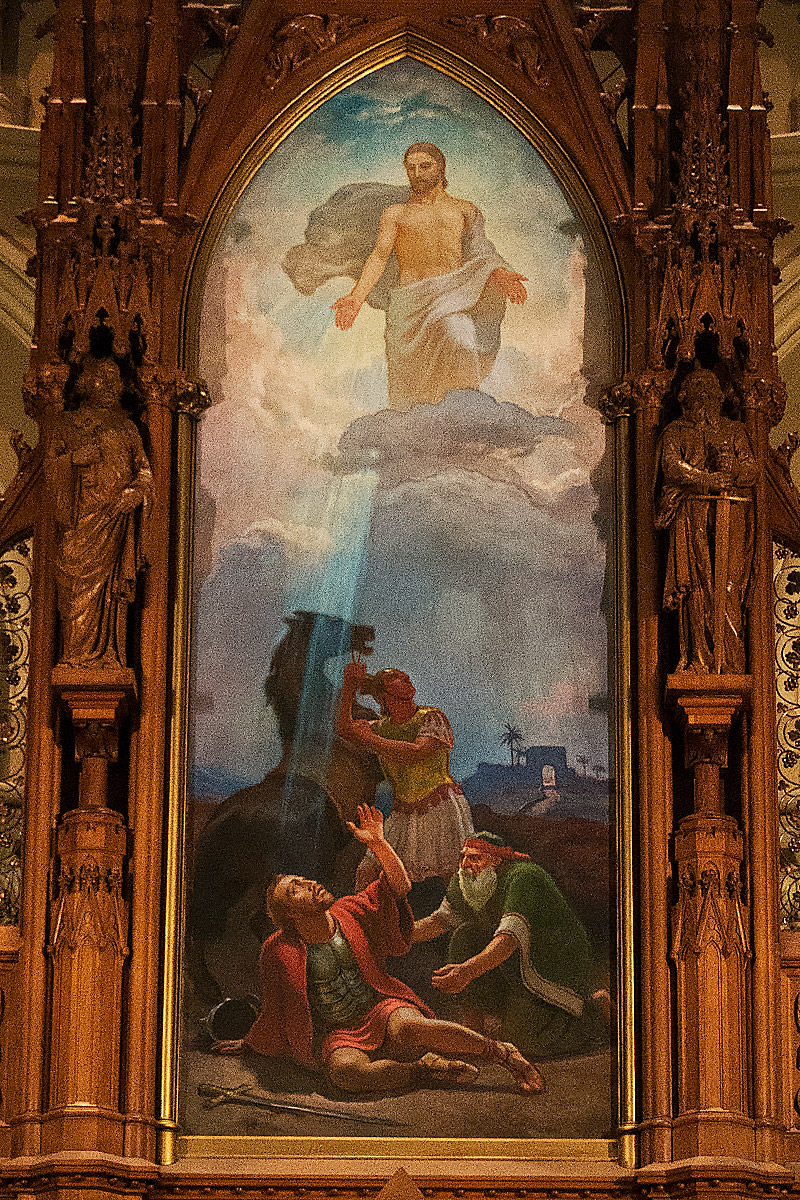 From there I headed down to the southern waterfront and then up to Observatory Hill, where there's a really cool statue called "Haaksirikkoiset" (Shipwrecked) by Robert Stigell...

I CAN SEE RUSSIA FROM MY BOAT! (St. Petersburg is 185 miles away)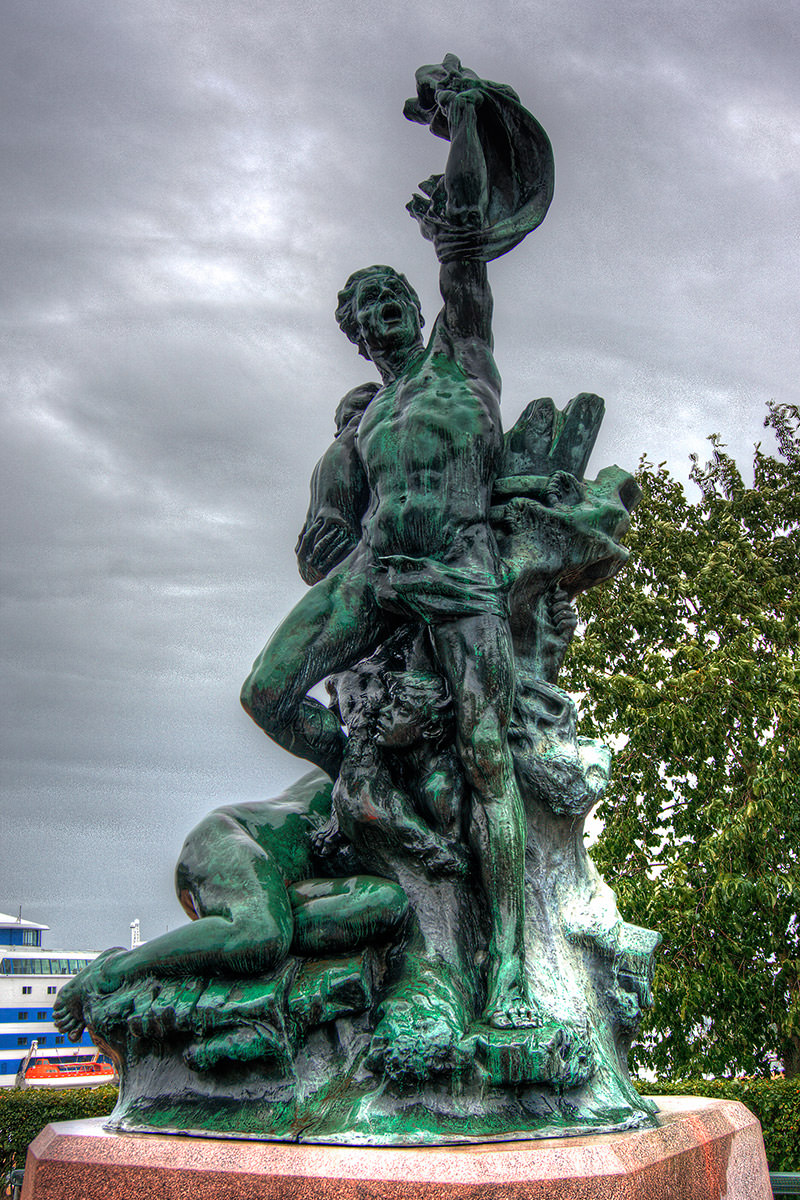 Restaurants are insanely expensive here. To save money, I decided to pick up a few groceries to make my own meals a few times. As I headed out, I noticed some cool old buildings across the street...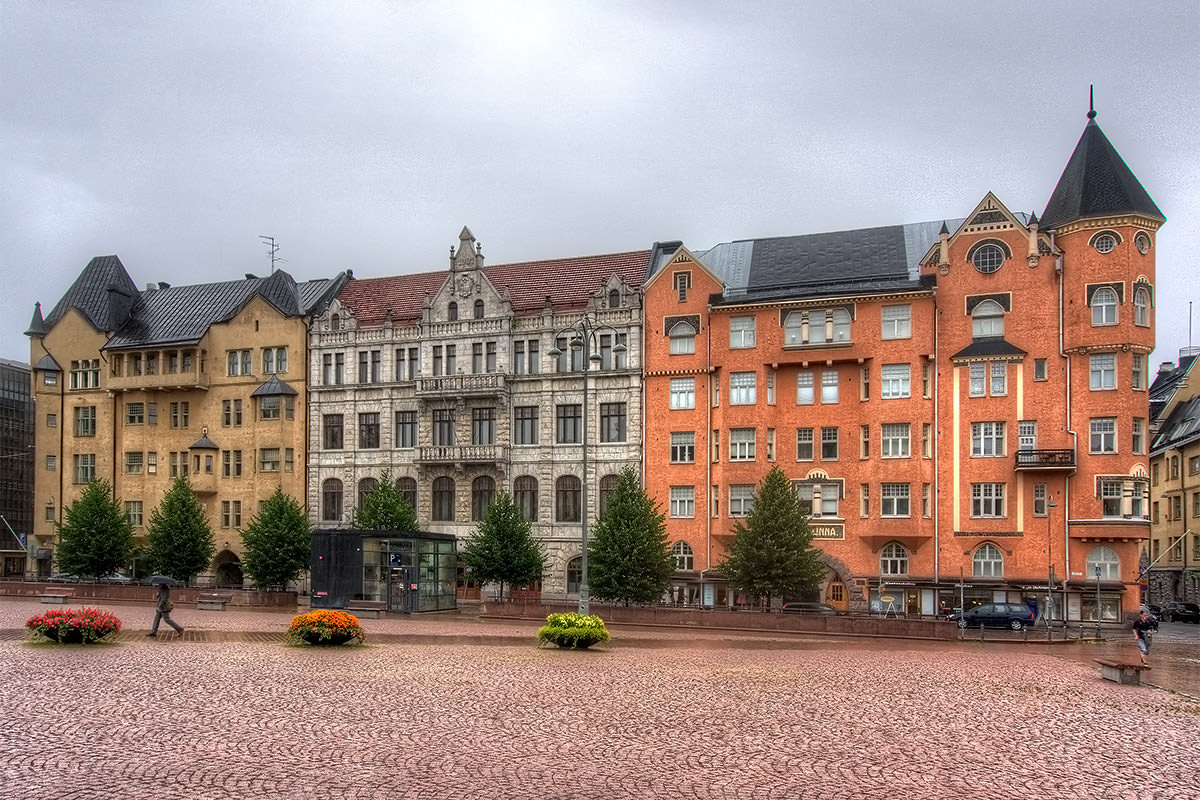 And, of course, there's the Hard Rock Cafe. It's in a mall of some kind, and is small but nice. Since it's a newer cafe, they've used the shitty "Hipster Lounge" design aesthetic, but they (wisely) took a step back and made sure to include a good selection of memorabilia, which is great.
One of those pieces of memorabilia is some hand-penned lyrics to an unfinished (and unused) Nirvana song. Much to my dismay, Kurt Cobain doesn't know the difference between "your" and "you're" which made me want to grab a red pen and scrawl a correction on it...
I ended up having a "Caribbean Black Bean Burger" because the Helsinki Hard Rock didn't have the usual "Veggie-Leggie" burger. The flavor was pretty good. The problem was that it had a marinated black bean patty and some kind of sauce on top, which made the burger a wet-hot mess. It was so slippery that it was impossible to keep in the bun. Which was a soggy bun, because the marinade had soaked into it. Making this the singular most stupid fucking "burger" I've ever attempted to eat. Which begs the question... when this was dreamed up, did they ever bother to fucking try one before putting it on the menu? Because there is no way this should be sold like this. The thing costs $23 (with fries!) and I was only to eat half of it because even attempting to eat it with a knife and fork proved futile. I don't expect amazing food at a Hard Rock, but I at least expect it to be edible. The "Caribbean Black Bean Burger" was a disgusting inedible mess.
Sometimes when traveling to foreign lands, people will ask me "Is it weird over there?" To which I always have the same response... "Not weird, just different. The USA is by far the weirdest place I've ever been. And I'm being completely honest. When it comes to seeing absolutely bizarre shit, nobody tops America (WE'RE NUMBER ONE! WE'RE NUMBER ONE!).
Which is not to say there aren't weird moments. But most of those come from finding American crap in the country you're visiting. And Helsinki has a lot of that. A prime example is some pillows advertising Lexington, Kentucky that I saw in a shop window. Which is not too weird until you see that they're advertising Lexington seafood at a restaurant that I don't think even exists. In particular, they're advertising Lexington crab... when Lexington isn't anywhere near the ocean... or any crabs. So, yeah... kinda weird...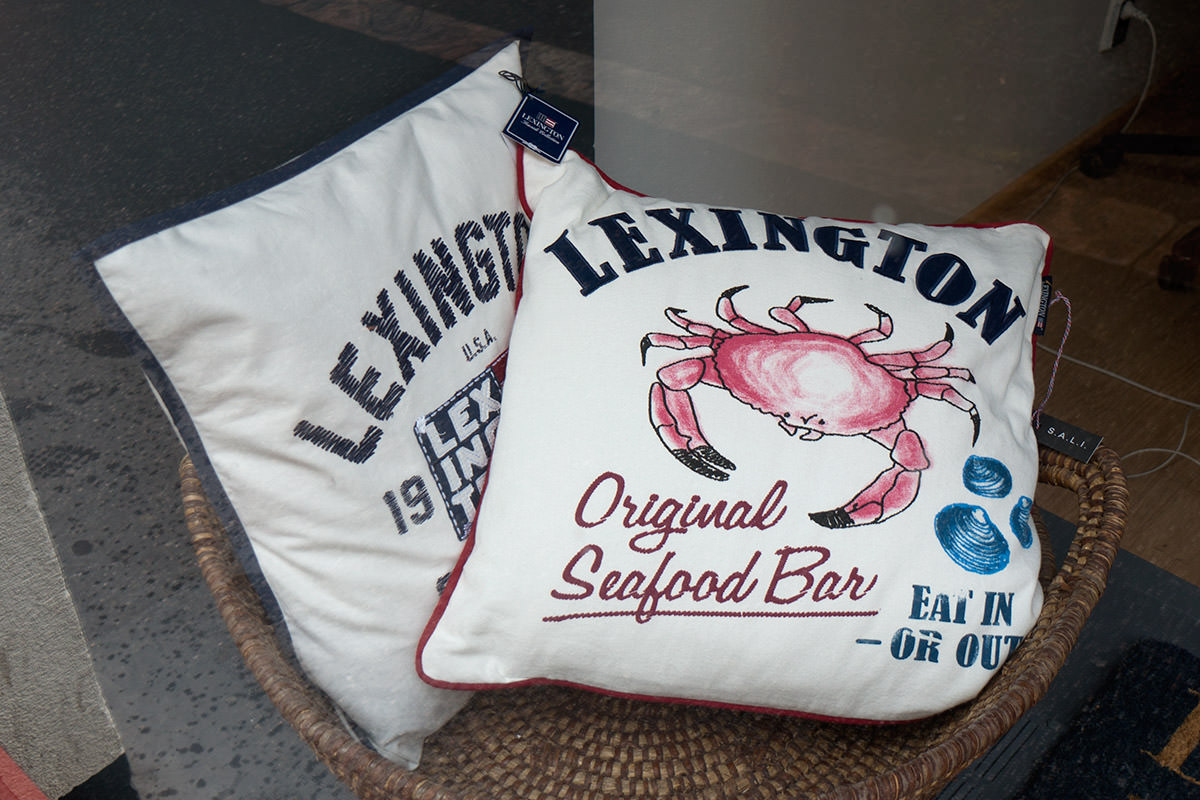 But the weirdest thing in Helsinki so far? Tex-Mex restaurants. I've seen quite a few, so I'm guessing that it must be a popular cuisine here...
Well that's not too weird, I suppose.
Until you look at a menu and see that they have a kind of "Tex-Mex Cajun Barbecue" fusion thing going on...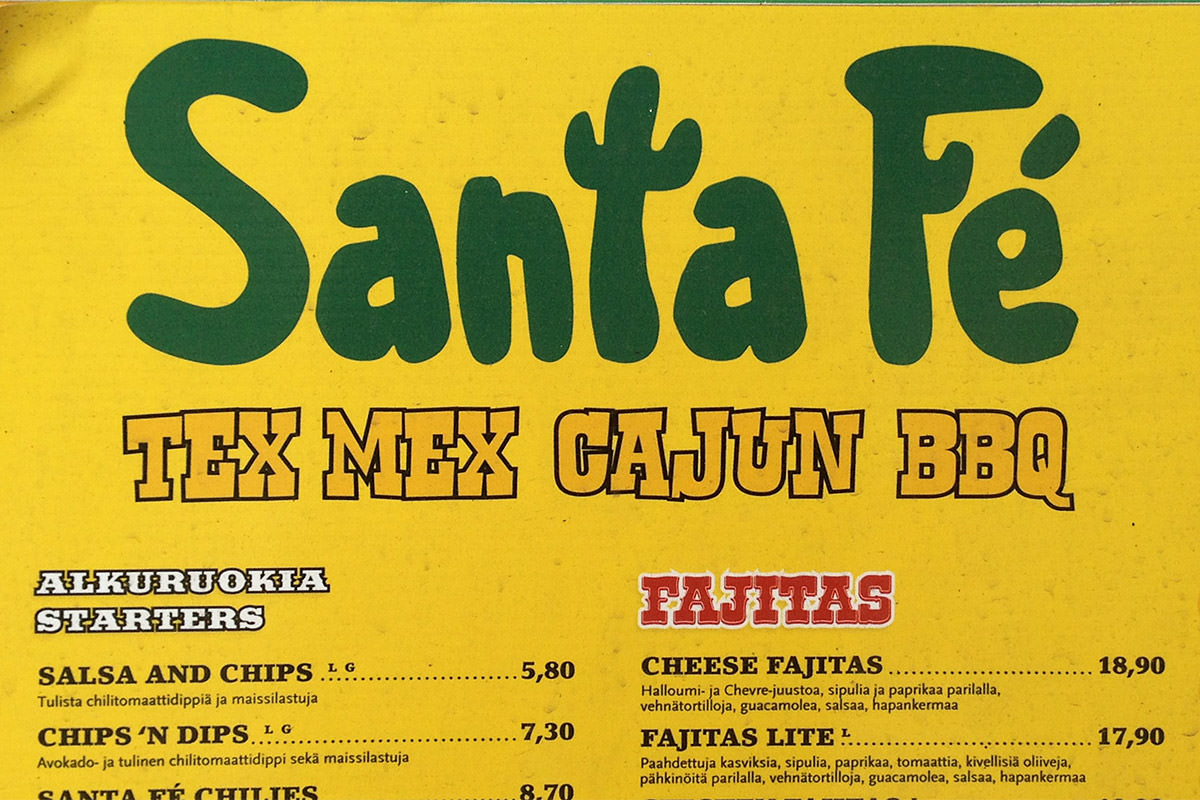 It's like somebody wanted to serve American cuisine at their restaurant and just said "Fuck it! I'm putting all their regional shit in there!" Which has me totally inspired to create a "Spanish Italian Greek" restaurant when I get back home.
And take a gander at the menu prices there... Cheese Fajitas are 18,90€ which comes out to $25 USD... FOR FRICKIN' CHEESE FAJITAS!! Salsa and Chips? That'll run you $7.70... which is made even more horrible when you consider that most US restaurants serve them to you for free so you have something to snack on while you wait for your food.
I'm almost afraid to try the salsa here. Odds are it's made with herring.
Anyway, it's just turned 2:00am, so I suppose I should try and get some sleep. Sightseeing is so much more interesting when you're eyes are actually open.