Posted on February 21st, 2021

The weather may be hitting hard here in these United States of America, but I will not be deterred... because an all new Bullet Sunday starts... now...

• Ingenuity! I am still in awe of NASA's latest mission to Mars. I have spent hours upon hours pouring over the NASA documentation, briefs, reports, and news about it. One of the things that blows my mind even more than the fact that we can land something on the surface of Mars is how they actually do it. It's actually a sky crane which gently lowers the Perseverance rover to the surface like so...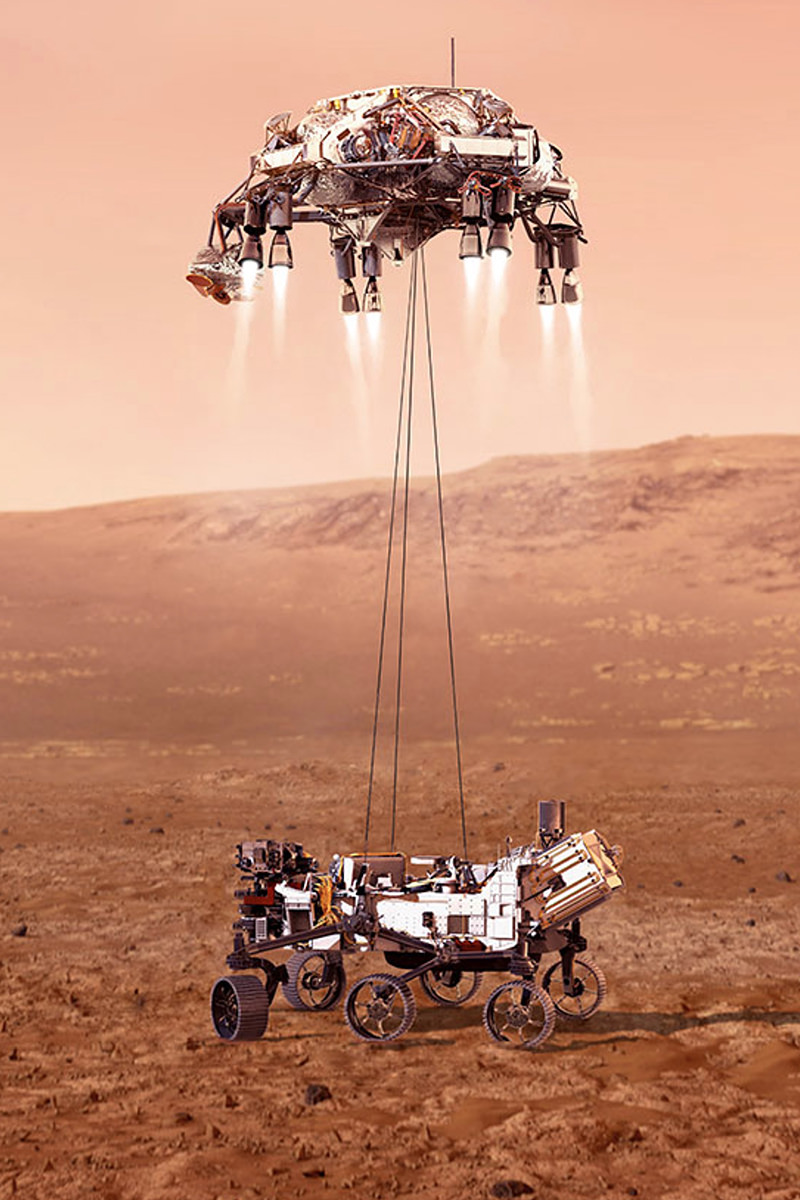 Artist rendering from NASA/JPL - Caltech
The landing modules that did the heavy lifting... er, landing... sent back a photo of it actually happening...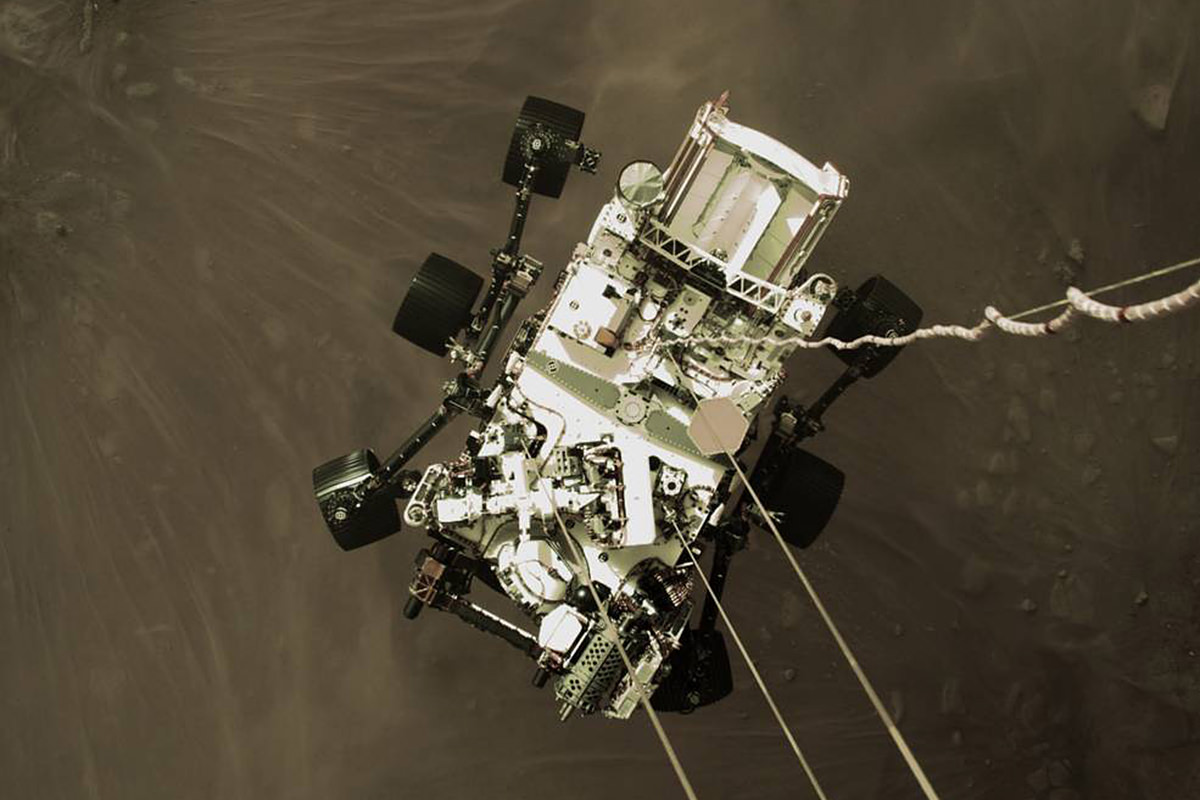 Photo from NASA/JPL - Caltech
NASA even managed to get an orbital view of it happening...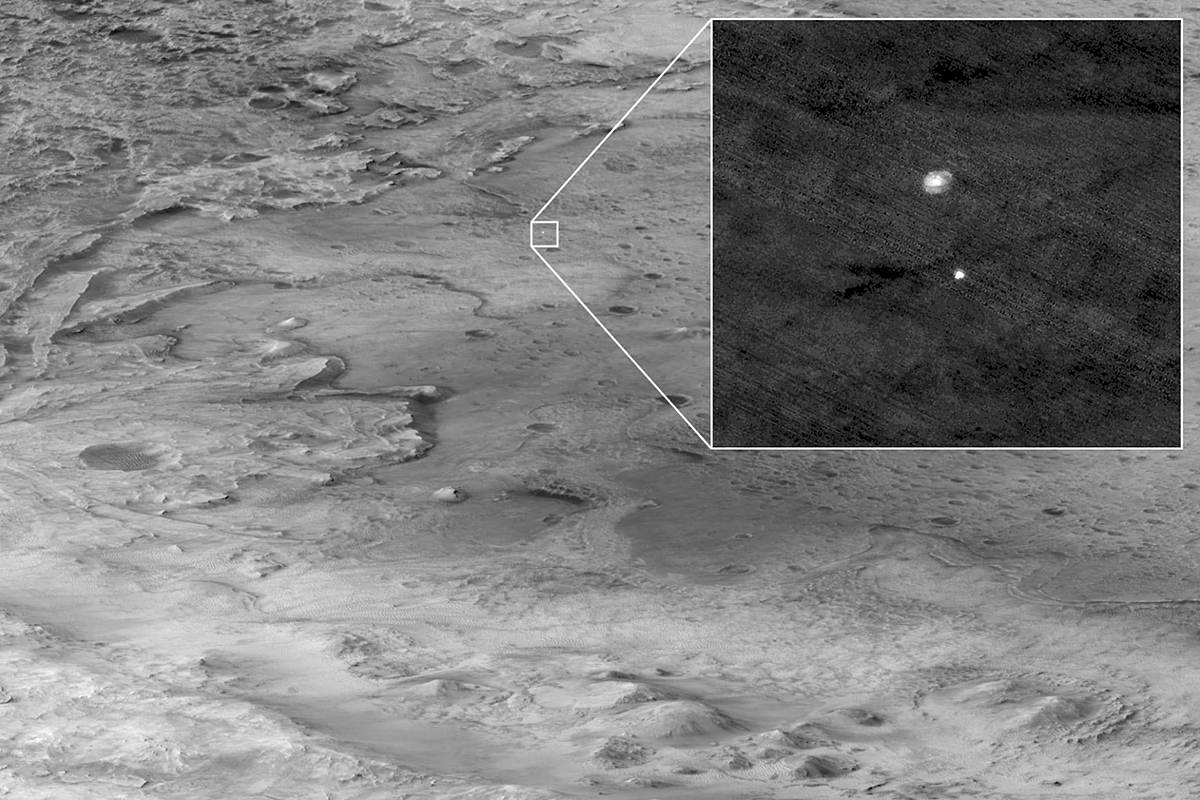 Photo from NASA/JPL - Caltech
But the big surprise here is that Perseverance didn't land alone. He brought a little buddy with him... the Ingenuity test copter drone!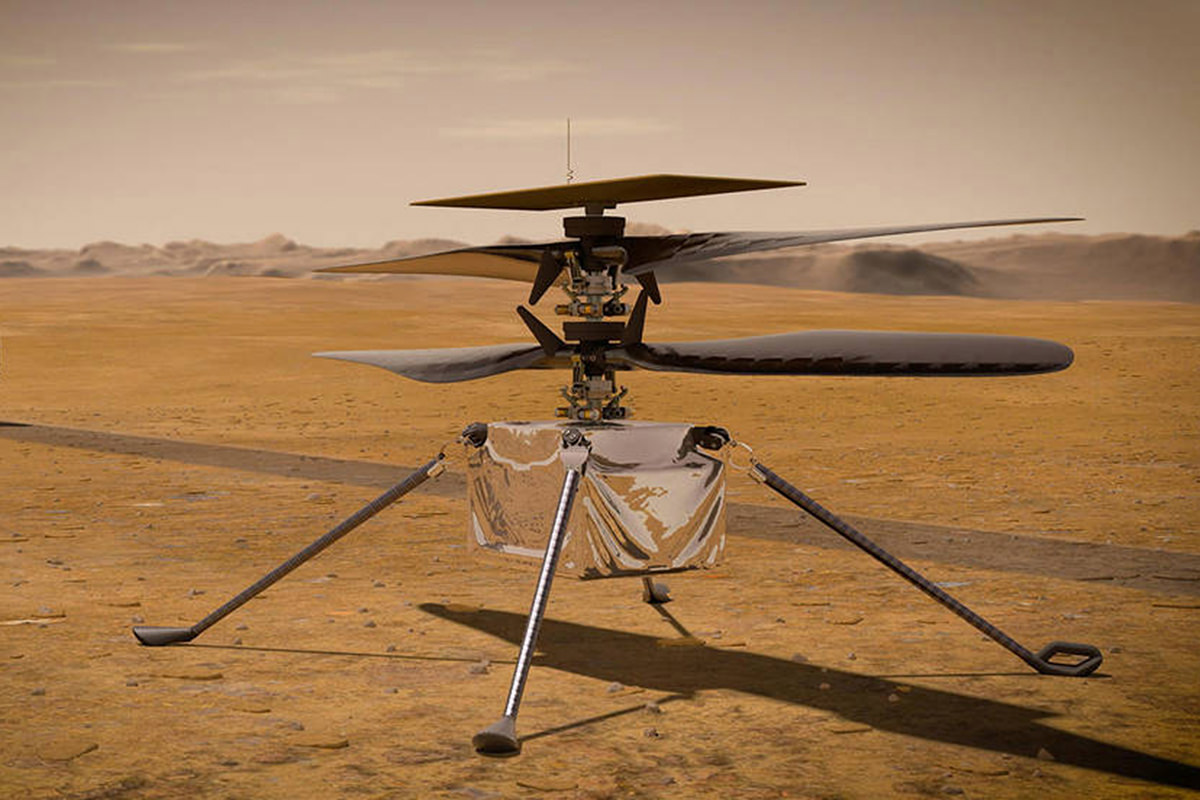 Photo from NASA/JPL - Caltech
This little helicopter bot is just a test project. It's not really on Mars to do anything except experiment with the concept of using helicopters on the red planet. Not the most mind-boggling thing to happen on this mission, but every journey begins with a single step. What IS a bit mind-boggling is how Ingenuity hitched a ride to the planet's surface. It's snuggled underneath the Perseverance and will be popped off, rotated right-side-up, then placed on the ground as the rover drives away. NASA tested it here on earth, as you can see from this cool video...
The engineering required to make all this happen... and happen under Mars' brutal temperatures and a much thinner atmosphere... is truly a testament to human ingenuity. Oh... wait a second... is that why the little helicopter bot was named Ingenuity? NASA will be holding another press briefing at 2pm P.S.T. tomorrow, and you can bet I'll be watching!

• Help! So much attention is (rightfully) being directed towards the human crisis happening in Texas, and my heart aches for all those who are suffering. But what keeps me up at night are the animals who are caught up in the cold weather danger as well. They are mostly overlooked, and it's gut-wrenching to see the reports coming out of the Lone Star State. A friend has been sharing links where people can donate, and I've done what I can, starting with these three organizations...
Austin Pets Alive! — Trying to keep up with the influx of animals as a result of the storms.
Primarily Primates — Rescue primates organization in need of funds to keep doing the work they do.
Sea Turtle, Inc. — Images of rescued sea turtles being stacked in cars in an attempt to save them is just the start... organizations charged with housing them are in desperate need.
Anything you can donate... no matter how small... will be much appreciated.

• Social Media Reporting! United Airlines Flight 328 suffered catastrophic engine failure and was forced to land. And the way I found out about this major news story? It appeared on TikTok as a trending video...
What's even more amazing was the footage of the blown engine from within the cabin...
Planes can fly on one engine and are built to accomodate a blown engine. However... this flight was on its way to Hawaii from Denver. This would have been a very different story if they were 1,000 miles over the Pacific Ocean. I'm just happy it happened so soon after takeoff and that nobody was hurt. The interior video above was shot by Bretty Guy who, ironically ennough, posted this back in 2013...

After having his video viewed millions of times and being picked up by every possible news organization, he probably gets it now. Social media is how we communicate. It's how information (and, disinformation, natch) gets seen.

• NEWSFLASH! Womans Wants Apology After Tom Brady Trophy Toss — Apology? Are you shitting me?!? Because your feelings were hurt over an object you don't own? It wasn't even fucking damaged! It got tossed by somebody WHO TOSSES SHIT FOR A LIVING...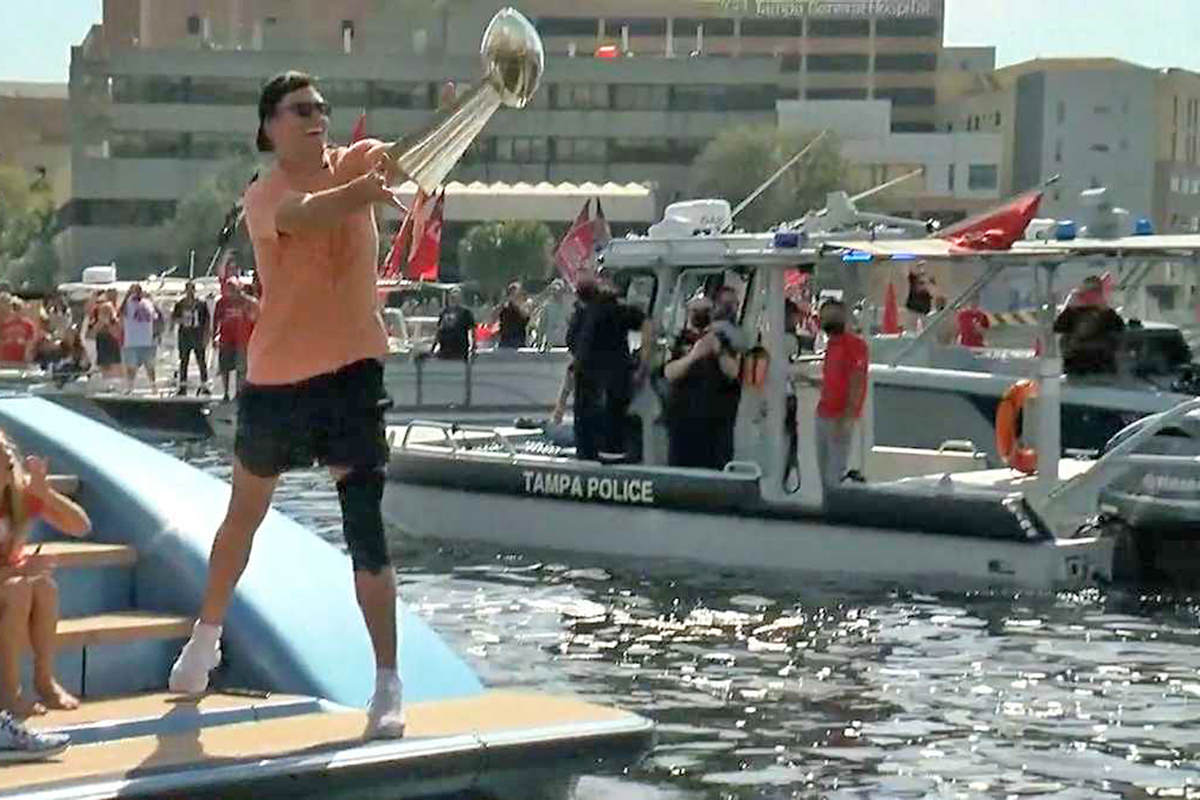 Photo captured from video by WFTS via WCVB.
Good Lord. Nobody... absolutely NOBODY... gives a shit about your stupid-ass feelings over the fucking Lombardi trophy, and absolutely NOBODY owes you shit. Your dad got paid to do a job and he did it. Your ownership... or rather any ownership by your your father... ended the minute the trophy left left Tiffany & Co. — If I bought a Tiffany baby rattle that your dad made and shoved it up my ass, would you be acting this stupid? Oh probably. Because self-important pieces of shit ALWAYS act just this stupid. I am getting so damn tired of the entitlement people feel when it comes to nonsensical bullshit like this. Save your outrage for something that matters... like the current flavor of the month ice cream at Baskin-Robbins or which kitten video is trending on YouTube or some shit like that. If anybody should be dishing out apologies, it should be your pathetic ass for acting like Tom Brady melted the fucker down and took a shit on it while you were holding it. I mean, there's a pandemic going on that's killing people... but Tom Brady tossed a trophy to somebody, so let's all shed tears over that. Jesus Christ.

• Loser! This appeared in my Facebook feed. One of those few times I don't mind seeing an ad because this is hilarious...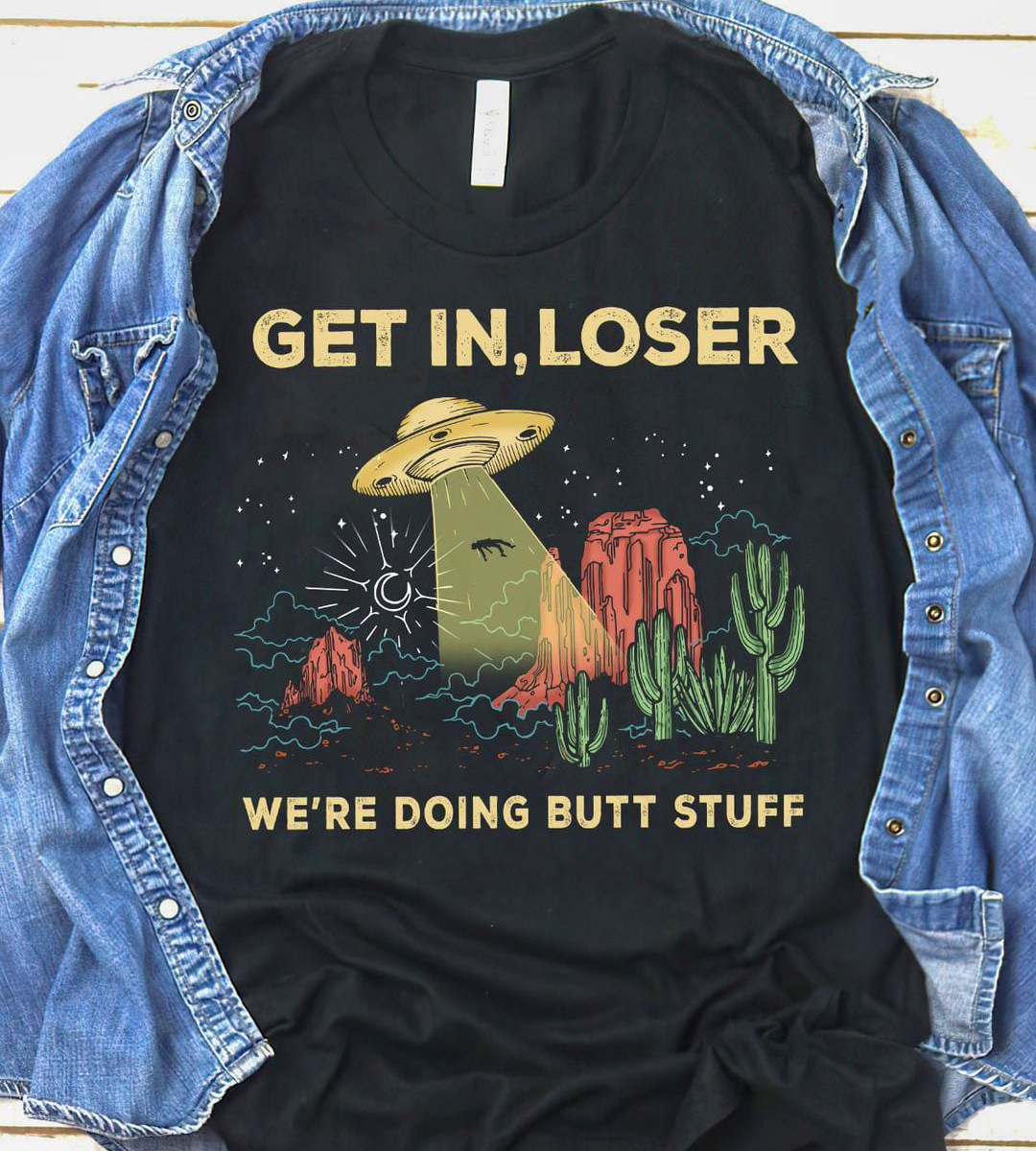 If only there was an apropriate place I could wear such a thing. If you do, you can pick one up (in several designs) right here at TeePublic.

• Cheese! There's a meme going around TikTok which originated with a man going to his refrigerator and asking "Doesn't everybody have a drawer in their fridge that's completely dedicated to cheese?" The joke being that he has DVDs stored in his refrigerator...
Since then people have been making their own version of the meme where they have increasingly weird stuff being stored in their refrigerator. — And this whole time I'm like "BOTH DRAWERS IN MY FRIDGE ARE DEVOTED TO CHEESE!!!" And also a third draw which has my snack cheeses in it. My refrigerator is all cheese all the time and it's no laughing matter!

• Va Va Voom! There are two sides to TikTok that I absolutely love and would rather watch than most television shows or movies... Black TikTok and Gay TikTok. Both can be entertaining as hell, and I laugh out loud more often than I'd ever admit. I also end up learning more than I'll ever admit. And while there's some overlap from time to time, they are two very different entities. UNTIL TODAY, THAT IS. I've run into the song Va Va Voom by Nicki Minaj on both sides. It's a song that I've never heard of before. And it ended up being 100% my jam for the weekend...
Banger! Thanks TikTok!

Enjoy the rest of your Sunday, bullet fans...
Posted on February 14th, 2021

It's Valentine's Day, the world's gone crazy, winter storms are striking, and I just drank my last can of Coke Zero, but all is not lost... because an all new Bullet Sunday starts... now...

• Let it Snow! It's snowing! And every time this happens, I think back to this TikTok, which is one of the funniest things I've ever seen...
It's getting to the point where I'd rather watch TikToks than television.

• Ryan! I swear... if Ryan Reynolds wasn't completely killing it as an actor, he could easily make a mint as a media consulting company. His every ad endeavour has been amazing...
The fact that he did this particular ad on behalf of a charity is just icing on the cake. I guess you can understand the reason my cat's full name is Jake Ryan Reynolds Simmer.

• Munchin'! There's a woman with a pet duck called "Munchkin" on my TikTok. The duck's most favorite thing is to go through the drive-thru at Dunkin's for a cup of ice water. Over the past several weeks she's been taking Munchkin to different drive-thrus, and today she FINALLY took her to Sonic, which has the most amazing ice ever...
We do not speak of the time that she took Munchkin to Dairy Queen and they refused to give her an ice water. Guess I'm not bothering with their duck-denying asses any more.

• SELECT ITEMS! My morning was ruined this past Tuesday, thanks to Cutlery and More's 20% OFF Sale...
=checks email=
"20% OFF! Wow! How awesome!"
=opens email=
"SELECT ITEMS? Crap! Well... mayyyybeee...."
=checks exclusions=
"FUCK!!!!!"

By manufacturer request? How can a manufacturer keep you from just putting your entire store at 20% off? This blows. The only things I want to buy have been excluded from their sale.

• Norge! Will Ferell had a Superb Owl commercial which promoted General Motors electric cars here in the USA and complain that Norway is currently #1 when it comes to fuel-free automobiles. It was basically a disturbingly funny look at how far the US is behind much of the world, and Will is angry at Norway because of it.
And now Norway responds...
What's so incredible here is how the original commercial typifies American response to most everything. We're #1. We're the best country in the world. No other country is better than us. Except when they are, and then we have to obliterate them. Whereas Norway's response is so typical of them. Smart, playful, educational, and delivering a smackdown in a way that's tough to really debate... yet not so harsh that it alienates Americans entirely. It's absolute insanity to think how stupid, gullible Americans have been conditioned by our wealthy corporate overlords to believe that the horrific state of this country is inconsequential to us being "the best" at everything. Which it is... for our wealthy corporate overlords. We are an incomprehensibly wealthy country, yet the vast majority of that wealth is exclusively in the hands of precious few people. Believing that this makes us the envy of all the world is the height of such laughable hubris that I'm surprised Norway can even deliver their response with any semblance of a straight face.

• Controversial Colors? The stuff I learn on TikTok could fill volumes, thanks to amazing content creators like this...
Weird, cool, and enlightening. That's pretty much TikTok in a nutshell.

• ENTITLEMENT OUTRAGE! Boy, the butthurt is strong on Facebook this past week. I watch six "traditional" television channels... HDTV, Food Network, Travel Channel, Bravo, VH1, and Hallmark (anything else on my TV comes from a custom streaming service like Netflix or Disney+). All of those traditional channels can be had on my $20 Philo subscription, which is SO cheap. I USED to pay $126 per month for satellite that was packed with channels I didn't want and never watched! I am saving over ONE THOUSAND DOLLARS a year by going with a package that fits exactly what I want!
Now some of these channels... namely those under the Discovery umbrella like HGTV... are offering their ENTIRE FUCKING BACK-CATALOG for popular shows... PLUS all-new exclusive content via a streaming service called discovery+. This is like a fucking all-you-can-eat-buffet for somebody like me who loves their programming and could watch them over and over and over again. And now I can. For $5 a month. Glorious!
I just took advantage of a discovery+ promo to get a YEAR of ad-free for $60 (usually the $5/mo. price comes with ads). It's a gift subscription special, so I gifted it to myself! I could not be happier. So imagine my unshock when I look through the comments on the Facebook post advertising the special and see "STOP NICKLE AND DIMING US!" and "NOPE! NOT PAYING YOU ONE CENT MORE!" and "I ALREADY PAY FOR CABLE, YOU'RE BEEING GREEDY!" and "IT'S A PANDEMIC AND YOU'RE SCREWING PEOPLE!" — And I'm like, whoa, whoa, whoa. This isn't lifesaving medicine... it's fucking TV shows for Christ's sake. AND, on top of that, Discovery STILL broadcast their regular programming over satellite and cable packages if that's the way you want to go. The only thing you miss out on it the exclusive content. But even that's not a big deal. Wait for all the episodes to air for a show you want to see, spend $5 for a single month to watch them, then cancel before it renews the next month. But NOOOOOO! That requires people to stop being fucking idiots.
I honest to God don't get the entitlement bullshit I see every fucking day. People feel ENTITLED to entertainment TV shows? Seriously? Ironically, half these people are probably just fine with health care costs bankrupting them instead of having Medicare for All be paid out of our taxes... but tell them they have to pay for new episodes of Fixer Upper? TOTAL FUCKING OUTRAGE! I cannot with people on the internet any more. It just keeps getting worse and worse and worse.

• IT'S EVERYWHERE! And lastly, before I go, here's one more TikTok that slayed me this weekend...
That's me cleaning up cat vomit the rare times that it's happened. To go through this every day? Yikes.

And now I suppose I should think about cleaning my house. Or not. It's not like I'm having visitors any time soon and my cats just don't care.
Tags:
Bullet Sunday
,
Comedy
,
Ducks
,
Entitlement
,
Norway
,
Ryan Reynolds
,
Snow
,
Television
,
TikTok
Categories:
Bullet Sunday 2021
,
Internets 2021
,
News – Politics 2021
,
Television 2021
—
Click To It:
Permalink
—
2 Comments: Click To Add Yours!
Posted on January 31st, 2021

I don't mean to alarm anybody, but this is the last Bullet Sunday of the 600's... because an all new Bullet Sunday starts... now...

• Good News, Everyone! After a shitty year of all bad news, it's nice to know that there's a best-case scenario happening right now... People Who've Gotten Both Shots Simply Aren't Getting COVID. And when they do get COVID because it's a mutant strain or whatever... they aren't requiring hospitalization and don't suffer such damaging effects. Nice! Much love to the scientists and researchers who have been working overtime to get us a vaccine.

• Residential! Alan Tudyk is one of my favorite actors, and I was pretty stoked when I randomly happened across his new series... Resident Alien. This is a comic book series I've glanced at, and I had no idea it was being adapted for television. As you'd expect, Tudyk is flawless at playing a quirky alien trapped on earth in disguise as a doctor, and I really loved the first episode...
The premise is pretty darn good, and it will be interesting to see how they play this one out.

• TikTok On The Clock! AMAZING tip for getting more coverage when painting! Thanks, TikTok!
Oh yeah. That's a painting trick I can use!

• Reelection Matters! Still no comment by Patty Murray or Maria Cantwell on Wall Street trying to protect wealthy hedge funds over average Americans? I may die of unshock. Can't upset their wealthy owners who bankroll their campaigns! Stock manipulation is fine... when rich people do it. Markets are free... until rich people lose money. Wall Street makes the rules to exploit the American people to benefit our wealthiest citizens. And the minute it doesn't, they change the rules. And Murray and Cantwell are still fighting for that status quo, apparently.
Say... here's an idea! We know Republicans can't win against our senators in Blue-Blue Washington State, but what about another Democrat? A Democrat not content to have Washington State sit on the sidelines or take a wait-and-see attitude when it comes to stuff going on Right Now?? A Democrat who doesn't check with their owners before acting? A Democrat that charges into battle for Washingtonians AS SHIT IS HAPPENING. Because hand-wringing after the fact is getting SO tiring. Alexandria Ocasio-Cortez was going on interviews, posting to social media, and had a live Twitch feed yesterday to address Wall Street protecting wealthy hedge funds over the American people. Where were our Senators? Planning their re-election campaigns, probably.

• Change! This right here is what I love about TikTok in a nutshell...
Cute story and a SpongeBob Squarepants reference? Yeah... sign me up.

• Flyover! Last night my Apple TV went to screen saver while I cleaned up my filthy kitchen (I swear, that onion/poblano Quesadilla filling is lethal). As I was sitting down I saw that the screen saver was flying over Buckingham Palace which is pretty easy to recognize. Then they keep flying over London and I see that so many of these old buildings have amazing car parks inside! I had no clue when I visited the Churchill War Rooms museum that they had this gorgeous rotunda car park within their walls...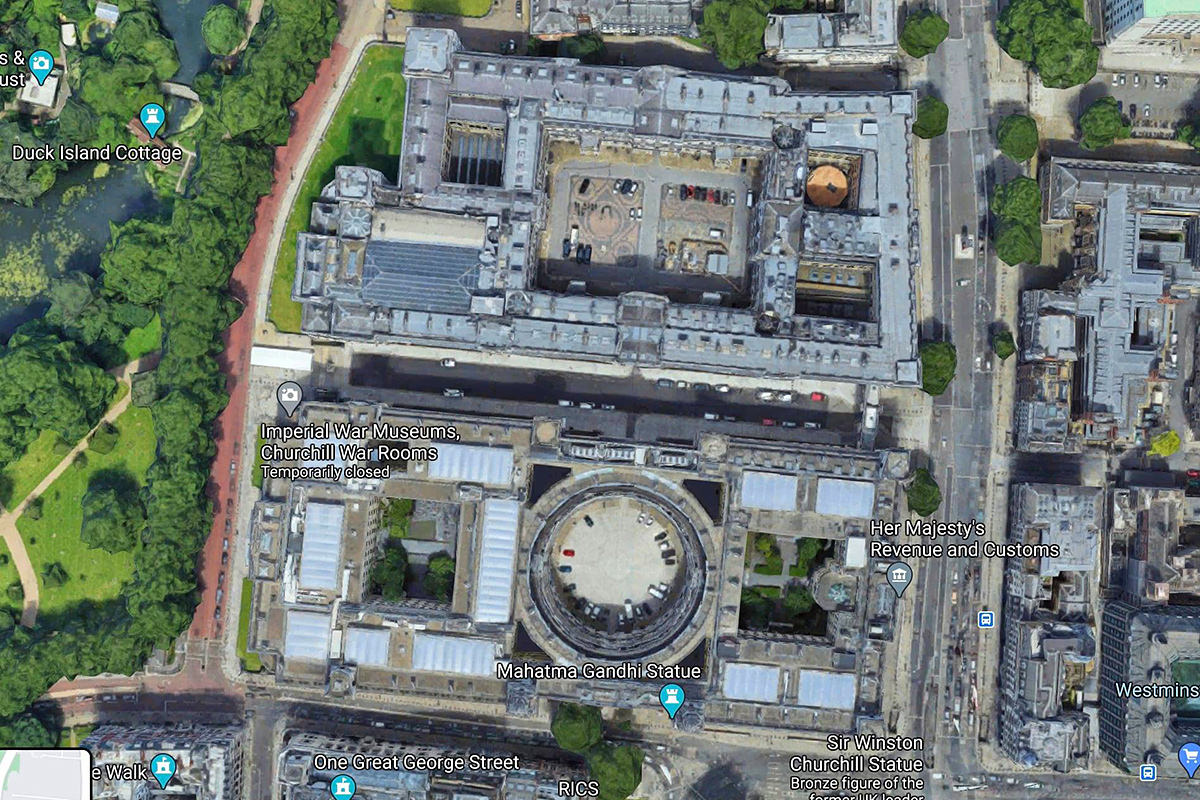 Image taken from Google® Maps Satellite View
Isn't this amazing? And the more I explored, the more interior car parks I found. That's pretty cool. I've seen some of these in person, but never knew how prevalent they are.

And that's a wrap on Bullet Sunday No. 699.
Tags:
AppleTV
,
Bullet Sunday
,
COVID-19
,
Maps
,
News
,
Pandemic
,
Politics
,
Television
,
TikTok
Categories:
Apple Stuff 2021
,
Bullet Sunday 2021
,
News – Politics 2021
,
Television 2021
—
Click To It:
Permalink
—
0 Comments: Click To Add Yours!
Posted on January 10th, 2021

Free speech has consequences, which is nothing new to bloggers like me... because an all new Bullet Sunday starts... now...

• Colosseo! My mom's favorite landmark is the Roman Colosseum. She asked to visit it every trip we made to Rome which, I believe, was four times (it was a cruise stop twice and a trip stop twice). I'd ask her why she loved it so much and she'd say "I don't know... I just do." When I told her that maybe she was a gladiator in a previous life, she thought that was funny and started telling people that when showing this photo...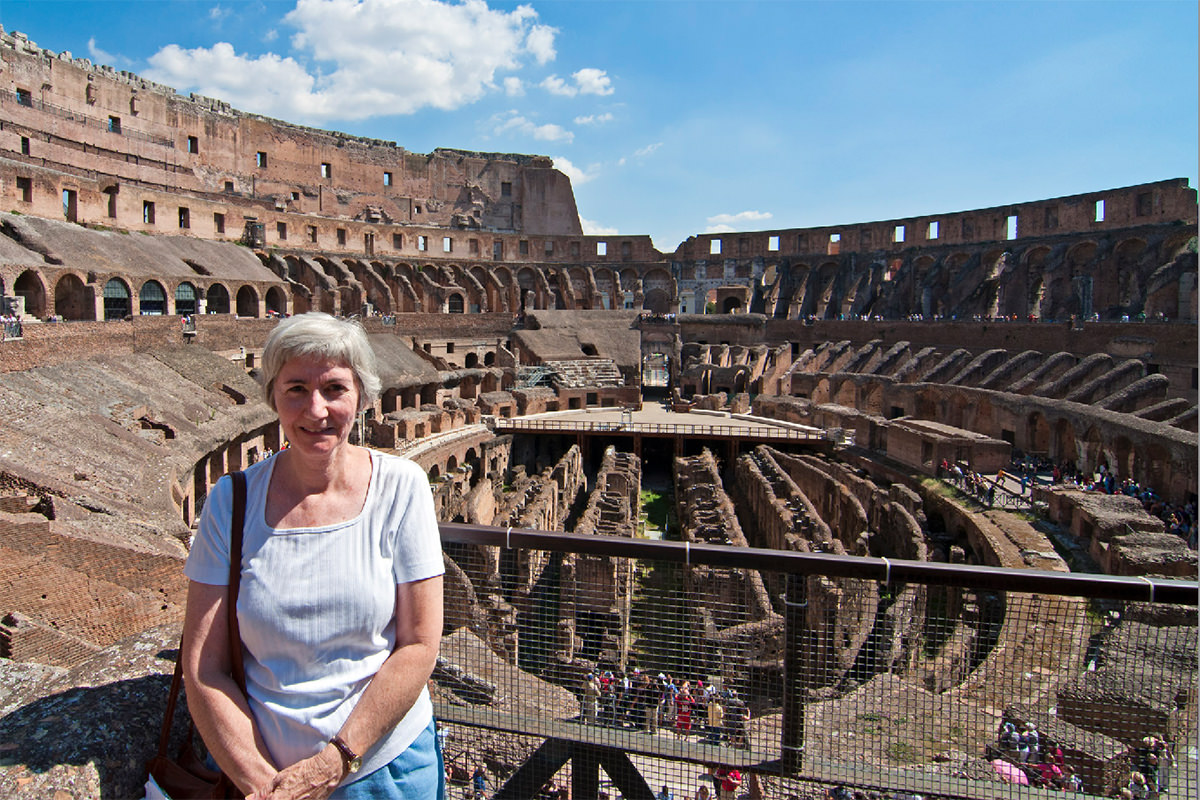 Because of this, I very much wish she was still alive, because Rome is renovating the Colosseum, and I think the idea of being able to stand on the floor of the Colosseum arena would be so thrilling to her that we would have definitely made a fifth trip once it was completed. This is really, really cool, and I'd love to be able to visit again. But it won't be the same without my mom there to share it.

• LEGO! I have to say... whomever works in LEGO advertising which came up with this ad for a "Make Your Own MiniFig" game apparently doesn't have the same filthy mind that I do, because, well...
Is that a hotdog in your pants, madam, or are you just happy to see me?

• PERFECT! I've watched this TikTok more times that I'd ever admit. It's hilarious because it's true...
Though I'd argue the point that this is how girls make coffee, because I see plenty of guys doing essentially this. And given my distaste for coffee, this would absolutely be me as well.

• Cute Gay Shit! TikTok is so much more than funny coffee memes. There is some genuinely touching stuff on there that gives me hope for all humanity...
And just KNOW that this gentleman gets lumped in with people he's condemning because of how he looks and talks. You know it. God bless you, sir.

• NEWSFLASH! FORBES: Close To A Worst-Case Scenario—Former CDC Director Issues 'Horrifying' Outlook For New Covid Strain. If your balls don't shrivel up after reading this, then you probably don't have balls. But you are alive if you're reading this, balls or no balls, which means you should be horrified that there are still people not taking this shit seriously. Protect yourself. Protect others. This has catastrophe written all over it.

• Specs? Apple is the most ridiculous fucking company. They want to make their products as simple to use as possible by taking all the "tech" out of everything. Which is fine. EXCEPT YOU CAN NEVER MANAGE TO GET ANY FUCKING SPECS FOR ANYTHING THEY SELL. Will this cable work for charging? I dunno. What is the maximum transfer rate for this cable? I dunno. Can I quick-charge with this cable? I dunno. What about the charger? I dunno. Can you at least tell me if it is USB-PD compliant? I dunno. They literally tell you NOTHING in their support docs or on anything in their entire store. — If you want to shield your customers from scary tech-speak, fine. But at least have the fucking information SOMEWHERE for the people who need to know this shit. Their solution for everything is to say "Well, if it doesn't work, you can always return it." Which is an astound attitude to take considering that it wastes my time and their resources, and I'm getting seriously tired of it.

• Apolitical! My existence right now:
REPUBLICANS: You're just a Democrat shill.
DEMOCRATS: You're just a Republican shill.
ME: I AM NEITHER A DEMOCRAT NOR A REPUBLICAN! I DON'T UNDERSTAND THE NEED TO WORSHIP POLITICIANS AND FALL IN LINE WITH A POLITICAL PARTY RUN BY WEALTHY ASSHOLES THAT ARE PROPPED UP BY WEALTHY CORPORATIONS WHO DON'T GIVE A SHIT ABOUT US! WHY CAN'T I JUST BE A NON-PARTY SHILL?! WHY DOES MY SHILLNESS HAVE TO BE ATTACKED LIKE THIS? I AM A SHILL FOR ALL HUMANITY! AND A SHILL FOR CATS! TOWANDAAAAAAA!!!
Because, like, how could you not be a shill for floofy bellies like dis?

Stay frosty out there, my friends.
Tags:
Apple
,
Bullet Sunday
,
Bullshit
,
Cats
,
COVID-19
,
LEGO
,
News
,
Pandemic
,
Politics
,
Rome
,
TikTok
,
Travel
Categories:
Apple Stuff 2021
,
Bullet Sunday 2021
,
Cats 2021
,
LEGO
,
News – Politics 2021
,
Travel 2021
—
Click To It:
Permalink
—
2 Comments: Click To Add Yours!
Posted on January 3rd, 2021

The New Year may feel like the Old Year, but there's still something new to be had... because an all new Bullet Sunday starts... now...

• TikTok! The thing that I love so much about TikTok... besides the fact that the video size is limited which forces content creators to get to the damn point already... is that it's got people constantly playing off of each other. In weird, wonderful ways. Lots of times it's clapbacks and condemnation, sure, but every once in a while you get something absolutely magical like this...
What's cool is that the woman who was (accurately) sumarizing Country music so dead-on in her parody was actually made a collaborator, and is now promoting the song on her TikTok...
This is not something that happens on other social media platforms so easily and organically, which is why I am still addicted to TikTok. Plus... lots of adorable animal videos.

• TokTwo! Not to mention moments of absolute happy like this...
Is is any wonder I can blow through an hour on this app and not even realize it?

• Her Name Was Bernice! Not that it's all fun and games...
This amazing woman is a graduate of Liberty College and has some fascinating takes on Christianity that comes from having lived through her past... and living her Faith in the present.

• What's Logic! I mean, damn...
This guy is phenomenally entertaining while addressing some very touchy subjects. I could just sit for an hour and blow through nothing else on TikTok but this guy.

• TokFour! Seriously. I need to come up with a Blogography page of all the TikToks I follow, because if you are looking for some incredible takes on everything from cooking to woodworking to current events to just plain fun... I'm following it all.

• Luke! And just because it's not all TikTok this Sunday... I remember very well standing in line on opening night for The Empire Strikes Back. By the time the movie was released I was already the biggest Star Wars fan on earth, and there was just no way I could wait to see it. I was dropped off with the older brother of a friend who didn't mind having me tag along. Back in 1980, there was no "internet" to speak of, and the movie magazines were always months behind what was being released in the theaters. So when it came to one of the most surprising and shocking moments in cinematic history, I was completely caught off guard. There was simply nothing that could have prepared me. Which is why I just love videos of young kids reacting to the scene when they also have no idea what's coming...
Now-a-days, of course, it would have been spoiled either weeks before... or immediately upon release. Because people are assholes and online publications are competing for pageviews. Fortunately, nobody cares as much "old" movies like this, so there are still surprises to be had. For some of us, anyways.

• Mary Ann! I would be remiss to not mention the passing of Dawn Wells from complications due to COVID this past week. I ALWAYS picked "Mary Ann" over "Ginger" as my Giligan's Island crush...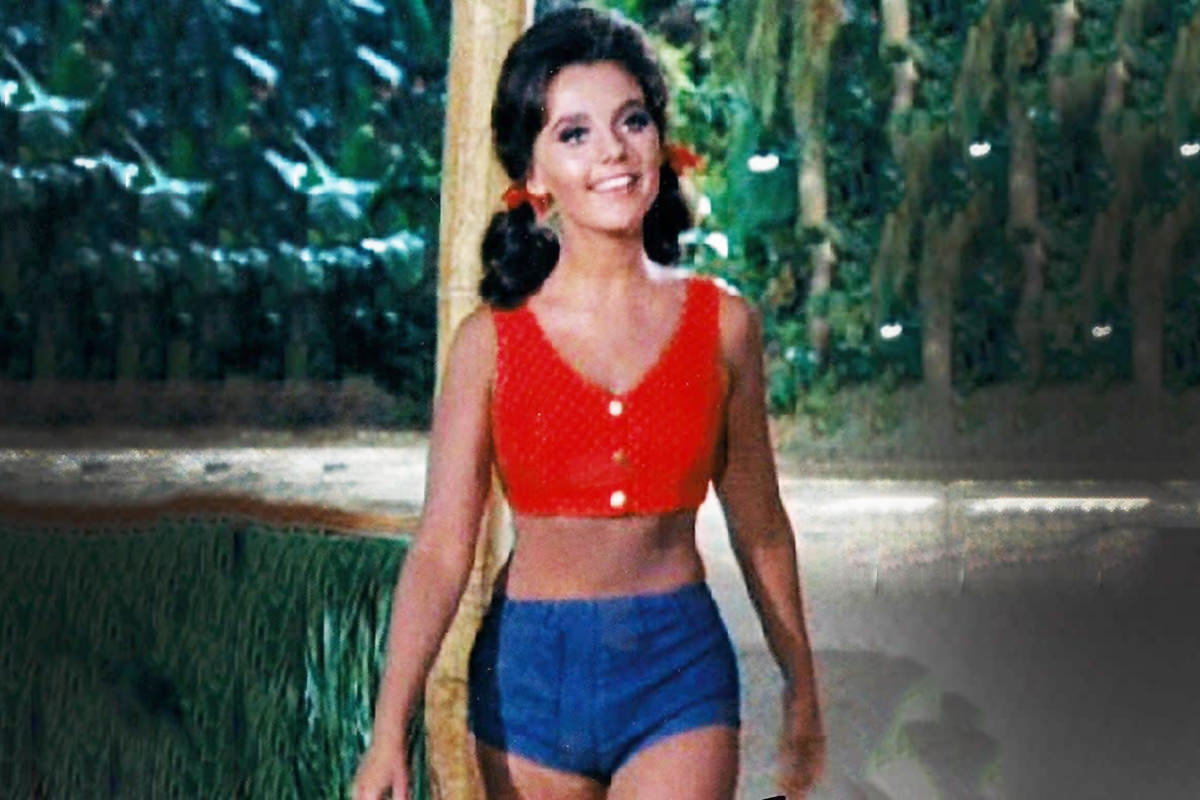 Rest In Peace, Dawn Wells. You were a huge part of my childhood.

And that's it for the first bullets of 2021.
Posted on December 14th, 2020

I've got a bit of a TikTok addiction going on, and finally had to admit to myself that I have a problem so I can limit the time I've been wasting on it. Now I give myself 15 minutes when I get up and 15 minutes before bed... though sometimes I pick it up while I'm waiting for a file to upload or clothes to dry or stuff like that.
It feels very much like wasted time that I could be using for something else... except not really.
Because my favorite thing to do with TikTok is look for recipes. I have grabbed a shocking number of meal ideas off the app and have made many dishes I've found there. Last night I made these Herb and Parmesan Crusted Potatoes, and they were magnificent...
I mean seriously delicious. So good that after I finished an entire carb-loaded plate full of them, all I wanted to do was run to the grocery store so I could buy more potatoes. Fortunately, I was too busy being a lazy potato to go get more potatoes because that cannot be a good way to lose my remaining lockdown weight.
My second favorite thing to do with TikTok is follow a bunch of woodworkers and home renovators to get tips on the projects I like to do. Since TikTok videos are so short... 15 seconds each (with up to four strung together for a total maximum of 60 seconds)... you are getting maximum efficiency out of your time investment. Unlike YouTube videos where people can pad them with stupid crap you don't need to know... or waste your time selling products and other irrelevant nonsense... TikTok has none of that. 99% of the time, it's just the information you're wanting. 15 minutes on TikTok can easily equal an hour on YouTube or recipe sites where the author posts stupid shit for pages about how this was the recipe their grandmother found while on a wine tasting tour in Tuscany and she gave it to you on her death bed but there was a page missing so you had to spend a week looking through all of her paperwork until you found it but the information was in Italian so you had to write to your Uncle Giuseppe to get it translated and he's doing so great with his two kids all grown up and married and it breaks your heart because your own kids are growing up so darn fast and you know that you're only getting a few more summers at The Cape until they are married with children of their own and then you'll be a grandmother and you hope that they call you "Nana Kate" but you aren't named Kate at all your name is Jenna and that's a totally different story for a different recipe because, boy you're going to want to cook this right away so I'll just get right to the ingredients and instructions but, before I do, I just have to tell you about the time I went clamming on the beach and got so sunburned...
Cannot tell you how many times I've wanted to throw my laptop against the wall while scrolling through recipes because ABSOLUTELY EVERYBODY thinks that their life IS JUST THAT INTERESTING.
Unlike me, of course, who has such an interesting life that I put it on the internet daily.
But in a blog where that kind of nonsense belongs!
Posted on November 1st, 2020

The ghost and goblins may be gone, but spirits still linger... because an all new Bullet Sunday starts... now...

• Tres Lassos! My favorite show of all time, Ted Lasso on Apple TV+ was just renewed for a third season, even though they haven't started filming the second season yet...
Sad to think that it could be up to a year before there's any more Ted Lasso to watch, but at least there's new Ted Lasso coming. If you haven't seen it yet, it's worth a free trial at Apple TV+ to binge the show.

• Bond, James Bond! Standing out in the news of the week was James Bond actor Sir Sean Connery dying at 90 years old. My first "Bond" was Roger Moore in Moonraker in 1979, but once VHS home video allowed me to see all the earlier 007 movies, I was obviously blown away by the cool-calm that Connery brought to the role...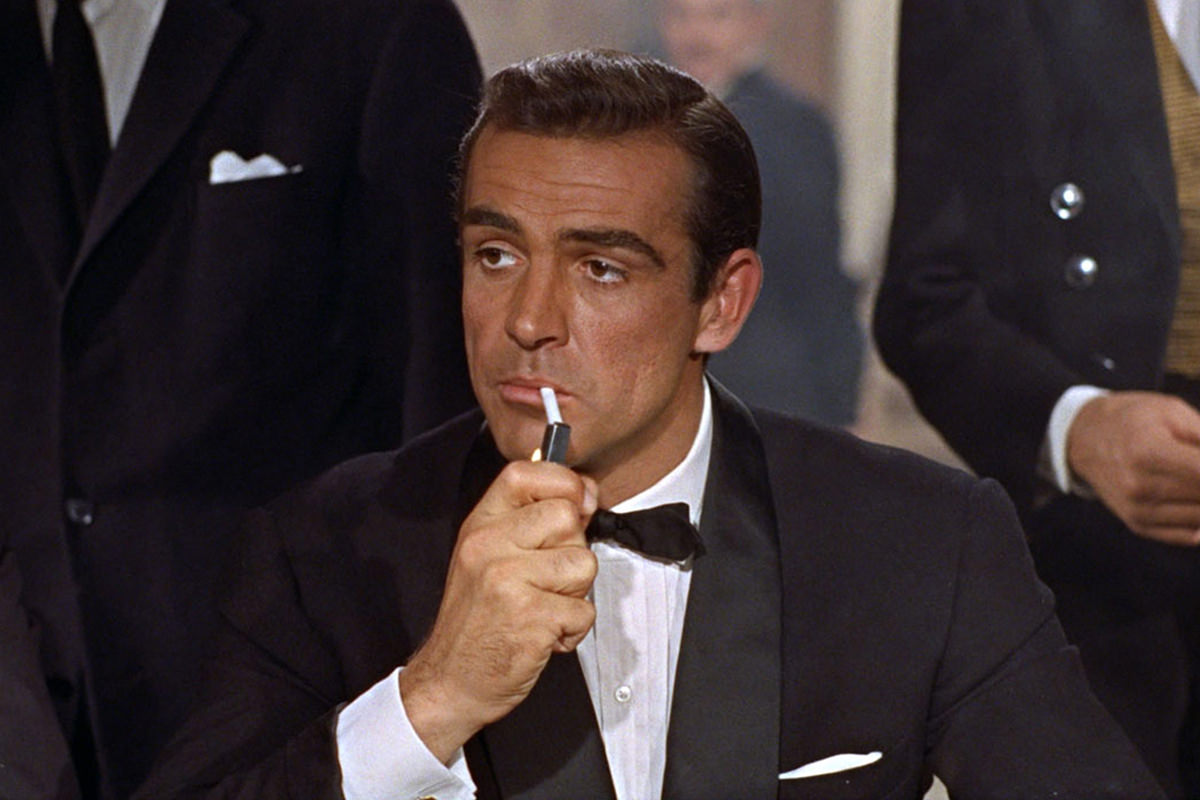 Though his work as Bond is probably my favorite role, he has plenty of other movies which made me a fan of his work. Of course Highlander immediately comes to mind. Indiana Jones and The Last Crusade, The Hunt for Red October, The Name of the Rose, Rising Sun, Playing By Heart, and The Rock were also flicks made memorable because he was in them. It's tough for me to reconcile being a fan of his work with his misogynistic bullshit, however... most famously with his infamous Playboy interview where he advocated slapping women. One could argue that he was a victim of the times he lived in because he said it in 1965, but he totally doubled-down on the idea over two decades later in a Barbara Walters interview. It wasn't until 2006 where he finally tried to walk back his idiotic stance, but an autobiography by his first wife alleged that he physically battered her, so seeing him as anything but an abusive asshole isn't easy. But you could almost say the same for James Bond in general. I guess the only thing left for me to say is "Rest in Peace."

• Happy! Fell down another TikTok rabbit hole while waiting for my clothes to finish in the dryer last night and got this video suggested to me... and I honestly don't know whether to be happy about it or break down in tears. It's heartbreaking to think that there are people who would wish this kind of thing upon a teenager. And yet we just got a new Supreme Court Justice who thinks that sexuality is a "preference" and will almost certainly interpret our laws accordingly. It's tough not to be disheartened by such events, but maybe videos like this one will change hearts and change minds so that we can celebrate people being who they are... and kids don't have to spend their young lives wondering if they will ever be allowed to be happy.

• Human Gaze! Isn't this how The Stepford Wives got started?
Or at least Westworld. In either scenario... not a great day for humanity.

• Maggie! As if the casting of Gillian Anderson as Margaret Thatcher wasn't brilliant enough... this promo for the upcoming fourth season of The Crown has a cover of "How Soon Is Now" by The Smiths attached!
After this, there's only two seasons left to go. Then I guess the monarchy just ends? Or something?

• Semi-Annual! Here we are again... my second of two posts each year where I say that ending Daylight Saving Time is FUCKING STUPID. Either make D.S.T. permanent or fucking split the difference because I am seriously over this moronic bullshit. I thought that Washington State had put an end to the insanity, but apparently federal approval is required...
If the E.U. can pull their fucking heads out of their asses and put an end to this crap next year, why can't the USA? Because our federal government is too fucking busy lining their own fucking pockets and giving lobbyist blow-jobs for fucking reelection cash instead of serving the American fucking people. That's why. Time to fucking overhaul the government so lawmakers do their fucking job instead of become useless career assholes? Oh probably.

• New Mando! I swear, The Mandalorian has no right to be as good as it is. If you like all things "Star Wars" and haven't seen it, might be worth a Disney+ free trial to take a look. The second season just started and the first issue is great...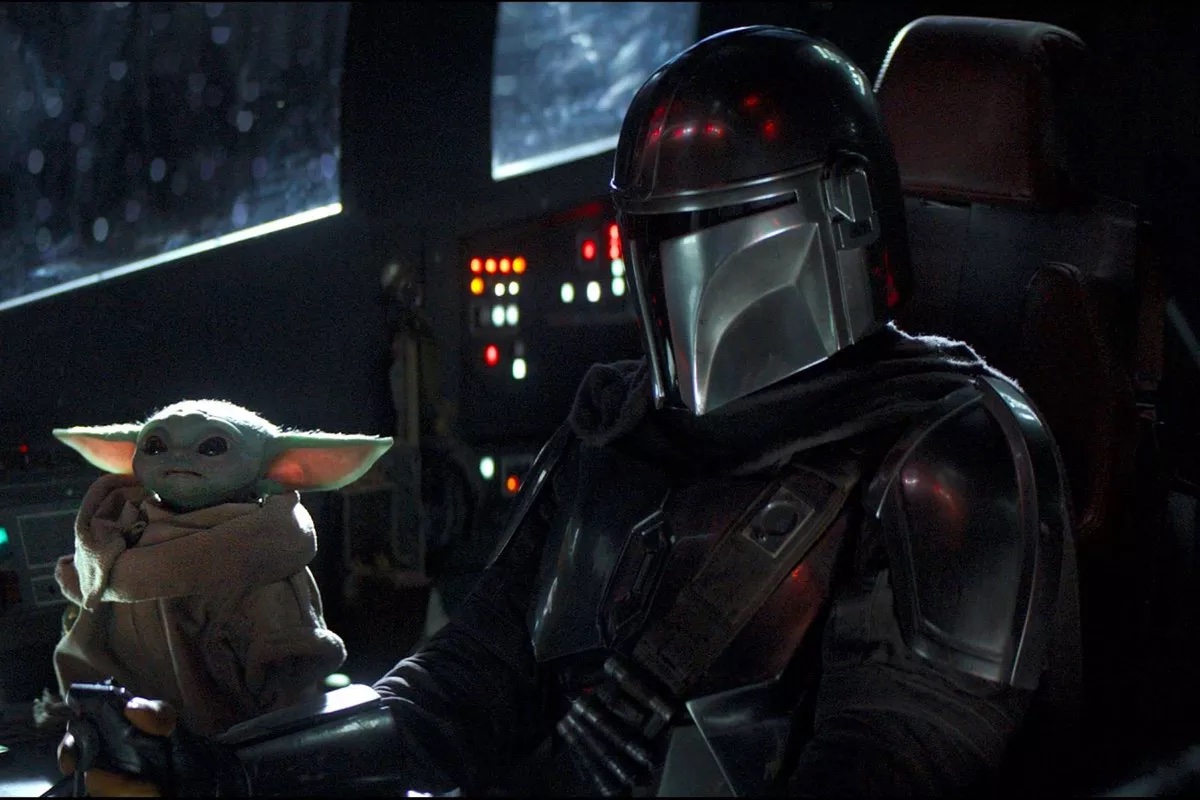 A better take on Star Wars than the prequels or sequels... and right up there with Solo and Rogue One which I loved. Kind of amazing how Jon Favreau kicked off the entire Marvel Cinematic Universe and is responsible for saving Star Wars. I hope Disney is paying him really, really well.

And that's your post-Halloween bullets for the day.
Tags:
Bullet Sunday
,
Daylight Saving Time
,
Movies
,
News
,
Politics
,
Robots
,
Ted Lasso
,
Television
,
TikTok
Categories:
Bullet Sunday 2020
,
Movies 2020
,
News – Politics 2020
,
Television 2020
—
Click To It:
Permalink
—
2 Comments: Click To Add Yours!