Posted on November 12th, 2017

Put on that winter jacket, because winter is here along with an all new Bullet Sunday, which starts... now...

• Save It! I hate, hate, HATE the messing with the clocks twice a year. Daylight Saving Time ended a week ago, but my cats still haven't fully adjusted. Hell, I haven't fully adjusted yet either. At some point somebody has to end this madness.

• Canes! Back when I was traveling to L.A. twice a year, I decided to take an early run to Disneyland to get a handmade candy cane at Christmastime. It was insanity. The line to get one was crazy-long (now I guess they just hand out wristbands or something?) and they are really expensive ($10 when I bought one... probably $15 now!). And yet... a freshly made candy cane during the holiday season? Magic! Worth every penny! I'd buy one again... though the standing in line to get a wrist band is kinda a waste of Disney-Time! And speaking of raising canes at Disneyland, I just found this cool video...
I wonder how tough it is to make your own candy canes at home?

• Reveal! After watching a show on the beautiful restoration of Michelangelo's Sistine Chapel, I became more than a little obsessed with the art of restoring art. And why I've been captivated with art dealer Philip Mould's Twitter feed where he's been sharing some restoration photos like this one...
Amazing. I need to see if I can track down a blog where they keep track of stuff like this.

• No Wonder! This is incredibly fucked up.

• It's a Wonder! This, on the other hand, is incredible.

• Dance! This is the best thing I've seen on the internet this week, even though it's four years old...
Except bats eating grapes. It doesn't get cuter than bats eating grapes...
There. I can face another week now.

Time for a hot chocolate, I think. See you next week... I'll be the one bringing the bullets.
Posted on February 26th, 2015

I love bats.
Watching videos of baby bats can totally make my day.
Posted on November 30th, 2014

Don't go all Cyber Monday just yet... because Bullet Sunday starts... now...

• Bats! The Tolga Bat Hospital posted some amazing photos of young bats experiencing the rain for the first time this week...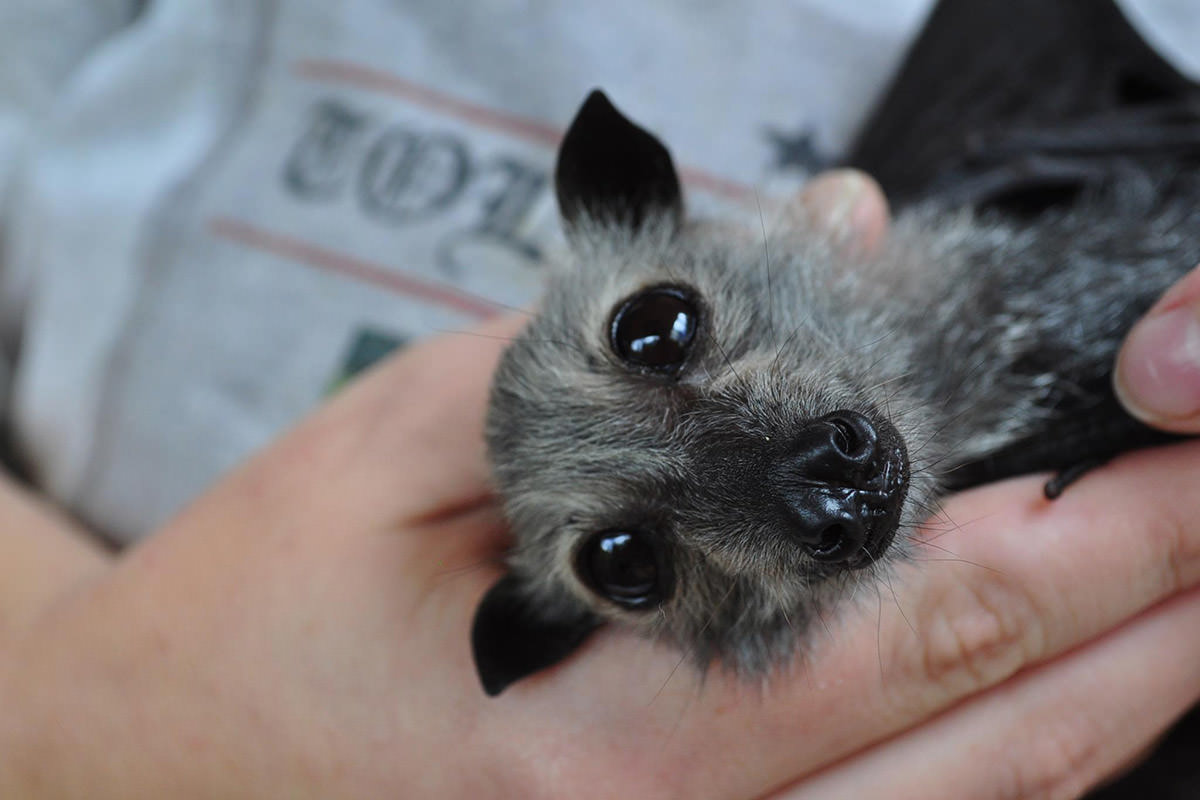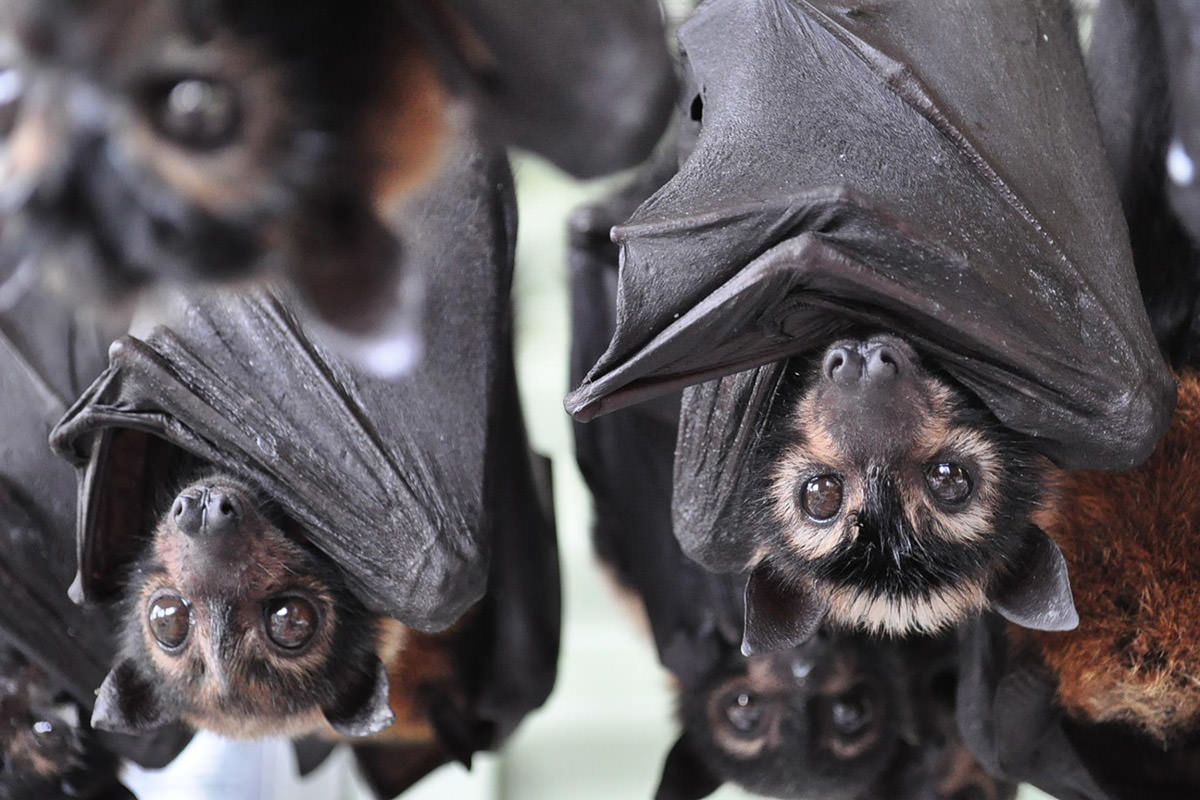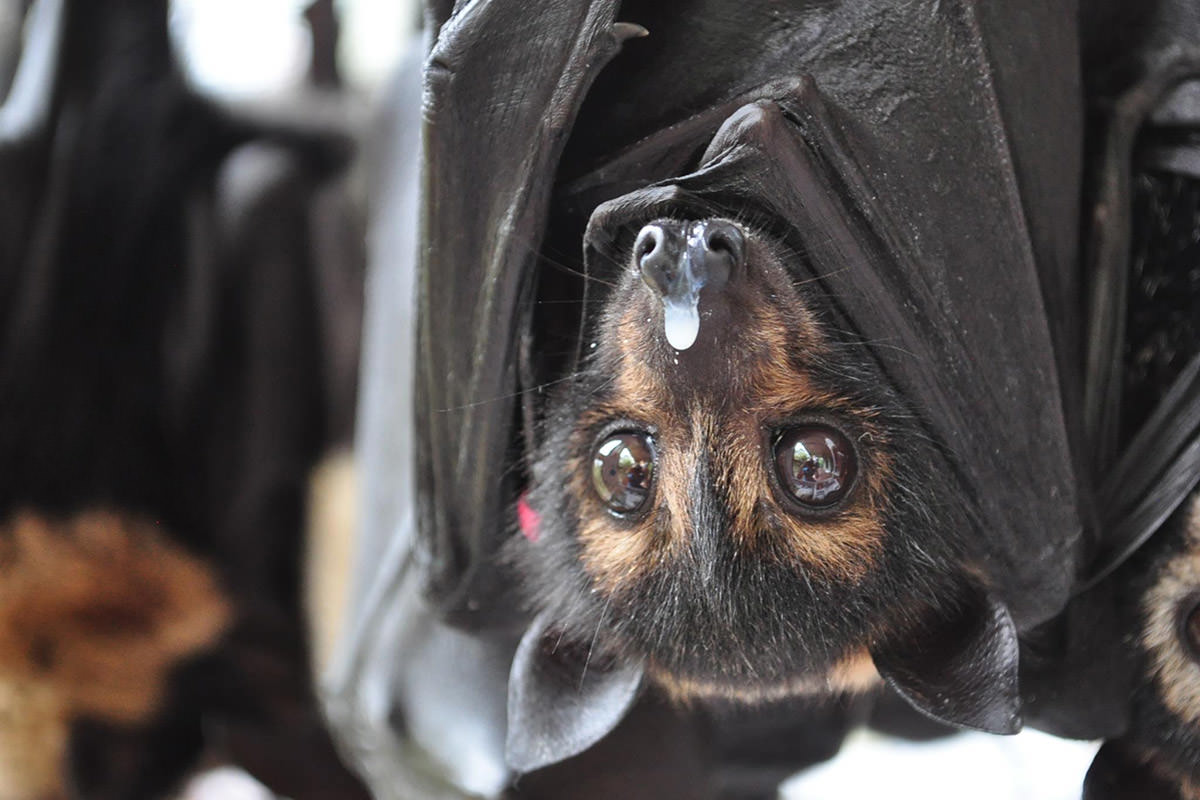 Adorable. Oh how I love bats! Much love to Tolga Bat Hospital for posting such fantastic shots. They do good work.

• War! Unless you've been spending the past few days dead for tax reasons, you're undoubtedly aware that the first teaser trailer for Star Wars: The Force Awakens was released. If you weren't aware, you can watch the thing here.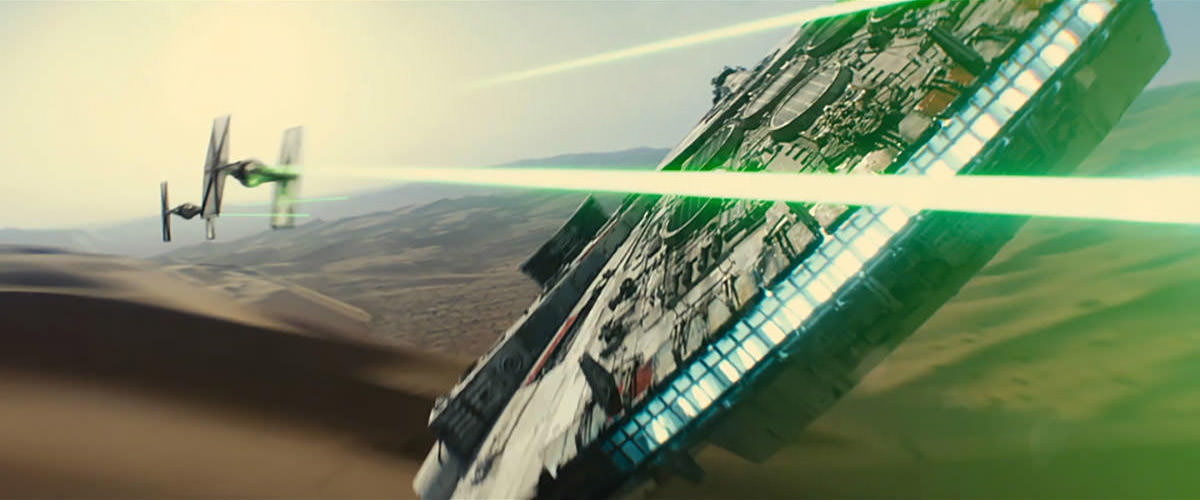 And then the fan trailers came. First up is this brilliant (literally!) nod to director JJ Abrams' love of lens flare (in his Star Trek movies)...
Nice! Next up... the very funny George Lucas' Special Edition...
What? No fart jokes? And, lastly, heeeeeeere's LEGO...
Genius. I have to say... this trailer had a good Star Wars feel to it. Which is something I can't say about the horrendously shitty prequel trilogy. Just over a year to wait... sigh.

• Space! I really don't have the words for just how amazing this it...
Wow. Star Wars Shmar Wors. More information on this jaw-dropping short film can be found at creator Erik Wernquist's site.

• Sugar! If this Brita commercial is accurate, it's kind of scary. I probably drink double this amount of soda in a year...
Why oh why are all the things that are bad for us so darn tasty?

• Lap! Came across a photo while backing up my image library and was pretty shocked at how big laptops used to be...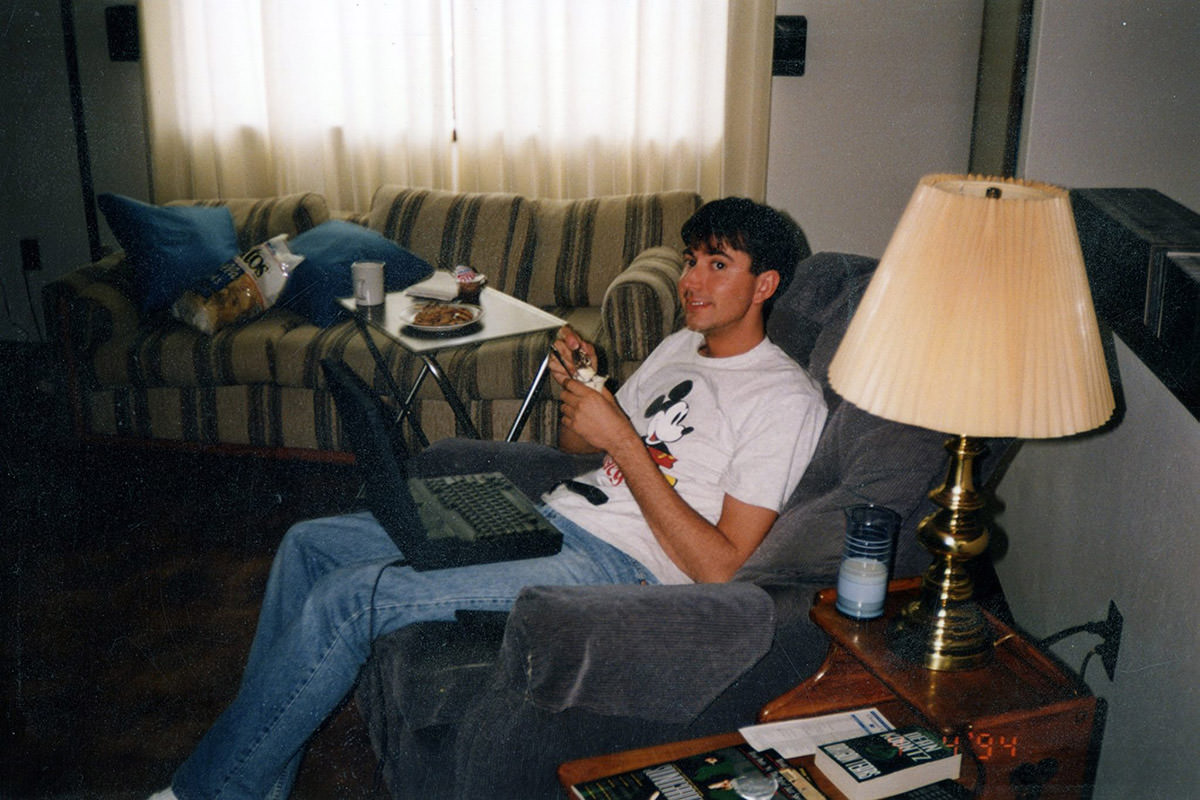 Even harder to believe that boat anchor has only a fraction of the computational power that an iPhone has. Probably a fraction of the screen resolution as well. Might have an iPhone beat on battery life though.

• Arthur! A story about a stray dog who became part of a team attempting to complete a 430-mile race through the Amazon is probably my favorite story on the interwebs this week...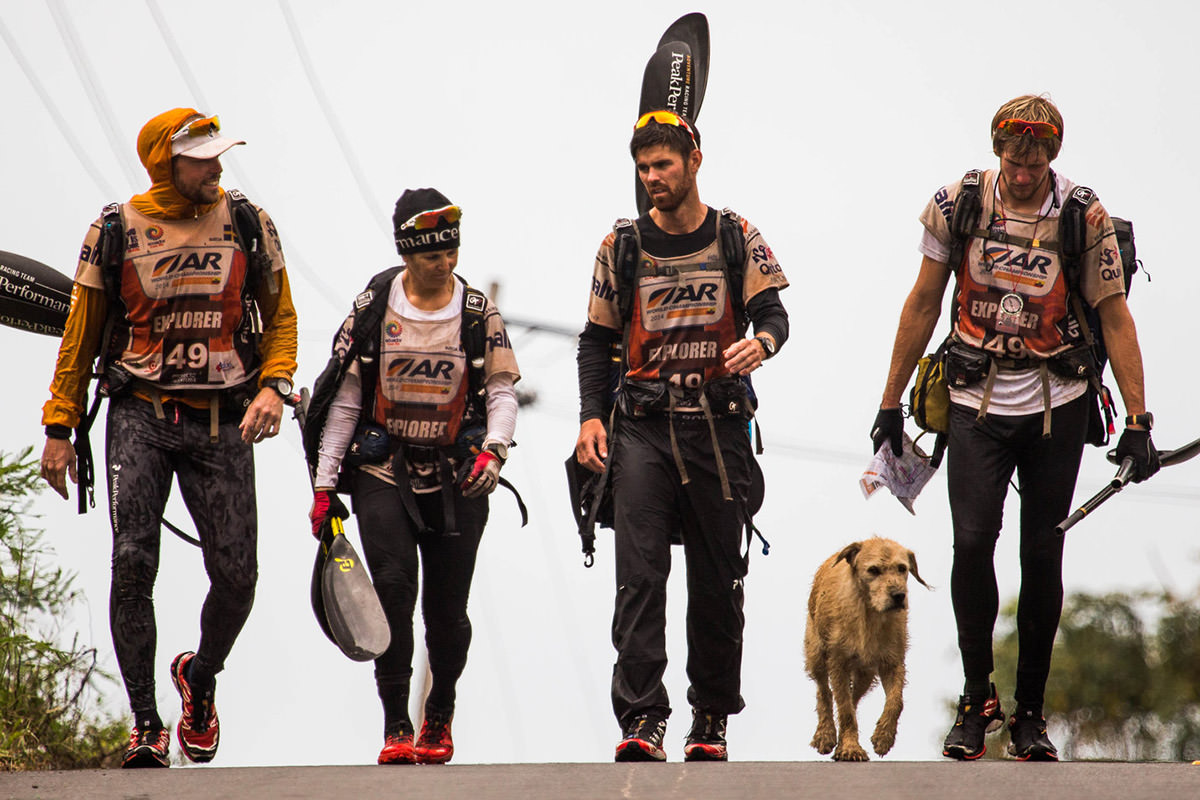 So great. I get a lump in my throat every time I read it. If you want to see Arthur arriving at his new home in Sweden, here's the link.

And... I should probably go to bed seeing as how I have to get up early for work tomorrow.
Posted on November 9th, 2014

Time to take responsibility for all your terrible decisions... because Bullet Sunday starts... now...

• Wall. The Wall Street Journal has some fantastic photos showing scenes from Berlin "then and now" in celebration of the 25th anniversary of the fall of the Berlin Wall...

Photo from The Wall Street Journal
There's not many shots... well worth your time to visit, which you can do by clicking here. As if that weren't enough, they also have a fantastic interactive timeline of events leading to The Wall being torn down.

• Bats. I have loved bats for as long as I can remember, and my heart always goes out to these misunderstood creatures. All too often they're seen as disease-bearing bloodsuckers instead of the beneficial animals they are. Which is why this story of a bat hospital on Bored Panda makes me so happy...

Photo by Tolga Bat Hospital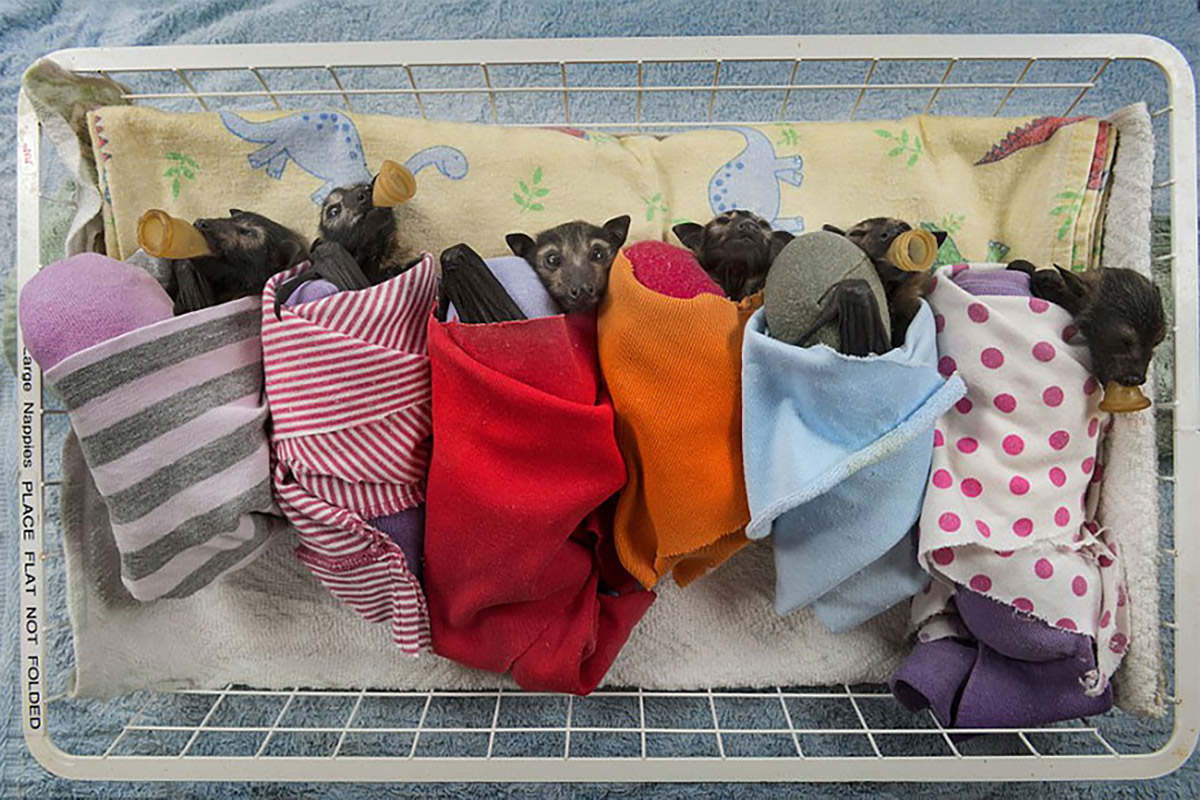 Photo by Caters News Agency
Cutest babies ever. How anybody could hate on something so adorable is beyond me.

• DST. IT'LL BE THE DEATH OF ALL OF US!
It's true. It's all true..

• Trek! My inner Star Trek geek loves stuff like this...
More of a Star Wars person? No worries... I got you covered.

• Cooks. I've watched this amazing opening credits sequence all the way through to the end twice (WARNING: NSFW in spots)...
It may be a parody. It may be for a show that doesn't even exist. And yet it's still vastly more entertaining than most sitcoms on the air today. If you've already seen it... have you read the "behind the scenes" article that talks about what went into making it?

• Murder! What happens when Shonda Rhimes says "You think that SCANDAL is messed up? Well get a load if THIS!" And then unleashes Viola Davis and How to Get Away with Murder...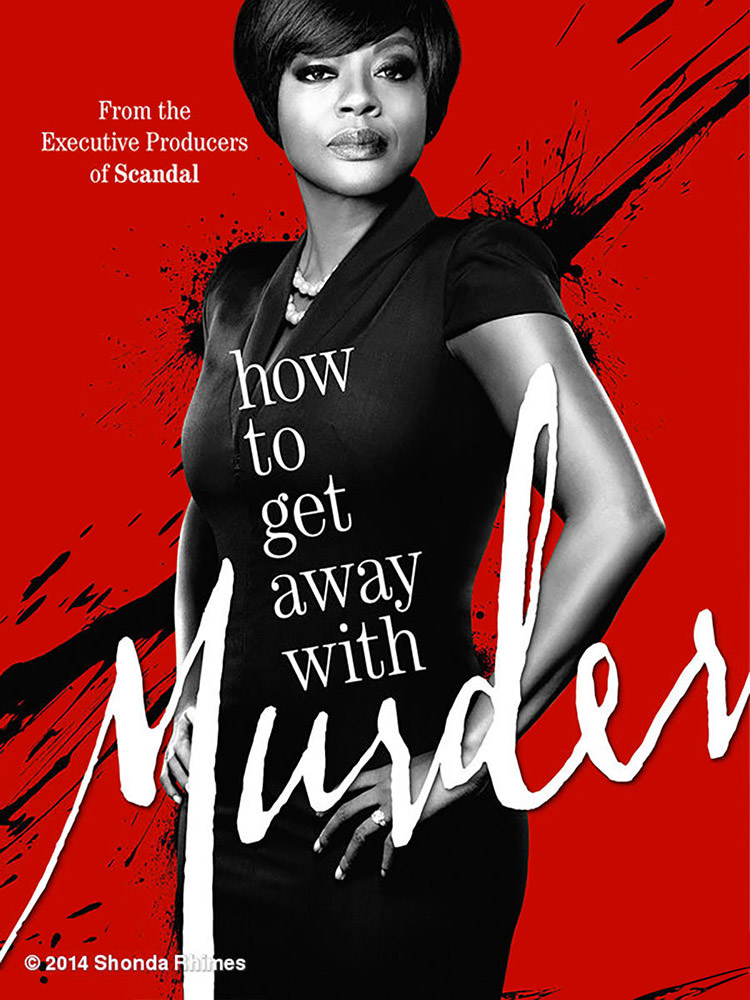 The show is all kinds of freaky soap opera /slash/ legal drama goodness, and is quickly becoming one of my new favorites this season. The thing that makes me appreciate Ms. Rhime's shows is that they're so well thought out. Unlike crappy series like Lost that introduced twists and turns with no fucking clue how to tie everything together, Shonda's writers have their shit together. Everything happens for a reason and they know exactly where they're going with each new turn. Refreshing!

Night night.
Posted on May 28th, 2009

Greetings from the Bat Cave.
There are so many of the little guys hanging around my neighborhood lately that it kind of feels like a Bat Cave. Every evening I crack my window open for some cool air and can hear them flapping around outside. I thought that bats were inaudible to humans, but I'm definitely hearing some kind of squeaking going on as well (I'm assuming it's not birds, because it's so dark out).
I love bats. In addition to being cute as hell, they eat insets by the bajillions... even a small bat can consume hundreds of mosquitos an hour. As if that wasn't enough, bats were the inspiration for one of the greatest super-heroes of all time: The Batman!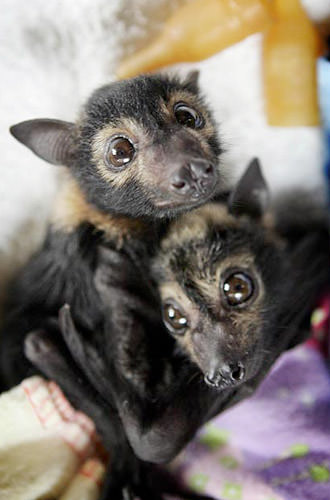 Cute baby fruit bats photo taken from a story at The Daily Mail
I mostly feel sorry for bats since they have an unwarranted reputation for spreading disease and sucking people's blood and stuff. Because of this, people try to kill bats and destroy their homes. That's really too bad, because bats are actually pretty harmless to humans. On the contrary, bats are so beneficial to have around that the Organization for Bat Conservation actually encourages people to purchase nifty bat houses.
Awww... it's kind of nice that they put a bat symbol on the outside so that bats know they're welcome to go inside and make themselves at home...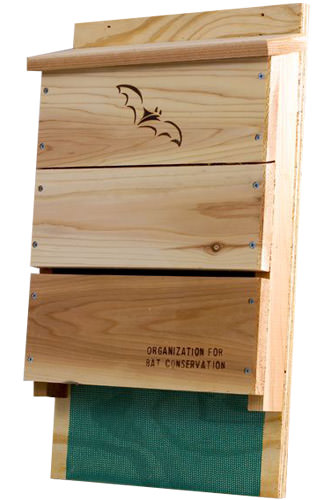 Bat-Jacuzzi is sadly not included
Sadly, many bats are in danger of becoming an endangered species because the places they live are being polluted or destroyed. As an important part of our ecosystem, this is bad news for both bats and humans.
But there's a way you can help! Become a member of Bat Conservation International. When you join up, you'll get a free subscription to BATS Magazine, a quarterly publication filled with cool photos and articles about our fuzzy, guano-producing friends.