Snow has finally come to Redneckistan! But will it last? Doesn't matter... because an all new Bullet Sunday starts... now...

• MACGRUBER! This coming Thursday. Four more days. I love, love, loved the MacGruber movie. I've watched it an embarrassing number of times and have been wanting a sequel forever. But a TV series will do just fine...
It looks like it's going to be even better than the movie. Can't wait!

• Beautiful! Flawless...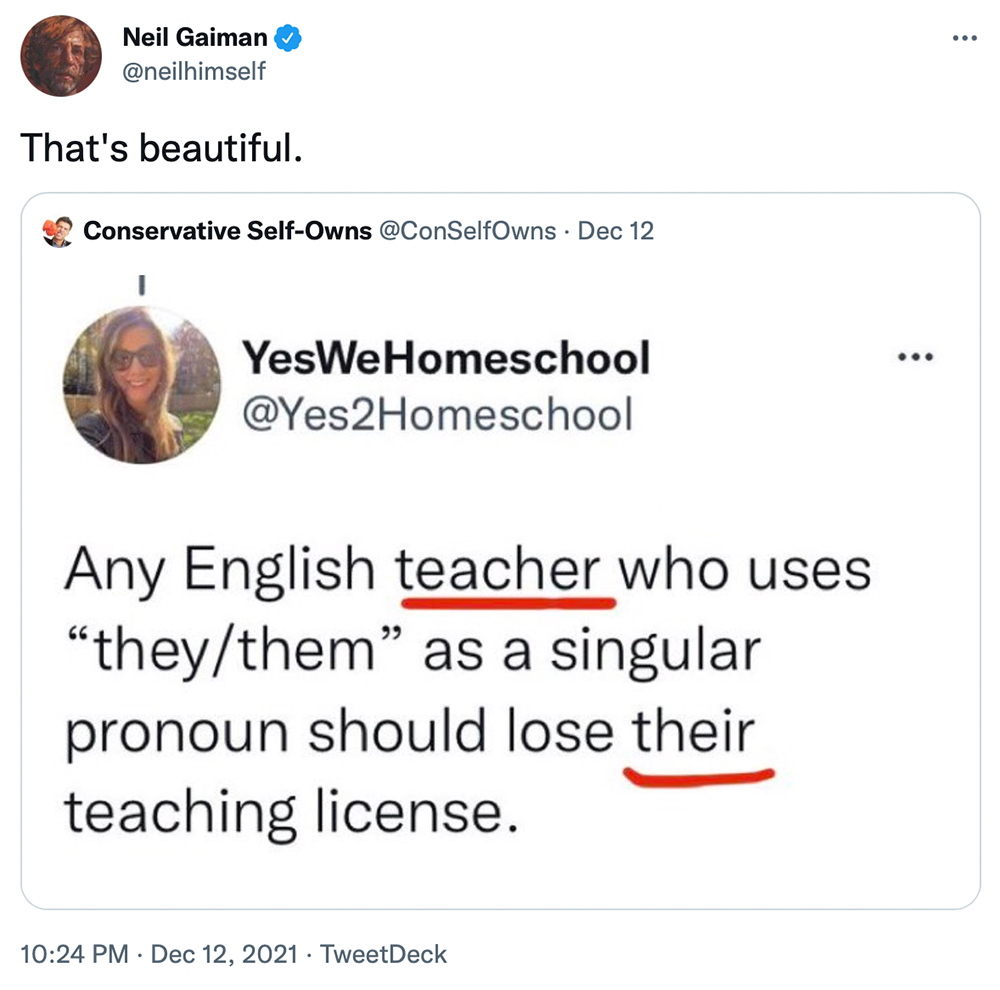 Dumbass bigots self-own so often that I just accept it as their default.

• Enter the Matrix! I'm intrigued...
Though I remember being excited for the two shitty sequels we got last time, so I'm cautiously optimistic.

• Crossed-Stitched! This made my entire morning (here's a link if TikTok is being a dick)...
Priceless.

• BACON! In general, not buying Kellogg's products has been easy for me... except Morning Star Farms fake bacon. I eat this stuff by the truckload. I put it on sandwiches. I eat it for breakfast. I crumble it and put it on everything... E-V-E-R-Y-T-H-I-N-G... because it's such a great product. There are few alternatives in my area, and the ones I've tried have been awful. I seriously hope that Kellogg reconsiders their abhorrent behavior so I can start buying it again... but... oh well. I refuse to buy any of their products now, and may never buy them again. Hopefully stores will replace Morning Star Farms "Bacon" with Lightlife "Smart Bacon" or something I like.
It's so weird. I've been buying shitloads of Morning Star Farms since I first became a vegetarian in 1986. In many stores where I live, they were the only option. And many of their products remain a favorite... Grillers Original Burgers... Sausage Patties... OH LORD, THOSE GLORIOUS CORN DOGS... and, of course, the bacon. At most, it's been an inconvenience for me. I dipped and fried my own Lightlife corn dogs and they were every bit as delicious as the Morning Star Farms (better even!), but a hassle to make. I will have to see if I can made 100 of them and hope they freeze well? I dunno. Fingers crossed..

• Happy Holidays! The irony is not lost on me that it may very well end up that my favorite Hallmark Christmas movie of 2021 is actually a Hanukkah movie...
Maybe it's because they only get one Hanukkah movie each year that they get to put all their good ideas in a single movie... unlike Christmas where all the ideas are split between 40 movies... but this is another winner after an equally good flick last year.

• Interview! I met Anne Rice twice at book signings. When people ask me what she was like, I had the same response both times... "She was nice. But disconcerting because it felt like she could see right through me." And it's true. Nice as can be... made some sweet chit-chat with me... and made me feel like she had supernatural eyesight that was more than a little intimidating.
Which is why I was very sad to hear of her passing. I liked some of her books. Was less enchanted by others. But ultimately enjoyed the entertainment she generously offered me. But I'm more upset because I feel that a total stranger who knew me better than I knew myself has gone. And, yeah, I know that doesn't make much sense. But it does to me.

And I guess that's all I got to say about that.