Posted on June 9th, 2019

The time for revolution is now... because an all new Bullet Sunday starts... now...

• Lander! In celebration of the 50th Anniversary of the first Apollo Moon Landing, LEGO has released this amazing new set...
It's pretty dope...
It's also $99, which seems totally worth it, if you've got that kind of money to burn.

• Saga! Speaking of LEGO... they've just announced that LEGO Star Wars: The Skywalker Saga will be released in 2020, combining all nine films in a single game...
I'm guessing that it will be the existing Star Wars games but with new material added at the end to close out the saga. Since it is being released for the Nintendo Switch, I don't mind that at all. I'd love to replay everything from the beginning.

• Lucifer! One of my favorite shows, Lucifer was cancelled, then picked up by Netflix. Apparently it did well enough that they are giving the show a fifth season to wrap everything up...
Time to celebrate...
It's a bit depressing that the show will finally be ending... but at least they have the opportunity to create an actually ending.

• Eighty-Four! Director Patty Jenkins released a teaser poster for Wonder Woman 84 this week. One year to go before we know whether this "Not A Sequel But a Reimagining" is going to be worth a crap...
I'd like to think it will be, especially since Jenkins is back onboard, but it's really impossible to say. Why they would toss away a continuing story for some kind of soft reboot is puzzling. Unless it's because the DC Cinematic Universe was a pile of shit and they wanted to just bury that once and for all? 360-whatever days until we find out.

• Jedi Thrones! Well, this is pretty special...
Given what a massive disappointment the final season of Game of Thrones was, I'm happy to see anything that redeems the franchise, so I'll take what I can get. In the meanwhile, there's this interesting look at how things went South.

• Chase Dreams! One of the biggest surprises of the past year's television season was The Other Two, which was hilariously funny in places, despite kinda sliding late in the season...
Still, if you're bored and want something to watch over the summer, this is worth a look. It's pretty foul and definitely not a good fit for mixed company, but you can stream it for a limited time at Comedy Central.

• Fan! A bit of a different direction for MUNA here...
Can't wait for their new album in September!

Have a great Sunday!
Tags:
Bullet Sunday
,
LEGO
,
Lucifer
,
Movies
,
Music
,
Star Wars
,
Television
,
Video Games
,
Wonder Woman
Categories:
Bullet Sunday 2019
,
LEGO
,
Movies 2019
,
Music 2019
,
Television 2019
—
Click To It:
Permalink
—
0 Comments: Click To Add Yours!
Posted on February 20th, 2019

I've been a fan of video games for as long as video games existed.
It all started in the 70's when my family was eating at Mr. Geno's Pizza and they had a Pong machine that you could play from your table on a television that was mounted in the corner. It was magical being able to turn a knob and actually control something displayed on the TV. I ended up wanting to eat at Mr. Gino's a lot.
Flashing forward... I was on a field trip to coast where we were on a ferry boat for some reason (I can't remember why or where we were going). This is where I saw Space Invaders for the first time. It was a lot of money to play... 25¢... but it was worth every penny.
Flashing forward... All I wanted was an Atari 2600 so I could play video games at home. My parents obliged me for my birthday... or Christmas... or something... and it was all I wanted to do.
Flashing forward... All I wanted was an Atari 800 computer... not so I could learn how to program one, but because I wanted to play Star Raiders.
Flashing forward... The neighboring big city gets an actual video arcade. The local pizza joint installs video games. I spend my 80's playing Q*Bert, Donkey Kong, and loads of others.
Flashing forward... And video games have been a huge part of my life. I've owned an insane number of home/handheld consoles over the years...
Flashing forward... Though I owned a PS4, Xbobx One, and a Wii U, I rarely played them because I never had time. Most all my video games were played while traveling, which meant they were played on my Nintendo 3DS. A system I loved so much that I upgraded to the 3DS XL the minute it became available.
Then the Nintendo Switch was released...
At first I mostly ignored Switch because I already had two consoles I was ignoring. But then I started spending more and more time waiting in hospitals and doctor offices with my mom throughout 2017, and the idea of playing console games on-the-go was too good to be true. So I traded in my PS4 and Xbox One and got one.
It's not as powerful as a PS4 or Xbox One... not by a long shot... but you can play games in the palm of your hands that are full-on console-quality and that's pretty amazing. Then you can also dock it to your television and play there as well. And the transition is seamless. Like the above commercial demonstrates, you can start playing Legend of Zelda: Breath of the Wild on the plane as a handheld, then come home and dock it to pick up exactly where you left off. And the games look pretty good either way.
What's surprising is that the Switch dock doesn't have any expanded hardware in it. When you are using the Switch's built-in screen for handheld, it's running at 720p. When you dock to your television it can run up to 1080p, and it's all coming off of the Switch unit. Given how ridiculously small the system is, that's a pretty incredible feat.
Now, when it comes to games, I'm not at all hardcore. My favorite thing to do is to sit back and play the latest LEGO video game. They're relatively easy and a lot of fun. Just what I need to kick back, relax, and forget the world. And because this is as taxing as my gaming gets, I'm Nintendo's core demographic... and the ideal candidate for the Switch. But things have taken a surprising turn. The hardware is powerful enough that some decidedly non-Nintendo-ish titles are being released. Including critically acclaimed games like The Elder Scrolls V: Skyrim and my most favorite game on the Switch, Diablo III: The Eternal Collection....

And, yes, I ended up buying the blue/red version of the Switch*
It's a flawless translation. It looks wonderful in handheld or console mode. It plays like a dream no matter how much chaos is on the screen. I have no idea how they managed to do such a good job, but it's a joy to play. And I've played it a lot since it was released last November.
Do I miss my PS4 and Xbox One? Kinda. The buttery smooth 60fps, hi-res graphics and raw power of those consoles makes video games a complete dream to play... but Nintendo's plan to sacrifice power for portability is a good one. There is nothing quite like playing Diablo III on an airplane at 30,000 feet. Especially since that's about the only place I have time for video games now-a-days.
So thanks for that, Nintendo!

*When I first saw the Switch, I was horrified by the lopsided blue/red color scheme. But when it came time to buy the thing, I passed over the grey/grey version because I decided I liked the colorful one after all. It's just so unique and pretty.
Posted on February 19th, 2019

Well, boo! Last week got an email from Best Buy saying that their "Gamers Club Unlocked" program is ending. I haven't been buying many video games the last couple years... preferring to spend my money on woodworking tools... but the 20% off you get from the club was great. Whenever there was a game I wanted, I'd wait for there to be a price drop or sale, then take the 20% off of the reduced price so I could actually afford it. Because, seriously, the $50 to $60 that games cost now-a-days is crazy. 20% off of $30 ($24) is much more my speed.
Oh well. I probably shouldn't be spending money on video games anyway. I've got plenty of games to last me.
The bummer is that I've got all these Best Buy rewards certificates I was saving up for the Next Big Game. Because paying $0 is even better than paying $24.
And by "Next Big Game" I'm guessing the remake of The Legend of Zelda: Link's Awakening which looks plastic cartoony and wonderful...
What's truly remarkable is how they updated everything, but stayed true to the original and made it look so familiar...
So cool. And boy does that bring back video games memories.
But more on video games tomorrow...
Posted on September 25th, 2018

As any long-time reader of this blog already knows, I am hopelessly addicted to the LEGO video games. They are mostly (fairly) simple puzzle games which involve looking for various objects and trying to figure out how to combine them to complete a task needed to advance in the game. Most all of the titles are really funny, even with the source material can be rather gory (I'm looking at you Jurassic World!). And that's the appeal. LEGO games are a mindless distraction from all the horrors of the world that I like to escape into from time to time...
And so... here's my ranking of all the console LEGO games I've played (I haven't played the latest LEGO online game, LEGO Worlds yet because I am hesitant to buy into an online game that could be set down like LEGO Universe was).
LEGO Batman 3: Beyond Gotham — Where do I even start? Dozens of awesome DC characters on amazing adventures that are far, far more entertaining than and DC movies hitting the screen. This is the Justice League people deserve to see, and it's a fun, hilarious, entertaining ride from start to finish.
LEGO Star Wars: The Complete Saga — What's so fantastic about LEGO games like this is that they follow the general narrative of the movies... but add so much more. The "Complete Saga" has games covering everything from the original trilogy (mind-bogglingly good) to the crappy prequels (which are so much more fun in LEGO than the actual movies). Like most LEGO games, the vehicles are a mess to control and I don't have much fun on the spaceship missions, but everything outside of that is gold.
LEGO City Undercover — When this game was first released, it was a Wii U exclusive. I didn't have a Wii U, so I just held tight and thought I would wait until it got released on other systems. Then I got to actually play the game at a friend's house. I was so absorbed into the massive city and all the clever missions that I had to have it. So I bought a Wii U just to play it. Expensive way to play a game, but worth it. The integration of the Wii U controller into the game was great, the levels are hilarious, and some of the challenges were more difficult than in other LEGO games. A winner all the way around.
LEGO Dimensions — Blending so many licensed properties in a single game was a fantastic concept that worked exceedingly well. You start out with LEGO Batman, Gandalf (from The Lord of the Rings, and Wildstyle (from The LEGO Movie)... but you can add any other character you want from any other franchise to any Free Play mission you want. Want to team up The Wicked Witch of the West with Bart Simpson and Beetlejuice? Have at it. I loved LEGO Dimensions and bought every single set that LEGO released for it. Needless to say, I was gutted when they discontinued LEGO Dimensions. But I guess it's okay because I still have a ton of stuff left to explore on all the expansion packs I bought. Hopefully they won't shut down the servers before I have a chance to complete everything.
LEGO Marvel Super Heroes — This is a fantastic game which feels inspired by the Marvel Studios movies, but encompasses all the Marvel characters. It's also massive. It feels like the entire city of New York has been recreated in LEGO form and there's just so much to see and do. With each new release the LEGO games just keep getting bigger and better. I can't imagine what LEGO: The Incredibles and LEGO DC Super-Villains are going to be like!
LEGO Batman 2: DC Super-Heroes — Well, here we go. I had no idea how they were going to put powerful characters like Superman and Wonder Woman into a game and have it work (they are invulnerable and can literally fly anywhere, go anywhere), but they obviously put a lot of thought into that dilemma, because everything works flawlessly. I got this game on a Friday, then ended up playing all weekend and taking a vacation day at work on Monday because I was so absorbed in unlocking all the secrets hidden around Gotham City. Fantastic follow-up to the original game.
LEGO Star Wars: The Force Awakens — I wasn't going to buy this one... I was going to wait until all of the new trilogy games were collected in a single game... but I couldn't resist. Hearing that all the characters were voiced by the original actors was compelling enough to make me buy in. I did not regret it. This is a hilarious parody with improved game-play from the earlier Star Wars games. As if that wasn't enough, it has levels that link Return of the Jedi to The Force Awakens which makes this a must-have game not just for LEGO fans, but for any Star Wars fan as well.
LEGO Marvel's Avengers — A direct lift of Marvel Studios films of the day (Avengers: Age of Ultron, Captain America: Winter Soldier, etc.), this game doesn't feel as "open" as later games, but is still a heck of a lot of fun. All the characters are Marvel Cinematic Universe versions, which makes for a slightly different mindset than other games which are more tied to the comic books. That just made me love it even more, and I had a blast playing it.
LEGO Ninjago Movie — I'm only half-way through this one, but I'm really enjoying it. I'm only barely familiar with the Ninjago franchise (I've never seen the movie but I have all the characters from the LEGO Dimensions game... but, fortunately, familiarity isn't required to play. Experiencing the game makes me really want to see the movie, so I guess that's as big an endorsement as you can get.
LEGO Harry Potter (Years 1-4 and 5-7) — I am not a fan of the Harry Potter movies or books. I honestly don't get their popularity, because they seem like derivative works that rely on deus ex machine to tie up the endings of each story. That being said, the LEGO games are awesome. They seem a bit more "puzzley" than other games, and that worked to keep me interested through the entire series. I do think the game would have been enhanced if I had seen the films, but I was okay without it.
LEGO Batman: The Videogame — I am a huge Batman fan and a huge LEGO fan, so I bought this game not knowing anything except it combined two of my favorite things. Before this, I had been playing the LEGO Star Wars games and liked them, but here is where I became obsessed. They got a lot right with the Batman franchise from the very start and everything that followed was gravy.
LEGO Indiana Jones (Volume I and II) — The Indy Trilogy films were born to become LEGO games, and the result did not disappoint. I had a lot of fun roaming from adventure to adventure... so much so that I bought this game twice! Once on my Xbox 360 and once on my Nintendo DS handheld (which was surprisingly different than the console version). Released in two parts, I thought the second half was lacking compared to the first, but still enjoyed the whole game.
Pirates of the Caribbean — This title felt way too much like "more of same" that we had been getting, but lacked the variety of games which preceded it. Despite all that, it was a lot of fun to play and looked beautiful. I lost interest in the movies after the first two, but this game kept me interested all the way through.
LEGO Jurassic World — Putting Jurassic Park in a LEGO game is kinda a no brainer (the LEGO Dimensions pack was fantastic). What made this game shine was having the original actors voice all the characters. The game would have ranked higher on my list if there were more dinosaurs used as playable characters... otherwise it's just regular human after regular human. Sure they have unique skills, but still. If I have a serious complaint, it's the annoying as hell Compsognathus dino attacks which beseige you far too often to stay entertaining. By the end of the game I was thinking "Holy crap, did anybody beta test this?"
LEGO Lord of the Rings — As a big fan of Tolkien's books and somebody who really enjoyed the Peter Jackson movie adaptations, I could not wait for this game to be released. And it was definitely worth the wait. Except... it kinda fell short when compared to the other LEGO games being released at the time (namely, LEGO Batman 2 and LEGO Marvel Super-Heroes). Even so, it was highly entertaining and had me absorbed from start to finish.
LEGO The Hobbit — I thought that Perter Jacksons' absurdly drawn-out movie adaptation of the beautiful and simple story that's The Hobbit was way overboard. This should have been one movie... not three! That being said, if you're going to do a video game movie adaptation, you'd better finish what you started. In this case, they did not. The final Hobbit film (The Battle of the Five Armies) was supposed to be released as a downloadable content pack, but wasn't. How lame is that? The game didn't have a lot of variety in characters, but made up for it in other ways, which was nice... but lack of a finale kept the game from ranking high on my list. As it is, there's only two games left which disappointed me more.
The LEGO Movie Videogame — I have no idea what went wrong, but this is one of the few LEGO games I was unable to complete. It was glitchy as hell, which was hugely disappointing given that this was a LEGO game about a LEGO movie and had so much promise. It's kind the height of irony that this is the game that failed so badly. In the LEGO games there are always little glitches that pop up... but none that kept me from enjoying the game like this one did.
LEGO Universe — What a mess. I signed up to be an early beta tester because they were developing a MacOS X version of this MMPORG (Massive Multiplayer Online Role-Playing Game). Apparently it was running under emulation, so it was slow and glitchy in spots. Especially when a lot of characters were on-screen. Even so, I loved playing the cool missions and seeing what new insanity they would add to the game next. Until they stopped adding. And then shut down the servers so you couldn't play anymore. I mean, I know that each game has a shelf-life, but LEGO Dimensions felt as though it was shut down way before its time, and I'm still pretty raw about it.
That's a lot of LEGO games. And it doesn't even include the versions I've bought for my iPhone, iPad, Gameboy, and Nintendo DS! And next up? LEGO: The Incredibles! How awesome is that?
Posted on June 3rd, 2018

Welp, my air conditioner has finally kicked in, so I guess that means summer is here... so I'm keeping it cool because an all-new Bullet Sunday starts now...

• Villains! It's no secret that I love the entire catalog of LEGO video games. They're not particularly challenging, but that's the appeal for me. I can shut my brain off and just enjoy things without stressing over it all. And now? DC Super-Villains...
So great. What's not so great? I don't have a system to play it on. Looks like a Nintendo Switch might be in my future. Once they drop to a price I can afford, that is.

• Goodbye to Film! Nikon stopped making film cameras back in 2006. Now Canon is Officially Done Selling Film Cameras After 80 Years. I honestly don't know how to feel about the death of film. My first "serious" camera was a Canon film camera that my parents gave me as a graduation present. I loved the thing, and was still shooting with it as early as five years ago. What I love about film is the mystery of it all. You don't know what you're going to get. Even if you THINK you know what you're going to get, there's a chemical reaction taking place that can make surprising things happen. Not that I am sad that the world went digital. On the contrary, it has made photography so much more enjoyable for me specifically because the mystery is gone. I know whether or not I got the shot immediately after taking it. And I don't have the expense of film and developing it keeping me from experimenting with new things. I can shoot hundreds of photos, delete all but the ones I want, then shoot hundreds more at no additional expense. And yet... the end of film is an end to an era which was some of the best entertainment I had for nearly two decades of my life.

• Flop! My television is on HGTV (Home and Garden Television) 90% of the time, and I watch all the home renovation shows. One of those that became almost too annoying for its own good was Flip or Flop. A show which imploded when its stars had an epic tabloid-worthy breakup that resulted in divorce. Now, a year later, they're back...
This past week the first new episode since their split finally aired. It was cringe-inducing awkward... but more entertaining than the show has been in years. And so... I guess I'm going to keep watching. But I fully plan on hating myself while doing so.

• Older! As I tear apart my garage to make room for my wood shop, I'm running across all kinds of interesting items from my past. Like my old Walkman!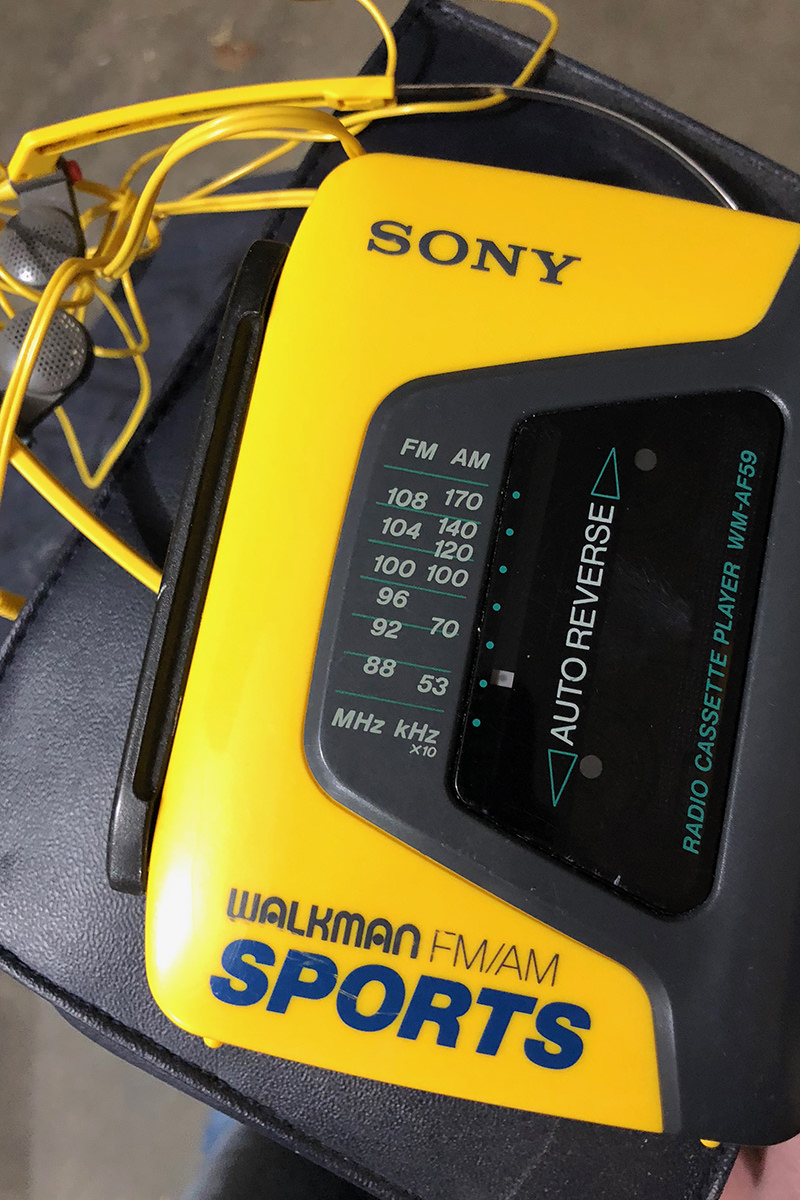 And also? Rubylith masking film. Something I used by the car-load during the early days of graphic design layout. The mask was sticky and attached to a clear acetate layer, so you could create masks that can be stacked up...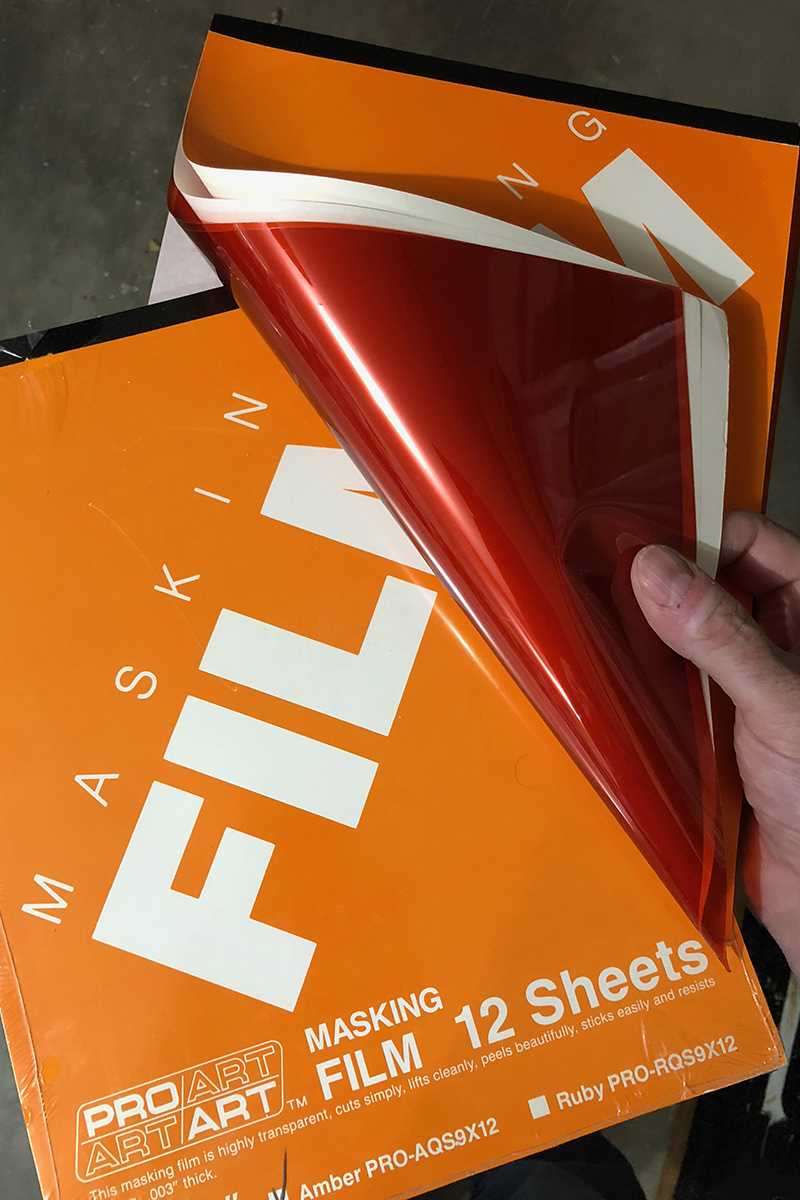 Ah memories. But I wouldn't change music on my iPhone or computer layout for all the Walkmans and Rubylith in the world.

• Villains! As I started cleaning out my refrigerator, I found six... SIX... containers of mayonnaise open...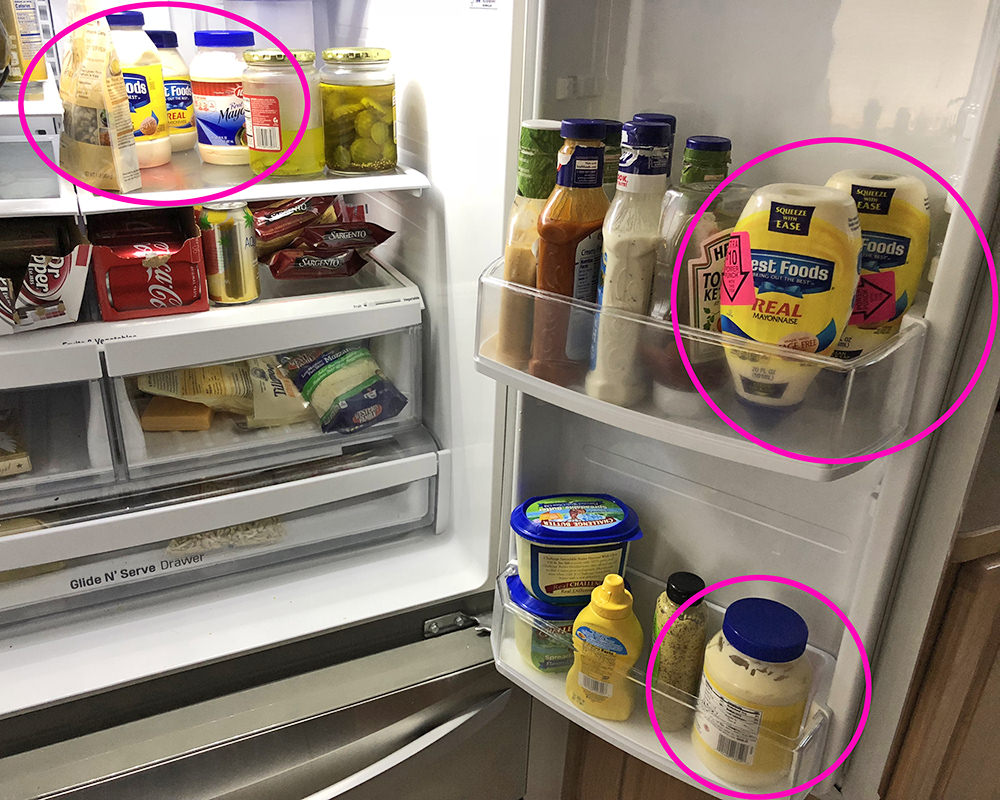 WHY?!?? HOW?!?? There are times that I think I might be bat-shit crazy. This is one of those times.

• Faith! Reelz, who has been churning out a steady stream of really good TV shows about tragic music stars, recently came out with new shows on George Michael, including their George Michael's Lonely Life which was quite good. And reminded me about when George appeared with James Cordon for the first Carpool Karaoke, and James' reaction to his death...
Still sad that George is gone. His music at the end was every bit as interesting as when it began, and I was looking forward to more of it.
Posted on May 20th, 2018

Put on your Sunday's best... because an all new Bullet Sunday starts... now...

• Mo Carbs! Hey everybody... IT'S CARB AWARENESS DAY! I'm not supposed to eat many carbs anymore, but you can bet I'll be celebrating! Bread, pasta, and sugar for everyone!

• Twins Redux! And here it is... the first single from Thompson Twins' Tom Bailey's forthcoming album: Feels Like Love to Me...
Needless to say, it's a huge relief that this has a true Thompson Twins vibe to it... which is exactly what I want in a new album from Tom Bailey. It feels a bit more mature than Into The Gap, but doesn't sound as different as Big Trash or Close to the Bone did at the time... which is to say that it fits nicely between the end of the Thompson Twins and the beginning of Babel. At least from this one song it does.

• I Smell Bullshit! Fraganzia... because Febreze and every other product name worth a shit has been taken...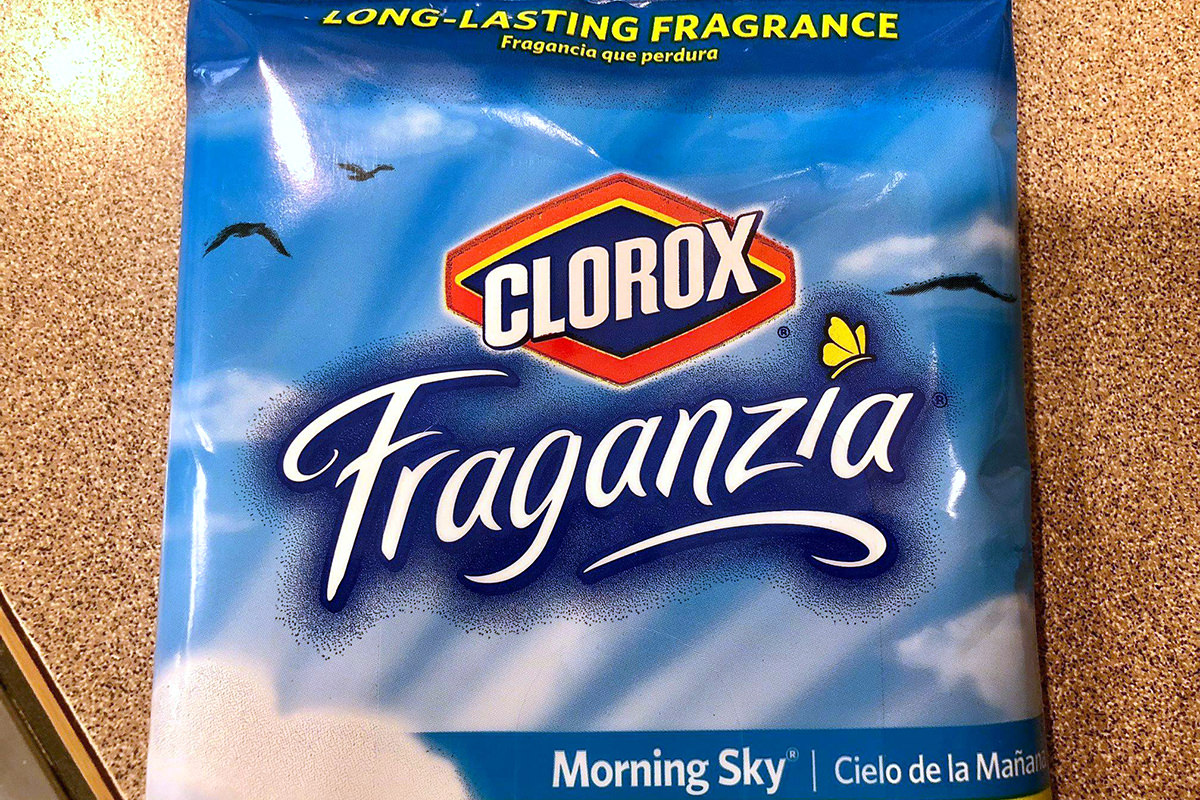 =sigh= Product marketing is officially running out of ideas.

• NEWS: Oklahoma governor signs law allowing adoption agencies to ban same-sex couples.
Holy shit... it's not a day ending in "Y" unless Mary Fallin is stirring up more bigoted shit. Such a fucking asshole. KIDS NEED LOVING HOMES. It has been shown over and over and over and over that same-sex parents DO AS WELL OR BETTER at churning out happy, healthy, well-adjusted children as opposite-sex parents. And in 2018 kids don't care... THEY SHOULDN'T CARE... because the ONLY things that matter is that they have a home to call their own. That they are fed and provided for. That they are loved and cherished. Who gives a fuck if that comes from two dads or two moms? Apparently Mary Fallin does, which means she is in no danger of spoiling her track record at being one of the shittiest human beings on the planet. Congrats, Mary, you repugnant pile of garbage. Are you going to take in all the kids being denied homes by your bigotry? =crickets=

• NEWS: GOP House candidate live streams herself challenging transgender woman for using women's restroom.
A women's bathroom has
STALLS
. Nobody is seeing
ANYTHING
. So it begs the question... exactly
how
is this candidate using public restrooms that a trans person entering is such a huge issue? Does she get naked and run around in there before she goes into a stall? Does she just hang around in there with her vag hanging out? What does she think people are going to see?
What is it?
You use a public bathroom to go to the bathroom, then (hopefully) wash your hands, then leave. Admittedly, I've never gone into a woman's bathroom before... so maybe I am completely unaware of what goes on in there... but this just seems extraordinarily stupid. If public bathrooms bother you this much,
then don't use a public bathroom
.

• Adventure Redux! Last Bullet Sunday I had mentioned the very first graphical adventure video game... Adventure! As a formative part of my childhood, it's a game that fascinates me in a hundred different directions. Mostly because it shouldn't have even been possible given the technological limitations of the time. In a stroke of randomness, I ran across an interview with Adventure creator Warren Robinett earlier this week! It's pretty great...
Needless to say, I am thrilled at the prospect of reading The Annotated Adventure book mentioned in the talk, but the last mention of it was in 2016, so I'm guessing it's been put on indefinite hold or outright cancelled by now.

And on that note... DeeTwo out.
Posted on May 13th, 2018

Mother's Day isn't the only good thing to happen today... because an all new Bullet Sunday starts... now...

• Wubba Lubba Dub Dub! Looks like we're getting another 70 episodes of Rick & Morty!
My cat Jenny will be thrilled. Don't ask me why, but she loves the show. I think it has to do with Rick's voice, because if I'm watching and turn the television up, she'll come running to see what's happening. It sounds crazy, but I shit you not. She likes watching television, but she loves the Rick & Morty...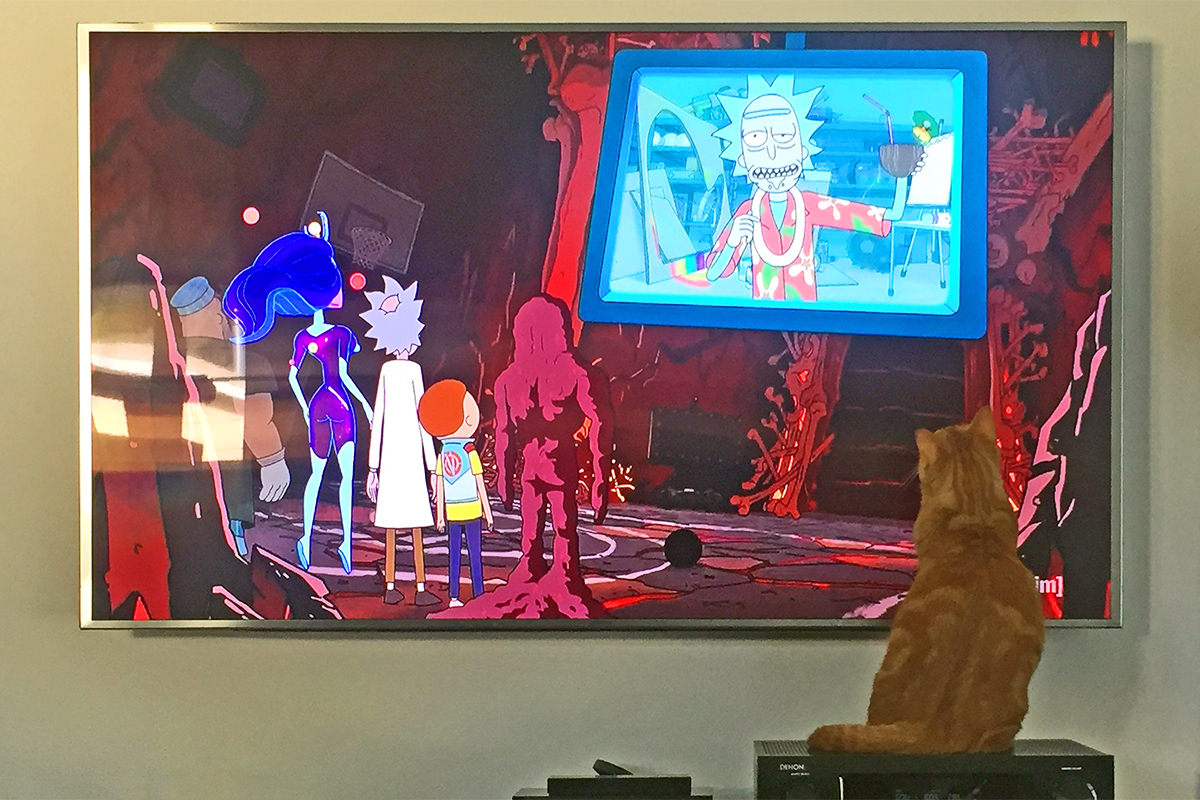 Not bad for a Back to the Future parody.

• Satan! FOX went on a brutal cancelation spree, axing shows that I really enjoy like The Last Man on Earth, The Mick, Brooklyn Nine-Nine and, horror of horrors, one of my favorite shows ever... Lucifer.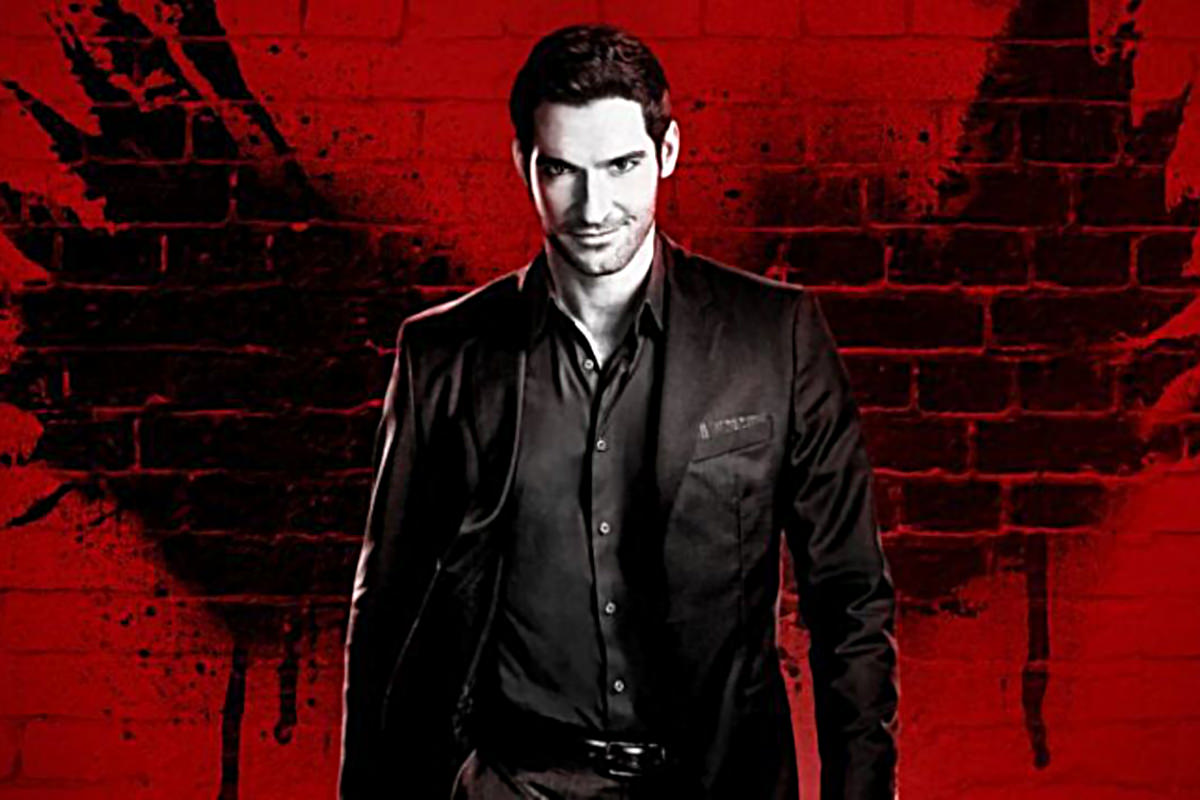 Apparently Reno Nine-Nine has been saved by NBC, which isn't much of a surprise since the show is distributed by NBC. Lucifer is co-produced and distributed by Warner Brothers, but their network blew up back in 2006. No idea where it would find a home unless one of the streaming networks like Amazon, Hulu, or Netflix grabs it. Which would sure as hell be nice, since they could wrap up the show and give us a proper ending. No word yet on what the fate will be for Champions and L.A. to Vegas... two more shows I would be sad to lose.

• Challenge! Ariana Grande has always been an incredibly good sport when it comes to putting up with Jimmy's shenanigans, and has played numerous "challenge" games with him on The Tonight Show. And now there's this...
Now that's talent.

• Adventure! Every once in a while I see an image posted of what video game graphics look like now compared to what they looked like when I first played video games. It just keeps getting more and more insane...

Posted by marvinrabbit on imgur.
Video games are more like playing a movie than ever, and I'm not sure if that's a good thing or a bad thing. Back when my gaming experience was an Atari 2600, it was just a distraction that couldn't compare with Real Life...
But now that gaming is, in some ways, better than Real Life? Hmmmm...

• Try Evil! According to The Wall Street Journal, Apple is going to partner up with the pig-fuckers at Goldman Sachs to come out with their own branded credit card. Looks like Apple has completely given up and decided to go 100% evil. Since the WSJ is behind a pay-wall (deep eye-roll), here's the story at Fortune magazine.

• Health! I'm just going to finish my bullets by leaving this right here: The incredibly frustrating reason there's no Lyme disease vaccine.

So long, Sunday... I got a P!NK concert coming up.
Posted on November 25th, 2016

There is no amount of savings that would encourage me to shop retail today. None. Even if they were giving shit away for FREE, I'd still be going into work then hiding at home the rest of the day. Buddhism has taught me not to get caught up in "stuff" and focus on more important things, so fighting over a bunch of "stuff" is about the last thing I'm inclined to do.
That does not, however, mean I won't be shopping Black Friday and Cyber Monday sales online.
Every month I put aside $50, which comes out to $600 of funds that I spend on clothes come Black Friday. With careful shopping, you can easily turn that $600 into $1200 (or more!) worth of buying power, and 90% of my clothes for the entire year are bought during this time. I especially love that I can buy pricey brands that I could never afford otherwise.
$100 denim being sold for $40? Yes please.
$80 shirts for $25? I'll take 'em.
All underwear is Buy One Get One Free? Alrighty then.
Jackets half-price? I could use that.
Nothing quite like getting a pile of designer clothes at cheap-ass prices. This is literally the only time I enjoy shopping. This year I actually went overboard... spending closer to $700 than the $600 I had saved... but I lost some weight and ended up needing smaller sizes, so it was still a bargain.
This is the time of year I always take my spare change jar to a CoinStar machine, so I'll probably make up that $100 in no time to stay on budget (last year I had accumulated $136 in coinage!).
Which is good, because I also found Lego Star Wars: The Force Awakens for Wii U on sale for $17 (Regular $39.99)...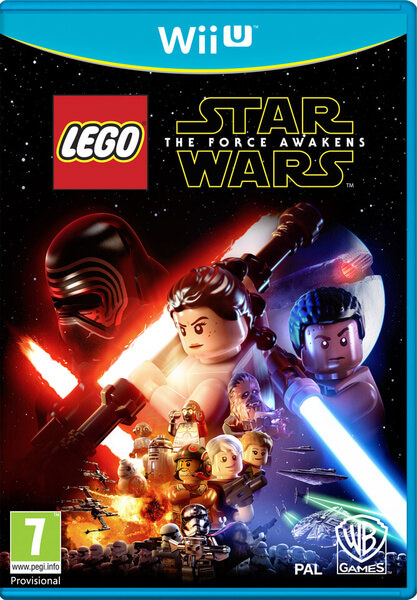 Doesn't get much better than that!
Happy Black Friday, everybody!
Posted on July 15th, 2016

GAME ON!
As I mentioned yesterday, I was a huge video game whore when I was a kid. I'm not going to lie... I still am, but only for Nintendo and LEGO. The difference being that when I was a kid I didn't do anything but play video games... whereas now I have things like "responsibilities" that keep getting in the way. Doesn't keep me from loving video games though. Here's a list of consoles that I love most of all...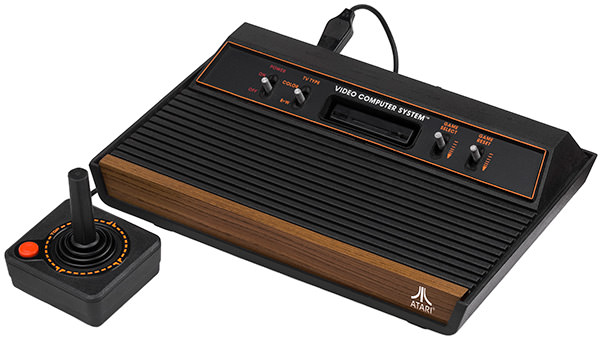 Atari 2600.
The first "real" video game system of my generation, the Atari VCS was revolutionary in just about every way possible for the day. Yeah, the graphics were absolute crap, but the imagination and innovation behind the dozens of games released more than made up for it. The downfall of the system came when the games were churned out just to have them out... even if they weren't worth releasing. The original Pac-Man game was complete shit with only a passing nod to the original game. The E.T. disaster is legendary. The list goes on and on. But, still, before we got to that point there were a lot of great games trailblazing the way for everything that was to come.
Nintendo Wii.
It would be easy to drop a "modern" powerhouse system in this spot like Xbox One or PlayStation 4... perhaps even Wii U... but when it comes to the console that changed the way people play video games, it's the original Wii that turned the industry on it's head. Thanks to the way-cool controller, games became more interactive and collaborative than ever before. Get a group of friends together for Wii Bowling and good times can't help but ensue. Wii also brought forth the advent of the Mii, which gave gamers an identity they could carry through various games in a fun new way.
Super Nintendo Entertainment System.
This is probably the favorite gaming system of old, responsible for a slew of games that defined the industry. Taking the massive popularity of the NES one step further, the Super NES gave us gameplay that culminated in The Legend of Zelda: A Link to the Past, and unleashed some of the best games ever made... including StarFox, Chrono Trigger, Donkey Kong Country, Super Metroid, Super Mario Kart, and Super Mario World.
Playstation 2.
The original PlayStation attempted to bring more power to the game of video games, but it was Playstation 2 that actually delivered on that ideal. Powerful enough to allow game designers to run wild with their imaginations, PS2 unleashed games that broke the mold and added new depth to the industry. A lot of terrific game franchises that had promising starts on earlier consoles blew up to new heights. So many fun games passed through here... it's no wonder it's the best-selling console of all time.
Nintendo 64.
Three Nintendo systems on this list may seem like overkill (especially for Sega fans lamenting that none of their systems ended up here), but this was the console that gave us The Legend of Zelda: Ocarina of Time, arguably the greatest of the greatest in video games. We also got the first Paper Mario, which is one of my favorite game franchises. Updates to other franchises... Mario Kart 64, Donkey Kong 64, StarFox 64, Kirby 64, etc., also pushed gaming into new territory and solidified Nintendo's track record as having the game designers to beat.
HONORABLE MENTION: ColecoVision.
This is a gaming system that rarely appears on people's lists of favorite game consoles. Yes it was underpowered. Yes it had one of the shittiest controllers ever. But it brought home a lot of great arcade games that Atari or Intellivision couldn't match... including the best home-port of Donkey Kong, my all-time favorite arcade title. I spent a huge chunk of my childhood playing ColecoVision, and am more than a little disappointed that it's forgotten by modern gamers.
Posted on July 14th, 2016

INSERT QUARTER, PLAYER ONE!
When I was in High School I played a stupid amount of video games. Both at home and the arcade. And while they improved greatly from their humble beginnings, when I think of "arcade games" my mind always goes back to that era. Here are the games that make me feel that way...
Donkey Kong.
When Donkey Kong first came out, it was certainly not the first platformer to hit the arcades. But it sure felt like it. Probably because it was clever enough both conceptually and visually to put other platformers a level below. I can't fathom how many quarters I pumped into my local Donkey Kong tabletop at the local pizza parlor.
Gauntlet II.
RED WIZARD SHOT THE FOOD! The original Gauntlet was an arcade version of a fun dungeon-crawler that was made all the more special in that you could play it with three of your friends. Then came the sequel, and it was epic for its day.
Q*Bert.
Despite loving arcade games back in the day, I was never very good at them. With the exception of Q*Bert. For whatever reason, I could find my groove in the game and was able to get high score with alarming regularity. If I were to ever buy an arcade cabinet, it would be this one.
Ms. Pac-Man.
I always liked Pac-Man, but its repetitive nature was tough to get past. Then along comes Ms. Pac-Man and the repetitiveness somehow became tolerable. The game had a real "zen" about it that made for a great mindless diversion from life's troubles.
Tempest.
Even though the graphics were simplistic to a radical degree, the fact that they were constructed from gorgeous vectors and had a kinetic energy which put you in the game in a very real way made me play it over and over and over again.
Arcade wishes and 8-Bit dreams!