Feeling lost? Feeling that the internet has let you down? Want to be let down even further? Well have no fear... because an all new Bullet Sunday starts... now...

• BREAKING NEWS! Holy fucking shit... CANADA DOESN'T EXIST, y'all...
I KNEW IT! THANKS FOR THE LIES, NASA!!! This is Antarctica all over again!

• It's a Dip! I had Wavy Lay's potato chips and Rold Gold pretzels with my grandma's dip for breakfast. AND I DON'T NEED YOUR JUDGEMENT! Anyway, here's the non-recipe for the dip ("non-recipe" because it's all to taste, and there aren't measurements I've ever used because I start with small amounts and add more as needed by dipping a chip to taste test as I go)...
One brick of Cream Cheese, set out to soften.
Two heaping tablespoons of mayo.
A splash of lemon juice (to taste).
Garlic Powder or Granules (to taste).
Ground Black Pepper (to taste).
Shredded Colby-Jack Cheese (to taste).
Mash together with a fork until well-blended (yes, it looks like barf, but it tastes amazing!)...
Now, my grandmother used a splash of Worcestershire Sauce (to taste) instead of the Colby-Jack, but when I became a vegetarian, she made a separate bowl without it because Worcestershire contains anchovies that I don't eat. It tastes great without, but something was missing. I tried adding a lot of different spices and other stuff to try and replicate the original and was about ready to give up… when my (now-ex) girlfriend said that it would be good with cheese in it. So I tried all kinds of cheeses… but it was Shredded Colby-Jack I liked best. Medium Cheddar is also very good. Yes, yes, I know it looks awful… but this is my most favorite dip ever.

• Hello Victor! I was recently re-introduced to the theme song from Hulu's Love, Victor, the sequel series to Love, Simon...
Such a pretty pop track. A little surprising that it's so short! Two minutes and forty-eight seconds is all you get.

• Arena! Wait... Magic the Gathering: Arena was released for iPhone back in March and nobody told me?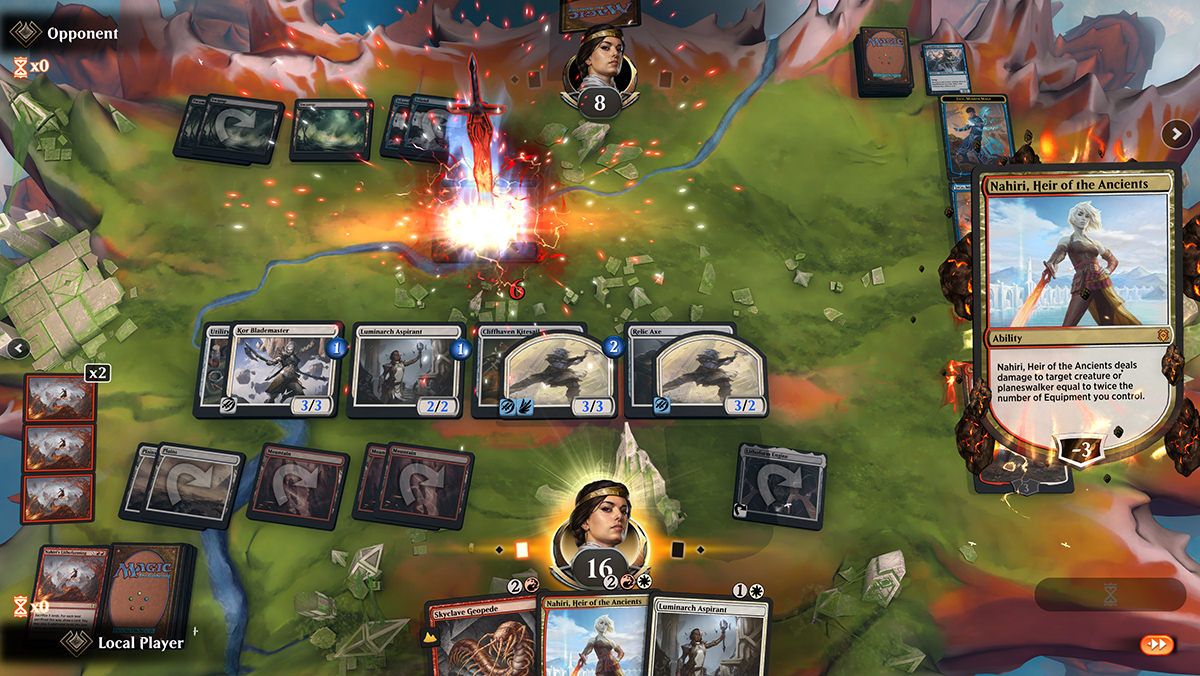 It looks and plays beautifully. And, unlike Magic The Gathering Online, it seems more geared towards casual play. But do I really want to get back into the game that financially wrecked me in the early 90's? Turns out it's actually not that expensive to play... IF you're content to grind your way through games to earn coin. If you just want all the good cards right away, then you'll have to spend real cash. I barely have time to play a game of Minecraft Dungeons each day. But maybe a quick game of Arena before bed is in the cards for me? Guess I'll have to tap my land cards to find out.

• DEER! I constricted the event trigger area for my back yard to just my patio because it was being triggered by raccoons too often, but a neighbor told me that the deer are back, so I extended it. And, sure enough, they wander by every day in the early morning. If you look closely, you can see some out in the field in addition to the one that walks across my back yard...
I don't know where they come from or where they go, but they graze in the field then leave. Really hope they don't get hurt... wherever they go.

• WHAT! Wait... Saturday Night Live is funny again?
Keegan Michael Key was the guest-host, and this disturbing take on The Muppet Show was funnier than it should have been given the violence against a Muppet...
Dang. Poor Statler! Serves him right, I guess?

• FUCK! The fact that people are THIS stupid should not still surprise me. But here we are...
Oh yeah! Because I just LOVE wearing a mask! We all do! Just LOVE it!
The CDC saying that fully-vaccinated people don't have to wear masks indoors is fucking stupid too. It's supposed to incentivize people to get vaccinated. But all it's actually going to do is cause anti-vax dipshits to lie and say they're vaccinated so they don't have to wear a mask any more... which is something they never wanted to do in the first place. Well, I'm fully-vaccinated. But people who are vaccinated can still get COVID and may not know they have it because their immune system has been programmed to attack it... which means they can still pass it to others. So I'm going to continue wearing my fucking mask inside public places so I'm doing my part to keep COVID deniers out of the fucking hospital. You know, in case I get a heart attack and need to be in the hospital or something. Jesus Christ. The people most pissed off about COVID precautions and restrictions ARE THE PEOPLE RESPONSIBLE FOR MAKING IT LAST SO LONG! Hope you break a dick.

And I am done. No more bullets for you! (which is probably a good thing given my rage level right now).