I like video games. I love the LEGO video games. I think I own all of them multiple times over (for multiple platforms). They are essentially kid games, which means they're low-stress... but there's challenges and humor which make them a blast for adults too.
The latest release is LEGO Star Wars: The Skywalker Saga. There have been many Star Wars LEGO games before, but this is a new take on the material which is more expansive and clever than any LEGO game I've played before. Even if you own the original games, this is one worth looking at if you've enjoyed any of the other LEGO video games...
Alas... it's a LEGO video game, so it's cute as can be... but all is not perfect from a gaming standpoint. TellTale Games has always traded on the fact that people want to ply LEGO and the experience doesn't have to be perfect.
My profanity-laden thoughts about the game follow...
Vehicle control is still absolute shit. I do not for the life of me understand how after NEARLY TWO DECADES of these games they can't make vehicles actually fucking drivable. You will smash into shit and have trouble navigating because the controls are a sloppy mess. It's like they somehow take pride in the fact that everything to do with driving is crap.
The puzzles are the same as they've always been. Aside from a few minor unique innovations, you've played this before. Or, if you're me, dozens of times before.
One of the hallmarks of all the licensed games is that they are wonderfully humorous and can make even the most mundane cut-scenes interesting and fun to watch. The crap Star Wars prequels are made bearable, and that's quite a feat. I just wish that some of the cut-scenes can be skipped, but very few can. This is especially infuriating when you consider that the game crashes uneventfully (today it crashed when I was changing characters!), thus forcing you to sit through the last cut-scene all over again.
The LEGO games have a reputation for bugs and glitches. With The Skywalker Saga, it's not so bad that it's unplayable, but there's still bugs. Glitches aren't too bad, but every once in a while I end up in a spot where walls disappear or I can't move. The camera is bonkers, and many, many times I can't see me and am stuck to a wall. Fortunately saves are frequent so I'm not losing much progress, but still...
With this game, there's been effort to make the fighting more than just a button-mashing affair. In fighting there are different moves you can make... blocks you can bring up... and combos to spice things up. This would be admirable if it weren't so badly handled. One of my favorite movies is to jump in the air, then use a combo lightsaber smash move which plunges the lightsaber into the ground and smashes the enemies around you. But then there's times that the move just doesn't work for some random reason. Hell... when you're fighting Kylo Ren, YOU CAN'T EVEN JUMP AT ALL! What the hell? How can your character all of a sudden forget to fucking jump? What sense does that make?
Another nonsensical bit of idiocy? Disguises. If a Stormtrooper gets blasted, sometimes their armor will drop and be wearable. Sometimes. Finn can wear it most of the time, but there are times that he can't... from what I can tell, it's when he is holding a lightsaber. But you can't drop the lightsaber or stick it in his pocket, which means that dressing up as a Stormtrooper to fool other stormtroopers is impossible. BUT THEY STILL INDICATE THAT HE CAN WEAR IT EVEN WHEN HE CAN'T! Which is just stupid. Almost as stupid? Han Solo in The Force Awakens cannot wear Stormtrooper armor at all! and this is despite the fact that he literally dressed up as a Stormtrooper in the very first Star Wars movie! God.
These LEGO games used to be a fun romp. With each new game, more complications are added. For a while, it was cool. Minikits... Magic Bricks... New Abilities. Fun! But now there's just too much going on. The menu system is insane. There's sub-menus to sub-menus to sub-menus. And now they've initiated a class system with ability upgrade trees... which is okay for adult gamers because they've probably seen them before. But for kids?!? I honestly don't know how a kid (any many adults) are supposed to be able to wrap their heads around it all. The Endor level is all complicated maneuvers at great heights, which cause you to fall again and again and again. That's not "fun" it's frustrating.
Waiting for scenes to load is not too horrible... but still annoyingly slow on Nintendo Switch. Oh well. Being able to take the game with me on the go is a fantastic feature that Xbox and PlayStation can't give me.
Usually LEGO puzzles are fairly uncomplicated. That's part of the appeal. You don't have to stress, because you can eventually figure things out. But this time around there's some puzzles that just defy belief. They tell you what has to happen, but give you no idea how you accomplish it! On Ahch-To, there's a puzzle where you need to get at least five people dancing. Then they draw a perimeter which is assumably where the dancing takes place. Then there's characters with a wifi symbol above their head. That's it. I've tried wiggling in front of them in an attempt to "dance." I've talked to everybody. I have no clue at all what to do. Assumably somebody with dancing ability must come along, because otherwise... dang.
When making a jump from one planet to another, you can have your flight interrupted by a space battle. And it's like... sure. But they can happen multiple times in a single trip! The last time it happened, I had three space battled interrupt my flight IN A ROW! It was fun at first, but now I just want to attack my television with a baseball bat.
They are so unoriginal that they use a fucking Wilhelm Scream. For the love of God... just stop with the Wilhelm Screams already! It's not even funny any more. Not in movies and most certainly not in video games. And yet they do it multiple times. Infuriating.
In other news... I got the Deluxe Version of the game which comes with a Blue Milk variant of Luke Skywalker. The thing is trending online because people are selling them on eBay for up to $300!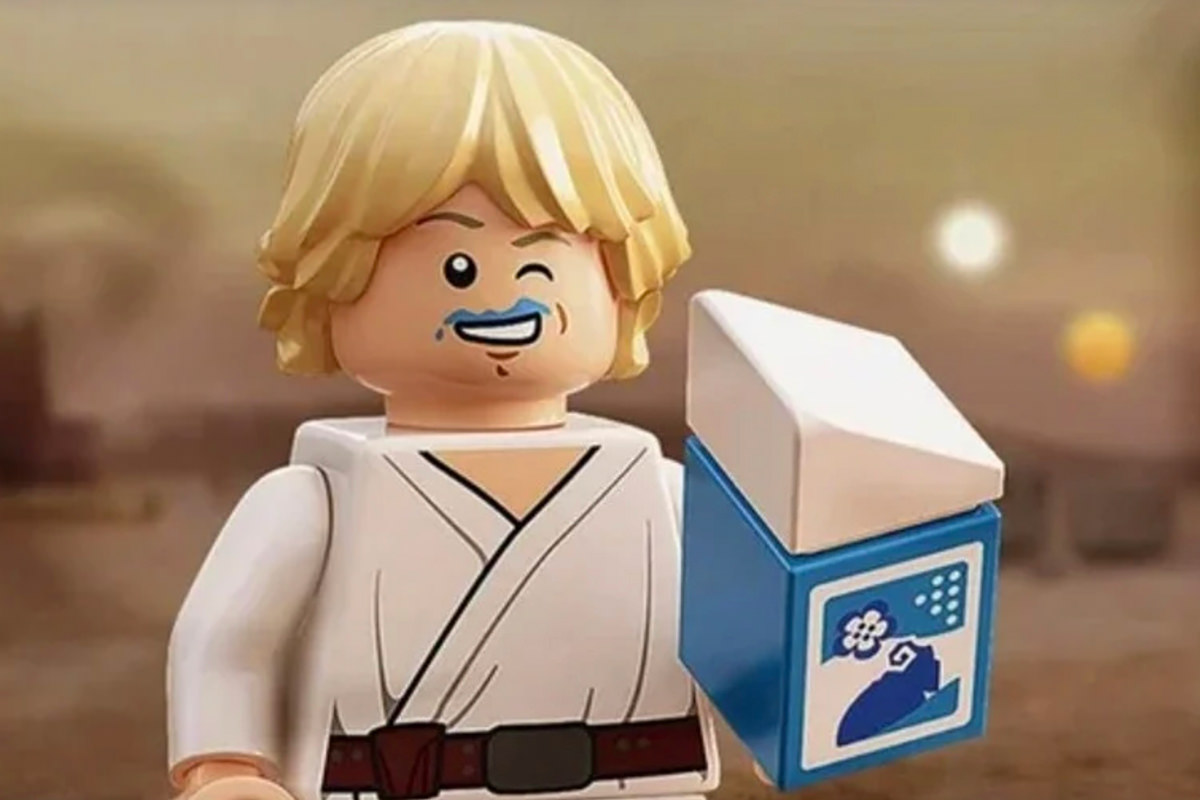 Wow.
If I were to rate this game, I'd probably tag it with a B-. It's expansive, adorable, and looks great... but there are some serious gameplay problems which keep it from reaching greatness.