Posted on September 4th, 2015

NOTE: To start the audio on a Vine video, you have to click on the little icon in the lower-right corner to turn mute off...

To stop a video from repeating after you've watched it... just click on it.
And then...
I won't be blogging today. I haven't got time because I had a day of power outage followed by a day of driving to Spokane and back followed by whatever the hell this shit is that I've got going on today.
Oh... and also because I'm catching up on the funniest damn thing I've seen on the internet in ages.
It all started when "How British People Shower" popped up on my Tumblr last weekend...
I've been laughing off and on all week just thinking about it.
Turns out the guy's name is Arthur, and he has a Vine channel that's comprised of screaming at traffic and hanging out with his daughter. Among other things. All of it hilariously funny. And usually hugely offensive.
And here's a follow-up to "How British People Shower"...
Genius.
Arthur had a daughter a while ago, and she turns up in a lot of his more recent stuff...
Awwww.
Life lessons need to start early.
Arthur is an expert at childcare...
Arthur is a lorry driver (truck driver) and a lot of his earlier Vines involve being very cross about London traffic...
Very cross indeed...
Everyday life with Arthur is always interesting too...
And Arthur does love his fans...
But not as much as he loves his girlfriend...
Maybe...
And his mum, of course...
So... if you're not easily offended, be sure to check out the rest of Arthur's Vine feed.
You're welcome!
Posted on August 7th, 2015

My obsession with monitoring the two pregnant cats over at Tiny Kittens has been pretty overwhelming. For over a week I've had their live camera feeds floating in the corner of my monitor all day... and displayed on my laptop all night so when I wake up I can check in on them.
Well, the kittens finally came.
The first to deliver was Tip. She was an abandoned kitty who "turned to a life of crime" when she started breaking into homes to find food. Having been around people, she was an easy cat for Shelly Roche to monitor and keep happy. She was sponsored by some nice people at Dreamworks Animation, and ended up with five babies. She's a fantastic mom...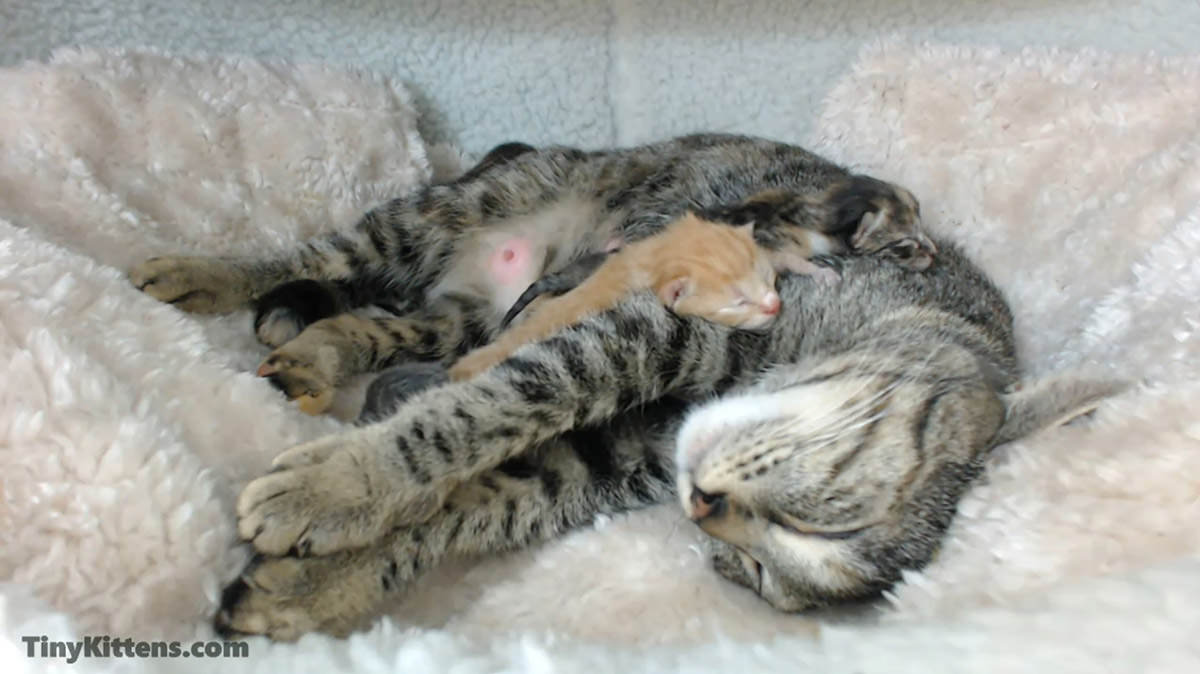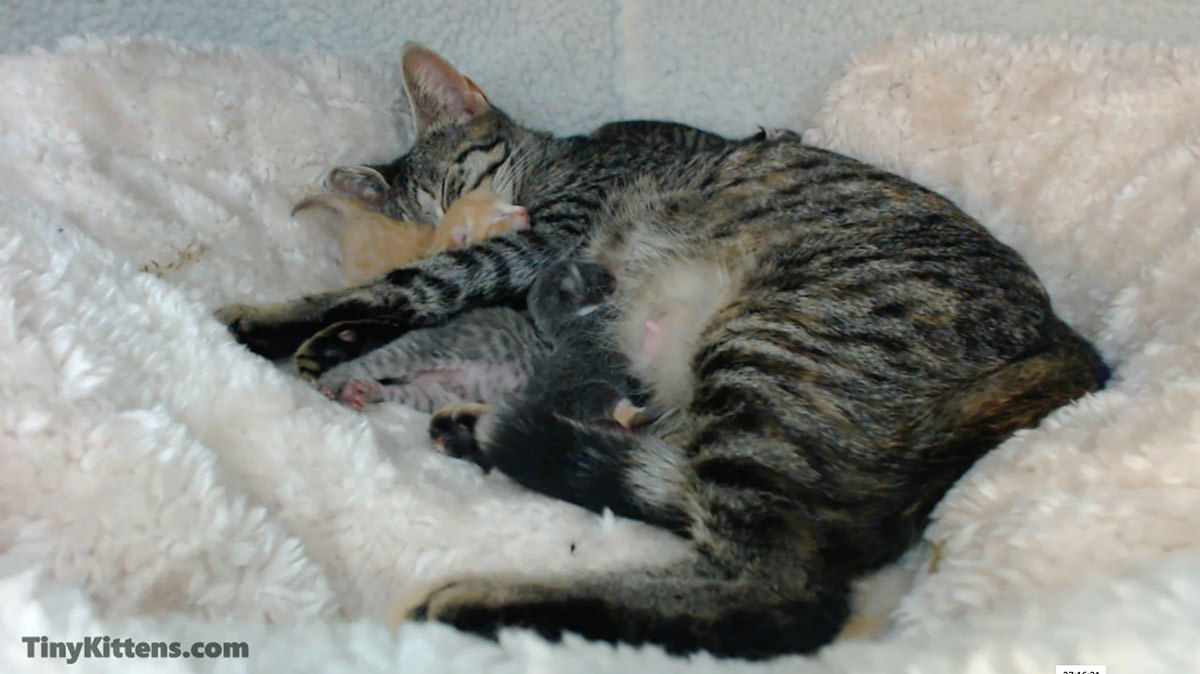 I didn't get to see Tip give birth, but I did get to see Sisko deliver her kittens.
Sisko is feral, so she's been pretty stressed being trapped indoors. Her wild nature also makes it impossible for Shelly to help out much, but everything seemed to work out okay.
The poor thing ended up having a litter of eight kittens. And they pretty much came one right after the other, so she didn't get a break between them. Now the little cat is doing the best she can to stay sane while caring for entirely too many mouths to feed. She looks kind of overwhelmed and a little scared, but she's hanging in there...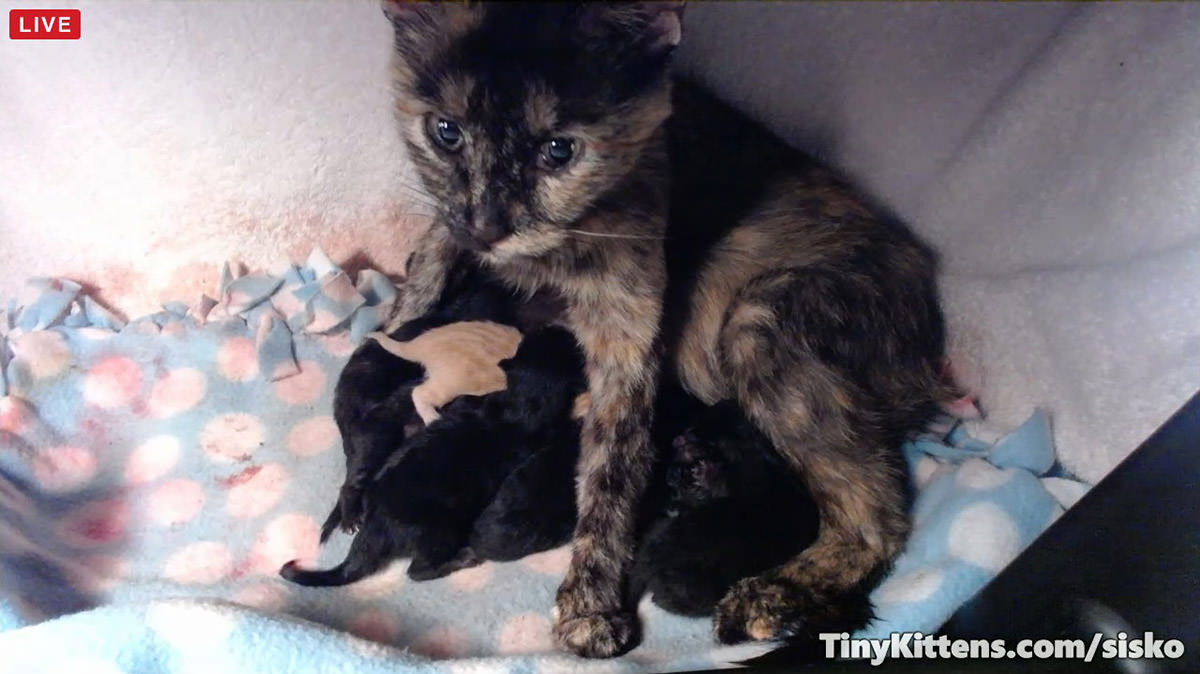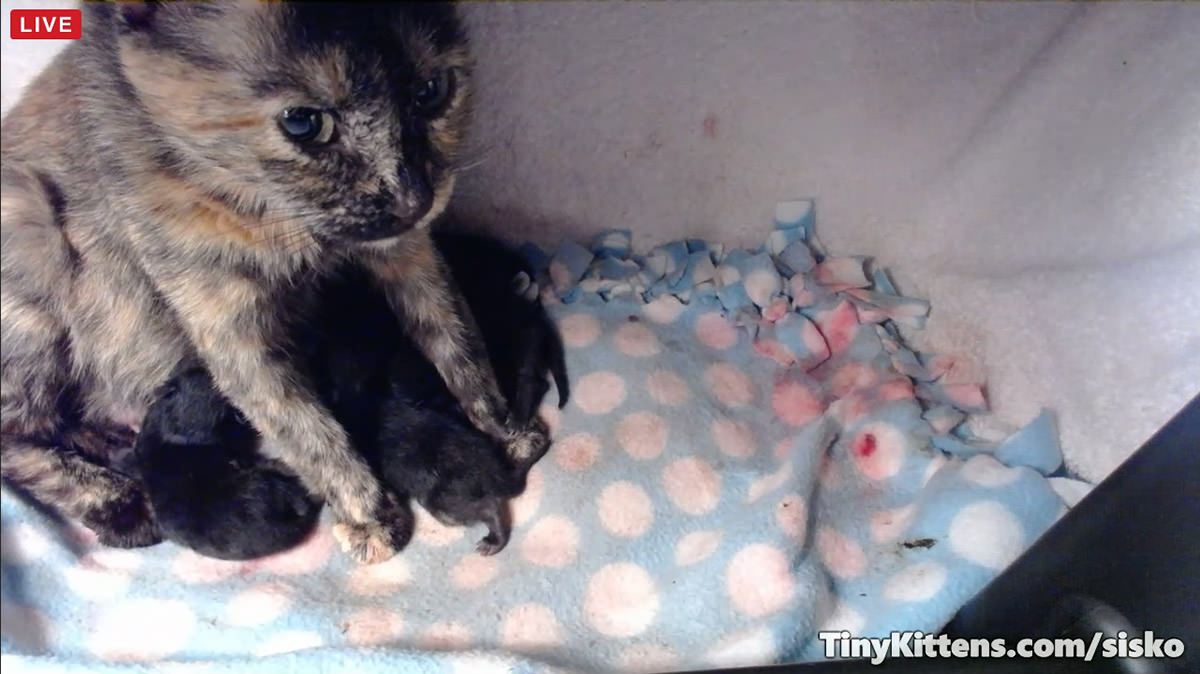 Hopefully she'll relax a bit and get into the groove of motherhood.
If you want to help out Shelly and the amazing, amazing work she does at Tiny Kittens, I encourage you to donate to the cause.
The live cams are still up, so you can check in on the babies any time here...
Posted on July 27th, 2015

Okay. I haven't traveled in a couple months, so I know I've been out of the loop for a while, but...
FORTY FREAKIN' DOLLARS FOR INTERNET?!??
Wasn't it just $20 a few minutes ago?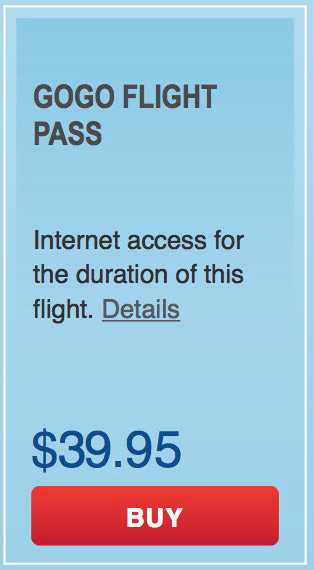 And here's the thing... it's shitty forty dollar internet. I barely had a connection the entire time. Pages would rarely load completely... it's worse than dial-up used to be!
Guess this is what happens when you let a corrupt pile of shit company have a monopoly in the in-air internet game! Highway robbery! Errr... well... in the air. SKYWAY ROBBERY!!! I could get blown for this kind of bank!
Oh well.
I'll just try and appreciate that I can have internet while flying at all.
BUT FORTY DOLLARS?!??
Posted on June 22nd, 2015

I'd write something today, but I'm entirely too obsessed with this video that was sent to me...
This is what the internet was made for.
Posted on May 15th, 2015

Ha!
If you've ever bought a new camera, this video from Norway really puts things in perspective...
The video is for a classified ads site, Finn.no, and is one of a series of hysterical spots for people who buy new stuff with grand ambitions only to end up... err... falling a bit short...
The cat mascot for the site is ten buckets of awesome, and appears in videos of his own...
And, yes, SexyPus.no is a real site, but not so interactive as we were led to believe.
Posted on May 8th, 2015

Back in the good ol' days where blogging actually mattered, I refused many an offer to host ads on Blogography (I still do... on those rare occasions somebody actually bothers to ask now-a-days). Not that I was turning down any massive dollar amounts or anything... I would have earned well under $100 a month... but the money wasn't the point. I simply did not want to have my entire blogging life revolve around driving clicks to my website.
Which is what you have to do in order to make ads worth it. Just ask the fine folks at TVBlend...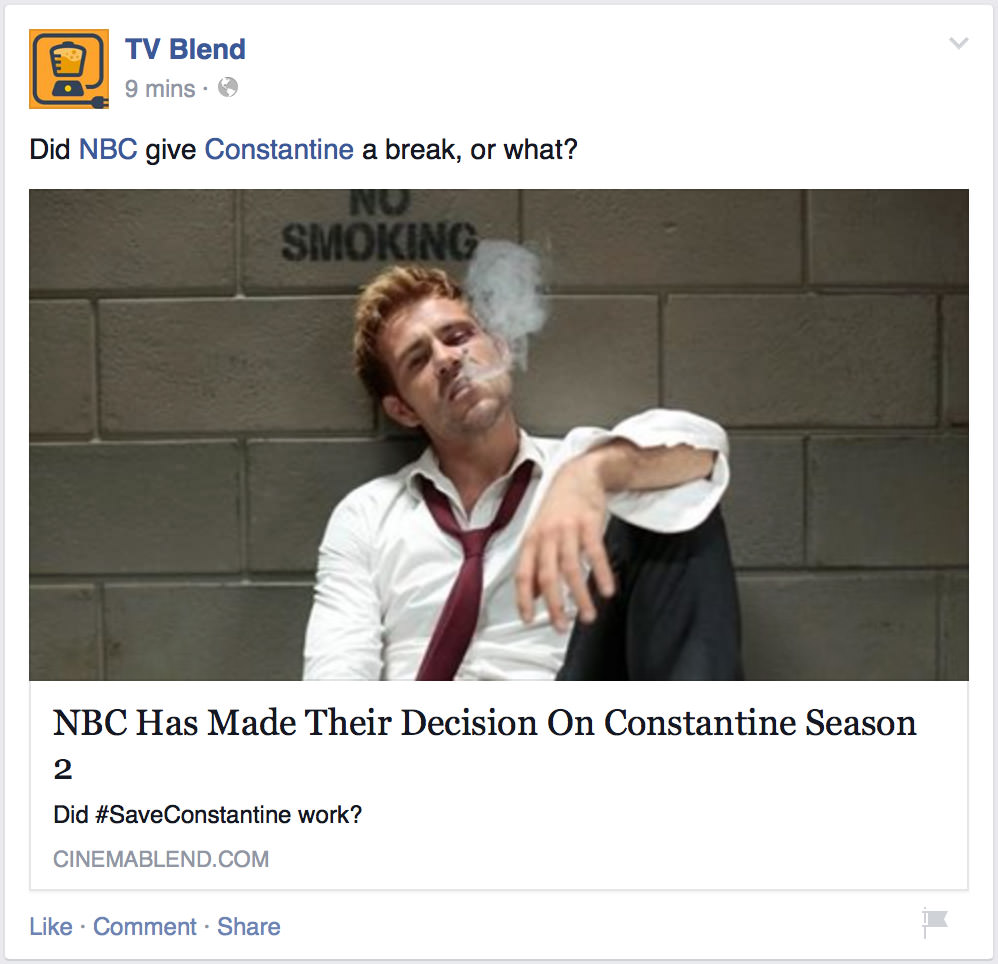 In order to find out the answer to their burning question, you have to click through to their website.
A.K.A. "clickbait."
Whereas Super Hero Hype has a different, arguably less douchey approach...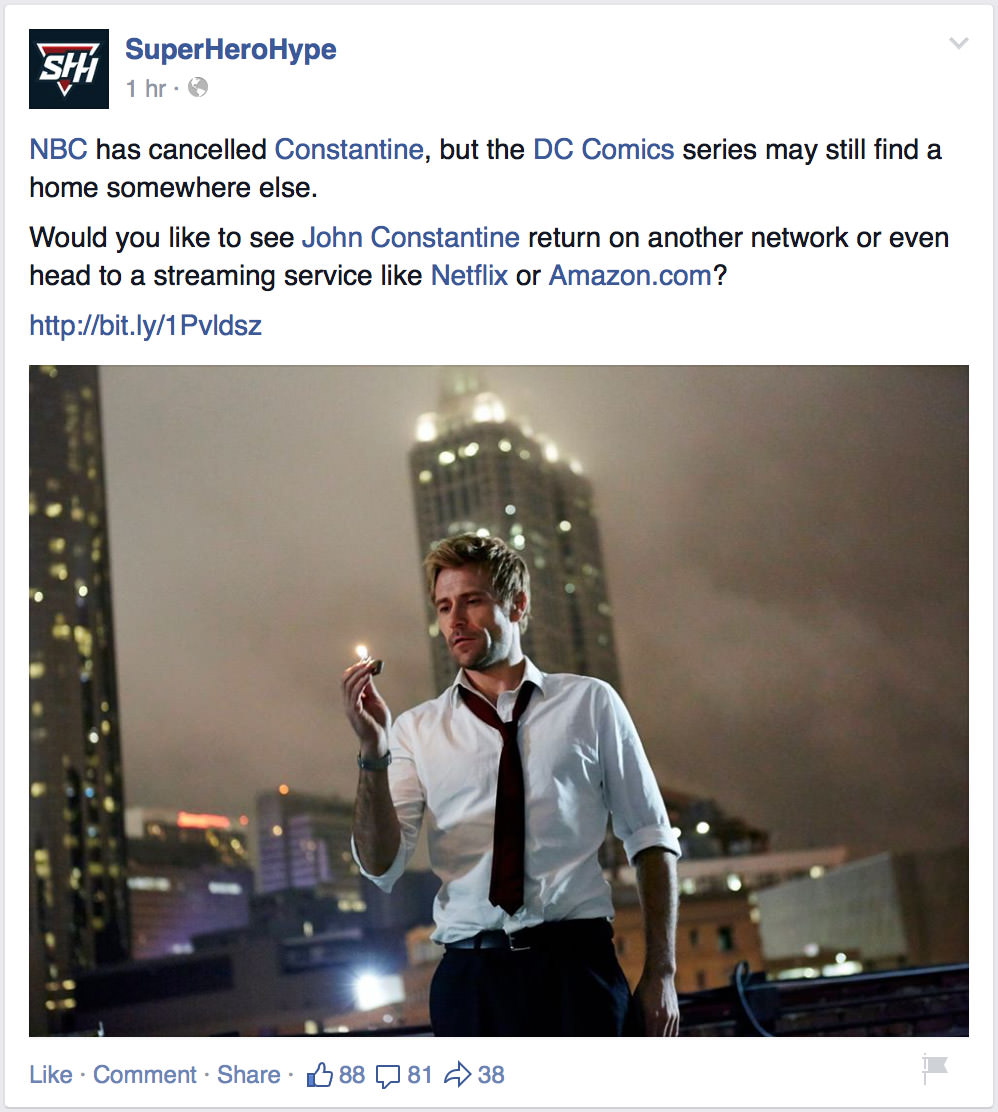 Super Hero Hype doesn't make you click through to get the answer, they try to create a post that will have you wanting to click through to get more than just "the answer." Kind of a big difference, though the end result is the same... if you're a fan of Constantine, you'll be clicking through to the site in order to get the deets about the fate of the show.
And while I prefer the Super Hero Hype approach which doesn't hold a gun to my head for a click-through, TV Blend's tactics don't bother me enough to stop following their newsfeed... I just don't click through as much as I would if they were a bit more creative in how they go about initiating it.
But lest you think Super Hero Hype isn't above allowing others to put douchey clickbait ads on their site. Well...
ZOMFG! WHAT DID SANDRA BULLOCK LIE ABOUT?!??
Who the hell cares?
A lot of people, apparently. Because this kind of clickbait is rampant on the internet. You can't escape it. Everywhere you look there's something UNBELIEVABLE and AMAZING that will LEAVE YOU SPEECHLESS... but it requires a click-through to reveal what it is.
In some cases it's more than figurative... you literally can't escape it. Because an increasing number of websites... "ZergNet" for example... spawn infinite new windows with every click so you never leave their site. You're trapped in a maze of clickbait from which few break free.
Until you fall asleep at the computer.
Or close your browser window.
Or die.
Which is the only true escape from clickbait once you're on the internet.
Which reminds me... DID YOU KNOW THAT THESE COMMON HOUSEHOLD ITEMS COULD KILL YOU?!?
Posted on April 14th, 2015

Huh.
I had a great idea for a post today, but had forgotten what it was by the time I sat down to actually write it.
If that's not an excuse for a meme, I don't know what is...
What's your favorite candle scent? Vanilla.
What female celebrity do you wish was your sister? Sigourney Weaver.
What male celebrity do you wish was your brother? Samuel L. Jackson.
How old do you think you'll be when you get married? One billion.
Do you know a hoarder? Nope.
Can you do a split? Oh hell no.
How old were you when you learned how to ride a bike? I have no idea, but it was fairly young.
How many oceans have you swam in? Pacific, Atlantic, and Indian oceans... so, three I guess.
How many countries have you been to? Fifty-One... including this one.
Is anyone in your family in the army? No.
What would you name your daughter if you had one? Olive.
What would you name your son if you had one? Jake.
What's the worst grade you got on a test? F.
What was your favorite TV show when you were a child? Oooh... that's a toughie. Knight Rider? Or perhaps The Six Million Dollar Man? Oh... I know... MANIMAL! Heh.
What did you dress up as on Halloween when you were eight? No clue. Probably a robot or something.
Have you read any of the Harry Potter, Hunger Games or Twilight series? I tried but couldn't really get into Harry Potter or Hunger Games. And no, I haven't touched the Twilight crap.
Would you rather have an American accent or a British accent? British!
Did your mother go to college? No. She went to the Navy.
Are your grandparents still married? I only have one grandmother left, so... no.
Have you ever taken karate lessons? No.
Do you know who Kermit the frog is? WTF? Of course I do.
What's the first amusement park you've been to? Disneyland.
What language, besides your native language, would you like to be fluent in? Japanese (again) or Italian.
Do you spell the color as grey or gray? I prefer "grey" but switch it up from time to time.
Is your father bald? Completely? No.
Do you know triplets? No.
Do you prefer Titanic or The Notebook? Oh gawd... Titanic, I guess.
Have you ever had Indian food? Many, many times. I love the stuff.
What's the name of your favorite restaurant? Alfredo alla Scrofa in Rome.
Have you ever been to Olive Garden? Yes.
Do you belong to any warehouse stores (Costco, BJ's, etc.)? Just Costco.
What would your parents have named you if you were the opposite gender? I have no idea.
If you have a nickname, what is it? Don't have one.
Who's your favorite person in the world? I couldn't choose between my family and friends, so I'll say Betty White.
Would you rather live in a rural area or in the suburbs? Neither... give me the city.
Can you whistle? No.
Do you sleep with a nightlight? No.
Do you eat breakfast every morning? No. Practically never.
Do you take any pills or medication daily? No.
What medical conditions do you have? That's a bit complicated... though it could best be described as a side-effect to the cure for a side-effect that I got from taking a prescribed drug when I was younger.
How many times have you been to the hospital? For myself? Once that I know of (outside of being born in one). As a vistor? Dozens.
Have you ever seen Finding Nemo? Of course.
Where do you buy your jeans? Online.
What's the last compliment you got? I honestly don't know.
Do you usually remember your dreams in the morning? I don't dream. At least not how I understand other people dream.
What flavor tea do you enjoy? Sleepy-Time Tea.
How many pairs of shoes do you currently own? Eight.
What religion will you raise your children to practice? If I were to ever have kids? None. They can grow up and decide for themselves what religion works for them... if any.
How old were you when you found out that Santa wasn't real? HOLY SHIT! SANTA ISN'T REAL?!?
Why do you have a tumblr? I have no idea. It's not like I ever use it.
Posted on April 1st, 2015

Most years I do a round-up of my favorite April Fools jokes running online.
This year everybody was eclipsed by the greatest prank of them all... Pac Man Mode on Google Maps! Now you can play Pac Man next to your house or on famous streets around the world!
Like Times Square...
Heaven only knows how long this will last, so get it while you can.

UPDATE: Though, I have to say, this was pretty darn amazing too...
LOVE YOU, BOB BARKER!
Posted on March 12th, 2015

I'm going to leave this bit of awesomeness right here...
Not enough for you? Whitney Avalon has you covered...
Posted on February 13th, 2015

Hello... FRIDAY!
Oh the things you stumble upon on these here internets...
DO MY BIDDING, HUMAN!