I don't know that I believe in ghosts. Though I am certainly open to the possibility.
Which is why I was thrilled when my good blogging friend, Heather (aka Coal Miner's Granddaughter), invited me to an investigation last night with the Paranormal Georgia Investigations team to "one of the most haunted places in the world"... Waverly Hills Sanatorium! And while I'm not sure I witnessed anything paranormal, it was a heck of a lot of fun. Especially since Avitable and The Muskrat were there too.
The place is most definitely creepy at times. Even when illuminated...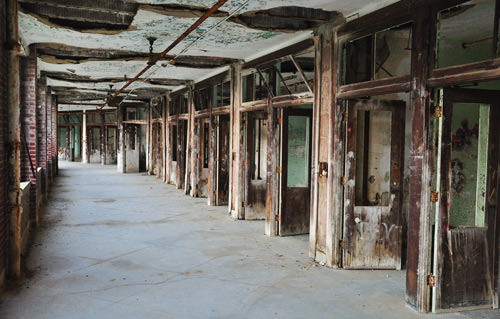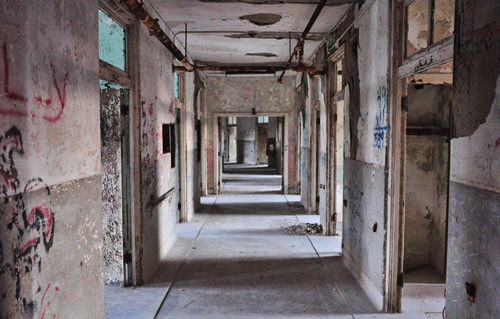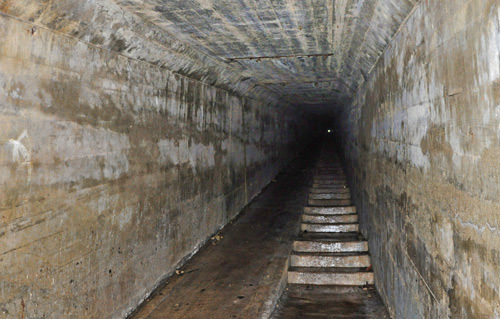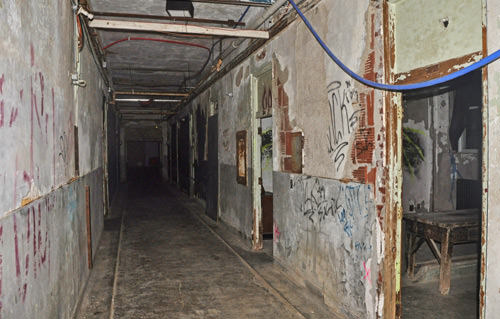 So you can just imagine what it looks like when it's dark.
For October, the place is dressed up for Halloween to make a haunted house. There's plenty of spooky paintings on the walls left over...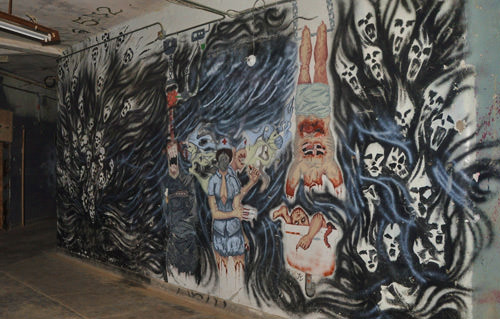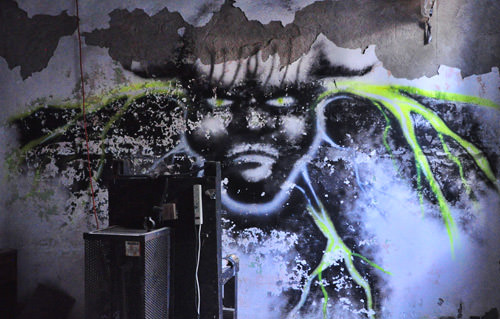 I tried my best to be a good investigator by putting all my energy into my senses so I could best seek out anything unexplainable. This is kind of overwhelming, and resulted in my mind going all fuzzy for the first couple of hours, but eventually everything kind of mellowed out and I was able to maintain focus and be hyper-observant of my surroundings without too much effort...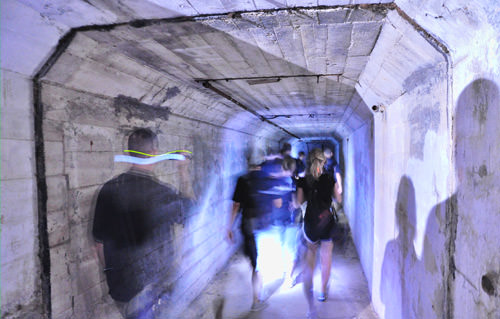 Along the way, there were plenty of "what was that?" moments. Including an extended conversation with a spirit that was messing around with a flashlight (though it was entirely possible it was just an extended conversation with a flashlight). I wanted quite badly for ghosts to be involved in our hunt (and maybe they were!), but even putting that aside, the actual technical side of the investigation was absolutely fascinating.
And, as if that wasn't enough, I got to see my very first lightning bug!
I was bringing up the rear of our team, hanging back in the shadows looking for anything out of the ordinary. As I was walking down the hall, I saw a green blinking LED light. At first I thought it might be one of the K-II EMF meters we were using but, when I got up to it, I saw it was actually a little bug blinking on and off! I wasn't able to get a photo of him glowing, so I've Photoshop-simulated what I saw...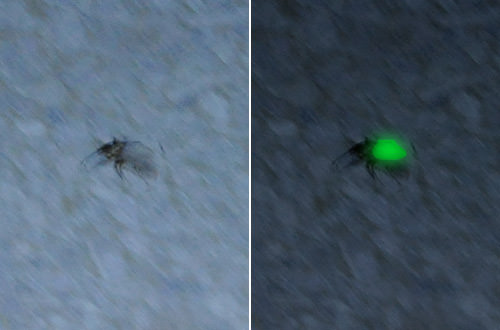 Now, for people who live in the South and see this all the time, it's probably not a big deal. But I was over-the-moon thrilled since I had never seen one before. And it was different than I expected because I had no idea that they would be so bright! As the night went on, I saw quite a few of them blinking on-and-off, which was very cool indeed.
When I got back to the hotel at 4:00am, I was entirely too tired to do much of anything. But this morning I started looking at my photos. Very, very carefully. I was looking for any odd shadows or (gasp!) faces and apparitions like I had seen in the photos we were shown at Waverly. For each photo I would use Photoshop to open up the shadows and then examine each of the RGB channels for anything mysterious. It was a tedious process, but I took the time to go on the trip, so I wanted to put the time into doing things right.
As I got to the photos where the sun was going down, I found this image...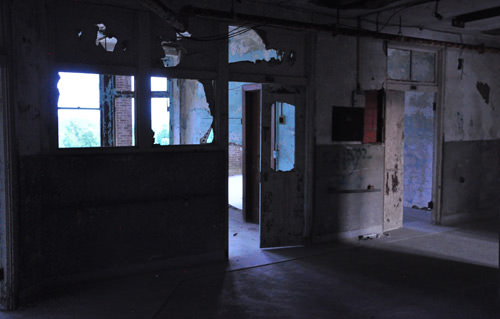 Kind of nifty composition and contrast, but nothing terribly special. I then opened up the shadows and suddenly noticed two green spots. Naturally, I was thrilled, thinking that I had managed to catch two lightning bugs in mid-glow...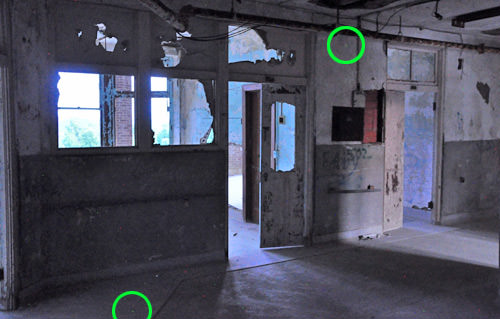 But when I zoomed in, it wasn't lightning bugs at all. It was just flawed pixels on my camera sensor. As anybody who has done work on digital photos knows, occasionally you get spots in Red, Green, or Blue because those are the colors which camera images are broken down into so they can be recorded. The spots are usually so small that they go unnoticed and, if they are noticeable, I just fix them in Photoshop, so it's not a big deal. My camera's most noticeable sensor flaw is a red dot which appears along the bottom-center in every image I take... even going back months...
But, when I scrolled around this particular image, I started noticing RGB spots everywhere...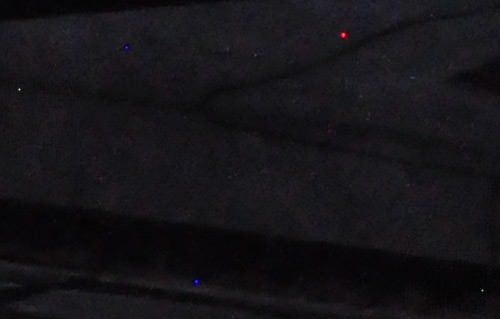 The spots were so numerous that I thought I might have damaged my camera sensor somehow, because in all the time I've owned it, I've never seen so many of them. But, when I went to earlier and later images, the new spots were nowhere to be found. It was only on this image. And while they show up most everywhere, I picked out some random spots to enlarge here...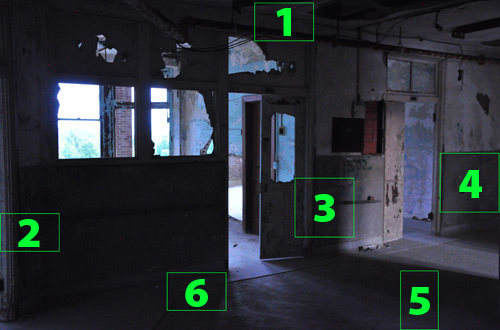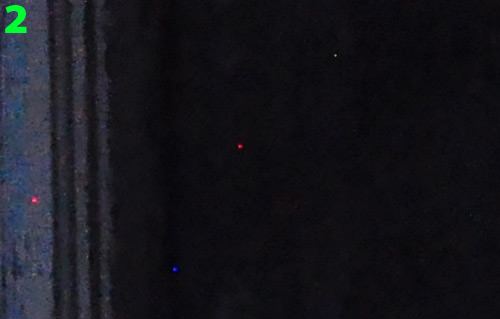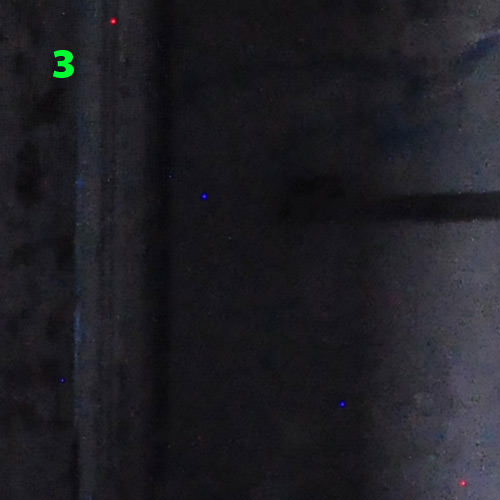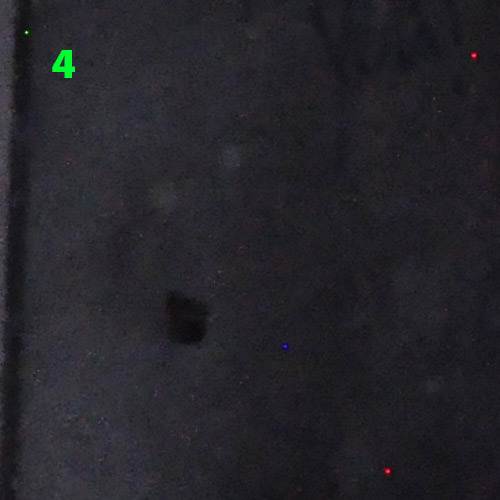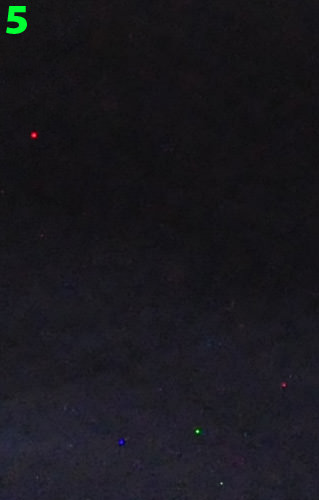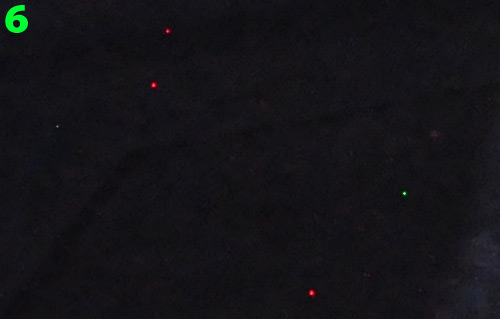 I just spent the past two hours going back through image after image of everything I have on my laptop, and the new spots never appear in any other photograph. It's as if the number of flaws on my camera's sensor increased fifty-fold, then went back to normal. Or not. I dunno.
And while I would never claim that this is any kind of evidence of paranormal activity... well... it is something that I cannot explain. Maybe it's a natural phenomena which happens under certain lighting conditions. Maybe some camera function I had in place is to blame. Maybe it's dust. Maybe somebody has a perfectly good non-paranormal explanation. But a cursory Google search turns up nothing. So, again, I dunno.
Because even more so than before I went ghost-hunting... my mind is open to anything.
UPDATE: I was asked if the "RGB Snow" formed a pattern of any kind. If it does, I certainly can't see it. Below is the image where I've enlarged the spots by placing a dot on top...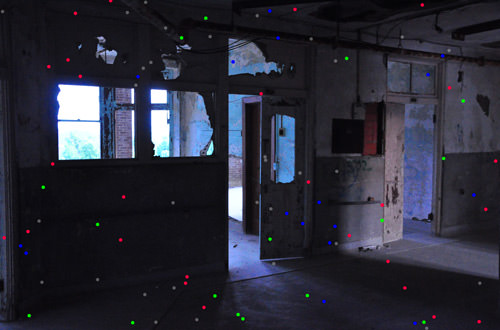 Some of the brighter white spots I put a grey dot on top of. Those are probably dust, but they are brighter than any any spots I saw on other photos. There may be pixel problems in the bright areas, but I think they'd be masked by the light.