Posted on November 13th, 2022

Don't worry about Christmas coming early... because an all new Bullet Sunday starts... now...

• Rebel Rebel! Finally got around to watching E10 of Andor. Holy crap! The quality of this series is unreal. Serious talent and money were put into it every aspect of the show, and it's all on screen. There's nothing currently on television that can touch it. The series transcends Star Wars to become something more... a gritty, surreal form of entertainment that will haunt you for a bit...
Two episodes to go in the first season.

• I'm Batman! I was saddened to learn that Kevin Conroy died. Batman: The Animated Series endures in a way that the Batman movies struggle to do. A big part of that was the voice of Kevin Conroy. Another series that I remember him from was Tour of Duty where he played Captain Rusty Wallace, a character that helped define the first season...
He truly will be missed. Rest in Peace, sir.

• SOCK-LIGHT?? My new light switches do not have dimmable controls, which means I have to have dimmable lights. Which is not a problem, as I found pretty good pricing on Philips Hue can lights. Problem is... one of them I got had the clips bent and A DIRTY SOCK IN THE BOX! And it's like WTF? Returns are not inspected for this kind of gross crap?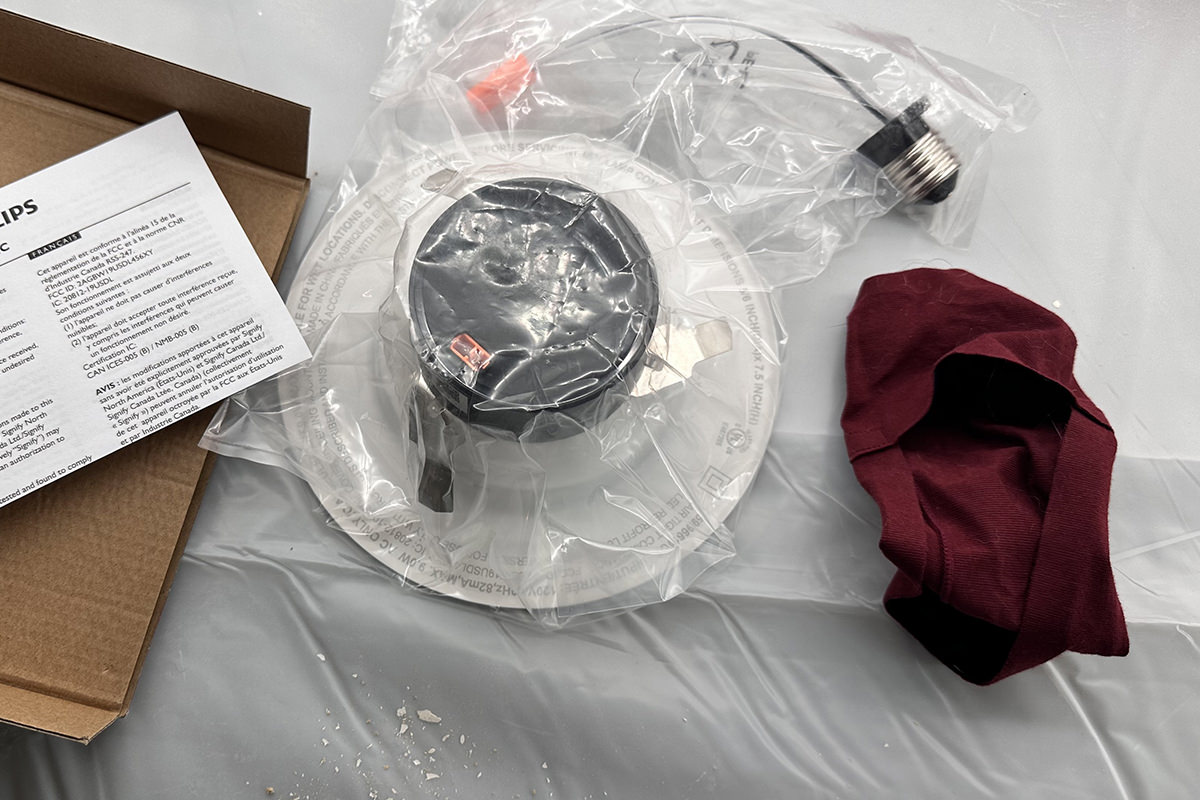 Every time something like this happens when you are purchased a "new unopened item" it feels like merely replacing it is not enough. Not only am I losing time, but I'm also having to literally deal with somebody's dirty laundry.

• Whoopsies! Couldn't happen to a nicer piece of shit company raking in huge profits over a drug which the inventor meant to be free. He famously sold the patents to the University of Toronto for $1 saying "Insulin does not belong to me, it belongs to the world." But of course Eli Lilly, Novo Nordisk and Sanofi couldn't let that stand when there are billions to be made...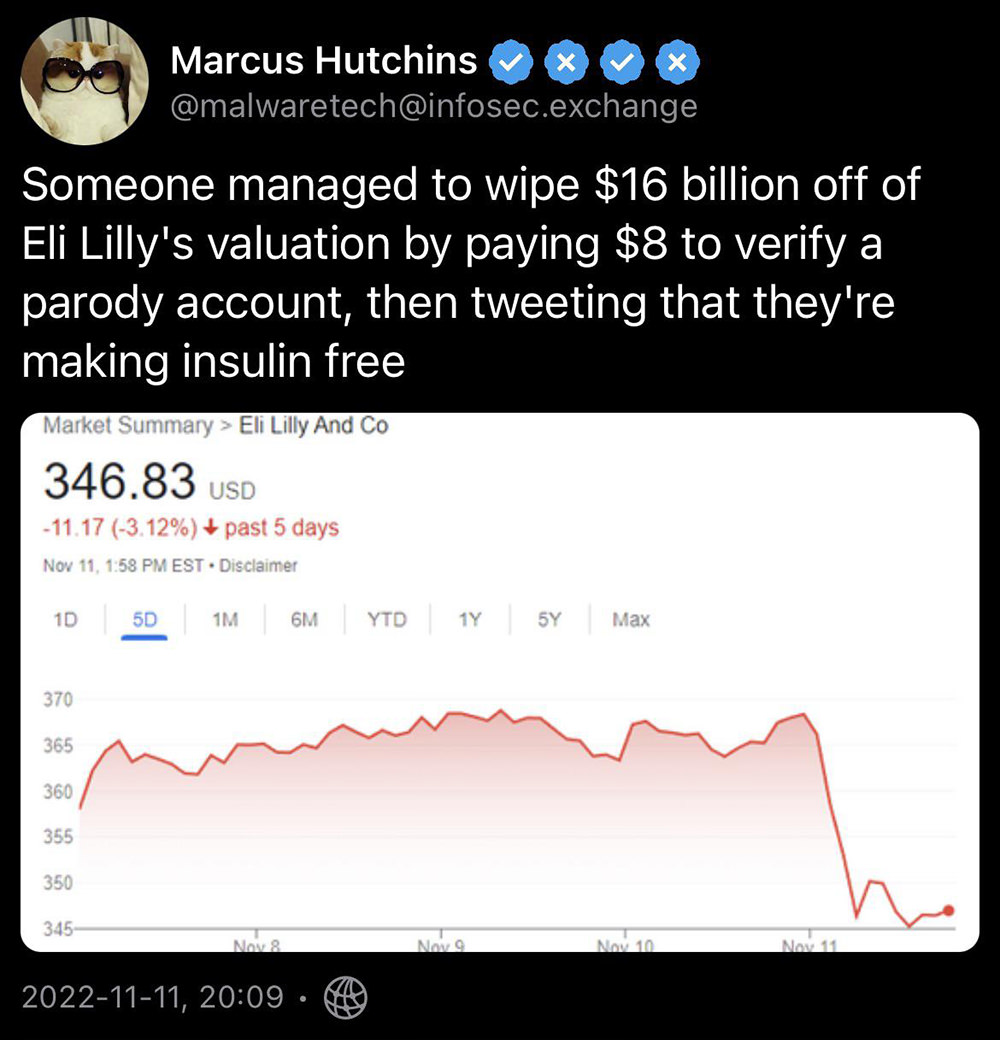 Insulin should be manufactured and sold at cost. It needs to be a function of government for the public good... not Big Pharma's balance sheet. It's disgusting that this isn't the case.

• The Merchant Tribe mourns. This past week Black Panther: Wakanda Forever opened up. I found out that last year Dorothy Steel died at 95 years old, and this was her final acting role...
I remember reading an article when the first Black Panther was released about how she started acting at age 88. Which just goes to show that you're never too old to chase your dreams!

• Ribbit! The Red Wave that wasn't has come and gone. It would appear the Democrat's strategy of not doing a damn thing about preventing the things their base cares about getting destroyed (like codifying Roe) so they can scare people into showing up to vote actually worked. It's like "Oopsies! Sorry you lost the right to choose, but we needed a way to survive the midterms, so we let you lose it so you'd show up." An incredibly fucked-up strategy, but there's no denying the result...

I COULD HAVE GOTTEN AWAY WITH IT IF NOT FOR YOU MEDDLING KIDS!
Wonder what they'll be throwing away next so that they have a chance in two years?

Time to make the chimichangas...
Tags:
Andor
,
Animation
,
Bullet Sunday
,
Elections
,
Movies
,
Politics
,
Star Wars
,
Television
Categories:
Bullet Sunday 2022
,
Home Automation
,
Home Renovation
,
Movies 2022
,
News – Politics 2022
,
Television 2022
—
Click To It:
Permalink
—
1 Comment: Click To Add Yours!
Posted on October 26th, 2022

Now that I've been cutting streaming services left and right to save money for fixing all the stuff going wrong in my home, I'm confining myself to the few streaming services that I still have left. Which is Netflix, Disney+, HBO Max, Discovery+, and YouTube. Some of these were pre-paid for a year... but Netflix will be rotated with with Hulu and Paramount+ and Peacock so I can keep up with all the shows I watch.
Since I missed a week blogging, I thought I'd list out some of the stuff that I've been watching.
I've watched the Season Finale of She-Hulk: Attorney at Law three times, but have held off talking about it because I wanted to make sure that everybody had a chance to see it. There's a lot to love about this series (starting with Tatiana Maslany), but if I had to pick one thing that absolutely thrilled me... it would be seeing Matt Murdock happy. Unlike the dark, dour, depressing Daredevil in the Netflix Universe, which was amazing... the MCU version is the complete opposite and amazing too. Hats off to Charlie Cox... only an actor with some real talent has the chops to pull off both versions of the character. What's so hilarious to me are all the people going on and on about how She-Hulk RUINED THE CHARACTER! No... they didn't. That version is still available to watch if that's what you want. If nothing else, the action was on-point...
In all honesty, I think that the reason people are pouring so much hate on She-Hulk is because it confronts toxic masculinity head-on. Oh well. Stay mad about it, I guess. I thought the series was entertaining as hell and really want a second season.
I'm not done raving about Andor yet. That show is remarkably well thought-out and realized. And the acting is just beyond. Diego Luna is incredible (as expected) but there's nobody falling short of his example, and it's amazing to watch. The eighth episode is fantastic in that you can see they are actually building towards something, and nothing that's come before was by accident. Four more episodes of the first season to go, and I am betting they will just keep amping up as we hurl towards the finish line. Must watch television.
I've been heavily invested in the Netflix series From Scratch with Zoe Saldana. I am fully aware how the show ends (it's based on a true story), but I didn't realize just how heartbreaking they would make it out to be. It's one thing to know something... it's quite another to see it play out with such nuance. After the fourth episode, I only have the heart to watch them one at a time. The problem is that I thought there were six episodes... there are actually eight, and I still have the last two to go. Well worth your time if you're in the mindset for it...
Just have a box of Kleenex ready.
And speaking of knowing how the show ends... I finished the first season of House of the Dragon. Since I've read the book on which it's based, I know exactly what it's all leading to, but that hasn't dampened my appreciation for the show. It reminds me of the early seasons of Game of Thrones. But since the showrunners won't have to make up their own ending, I think Dragon has a much better chance of having a good ending (unlike Thrones which was a complete shit-show)...
Apparently they have the book broken down into four seasons. So three more to go to find out if it actually lived up to its potential, I suppose.
And I'm going to end with this YouTube video of Wayne Brady talking about one of the most hilarious sketches ever to appear on television. This is a deep dive that peels back the curtain in a very interesting and important way...
Posted on September 22nd, 2022

I stayed up last night to see the first episode of Andor on Disney+... and immediately wanted to watch the other two episodes that were unleashed at the same time. Except I was way, way too tired to attempt it thanks to being more than a little wiped out by the booster for my booster's COVID booster. At least I'm guessing that's the reason. I had a fever for about a half-hour, then my arm was sore... and that was the end of it. Which is weird because I was warned that the side-effects would be worse than previous boosters.
But anyway... back to Andor...
I finally got around to watching Episode 02 and 03 today... and they are epic.
Cassian Andor is easily one of my favorite characters in all of Star Wars, and it was a forgone conclusion that I would enjoy this series if they A) They didn't change the character for no reason, B) They had a story to make it worth my time, and C) They spent some money to make it actually feel like Star Wars.
Thankfully, Disney+ put their money and talents where their mouth is and completely crushed it. Especially in that mind-blowing third episode! And enough can't be said about Diego Luna, who is talented to begin with... but really bought his A-game to this series. It's like he knows that his character is beloved and wanted to give it everything he got.
And we have nine more episodes to go.