Posted on October 15th, 2018

Like most everybody, I would prefer not paying taxes.
But the only way it all works is if everybody kicks in money so that things we rely on can continue to function. Like the fire department. Like our military. Like food inspectors. Like so many things that keep us safe and make sure the services we enjoy have the funding they need.
And so... we pay taxes.
The problem is that the way we are taxed is incredibly fucked up.
Our progressive federal tax scale means that the more money you make, the more money in federal taxes you pay. The base rate goes from roughly 10% for the poorest among us to roughly 40% for the wealthiest among us. Except... there are so many fucking loopholes and bullshit conditions to taxation that somebody who should be paying 40% can end up paying less than 10% if they are creative in their finances. Billionaires can easily pay nothing if they figure out a way for their income to be tied up in investments and shit.
Like I said, the system is incredibly fucked up.
Now, I don't pretend to be an economics genius or anything... but there has got to be a better way. Something more fair and honest. But since the billionaires control all the wealth (hence they control all the politicians making the tax laws), "a better way" will likely never happen. Instead we're getting even more tax cuts for the wealthy that are paid for by huge cuts to things like Medicare and Social Security that we have already fucking paid for along with critical services... like public education.
Personally, I am all for abolishing income tax of any kind and eliminating the IRS. Instead of income tax, the taxes we need will come from the shit you buy. This is called a "consumption tax" and, in my mind, seems a lot more fair than the bullshit we have now. Everybody pays the same consumption tax on absolutely everything except food and medical expenses. Buy a new fingernail clipper? Pay a little tax. Buy a fucking mansion? Pay a lot of fucking taxes. And no buying your fingernail clippers in France so you can avoid paying your consumption tax! Anything you bring into the country is immediately subject to taxation. Don't want to pay taxes? Don't buy anything.
In the meanwhile though...
Since I am paying an outrageous amount of federal income tax on every dollar I make, I try very hard to not pay sales tax. Any large purchase... like camera equipment... I purchase out of state so I don't have to pay taxes on it. At least I did...
---
---
I get it. Honestly I do. Washington State (which doesn't collect a state income tax) relies on sales tax to pay the bills. An astronomically high sales tax that's near 9%. So when I order a $1000 camera lens from B&H Photo in New York, Washington State is losing out on $90 in tax revenue.
A tax I'd be happy to pay if it weren't for all the other shit I'm taxed on. Hell, run it up to 20% for all I care... so long as you get rid of the IRS and my fucking income tax so we have a consistent, fair tax rate that everybody has to pay equally.
But what do I know? A consumption tax sounds fair and transparent to me, but maybe it's a dumb idea. Maybe a flat-tax is better. Maybe there's an alternative to taxes which will still allow us to pay for public safety, infrastructure, and defense that's far more fair than what we got. I really don't know and I honestly don't care. So long as we get rid of the fucked up insanity we're stuck with now.
Especially since I'll now be paying more taxes than ever before.
Especially since politicians are spending more tax revenue than ever before.
Especially since Americans are getting fucked over by our government worse than ever before.
Especially that.
Posted on June 18th, 2018

Everybody is laughing at the idea of spending billions of dollars we don't have on a "space force." But you won't be laughing when the alien invasion comes and we are DOMINATINNNNNNG SPAAAAACE!!!
Oh... you say aliens that are capable of interstellar travel will have technology that makes any "space force" we come up with about as threatening as a BB gun? Well... well... WE CAN STILL KEEP THE MEXICANS FROM INVADING THE MOON! HA!! CHECKMATE, HATERS!!!
=ahem=
Space exploration has always resulted in amazing technologies that eventually filter downward and make everybody's life better. I 100% support my tax dollars going towards organizations like NASA, who do a lot more than just push the boundaries of human knowledge... they also invest in technologies which keep us safe and help us to have a better understanding of the world we inhabit and (at least until the current administration) the dangers we face from the destruction we're causing to it.
Likewise, I also 100% support my tax dollars being spent on defense. Sure, I think it's insane that we have such a massive military complex when so many of the current threats we face can't be remedied that way... and it seems crazy that we have weapons enough to destroy the world a hundred times over and are told we still need more... but I want our military to always have access to cutting-edge technology which keeps them (and us) safe. So yeah, budget for that. Not military parades and golf trips on Air Force One, but that.
And now we're getting a space force?
We've got homeless vets, a stupid-ass 100% completely ineffectual wall to build, and legions of other problems that could use our tax dollars... but pew! pew! pew! pew!
Tags:
Dumbassery
,
Dumbasses
,
Dumbfuckery
,
Fuck This Shit
,
Fucking Assholes
,
Fucking Scumbags
,
Fucktards
,
Liberal Redneck
,
Pig-Fucking Assholes
,
Stupidity
,
Trae Crowder
,
Truly Stupid People
,
Trump's America
Categories:
News – Politics 2018
—
Click To It:
Permalink
—
1 Comment: Click To Add Yours!
Posted on March 12th, 2018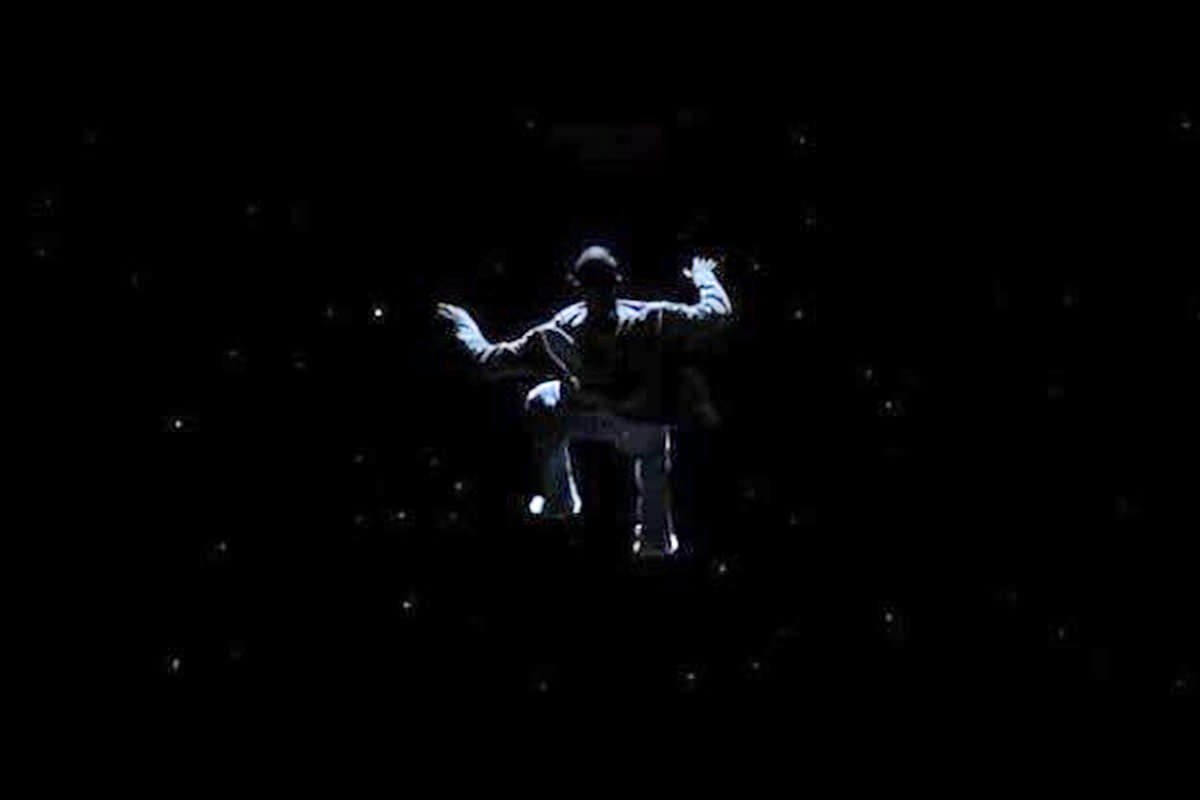 Posted on July 26th, 2017

It's been calculated that the cost for President Trump to go golfing in Mar-A-Lago four times is the same as the medical costs for taking care of our trans soldiers. And yet it's the money that President Trump cites as his reason for banning trans persons from service.
He also says they are a "distraction" which, given the shit-show that's his entire presidency, I find hilarious. Especially since his first tweet on banning trans service worried The Pentagon that he was starting a war with North Korea.
So much for promises...

The non-stop parade of misinformation and outright lies being lobbied at the trans community is horrible. These tax-paying citizens want nothing more than to live their lives in a way that's true to themselves and have the same rights as Americans as everybody else. And yet wealthy old white men desperate to stay in power are clutching their pearls at the thought of people they don't like being on the same playing field as everybody else. They fucking own the playing field. They fucking make the rules. They fucking referee the match. But even that's not enough. They want to determine who gets to play too.
Fuck. That.
One day... hopefully one day soon... people are going to wake up and realize that it's not "just the lesbians"... it's not "just the gays"... it's not "just the bisexuals"... it's not "just the transexuals"... it's everybody. The people ACTUALLY running this country hate everybody. They don't give a shit about you. All they care about is wealth and power. Everything else comes second. A distant, distant second. And the very minute that they feel you are no longer of use to them, you get pitched out with the rest.
It's only a matter of time.
In the meanwhile, best start speaking up for those getting shit on while you still can. It's the only way there's going to be somebody around to speak up for you when it's your turn.
Happy hump-day, everybody.
Posted on January 12th, 2016

Virginia Delegate Mark Cole has filed legislation which requires schools to be certain that kids are using the bathroom which corresponds to their "correct anatomical sex."
Sounds legit...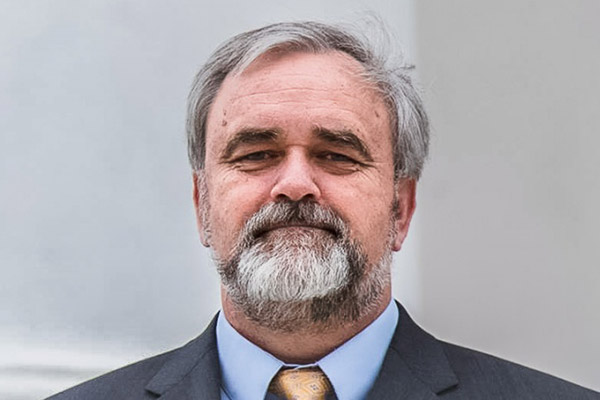 ...IF YOU'RE A CHILD-MOLESTING PERVERT!
I can only guess that Mark Cole will also be volunteering at schools to take a look at a child's genitals before allowing them to enter a restroom? What a disgusting piece of work.
Note to dumbass politicians... we all know that there is some fucked up shit going on in your bathrooms... which is why you're always getting caught there with prostitutes or doing cocaine or soliciting for a blow job or whatever... but you can't apply your personal shit to the general populace. Most normal people go to the bathroom TO GO TO THE FUCKING BATHROOM. It doesn't mater what their sex or how they identify, they don't equate going to the bathroom with anything sexual... they just want to piss or take a shit, (hopefully) wash their hands, then trip the fuck out the door. Which means the only perverted person in this scenario is PEOPLE LIKE DELEGATE MARK COLE.
You know what law I want to see on the books? A law banning these fucking idiots from using public restrooms. Their obsession over what's between my legs is bordering on psychotic, and I don't feel comfortable being trapped in closed quarters with transphobic, homophobic, bigoted assholes who are more interested in my junk than TAKING CARE OF ACTUAL FUCKING PROBLEMS!
Just when you think we're making progress, there's always some troglodyte crawling out of the ooze to be a dick.
Posted on December 2nd, 2015

Much like Janice in Accounting*, United Airlines don't give a fuck.
It all started when I missed a conference call on Monday morning because I had to buy clothes for work. The only time I could reschedule the call was for Thursday, but I would need to be back home because the later date would require access to some design sheets I didn't have with me. No problem, right? I just call United and explain the situation.
Except it ended up being a huge problem, because United wouldn't agree to put me on an earlier flight home. THEY lose my luggage, necessitating all these changes, but it's going to cost ME a $200 change fee plus $450 for the ticket cost difference. I politely explain that it's not my fault the luggage was lost and I shouldn't have to pay anything... but they disagree. Talking to a supervisor gets me a "one time offer" to waive the $200 change fee, but not the $450.
Needless to say, I'm livid.
It costs United nothing to make the situation right and get me home over a situation they cause... there's empty seats... but they don't give a fuck about my situation.
So I regretfully start yelling at the supervisor over United's shitty policy and eventually she finds a flight to get me home in time in an effort to get me to shut the hell up. Which is so damn stupid. Why the fuck can't they do the right thing to begin with? Why does it take somebody screaming at them before they'll reluctantly solve a problem THEY created?
But that was yesterday, surely things will go better today. Right?
Nope. It just gets worse.
As I mentioned, my luggage was lost. I made it to Portland, but my bag did not. So I reported the problem, only to be told that they have no idea if/when my bag would show up. Discouraging, but that's the way it goes. Ironically, I stopped flying United a couple decades ago because they lost my luggage (permanently) twice in six months. Now, the first time flying the airline in years, and they lose my luggage again. Except this time I actually ended up getting it back...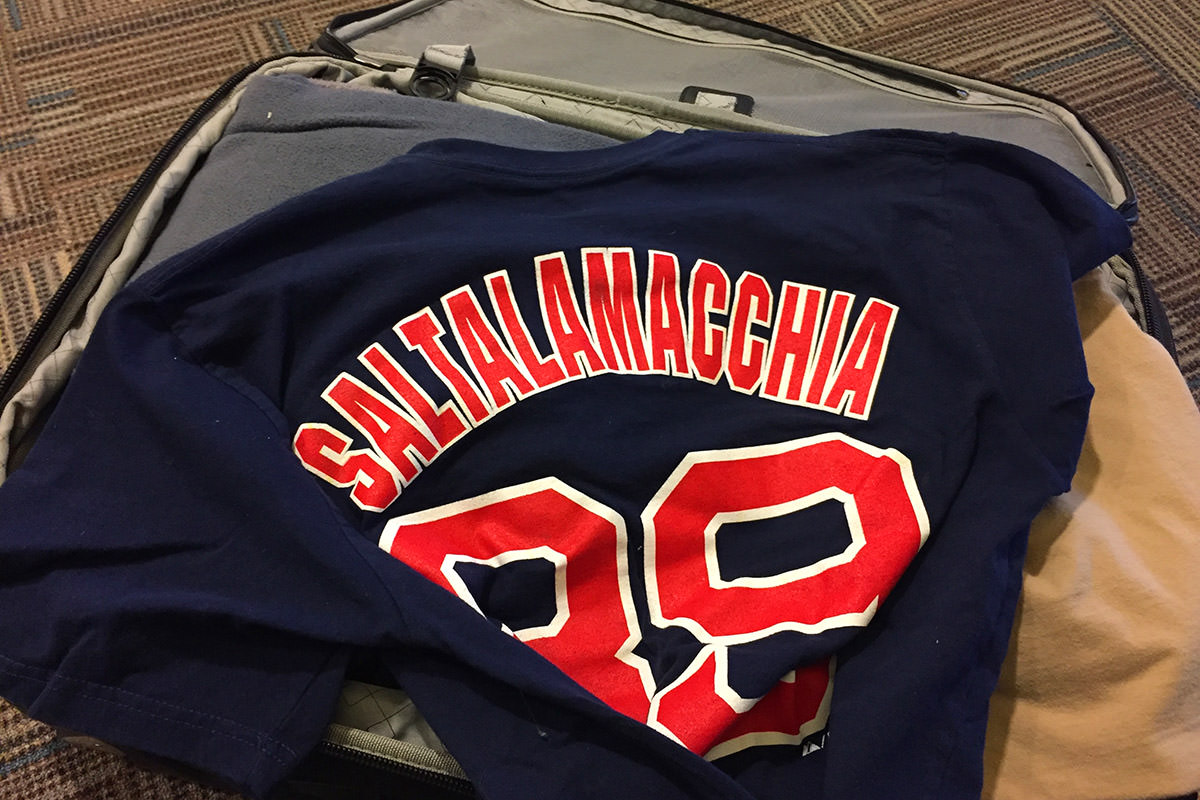 You will never leave my side again, Saltalamacchia!
Anyway...
When I check in for my flight, I naturally tell them I'd like the baggage fee waived since I never got to see my bag the entire time I was here.
They refuse.
Essentially, they blame this on me because I didn't know where I'd be in order for them to have delivered my suitcase yesterday. I explain that this is hardly my fault... that's the way my job works, and not knowing where I'll be is not something I can control... but United don't give a fuck.
Instead they offer me a $25 certificate good for my next flight.
Which I refuse, because I'll never be flying with this piece of shit airline ever again. I mean, first I had to pay $240 for last-minute clothes, now they expect me to pay $25 MORE for clothes I never got to use? Fuck that.
And so I vow to make this the most expensive $25 baggage fee they've ever collected. I will pass up no opportunity to badmouth United Airlines from this day forward. Everybody I run across will come to understand what fucking assholes are running the show at United, and how much I fucking hate the entire United Airlines organization.
Those feelings were doubled when I realized that my bag was not checked all the way home, but terminated in Seattle (despite the guy helping me having said it would be transferred to Alaska Airlines). Which means I paid $25 to get my bag home, and it's not even going to get home. I tied to get that resolved, but the United representative at the gate don't give a fuck either. Essentially, United booked me on a connecting flight home that doesn't exist (the 11:10 doesn't fly on Wednesdays). So I had to politely beg Alaska Airlines to put me on a flight that does exist. But in United's computer, THAT'S the flight that doesn't exist. Never mind that I show them my boarding pass for a flight that obviously exists since I've checked in for it... there's nothing they can do. So I ask if there's somebody I can speak to who CAN do something... only to get an epic eye-roll. She then calls a supervisor and says "I have a customer here demanding that I check his bags onto a flight that doesn't exist..."
"Demanding?" Fuck you. All I did was ask a damn question and show you proof that the flight does exist! I tell her to forget it, that I'll just collect my bag in Seattle and re-check it.
I'd like to say that things get better from there, but they didn't.**
All in all, United provided me one of the worst experiences I have ever had in 25 years of near constant travel. I hate... HATE... the company and everything they stand for. If no other airline can get me where I need to go, I would rather drive through a fucking blizzard than to ever fly United again.
And everybody is going to know it.
*Janice is from This Week Tonight with John Oliver... a show that you should be watching if you haven't been.
**A crappy hotel, another canceled flight, weather delays, winter storm advisory, and a complete douche nearly ramming into my car in the airport parking lot awaited me.
Posted on September 14th, 2015

I know that Subway is trying to reinvent their image with their latest round of commercials, but all I can think about each time their stinky sandwiches appear on my television is YOU WERE TOLD BACK IN 2008 THAT JARED WAS A PIECE OF SHIT CHILD-TROLLING PERVERT AND DID NOTHING. NOTHING, BECAUSE IT WAS FINANCIALLY LUCRATIVE TO DO NOTHING. NOTHING AT ALL! N-O-T-H-I-N-G-!!! CHILD-RAPE-ENABLING ASSHOLES!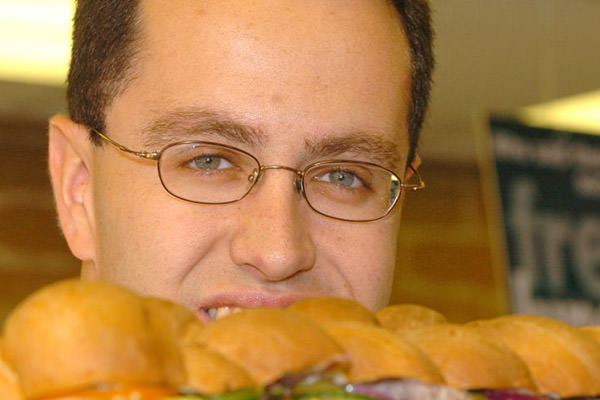 Photo by Getty Images (??? Couldn't find a photo credit, but the filename had "Getty" in it)
FUCK SUBWAY AND THEIR SHITTY SANDWICHES!
Posted on August 19th, 2015

Jared Fogle, the Subway Sandwich Whore... whom I loathe, but tried to treat fairly when he was dragged to the police station for questions regarding child pornography (because, hey, innocent until proven guilty, right?) is, in fact, apparently going to plead guilty to not only possession of child pornography... but also of having sex with at least fourteen underage kids... THE SICK FUCK! What a piece of garbage. He used his millions in sandwich money to prey on innocent children... and continued to do so even after his best friend got caught producing kiddie porn for him? As much as I loathed him before, he has managed to sink even lower. Holy crap what a repugnant asshole. Fuck Jared for making me watch his idiotic commercials and listen to his pathetic lies all these years. Hope you like the sandwiches in prison, you disgusting pig.
Josh Duggar, the "Family Values" Douchebag... whom I loathe, but tried to treat fairly when he was crucified for having sexually molested five girls (including four of his sisters) as a teenager (because, hey, growing up in that dysfunctional shit-hole of a family was bound to screw him up, right?) is, in fact, not only a teen pedophile... but also an allegedly unfaithful husband who has been outed as a "Life is Short, Have an Affair" Ashley Madison member. That's right, all the while he was dictating morals to people on how they should live their lives... he was apparently living his life contrary to his own standards. Like the fucking pathetic hypocritical piece of shit he is. As much as I loathed him before, he has managed to sink even lower. Holy crap what a repugnant asshole. Fuck Josh Duggar for making me even be aware of his parents' idiotic clown car vagina reality show all these years. From the depths of your very own belief system, hope you enjoy rotting in hell, you disgusting pig.
George Zimmerman, the psychotic asshole that stalked and killed a kid for being Black "in the wrong neighborhood"... whom I loathe, but tried to treat fairly... as in "they-should-have-hanged-the-fucking-murdering-asshole-fairly" because HE WAS CLEARLY LYING AND GUILTY, GUILTY, GUILTY, GUILTY is, in fact...
Donald Trump, the misogynistic pile of shit (and hairspray)... whom I loathe, but tried to...
Pat Robertson, the bigoted...
Scott...
Jan...
I give up. I just give up. If I were to write up all the assholes, idiots, and clowns that are pissing me off today, I'd be here all week. Holy crap are there a lot of repugnant pieces of shit in my newsfeed lately. Some days I think I'd be much better off with my head stuck in the sand.
Knowing what's going on in the world isn't good for your sanity. Not anymore.
Posted on July 6th, 2015

Just goes to show... you can't have a debate over the Confederate Flag without dragging marriage equality into the mix!
Any bets on how long it'll be until this asshole is caught with an underage male prostitute in some seedy airport hotel?
Yeah. Definitely overcompensating for something.
Probably hates they idea of gay marriage because it's just so damn tempting to him.
Meanwhile, the rest of the world is waking up to the novel concept that UNLESS YOU'RE IN A SAME-SEX RELATIONSHIP, SAME-SEX MARRIAGE DOESN'T FUCKING AFFECT YOU.
Unless, of course, you want to be happy for all your friends, co-workers, and family who can finally get married the same way every other tax-paying American can.
Posted on March 9th, 2015

JUST SPLIT THE DAMN DIFFERENCE BETWEEN STANDARD TIME AND DAYLIGHT SAVING TIME AND GET RID OF THIS STUPID SHIT!
The Monday after dicking around with the clocks is the worst.

I know I complain about this dumbassery every time we mess with the clocks, but come on. HOW IS THIS STILL A THING?