DON'T EVER LET YOURSELF BE GASLIT.
Thank you so very, very much to the Progressive Insurance supervisor who pulled my Snapshot cancelation call WHERE I PAID THE $20 DISCOUNT REVERSAL TO THE AGENT BEFORE HANGING UP. I received a bill tonight... the only bill I received since canceling Snapshot. I didn't understand what it was for, so I went online to check. It was that Snapshot deduction reversal plus a $10 late fee. Ugh. I thought all this billing error crap would at least take a break after finally canceling AT&T!
So I contacted Progressive via chat to explain what happened. The chat agent did not give a fuck. Tried to tell me I had received multiple emails with the charge, so she wasn't going to waive the late fee (which I did not get, or I would have called just like I did with the one I received tonight). THEN I told the chat agent to pull my phone call. Told her that it was so memorable to me because the agent almost hung up before taking my payment and I had to stop him to give him my credit card. The chat agent said that pulling the call was not necessary because the payment wasn't made and this was all my fault. Essentially gaslighting me into believing that I imagined paying a bill just last month. I imagined not receiving the emails. Or, more likely, she believed I was lying.
Well screw that. So I called Progressive instead. I made the payment (sans late fee) and then asked to have my original phone call pulled. She transferred me to a supervisor who then pulled the call (apparently since I'm in Washington State they couldn't refuse to pull it even if they wanted to).
AND, YEP, IT ALL HAPPENED EXACTLY LIKE I REMEMBERED. EVERY DETAIL I PROVIDED WAS CORRECT. WE DID TALK ABOUT HIS HOME IN CLEVELAND. I DID HAVE TO REMIND THE GUY HE DIDN'T PROCESS MY PAYMENT. I DID GIVE HIM MY CREDIT CARD.
Yet they didn't believe me. Or didn't give a shit if they did believe me.
This is some huge bullshit right here.
But at least Progressive made it right in the end. They waived the late fee due to THEIR error. They pulled the call. They apologized. They confirmed that I'm not delusional and imagining things. I guess I can't really ask for more than that.
EXCEPT TO SAY... might want to try believing your fucking customers. I know that a lot of people are liars and scammers... but I asked for the call to be pulled. THAT'S how I was trying to prove that I WAS NOT a liar or a scammer. And yet the chat agent wanted none of it. Would rather make me think I'm an insane liar than value my concerns.
DON'T ALLOW THEM TO GASLIGHT YOU.
YOU ARE WORTH MORE THAN THAT.
YOU ALWAYS HAVE BEEN.
And it turns out those calls actually ARE recorded for your protection. At least mine was. The protection of my sanity.
UPDATE: And it gets worse.
Today is Tuesday, June 29th. The day after I just had to go through all this crap. I receive an alert on my phone from the Progressive app that I owe $30 AGAIN. I click through to see what the issue is, and this is what I see...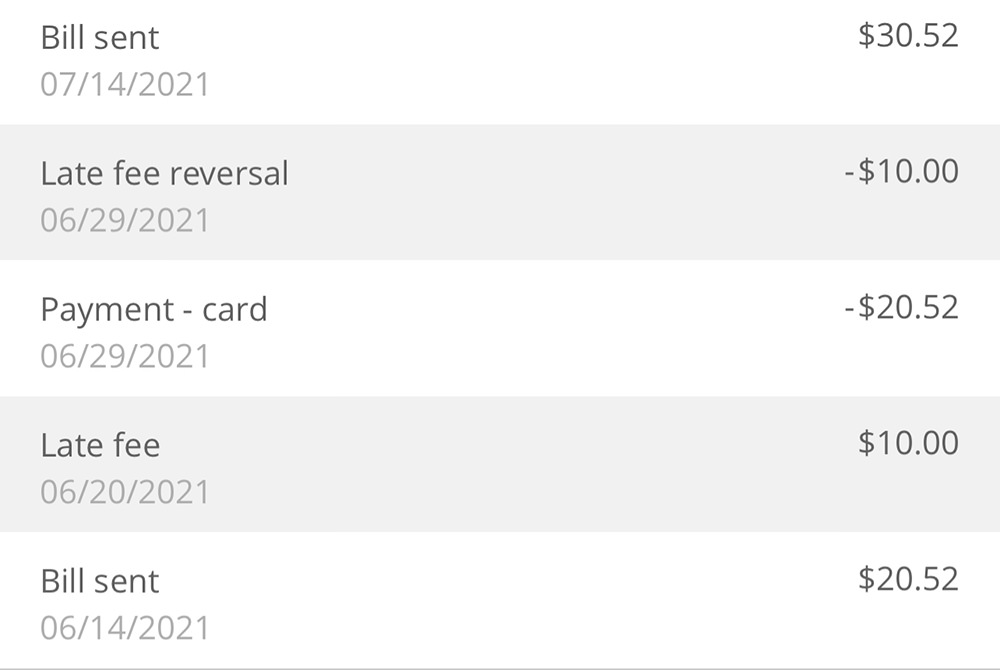 Well, that's interesting. You sent me a bill... IN THE FUTURE?!?
So I call. Again.
I get gaslit. Again.
I explained calmly that I just received a future bill dated July 14th, 2021 on the Progressive app for something I just resolved last night. Only to basically be told that they don't see it. That it was dated yesterday. That no bill exists. I need to read the bill again. So I get upset. I DO HAVE A BILL. IT DOES SAY IT WAS SENT ON JULY 14th, 2021. Then they start telling me to calm down that I don't owe anything. Says I'm yelling at them when I'm definitely not. Then I apologized and tried to explain that the reason I'm upset is because of what I went through last night and I'm being told I'm imagining something... AGAIN! Jesus Christ. The way Progressive treats their customers is just beyond horrible.
DOES THAT SCREENSHOT NOT SAY THAT A BILL WAS SENT ON JULY 14th?!?
"CALM DOWN! WE DIDN'T SEND YOU AN EMAIL! YOU NEED TO READ THE BILL!"
Well, as I said, it wasn't an email. It was an alert on the Progressive app. AND I AM LOOKING AT IT RIGHT NOW!
This is just... beyond abusive at this point. It's AT&T all over again. What is it about these companies that they can't handle their fucking billing? I am going to find a way to record ALL my phone calls with companies. Then I'm going to post the shit on social media because being called a delusional liar OVER SHIT THE COMPANY DID is getting so old.
Calm down? After what you just said to me?
How am I NOT supposed to get upset when your company continues to call me a delusional liar? Even when I have PROOF that I'm not imagining things and NOT a liar? When I have to keep contacting you and getting treated like shit FOR YOUR ERROR? When I have to get a supervisor to pull my call so you'll believe me? Do you honestly expect me to be Miss Mary Sunshine under these conditions? Unreal. Your company is just unreal. But I shouldn't be surprised. This is what companies do now-a-days. I'm just sad to learn that Progressive is the same as all the rest. Flo always seems so nice in those commercials.