Posted on June 29th, 2021

As anybody who's been reading this blog for a decade or so already knows, I put money aside each month so I can save up for Black Friday. That's when I buy just about everything, because you can pretty much double your money by taking advantage of sales and such. But last year I started dividing my money between Black Friday and Amazon Prime Day because the sales just keep getting better and better after being pretty crappy for years (I'm convinced that "Prime Day" was quickly becoming a dumping grounds for crappy products that people can't manage to sell any other time of year).
But anyway...
Here's what I blew my luxury savings on.

ROOMBA i6+ SELF-CLEANING VACUUM ROBOT $700 (reg. $1,150)
This was pretty much the only thing on my "MUST-HAVE LIST." Last year it went on sale but I didn't have enough money saved to get it. This year I was prepared. Like my other robo-vacs, I will be naming this one Carl. Old Downstairs Carl died and I had been using Upstairs Carl for both floors, but not very often. The big plus for this New Carl is that he will automatically empty himself. The dirt is sucked out into a storage bin that you only have to empty every month or so (or every day if you have shedding cats like I do, probably). Nice. He also has a few improvements over Old Carl. First of all, he cleans in straight lines instead of bumping around all over the place randomly (well, he still bumps around, but it seems more like finding his way than random). Second of all, he can map out individual rooms and respect "no-go" areas that you can set up (like the cat feeding station I built). I will make an entry about New Carl after a few days once I've had a chance to see him work for a while. Looks promising!

Waterpik Water Flosser in Aquarius Blue $40 (reg. $70)
I've always wanted a Waterpik, but it seemed like such an extravagant expense given how cheap dental floss is. I was still on the fence as to whether the $30 savings was enough to pull the trigger... until I saw it came in blue and not just the sickly white color. Sold! It hasn't arrived yet. I think it's lost. I'll wait a few more days until I cry to Amazon about it.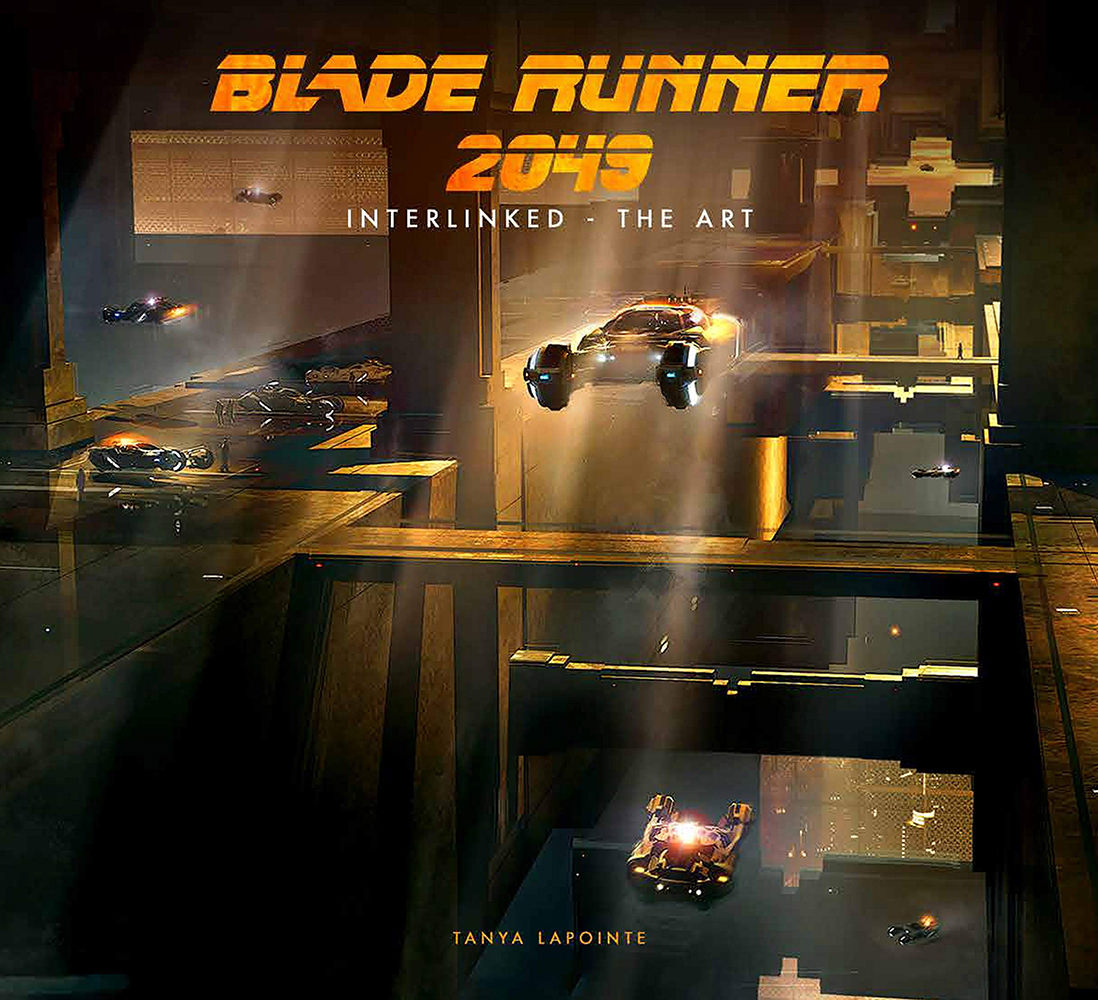 Blade Runner 2049 - Interlinked, The Art $19 (reg. $29, list $50)
This year Amazon once again had a "Small Business Spotlight" where if you buy $10 or more from their small business partners (yay! new flakey salt!), they'll give you $10 to spend. This companion book to The Art and Soul of Blade Runner 2049 completes my book collection of one of the most fascinating films I've seen in recent years. Which is to say that I obsess over the movie and can't read enough about it. The original film seemed impossible to follow, but Denis Vileneuve nailed it (which makes me more than anxious for his Dune reboot). This book takes a look at the concept art that was created for the movie and it's glorious. I was poring over every page with wonder and amazement at just how much thought went into the world that was created/expanded. It fits right in on my shelf of other movie art books, and doesn't overlap much with The Art and Soul of Blade Runner 2049, which is nice. I really hope that they stop releasing books about this movie, because I would absolutely buy them! I'm running out of room on my bookshelf though!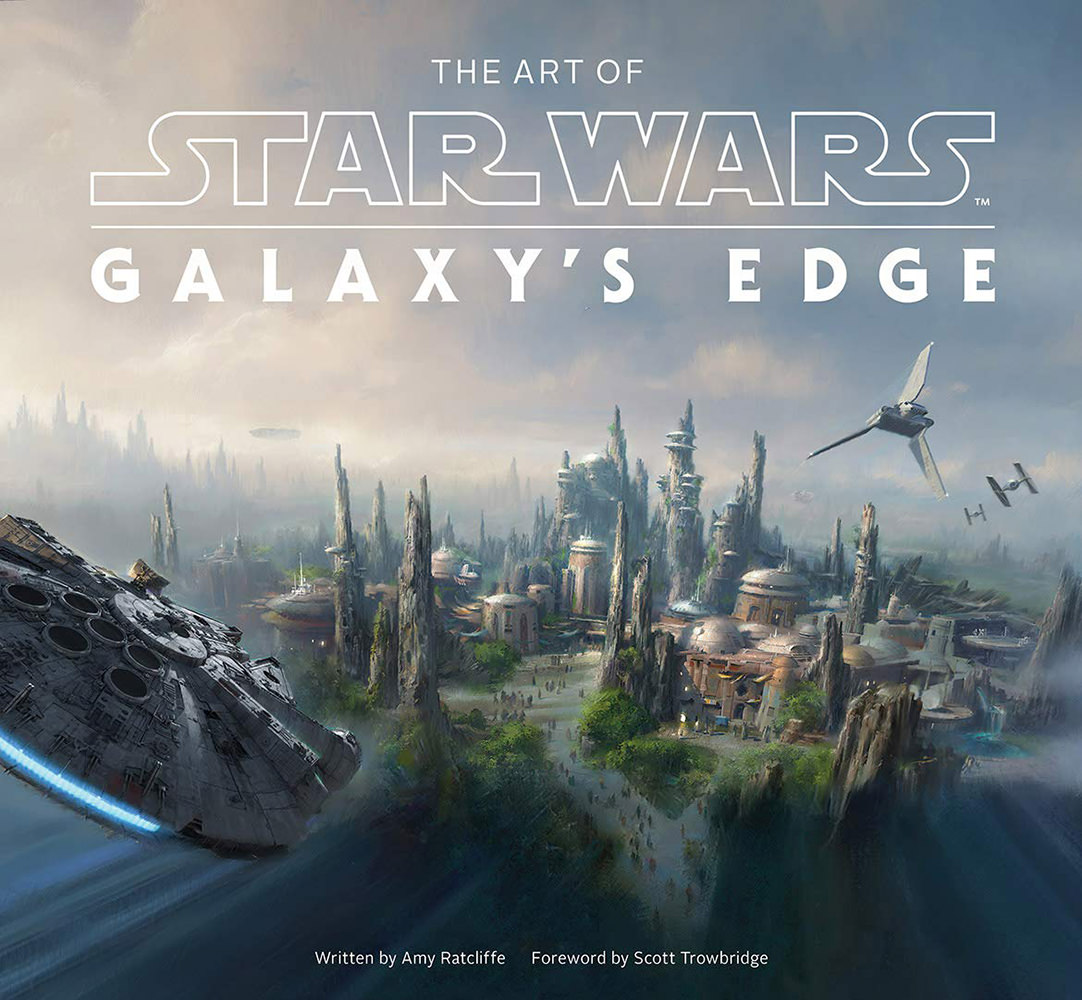 The Art of Star Wars: Galaxy's Edge $18 (reg. $28, list $50)
In addition to the small business credit I used for the book above, I also got a promotional credit of $10 for reloading my Amazon Gift Card balance with $40 (talk about a no-brainer!), which I used on this art book which goes behind the scenes of "Star Wars Land" at Disneyland and Walt Disney World. I am a huge, huge fan of both Disney and Star Wars, so seeing not only how they designed Galaxy's Edge... but also how they designed the rides you'll find there... is pretty great, as I knew it would be. Especially when it came to designing Coca-Cola that exists in a galaxy far, far away!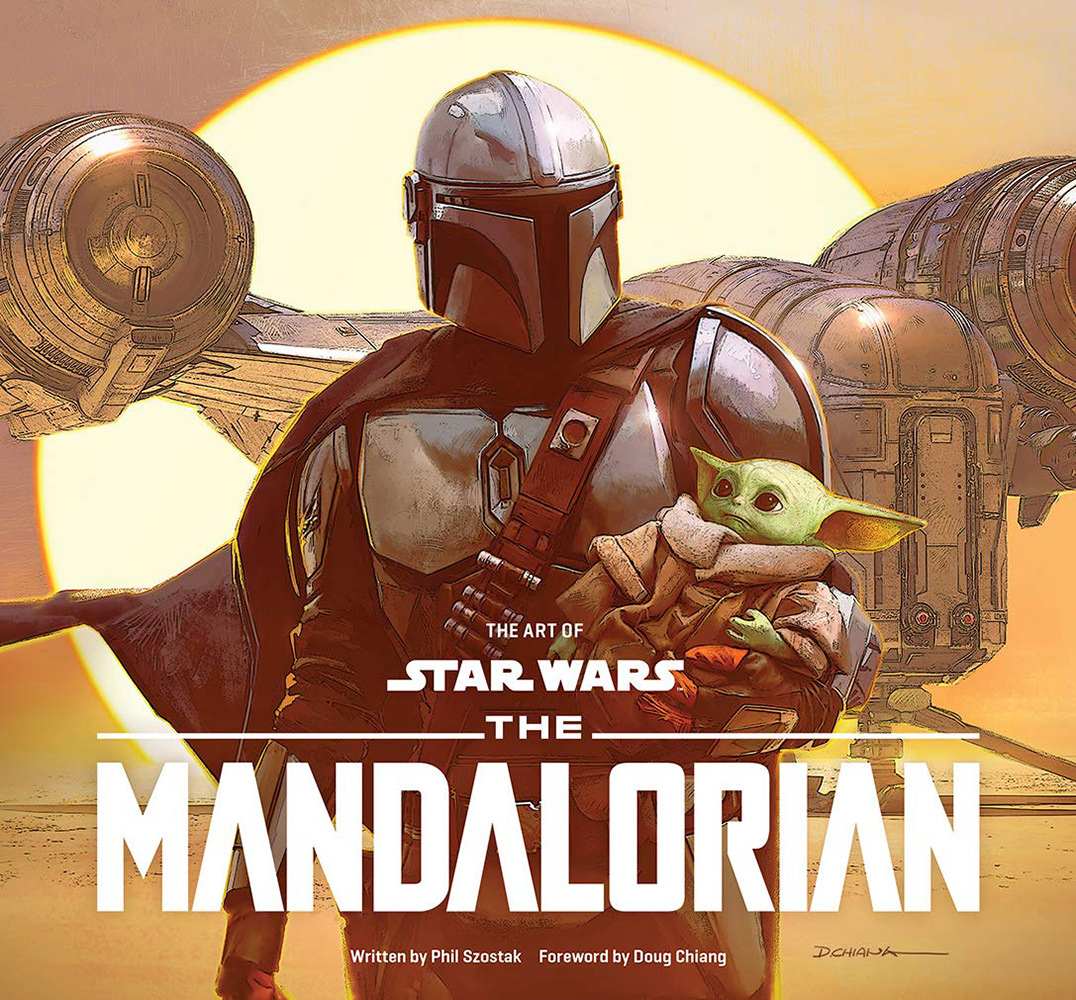 Art of Star Wars: The Mandalorian Season One $18 (reg. $28, list $40)
This was yet another $10 credit I racked up... but I don't remember where. But anyways... I was so excited for new Star Wars that I pre-ordered the art-book for The Force Awakens before watching it and finding out that it wasn't great new Star Wars, but instead a watered-down rehashed remake of the original. Fortunately, The Mandalorian brought Star Wars home and was actually great new Star Wars. The art book is, as you would expect, absolutely amazing. The concepts on how they got to where they ended up is every bit as fascinating and entertaining as the actual show. I keep hoping for a book covering the second season, but one hasn't appeared yet.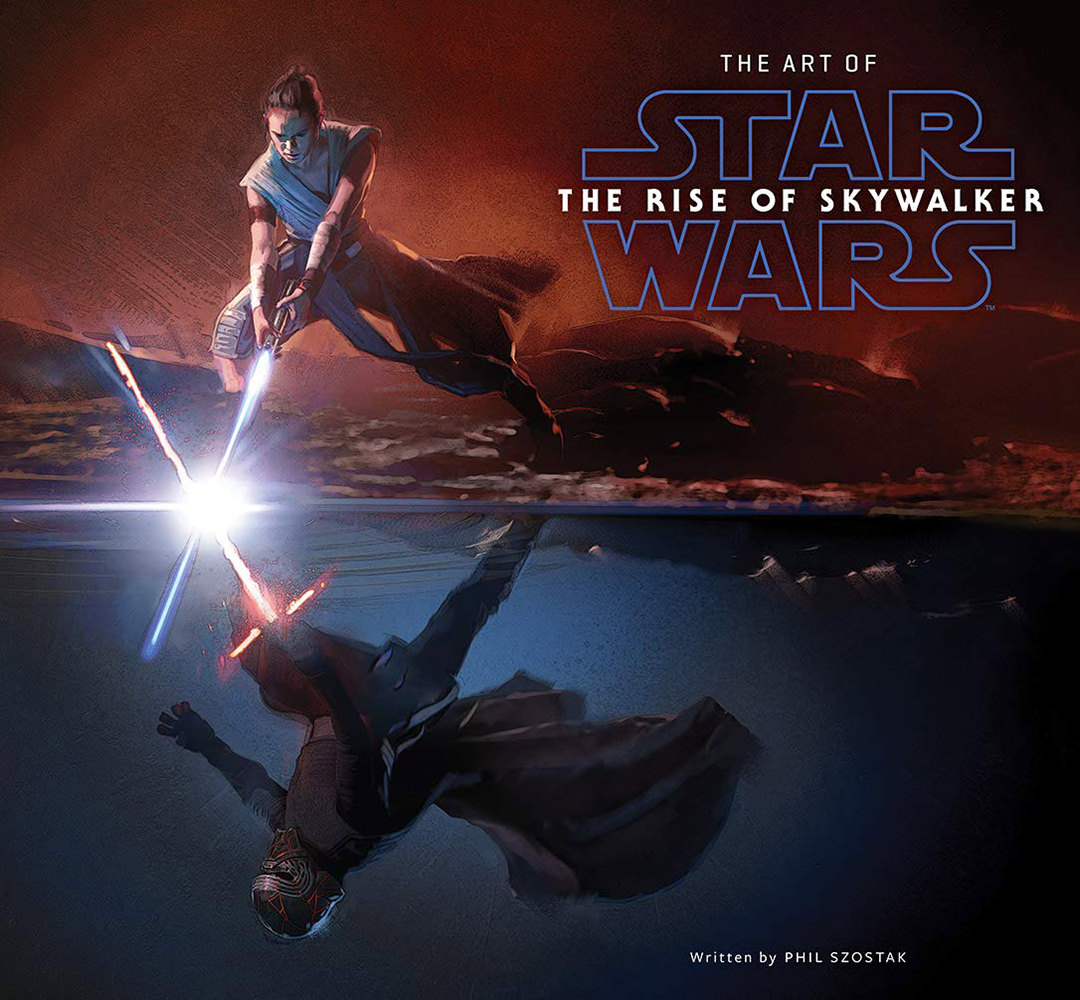 Art of Star Wars: The Rise of Skywalker $14 (reg. $28, list $40)
I detest the prequel trilogy. I really didn't care for the sequel trilogy. So why am I buying this book? Because it's $14. And the concept art that went into the making of the movie is undoubtedly going to be as mind-blowing as all the other Star Wars movies.

Simply Cheetos Variety Pack 36-Count $12 (reg. $18)
I have been addicted to Simply Cheetos Puffs in White Cheddar, and ordered several cases of them so I can have a snack at work. Then, for whatever reason, the price for a case jumped from $18 to $38 and I couldn't afford to order them any more. During Prime Day they had the Puffs/Crunchy combo case on sale for $12, so I decided to grab it. I hadn't had the Crunchy version, but I figured it would be okay. Turns out it was more than okay... just not as good as the Puffs I love so much. The only problem is that the Crunchy Cheetos expire next month and the Puffs Cheetos expire in September. So now I have to eat all Crunchy Cheetos first since they're the least-fresh. Hopefully the price will drop on that case so I can order exactly what I want again.

PopCorners 6-Flavor Variety Pack $19 (reg. $24)
I love PopCorners... but don't love the absurdly high price. Instead of 36 bags like you get with the Cheeto cases, you only get 20 here, and I wasn't paying $1.20 each for a tiny little bag. The Prime Day price brought it down to 95¢ a bag, which is still way too high... but affordable enough that I decided to grab the offer. The item hasn't shipped yet. No idea when it will arrive. Hopefully I have a decent expiry date on them.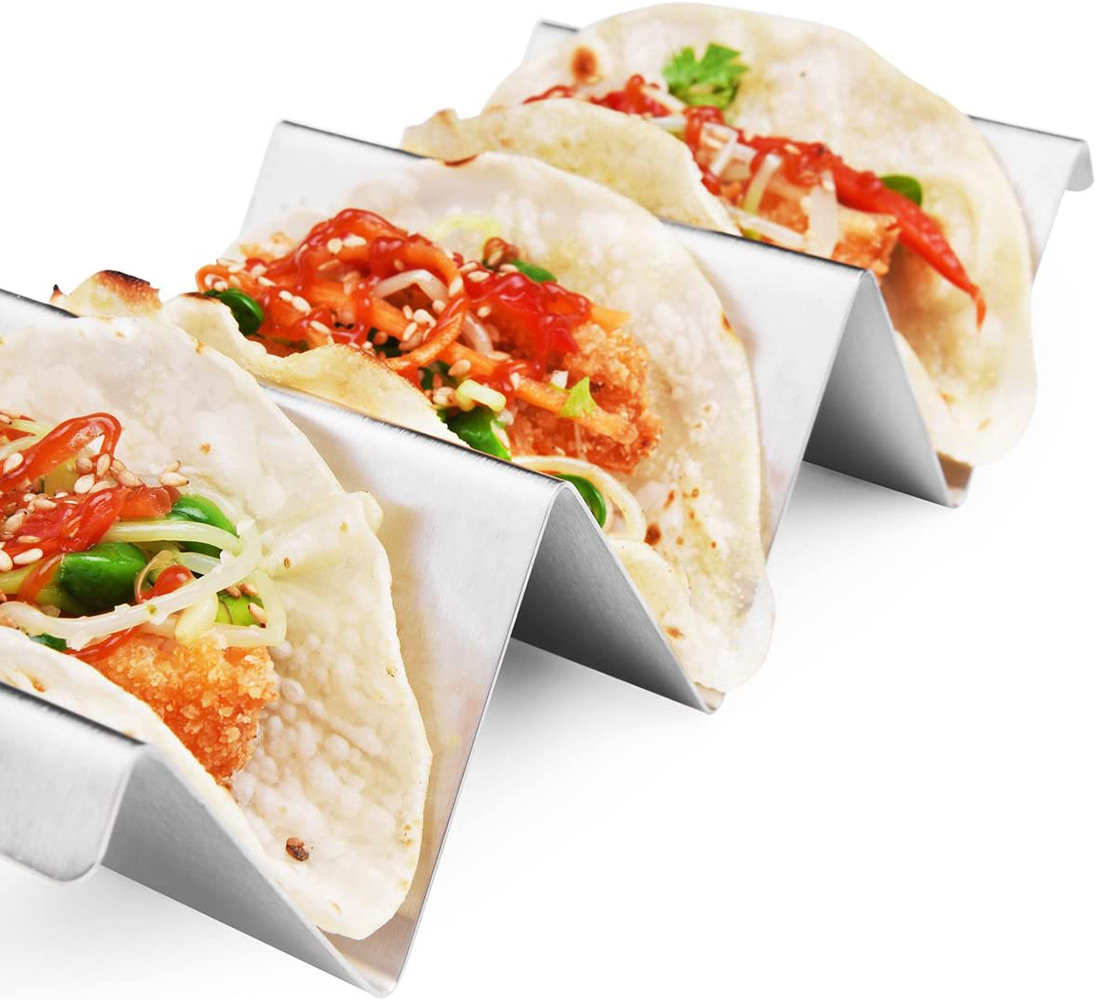 Taco Holders 4 Pack $12.50 (reg. $16)
This was an impulse buy that popped up when I saw it. Seems like a great way of propping up shells while you fill your tacos and an easier way to grab them without spilling so much out of them. I like that they are metal instead of plastic, and that was the deciding factor (along with being dishwasher-safe). The reviews are good, so hopefully they hold up as well as you'd think over time. Like other items, this one appears to be lost in transit. Fingers crossed!

And there you have it. $852.50 worth of crap that I couldn't live without. Fortunately the money in my Black Friday savings covered it once I used up a couple gift cards, special offer redemptions, and my Amazon Prime Credit Card reward points. But still... now I'm poor! But totes worth it since my life will be sooooo much better with this junk.
It will be better, won't it?
Posted on May 26th, 2021

Amazon just bought MGM Studios for 8.45 BILLION DOLLARS!
A part of me is like "Eh. The world be consolidating... it'll be nice to have all that additional content in my Amazon Prime Video library." and moving on. But another part of me is like "Will this be a good thing or a bad thing for the James Bond franchise?" Because this news is naturally all about me, and my only concern is that I don't want James Bond screwed up. I've seen every one of the films many, many times and, while some of them are far from perfect, I like all of them to a certain degree. Especially lately...
James Bond producers are claiming that the James Bond films will all have a theatrical release before going to Amazon Prime streaming, which is wise when you are able to attract talent like direcor Sam Mendes who paints these incredible scenes that are begging to be seen on the Big Screen.
The other consolidation news of the past week? WarnerMedia is merging with Discovery. Worth $43 BILLION DOLLARS.
AT&T, which owns WarnerMedia, has fucked up so many times that I'd be lying if I said that I wasn't nervous about what this might mean for Discovery (home to oh-so-many television shows that I watch). We are told that the company will be entirely separate from AT&T, but can that ever truly be the case? I guess we'll find out. It would be nice to pay for ONE streaming service rather than two like I am now (HBO Max & Discovery+).
This trend of media giants merging is not going to end any time soon. You kinda knew it was on the way because there's only so many subscriptions out there that people can afford to buy and there are a lot of them out there. I'd really like it if Disney+ would integrate Hulu content because that would be yet another pair of services that I'd rather pay for once instead of twice.
Netflix currently spends $17 BILLION on content. Disney+ is not far behind. Now WarnerMedia/Discovery will likely eclipse them both... assuming they keep their budget at the same levels. Now there's Amazon/MGM who will undoubtedly pony up to these levels to compete. And there's Apple TV+, Paramount+ (CBS/Viacom), and all the Package Streamers (Philo, Fubo, Sling, etc.). Contrast and compare to actual movie studios which can't really compete with that. What becomes of them? Well, if this trend continues, there's more consolidation in our future.
Hopefully that's a good thing.
My favorite movie of 2020 came from Netflix, after all.
Posted on May 18th, 2021

I subscribe to (or have access to) several streaming services. This makes for a monotonous slog to open up app after app looking for something good to watch. AppleTV and GoogleTV help to remedy this by curating a mix of new content and content recommendations based on the services you have and what you watch. It's been fantastically helpful, and I love it.
At least I did when it worked.
But now all the streaming services have profiles which fuck up the process. Instead of clicking on the movie or show you want to watch on AppleTV or GoogleTV and have it start playing on the streaming service that it comes from... you instead get cock-blocked by profiles, which look like this...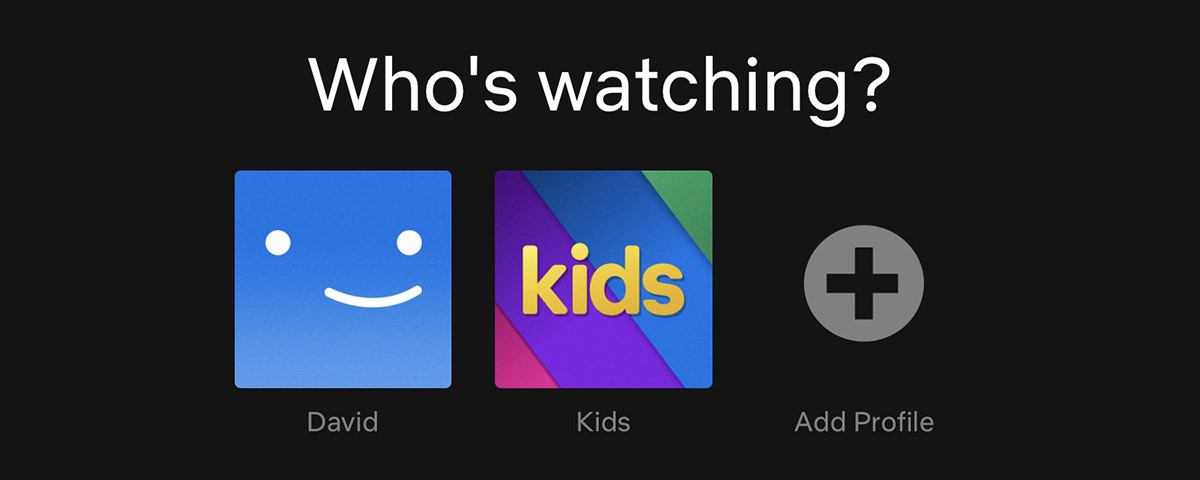 There are some streaming services which are able to bring up the content you clicked on after you're done dicking around with the profiles bullshit. But many of them do not. Instead you're taken to the streaming service home page and have to hunt down what you clicked on. Assuming you can remember what that is, which I often don't because television is what I watch when I want to turn off my brain. Not when I want to remember stuff.
I hate profiles with the burning fury of a thousand suns, even when I am NOT clicking through from AppleTV or GoogleTV. You get asked when you pull up the app directly too. I live alone. I don't have kids. I don't want to add a new profile. SO FUCK OFF ALREADY! Is it really necessary to flash this crap at me every damn time?!?
And it gets worse.
Netflix is so damn shitty about this crap that I will be watching a show downstairs in my living room, go upstairs to my bedroom to finish watching it, ONLY TO HAVE MY PROFILE FAIL TO LOAD AFTER I FUCKING CLICK ON IT OVER AND OVER AND OVER AND OVER AND OVER AND OVER! Which means I have to create a second profile for my bedroom...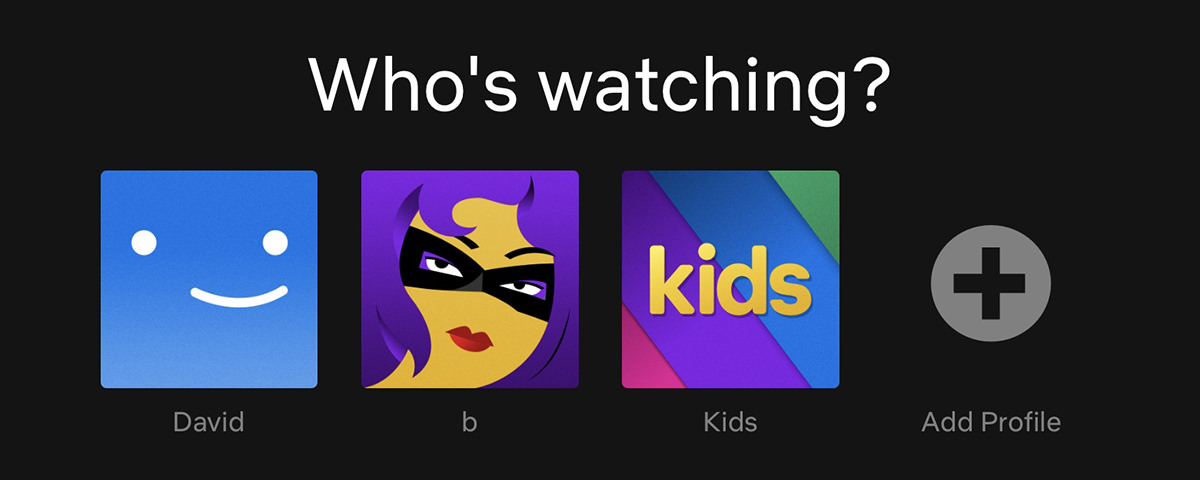 "b" is for bedroom... and I picked the first profile avatar that was available because I just don't give a shit
AND THEN when I watch upstairs, I have to fast-forward to the spot I left off downstairs because the saved point is saved to my downstairs profile. AND THEN since I finished the movie upstairs, the movie will show up in my "Finish Watching..." the next time I open up Netflix downstairs.
Bad enough to have to deal with this shit when you don't want to... but the fact that it fails so fucking badly at doing the one fucking thing that it's supposed to be doing... well... fuck off, Nextflix and your shitty AppleTV app.
Look, I get it. Some families love this feature. Mom has a profile. Dad has a profile. The kids have a profile. But why in the hell is it forced on me? It only causes problems and screws up the enjoyment of the content because I'm immediately angry at having to deal with this bullshit. Just give me a damn preference option to never have profiles show up ever again.
Given the money I and other single people have paid to these streaming service, they owe us at least that much. Especially since it demostrates that we're not sharing our login and password with other people and don't need profiles. You definitely owe us for that.
Posted on May 24th, 2020

You may be stuck in the house, but you won't be lacking for televised entertainment... because a very special Streaming Video Edition of Bullet Sunday starts... now...

• Big Eden! For better or worse, small-town rural America has been saddled with a shiny veneer of down-home values and a sense of strong community. And, having lived that my entire life, it feels an accurate way of looking at things. But this image kind of glosses over the general bigotry and specific homophobia that seems to permeate it all. Big Eden is a movie which shows what happens if it didn't permeate it all...
This is such a warm, charming, and wonderful movie. I don't want to spoil a thing, but suffice to say that it's flawlessly realized cinema. After finishing it, I had to watch it all over again because there are dozens of tiny moments happening in the backgrounds by actors performing at the top of their game. This won a slew of LGBTQ awards, but I'd hardly call it a "gay movie." It's just a movie about a place that you wish existed.

• The Ultimate Gift! I had ZERO expectations for yet another "spoiled rich brat loses his fortune and turns his life around" movie... but The Ultimate Gift was a really good take on the genre...
James Garner is a multi-billionaire with a truly horrible family. This includes a spoiled grandson who spends money like it was water and hasn't worked a day in his life. Everybody gets short-changed in the will when James Garner dies, but the grandson is given a second chance at an inheritance. All he has to do is complete a series of challenges which will win him gifts... ending with "The Ultimate Gift" after all the challenges have been met. But the challenges are not easy and are designed to push him into being a better person. Yes, there are some over-the-top moments to create artificial angst and drama but, overall, I walked away really enjoying this one.

• Hide Away! (Josh Lucas, James Cromwell • 2012) — This movie has polarizing reviews. Some people hated it. Some people loved it. I absolutely loved it. Josh Lucas shows up at a small coastal town and buys a beat up old sailboat to refurbish. The entire movie is a metaphor for rebuilding your life after tragedy, and has been filmed beautifully. I mean really beautifully...
Some of the reviews were screaming "NOTHING HAPPENED IN 85 MINUTES OF RUN-TIME... NOTHING!!!" To which I can only respond "Maybe everything happened and you just weren't paying attention?" The movie 100% relies on Josh Lucas selling it, and he does not falter. From beginning to end, his nuanced performance and commitment to the story were pretty incredible. The ending takes a little thought to process, but was well-handled, I think.

• Kid Brother! This was one of those films where I pretty much had to trust Amazon's recommendation because I would have never given it a second look had I just seen the poster on the Prime Streaming page. A reclusive janitor's life takes a very different turn when his kid brother comes to stay with him...
Do not let the trailer fool you, there is some really good subtle humor and great performances. Where did Alan Longstreet come from and why hasn't he been in like A HUNDRED MOVIES by now? Clever, charming, and some real heart, Kid Brother is worth a look.

• The Lovebirds! Amazon doesn't have an exclusive on enjoyable movies. Netflix just dropped The Lovebirds, starring Issa Rae and Kumail Nanjani. I'm big fans of both, so I was planning on tuning in even if it looks kinda slapsticky and goofy...
And, don't get me wrong, it's absolutely slapsticky and goofy... but it's not without its charms, and I thought Nanjani and Rae did an incredible job of selling it. When all is said and done, it's a cute, sweet film that manages to overcome its weaknesses. It also take place in New Orleans, which is a definite plus.

• Mythic Quest: Quarantine! And, lastly, a lot of television shows are doing "quarantine" episodes or finding other imaginative ways to carry on. Late-night talk shows are thriving in the age of COVID-19. But none of them... none of them... can compare to the sheer brilliance that they came up with for an all new episode of Mythic Quest: Raven's Banquet...
The trailer shows none of the ingenuity which makes the episode so bloody brilliant, which is actually pretty great because it doesn't spoil anything... including an amazing finale. I really enjoyed the first season of the show from Apple+... this is just icing on the cake.

And that's all the movie bullets I got. Stay safe, everybody.
Posted on January 22nd, 2019

I used to love going out to the movies. Then it got ridiculously expensive and you basically end up paying obscene amounts of money to watch people text on their mobile phones... or listen to them talk... or endure their kids acting like idiots. So you spend even more money to go to the VIP theater so the experience is at least tolerable. And that's an expense I'm just not going to make unless it's a movie I'm dying to see (like anything from Marvel Studios).
So, by not going to the movies, I'm saving $12 for a ticket plus $8 for popcorn and a drink... that's $20, which is how much it costs to just buy most movies on iTunes now-a-days. Or, if you're patient, you can always wait and rent it for $5 or see if it shows up on HBO or something.
More and more I'm getting my entertainment from my television, but that too is quickly getting crazy-expensive.
DirecTV is pricey and I'm starting to wonder if it's worth it. I pay $53.57 per month for the bare minimum they offer just to get Seattle-local networks and a bunch of stuff I never watch (the big exception being HGTV). This is better than it used to be. Since I'm an AT&T wireless subscriber, the $53.57 reflects a $25 bundle credit. I remain incensed that I can't just pick and choose the networks I want to see. I will never, ever watch Fox "News," so why the fuck am I paying for it?
The obvious option here is to go 100% streaming...
HBO Go. Free with my AT&T mobile plan.
Apple. Free with my iPhone/iPad/Mac.
Amazon Prime. Included with my Amazon Prime account (already pay $120/year $10/mo.).
Hulu ($6/mo). A&E, ABC, Adult Swim, AMC, Animal Planet, BBC America, BET, Bravo, Cartoon Network, CBS, Cheddar, Comedy Central, Discovery, E!, Epix, Food, FOX, Freeform, Fuse, FX, FXx, HereTV, HGTV, History, Hulu Originals, Lifetime, MTV, National Geographic, NBC, Nickelodeon, Paramount, Science, SyFy, TBS, TLC, TNT, Travel, VH1... plus select shows from other networks like Showtime.
CBS All Access ($6/mo.). For all CBS shows and originals like Star Trek: Discovery and The Good Fight.
Disney+ (???/mo.). The upcoming must-have streaming service thanks to Disney/Marvel/Lucasfilm content.
Sundance Now ($7/mo.). Only when shows I want to watch are airing (like This Close)
Interesting to note that Hulu has actually lowered their ad-supported pricing...

What I don't like about cutting the cord is that some networks withhold streaming their shows on Hulu for a while. As an example... Home Town has started its second season on HGTV, but only the first season is available on Hulu just now. For many programs, this wouldn't be a big deal... but for shows I really like, it's an issue.
Right now, receiving local channels from Seattle is worth the cost to me. But eventually my feelings may change. Saving $200+ a year on entertainment is no small amount of money.