Posted on June 18th, 2018

Everybody is laughing at the idea of spending billions of dollars we don't have on a "space force." But you won't be laughing when the alien invasion comes and we are DOMINATINNNNNNG SPAAAAACE!!!
Oh... you say aliens that are capable of interstellar travel will have technology that makes any "space force" we come up with about as threatening as a BB gun? Well... well... WE CAN STILL KEEP THE MEXICANS FROM INVADING THE MOON! HA!! CHECKMATE, HATERS!!!
=ahem=
Space exploration has always resulted in amazing technologies that eventually filter downward and make everybody's life better. I 100% support my tax dollars going towards organizations like NASA, who do a lot more than just push the boundaries of human knowledge... they also invest in technologies which keep us safe and help us to have a better understanding of the world we inhabit and (at least until the current administration) the dangers we face from the destruction we're causing to it.
Likewise, I also 100% support my tax dollars being spent on defense. Sure, I think it's insane that we have such a massive military complex when so many of the current threats we face can't be remedied that way... and it seems crazy that we have weapons enough to destroy the world a hundred times over and are told we still need more... but I want our military to always have access to cutting-edge technology which keeps them (and us) safe. So yeah, budget for that. Not military parades and golf trips on Air Force One, but that.
And now we're getting a space force?
We've got homeless vets, a stupid-ass 100% completely ineffectual wall to build, and legions of other problems that could use our tax dollars... but pew! pew! pew! pew!
Tags:
Dumbassery
,
Dumbasses
,
Dumbfuckery
,
Fuck This Shit
,
Fucking Assholes
,
Fucking Scumbags
,
Fucktards
,
Liberal Redneck
,
Pig-Fucking Assholes
,
Stupidity
,
Trae Crowder
,
Truly Stupid People
,
Trump's America
Categories:
News – Politics 2018
—
Click To It:
Permalink
—
1 Comment: Click To Add Yours!
Posted on December 2nd, 2015

Much like Janice in Accounting*, United Airlines don't give a fuck.
It all started when I missed a conference call on Monday morning because I had to buy clothes for work. The only time I could reschedule the call was for Thursday, but I would need to be back home because the later date would require access to some design sheets I didn't have with me. No problem, right? I just call United and explain the situation.
Except it ended up being a huge problem, because United wouldn't agree to put me on an earlier flight home. THEY lose my luggage, necessitating all these changes, but it's going to cost ME a $200 change fee plus $450 for the ticket cost difference. I politely explain that it's not my fault the luggage was lost and I shouldn't have to pay anything... but they disagree. Talking to a supervisor gets me a "one time offer" to waive the $200 change fee, but not the $450.
Needless to say, I'm livid.
It costs United nothing to make the situation right and get me home over a situation they cause... there's empty seats... but they don't give a fuck about my situation.
So I regretfully start yelling at the supervisor over United's shitty policy and eventually she finds a flight to get me home in time in an effort to get me to shut the hell up. Which is so damn stupid. Why the fuck can't they do the right thing to begin with? Why does it take somebody screaming at them before they'll reluctantly solve a problem THEY created?
But that was yesterday, surely things will go better today. Right?
Nope. It just gets worse.
As I mentioned, my luggage was lost. I made it to Portland, but my bag did not. So I reported the problem, only to be told that they have no idea if/when my bag would show up. Discouraging, but that's the way it goes. Ironically, I stopped flying United a couple decades ago because they lost my luggage (permanently) twice in six months. Now, the first time flying the airline in years, and they lose my luggage again. Except this time I actually ended up getting it back...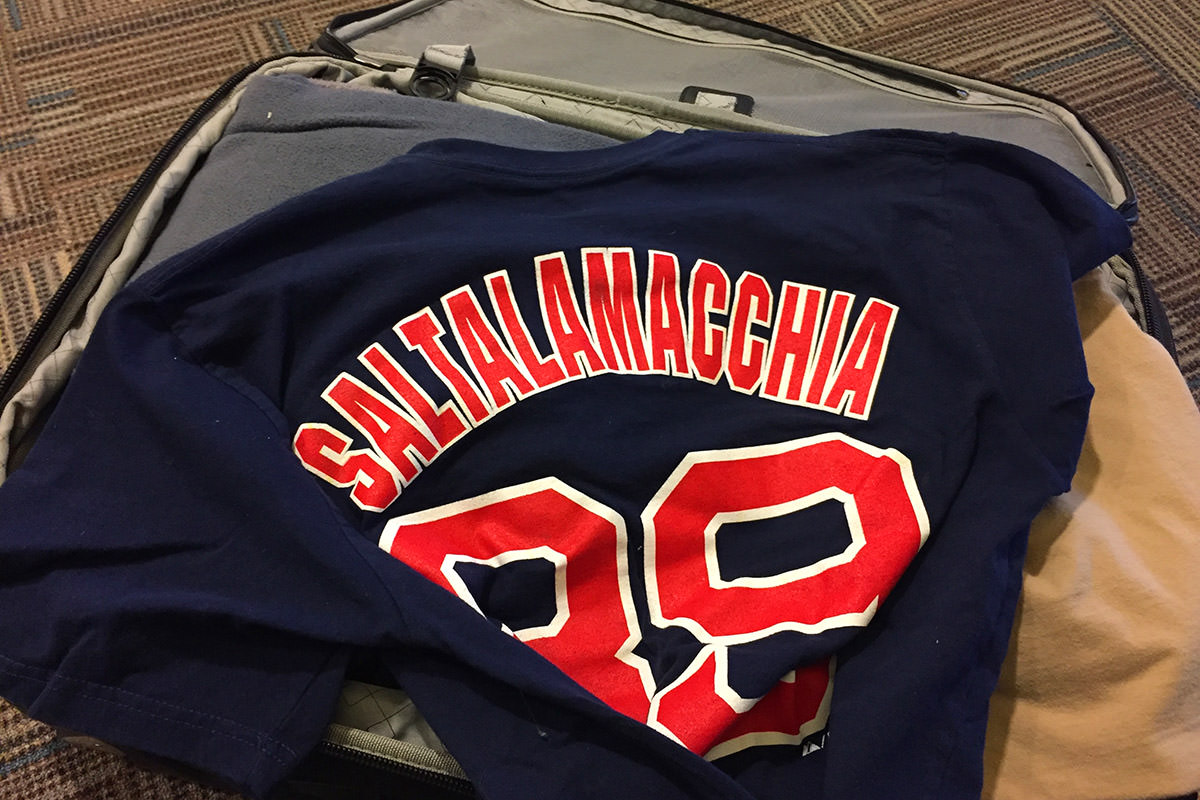 You will never leave my side again, Saltalamacchia!
Anyway...
When I check in for my flight, I naturally tell them I'd like the baggage fee waived since I never got to see my bag the entire time I was here.
They refuse.
Essentially, they blame this on me because I didn't know where I'd be in order for them to have delivered my suitcase yesterday. I explain that this is hardly my fault... that's the way my job works, and not knowing where I'll be is not something I can control... but United don't give a fuck.
Instead they offer me a $25 certificate good for my next flight.
Which I refuse, because I'll never be flying with this piece of shit airline ever again. I mean, first I had to pay $240 for last-minute clothes, now they expect me to pay $25 MORE for clothes I never got to use? Fuck that.
And so I vow to make this the most expensive $25 baggage fee they've ever collected. I will pass up no opportunity to badmouth United Airlines from this day forward. Everybody I run across will come to understand what fucking assholes are running the show at United, and how much I fucking hate the entire United Airlines organization.
Those feelings were doubled when I realized that my bag was not checked all the way home, but terminated in Seattle (despite the guy helping me having said it would be transferred to Alaska Airlines). Which means I paid $25 to get my bag home, and it's not even going to get home. I tied to get that resolved, but the United representative at the gate don't give a fuck either. Essentially, United booked me on a connecting flight home that doesn't exist (the 11:10 doesn't fly on Wednesdays). So I had to politely beg Alaska Airlines to put me on a flight that does exist. But in United's computer, THAT'S the flight that doesn't exist. Never mind that I show them my boarding pass for a flight that obviously exists since I've checked in for it... there's nothing they can do. So I ask if there's somebody I can speak to who CAN do something... only to get an epic eye-roll. She then calls a supervisor and says "I have a customer here demanding that I check his bags onto a flight that doesn't exist..."
"Demanding?" Fuck you. All I did was ask a damn question and show you proof that the flight does exist! I tell her to forget it, that I'll just collect my bag in Seattle and re-check it.
I'd like to say that things get better from there, but they didn't.**
All in all, United provided me one of the worst experiences I have ever had in 25 years of near constant travel. I hate... HATE... the company and everything they stand for. If no other airline can get me where I need to go, I would rather drive through a fucking blizzard than to ever fly United again.
And everybody is going to know it.
*Janice is from This Week Tonight with John Oliver... a show that you should be watching if you haven't been.
**A crappy hotel, another canceled flight, weather delays, winter storm advisory, and a complete douche nearly ramming into my car in the airport parking lot awaited me.
Posted on August 22nd, 2015

What a repugnant piece of shit.
The more that comes to light about Subway Sandwich Whore and world-class pedophile Jared Fogle, the more I think he needs to have his dick cut off then be shot in the fucking head. I mean, seriously... just listen to this heinous crap.
If there's any justice, he'll die in prison.

Could not find a credit for this creepy-ass photo.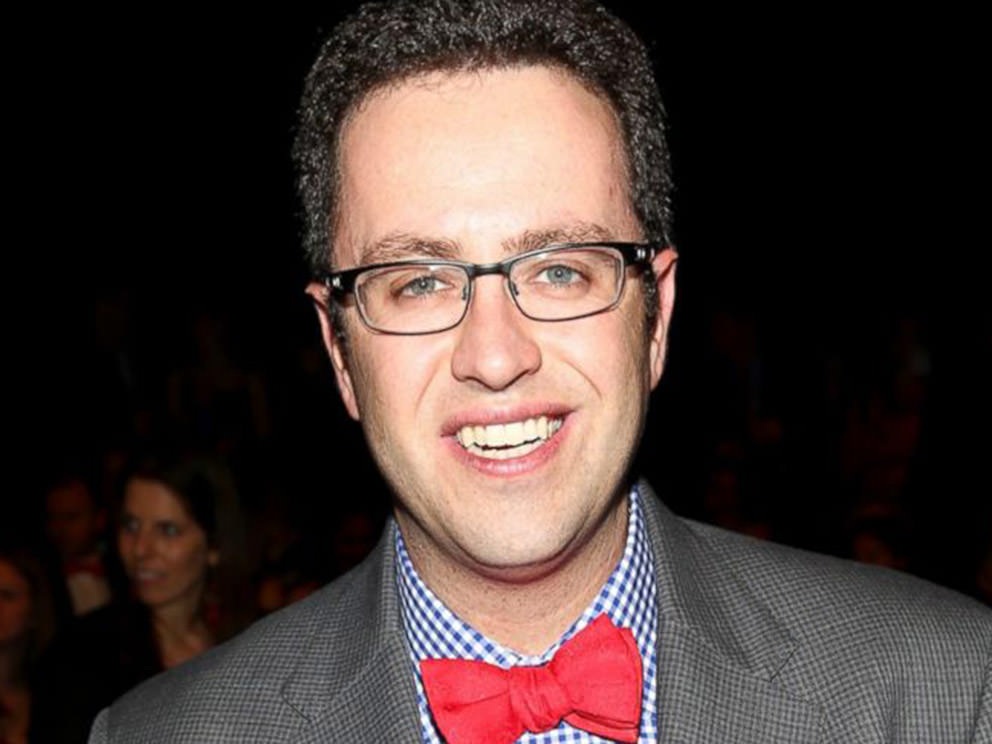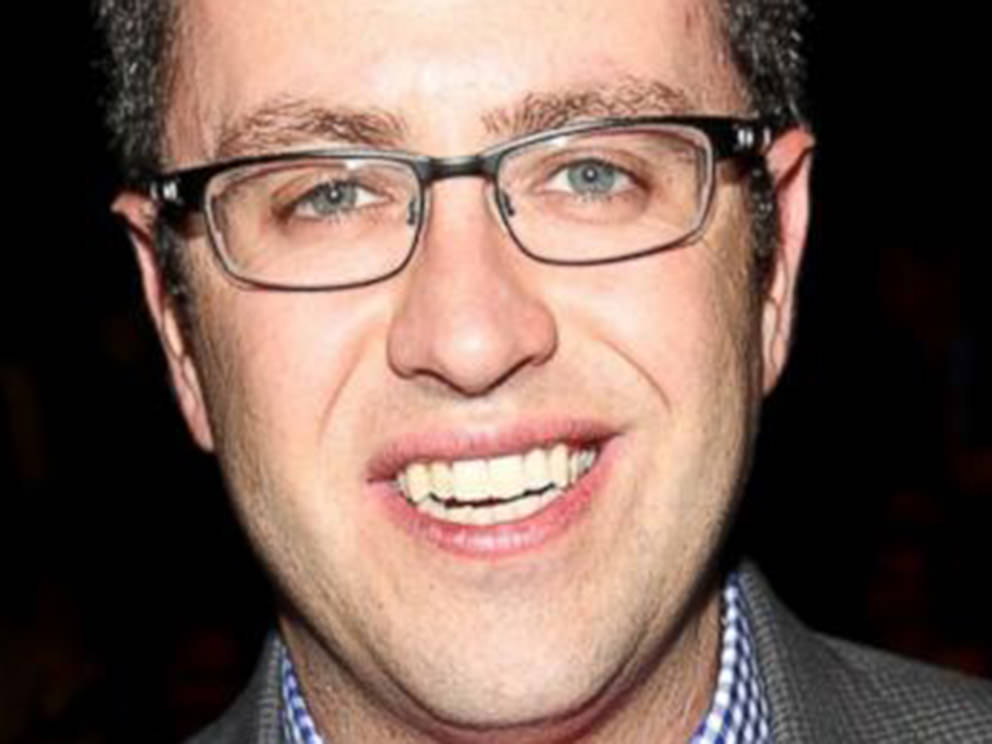 eat fresh!
Posted on August 19th, 2015

Jared Fogle, the Subway Sandwich Whore... whom I loathe, but tried to treat fairly when he was dragged to the police station for questions regarding child pornography (because, hey, innocent until proven guilty, right?) is, in fact, apparently going to plead guilty to not only possession of child pornography... but also of having sex with at least fourteen underage kids... THE SICK FUCK! What a piece of garbage. He used his millions in sandwich money to prey on innocent children... and continued to do so even after his best friend got caught producing kiddie porn for him? As much as I loathed him before, he has managed to sink even lower. Holy crap what a repugnant asshole. Fuck Jared for making me watch his idiotic commercials and listen to his pathetic lies all these years. Hope you like the sandwiches in prison, you disgusting pig.
Josh Duggar, the "Family Values" Douchebag... whom I loathe, but tried to treat fairly when he was crucified for having sexually molested five girls (including four of his sisters) as a teenager (because, hey, growing up in that dysfunctional shit-hole of a family was bound to screw him up, right?) is, in fact, not only a teen pedophile... but also an allegedly unfaithful husband who has been outed as a "Life is Short, Have an Affair" Ashley Madison member. That's right, all the while he was dictating morals to people on how they should live their lives... he was apparently living his life contrary to his own standards. Like the fucking pathetic hypocritical piece of shit he is. As much as I loathed him before, he has managed to sink even lower. Holy crap what a repugnant asshole. Fuck Josh Duggar for making me even be aware of his parents' idiotic clown car vagina reality show all these years. From the depths of your very own belief system, hope you enjoy rotting in hell, you disgusting pig.
George Zimmerman, the psychotic asshole that stalked and killed a kid for being Black "in the wrong neighborhood"... whom I loathe, but tried to treat fairly... as in "they-should-have-hanged-the-fucking-murdering-asshole-fairly" because HE WAS CLEARLY LYING AND GUILTY, GUILTY, GUILTY, GUILTY is, in fact...
Donald Trump, the misogynistic pile of shit (and hairspray)... whom I loathe, but tried to...
Pat Robertson, the bigoted...
Scott...
Jan...
I give up. I just give up. If I were to write up all the assholes, idiots, and clowns that are pissing me off today, I'd be here all week. Holy crap are there a lot of repugnant pieces of shit in my newsfeed lately. Some days I think I'd be much better off with my head stuck in the sand.
Knowing what's going on in the world isn't good for your sanity. Not anymore.
Posted on March 17th, 2015

Now that marriage equality is blowing across the country like a righteous wind of rainbows and glitter, it should come as no surprise that homophobic political bigots are devising new ways to be on the wrong side of history.
Take it away, Jon Stewart...

There's a lot of hypocritical idiocy on display here, but Tony Tinderholt is the cherry on top of the bigot sundae...
This piece of shit can get married as many times as he wants... FIVE times at current count... but it's the gays who are ruining the sanctity of the institution?
Uh huh.
Amazing how somebody who lied about their employment history... committed insurance fraud... left children in the care of drug-abusers... and allowed a minor to be served alcohol, become intoxicated and then drive drunk... is in a position to dictate what people are and are not allowed to do with their personal lives.
Uh huh.
It's only a matter of time until he's exposed for sleeping with an underage gay prostitute, busted for cocaine, or is caught strangling a puppy. These people can't seem to stop themselves. The rules don't apply to their lives, after all.
Uh huh.
Posted on December 15th, 2014

I know I just wrote about the Greenpeace desecration of the Nazca lines yesterday, but I've only grown more enraged over the issue, and can't seem to let it go. This is outrageously disgusting on every level, and all those involved should be fucking shot. They have caused serious damaged to an artifact of massive historical significance and just don't give a shit. Greenpeace apologizes for "offending anyone" but seems to think they are above apologizing for the damage they've done to this cultural treasure...
It's stuff like this that makes me crazy.
And it's not limited to Greenpeace... plenty of other organizations who proclaim to advocate causes with "peaceful protest" do this kind of stupid crap all the time. And they feel fully justified because their "message" is more important than the destruction they cause. Well fuck that. No matter how important their message or how just their cause, Greenpeace made it perfectly clear that the real reason they fight for their environmental issues is for self-glorification and self-promotion. In the end Greenpeace only really cares about... Greenpeace.
Posted on July 1st, 2014

"House committee no longer requires public travel disclosure."
Read it. If you dare.
Politicians once again vote themselves accountable to nobody for anything. Exactly what our founding fathers intended for political office, I'm sure!
Yet dumbfuck Americans sit back and let bullshit like this keep happening instead of doing what they should be doing... which is either A) Demanding transparency in who's buying off our elected officials... or B) Lighting their shit on fire.
I hope I'm alive to see our government razed to the fucking ground and rebuilt without all this disgusting corruption that has choked the shit out of the democratically-represented republic we were supposed to be.
To all the traitorous douchebag assholes on the House "Ethics" Committee who made this pile of crap happen... fuck you. Seriously... fuck you, you fucking fucks...
Susan W. Brooks, (R) Indiana
Michael E. Capuano, (D) Massachusetts
Yvette D. Clarke, (D) New York
K. Michael Conaway, (R) Texas
Charles W. Dent, (R) Pennsylvania
Ted Deutch, (D) Florida
Trey Gowdy, (R) South Carolina
Patrick Meehan, (R) Pennsylvania
Pedro R. Pierluisi, (D) Puerto Rico
Linda T. Sánchez, (D) California
You have all betrayed the public trust so that you can further attempt to betray the public trust. The people whom you pretend to represent... the people who fucking VOTED for you... deserve to know who's PAYING YOU to be their bitch.
So enjoy your lobbyist-sponsored vacations while you can, you unbelievable pieces of shit.
Which will probably be forever, because Americans just don't seem to give a crap.
Posted on April 3rd, 2012

What a bunch of fucking scumbags.
Back in February I purchased a GoGo Inflight Wireless monthly pass.
Last month in March when I saw the charge, I just thought "Wow, they're really late to bill for their service!" and, just to be sure somebody hasn't stolen my credit card number, I go to my GoGo account and verify that only one charge has been made...


Yep! Page one of one. Just the one charge for February 28th! Guess they are really late in billing.
But then today I look at my credit card statement and see the charge again in April. Then I go back and confirm that the previous charge was, in fact, new service for March because they billed me in February too. So I call and find out what the heck is going on, only to be told that all monthly plans are auto-renewing, and they're sorry I missed that when I signed up.
I don't ever recall seeing that on the sign-up form. But, then again, it was probably easy to miss on my tiny iPhone screen.
Oh well, I explain the error and am told that they can't retroactively cancel my account, but they will put in a request for a refund on the latest (third) charge. Which means that I'm apparently out of luck on getting money back on the second charge.
What a bunch of fucking scumbags.
Look, if you're going to automatically bill people for some kind of renewable service deal, there are three things you need to make sure of...
Make it painfully clear when the person signs up that they know the service will auto-renew. I am not disputing that the information was there, I'm just saying it was obviously not obvious enough that I could miss it so completely.
When somebody logs into their fucking account to verify charges, you might want to... oh... I dunno... ACTUALLY SHOW THE FUCKING CHARGES ON THEIR ACCOUNT SO PEOPLE KNOW THEY ARE BEING CHARGED.
For all my other auto-bill services, I get an email reminding me that the charge was posted. Anybody not sending out an email receipt to let people know that they are being billed for something is obviously trying to do their best to hide the charge.
Which brings me to my point... GoGo is OBVIOUSLY TRYING TO DO THEIR BEST TO HIDE THE CHARGE!
I check my credit card statements every month and still managed to fall into their scam to the tune of $70.
What a bunch of fucking scumbags.
And you just know that they don't give a fuck, because if you want to use internet while flying, they're the only game in town. They get to be scumbags because there are zero consequences from screwing people over.
Which begs the question...
Why in the hell can't I dream up a business philosophy like that?
I really need to make a concentrated effort in becoming more evil.