Posted on Friday, April 2nd, 2021

Most of what I learned about cooking came from my grandmothers. I loved cooking and loved food, and they were happy to help me learn how to do it well.
I remember once when my grandmother was teaching me how to make her famous, award-winning apple pie, I had just help to slice the apples and was ready to make the filling when I asked her how much sugar and cinnamon and lemon juice to add. "Well you have to taste the apples." If they were tart, less lemon juice. If they were sweet, less sugar. If they were fragrant, less cinnamon. And so on. It was a balance that you could only figure out if you knew what you were working with.
And it was the same for the potato salad. "You have to taste the onion to know how to season it." And it's been my habit to do so ever since. Today I was finally recovered enough to make some, and thank heavens I tasted the onion before mixing everything. It was RANK. The taste was putrid and gross. No idea what happened, but it bummed me out because I had just bought it on Friday. Thankfully I had the whites of a green onion to use instead, so everything turned out fantastic...
Dang I make good potato salad.
I keep experimenting every time I cook up a batch and I am discovering new spice combinations to make it a different kind of tasty. This time I used some baharat seasoning, which added an entirely new dimension to such a simple food. Last time I used adobo, and that was amazing too. Before that I think I used a Ukrainian blend that was mind-blowing. I think the reason I eat so much potato salad is because it's never the same flavor twice for me. If it weren't so loaded with carbs, I swear I could eat it every day.
Today is Good Friday.
Which has puzzled me since I was a young Catholic because you'd think that crucifying Jesus would be a bad thing. But apparently it used to be "Holy Friday" and words change over time. All things "holy" were equated to being "good" and so forth.
Though I'm guessing all the people slaughtered during the "Holy Crusades" would beg to differ?
I am a long, long ways from the Catholic I was raised, so I'm probably not the right person to ask. Though it's my guess that the people who got slaughtered during the Roman Catholic crusades were likely not happy about it. Though I could be wrong. Maybe the level of big dick energy it took for a pope to send out an army whose sole purpose was to slaughter heratics was so impressive that they were happy to die underfoot of it. Stranger things have happened.
Like the day that Jesus was crucified being referred to as "Good Friday," regardless of how it came about.
Posted on Thursday, April 1st, 2021

I am glad to see that the number of April Fools jokes online have plummeted. This is just not the time. I wish people would drop it completely, because it's never really the time for me. But I'm no fun like that.
This morning I found some of my old MAD magazines and books when I was looking for a certificate I needed. Boy did that take me back.
One day when I was in Middle School on my way to class, a friend returned a MAD book that they had borrowed. I didn't think anything of it and threw it on top of the books I had under my arm. After taking my seat, the science teacher saw the book and snatched it off the table. I wasn't looking at it... it was just sitting there. Apparently that was offensive enough to him that he was compelled to take it. After class I asked him for it back and he turned all red-faced and said "NO!"
He was always a bit of an asshole, but taking my personal property for no reason? Fuck him.
A month-and-a-half later it was the last day of school. I didn't want to risk asking for my book back and having him refuse, so I had my mom write me a note asking him to return my property. After class was over, I handed it to him. He threw it on his desk and ignored it.
So I asked him to read it now.
And he did.
At which time he was consumed with rage.
"I THOUGHT IT WAS A NICE NOTE THANKING ME FOR BEING A GOOD TEACHER OR SOMETHING... BUT INSTEAD YOU WANT YOUR BOOK BACK?!?" He then pulled open a big drawer on his desk that was filled with confiscated crap. "IS THIS THE BOOK?!?" It wasn't. "WELL HOW ABOUT THIS ONE?!?" Yes. That's my book.
He threw it at my face. I was THIS close to telling him to go fuck himself and the last thing I would do is write a note praising him when he was a bargain-basement teacher at best, but instead I said "Thanks so much! Have a great summer!" because I knew that would piss him off more. And what did I care? I was off to high school.
It was at that moment I wondered if he would fail me or lower my grade. He didn't... probably because he knew I would call him on his bullshit... but I am fairly certain that he wanted to quite badly.
And speaking of people getting mad about nothing...
The beautifully-crafted Lil' Nas X music video for Montero (Call Me By Your Name) is causing quite the uproar. Probably because Lil' Nas X takes a stripper pole down to hell in his Calvin Klein underwear and gives the devil a lap dance...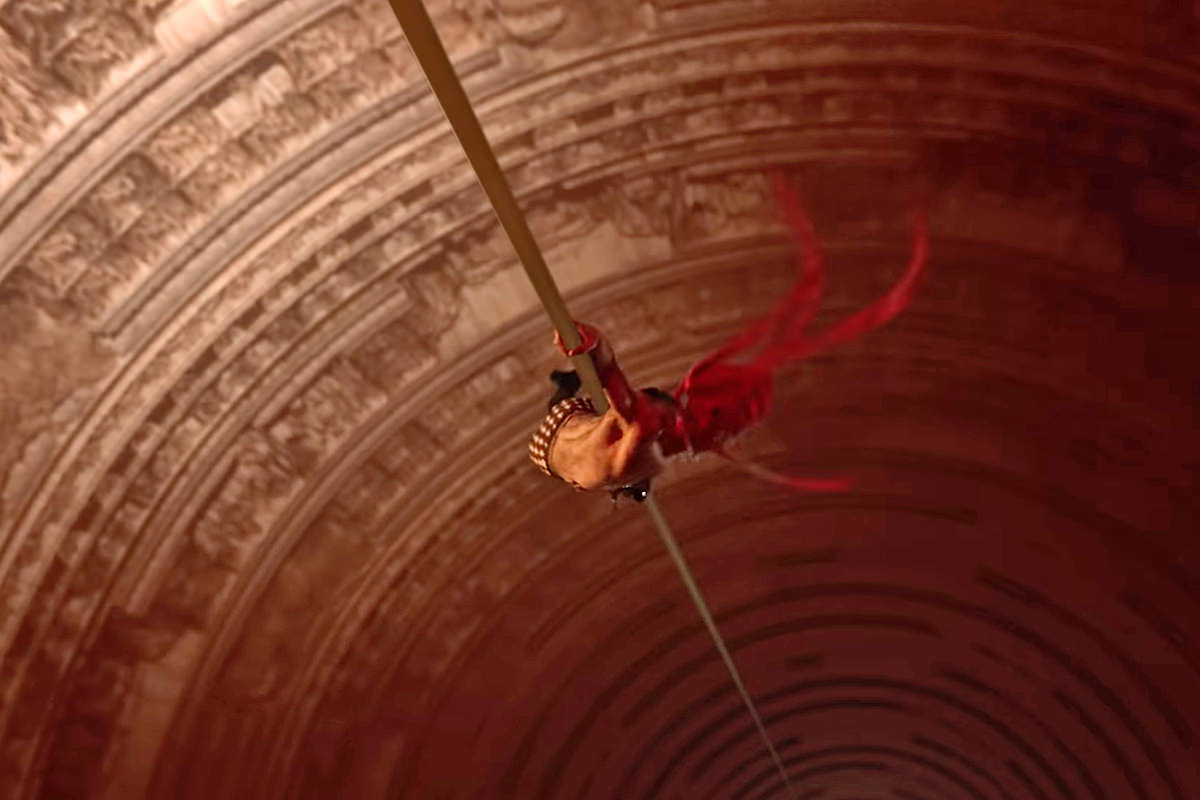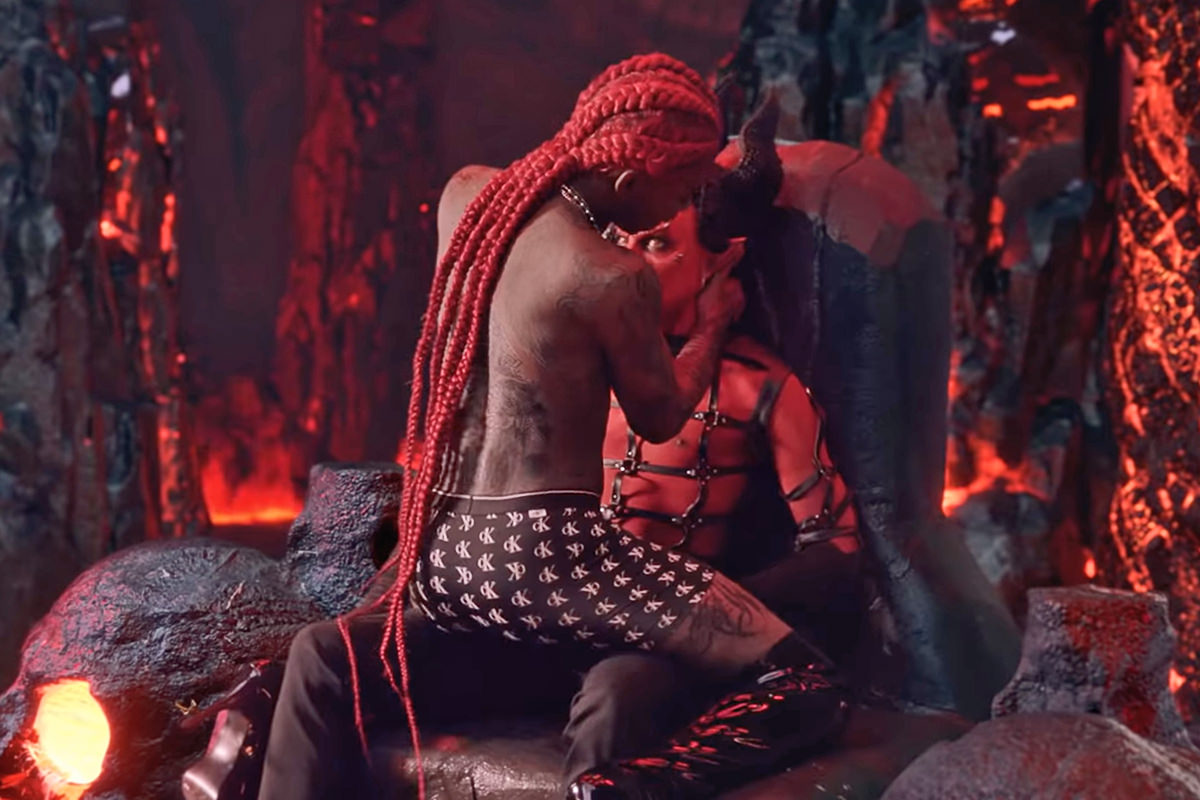 While I was eating lunch I logged on to Facebook where people are talking about it. One of the posts said "What do you think about all this?" to which I commented "I think that if 'well-meaning Christians' hadn't constantly told Lil' Nas X he was going to hell for being gay, he wouldn't have been compelled to make a video throwing it back in their faces."
From there it went to the inevitable "But this is harmful to children seeing it!" to which I replied "I dunno. I've listened to metal since I was a kid, which can be far more satanic than this, and I turned out okay." I was half-way expecting somebody to reply with "BUT DID YOU THOUGH?!?" except nobody took the bait. Oh well.
It's always something, isn't it?
When I was a kid it was Metallica, Anthrax, Megadeath, Slayer, Venom, Ozzy Osbourne, Alice Cooper, Motley Crüe, and the rest. Today it's Lil' Nas X which, if I'm being honest, is relatively tame by comparison. He gives the devil a lapdance. Whoop-de-doo.
The song is a banger though. Reeeeeally catchy.
But if it offends you, I guess you could always move to North Korea where they censor everything. Pretty sure you won't find Lil' Nas X playing there. For one thing, I don't think the long red braids he wears to hell is one of the 28 approved haircuts you're allowed to have.
Posted on Wednesday, March 31st, 2021

On this day of Trans Visibility, I think of my good friend who is stronger in who she is than many of us will ever be.
It seems inordinately cruel that yesterday Arkansas became the first state to ban healthcare for trans youth. And, to be quite honest, I have to wonder if lawmakers did any research whatsoever before doing something so horrific. They think of being transgender as some kind of "fad" that kids will grow out of... meanwhile trans kids can end up living a miserable existence, even going so far as to take their own lives. Not only that, but if people would take 5 minutes to read how young kids can just be given puberty blockers that merely delay the effects of puberty until they are older and can make an adult decision, they'd understand that even it it was just a fad, they can stop taking the puberty blockers at any time and go right back to their previous puberty progression.
How much of an absolute monster do you have to be to deny a kid something that may keep them from harming themselves? Regardless of what you believe, it doesn't have to do with you. Believe whatever you want to believe. But your beliefs don't get to dictate how other people live their lives. I'd rather see a happy kid living their best life at no cost to me than to want them damaged or even dead.
In other news...
Washington State opened up my vaccination tier today. I hopped on the computer this morning to make an appointment and couldn't get through, so I was thinking "Yikes, I'll probably be lucky to get an appointment weeks from now." But when I tried later on in the morning, appointments were wide open... including today. Weird.
I booked an appointment for the mass vaccination site in The Big City. It was amazingly well-run. I thought the line would be a mile long, but I drove through the Disneyland-like queue maze with nobody ahead of me. Got right up to the check-in station. Then drove over to the vaccination site. Had two cars before me. I was sure to ask for a vaccine with extra lizard DNA and 5G. Then, before I even realized anything had happened, I had my first dose of Pfeizer vaccine. Didn't even realize it had happened. Didn't feel it. Thought maybe something had gone wrong. But, nope. That was it. A 15-minute wait later and I was on my way. Still don't feel anything. This is nothing compared to the flu shot that had my arm aching for days. So I guess it's the second shot that gets you.
Now I'm wondering if I start turning into a lizard person immediately... or if I have to wait for my second dose? I'm happy to know that Bill Gates can track my location to find out when I take a shit. That's just a bonus right there! This deuce is for unleashing Windows on us, ya bastard!
Because, yes, my life IS so interesting that Bill Gates wants to know where I'm at at all times.
Posted on Tuesday, March 30th, 2021

One of those YouTube shows that I became immediately addicted to is Hot Ones... where a celebrity guest eats increasingly hotter and hotter sauces on top of chicken wings (or veggie wings, if you're so inclined) to see how hot they can go. In-between they are asked questions and the results are often pretty darn funny. And the stars they manage to get are impressive indeed. Everybody shows up. Everybody from Paul Rudd and Idris Elba to Charlize Theron and Awkwafina. If you haven't seen the show, check it out and find a guest you like. I've seen every episode.
They even did one in LEGO for heaven's sake...
AND THEN... we got a special treat when Saturday Night Live did a parody with Maya Rudolph as Beyoncé. It's about the funniest thing I've seen come out of that show in a long while...
Flawless.
I've watched this through three times now and die every time.
Posted on Monday, March 29th, 2021

Evergreen's Ever Given super-hauler container ship which has been stuck in the Suez Canal since Tuesday was finally un-stuck. Naturally I've been reading up on all things Suez Canal this week because that's just the kind of person I am.
What's so interesting to me is that the Suez Canal costs loads of money to take your ship through. LOADS of money. Because of how massive the Ever Given is, I would not be the least bit surprised if the fee is millions of dollars. $5 million+ feels about ballpark because that baby is huge. Smaller ships cost less, of course, but given that 50+ ships are going through the canal every day... Egypt is making serious bank. A reported $14 to $15 million on an average day (though I would not be shocked if that wasn't a conservative estimate).
So while it's probably hundreds of thousands dollars cheaper to go around Africa (extra labor and fuel considered), you're losing precious time. Depending on the starting and ending destination, you could be adding anywhere from five to ten days. That's five to ten days your ships are not able to be transporting more cargo. Which means lost revenue. Hence the reason the Suez Canal is so popular. When they calculated it out, they estimate that $9.6 billion dollars in trade was being held up by the Ever Given before operations resumed.
Yikes.
Since the Suez Canal is mainly for freight that travels between Europe and Asia, you'd think that the USA wouldn't be terribly affected. Anything from Europe to the East Coast is a straight shot. Anything from Europe to the West Coast uses the Panama Canal. Then it's vice-versa from Asia to the USA. But global trade doesn't really work like that. The ramifications of the Europe-to-Asia-to-Europe route shutting down will undoubtedly cause all kinds of problems that spill over into the Americas.
As if the world didn't have enough trouble already.
The official cause of all this was chalked up to "wind." In which case there wasn't a lot that the Ever Given could do. At that size, it undoubtedly had a tug or two helping to keep it on course, so you can't even put the blame entirely on Evergreen's captain.
Shit happens y'all.
Just don't be surprised if a roll of toilet paper to wipe it costs more over the next several months.
Posted on Sunday, March 28th, 2021

Feeling a little less than heroic today? Then I've got you covered... because a Very Special All-Comic-Book Edition Bullet Sunday starts... now...

• Comic-Con? Welp. Comic-Con International just announced that the new date for Comic-Con San Diego is... Thanksgiving Weekend?!? It seems weird to think that a day reserved for giving thanks with your family would be commandeered after a year of pandemic that's kept families apart, but okay. Maybe that's the point though? They new attendance would be down over a holiday, which is what they need to keep crowds low just as everybody is getting vaccinated? I dunno. Still seems a weird... and borderline heartless... thing to do. "Sorry, grandma, we've got Comic-Con that weekend! Hope you can make it until next year!"

• Invincible. Amazon Prime Streaming has just released the first three episodes of their occasionally-violent-and-gory adaptation of the Invincible comic book...
I was pleasantly surprised that they didn't drag everything out so they could have one of the most shocking twists in comic book history saved for the second season. Nope. They've got it right up front.

• The Suicide Squad. It's interesting to see how Zack Snyder was given millions upon millions of dollars to release his "director's cut" of Justice League, but the same courtesy is not being extended to David Ayer for his Suicide Squad film, which was apprently taken far away from his intended story by the studio. Truth to tell, I would rather Ayer have been given the cash, because the stuff he originally shot sounds far more interesting. I mean, sure, his version of the Joker was shit, but a lot of other things were pretty well done. The reason he's probably not being given the opportunity is that DC doesn't want to overshadow the upcoming The Suicide Squad movie by James Gunn (of Guardians of the Galaxy fame). An R-rated trailer, of which, was just released...
Promising! SO many characters from the comics! The whole idea behind the Squad is that members die because the missions they take on are so dangerous. Apparently James Gunn is taking this to heart, because his entire motto for the film is "Don't Get Attached." How can you say no to that?

• New Cap. Steve Rogers, Captain America, has lost his shield! In a new series called The United States of Captain America, he embarks on a road trip across the country to find it... teaming up with other "Captain Americas" from over the years. Along the way he finds other people who have taken up his mantle, including a gay teenager named Aaron Fischer...
So naturally people are losing their fucking minds. Which is just the most bizarre phenomenon to me. It's comic book characters. The original Captain America is still here. Nothing is being taken away. But the idea that a gay American can't be Captain America when so many other Americans have been Captain America over the years is just bonkers. Gay people exist. Representation matters. Get the fuck over it.

• Old Cap. I had written up my thoughts on the second episode of The Falcon and The Winter Soldier, but then decided to hold onto them because I worry that anybody who hasn't read the comics driving this story will get the series spoiled for them. I will say that I am absolutely fascinated that they mined Truth: Red, White, and Black for this installment. The story of the actual first "Captain America" was pretty groundbreaking... even though it was published in 2003. It was here that we learned that 300 Black men were used as test subjects for the "Super Soldier Serum" before it was given to Steve Rogers. Of the 300, only Isaiah Bradley survived, and we got to meet him on Friday...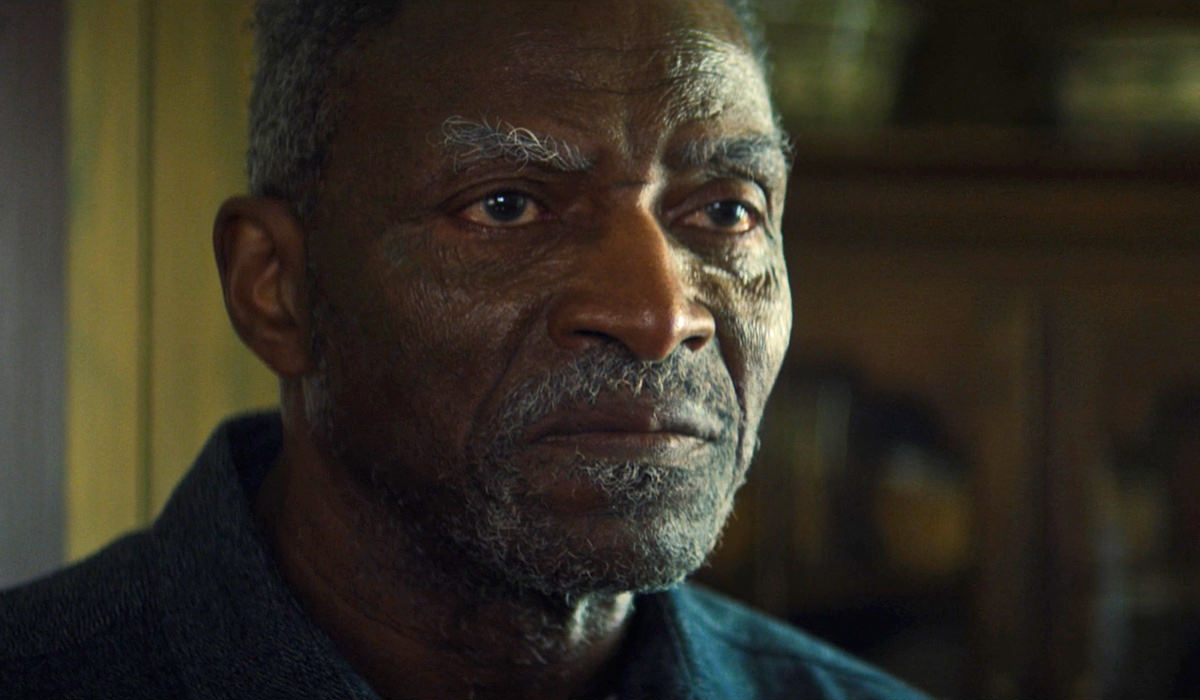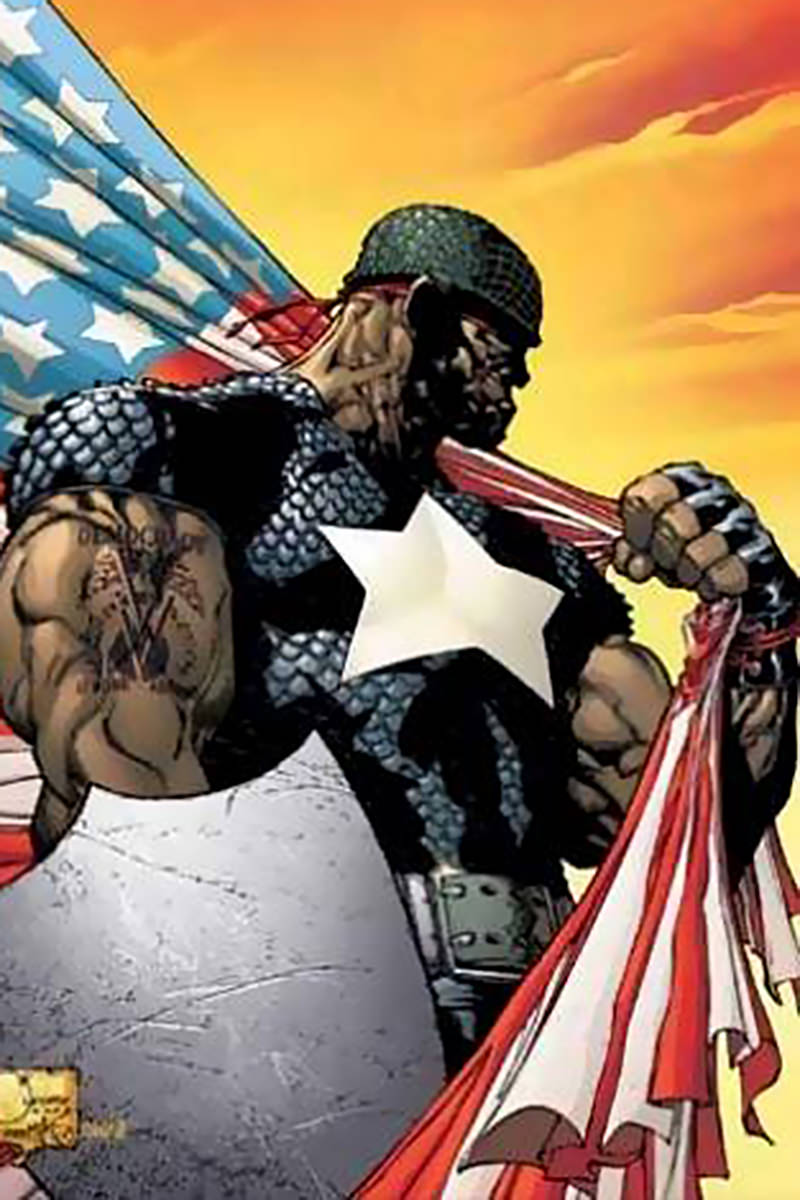 After serving his country with honor, he was imprisoned for his trouble. Now he's trying to live a quiet life of seclusion, as explained by his grandson, Eli Bradley. If you read the comics, Eli ends up being the hero Patriot...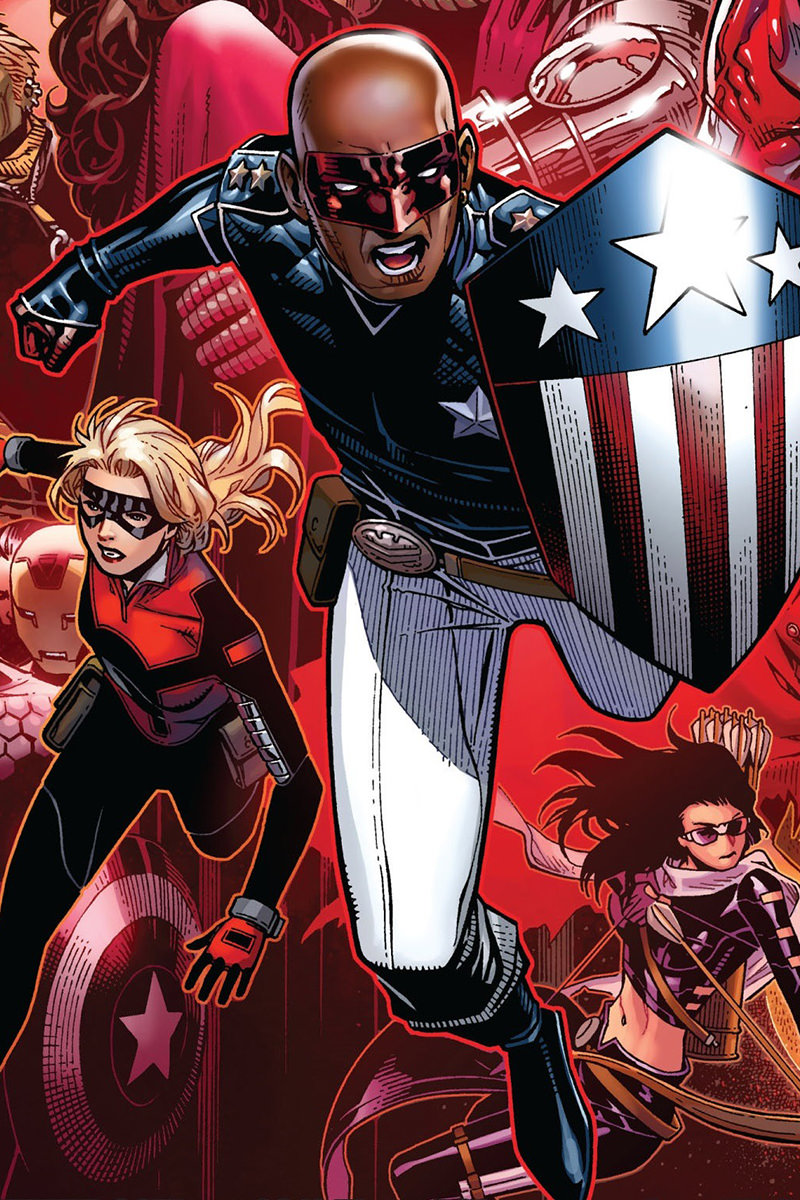 Could it be that we're assembling the future of the Marvel Cinematic Universe? Because the Young Avengers are almost all accounted for now! Eli Bradley as Patriot, Kate Bishop as Hawkeye (from the upcoming Hawkeye series), Billy and Tommy as Wiccan and Speed (from WandaVision), Cassie Lang as Stature (from the Ant-Man movies), and America Chavez as Miss America (from the upcoming Doctor Strange in the Multiverse of Madness). And if they want to toss in Kamala Khan as Ms. Marvel (from the upcoming Ms. Marvel series), and Riri Williams as Ironheart (from the upcoming Ironheart series)... PLUS debut Hulkling out of the upcoming Secret Invasion series... well... there you have it. It would seem that Marvel Studios is intent on keeping the current MCU moving forward as opposed to rebooting everything with new actors in the existing roles. Which is pretty smart. Because until the gravy train stops rolling, they might as well, right?

• The Falcon and The Winter Soldier. But back to the second episode... the Captain America comic books are at their best when they are saying something. When they tackle the big issues that face this country. And that's the niche that the source material takes quite often in modern times. It's only right that the Disney+ series spin-off follow suit. So when Sam Wilson was not able to get a bank loan last episode, on the surface it was because Thanos snapped him out of existence for 5 years. But you quickly got the idea that him being a Black man was definitely a factor. Didn't matter that he's one of the most famous people on the planet, no consideration was offered. And then in this episode, an argument with Bucky in public results in the police showing up to ask Bucky "if this man was bothering him"...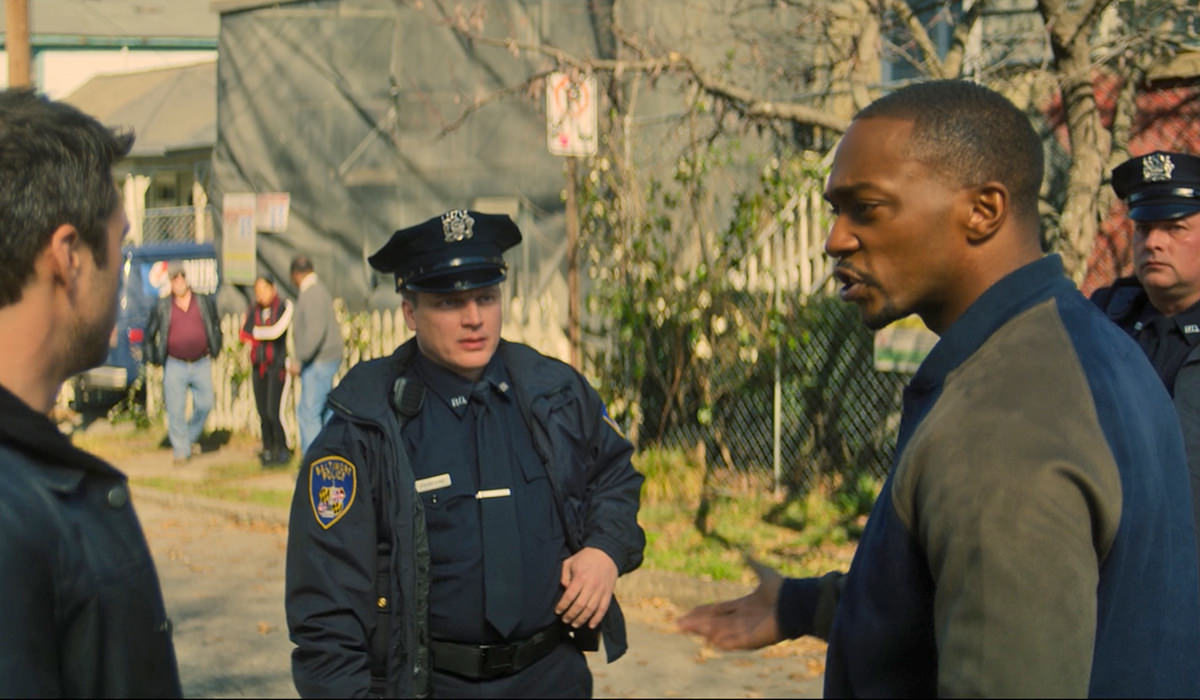 So kudos to Marvel Studios for making this series actually try to say something... in-between some great action sequences. It's exactly what Cap would want to see happen.

Stay frosty, True Believer!
Tags:
Bullet Sunday
,
Captain America
,
Comic Books
,
Marvel
,
Marvel Studios
,
Movies
,
Television
,
The Falcon
,
The Winter Soldier
Categories:
Bullet Sunday 2021
,
Movies 2021
,
Television 2021
—
Click To It:
Permalink
—
0 Comments: Click To Add Yours!
Posted on Saturday, March 27th, 2021

I am sick, sick, sick.
Which means I've spent almost the entirety of my Saturdays in bed. Fortunately(?) my cats have been more than happy to keep me company as I lay here dying while lamenting the fact that all the chores I've been meaning to get to are ignored.
They have provided entertainment, however, as I lay here flat on my back trying not to throw up. Like synchronized butt-licking...
Jake has been doing a lot of undercarriage grooming. So either this is normal and I'm just not seeing it... or he saved it up just for me...
And, yes, as I've mentioned the last couple weeks, Jake is still wedging himself in-between my feet and legs to sleep and groom himself. Any time I wake up now, he's almost guaranteed to be there, which is really strange. I move around a lot when I sleep, but he is not deterred. I mean, look how I woke up this afternoon...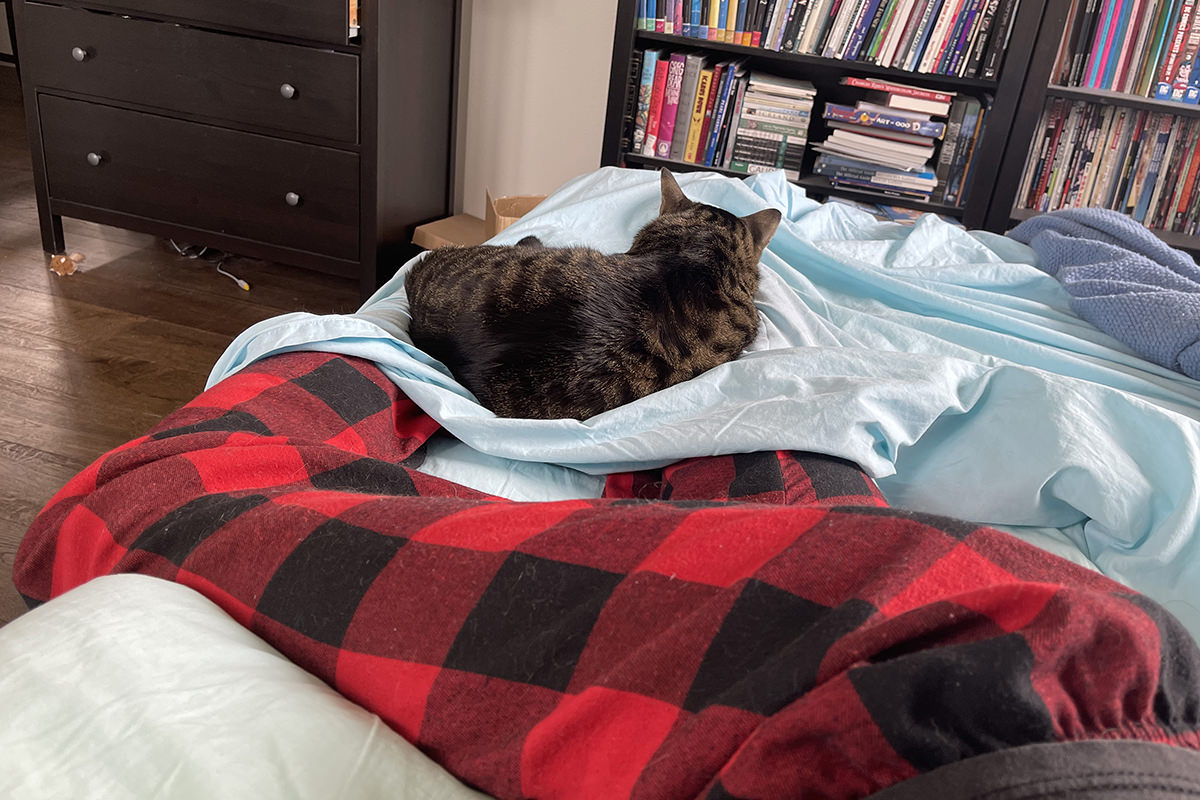 I'm practically off the bed and he just doesn't care. I really had to go to the bathroom here, but when I nudged him by pulling on the sheet? Oh... he just turns around and starts giving himself a bath...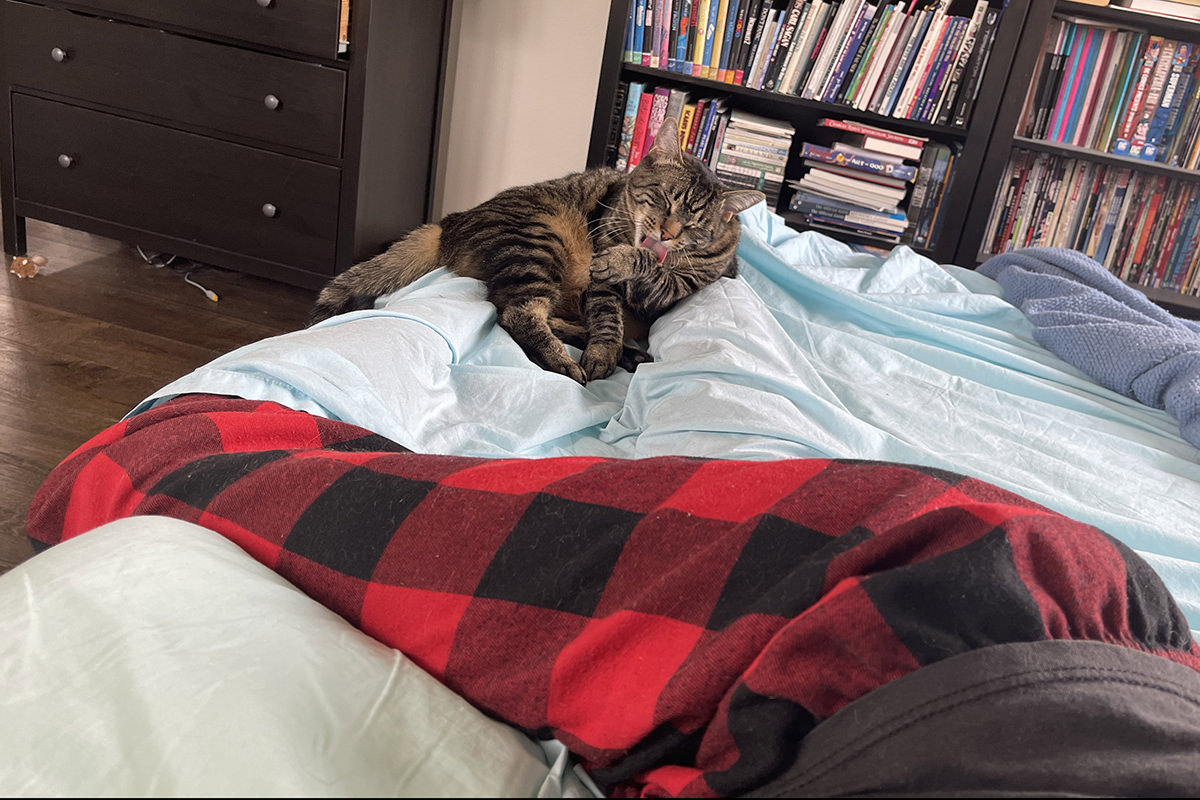 And of course it's too cute so I have no choice but to lay there in an uncomfortable position until he finishes... TEN MINUTES LATER!
In other news... more Mufasa drama last night. Jake will run upstairs to drop off his stuffed lion, then go back downstairs and cry because he can't find Mufasa. So I walk it downstairs and hand it to him... only to have him carry his favorite toy right back upstairs again...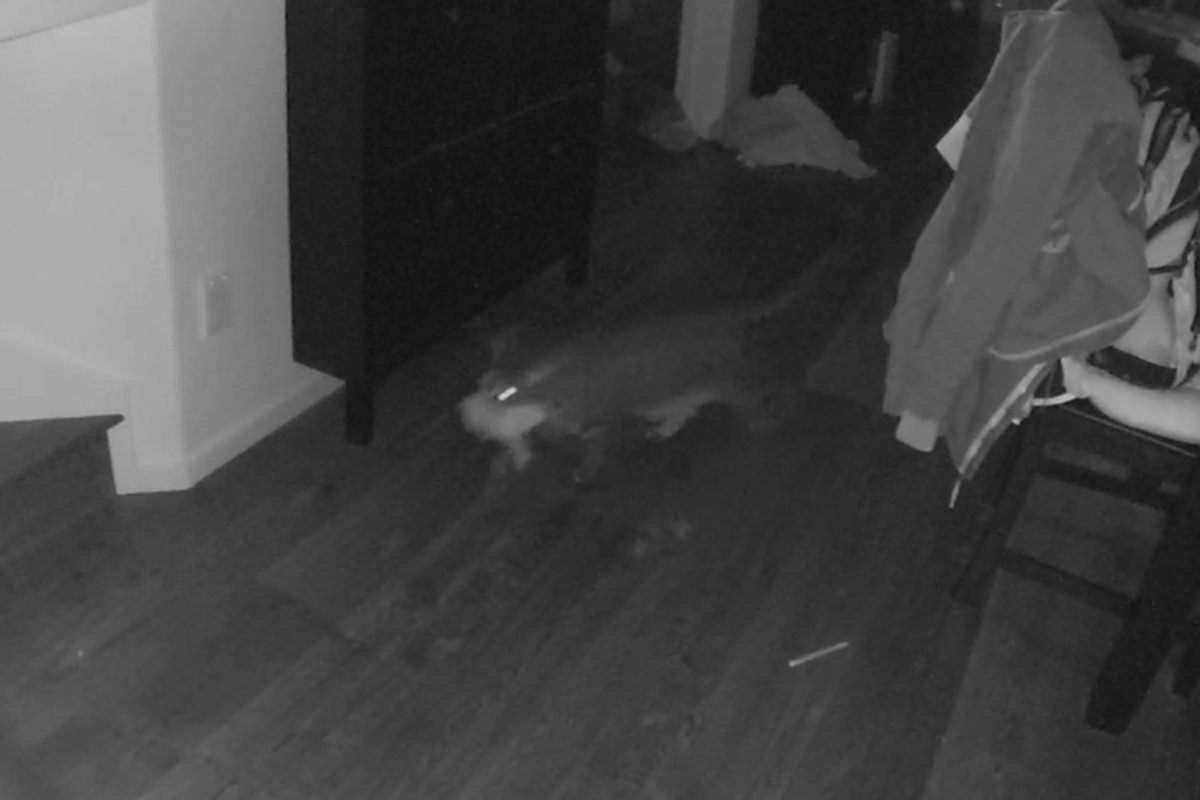 I took it down TWICE, because I'm a sucker like that. But can you blame me? Look at that adorable face!
The third time, which was a while later, I took it downstairs and told him "No more! If you bring it back upstairs, it's staying there!" Not five minutes later, JENNY BRINGS IT UPSTAIRS AND DROPS IT ON THE FLOOR!!
NOOOOOO! She was rather proud of herself...
Now what do I do? Technically, Jake wasn't the one who brought it upstairs. His sister did. So was I obligated to take it down to him? Turns out the answer is no. He came upstairs to go to bed not long after.
And, no, I still have no idea why Mufasa hasn't been ripped to shreds given how Jake treats the thing...
Nobody explained any of this madness to me when I got my cats. They should hand out pamphlets at the Humane Society.
Posted on Friday, March 26th, 2021

A second entry for Friday? Lucky you!
If you've been reading this blog for any length of time, you undoubtedly are aware of my Disney theme park obsession. Heck, I even designed my own parody theme park DaveLand because my Disney love goes pretty deep...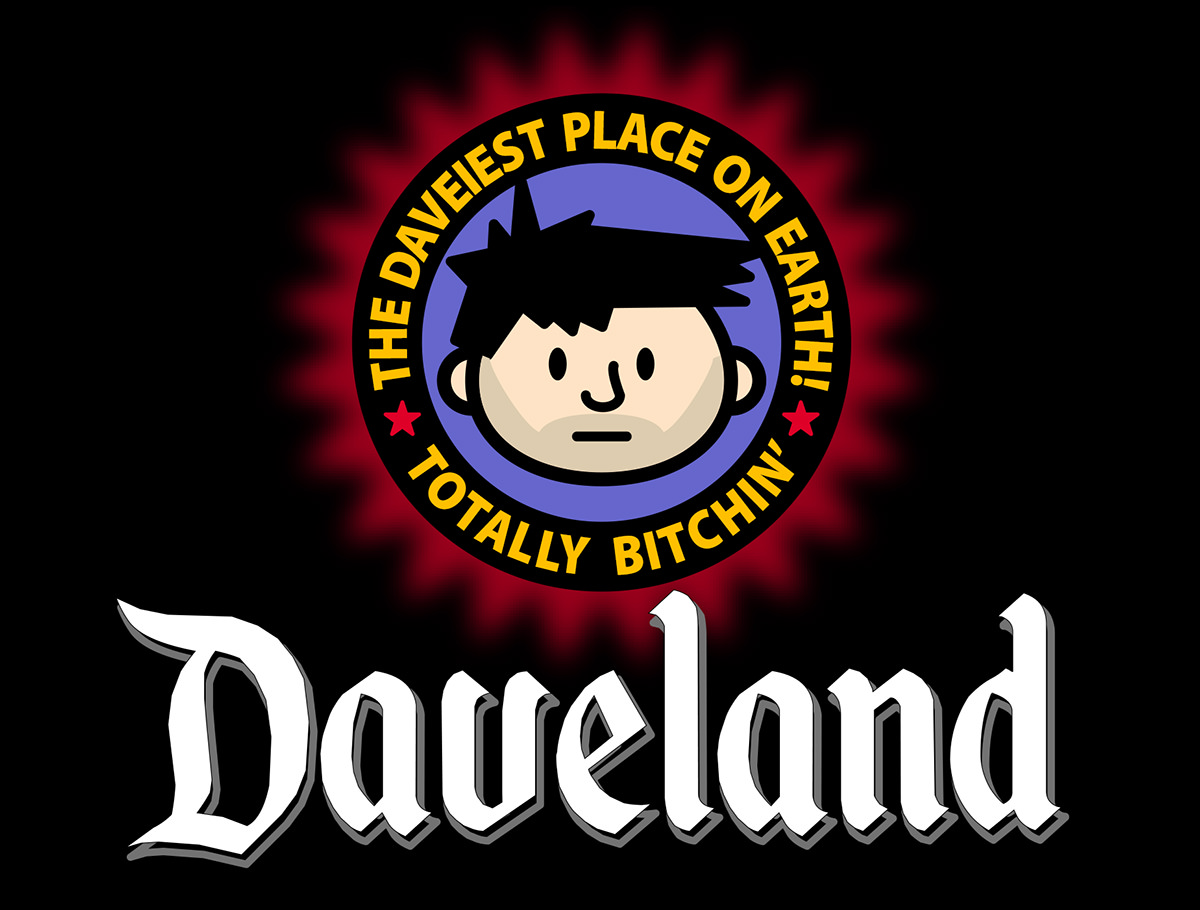 I collect the map pamphlets from the Disney parks. I have the wall maps. I bought the map book. And every time Disney announces anything new or any kind of expansion, I am compelled to figure out what they're going to do and how they're going to do it.
The lastest news is more announcements for the Disneyland Resort "Westside Expansion" which will turn a bunch of parking lots into an expanded hotel/shopping/dining/entertainment experience...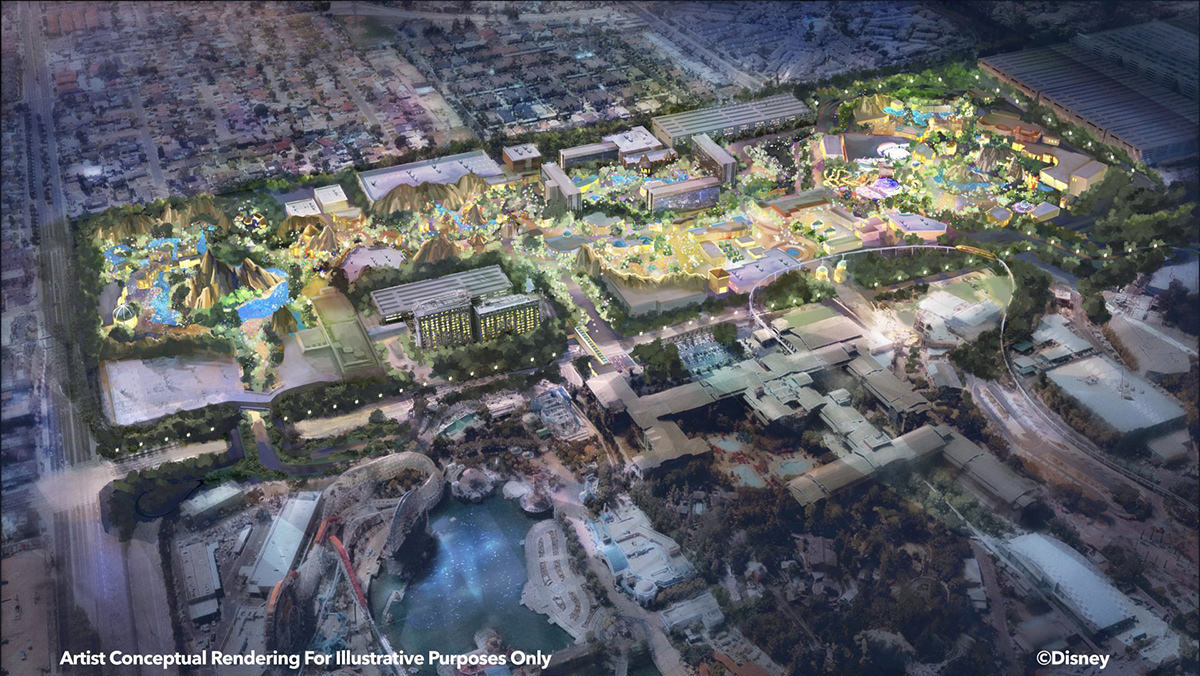 Now, this concept illustration is not in any way final (indeed, it looks like the previous plans for the "Mickey Mouse Hotel" have been drastically altered or scrapped... and does anybody remember the plans for "Westcot?"). And it's a bit deceptive, which we'll get to in a minute. But you can see that the idea is to add more stuff to snag tourist dollars than they already do. Looks like there's a lazy river tube ride to the left there. The above-mentioned "Mickey Hotel" in the middle. Three entirely new hotels to the far right. A live stage venue just in front of them. And of course more shopping and dining. Disney quite clearly doesn't want you sleeping, shopping, or dining at anything except Disney-owned properties.
As I was saying, the illustration is a bit deceptive though because about 1/3 is already developed with The Disneyland Hotel and Disney Paradise Pier Hotel, which will be surrounded by new construction (which I've shaded in magenta)...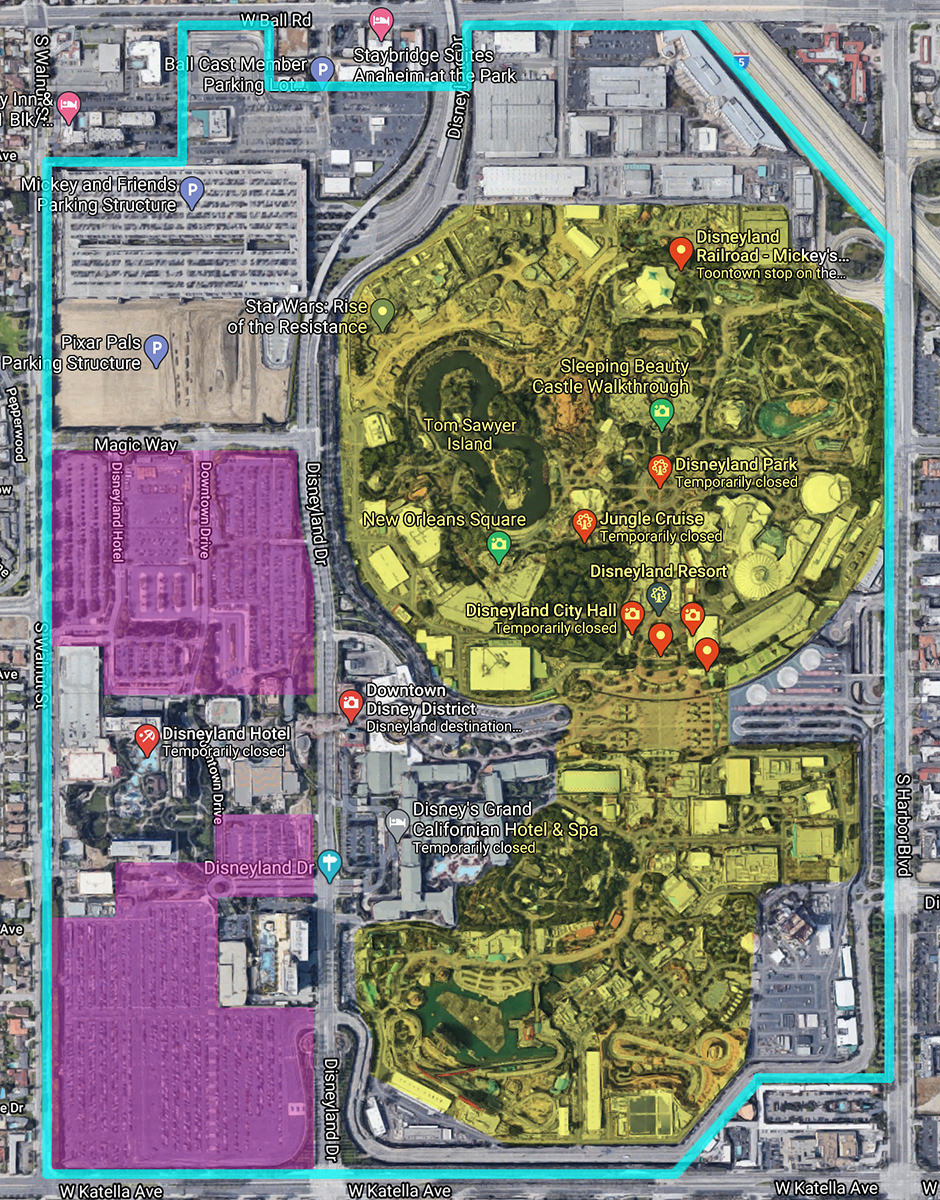 © Google Maps... Click to Embiggen
Yellow shading is over Disneyland and California Adventure so you can compare sizing. Suffice to say, this is not a small endeavor... nor will it be cheap. I'm not sure where all that parking will go. Could be it will be constructed underground. Could be they will expand the Pumba lot that's wayyyy off to the East or the Toy Story lot that's wayyyy off to the Southwest (see below) to be a multi-story garages like they did for the Mickey & Friends and Pixar Pals parking structures that are in the upper-left corner of the map.
It's interesting to note that Disneyland is pretty much at its limit here. To the South is the Anaheim Convention Center. To the North and West is suburban sprawl with hundreds of homes that Disney would have to purchase.
But then there's the land to the East.
And here's where my speculation takes a bit of a sinister turn.
Right now, most of the land to the east is occupied by a bunch of hotels, with the exception of the afore-mentioned Pumba Parking lot (outlined in cyan) which I'm guessing is owned by Disney. The red outline is the land I'm talking about...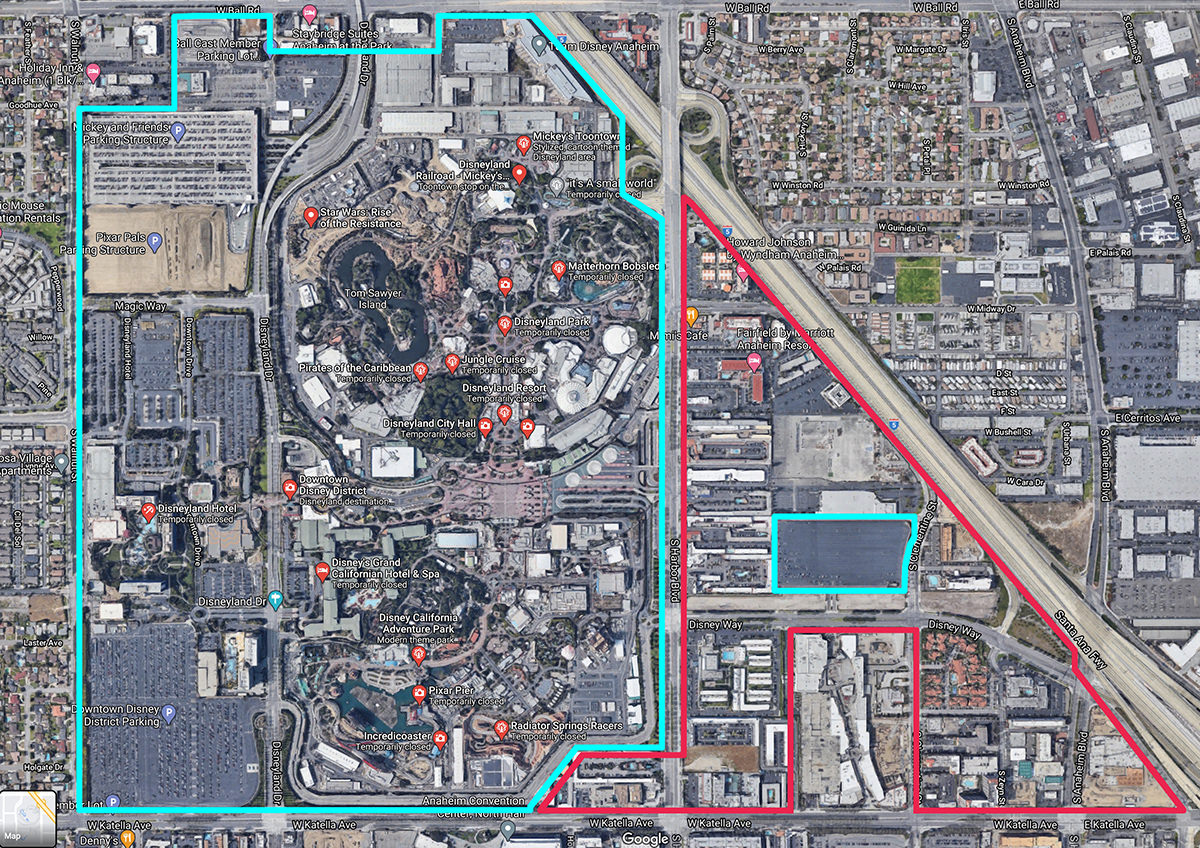 © Google Maps... Click to Embiggen
Unfortunately for Disney, there's a shopping Mall to the South of the Eastern region that's likely there to stay unless Disney acquires it (if they haven't already) in which case they could rebrand it as yet another Disney shopping experience.
But let's think about this for a second.
The Disneyland Resort Westside Expansion has at least four high-capacity hotels planned. That's going to take business away from the hotels which popped up to the East of Disneyland. Which means the price to buy them out may cheapen. After enough lost business, they may consider selling to Disney... something that's inconceivable as things currently stand because their occupancy must (normally) be pretty darn high and very profitable. And once that first hotel domino falls... and Disney re-themes it as a Disney hotel... and people flock to it because Disney dangles enough perks... and more hotels lose more business... well, it's not difficult to see how it might be "bye bye Candy Cane Inn"... followed by the rest of them one-by-one.
This, of course, is all conjecture. It could be that Disney has zero interest in the budget hotel business, or that the existing hotels will continue to be so popular that the selling price would be insane. Or maybe the chain-owned hotels don't care about lost business and just want a Disney-adjacent property in their portfolio. It's hard to say. All I know is that both parks are overcrowded year' round now, so maybe it's worth it to Disney to buy everything up... and simply not provide budget lodging. At least not as it looks right now. A Disney "Budget Hotel" will be cheaper when compared to their other hotels, but still Disney-pricey. Because if there's one thing that Disney knows how to do... it's make money. Lots of it.
And they could, of course, use the land to build a third theme park. Or relocate the structures that are currently to the North of Disneyland so they can expand the park there. Or just shift the Mickey & Friends and Pixar Pals parking to the East so another big chunk of land opens up for entertainment and hotels on the Westside.
However...
That's not the end to Disney's (estimated) land holdings. They either own or lease a rather large piece of land to the Southeast which is currently the Toy Story parking lot. Not sure if the parking for the hotels/businesses to the North is Disney-owned (that's outlined in green)... but if Disney does own this, they could build a massivley huge parking structure which could replace all the lost parking for Westside... and absorb parking for any hotels they buy, which could then be expanded or rebuilt... or replaced with more theme park to attract more customers (or maybe spread the crowds out a bit)...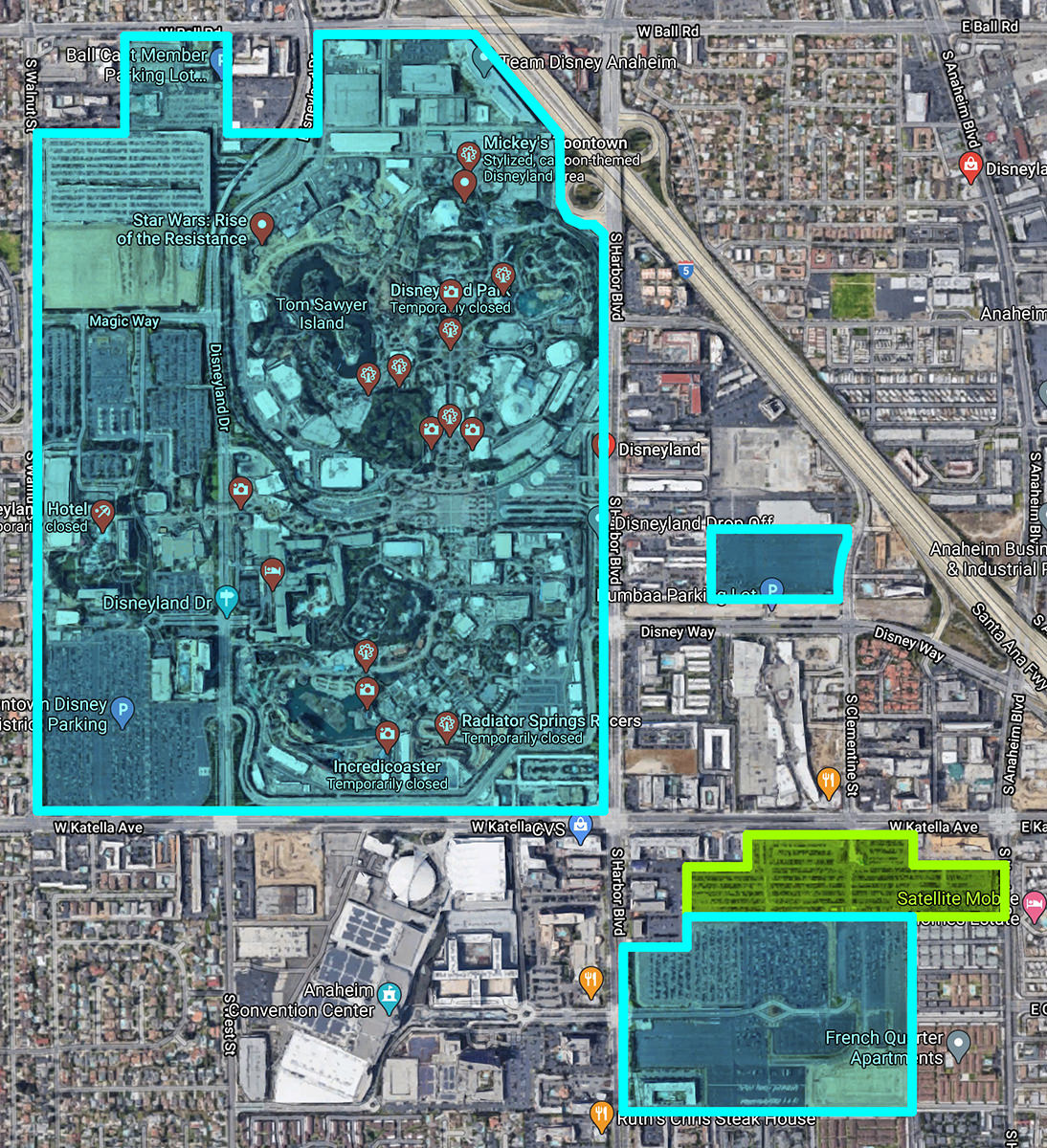 © Google Maps
I dunno.
All I do know is that Disney gobbling up that Eastern parcel... along with the area above the Toy Story parking lot... creates a nicely contiguous chunk of land which would nearly double what they have now.
Not that contiguous land is essential. Just look at Walt Disney World. Build another monorail or an air-tram... or expand the bus system... and that third theme park could end up in the Southwest section. Or anywhere, really. I remember reading how Disney wanted to expand to a beachfront property in L.A. or something. Heaven only knows how much land in the greater L.A. area they own either directly or via shell companies.
What I wouldn't give to work for the team at Disney which gets to plan all this stuff. That's my dream job right there. But since I don't, all I can do is have fun speculating and be excited for what's coming next.
Until then, there's always Daveland.
UPDATE: Well looky what we have here... a site that Disney created to shame Anaheim into rezoning their property for multi-use purposes called Disneyland Forward. It doesn't do anything to curb speculation because it's just Disney tossing out ideas, but it does clarify a few things. First of all is their plans for expanding into the Westside property and Northward...
Note that Disneyland gets an addition to the West, so those weren't hotels, they were attraction buildings. The only hotel expansion looks to be another tower for Paradise Pier?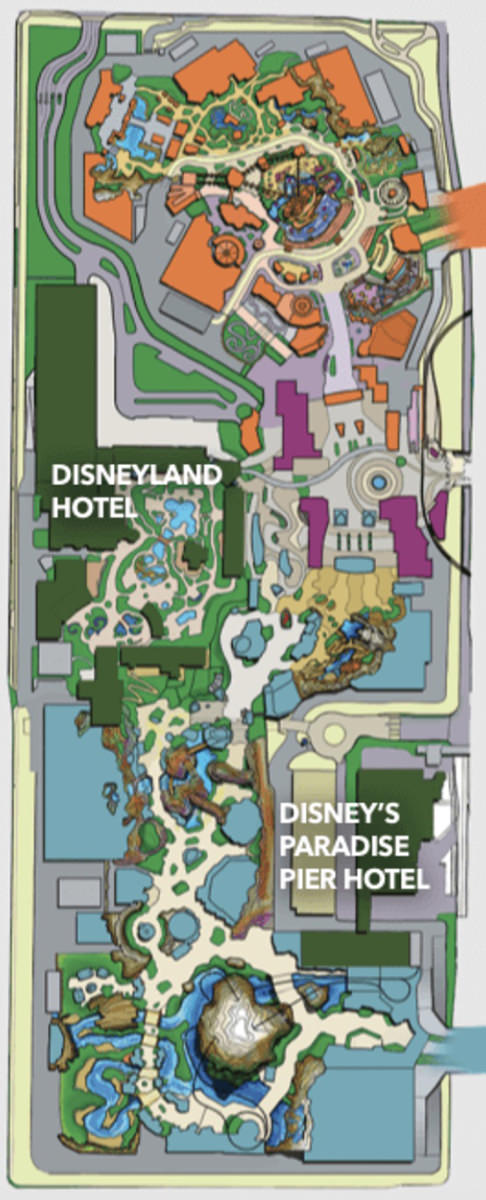 Which is not to say that Disney couldn't change their mind and drop a bunch of hotels once they get their way so that they can still buy out everything to the East and raze it for a third theme park. And idea which still makes a lot of sense. Though remember that land to the Southeast? Hotel and shopping have been dropped there as an example of what could happen...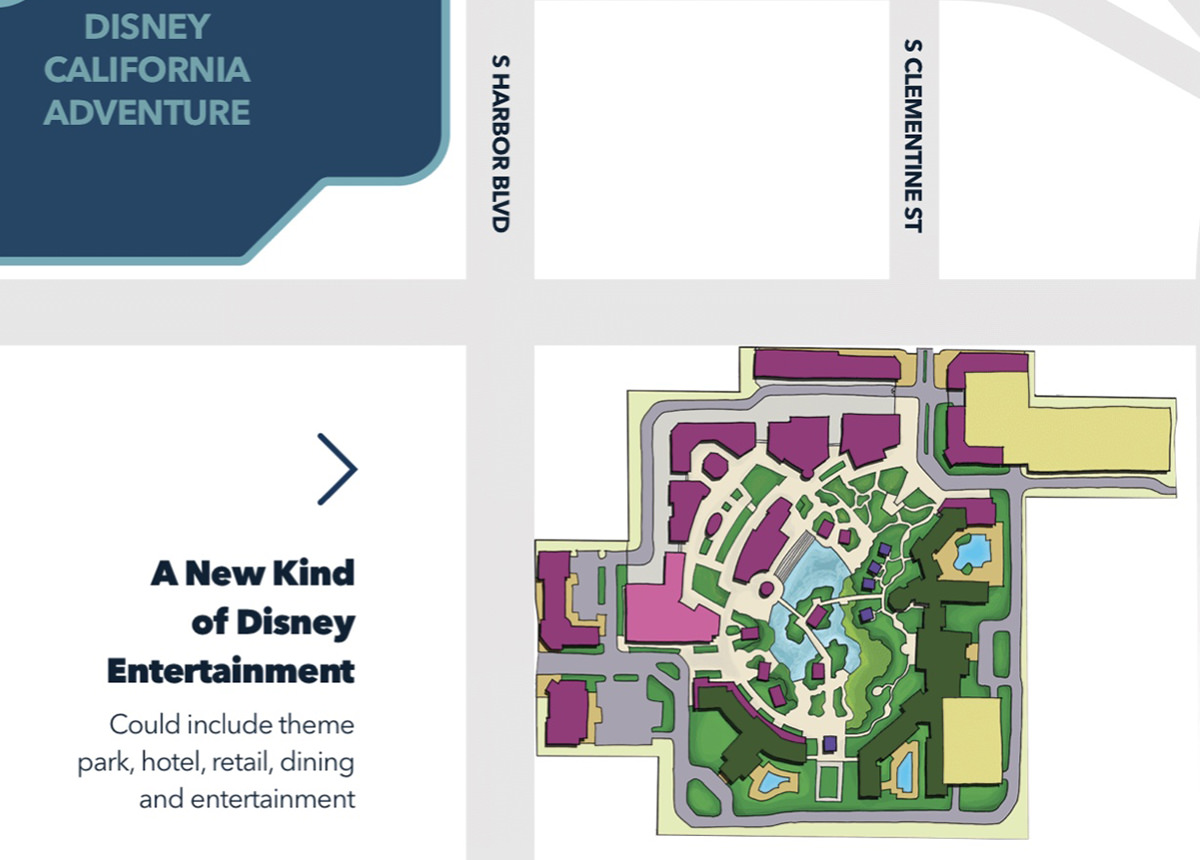 Interesting stuff! You can see everything for yourself at Disneyland Forward.
Posted on Friday, March 26th, 2021

Jessica Walter died.
Best known for playing Lucille Bluth on Arrested Development, I am gutted because she was also the voice of Mallory Archer on Archer, which showcased her talent and genius in a way that you pray for when casting an animated series.
I mean...
And here's Lucille...
"I don't understand the question and I won't respond to it."
Dang, what a loss.
I am praying that there's enough of her voice work recorded for Archer to last until the show ends... or they can at least get creative enough to salvage old recordings and outtakes to have Mallory appear until the end.
Rest in Peace, Jessica Walter. Nobody delivered a biting line like you did and you will be terribly missed. Say "hello" to Woodhouse for us.
Posted on Thursday, March 25th, 2021

I bounce back and forth between wanting to know absolutely everything that's happening in the world today... and wanting desperately to know nothing about anything anywhere. But I couldn't live with myself if I turned an ignorant eye to all the crap that's happening, so I do my best to stay informed and wade through the sewage forced upon us by the bullshit media with their bullshit agendas.
Right before my birthday happened, the "big news" of the day was Vice President Kamala Harris not saluting the military detail for Air Force 2 as she walked onto her personal jet to go do... something... or whatever. People were beside themselves with rage over her blatant disrespect.
Except...
The President of the United States of America salutes our troops out of (relatively) recent tradition because he is COMMANDER IN CHIEF OF THE ARMED FORCES. And even then it's not required OR expected. The Vice President isn't in command of jack-shit when it comes to the military, so she doesn't salute them. She's just a civilian in public service.
And yet here comes shitloads of people throwing a fit about it.
Which is like being big mad because a grocery store clerk doesn't salute our troops, but okay.
Every damn day this country gets more ignorant and more idiotic because people are fucking sheep who don't even know why they're mad any more. Somebody on TV or the internet tells them to be outraged, so they get outraged. All people care about is whether the outrage fits the narrative they've been programmed with. Facts, evidence, experience, accuracy, and knowledge simply Do Not Matter.
And I don't know what else to say about it except "Well, have at it then. Keep on being that person who can't help but announce to the world how big of a dumbass they are." — Because what else can I say? There's no changing anybody's mind, and patiently explaining why Vice President Harris didn't salute the guys outside her fancy plane would make zero difference. They would still be outraged.
And can you imagine if she had saluted?
Then the outrage would be SHE'S NOT MILITARY! SHE'S NOT IN THE CHAIN OF COMMAND! HOW DARE SHE THINK SHE IS WORTHY OF SALUTING OUR BRAVE TROOPS! WHAT A DISRESPECTFUL PIECE OF SHIT!!!
Because that's what the outrage machine does. That's all they're good for, apparently.

Which brings me to this bit of genius from comedian Russell Brand, one of the foremost thinkers on the planet (whether you agree with him or not)...
"I mean in England we have a Queen for fuck's sake. A Queen! We have to call her things like 'Your Majesty!' Like she's all majestic... like an eagle or a mountain. She's just a person. A little old lady in a shiny hat — a shiny hat that WE paid for. Or 'Your Highness.' What the fuck is that?! What, she's high up above us at the top of a class pyramid on a shelf of money with her own face on it? We should be calling her Mrs Windsor. In fact that's not even her real name, they changed it in the war to distract us from the inconvenient fact that they were as German as the enemy that teenage boys were being encouraged, conscripted actually, to die fighting. Her actual name is Mrs. Saxe-Coburg-Gotha.
All this drama. All this outrage. All this hate. It's all built around mere humans that used to exist to serve us... but now exist to be worshipped by us. If you are a Republican you are required to worship at the altar of President Regan. If you are a Trump-Republican you are required to worship at the altar of President Trump. If you are a Democrat, then President Obama is your god... with President Biden as some kind of god-adjacent deity or something. And once you've been programmed with which god you'll be worshipping, you are expected to be blindly loyal to them... all while hating everybody's else's god... regardless of circumstance.* Which is how we get to "KAMALA HARRIS IS A DEMON IN LEAGUE WITH THE GREAT SATAN JOE BIDEN AND WE NEED TO BE OUTRAGED WHEN SHE DIDN'T SALUTE EVEN THOUGH SHE DOESN'T HAVE TO SALUTE BECAUSE THAT'S WHAT OUR GOD DEMANDS OF US! (as handed down from on high by Fox News, restrictions do not apply)"
And, I gotta tell you, I'm exhausted by it all.**
If only we could get back to a place where political leaders are public servants again.***
Though, if I'm being honest, I think we've gone too far down the rabbit hole to ever go back. It's going to be politicians as gods, mandatory blind worship, generated outrage, and hate on top of hate on top of hate, from here on out. Which is both sad and inexplicable, because I think if you sat people down individually and asked them if this is what they really want, their answer would be "no." But nobody has time for that conversation. They have to get back to being mad about somebody over something that somebody told them to be mad about.

*Which, coincidentally enough, is how world religions seem to work, but I digress.
**Not exhausted enough to pick a god, but still... I digress.
***Or, at the very least, aren't able to be bought by lobbyist payola... no more digressing.