Posted on Saturday, September 12th, 2020

The smoke, which was getting better, has taken a turn for the worse as winds push the contaminated air from Oregon and California up our way.
And as hard as it is on me and my allergies, it's double-tough on my cats.
Usually, I let them go outside in the catio while wildfires are burning because they don't last long out there when the smoke is bad. But, for whatever reason, Jake and Jenny were spending way too long out there given how bad the air quality is...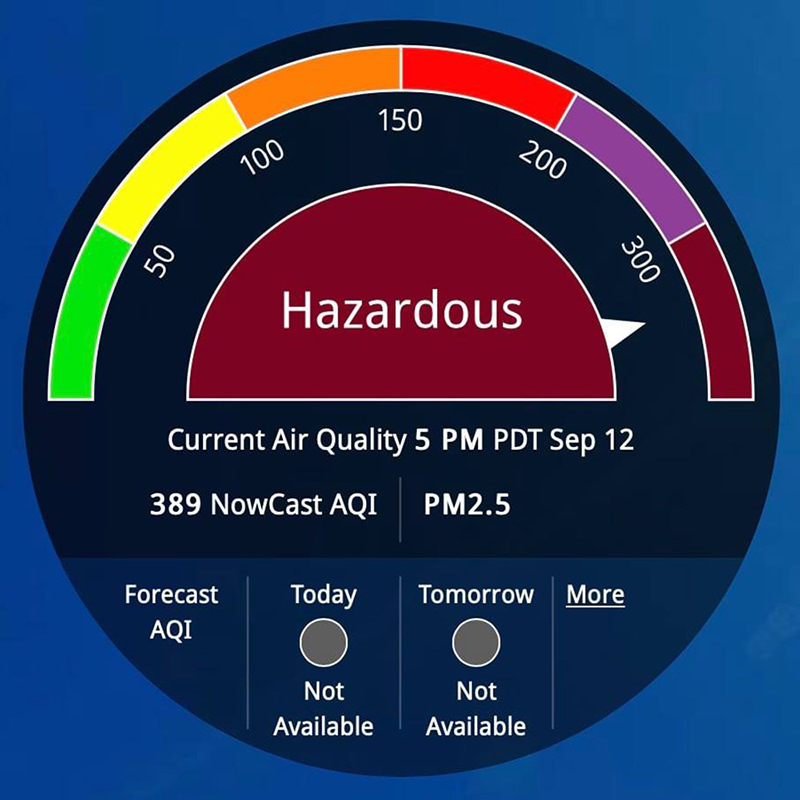 I worry about their little kitty lungs, so I went ahead and blocked the catio door so they can't get out. They are not at all happy about this... especially Jake, who sat and stared out the window for over an hour...
And, as expected lately, he will not leave my side. He's on me when I fall asleep...
And he's there when I wake up...
And if I wait too long in bed, I'll have both of them on me...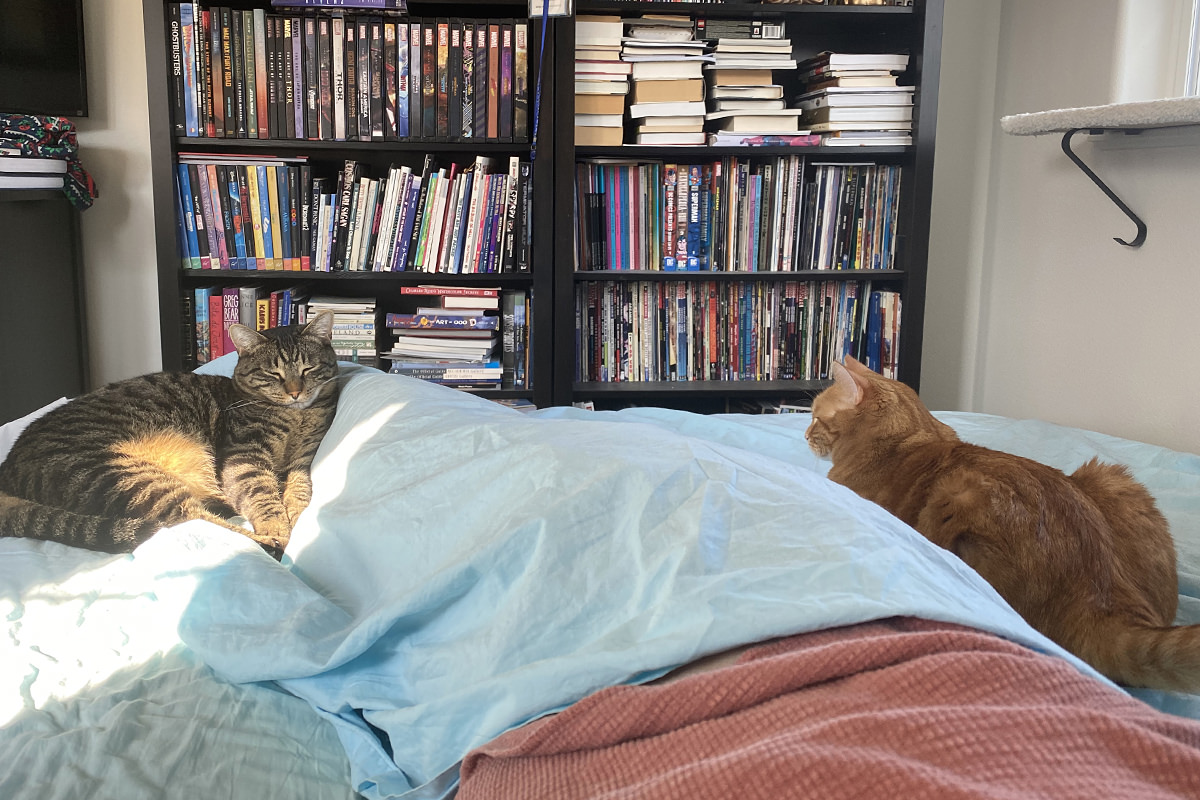 Jake is clingy when he's upset...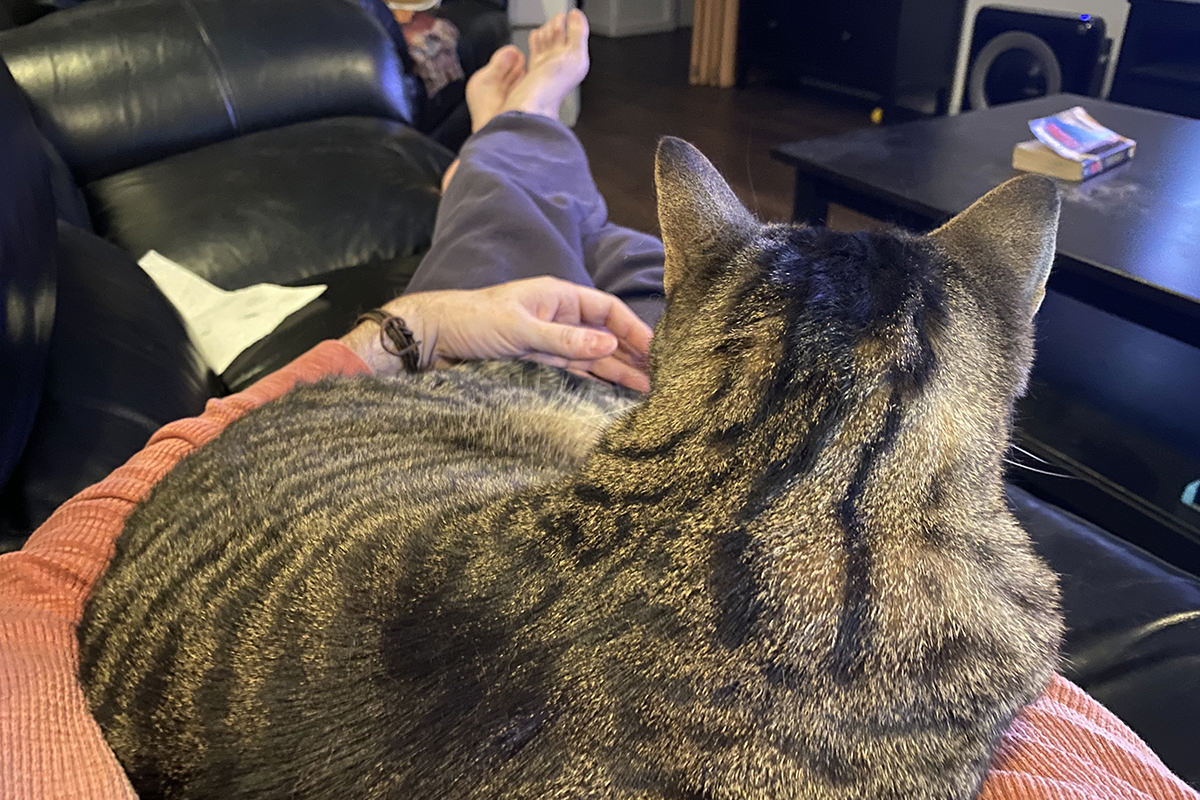 Jenny is looking for inspiration elsewhere...
Really, really hoping that this smoke subsides next week. Between my allergies and nausea and the cats' anxiety... this is more than enough.
Posted on Friday, September 11th, 2020

2001 feels like it was a lifetime ago. 2001 feels like it was yesterday.
And while I've said all I have to say on 9-11 with a post you can find here, if you'd like to revisit it, the pandemic has added a new perspective on things that cannot be ignored. Namely, that 2,977 people lost their lives then... while 193,586 people have lost their lives due to COVID-19 or COVID-19 factors right now. Dividing that by the 191 days since they started recording the numbers on March 4th... and you get around 1013 people dying per day in the USA.
Which is to say that essentially a 9-11 death-toll is happening to us every three days.
Now, there are people who are still on the "THEY ARE COUNTING ALL DEATHS AS COVID-19 DEATHS TO MAKE THE PRESIDENT LOOK BAD!" bandwagon. Personally, I think this is bullshit. They are absolutely not doing that. If you have a heart condition, then get shot through the heart and they are unable to repair it because of your existing problems, your heart condition didn't kill you... the fucking bullet did. Regardless of health problems you have, if they are usually manageable but contracting the coronavirus made them unmanageable and you die, then it was COVID-19 which was responsible for your death. And given all the horrific stuff they're learning every day about what the virus does to your body even if you're perfectly healthy... well... it's not just death you have to worry about. The complications and long-term health problems from surviving an infection could push the numbers much higher.
And sure you're still alive if your recover from COVID-19 and end up with lung scarring that makes it so that you're unable to walk 20 feet on your own... but that's just semantics. Because the life you had prior to the coronavirus infection is dead as all get-out.
It seems disrespectful and wrong to those lives lost on 9-11 to be comparing their deaths to other deaths and politicizing such a horrific tragedy, but that's our reality right now. And we do it all the time. 2019 pandemic deaths are compared to bubonic plague deaths. HIV/AIDS deaths are compared to heart disease deaths. Car crash deaths are compared to smoking deaths. Humans are always quantifying by comparison, regardless of how disrespectful and wrong it may be. Alas, that's just who we are. That's how we process.
As for politicizing? Well, it's tough to get away from that as well. We have a president who ran on a platform of protecting our lives from "foreigners" and is wasting billions on a wall which will ultimately accomplish very little. Meanwhile, the killer was in the house all along, because now we have the tapes of President Trump saying that he intentionally downplayed the deadliness of the pandemic.* He told the public that the coronavirus was not a big deal and something no worse than the flu that would disappear in April... even though he knew this was a lie. This just encouraged people to ignore a huge threat to their very lives, all while they further spread the virus, leading to countless unnecessary deaths and the destruction of our economy.
Now, of course, the president and his FOX "News" apologists are telling us that he did this because he "didn't want to cause a panic." But apparently he didn't give a shit about sending us into a panic on everything else he unleashed... and continues to unleash... using fear to get himself re-elected. THE MEXICANS ARE COMING TO KILL US, BUT I CAN STOP IT! CHINA IS STEALING OUR JOBS, BUT I CAN STOP IT! DEMOCRATS WANT TO GIVE YOU AFFORDABLE HEALTH CARE WHICH WILL DESTROY HEALTH CARE, BUT I CAN STOP IT!
The guy is blowing fear and panic up our asses on a daily basis. And we're really supposed to believe that the reason he lied about COVID-19 was to not sow panic? Get the fuck out of here! Far, far more likely he was protecting his billionaire backers who didn't want the stock market to tank and ruin their profits... and even more likely that he didn't want workers to stop working and ruin his job numbers.

The terrorist attacks of 9-11 is a tragedy for this country and the world which will long be in our heads and hearts. And while it's comforting to think that it's an event which happened 19 years ago and is long-since over... it's really not over at all. Just like the pandemic we currently face, 9-11 is ongoing. There are First Responders still alive who are facing horrific health problems from a time they risked their lives in an attempt to save others. And since their every waking hour is a political struggle, politicizing their plight is actually necessary, and it seems only appropriate to leave you with this...
Trump administration secretly withheld millions from FDNY 9/11 health program
Trump officials interfered with CDC reports on Covid-19
Never forget? As if we ever could.

*And, while I'm at it, fuck Bob Woodward for keeping a lid on this information all this time... choosing only to release it for when his book was ready. What a complete and total piece of shit. Lives were lost because of you too, sir, and no amount of spin will ever... EVER... erase that. Screw exposing Watergate. THIS is your legacy now. It should be your legacy now.
Posted on Thursday, September 10th, 2020

With the exception of a quick drive to Spokane and back last week, I haven't gone anywhere. I likely won't end up going anywhere else for the remainder of this year. Perhaps a trip over the mountains at Christmas, but even that isn't a certainty.
Even more jarring is that I haven't had any houseguests since early January.
Used to be that I would have weekend guests sporadically through the Spring and Summer... then a non-stop parade of guests in Fall and Winter as friends stay with me so they can enjoy the festivities in Tourist Town down the road.
But this year? Zero. Zero houseguests. I just can't do it given that my reduced lung capacity puts me in very real danger of death should I contract COVID-19. Not that it matters, because I think all the festivities in Tourist Town have been canceled for the year anyway.
As you might imagine, any incentive to keep my home clean has vanished like a fart in the wind.*
The RoboVacs have been turned off and I just manually vaccum a couple times a month. I haven't mopped my floors all year. I bought a steam cleaner for disinfecting my floors, but haven't bothered to turn it on even once. Rather than hiding all my kitchen utensils, gadgets, appliances, pots, pans, storage containers, and everything else neatly in the garage while I remodel, they're just stacked on the dining room table and laying around. Needless to say I haven't dusted in months. Why bother if only me and my cats are here to see it? They don't care and I don't want to be bothered. Far better to sit on the couch watching television and eating potato chips than to make my life any less pleasant than it already is.
Nah. No need to clean. I'm good.
And don't even get me started on my garage, which is part wood shop and part dumping ground for crap I don't want to deal with. Like empty cardboard boxes and literal garbage.
Except you kinda do need to get me started on my garage, because before you know it Autumn frost and Winter snows will be here and I need to be able to park inside.
I've decided that cleaning my garage will be my weekend project. But only because it HAS to be. Otherwise I'll have to scrape my car off every morning, and I think we all know how much I absolutely don't want to be doing that.
Check back Monday to see if I actually managed to get motivated to dig in... or whether I've just kicked that football down the field to next weekend.
Right now I think my chances are 50/50.
Probably less than 50/50 if the massive cloud of smoke from Oregon and California blows up this way as it is expected to do. But in that case it's totally not my fault, right?

*Many thanks to the movie The Shawshank Redemption, which has made this analogy a part of my vocabulary.
Posted on Wednesday, September 9th, 2020

To say that I'm excited for the new Dune film is a massive understatement. The original Frank Herbert book is one of my favorite novels ever, I've read it at least a dozen times, and have been mesmerized with the entire "universe" that Herbert built since I first read it on summer break before my freshman year of high school.
There was a previous Dune film in 1984 by David Lynch that I very much enjoyed... despite it not being a very deep take on the material. This is not really Lynch's fault because the novel is essentially unfilmable. Much of what's going on is what's in people's heads and that's difficult to translate to screen. Even so, Lynch did an amazing job of translating the worlds and technologies to the big screen, and any subsequent readings of the book had his visuals in my head.
We don't talk about the 2000 Sci Fi Channel mini series adaptations.
The new Dune film by director Denis Villeneuve is apparently on track for release in theaters on December 18th, and I will likely risk COVID-19 to see it. His track record in cinema is exceptional... Prisoners, Sicario, Arrival, and Blade Runner 2049... so I'm guessing his take on Dune will be, if nothing else, interesting and visually stunning.
And that was my take before I saw the trailer, which was released today...
There's a lot to unpack here.
And since there are many, many geek websites doing exactly that, I'm going to restrain myself and just focus on a few things I saw which interest me.
SETS
What makes Dune so incredible is the "world-building" that Frank Herbert accomplished. The planets, the politics, the social structure, the technology... it's just all so solid. It's so deep that you feel it actually exists, and translating that to screen is not an insignificant challenge. I thought Lynch did a brilliant job at a time where practical effects were the norm. Now, of course, you can CGI whatever you can dream up, so of course the visuals have a better chance of mirroring what your imagination built from the books. Villeneuve's take on Blade Runner was about as perfect as you can get, so I have little doubt that his vision for Dune will be incredible. From what little I can see, it looks like he is trying for a muted, less ornate and fussy take on the sets, which is smart... I think? The Lynch film was so warm, lush, and gorgeously visualized, that you can't blame Villeneuve for striking out in a different direction. His take on Caladan feels much more Game of Thrones being more rough-hewn and utilitarian...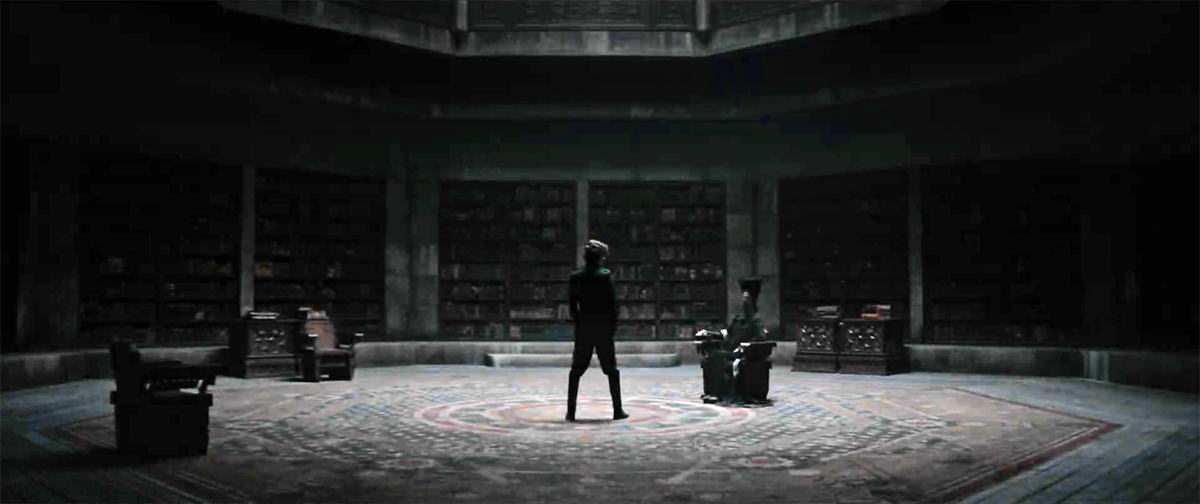 Contrasting with the deep shadows of Caladan is the blown-out sunlight of Arakis...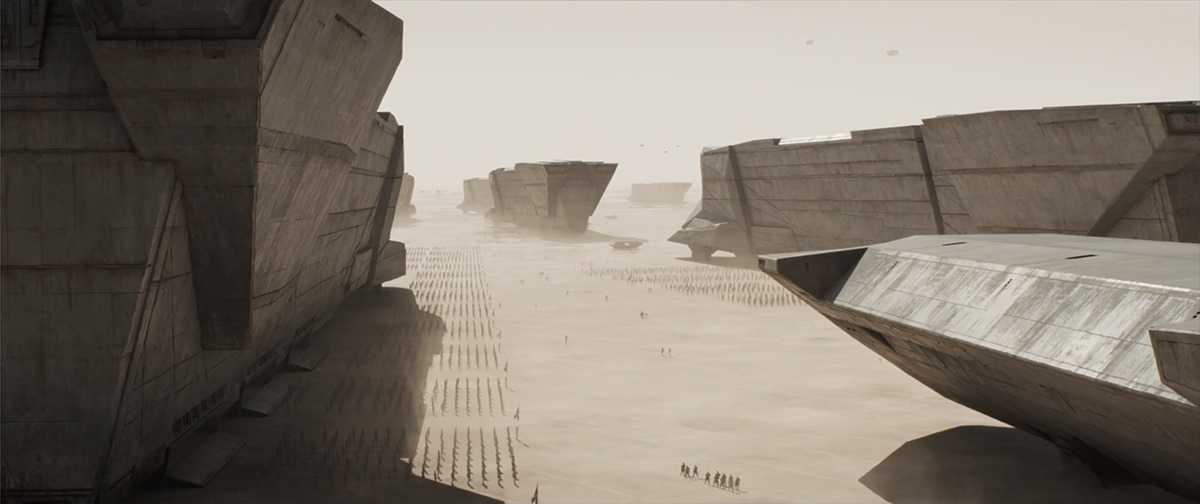 Interesting to see that the sand seems to permeate everywhere on a planet full of the stuff...
CASTING
PAUL: Timothée Chalamet as Paul Atreides seems a good fit. He's 24, but looks younger, which is what we need. In the book, Paul is like 15 or 16 or something, and that's an important point. He's a kid thrown into a situation beyond his years and his story is becoming a man under extraordinary circumnstances. I think Kyle MacLachlan was also 24 in the first Dune film, but looked older than Chalamet, which was a bit of a misstep, in my opinion...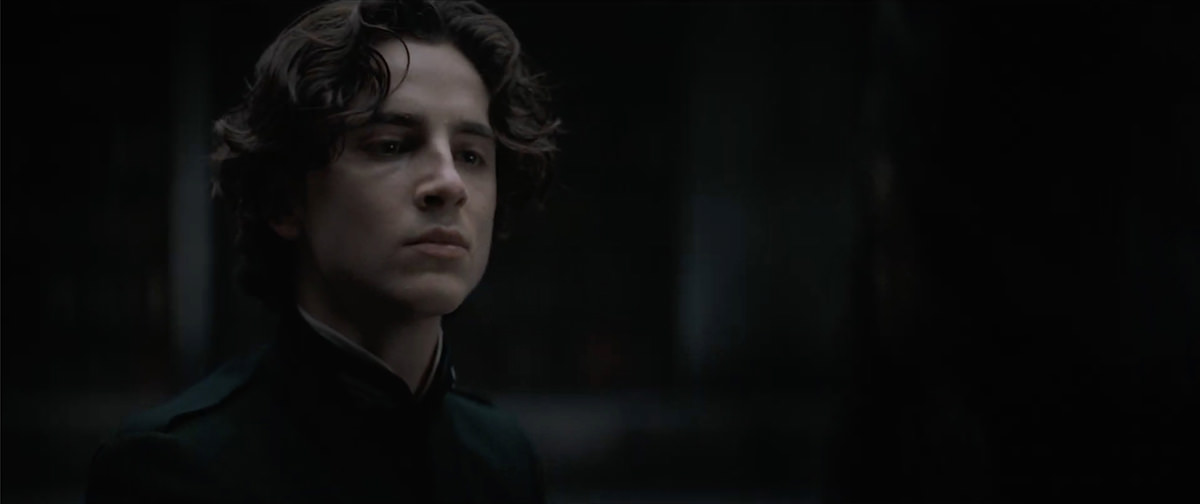 CHANI: Like Chalamet, Zendaya skews younger in this movie than Sean Young did in the previous Dune. In the books, if I remember correctly, she's older than Paul by a bit, but I like the idea of her also being a kid being thrown in a war spanning the known universe...
DUNCAN: Jason Momoa wouldn't have come to mind for Duncan Idaho, but it looks as though he's playing it a bit more "every man" in which case he's a good choice.
LETO: I admit that I know precious little about Oscar Isaac outside of his character on the final Star Wars movies, but he certainly looks the part of Duke Leto...
BARON: Villeneuve has said that he's wanting the Harkonnens to be more evil and menacing than we've seen, which certainly has my stamp of approval if he can pull it off! Stellan Skarsgård was an inspired choice, especially if you've seen him in The Girl with the Dragon Tattoo!
RABBAN: Dave Bautista is a delightfully versatile actor, and it will be very, very interesting to see his take on The Beast, especially if we're getting something truly villainous from the character...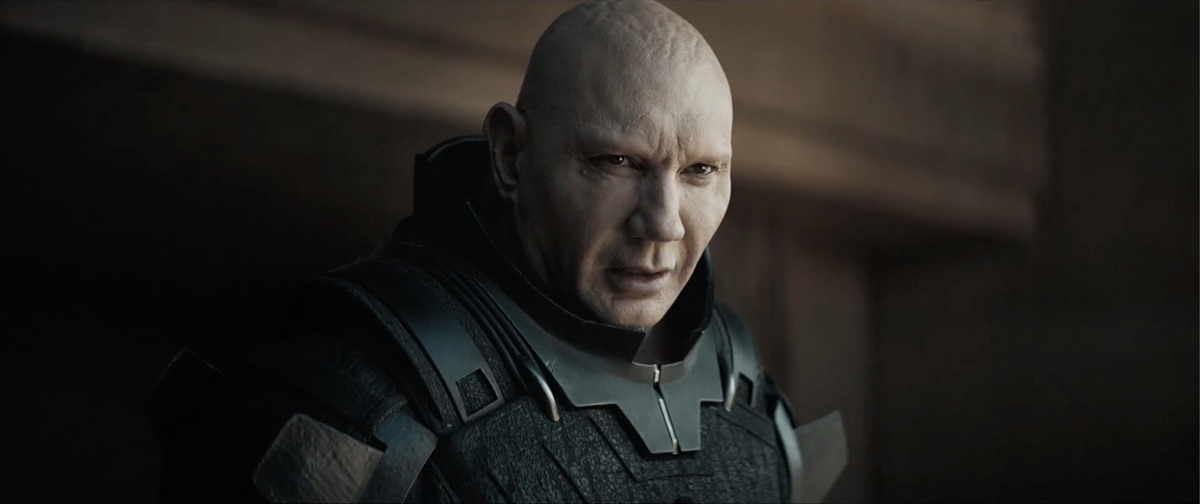 MOHIAM: If there was one area where I thought Lynch's film faltered, it was the weird shaved-head look given to the Bene Gesserit. It absolutely played into the cult-like elements from the sisterhood, but it was distracting. Going with these heavy veils seems a lot more interesting, and you couldn't ask for a more interesting choice as Charlotte Rampling for The Reverend Mother...
GURNEY: Okay, Josh Brolin is perfect for Gurney. No surprise at all he was cast, because it really is flawless. What surprised me is...
THUFIR: Holy cats, that's Stephen McKinley Henderson as Thufir Hawat beneath that parasol in back there! I loved him as Omar in the 2008 series New Amsterdam, and this is truly inspired and brilliant casting news. And boy did Villeneuve come up with a fantastic look for the Mentat Master of Assassins! Completely unexpected...
TECHNOLOGY
If you've read the Dune novels, you know that technology has a bit of a strange place in the story. Thanks to an uprising by "thinking machines," artificial intelligence has been banished and any advancements are strictly utilitarian. We don't get to see much in the trailer... but we do get a glimpse of the Emperor's Sardaukar troops dropping in with their battle armor...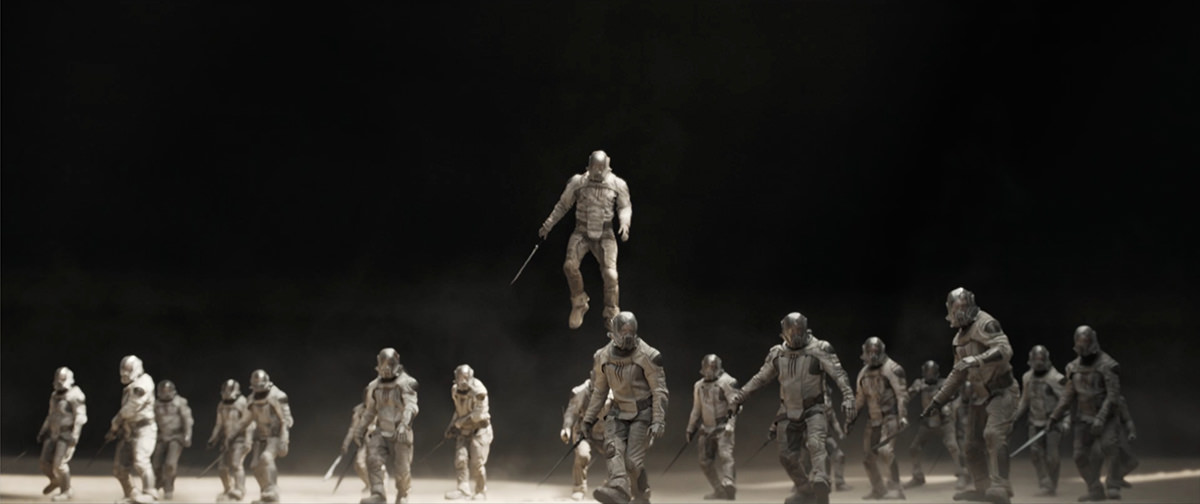 We do get a better look at the Holtzman personal shields in use. I have to admit that I think Lynch's take was a more visually interesting approach... and his having it centrally located on a belt seems a more logical place to have it instead of on some kind of hand-strap. That being said, Villeneuve did come up with a look that seems a heck of a lot more realistic...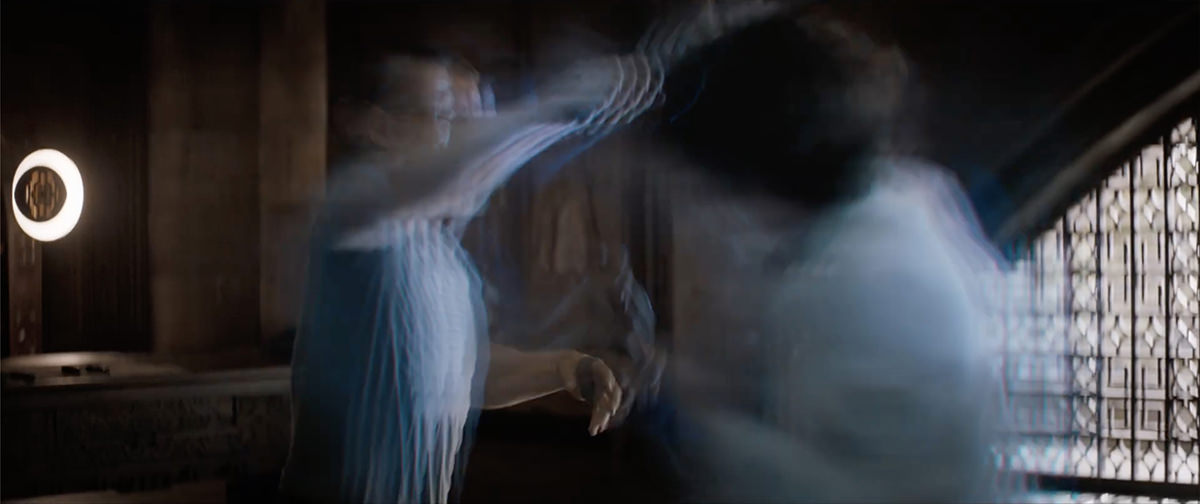 SANDWORMS
Now, as cool as giant worms may sound when you read about them in a book... it's an absolutely absurd visual when translated to the screen. Lynch did as best he could, but the effort ultimately looked silly. We were told they were terrifying instead of seeing they were terrifying. Welp... thanks to CGI, that's not a problem any more. Sandworms are like something out of a nightmare, exactly as they should be...
STORY
Dune is Dune. The political backstabbing and intrigues... the fight for power... the complex family interactions... the fascinating religion and customs of the peoples... it's all woven together into something far more amazing than the sum of its parts. Lynch's movie had to gloss over a lot of it out of necessity. There's only so much you can do in a two-hour movie. Villeneuve caught a bit of a break in that he was able to split the movie into two parts... plus he is getting a companion series on HBO Max. Whenever Dune: The Sisterhood airs, it will allow considerable more world-building than two films could accomplish on their own. This is truly exciting, because it will (hopefully) allow for many of the subtleties and complexities to play out in a way we've never seen. We get a tiny glimpse of this when Paul says "My father rules an entire planet." The Reverend Mother responds "He's losing it." Paul fires back with "He's getting a richer one." Reverend Mother nips that one at the bud with "He'll lose that one too." It's this kind of immense scope that you truly need if Dune is to have the proper weight to it.
With any luck, we're going to get a movie which Dune fans have been dying to see for over 50 years. And if it fails? Well, I guess I can always re-read the book for the hundredth time.
Posted on Tuesday, September 8th, 2020

I have a terrible reaction to smoke... mostly revolving around cramping and a bloody nose. It's been this way for as long as I can remember, which has always made camping problematic. Usually I can just escape to another part of the state when everything is on fire but that would be tough this time even if there weren't a pandemic. The smoke is bad just about everywhere...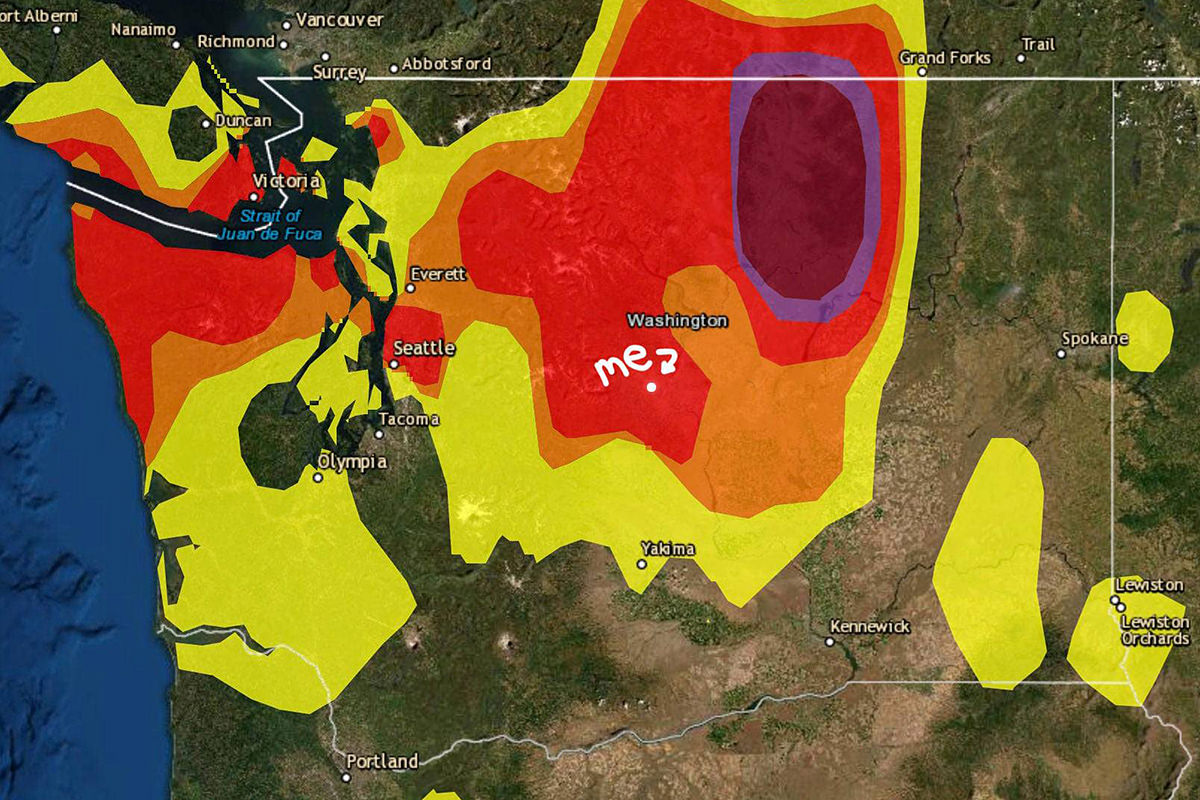 And so... not a fun time to be me.
Last night I thought I would take some sleeping pills and ride it out until this morning. But then I woke to what looked like a murder scene in my bed and the smoke worse than ever. I have a spill-proof mattress cover, so my mattress was okay... but I think the sheets are a goner. Fortunately I have three sets exactly the same, so I have more available to destroy tonight.
There was a bright spot in my day, however... the new trailer for Star Trek: Discovery is here...
After an incredible first season, I was let down a bit by the second. But now things are looking very interesting for the third...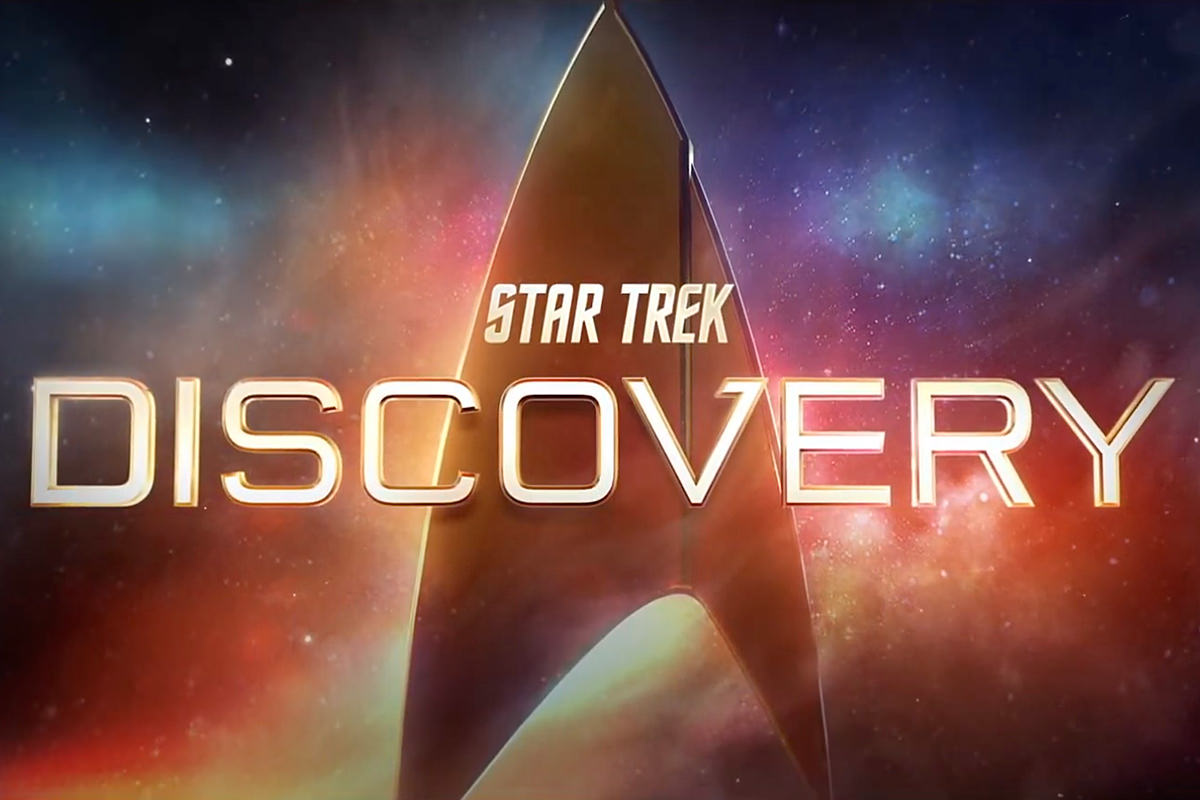 Despite now being set hundreds of years into the future, Michelle Yeoh is back as Mirror-Universe Georgiou, which is odd since she will be heading the new Section 31 show sometime in the future back in the present(!)...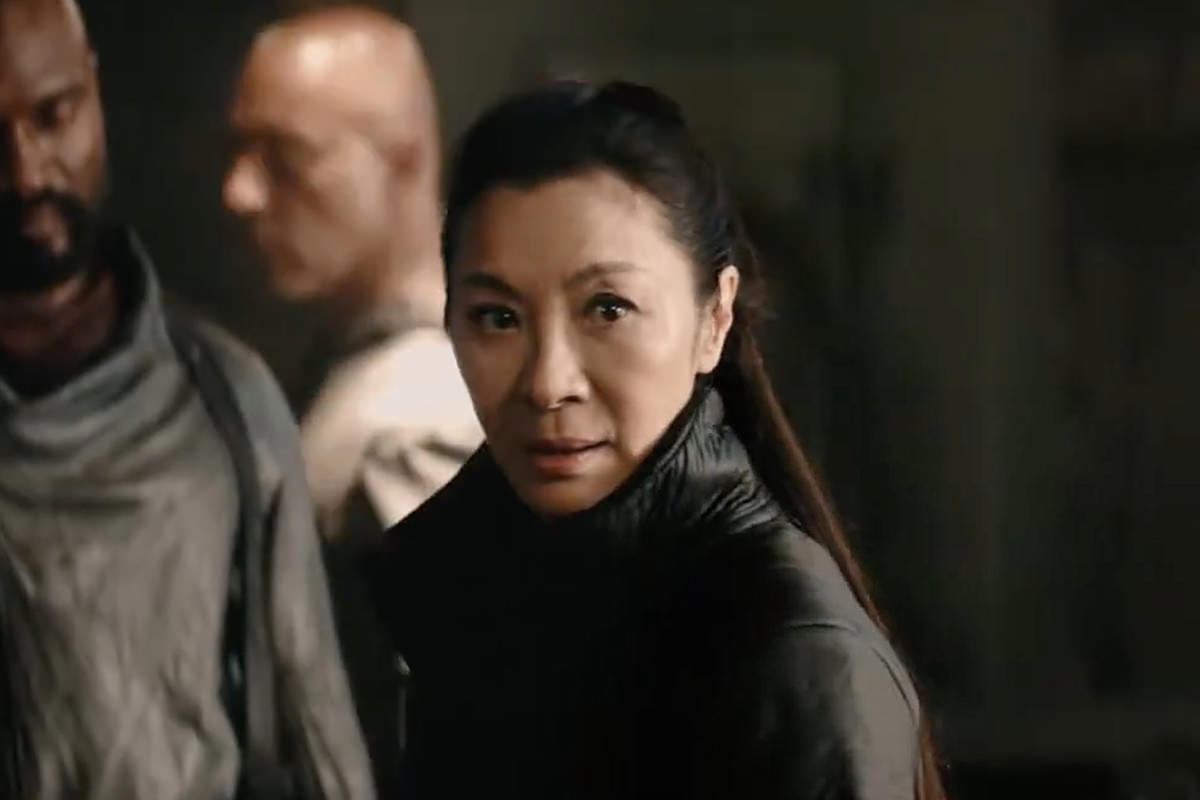 But we knew she was coming back. Somebody I didn't know was coming back (but am thrilled that they are) is Tig Notaro as Jett Reno!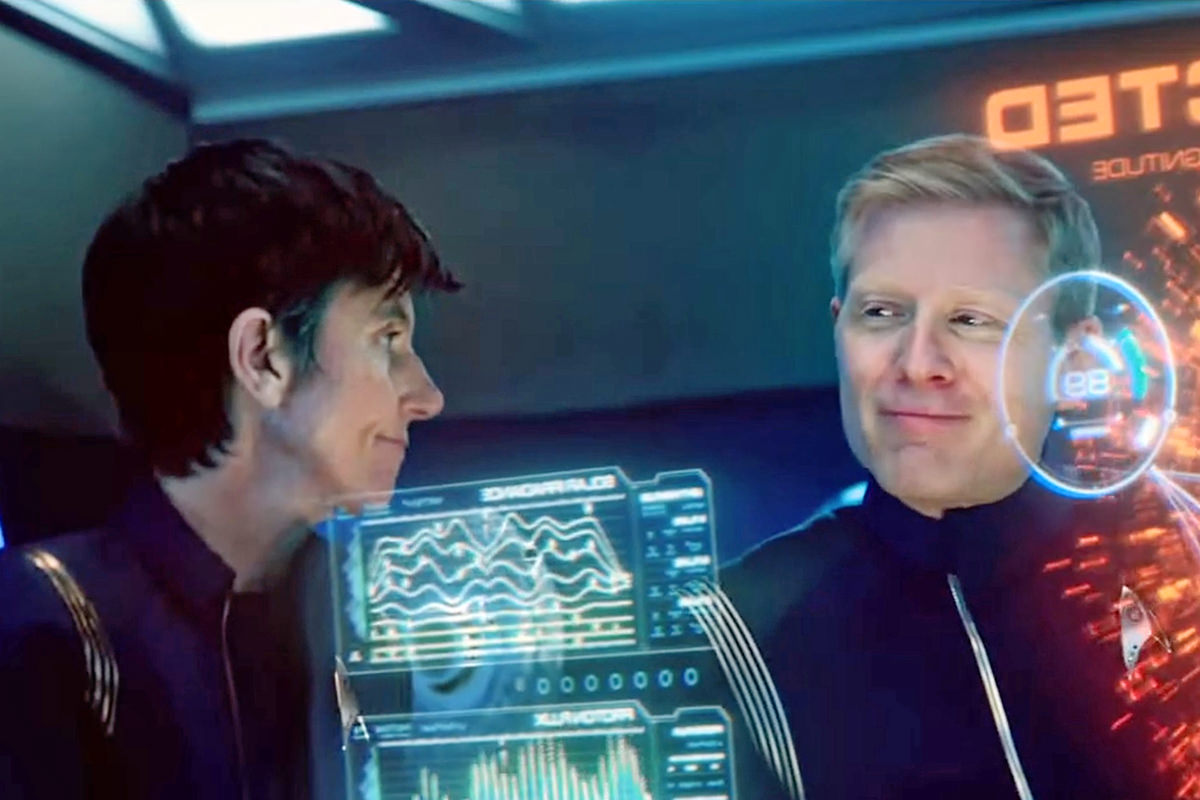 And speaking of Tig Notaro, I rewatched her documentary this weekend...
If you haven't seen it and have Netflix, it's well worth your time.

And now I guess I'm back to feeling sick. Blergh.
Posted on Monday, September 7th, 2020

75,000 acres on fire to the South... 65,000 acres on fire to the North... and I'm stuck in the middle with so much smoke in the air that I've been feeling sick for hours. I guess I should be uhhh... grateful?... that this is happening now instead of in July, but it still sucks. I honestly thought we'd make it though the Summer without major fires, but here we are.
At least the sunsets will be pretty? I guess?
I haven't read what caused the fires. My guess is that some people were careless over the holiday weekend.
And then there's this...
A pyrotechnic device at a gender reveal party sparked one of the California wildfires, burning over 8,600 acres.
This idiotic gender reveal bullshit is reaching all new levels of stupid. This isn't even the first time that one of these moronic events has gotten out of hand. God only knows the damage. The number of animals killed or left homeless.
If there's any justice, the people responsible will be having their new baby in jail.
Posted on Sunday, September 6th, 2020

Summer doesn't seem to be ending any time soon, but don't let 100° days get you down... because an all new Bullet Sunday starts... now...

• Growth! I don't remember how I ran across this video, but it's really, really cool...
Jake and Jenny seemed to grow up exactly this fast.

• Squirrel! I somehow missed this amazing Mark Rober video, which is a must see...
His channel is one of those that I wish posted more often... but you just know that it wouldn't be this good if he did.

• Die! And the new James Bond trailer is out...
Looks almost worth risking your life going to a movie theater for!

• Expecting! I watched the HBO Max series Expecting Amy which is absolutely fascinating. Not because of Amy Schumer, but because of her husband Chris Fischer. In her Netflix special, Growing, her talking about him and his being on the autism spectrum is the absolute best part of the show. In Expecting Amy you get to see the reverse side of it all. The guy seems as sweet as can be and is a massively famous chef, so he's a lot more than "just Amy Schumer's husband."
So, yeah, worth a look. And also watch their cooking show Amy Schumer Learns to Cook on Food Network.

• Bash! Earlier this week I had mentioned that NBC had picked up the amazing medical drama, Transplant, starring Hamza Haq. I know absolutely nothing about the guy, so I searched YouTube for some interviews. He does not disappoint...
But the real treat was spending the day with him during Ramadan during quarantine...
Very much looking forward to a second season.

• Christie! Back when cable TV first came to town, we got a 6-month trial package that included HBO or Showtime or both or something. It was then that I discovered that one of my favorite Agatha Christie novels, Death on the Nile, had been turned into a film. I watched it many, many times. Now, after a successful remake of Murder on the Orient Express, we're getting a remake of Death on the Nile as well...
Interesting to note that both versions of the film has quite a few name-brand stars...
| | | |
| --- | --- | --- |
| ROLE | 1978 VERSION | 2020 VERSION |
| Hercule Poirot | Peter Ustinov | Kenneth Branagh |
| Louise Bourget | Jane Birkin | Rose Leslie |
| Linnet Ridgeway Doyle | Lois Chiles | Gal Gadot |
| Marie Van Schuyler | Bette Davis | Jennifer Saunders |
| Jacqueline de Bellefort | Mia Farrow | Emma Mackey |
| Mr. Ferguson | Jon Finch | |
| Rosalie Otterbourne | Olivia Hussey | Letitia Wright |
| Manager of the Karnak | I.S. Johar | |
| Andrew Pennington | George Kennedy | |
| Andrew Kathchadourian | | Ali Fazal |
| Salome Otterbourne | Angela Lansbury | Sophie Okonedo |
| Simon Doyle | Simon MacCorkindale | Armie Hammer |
| Colonel Race | David Niven | |
| Mrs. Bowers | Maggie Smith | Dawn French |
| Dr. Ludwig Bessner | Jack Warden | Russell Brand |
| Euphemia | | Annette Bening |
| Syd | | Adam Garcia |
| Bouc | | Tom Bateman |
Looks like it will be worth a look!

And that's the end of that. No more bullets to be had this week.
Posted on Saturday, September 5th, 2020

Well, the raccoons are back.
And this time they seem to be making friends with Jake. Used to be that when Jake would spot them and run out to the catio, they would scamper away. But now they actually come up to the fencing and make noises at him. Assumably trying to communicate.
Tonight at 11:00pm on the dot, Jake ran out to the catio at top speed. I assumed that Fake Jake was out there, but when I looked out, I saw four sets of beady little glowing eyes looking back to me.
The video footage is pretty awesome...

Jake just ponies up to the fencing and stares at them...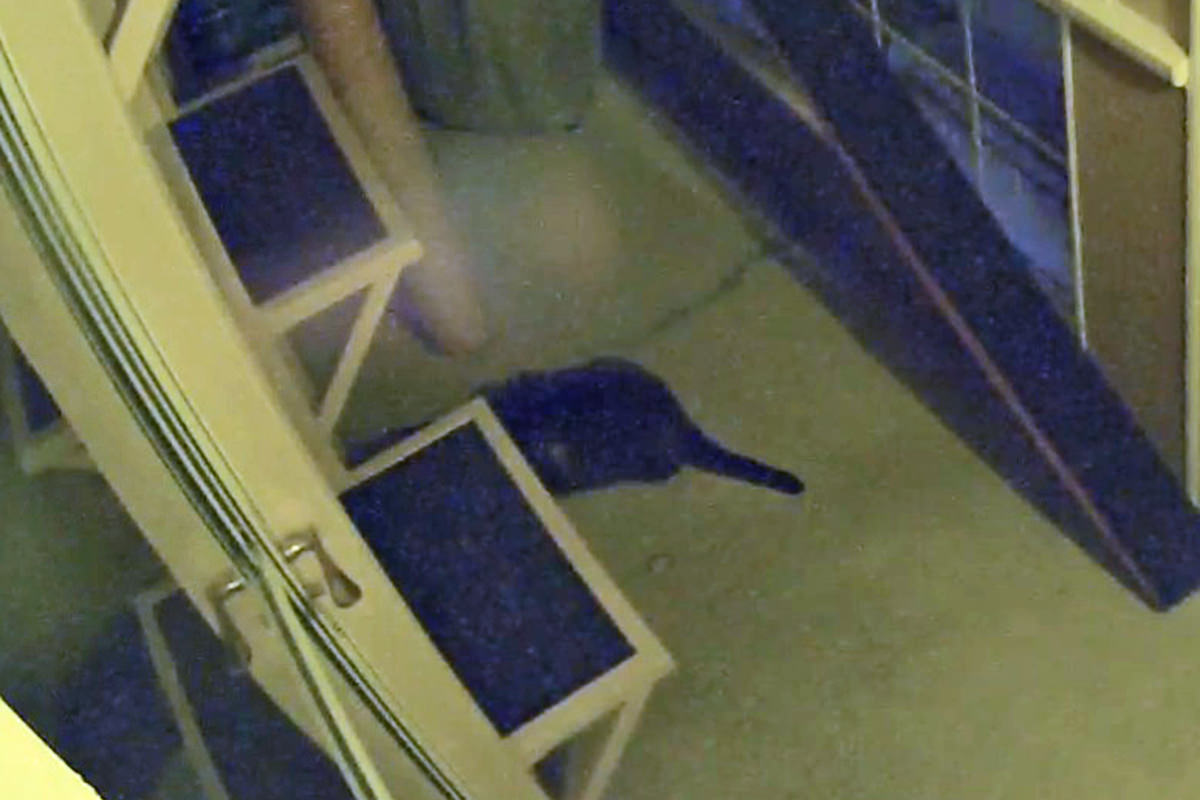 What's surprising is that they came back three times after. The first time they kind of do a walk-by. The second time one of the raccoons at the end approaches the catio. The last time they just go marching right up to the catio looking for their buddy...

As for Jenny? Not a chance that she's going out there when raccoons are in the area...

But, hey, it was Ginger Cat Appreciation Day this past Tuesday, so I'm pretty sure she's been coasting on that through now...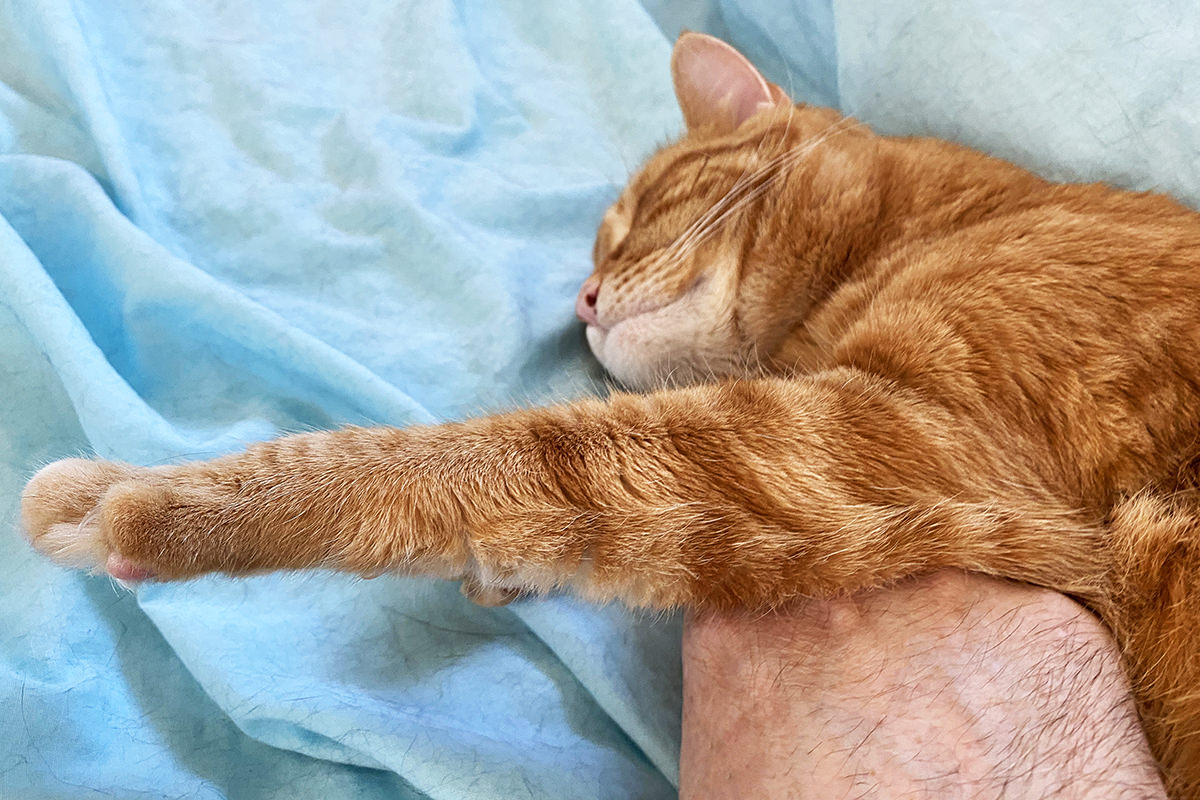 Of course, here at my house EVERY DAY IS GINGER CAT APPRECIATION DAY, and don't think that she doesn't know this. She is aware.
Posted on Friday, September 4th, 2020

Growing up I never had much exposure to cilantro. It appeared in salsa, but that's about it. Over the years I've been kinda meh on cilantro, but once I started exploring Martha Stewart's meal service, I've come to love it (so much so that I'm going to try growing it eventually).
Yesterday I was craving cilantro but too tired to cook after getting some from the grocery store, so I made me some Coconut-Peanut Rice Noodles with extra cilantro for dinner tonight...
Amazing stuff. I find it sad that some people have tastebuds that register cilantro as "soap" tasting, because it's become a favorite flavor of mine.
And speaking of Martha Stewart's meal service...
On of the meals this past week was Spinach & Tomato Lasagna Rolls. I made half without the Spinach, which I felt were far superior because the texture of the spinach was kinda gross. Great stuff though. They have you mix pesto into the tomatoes for a darn delicious sauce. The best part is that the noodles crisp up on the edges when you cook them. I honestly thought that the filling would come pouring out as they cooked, but nope...
Yummeh. If I can find pasta sheets, I have to make this again.
Well, that's enough cooking for a while. Back to peanut butter sandwiches for a while.
Posted on Thursday, September 3rd, 2020

When I was a kid complaining about a candy bar going from 25¢ to 35¢ I had to hear my parents tell me that they were 5¢ when they were a kid. Now, of course, candy bars are $1.50, which still sends me into sticker shock whenever I feel the need to treat myself to a sugar-filled treat.
But stuff like that doesn't bother me. Inflation happens and things are always changing so there's no sense in being bothered by it.
And then today I saw this...

That DOES bother me. A little bit. Kinda.
Holy crap am I old.

Which brings us to this...
UNPOPULAR OPINION: I fucking detest common core math bullshit.
In the REAL WORLD, you just gotta be able to multiply shit to get answers you need. Like "How many square feet do I need to buy to tile my kitchen?" or "How much is 20% off this $18 sweater?" or "If all 13 of us needs 15 copies of the program, how many copies do I run?" — You don't need the "theory" behind multiplication. You don't need to know "how it works." You just need to know how to fucking multiply as quickly and easily as possible to get the information you need. And multiplication is some easy shit to accomplish. I still use the process I learned in school decades ago. Or, more likely, I use the calculator app on my iPhone.
Want to help kids? Teach them the critical thinking required to know WHAT you multiply for real-world application, not all this "behind the scenes" Mickey-Mouse-bullshit that will likely have precious little use when they'll just end up using a calculator app anyway. Who the fuck does multiplication by hand any more? Why would you? Sure it's handy if the battery on your phone dies... BUT THEN YOU CAN JUST BORROW SOMEBODY ELSE'S PHONE!
I use mathematics every fucking day... which is FAR more than most people will ever use it... and how much benefit would I get out of having to multiply numbers using the "common core" method? FUCK ZERO! THAT'S HOW MUCH! Because unless you're a teacher who is having to teach this shit... or somebody whose job requires you to be able to break down numbers and understand the process behind how mathematical fundamentals work... YOU'LL USE IT FUCK ZERO TOO!
I have debated this common core crap with friends way too often, and it ALWAYS comes down to "preparing kids for college" or whatever. I don't buy that argument (or the argument that every person needs to attend college in the first place given the job opportunities available here)... but okay. Sure. College. I guess having to calculate out how many kegs you need for a holiday weekend party of 128 people would be totally easier if you broke it down to 1 one-hundreds, 2 tens, and 8 ones by a seven drink average! OR IT WOULDN'T BECAUSE YOU'D JUST USE A FUCKING CALCULATOR! Get the fuck out of here.
Yeah, things are always changing, but sometimes it's not for the better.