Posted on Wednesday, January 13th, 2021

This is part three of a three-part dive into the redesign of Thrice Fiction magazine on the occasion of releasing the first issue of Volume 2. If you missed it, you can read Part One right here and Part Two right here.
With all 27 FREE issues of Volume 1 of Thrice Fiction, I had the luxury of color. It was designed from the very beginning with color in mind. The focus of each issue, the stories, were (out of necessity) black and white for readability. I carried this theme to the contributor photos, which were also black and white. Everything else (i.e. the art) would be in color.
The problem with color is that it's expensive. Very expensive. But you can justify it when you have a small number of pages because the cost doesn't have a chance to accumulate that much. Since the format for Volume 2 was over a hundred pages, it wasn't an option. All interior pages would be black and white so we wouldn't have to charge $50 a copy.
All our artists were in a pandemic for 2020, so I decided to just do all the interior art myself after a few false starts in rounding up contributors. This actually turned out for the best, because I had no idea how our publisher (Lulu) would reproduce greyscale art. Since it's just me, I made a list of different styles to experiment with... line art... photo art... vector art... and so on.
And here's how that went.
"Lincoln at 200" • Style: pen-and-ink
Ann Bogle is a remarkable writer and it's always been a thrill to see her work in our pages. Needless to say that when RW informed me that she would be the "featured contributor" for our debut issue, I was thrilled. I read through all her stories a couple times looking for an idea... but I kept coming back to the second paragraph of her very first story, Credenza, where it was Abe Lincoln's 200th birthday. It's just too dang good an image to ignore. So I didn't...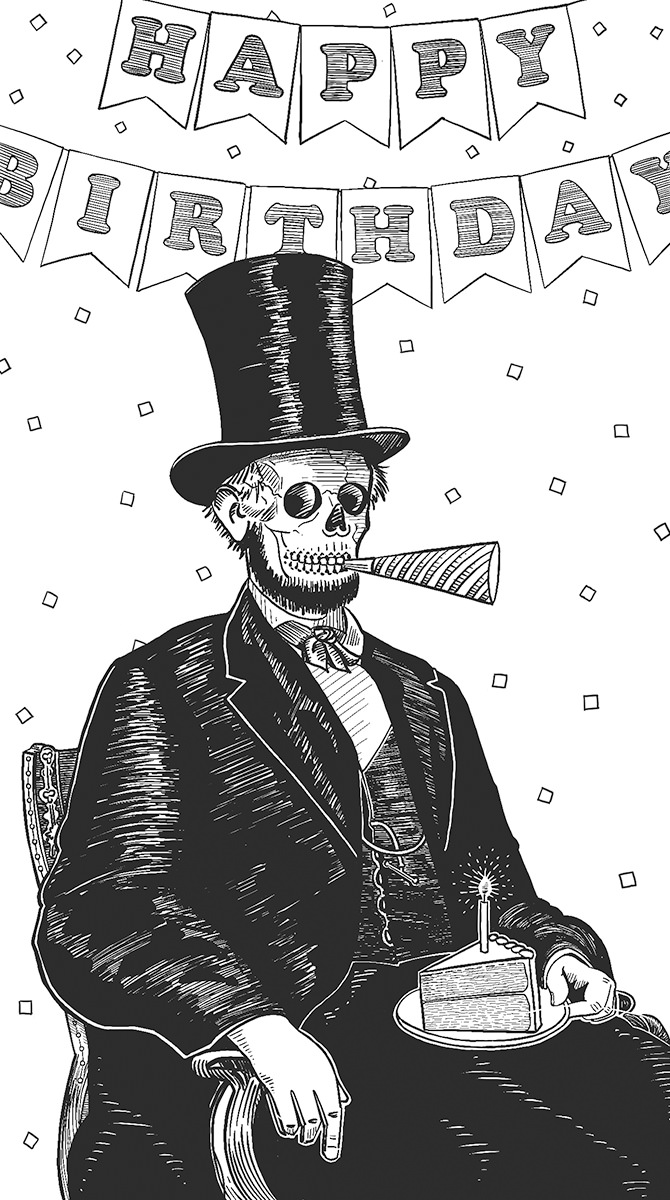 Originally there was no "happy birthday" banner in the background, as the idea was to put a party hat on top of Lincoln's famous stovepipe hat. It proved too clutzy, so I made the change. Also? Abraham Lincoln was originally drawn as a decomposing corpse, because that's the only way I could still have his beard on there. But that was pretty gruesome, so I went with a skeleton head, left the beard, and took all the rotting flesh off his hands. No, it doesn't make sense, but I actually think it's more humorous this way. This was knocked out on my iPad in ProCreate over a couple nights while watching Hallmark movies.

"Timmy in Paradise" • Style: block-cut
If you read yesterday's entry, you know that I was originally planning on the cover being a little boy looking up to the heavens as missiles stand ready to launch (for our relaunch, get it?). I thought this might be a little dark, but I liked the idea of the image so much that I decided to draw it up and slap it in the interior as a break-point...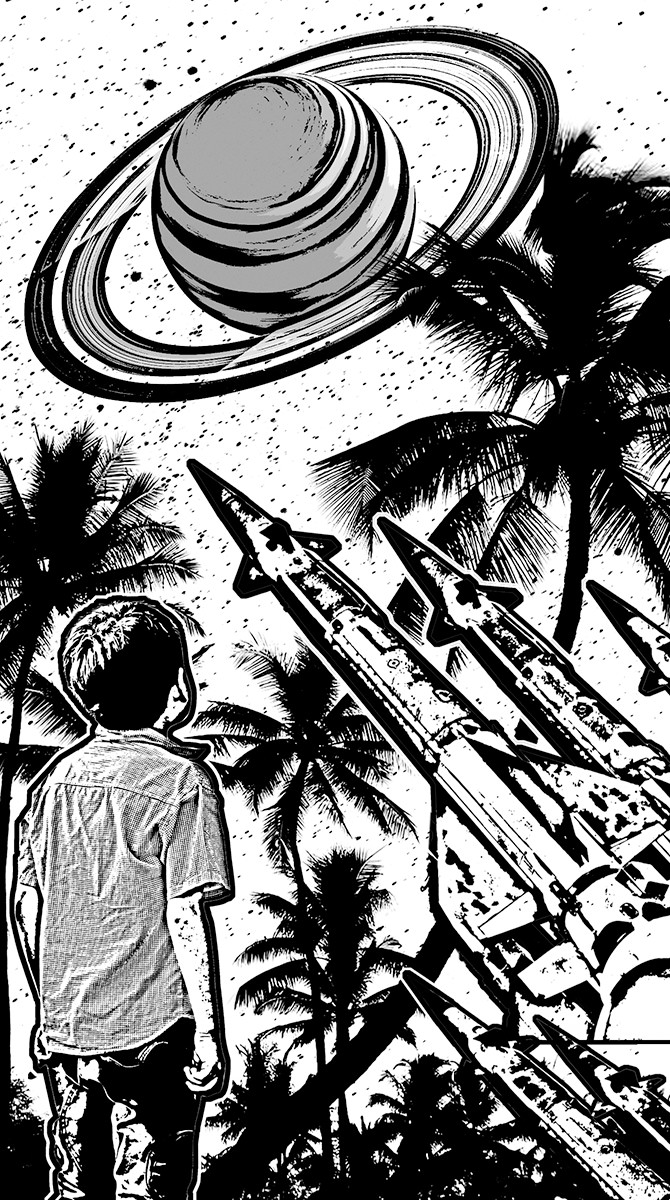 I thought this actually turned out better than what was in my head. I also think it probably works better as a block-cut than a color painting. The palms are extracted from a photo I took on the Big Island of Hawaii. The boy, Saturn, and the missiles are stock photos I cut out. It was all assembled in Photoshop, had extraction filters and edge filters run on it, then I imported it to ProCreate on my iPad so I could add texture and linework.

"Empires of Toast" • Style: vector
Amantine Brodur's work was a tough challenge to typeset because half of what makes it work is the formatting. Translating the formatting of The Anaphora House from a MS Word document to book pages took a long, long time of goofing around until I was satisfied that I had done the best job I could. Then a couple days later I would look at it again and decide to change half of it. =sigh= There was an abundance of riches to be had when it came time to figuring out what I wanted to do for the art. But once I got to the section titled Empires of Toast I just knew that was going to be where my piece came from...
This is just pure symbolism, "empires" being represented by a chess set. I knew I wanted a toaster ejecting "toast" on the board, but I took it a bit further than that. The "theme" of our "Subject Paper" this issue was discussing "cultural appropriation." I drew a white pawn also ejecting from the toaster, the idea being that it wants to appear black, but couldn't take the heat that comes from being black. Deep, I know.

"A Slow Rescue" • Style: photo collage
Eckhard Gerdes packs a lot in the slightly more than four pages of The Babble-Ons. I went from worrying that there wouldn't be enough visual ideas to draw from... to being completely overwhelmed by how much there was to choose from. I abandoned the idea of pulling literal passages and instead combined a rowboat and snails because I thought it would make for a fun image...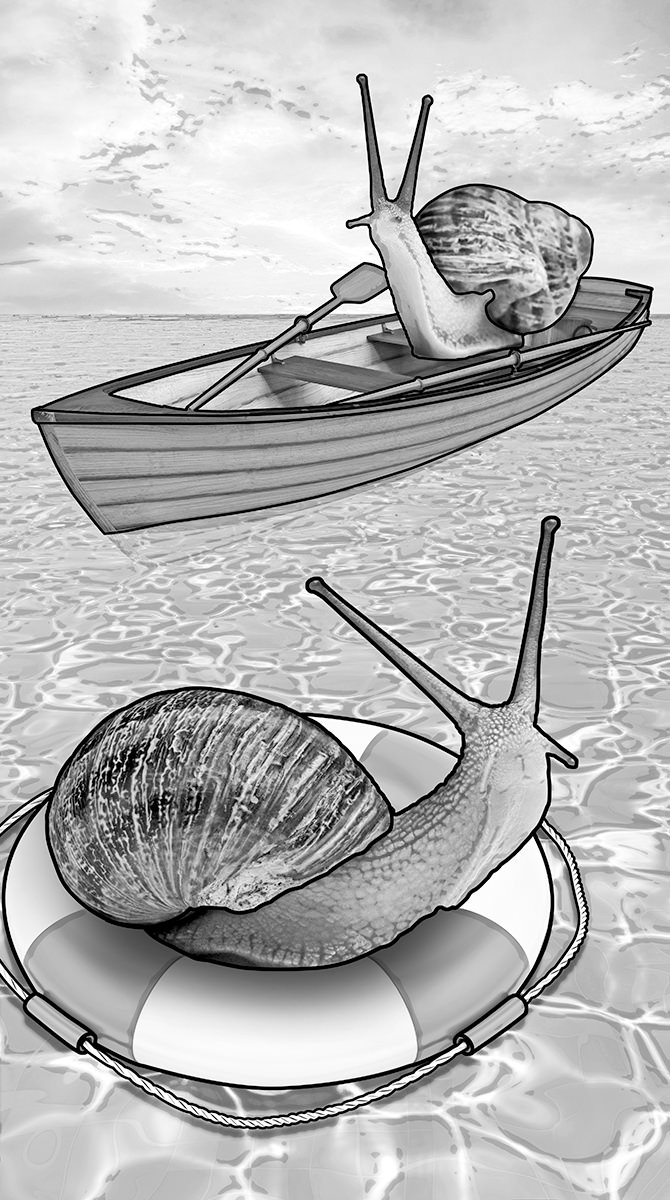 Don't ask me how that snail is rowing his boat. This is a half-dozen stock photos which have been reworked and combined into a single image in Adobe Photoshop... then outlined in Adobe Illustrator. I wanted to have an example for future artist contributors so they could see how photos reproduce at Lulu and how contrast has to be heightened to get something other than a mushy grey blob. It took a lot more effort than I was anticipating, and I'm pretty sure I put in just under three hours for an image that would have taken me 20 minutes if it were in color.

"Savior" • Style: block-cut collage
Art was never going to be the focus of Volume 2. It was always going to be the written word. But I still wanted some art in there to add breaks between sections and pieces. This was an idea I had years ago that I never did anything with, but kinda liked the thought of dusting it off and retooling it to be a collage overlaid by block-print. Something about the concept of aliens invading and not caring which god you worship reeeeeally stuck with me...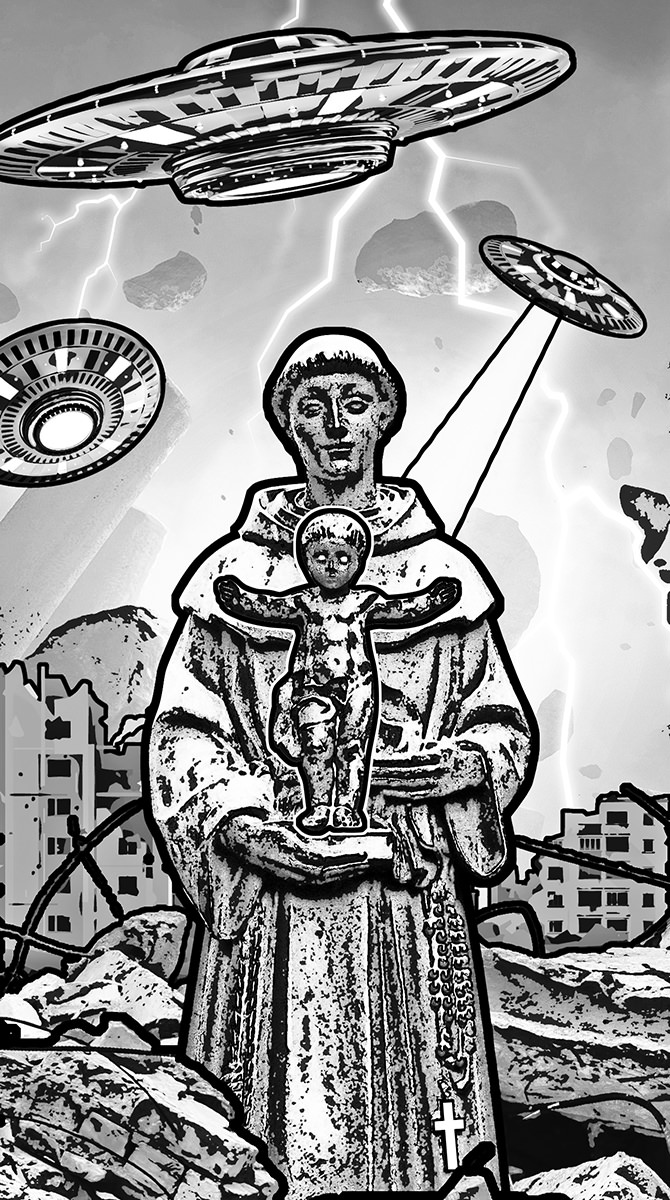 I cannot for the life of me remember where I took the photo of the monk with baby Jesus. I want to say Italy maybe? Columbia? I think it was in a courtyard somewhere. Could even be New Orleans. Since I pulled the photo out of my archives quite a long while ago, I can't remember. Everything else is composed of eight stock photos that I chopped up and combined. Before I started converting, painting, filtering, and drawing on top of it, this is what it looked like...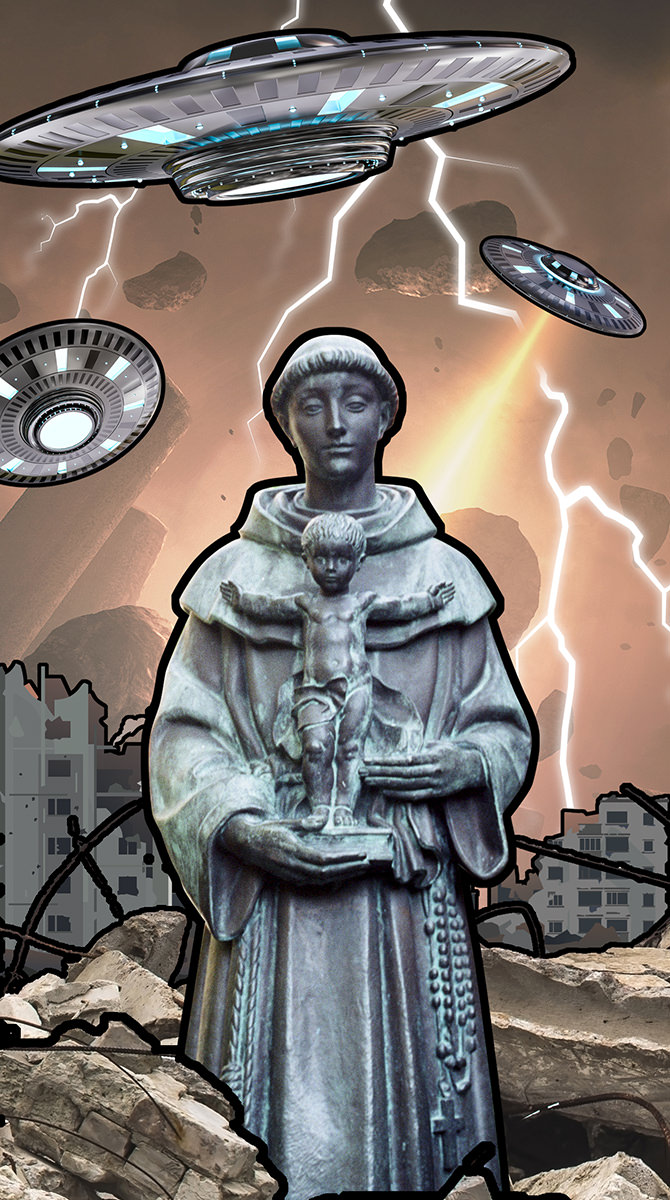 Had I done this in color, I would have painted over everything to make it "more my own" since all the pieces around the statue were created by somebody else. But it worked really well as a block-cut, so I spent considerable time massaging the pieces in Photoshop so it would work well. Minutes before publishing this issue, I went in and changed baby Jesus's eyes and the cross on the monk's robe to pure white and did a heavier outline around Jesus so they stood out better.

"Cheap Imitation" • Style: drawing on photo collage
Originally I had created this art for the subject essay Who Do You Think You Are? by Franny Forsman which discusses cultural appropriation. This is a subject which hits at me personally from a number of different directions, and almost everybody has an opinion... from weak ("I don't care and don't see anything wrong with it because it doesn't affect me") to very strong ("This is pillaging my people and my culture and using it in inappropriate ways which I find deeply insulting"). Despite being 100% white boy with a "cultural heritage" that consists of a hodgepodge of other cultures (AKA "no culture to speak of"), I am in the latter category. And it stems from the simple idea of just being fucking decent and kind to people. If somebody tells you that their culture is not a costume and they are offended when people treat it that way... just pick a different Halloween costume. If somebody tells you that your football team has a shitty name and mascot because it is taken from a painful slur celebrating genocide against their people... just pick a different name. This is not rocket science, and you have to be kinda awful to not want to change when it's pointed out to you. And that's what I was trying to say with this piece depicting a butterfly seeing a poster advertising a movie about a butterfly... starring a cockroach...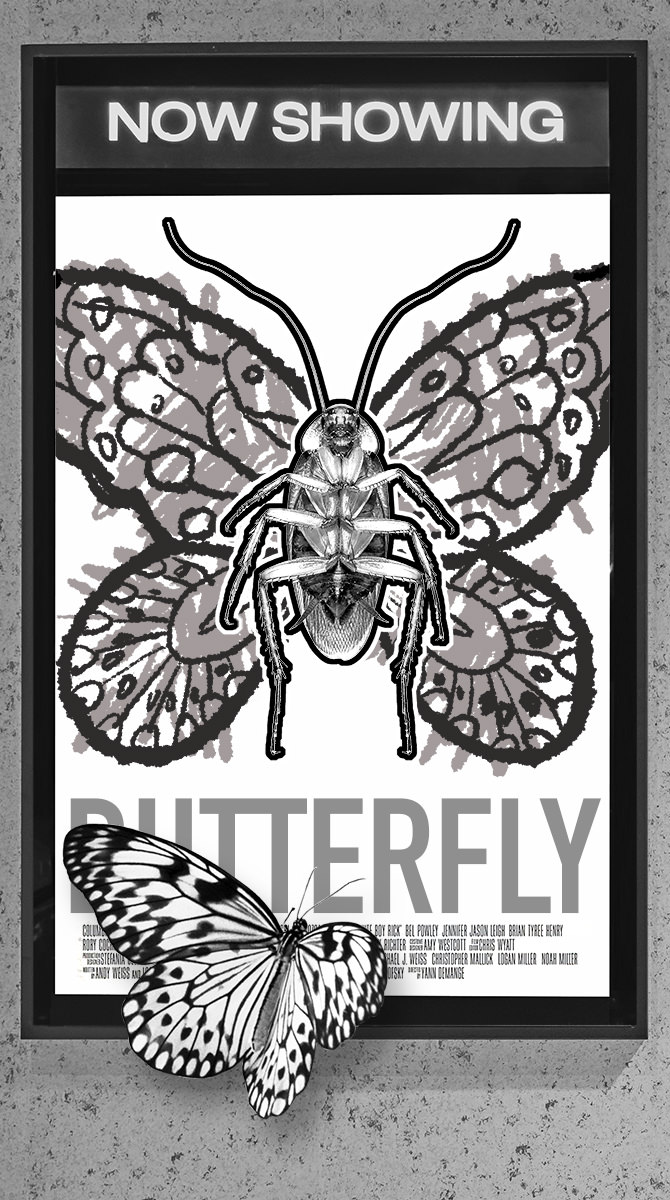 This is a composite of a bunch of stock photos that I cut into Photoshop (though I think the butterfly image is mine, taken from a butterfly sanctuary in Australia). The butterfly wings on the cockroach were drawn on in Procreate because I wanted them to look like they were badly colored with a crayon. The credits for my fake movie Butterfly are actually taken from the movie poster for White Boy Rick, which seemed appropriate. Ultimately I worried that any art put in front of such a serious subject would be distracting and inappropriate and decided to go with no art at all. But I kinda liked what Cheap Imitation was saying, so I stuck it at the back of the book.

And there you have it... all the art I came up with for the first issue of Volume 2! You can see it all in print by buying a copy with its glorious 128 pages for just $12 at the Lulu Book Shop. A bargain at half the price with some cool stuff to be had!
Posted on Tuesday, January 12th, 2021

This is part two of a three-part dive into the redesign of Thrice Fiction magazine on the occasion of releasing the first issue of Volume 2. If you missed it, you can read Part One right here.
After the type had been selected and the logo had been designed, I moved to the cover. Our old magazine was graced with a variety of amazing artists contributing their talents but, just like with Volume One, I decided to do the first one myself.
I had many, many ideas.
For the longest time I had it in my head that since this was a relaunch, I was going to have a young boy on a tropical island looking up to the heavens... while a bunch of missiles were ready to launch nearby. I liked that it was implying even paradise can be meanacing. I ultimately abandoned this idea for being too dark but, never fear, I repurposed the idea for a piece on the interior.
The next day I woke up and couldn't remember the name of my favorite restaurant in Prague (maybe I was dreaming about it?), so I went to my blog and searched for it (the name is Lehká Hlava, and it has my highest recommendation). Two images above where I was talking about the restaurant is one of my most favorite photos I've taken of all time...
Now... you may be asking yourself... is that angel drowning a cupid baby angel in a bathtub? Or maybe a chicken? I honestly don't know, but it sure looks that way to me!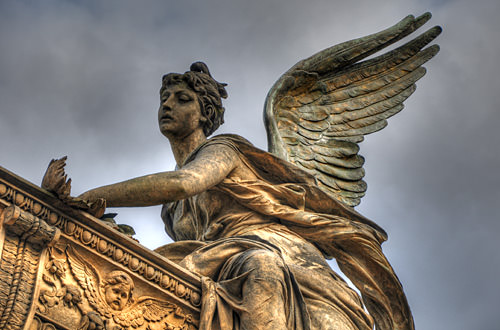 Despite the horror element, I always thought she was gorgeous. And the fact that I was blessed with those stormy skies just makes the photo that much more beautiful to me.
And that's when I had a thought... if Thrice Fiction is undergoing a rebirth, of sorts, we're essentially drowning Volume 1 in a bathtub (even though you can still read all 27 issues for FREE on our site). Maybe this is the image I'm going for?
Except this is going to be sold in book stores, and I thought the angsty, brooding, dark imagery has been done to death. Such a cover would fade into the rest of the books. Soooo... what if the angel was drowning the cupid in broad daylight... under bright blue skies? How disturbing would that be? Very. And so... I went through my photo archives to find the original image and see if it was something I could work with.
Bad news. It was cropped too tight and there wasn't enough in the original image to create a cover out of. Oh well. Back to the drawing board. Except... I had visited that cemetery on the day prior when it wasn't rainy and dark. Maybe with better weather I stuck around longer to take more photos? Turns out I did!
The second photo had the same angle I liked from the original photo, but it wasn't the cover I wanted. Too dark. Cropped too tight. It would never work.
Except... maybe it would if I put some work into it? Let's take a look, shall we?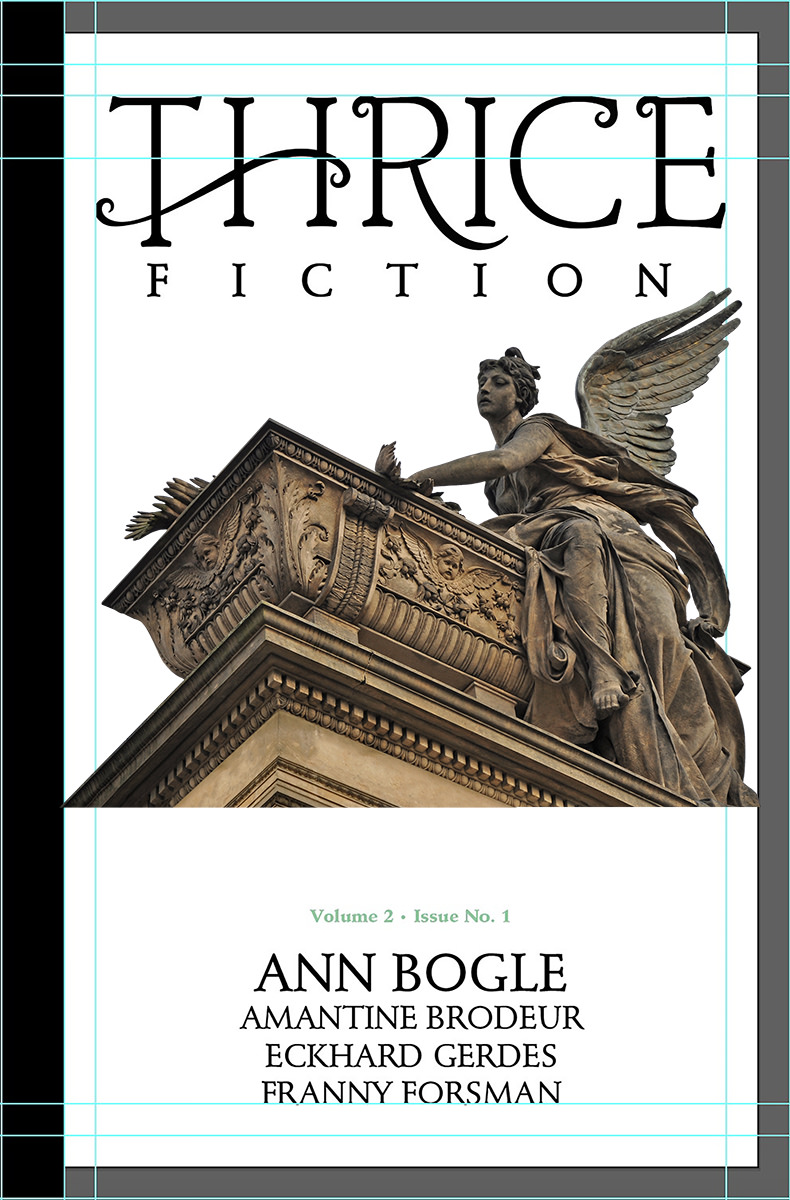 Well, lightening it up a bit showed that there's enough pixel information in the shadows to work with... but how will I fill in the missing information at the bottom? Hmmm... remember that first photo that was kinda boring and flat? How about I cut out of that one and see if I can make use of it...
Oh yeah. That's perfect. I can easily warp it into a base for my murdering angel...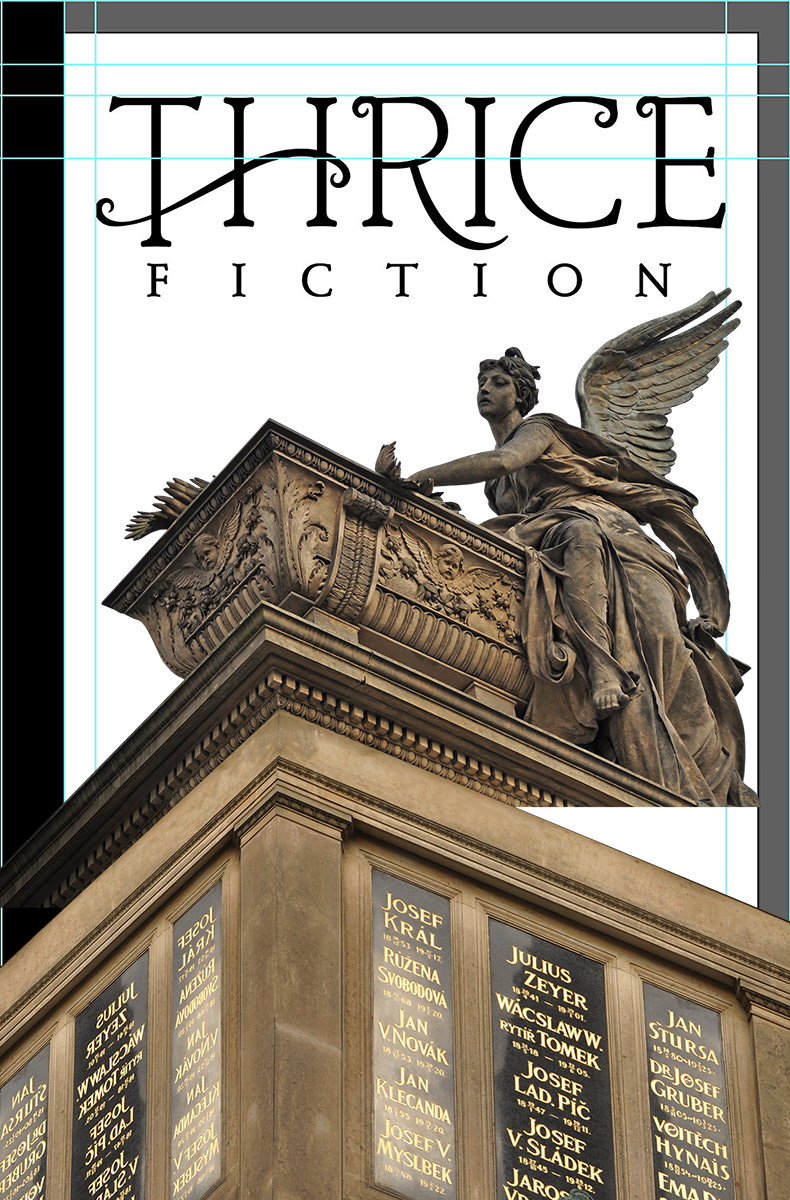 Cool. But there's still a long ways to go before this is the cover I've got in my head. First of all I have to paint in the missing bits and paint out the panels with stock photos so the names of our contributing authors can be easily read. It also needs to be much, much brighter. And maybe I could place a building back behind it to add a little visual interest? I've got tons of photos of Prague, so I could probably find one that works. And, say, what if instead of a bright blue sky I tried a brilliant orange sky in an attempt to tie everything together into a cohesive image?
Blergh. That building is adding nothing but confusion. It needs to go. And while I like the idea of an orange sky, that's a color that doesn't reproduce well in CMYK printing, so I really think it needs to be blue like I originally envisioned...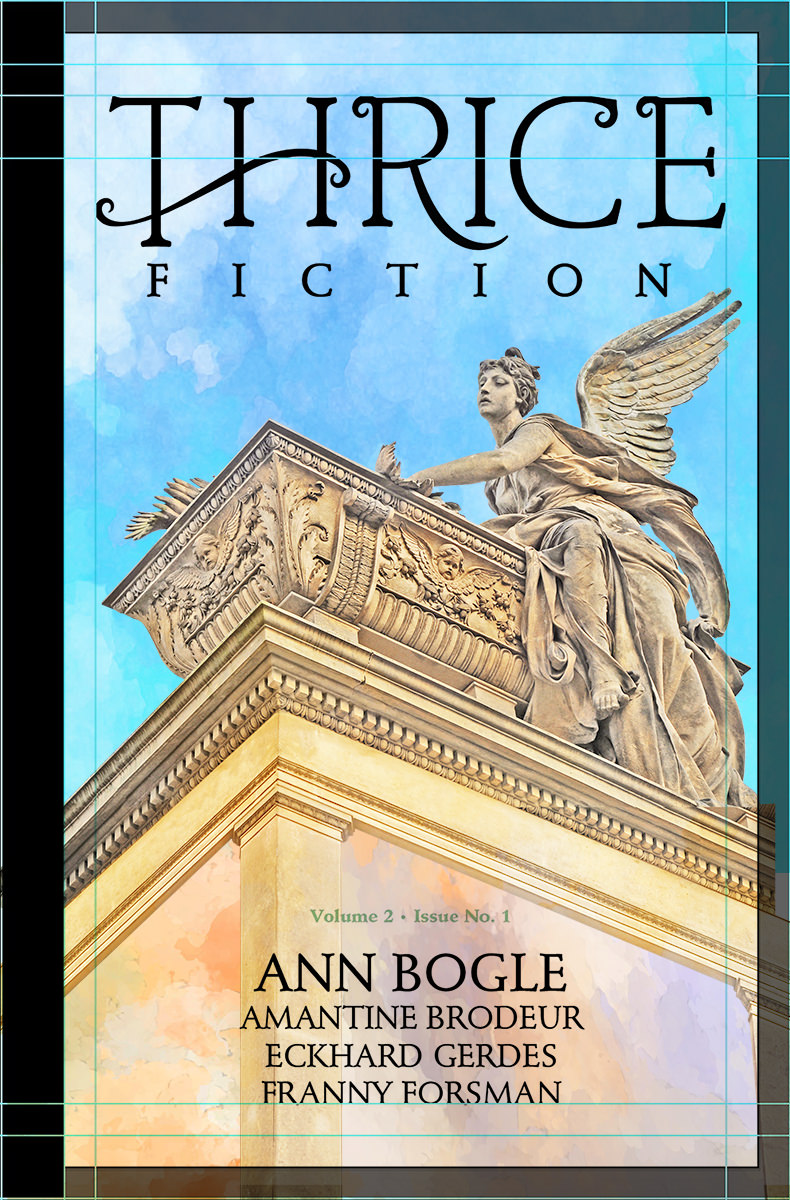 Now we're getting somewhere.
From here on out it's a lot of painting. There's a "watercolor" filter I use to speed up the process, but you can't just push a button and have all the work done for you. Well, actually you can do that, it's just that the results aren't that great. I go in and repaint features... do the watercolor filter... see what works and what needs to be worked on... undo the watercolor filter... then repeat. FOR HOURS! The face of the angel is practically untouched, and I went very light on the watercolor, because I wanted it to be easily "understood" by the reader. The further I got away from her face, the more radical the repainting becomes. I adjust contrast... add stock photo paint splotches for interest... simplify details to be more impressionistic for the watercolor filter... it's just refine... refine... refine...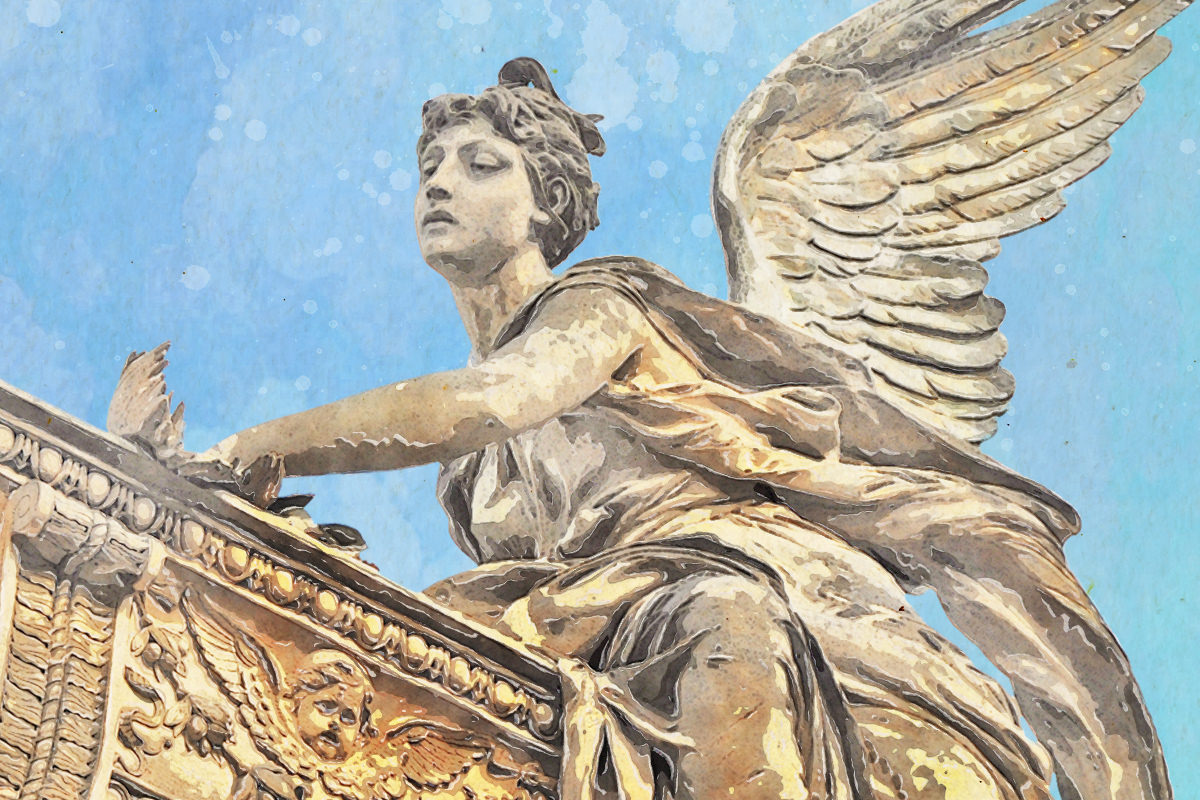 Eventually I get to a point where I've gone too far. So I step back to a previous version and I'm done. Thrice Fiction is reborn...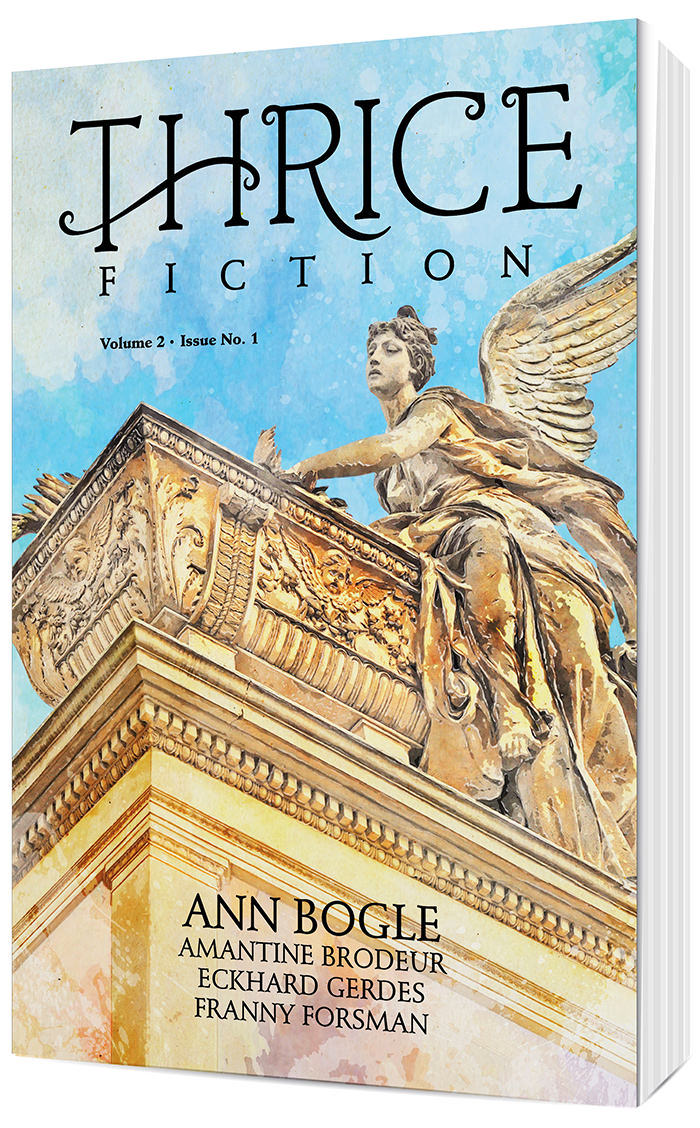 You'll note that the black strip on the left side (a carryover from the original magazine design) was abandoned. There's precious little horizontal space on the smaller book size, and I wanted to devote as much cover area as possible so our artists can fill it up. I also zoomed in on the angel quite a lot because I thought it was more impactful and prettier to look at this way.
Not exactly what I had in my head, but pretty close... murdered cupid and all. You can buy a copy with its glorious 128 pages for just $12 at the Lulu Book Shop.
Tomorrow I'll take a look at the interior of the book and go through all that drama for you. Sounds like fun, no?
Posted on Monday, January 11th, 2021

After nine years, Thrice Fiction magazine (the amazing venue for short-form fiction that I created with RW Spryszak), came to an end with our December 2019 issue (You can still read all 27 issues absolutely FREE on our website).
But we're not dead yet.
RW and I just wanted to be freed from the thrice-yearly schedule that was becoming more and more difficult to keep. We don't get paid, we just do this for the love of it all, so the magazine always has to take a back-seat to Real Life. This kind of scenario is not conducive to a deadline.
And so we've relaunched with Volume 2, which no longer has a schedule. It's also no longer free, but it's as cheap as we can possibly make it (neither of us is getting rich here, we just need something to help cover our costs, which are more than you might think).
Here's our fist issue of the new Thrice Fiction...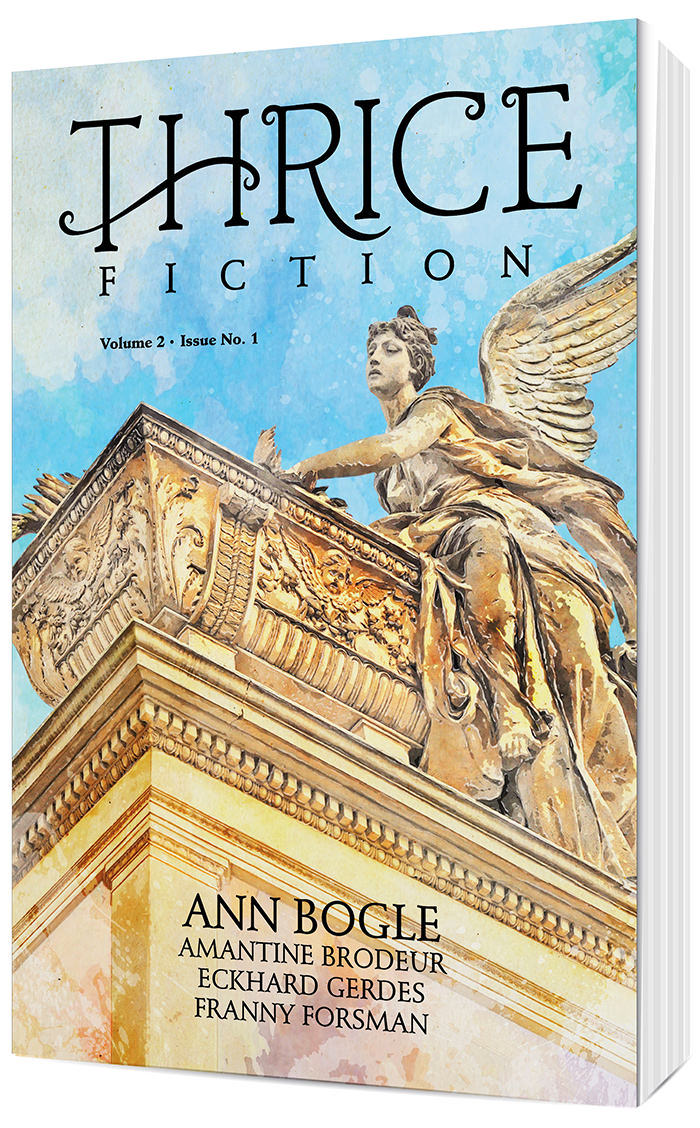 You can buy a copy with its glorious 128 pages for just $12 at the Lulu Book Shop.
For the next two or three entries here at Blogography, I thought I'd go over the design process that went into it.
Starting with the new logo.
My goal with the original Thrice Fiction was to have the design fade away. Elements were intentionally stark, plain, and forgettable. The logo I came up with wasn't so much a "logo" as some of the plainest type I had available stacked up and centered...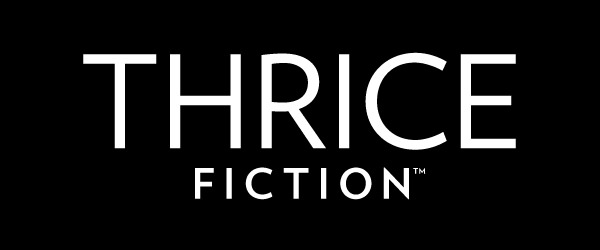 I actually had people comment about how "Thrice is pretty in execution, but plain in presentation." And I was like "Well, yeah, that's what it was designed to be!" We had some amazing artists contribute to our covers, and making sure a fancy logo didn't detract from their generously-donated work was all part of the plan.
But since Volume 2 was going to be sold in book stores and such, a different approach needed to be had. Slapping some plain type on it was not going to work, so I made a list of objectives...
Uniquely our own. Custom.
Established aesthetic. Looks like we've existed for 100 years.
Victorian to Edwardian era sensibility.
Memorable and focused for branding across all media types.
Quality. Looks like the contents are worth paying for.
Cheap. Minimal dollar investment for the overhaul.
The last one, cheap was probably the biggest part of the puzzle. And so when I designed the interior I picked from typefaces which I already owned licenses for. The main typeface then became the base for the logo upon which I could build. The only "design" thing I did here was to rough in an extension for the leg of the "R" so I'd know to leave space for it...
Now comes the part where my ADHD kicks in. I am obsessive about spacing consistency and working to make sure that elements are lined up as much as possible. It just makes for a cleaner logo that way. A lot of work goes into a project like this before I even get to a starting place...

It's not uncommon for me to use dozens... or even hundreds of guides as I am figuring out the placement of all the pieces...
The "T" at the beginning of "Thrice" is problematic, because its width is defined at the very top by the crossbar. This leaves the "F" in "Fiction" looking off-center. I wanted to address this in case the logo ends up in a place where it would be helpful to look more balanced, so I roughed in a swash there so it would add visual width...

Note that at this point I planned on putting the "3" endmark (which signifies the end of each story of the interior) within the "C" because I thought it would look cool. It did look very cool. But it also added clutter and distraction, so it was dropped. Also note that I was planning on hiding a backwards "3" in the swash to be clever. This would also be dropped for clutter.
And here you can see me once again going crazy with the guides so I can line everything up in a mathematically-pleasing manner...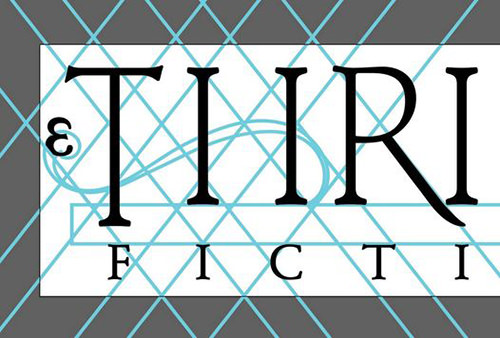 From there it's just endless futzing around.
Making the leg of the R be swoopy and pretty. Adding curls on the R, C, and E to tie them to the curls on the swash across the T and H. Cleaning up the letterforms by narrowing or widening the space they occupy to better line things up. That kind of thing...
This is what I went to print with because I ran out of futzing time. There are still some minor tweaks I need to take care of until I'm happy with our new logo (starting with the swash going too narrow too quickly and looking jerky as it crosses the "T", which really, really bugs me). The work is never truly done until the deadline arrives, and even then it doesn't stop.
That's "design" in a nutshell.
Overall I'm quite happy with the logo because I think it fits my objectives well and looks nice on the shelf. So way to go, me!
If this kind of stuff interests you, tune in tomorrow when I discuss the cover art... then again on Wednesday when I discuss the interior art. Big fun awaits.
Posted on Sunday, January 10th, 2021

Free speech has consequences, which is nothing new to bloggers like me... because an all new Bullet Sunday starts... now...

• Colosseo! My mom's favorite landmark is the Roman Colosseum. She asked to visit it every trip we made to Rome which, I believe, was four times (it was a cruise stop twice and a trip stop twice). I'd ask her why she loved it so much and she'd say "I don't know... I just do." When I told her that maybe she was a gladiator in a previous life, she thought that was funny and started telling people that when showing this photo...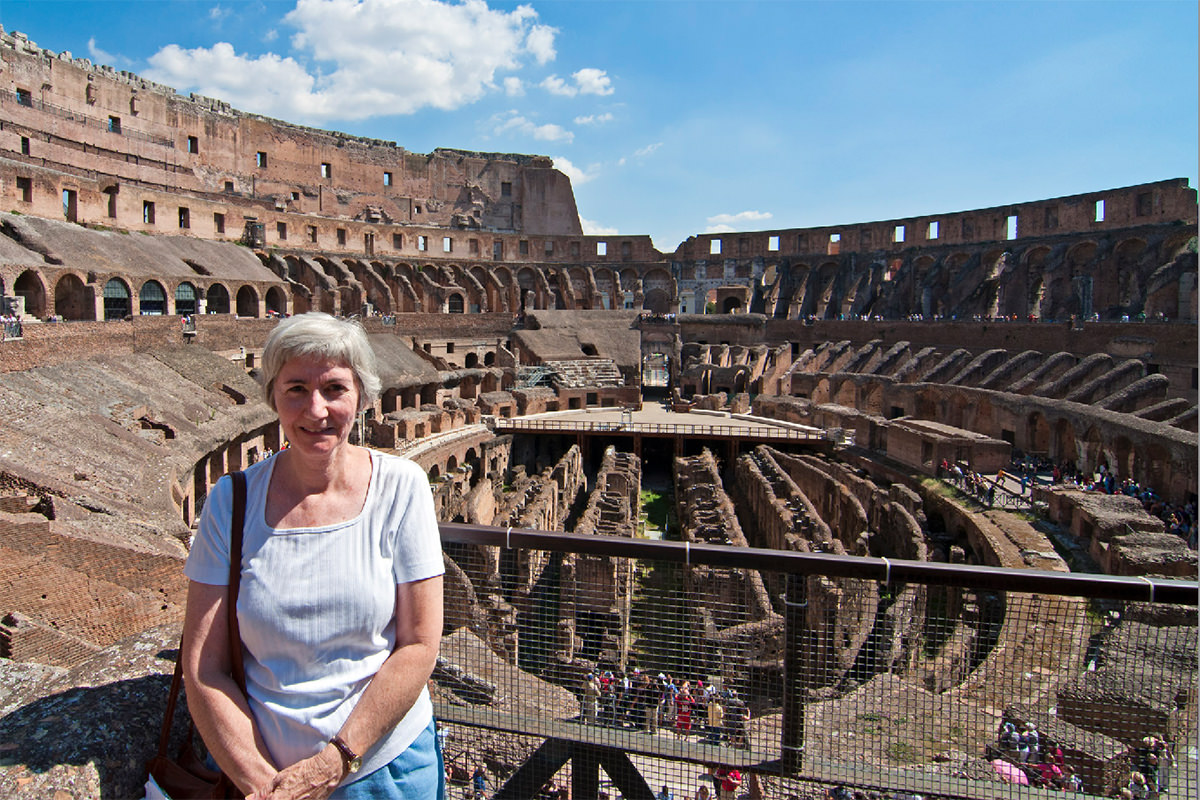 Because of this, I very much wish she was still alive, because Rome is renovating the Colosseum, and I think the idea of being able to stand on the floor of the Colosseum arena would be so thrilling to her that we would have definitely made a fifth trip once it was completed. This is really, really cool, and I'd love to be able to visit again. But it won't be the same without my mom there to share it.

• LEGO! I have to say... whomever works in LEGO advertising which came up with this ad for a "Make Your Own MiniFig" game apparently doesn't have the same filthy mind that I do, because, well...
Is that a hotdog in your pants, madam, or are you just happy to see me?

• PERFECT! I've watched this TikTok more times that I'd ever admit. It's hilarious because it's true...
Though I'd argue the point that this is how girls make coffee, because I see plenty of guys doing essentially this. And given my distaste for coffee, this would absolutely be me as well.

• Cute Gay Shit! TikTok is so much more than funny coffee memes. There is some genuinely touching stuff on there that gives me hope for all humanity...
And just KNOW that this gentleman gets lumped in with people he's condemning because of how he looks and talks. You know it. God bless you, sir.

• NEWSFLASH! FORBES: Close To A Worst-Case Scenario—Former CDC Director Issues 'Horrifying' Outlook For New Covid Strain. If your balls don't shrivel up after reading this, then you probably don't have balls. But you are alive if you're reading this, balls or no balls, which means you should be horrified that there are still people not taking this shit seriously. Protect yourself. Protect others. This has catastrophe written all over it.

• Specs? Apple is the most ridiculous fucking company. They want to make their products as simple to use as possible by taking all the "tech" out of everything. Which is fine. EXCEPT YOU CAN NEVER MANAGE TO GET ANY FUCKING SPECS FOR ANYTHING THEY SELL. Will this cable work for charging? I dunno. What is the maximum transfer rate for this cable? I dunno. Can I quick-charge with this cable? I dunno. What about the charger? I dunno. Can you at least tell me if it is USB-PD compliant? I dunno. They literally tell you NOTHING in their support docs or on anything in their entire store. — If you want to shield your customers from scary tech-speak, fine. But at least have the fucking information SOMEWHERE for the people who need to know this shit. Their solution for everything is to say "Well, if it doesn't work, you can always return it." Which is an astound attitude to take considering that it wastes my time and their resources, and I'm getting seriously tired of it.

• Apolitical! My existence right now:
REPUBLICANS: You're just a Democrat shill.
DEMOCRATS: You're just a Republican shill.
ME: I AM NEITHER A DEMOCRAT NOR A REPUBLICAN! I DON'T UNDERSTAND THE NEED TO WORSHIP POLITICIANS AND FALL IN LINE WITH A POLITICAL PARTY RUN BY WEALTHY ASSHOLES THAT ARE PROPPED UP BY WEALTHY CORPORATIONS WHO DON'T GIVE A SHIT ABOUT US! WHY CAN'T I JUST BE A NON-PARTY SHILL?! WHY DOES MY SHILLNESS HAVE TO BE ATTACKED LIKE THIS? I AM A SHILL FOR ALL HUMANITY! AND A SHILL FOR CATS! TOWANDAAAAAAA!!!
Because, like, how could you not be a shill for floofy bellies like dis?

Stay frosty out there, my friends.
Tags:
Apple
,
Bullet Sunday
,
Bullshit
,
Cats
,
COVID-19
,
LEGO
,
News
,
Pandemic
,
Politics
,
Rome
,
TikTok
,
Travel
Categories:
Apple Stuff 2021
,
Bullet Sunday 2021
,
Cats 2021
,
LEGO
,
News – Politics 2021
,
Travel 2021
—
Click To It:
Permalink
—
2 Comments: Click To Add Yours!
Posted on Saturday, January 9th, 2021

The holidays being over aren't all that sad for me... I don't celebrate any of them... but I kinda feel bad for my cats. Always something new and exciting for them. Lights hanging outside the windows... Christmas cards they can chew on (which is appropriate considering 5 out of the 8 I received were addressed to them)... and all kinds of other stuff that's new and different...
One thing that I wasn't anticipating was Jake and Jenny shedding like it's the middle of Summer when there are some weeks of Winter left to be had. The fur is literally flying everywhere, and petting them results in handfuls coming off in my hand...
And apparently all that shedding is itchy, because my cats will not leave me alone. They want to be petted and scratched and scrubbed...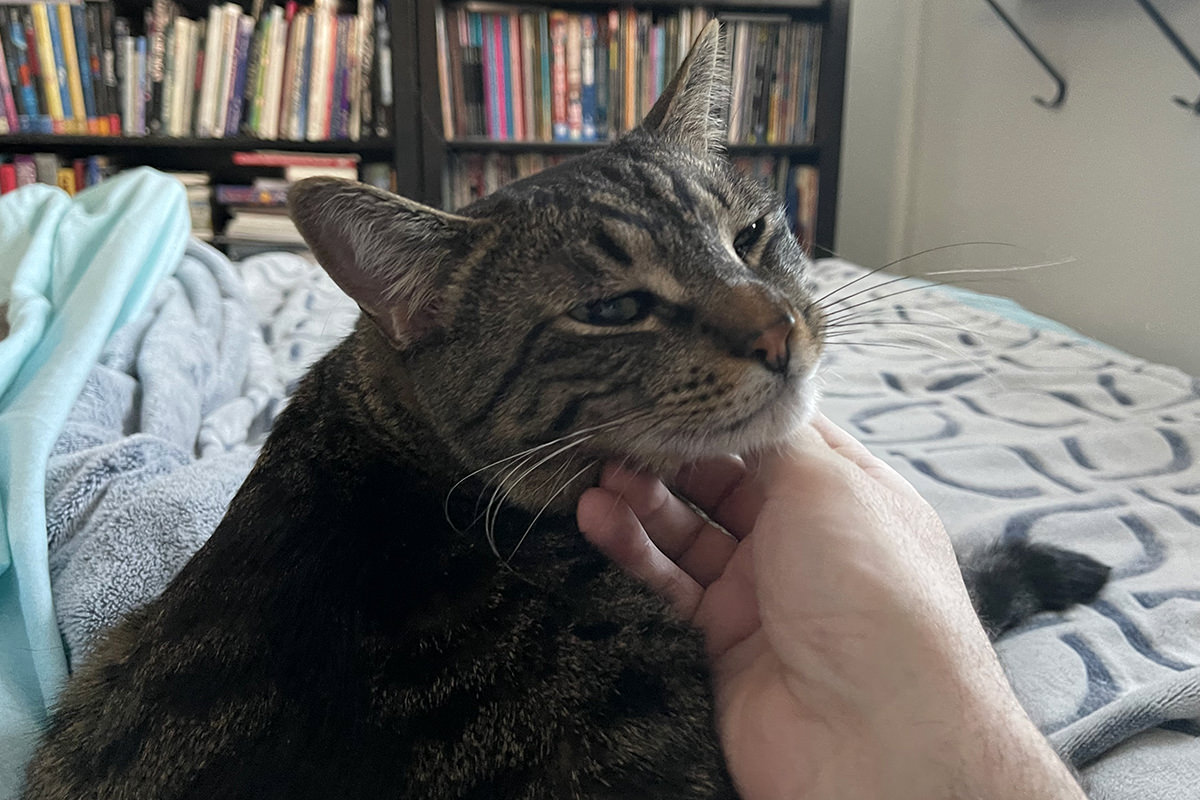 From the minute I get home until the minute I fall asleep, they are wanting never-ending scratches.
I'd write more exciting details about my needy cats but, well, my cats are being needy.
Posted on Friday, January 8th, 2021

I got up early this morning to get some work done before feeding the cats and running into Tourist Town to do some grocery shopping. Early morning shopping is the best shopping because the store is so empty. But also? My cupboards and refrigerator are low on staples, so I was excited about having food in the house again.
The other big draw for my grocery shopping today was a coupon I had which gives me $11 off a total of $110 or more. That's 10% off... on top of the other coupons I have. I love it when opportunities like this comes along, because it's the one time I allow myself to buy stuff that's not on sale. But you have to be careful. One penny under $110 and no discount for you. I kept careful track in my head and got to $120 (actual total $116.88), so way to go, me.
Along with a shiny new iPhone, I changed my service plan with AT&T. My new phone can do 5G, my service plan didn't have 5G, and even though I probably won't see 5G any time sooon where I live, I'd like it available when I travel (assuming I travel again). AT&T had a deal where I could get my two lines for $65 a line (with auto-pay and paperless billing enabled), and I'd actually be saving money in the long run over what I had, so sign me up...
Before (virtually) signing on the dotted line, I went over the details of what I would be charged very, very carefully with the phone rep. I wanted to be darn sure there weren't going to be any hidden fees above what I was already paying. After a very patient person went through everything with me... twice... I changed my plan to the new $65 per line.
My previous bill was a mess. I had no idea what was going on because AT&T jerks you around with pro-rated billing and activation fees and other stupid shit that I had no way of understanding. But then today my current bill with none of the extras arrives. And I looked it over very carefully. And, wouldn't you know it, only ONE of my lines was $65. The other was $75...

=sigh=
So I online-chat with AT&T and explain the problem. After pulling up my account, I'm told this:
I see that you have been charged for monthly service charge. That is why you got high in your bill.
I explain that my bill very clearly shows one of the lines was charged $75. Then I get this:
I see that you have been charged $65 for one account and $65 for another account. But this time they have added $8.33 for one account.
I then have to tell them that I am looking at my bill and it clearly shows one line is $75, so I don't know where they're seeing both are at $65. I don't care what the fees are showing, the amount per line I was quoted (and which is still showing on their website) is NOT being honored.
After a while of them "looking into it" I get this:
Yes you are right. Sorry for that. Let me go ahead a note to change that for you. So it will not reflect in your next billing cycle.
Look, I really want to give AT&T the benefit of doubt here, but I see this shit ALL THE TIME, so it's tough not to be cynical. I signed up for a new plan so I could get 5G at $65 a line (if I use auto-pay and paperless billing, which I do). but I'm charged $75 for one and $65 for the other. And the ENTIRE TIME I'm chatting with customer support, I think back to my grandmother and mother being easily confused by pages of bills that are designed to obscure how much YOU'RE ACTUALLY BEING BILLED FOR, and I know beyond any doubt that they would have just paid the overcharge month after month because they didn't know any better. And if they did call customer support, they undoubtedly would have believed the bullshit about "extra fees" and not pressed the issue any further.
This is rage inducing.
And I cannot help but ask... is AT&T doing this on purpose? Do they make their billing statements confusing and encourage auto-pay and paperless billing so they can rip you off and have less chance of being caught? I am seriously outraged right now. I'd dump these assholes in a second if other carriers were any better... but they're all the same, aren't they? So what good would it do?
If the Democrats in power want to make me happy after they're done sucking off the lobbyists lining up to pay them to betray US citizen interests... FIRST they can put us on permanent Daylight Saving Time so we're not dicking with the clocks twice a year. THEN they can pass an act which forces all these asshole companies to not hide all their charges when you sign up for shit. The price they advertise should be the price you pay... AND IT SHOULD INCLUDE ALL THE FUCKING FEES AND OTHER BULLSHIT THAT **NEVER** ALLOW YOU TO KNOW WHAT YOU'RE PAYING BEFORE YOU COMMIT TO A CONTRACT!
But you know what? AT&T probably shovels millions upon millions upon millions to politicians so they can just keep doing exactly what they're doing. Which means nothing is going to change any time soon. Our politicians won't do anything to threaten that sweet, sweet lobbyist payola now would they?
At least not in my State. Senator Patty Murray is OWNED by the medical lobby, and we all know how much they just LOVE to obscure costs in their billing. Major surgery results in pounds of never-ending bills that are intentionally confusing so you just shut up and pay. Which is exactly the kind of behavior our politicians crave... "I'll shut up just so long as you pay."
God bless America.
Posted on Thursday, January 7th, 2021

I have passed out exactly once in life, a long time ago. I was in high school. I wasn't feeling well and had to have my blood drawn at the clinic so they could try to figure out what was going on. My mom and I were standing at the elevator and the next thing I knew I was waking up minutes later with strange people surrounding me and my face being slapped. I don't remember anything about it and had to be told that I passed out.
Last night at around 10pm, my tongue swelled up on one side. I battled it with the antihistamines I was given for just this purpose... crushing them up so I could use a straw shoved back in my mouth to swallow them. I had my epi-pen ready just in case. I passed out around 7:30am. I remember the alarm going off to feed the cats. I remember coming back up stairs. And then... nothing. I woke up at 11:05, kinda half in bed. My tongue and the floor of my mouth still swollen a bit. Lips a little swollen too, which was new. But there was no pain, which was nice.
Passing out is so weird. One day I'm going to have to read up on the science about it. The thing that bugs me about it is not the losing consciousness, but the memory loss. I don't remember ANYTHING. So weird!
And then...
...I remembered that I had my Apple Watch on, and it had recorded everything.
And the data it had collected is interesting...
As you can see from the above, I nodded off a little after 1:00am. Then I was wide awake (or being still) around 1:30am. I finally drifted off to sleep around 5am when the antihistamines I had been chugging all evening started to work. I was awakened from a deep sleep at 7am when the Alexa alarm went off to feed my cats breakfast.
And then...
I only thought that I passed out at 7:30am. What happened is that I passed out again immediately after I got back upstairs to my bedroom. And you can see it. No blue bars where I was drifting off into sleep... just an immediate crash from green to purple when I lost consciousness. Something I've never seen before.
Now, from a health standpoint, this is kinda scary.
But from a technical medical standpoint? How cool is that?!
The rest of the day was rough. I managed to go into the office, but my tongue was still swollen a bit, so it was not a comfortable experience for me. I think I may have even drooled during a Zoom meeting?
It's so hard to tell. Apple Watch doesn't record that information. Yet.
Posted on Wednesday, January 6th, 2021

I'm just going to get this out there... not a fan of JaBiden.
I never wanted Joe Biden as my president. I definitely didn't want ex-prosecutor Kamala Harris as my Vice President. And Hillary Clinton, who is the very model of a garbage politician, was nowhere near my list of desired presidential candidates when she was shoved down our throats last election. But my thinking that she's "garbage" isn't saying much because 98% of our politicians are lobbyist-fed garbage as far as I'm concerned. So long as MONEY is allowed to corrupt our politics and buy off the government, the entire system is garbage.
But my loathing of Biden, Harris, and Clinton pales in comparison to how much I outright despise President Trump. His every single move was made to exclusively benefit himself, corporations, and the über-wealthy wealthy... in that order. Anybody who says otherwise has never actually looked at what he did for his four years in office and asked "Who does this really benefit? He exploited people's ignorance, bigotry, and Faith to screw us all.
So, yeah, I'm saying good riddance to Trump and will be very happy to say good riddance again when JaBiden leaves office.
Good Lord. How in the hell have we gotten here? That Trump and Biden are what we end up with as our leaders is is both inexplicable and sad. It's like the bar is now so low now that nothing will surprise me any more. Big Bird winning the presidential election in 2024? Yeah, sure. Whatever.
But what really gets me is how people become fanatically devoted to politicians in the first place. They're just people... not Jesus... or The Beatles. It makes zero sense... and I'm saying that about both Republicans and Democrats. I was absolutely bewildered by the Cult of Hillary Clinton. What was it about her that had people so consumed? And we don't even need to talk about the Cult of Donald Trump, which is even more bizarre to me. I mean...

Um... well... that's... unique? Is the word I'm looking for? Photo from the European Press Agency
From what can be theorized, anybody this devoted (yet this different in their varying ideology) are just all hating the same thing. Hate is what binds them together. It has nothing to do with loving their country, which was made quite clear when they assaulted the police, stormed the Capitol, tore down the American flag, then raised a Trump flag in its place. I mean, aren't those all the things that anybody who truly loves the USA would say are a bad thing?
What's amusing (for lack of a better word) is the sublime ignorance which is driving all this.
I've heard more than a couple times how people are branding this as a "revolution." I keep hearing things like "This is what had to happen! When we declared our independence in 1776, did we write a letter to the British telling them that we were going to be America? NO!! We went to war and kicked them out!"
Except... um... yeah... not so much.
The entire history of American Independence is well-documented, if anybody should care to investigate it. In actuality we wrote a rather important "letter" and did indeed "send it" to King George of England by publishing its text in colonial newspapers. It's called the Declaration of Independence. Perhaps you've heard of it? From what we know, the letter arrived in Britain via papers in Belfast the month after it was signed. It was all a formal affair, and the British even published a rebuttal to it and everything.
Also? There was massive support for the Revolutionary War. Like everybody in the colonies was behind it. This wasn't a splinter group who wanted to break away from England... absolutely everybody wanted it to happen. So a handful of people buying into completely unfounded election conspiracy theories which have been disproven over and over and over again... and even been disproven by Trump-voting Republicans... does not a revolution make.
I mean, I'm not happy Biden is our president either... but holy shit! SEDITION?!?
And now, if you'll excuse me, I'm having another idiopathic angioedema attack. Half of my tongue has swollen so large that I am having difficulty swallowing. Which is a bummer, because that's he only way I can take huge loads of antihistamines in order to stop it from getting so large that it chokes me to death. What I'm having to do is crush them into powder, mix with water, then use a straw shoved way back in my mouth to get them in me. How fun!
My evening will be spent propped up by pillows with an epi-pen in my hand, just in case.
And, assuming there's a country left when I wake up in the morning, I guess we'll see what tomorrow brings for the United States of America.
Posted on Tuesday, January 5th, 2021

Eastern Washington is home to many, many small unincorporated towns which are basically just places which have some kind of historical reason for existing... a stop on a now-abandoned railroad or trail... an important business that used to be there... or maybe a place which intersects land owned by local farmers. And, to many of them, the nearest major city (usually Spokane) is 1 to 2 hours away. They usually don't have stores, shops, or restaurants to speak of (those being anywhere from 30 minutes to 45 minutes away). If they're lucky, there might be some kind of general store with a few edible staples and various sundries amongst the grain and feed, but there's no full-on grocery store. Instead they have to make their own meals from what they can get at the nearest grocery store when they go once or twice a month. That's just how it goes.
I've been thinking about this a lot lately.
Partly because I am sick to fucking death of seeing political maps of Washington State where the entirety of Eastern Washington is painted red making it look like a gajillion people vote red and it's unfair that "blue Seattle gets to dictate who runs the state." That's a pretty gross exaggeration. Some of these towns which turn counties red have like A DOZEN PEOPLE in them. And land doesn't vote. So Washington State is getting the political representation which is actually representing the majority of the voters in it, regardless of what story a map is presenting.
However... the other side of that coin is the fact that these small towns DO exist. These dozens upon dozens of rural communities and the people in them DO endure. Often times they are the people who farm our land and grow our food and have communities which MEAN SOMETHING. So having them wholesale ignored by our State government is fucked up beyond all reason.
Is what's best for Seattle always going to be what's best for little Benge, Washington with its 50 people? Fuck no. But the rules Benge lives by are the rules major population centers over the Cascades dictate to them. District and County governments are supposed to have power to make sure they get fair representation but, let's face it, their power is severely limited in the grand scheme of things. Ain't nobody with major political power speaking up for the good people of Benge...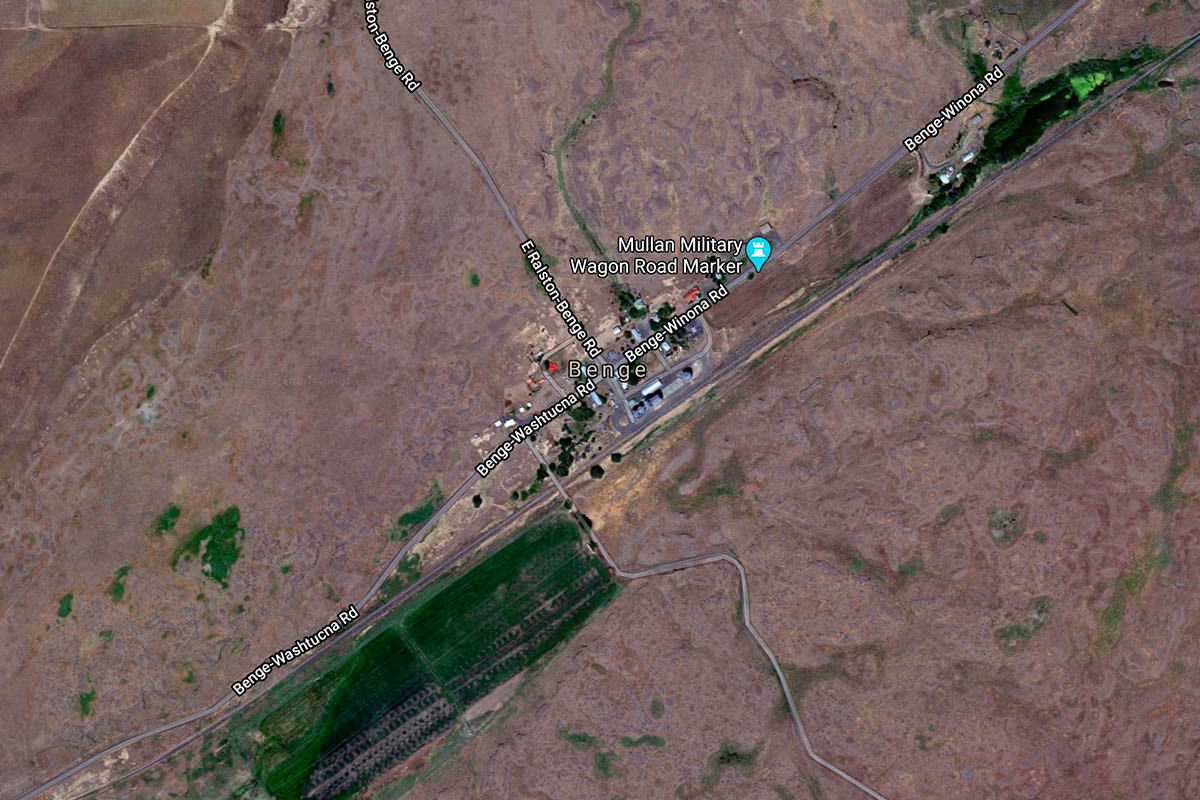 Benge, WA as seen from Google Maps, ©Google
The red dot on this map points to where Benge is in Washington State...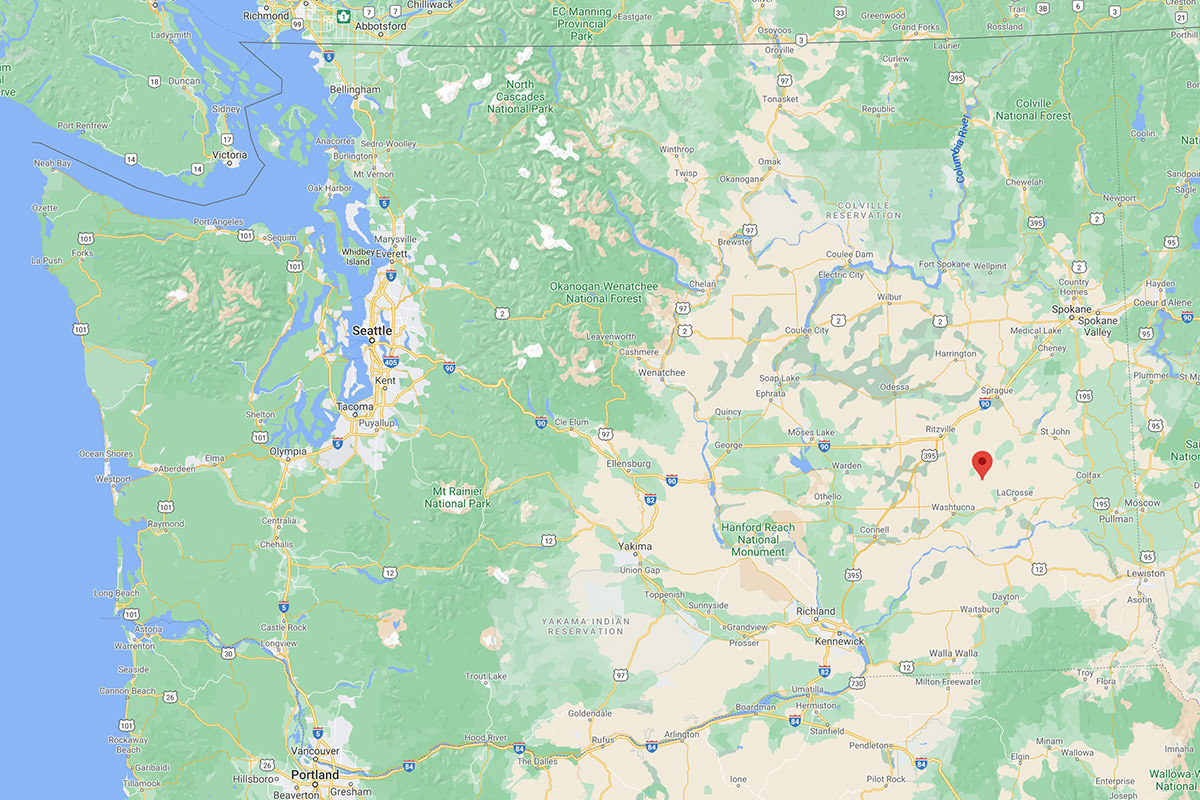 Benge, WA as seen in relation to Washington State from Google Maps, ©Google

Now, I've never been to Benge. Odds are I will never step foot in this town.
But a part of me really, really wants to.
I would love to travel to all these small, so-called "nothing" towns that dot my side of the state as a way of acknowledging that they exist. That the people who inhabit them deserve to be recognized for the thankless work they do to grow our food. To remind myself that they are a part of Washington too, and that the lives of their citizens mean something when it comes to the rest of the state.
Even when they get lumped into politics of a city that's four hours away.
Especially then.
I dunno. Benge is 2-1/2 hours from where I live. However, it's an easy 35 minute drive off I-90 on my next trip to Spokane... so maybe one day? I'd like to think that Benge would have a kind word for a stranger passing through town. It's a nice thought to have, isn't it? I'm from a small, rural, Eastern Washington community too, after all.
I just won't mention that there's a grocery store ten minutes from my house. No need to flaunt my big-little-city luxuries like that.
Posted on Monday, January 4th, 2021

Well today is sure shaping up to be a treat.
I started work very early today because I noticed before going to be last night that I had quite a load of emails piled up which I had been avoiding since last Thursday. I was tired, but I had a Coke Zero to keep me on-point, so it was all good. I fed the cats when Alexa chimed and Jake and Jenny came running into my room at top speed, grabbed an apple for breakfast, then went back upstairs to work while in bed. Because it's warm and comfy up there.
And proceeded to trip on the stairs and twist my ankle because I was trying to avoid a cat toy that I didn't notice on the way down.
It was all downhill from there.
Culminating with the knee on my jeans completely ripping out when I sat down in my car...
I think that there was a small hole there that I could live with. But something happened in the last wash which took things to another level entirely. Oh well. Since I now look so fashion-forward (don't people pay to have their jeans pre-ripped so they look worn?), I went ahead and wore them into the office. And nobody said a thing.
In other news to give you an idea of how my day started...
You know how you wash your hair in the shower but then FORGET that you washed your hair so you wash your hair AGAIN... but since your hair is already clean, it doesn't know what to do with the shampoo and just becomes a mass of foam? — Well, guess what, that also happens when you forget that you've already washed your BODY. Which is what happened to me this morning. Not sure if women get this as badly as many men would... but... BODY WASH FOAM PARTY IN MY SHOWER THIS MORNING! The good news is that I am super-clean today. The bad news is that I am getting old enough that I forget when I've already washed myself.
Oh well. My brain was pretty good to me while it lasted.