Posted on Wednesday, August 3rd, 2022

For much of my adult life I've lived in upstairs apartments. Spider sightings were blissfully rare, and I never had to worry much about creepy-crawlies. Then six years ago I moved into my current home which is at ground level. And while there's not a lot of spider activity, there's more than I've been accustomed to. Much to the delight of my cats, who thrill at playing with a spider for a while before ultimately eating it then puking it up.
I don't want to kill anything, but I don't want to have to clean up cat puke either, so I invested in a box of those tiny paper Dixie cups specifically to be used for catching bugs and transporting them outside. They work great, and can be tossed afterwards so I don't risk dying from spider germs being deposited on my drinking glasses.
Today I found a weird tan spider by my cloak closet and went to get a Dixie cup so I can take him outside. After putting him in the shady part of my flower garden, I decided to count how many cups were missing so I could determine how many spiders I've saved over the years.
The answer is thirty-four.
That's thirty-four times I made the choice to not splat a spider with my shoe but instead set him free. I'd like to think that there's some future karma benefit at work here for me here... but the fact that I'm lucky enough to have a home in the first place is enough for me.
Posted on Tuesday, August 2nd, 2022

This morning I woke up and really, really wanted a toasted bagel with cream cheese. Fortunately, I had both. Unfortunately I had a very busy morning and didn't have time to fix one up before I left the house for work.
But I never stopped wanting that dang bagel!
All day at work. All through my errands after work. Right up through the evening when I finally got home... that bagel was all I could think about. And so that was my dinner. Toasted to get it crusty then microwaved for 10 seconds to get it softened. Then schmeared with cream cheese. It was perfect.
And now I feel as though I have nothing left to live for.
Except chocolate ice cream for dessert, of course.
Posted on Monday, August 1st, 2022

September 21st.
Cannot possibly enunciate how badly I want to see this series. I haven't loved many of the Star Wars movies after The Empire Strikes Back... but Rogue One is definitely a huge exception, and Cassian Andor is a big part of the reason why...
No K-2SO in the poster. I'm guessing that he comes along shortly. Or at the end of Season 01...
Apparently there are three planned seasons... ever-escalating quicker until the series matches up to Rogue One.
Posted on Sunday, July 31st, 2022

Oh look! Summer is half-over and the temperatures are climbing past 100°, but it's cool in this house... because an all new Bullet Sunday starts... now...

• Uhura! I was very sorry to hear of the passing of Nichelle Nichols. It's impossible to quantify just how important her role on Star Trek was when it comes to the history of television... and the world, really. The now legendary story of how she was going to quit Star Trek until Dr. Martin Luther King Jr. changed her mind because it showed the world how our future should be was just the beginning of her influence...
If you're interested in a very loose interpretation of events... this episode of Drunk History is darn good...
I have watched that so many times.

• Wood! Maybe it's because I love woodworking that I've watched these a half-dozen times... but I honestly think it's so cool that anybody would find it fascinating...
I love videos like this. Entirely too imaginative and clever. There's only a few videos, but entire YouTube Channel is gold.

• PANDA! Bamboo Eating Panda is no longer interested in eating for your amusement (here's a link in case TikTok is being a dick)...
He's still adorable, however.

• Girls? I've been looking forward to Paper Girls since I found out that they were adapting the comic book series, which was excellent. — Unfortunately, I find it to be nearly unwatchable. In the comics, the story really shines through... it's imaginative and interesting and everything you could want in a comic. But the Amazon Prime adaptation? EVERY FUCKING SCENE HAS THE DRAMA AND INTENSITY DIALED UP TO ELEVEN! It's all screaming and overacting on top of overacting on top of overacting. And I do not blame the young actors for that... when they are given quieter moments (which is rare) they are darn good. I blame the director(s) who apparently pushed them to be fucking insane level to a bizarre and intolerable degree. And the worst part is when they use swear words, because they don't sound even remotely natural... they PUNCH. EVERY. FUCKING. CURSE. and it's so jarring as to be disastrous. Absolutely hated this series, and nobody is more bummed about that than I am...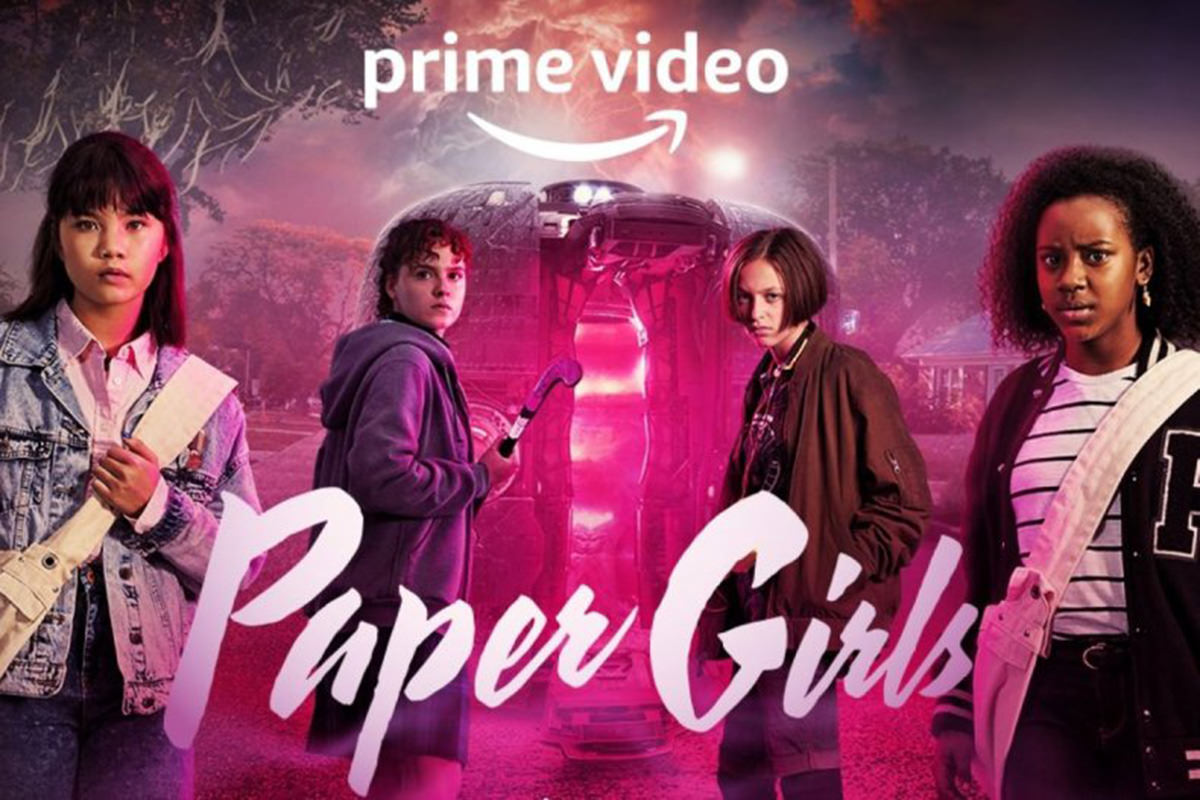 Be careful what you wish for... because for every Umbrella Academy, there's whatever the hell this was.

• Deadly! Utterly fascinating. Utterly terrifying.
Add to this the advent of antibiotic-resistant bacteria... and the future looks pretty scary if science can't find a way out of this.

• ChocToc! Look, I'm not saying I ate a lot of Choco Tacos... but I am still sad that they are being discontinued because my life was made easier knowing that they were out there when I needed them...
WHAT WILL I DO WHEN I CRAVE A CHOCO TACO NOW?!?

• HYPOCRISY! So remember… I know I will… (here's a link in case TikTok is being a dick).

And that's all the bullets we have for today.
Posted on Saturday, July 30th, 2022

I've been performing an experiment on my cats. Well, not both of them, it's just Jenny.
It was curious to me how she always always always follows me up to bed... unless it's before her 9:00pm nighttime snack. If I head up at 9:30... 10:00... 11:00... midnight... she is right on my heels. But if I decide to work upstairs and head up at sayyyy... 8:45? Nope. She will wait for the feeder to go, then come up after.
But is there a lower limit?
Turns out there is. Experimenting for the past 4 weeks, I confirmed that it's around 40 minutes. I head up before 8:20pm and she will come up and wait for her snack upstairs with me. But anything after that and she stays put for the snack she knows is coming.
Jake's sense of time is not nearly as acute, but he still knows when his dinner is late!
Posted on Friday, July 29th, 2022

Last night I read an article about how the Oxford University Press is constructing an African American English Dictionary and I couldn't be happier about it. Those who gatekeep the English language are infuriating and exhausting and it seems ridiculous to me that cultural forms of language and expression are called out for "not being real words." ALL words are made up, so what does that even mean? Language is always changing and adapting. "Awful" used to mean "full of awe." And "microchip" as a word didn't even exist when the first Oxford English Dictionary was published.
Yeah, yeah... I used to get hung up on people mixing up "they're" and "their" and "there" or "to" and "too" or "whether" and "weather"... but this was a conditioning artifact that makes me cringe now. So long as the meaning is clear, does it really fucking matter?
Though I am still 1000% for using the Oxford comma in a list. Anything less is madness.
Posted on Thursday, July 28th, 2022

There's a popular meme that many people have posted on social media which goes something like this... "I'd rather be excluded for who I include than included for who I exclude." On the surface, this actually seems like a nice thing. Being inclusive is an admirable goal and something I have strived to do in my life for as long as I can remember. I love the diverse nature of humanity and find life to be far more exciting because everybody everywhere can be so different. Variety truly is the spice of life.
Except...
I disagree strongly that you have to include everybody.
Some people... expecially people who are dumbasses or pieces of shit... NEED to be excluded from my life. All the bigots, racists, homophobes, transphobes, flat earthers, willfully ignorant, science-denier, persecuting haters (and those like them) can just go. I really don't want to waste my time on all that. Which is probably a good thing for them as well, because they're probably going to be far happier without me in their lives too.
The problem is that it's nigh-impossible to escape from these people entirely. Sometimes they travel in the same social circles. Sometimes they end up at the same places. Sometimes you have to work with them. Sometimes you're related to them. There's just no way to be a part of society without having to endure it, regardless of the lengths you go towards trying to avoid them.
And in those cases you just have to grin and bear it... while trying to be as civil as possible... and hope you can stay sane.
Something that has been a lot more dificult since the pandemic started.
Which is kinda the opposite of how it should be.
And yet here we are.
Posted on Wednesday, July 27th, 2022

Today I had to run into The Big City so I could drop off some work. It was a quick trip, but I made the most of it by picking up some groceries and then getting some gas as I drove out of town.
It sounds like such a simple thing. But the truth of the matter is that it was not. Partly because the heat makes it miserable to go anywhere and do anything... but mostly because people can be such huge assholes who care about nobody but themselves.
This was made most clear to me when I stopped at the gas station.
All the stalls were full, which is not a big deal. My car is air conditioned and I wasn't in a huge hurry. It was then I noticed a person pull up and head into the mini mart. I assumed that they didn't want (or didn't have) a credit card and needed to pay inside. But that wasn't what happened. Turns out they parked at the pump... went in for a drink and some snacks... then came back and paid at the pump before filling up. WHILE THREE CARS WERE WAITING TO GET GAS!
I was more than a little pissed off, but assholes will be assholes, so what can you do?
But then I noticed that other people were doing this same damn thing. Rather than getting gas then moving to a parking spot so somebody else had access to the pump... people were getting gas and parking at the pump while they went inside for some shopping.
Who does that when there are people waiting?
Assholes.
And you just know that these same people would be laying on their damn horn if they had to wait while somebody went inside for a Big Gulp (or whatever).
I tell you what... I am THIS CLOSE to just doing whatever it takes to avoid people completely. Getting a job that allows working off-site. Staying at home and only venturing out after midnight where I will shop exclusively at businesses that are open 24 hours. Ordering crap via mail order whenever possible. — Because my being assured that I will run into far fewer assholes than have to be endured during daylight hours is a heck of a temptation.
Posted on Tuesday, July 26th, 2022

Blogging to me is such a habit that I don't even think about it much. I haven't had to in nearly twenty years. When I have a free moment each day I just sit down and hammer out what's on my mind. Simple.
But the way I hammer out my posts is via a blogging app that does all the heavy lifting for me. It's called MarsEdit and I've been using it for a long time. The problem is that my blog is under constant assault by hackers who really, really want the deep Google index for Blogography to exploit for whatever it is they're selling. I get hundreds, sometimes thousands, of attacks a week. And because of this I've had to close some security vulnerabilities... including the access point that MarsEdit uses to post here. There's a newer, more secure way to use outside blogging apps, but unfortunately MarsEdit can't do that yet.
So now I've had to start using the internal editor inside of WordPress, which is less than ideal. It gets the job done, but it's a whole lot less intuitive and spontaneous as I've gotten used to.
Oh well. It wouldn't be life on planet earth if somebody wasn't trying to make my life miserable. This is just one more thing.
Posted on Monday, July 25th, 2022

As I have said many, many times in this blog, I am a massively huge fan of Black Panther. He, along with Doctor Strange, are my favorite Marvel comic book characters by a wide margin. Needless to say I was crushed when Chadwick Boseman died... not just because he was a talented actor who I had enjoyed in many films... but because he is Black Panther. And not getting to see him in Ryan Coogler's follow-up to the amazing Black Panther film fills me with a sadness that's hard to describe. His performance as The Black Panther filled me with joy after waiting years for the character to finally appear in the MCU, and now he's gone. Taken from us far too soon.
And you might guess, Black Panther: Wakanda Forever is a series of mixed emotions for me. On one hand, I am so happy that we will get to see all the great characters and incredible world of Wakanda again. On the other hand... Black Panther is gone.
I posted the trailer from Comic Con yesterday. I have watched it dozens of times trying to see every detail of what awaits us on November 11...
So here we go. Please avert your eyes if you don't want to see my spoiler-filled comments...

The trailer starts with Nakia on a beach... likely mourning the death of her boyfriend. Could she be pregnant with the heir to Wakanda? We don't know. What's very interesting about this scene is that you can see Aztec/Mayan architecture behind her. This related to Namor, which we'll get to in a bit...
Later we see T'Challa's mother, Ramonda, also on a beach which is kind of strange, because I thought that Wakanda is a landlocked country. They have a lake and rivers, of course, but no oceanfront real estate. Not sure what this could be about...
And heeeeere's the birth of Namor. Which you can tell because of his winged feet (in the comics this allows him to fly). This makes Namor the first mutant in Marvel's history...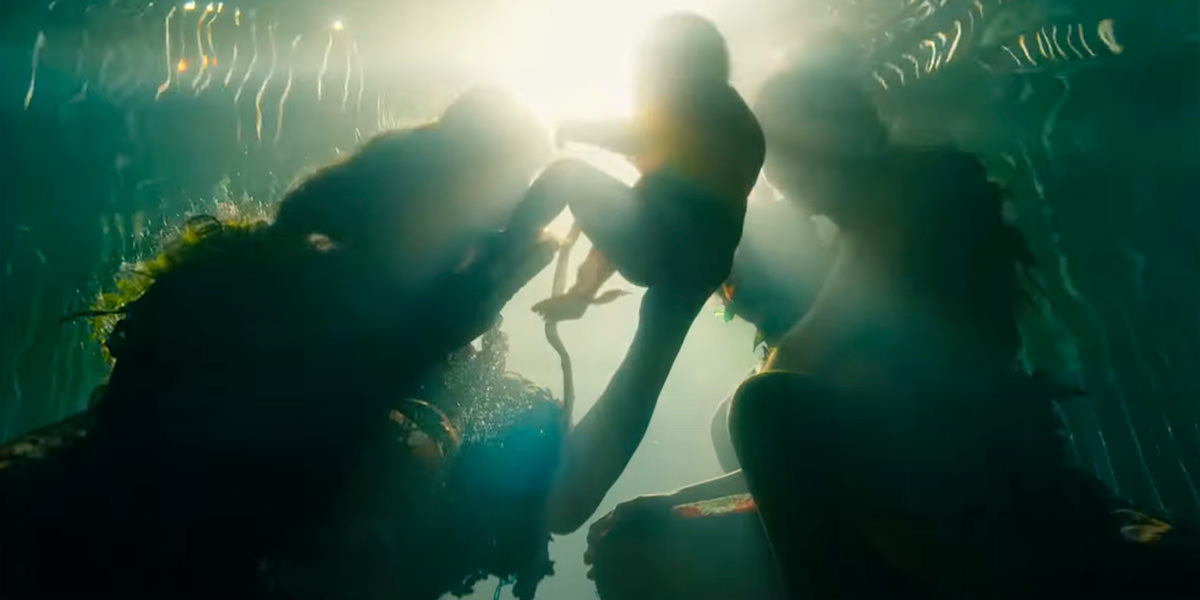 In the Marvel Comics, Namor (AKA The Sub-Mariner) debuted in 1939, years before Aquaman debuted in DC Comics (that was in 1941). Even though Namor came first in reality, DC brought Aquaman to the movies first. To avoid people who don't know the history thinking that they have ripped off Aquaman, Marvel Studios has decided to root Namor in Aztec/Mayan culture, giving him and his people a far different look for Atlantis than DC gave to the Aquaman movies. I absolutely love this. Not only because it adds diversity and representation to the the MCU, but because it's just an amazing idea from the get-go...
I'm guessing this is Wakanda's throne room? All flooded and burning. I don't know if this is supposed to show a turning point where Shuri accepts that she must become the new Black Panther or not, but it's an interesting scene...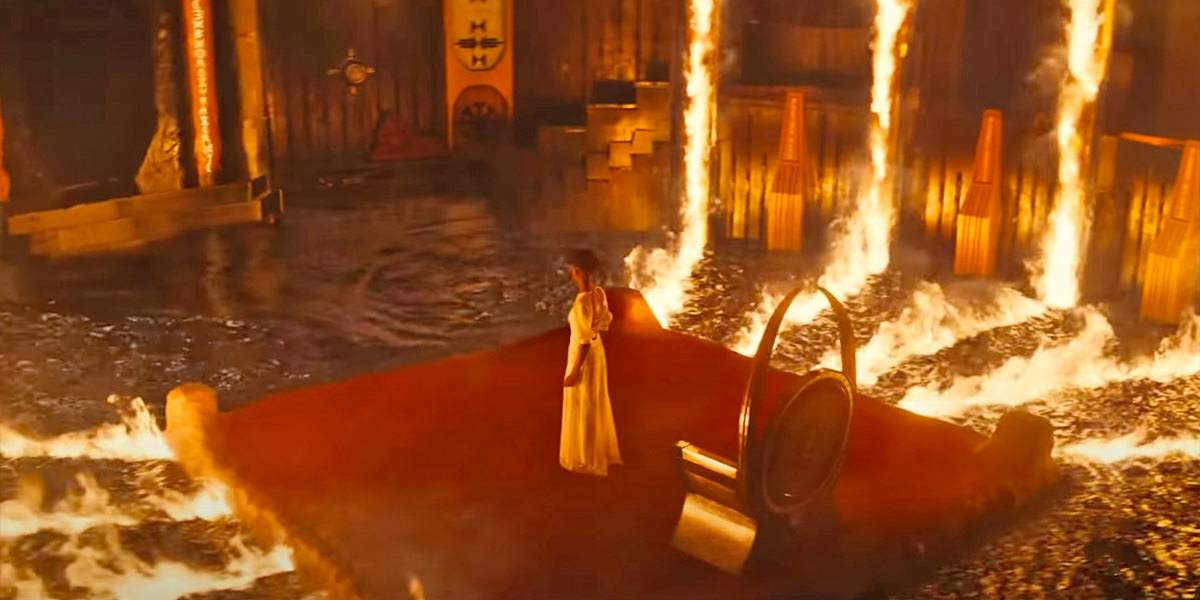 And... here's two of the smartest people in the MCU. That's Shuri shaking the hand of Riri Williams who becomes the successor to Iron Man, Iron Heart. I am positive that Riri is going to be tied to Wakanda and the first movie due to the ending of Black Panther where T'Challa established the Wakanda Outreach Program. How cool is that?!
Awwww... it's little Prince Namor! The reason he is not blue like other Atlanteans in the Marvel Universe is because his father is a surface-dweller, and his mother is princess of Atlantis. He inherited his father's skin color, but his mother's royal status...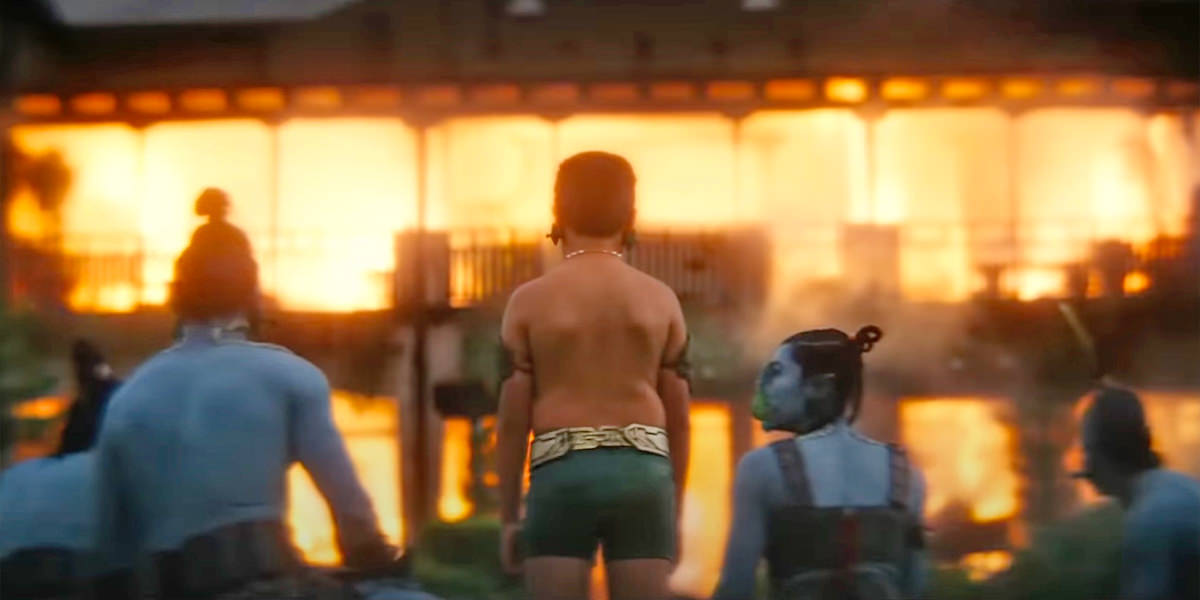 And here's adult Namor...
M'Baku is probably my favorite character from the first movie. I am thrilled that he's come back for the sequel (just as I am sad that W'Kabi isn't able to return because Daniel Kaluuya had other commitments). Of all the characters in the MCU, M'Baku is the one I most want to see get his own Disney+ series. Okoye is apparently getting hers, maybe M'Baku will be a big part of the World of Wakanda series?
This movie is going to be a punch in the gut from start to finish... especially when seeing Chadwick Boseman pop up...
I am more than a little excited that Ryan Coogler & Co. don't hire somebody with the massive talent of Angela Bassett and have her sit on the sidelines. She actually looks like she's going to be given stuff to do...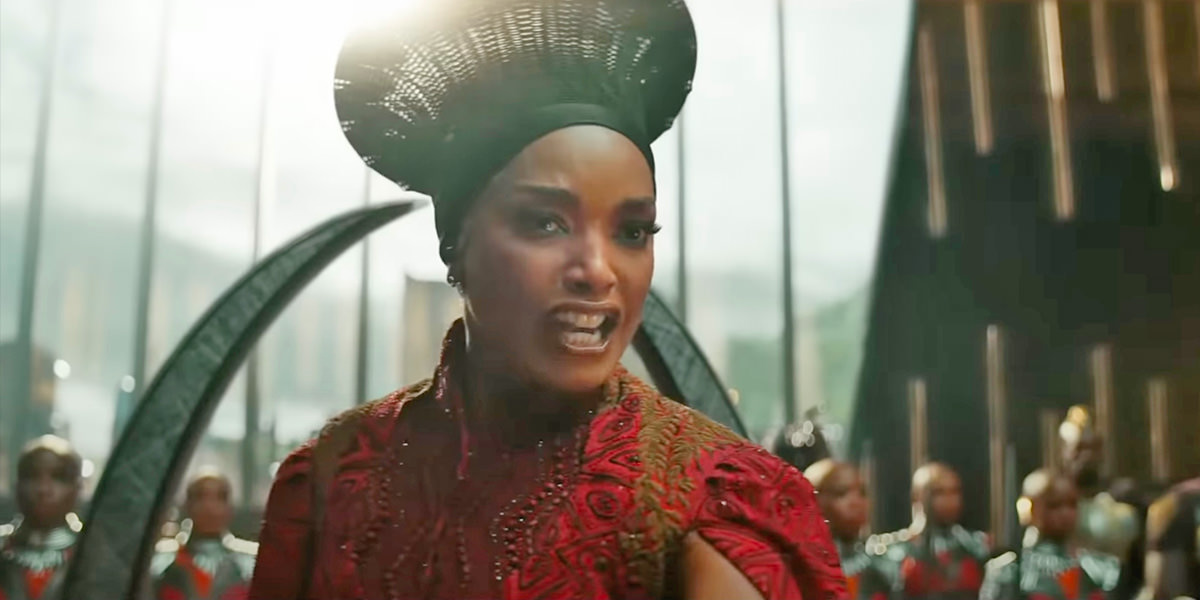 Everett K. Ross! I love how this character is part of the MCU. And thank heavens that Ryan Cooler didn't have him fall into that tired old "white savior" trope that so often gets assigned to white characters in movies. Wakanda is the most technically-advanced nation in the MCU and their people are among the most powerful on the planet. They don't need a white man to step in and save them. From anything.
I am surprised that RiRi is going to become Iron Heart in this film. I thought she would be introduced here, then become Iron Heart in her own series! Kinda cool that her first suit is going to harken back to the bruit-force armor that Tony Stark created in the first Iron Man movie!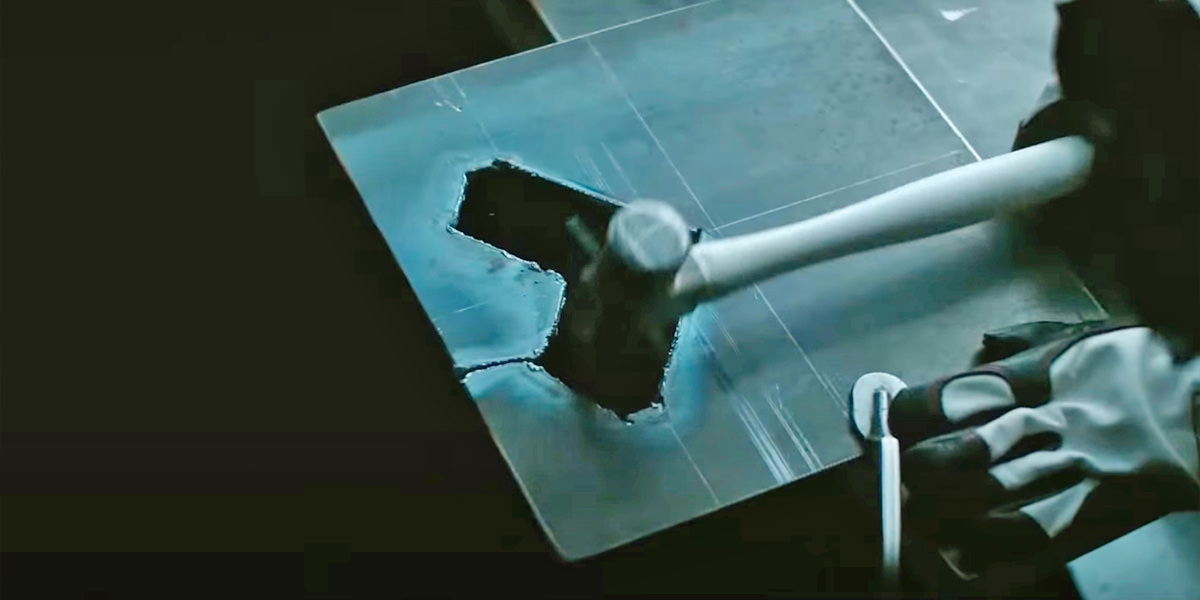 Wakanda and Atlantis have a long and complicated history in the comics. They have been at war for much of that history, though they have put it aside when a common threat faces them. I am guessing that the movie will have them at war from the start, and it will be interesting to see the reason behind it. Likely Vibranium-related. Note that Atlanteans need masks to breath when out of the water, whereas Namor does not. He got that from his dad. :-) I am happy that they kept his winged feet. I was thinking that they would eliminate them for the movie to keep the character less expensive to have on-screen...
And here's M'Baku... about to make a serious error. Namor can survive the crushing pressure of the deep ocean, so this battle club won't be much trouble for him to shrug off...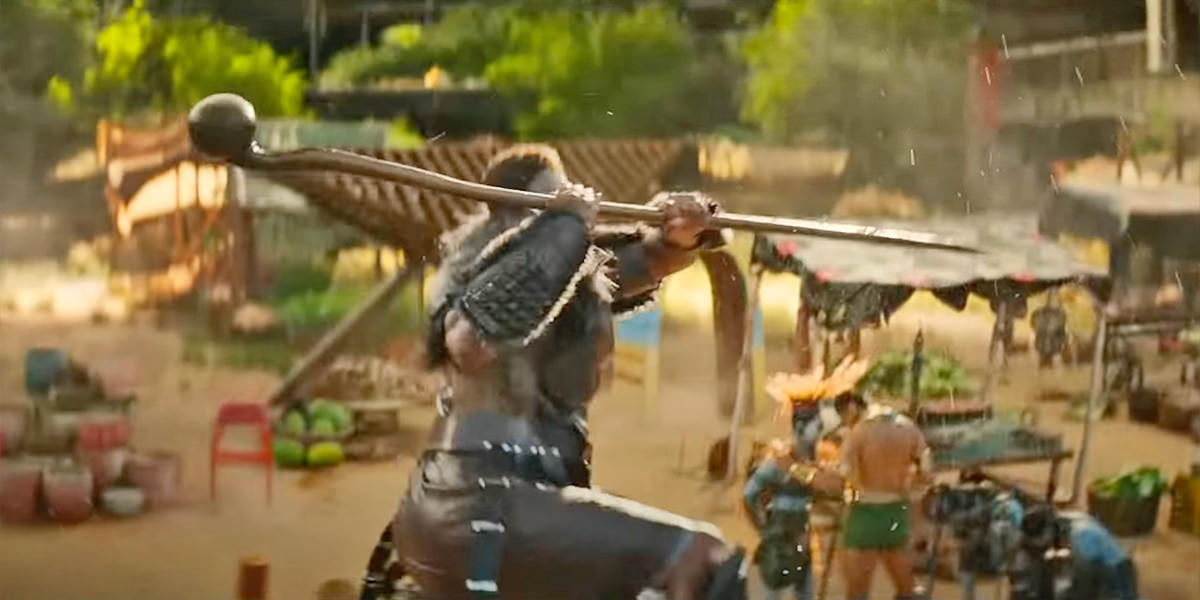 And who might this be? Could it be Aneka? We've already seen Ayo in the MCU (Aneka's lover in the comics) and this could be setting them up for a very interesting turn if they follow the story from the comics.
Okoye is so wonderfully bad-ass. I truly hope that Coogler is involved in her Disney+ series, because I will be sorely disappointed if she doesn't maintain character...
Just give Namor his own movie already. Can you just imagine?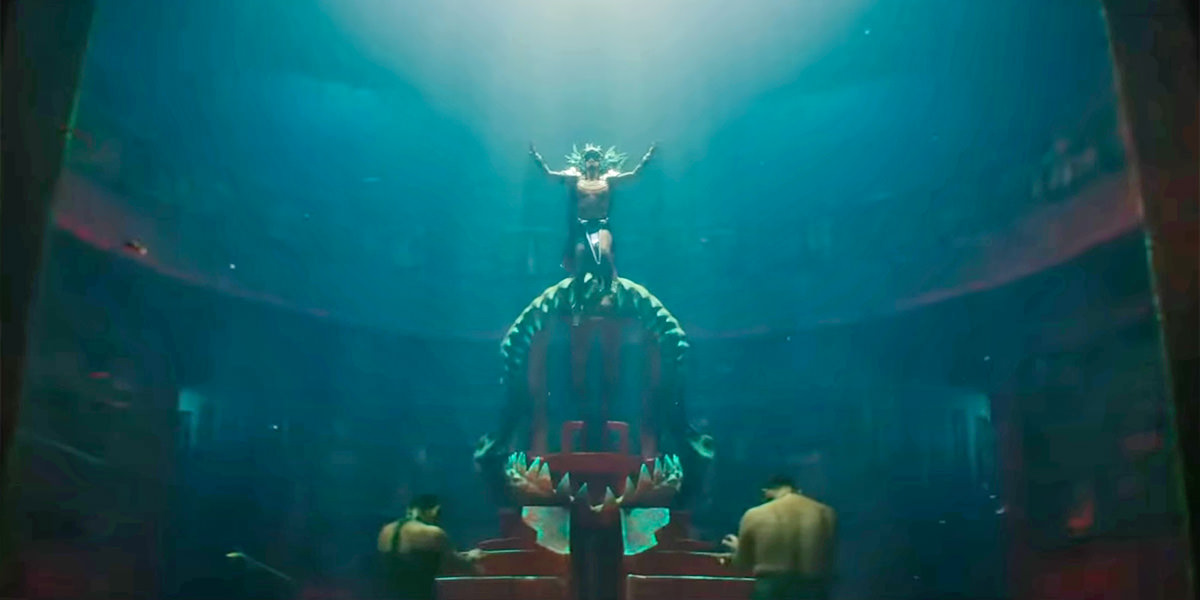 Dora Milaje warriors vs. Atlantean warriors. That will be a heck of a fight!
And who is the new Black Panther? In the comics, Shuri has taken on the job on more than one occasion. Not sure if that's the way they are going to go in the movies. Maybe. Or perhaps M'Baku? Though I would really rather he keep his character, because he's just so fantastic. And now, for the hundredth time, WHERE IS MY M'BAKU SERIES?!? Just back up a dump truck full of cash to Winston Duke's house, pour out however much money it takes to get him to sign on to the project, then keep paying him absurd amounts of money so we get minimum ten seasons...
I am not even joking. I would watch the heck out of an M'Baku series.
And that's our first look at Black Panther: Wakanda Forever. November seriously cannot get here fast enough.