Posted on Wednesday, July 29th, 2020

The temperature trend has been edging steadily upwards. Today it was 104º and tomorrow it's supposed to reach 105º before hitting 108º on Friday.
This afternoon when I got home I went to pull the garbage and recycle cans out since tomorrow morning is garbage day. As I pulled the first can out, I interrupted Fake Jake who was sleeping in the shade on concrete blocks I put down so he could more easily get around the house in winter...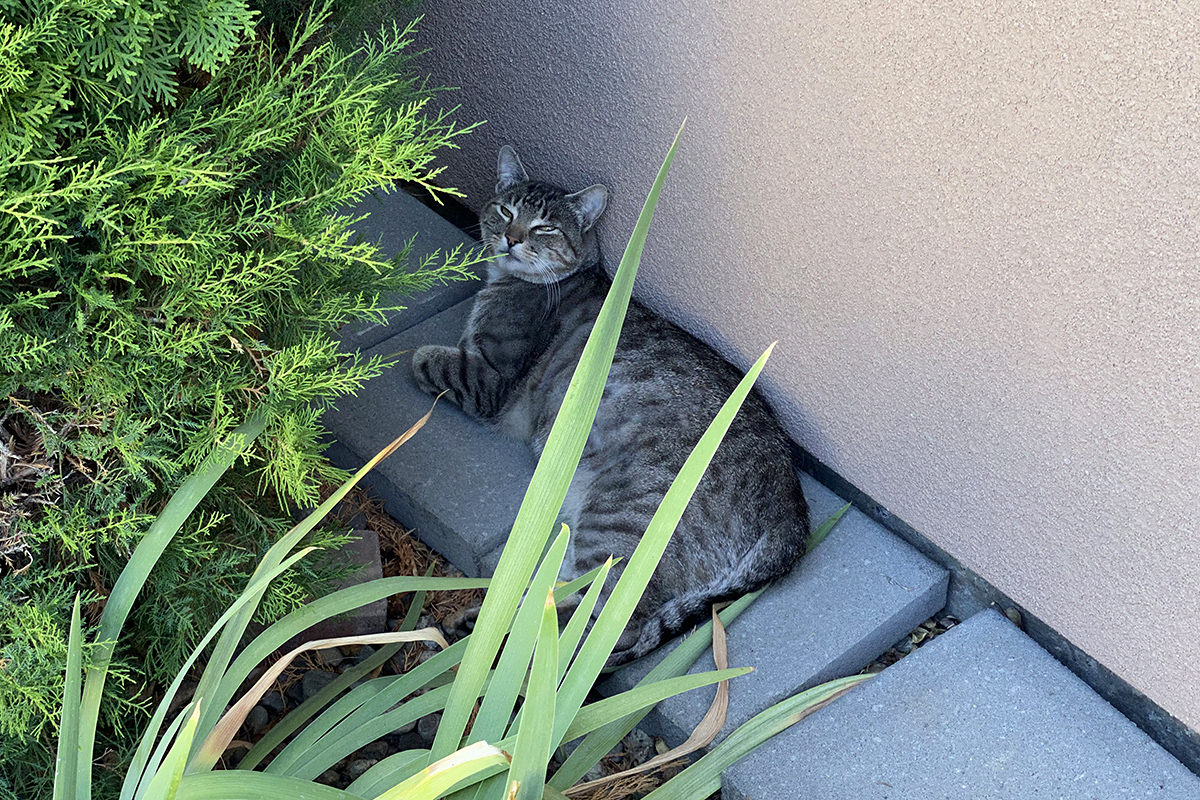 I worry about Fake Jake quite a lot when it gets cold, which is why I put out a heated shelter for him. In the summer he seems pretty smart about finding shady spots to rest so I don't worry as much. My first Summer here I put cold packs in shelter, but then he stopped sleeping there so I stopped. But with temperatures reaching 108º? I dunno. Maybe I should try cold packs again? That seems way too hot, even for a heat-loving kitty.
Posted on Tuesday, July 28th, 2020

I've been consumed with work for weeks and it hasn't done anything good for my housekeeping. My home is a complete pit of despair right now, and it's going to get worse before things get better because I'm starting my kitchen remodel this weekend. Originally it was to start at the beginning of the month but that had to be delayed when I realized I needed another month's worth of savings to make it happen. Usually I would never be able to remodel this late in the summer when I have lots of visitors staying over, but... pandemic and all that.... so here we are.
Like everybody else, I'd imagine, I've been watching an absurd amount of television lately. But since so much of the new stuff that's on doesn't really interest me, I've been re-watching older shows that I like. Tonight I started watching No Tomorrow, a show I haven't watched since it was released in the 2016/2017 television season...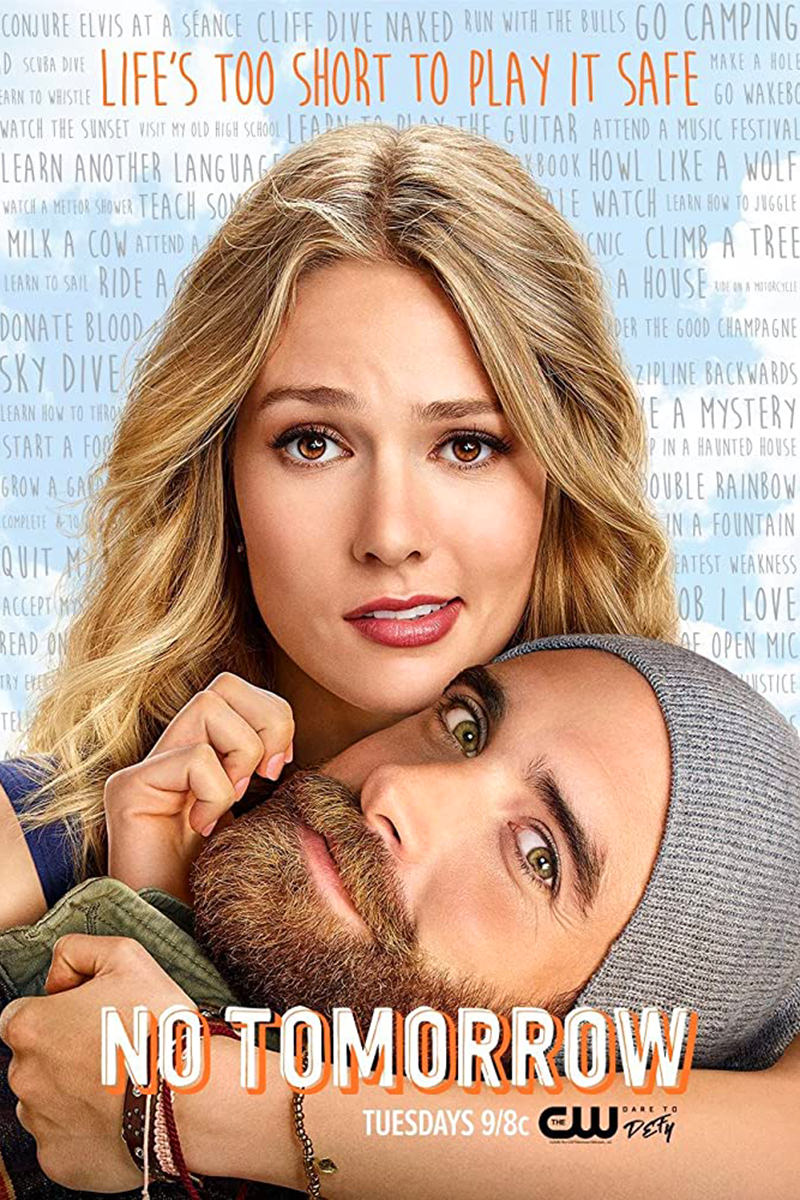 It's a romantic comedy about a guy who stumbles upon an asteroid which will hit the earth in 8 months and end all life on the planet. Ever since, he's been living his life like there's no tomorrow, doing all the things he's always wanted to do. Along the way he meets a woman that he immediately falls in like with, and kinda-sorta convinces her to buy into his end-of-the-world theory. Together they start checking items off their "Apocalists" and it's a charming, sweet, funny, lovely little show and a fun ride.
At least it was until The CW canceled it.
The cast is really great, so I was curious to know what they had all been up to. Everybody had moved on to a bunch of other projects... except the star of No Tomorrow, Joshua Sasse.
He hasn't appeared in any TV shows or movies since.
BEFORE he was in No Tomorrow he was in Galavant, a show I caught a few times, but none of his other shows rang a bell. Even so, it's kind of depressing that he's not doing something new since he seems like such a talented actor. Maybe he can afford to be picky and is just waiting for a project he likes? I sure hope so.
As I've been watching the episodes, I've been thinking an awful lot about how I would be living my life if I knew it was all going to end in eight months. I'd like to think that I'd be spending my time doing things that are a lot more interesting than what I'm doing. Like finally getting my ass to India... pandemic be damned. Not that I could actually go, of course. The entire world has banned USA citizens from entering thanks to our heinously shitty response to COVID-19. We're a bunch of selfish fucking idiots who can't be bothered to wear a mask or look out for other people.
Ugh.
I suppose I should probably start cleaning my house now, but... pandemic and all that... so here we are.
Posted on Monday, July 27th, 2020

The global COVID-19 pandemic has been hard in so many ways, but the toll it hass taken on businesses has been devastating. Without money coming in, there's a large number of them that will likely never fully recover, and many of those will probably end up closing. From shops and stores to markets and museums, everybody is hurting. But the industry that seems hit harder than any other is food services.
A lot of restaurants barely scrape by even when fully operational. And while some have reopened for takeout or have partially opened their dining rooms, that's not enough to keep them operating for much longer... if they haven't had to close already.
I'm not a huge restaurant person (it's an expense I can rarely justify), but I've visited more than my share of Hard Rock Cafes. So measuring the effect of the pandemic on restaurants is fairly easy for me to do when I look at the number of Hard Rocks that have closed since the coronavirus came calling...
UPDATE August 6, 2020: Well crap, Aruba just shuttered. I visted in March, 2012, and always hoped to go back one day so I could get a T-shirt since they were out when I was there. BOOOOOO!
Hard Rocks open and close all the time... but that's like... a lot. And, sadly, I'm sure that's not going to be the end of it.
If we ever see the other side of this pandemic, meaning we get a vaccine or find a cure or something, I have to wonder how long it will take for our restaurants to start coming back. And this is assuming that once we see the other side of this pandemic that we aren't hit with another soon after. For all we know, that could be life on earth from here on out. All we can hope for if that's the case is that governments are more receptive to the science of surviving... and people aren't a bunch of stupid assholes who refuse to do their part.
But I'd be fooling myself to think that's never going to be a factor.
Posted on Sunday, July 26th, 2020

Comic-Con San Diego may have been canceled this year, but you can't cancel Bullet Sunday, which starts... now...

• EXCELLENT!! Not only did we get a brand-new trailer for the upcoming Bill & Ted movie at Comic-Con at Home, we also got a release date of September 1st. But the best news? It's going to be released for streaming rental day-and-date with the theatrical release!
Sure it will probably cost $20 to rent early, but I would pay it in a heartbeat to avoid having to go to a bogus COVID-19-infested theater!

• NANDOR! I watched a few virtual panels and, by a wide margin, my favorite of the bunch featured the cast of What We Do In The Shadows. If you're a fan of the show, there's no need to tell you what to do...
I know the second season just ended, but I want a third season right now.

• SEEKERS! What I want more than anything else from Simon Pegg and Edgar Wright is a sequel to their incredible movie, Paul. But outside of that, I'll take whatever I can get. Including their new paranormal hunter show... Truth Seekers...
Alas, no date is given as to when the show debuts on Amazon Prime, but here's hoping it's soon-soon rather than later-soon.

• DECKS! I have no problem with an animated Star Trek. The original animated Star Trek series was pretty darn great. But a comedy? I don't know that I get why that has to go under the umbrella. It seems an odd fit...
Guess I'll see how I feel once I've seen an episode or two. Lower Decks drops on CBS All Access on August 6th.

• Jack! Not exactly Comic-Con-related, but Jack Whitehall has a new Netflix special out. If you like Jack, it's a great waste of time...
I sure am sad that we likely won't see any more episodes of Travels with My Father, but watching this special makes me want to watch all the episodes we got all over again.

• Cutesplosion! And lastly, I leave you with this...

And that's a wrap, True Believer.
Posted on Saturday, July 25th, 2020

If it weren't for my cats, I probably wouldn't have survived my mother's death. Waking up each morning to feed them was my reason for getting out of bed each day. And now that I've been stuck at home in isolation for six months, they're my reason for getting out of bed each morning... again.
Except after breakfast Jake comes right back upstairs and would probably like nothing better than hanging out in bed with me each morning. Especially if it means he can get belly rubs...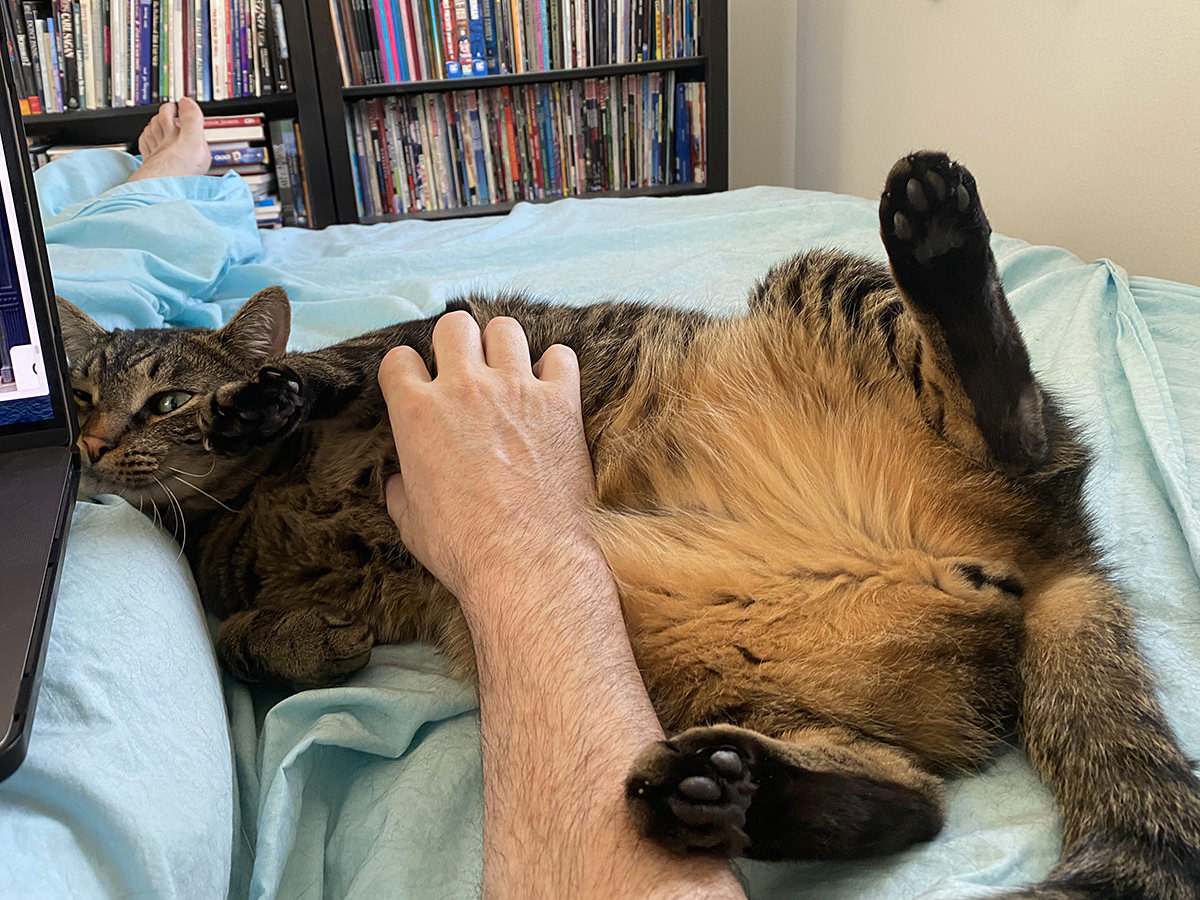 Though sometimes you have to wonder if what he wants is belly rubs... or to tempt you into attempting to give him belly rubs so he can spring a trap...
99% of the time, it's just belly rubs though...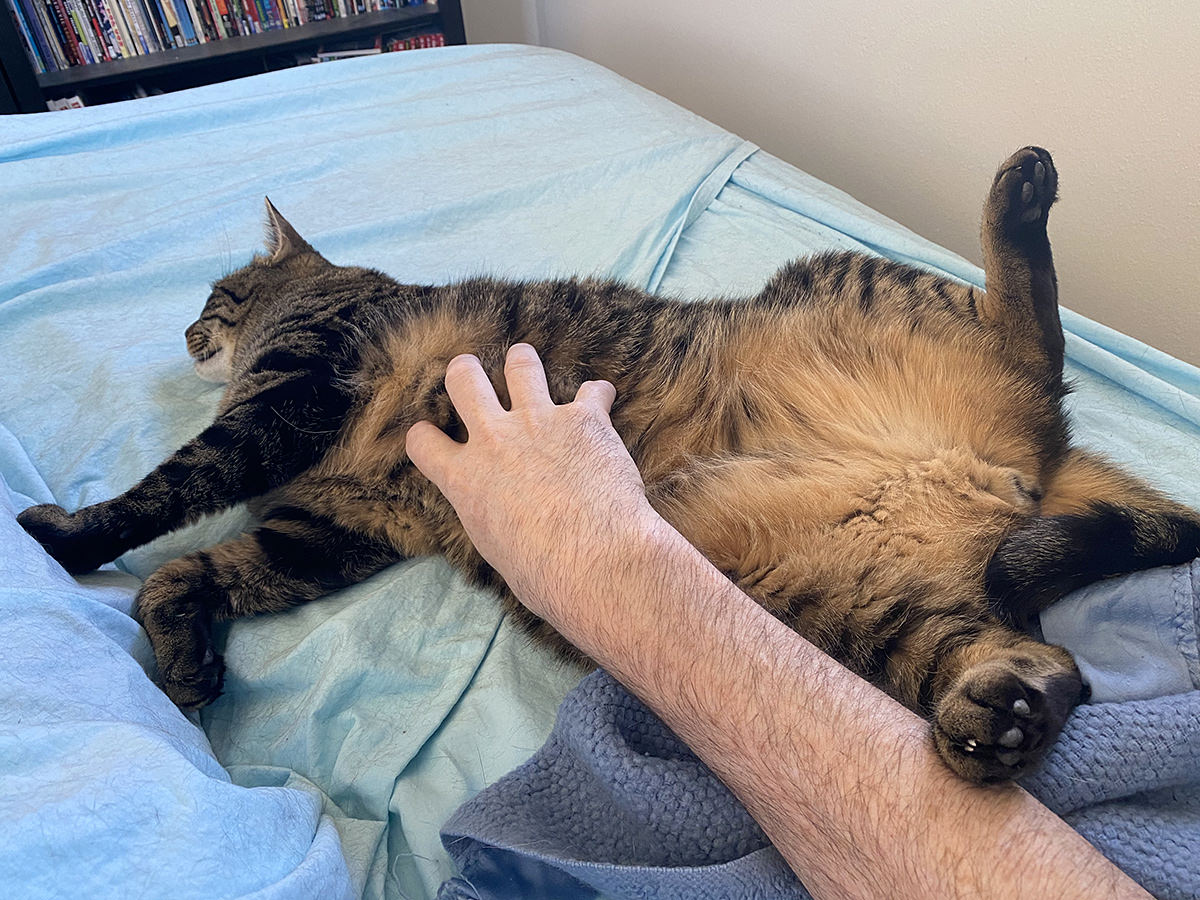 And sometimes all he wants is an audience while he gives himself a bath...
Jenny still likes to hang out in bed with me if Jake isn't already there. Otherwise she's happy to sit with me on the couch...
Doesn't get much better than that.
Posted on Friday, July 24th, 2020

This has been a really tough week. I have been trying to complete a critical project since Monday, but setbacks keep being dropped on me which have been dragging things out. Now I'm going to miss a deadline. It's no consolation that it's not my fault... it's still a missed deadline.
Oh well. That's life.
In better news, I got the results of my COVID-19 test yesterday afternoon. This was surprising because I was told 3-5 days, not overnight. What was not surprising? I tested negative...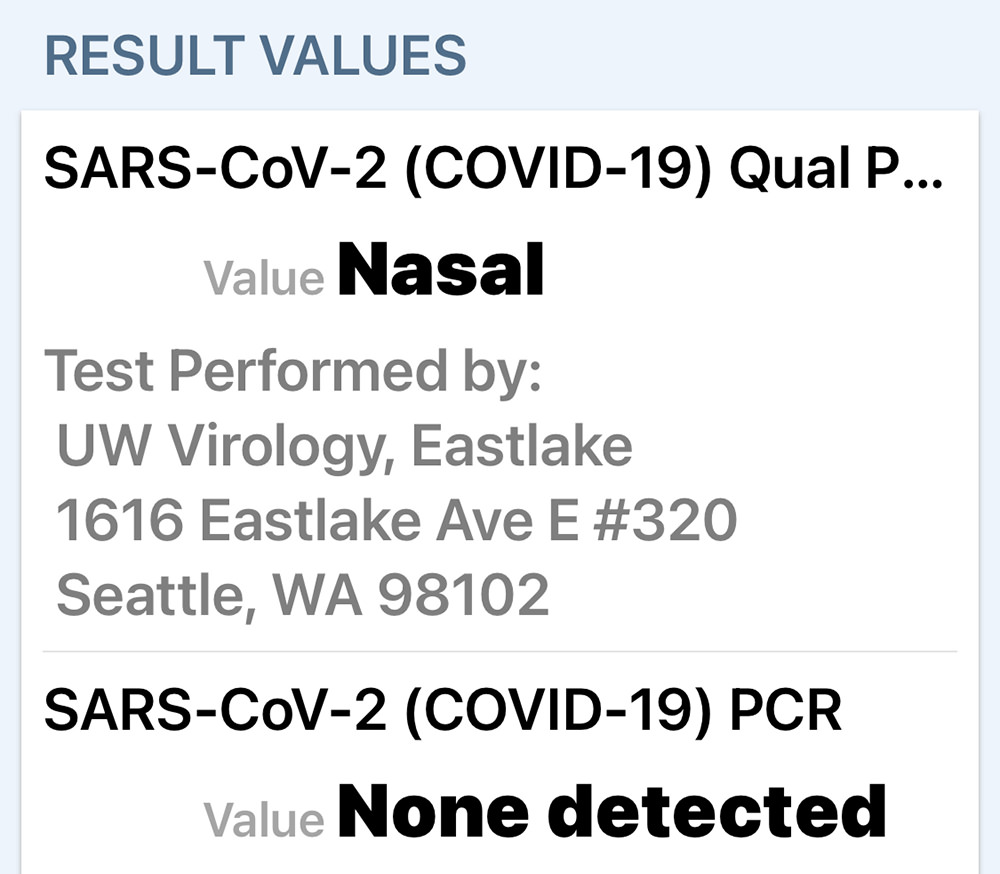 So I guess quarantining myself and double-masking on those rare occasions when I have to go out has been good for something. If everybody else took that to heart, then I guess the virus would have stopped spreading and we'd have been out of this pandemic months ago.
Oh well. That's life.
Or, not, depending on whether you can survive getting infected with COVID-19.
Posted on Thursday, July 23rd, 2020

=sigh= I've drastically cut down on the number of political posts I drop on my blog because there's nothing new to say. On top of that, it always makes people mad because I am critical of politicians no matter which side of the political divide they get their lobbyist money from.
But recently something has been dominating the news cycle which has really bothered me, so I'm just going to dump my thoughts here for all the world to see and let the chips fall where they may. And that "something" is Impeached President Trump bragging about being able to pass a cognitive test like it's certified him as some kind of very stable genius.
As the caregiver for my mother through her dementia, it's a test I'm painfully familiar with.
Far from an IQ test, the test our impeached president is referring to is designed to be a screening tool for diagnosing cognitive decline and brain-related problems. It looks like this...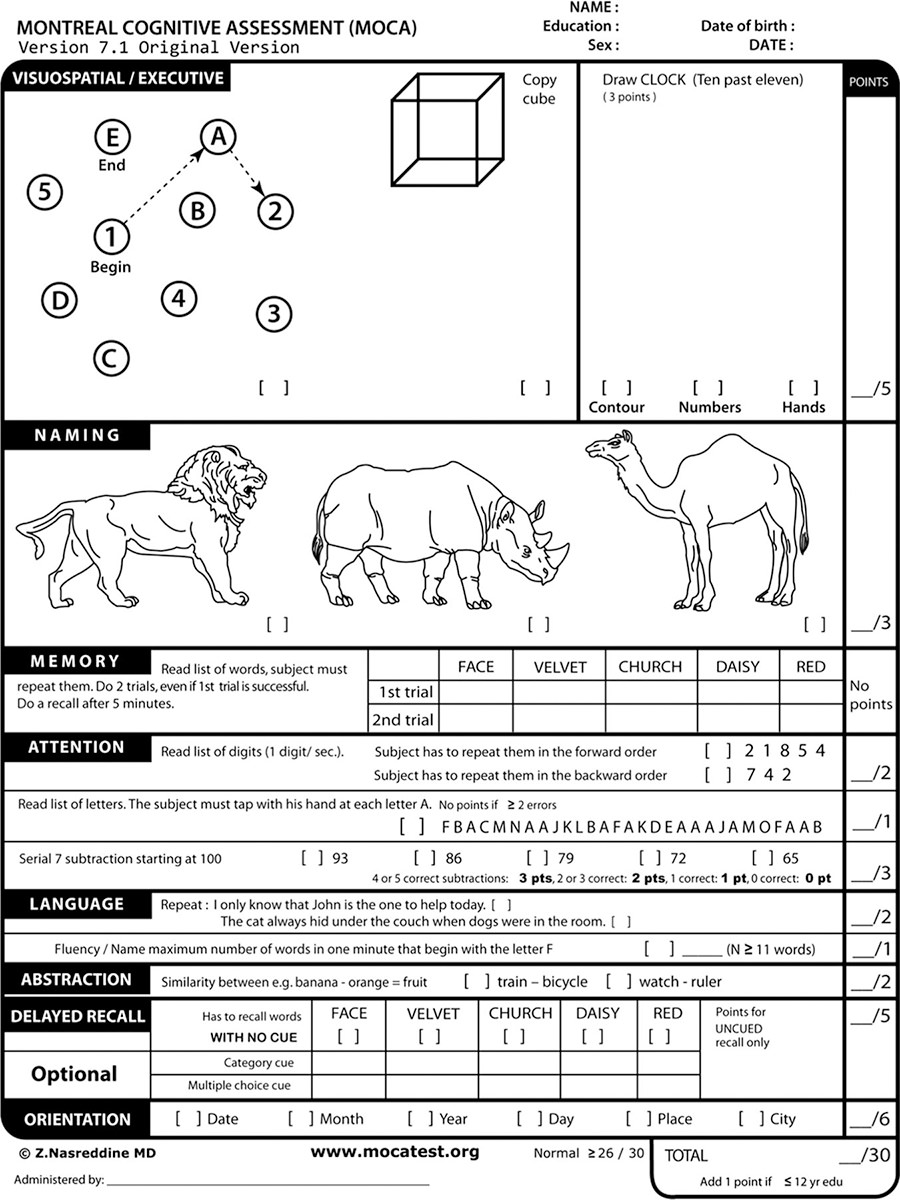 This is the Montreal Cognitive Ability Test. I'm not positive this is the version of the test my mom took but, if it wasn't, it was very close to this. She took it twice. And watching her struggling to get through it is something that still haunts my nightmares. The first time she attempted it she pretty much failed at everything, and it was all I could do to not break down into tears right there in the doctor's office. I was so close to her problems that I wasn't seeing them for what they were. It was this test that put everything into perspective for me, and it was gut-wrenching. I am having anxiety just remembering back to it.
The second time we got through question three and there was really no point in going any further. That time I did break down in tears, but it was after I had excused myself and somehow made it to a stall in the men's bathroom.
Ironically I remember her taking the tests like it was yesterday because my cognitive abilities are (assumably) mostly okay.
The first question has you running through a maze of characters which are alternating numbers and letters of the alphabet. The challenge is to get them in alternating order, which anybody with a brain can manage easily. Except people with an injured brain, of course. Despite having it explained to her twice, my mom connected the numbers and ignored the letters. The next question asks you to draw a 3-D cube. Even if you don't have artistic talent this is something people can copy fairly easily. My mom managed to get a square okay, but then it was just random lines.
Next you have to draw a clock with the time set to 10 past eleven. This might be tricky for some but, again, a person with normal cognitive function can draw a circle, put a tick at 12 O'clock and 6 O'clock, draw in the 15 and 45 minute ticks, then put two ticks between the ticks you have. Then you draw the little hand and the big hand at the appropriate time. This had my mom completely flummoxed. She got a kinda-oval shape, but then just started drawing random lines really close together, and she had to be coached to get that far. I think the hands she drew weren't even on the clock face.
Then you have to name some drawings of animals. Mom blazed through these with no problem. At the time of her first test her long-term memory was in pretty good shape.
Next is a memory test where you are given five words and asked to repeat them back. This is where things can get tricky. If you just throw five random words at me, I won't remember them at all... likely not even five minutes later. But if you tell me I have to remember five random words, then I can do that no problem because I use memory association. FACE • Okay, I am picturing a woman's face. VELVET • Okay, the FACE is Isabella Rossellini and she is rubbing a piece of blue VELVET on it. CHURCH • Okay, we pull back from Isabella Rossellini's FACE being rubbed by blue VELVET and she's sitting on the steps of a CHURCH. DAISY • Okay, Isabella Rossellini's FACE is being rubbed with blue VELVET as she sits on the steps of a CHURCH which has a DAISY growing in front of it. RED • Isabella Rossellini's FACE rubbed by blue VELVET as she sits on CHURCH steps with a DAISY growing in front of it and a PeTA nut job just drove by and threw RED paint on everything. FACE, VELVET, CHURCH, DAISY, RED. Got it. My mom, of course, couldn't get through the list at all. She couldn't remember a thing, and this was all really confusing to her.
Then you repeat some numbers and have them repeated back... and have to clap when you hear the letter "A" when a series of letters are read to you. Then you have to count backwards from 100 by sevens (which, is something I can do easy enough, but it takes a minute!). My mom just kinda stared blankly and couldn't be coaxed into even attempting any of this.
And now we're finally to those last five VERY HARD QUESTIONS which has Impeached President Trump thinking he's some kind of medical miracle.
Repeat a couple sentences back to the reader. How is this in any way "very hard" if you have full cognitive functionality?
Name as many words as you can which begin with the letter "F" in one minute. The goal is greater than 11 words. Granted, this may be a challenge with somebody who doesn't use communication skills much, but what is so "very hard" about this?
Find the similarity between two words. Yeah, knowing what's similar between "train & bicycle" and "watch & ruler" is a real brain twister.
Recall the five random words you were given. This might be a challenge for somebody if they don't have a good memory or they don't know to use memory association to remember stuff... but, yeah... not rocket science here: Isabella Rossellini's FACE rubbed by blue VELVET as she sits on CHURCH steps with a DAISY growing in front of it and a PeTA nut job just drove by and threw RED paint on everything.
Name the Year, Month, Day, Place, and City. Okay, I admit the date stuff could totally be a challenge for me. Since I work long hours seven days a week, the dates just blend together. But I would absolutely know the date if I was taking my mother to an appointment on that day. And a president who has appointments all the time would (hopefully) know this too. But how is knowing WHERE you are and what CITY you're in a challenge to anybody with a functional brain? If that's a "very hard" question for Impeached President Trump, then we have a serious problem.
When Impeached President Trump brags about five fairly simple questions being "very hard," I am understandably concerned. Everybody should be. But more than being concerned, I am very, very pissed off. Whether your brain is cognitively functional or not has absolutely nothing to do with whether you're an evil asshole or not! Do I think Joe Biden could run through this test and get 30 out of 30 correct? No. No I do not. Do I think that Impeached President Trump actually got 30 out of 30 correct? No. No I absolutely do not. We will never see that test. And even if we saw that test, there's no guarantee whatsoever that it's the actual test or that he wasn't coached all the way through it. That's politics. And as thrilling as it might be to see Joe Biden and Impeached President Trump go head-to-head in a cognitive test when I think that they both have demonstrated that they have cognitive issues... that isn't going to get us anywhere. It's not going to tell us which special interest groups are buying them off. It's not going to tell us what they'll be fleecing off the American people's hard-earned tax dollars. It's not going to tell us what back-door deals and shady cronyism their administration will be party to.
All it will tell us is whether they can remember what a lion, rhino, and camel are.
But my biggest takeaway from all this brouhaha is that there's a serious stigma against people with brain and memory problems. I read the comments on these news stories and it's mostly people making fun of Impeached President Trump or Joe Biden because they (allegedly) have cognitive decline. Which is to say that they're making fun of my mom. And as I sit here and type these words my heart is aching.
I am not going to lie, though. I absolutely do this too.
I try not to. I know better. And it's never necessarily to make fun of people, but more to offer armchair assessments as to somebody's mental state or cognitive abilities from a clinical perspective when it comes to the responsibilities they have. I've said that Joe Biden looks like he's sundowning, which may be true... but it could just be him attempting to speak when he suffers from a stutter. I've said that Impeached President Trump scares the shit out of me because everything he says is insane and he's got his finger on the button to unleash the nukes... but it could just be him being an evil, disgusting excuse for a human being. I honestly don't know.
As always, all I can do is try to be better about not stigmatizing mental health.
Even if I fail in the attempt.
Which I do a lot.
Take my trying to eat better, for example.
Yesterday I had to go to the grocery store because I needed an onion and a few other items. While I was there I passed by a display of sugary bakery products that were on sale. These are things that I just can't eat any more... most of the time I don't even want to eat them any more... but I saw a box of raspberry jelly donuts and was immediately intrigued. When I was in college, I was eating a box of these things a day. But as of now? I haven't had a raspberry jelly donut in decades.
I bought a box of course. If I'm careful and eat them in moderation they're not going to kill me, right?
Yeah... I ate half the box that afternoon and downed the other half this morning for breakfast.
But I'll try to do better tomorrow, I promise.
Posted on Wednesday, July 22nd, 2020

For reasons I don't really want to get into, I had to get a COVID-19 test today. Given the abundance of precautions I've been taking to not contract the virus (and the fact that I have no symptoms), I would be shocked to find out that I've got it. If I do, that would suck mightily considering how I've locked myself away in quarantine for five months. But it's not like it's outside the realm of possibility given that I still have to go grocery shopping and the majority of people here in Redneckistan still think it's all some kind of overblown Democrat hoax or whatever. Never mind that hospitals are filling up and deaths are reaching all-time highs, it's all fake news!
Until it isn't, of course.
The area where I live has made the news lately because there were COVID-19 employee outbreaks at a warehouse and at the local Walmart (to name two). Apparently Independence Day Weekend was just too much temptation for Redneckistanians who want to show Governor Jay Inslee that he's not the boss of them. Never mind that the guy is just listening to scientists who study this crap in an effort to keep everybody safe... he's Hitler for mandating that people wear a mask!
What's interesting is that the spike in infections mean that our local healthcare conglomerate has had to take over an old bank in order to create a massive drive-thru testing service in order to keep up with demand.
The facility opened at 8am but I was warned that it's busy first thing in the morning, so I waited until 8:45. I pulled into the (former) bank parking lot where a cigar-chomping man on a scooter was unnecessarily directing me to a lane to queue in. There were about 8 cars ahead of me in both lanes (total) and the wait only took about 15 minutes. First you pull up to a guy verifying that your doctor requested a test, then you pull forward to wait for a technicians to walk up and give you a lobotomy.
Well, not really, but it feels like you're getting a lobotomy.
After you lean your head back, they shove a long Q-tip up your nose into the back of your sinus cavity...

(Original) image taken from WBEZ.org
Then they start twisting it for six seconds so they can get a sample of mucus from deep, deep, deep inside your nasal passage. And what seems like a sample of you brain tissue for good measure.
It burns a little bit, but not so much that I was ready to start screaming or anything. What bothers me is that I was still feeling it for hours after it was over. Like the Q-tip was left up my nose or something. It was a good five or six hours before I felt quasi-normal again.
I'm told that I should have results back in 3-5 days. The clinic will call me directly if I test positive or it's inconclusive (at which point you have to act as if it was positive). If I never hear from them, that means I was negative and my results will be posted to MyChart so I have a record of my being perfectly positively toward the negative. Or however the fuck our dumbass impeached president has convinced his cult you're supposed to say it...
Jesus Christ.
The entire world has done everything they can to get a handle on the pandemic and halt the spread of this virus that's killing us. Well, almost the entire world. Here in the USA, we've got leadership that has been propagating misinformation and unleashing a steady streams of bullshit from day one. Which is why we're leading the known universe in coronavirus infections and deaths.
I hope to God that people remember this come November.
Posted on Tuesday, July 21st, 2020

Generally speaking I try very hard to be accepting of people, even as I am being critical of them, because people change all the time and basically comes down to a "hate the sin, love the sinner" type situation. Because who knows? Perhaps one day a homophobic piece of shit bigot will understand that they're being a bigoted piece of shit and strive to escape it.
This kind of positivity has become increasingly difficult the longer the pandemic rages.
On one hand, I don't want anybody to get sick from COVID-19 and die because that's a repugnant attitude to have. If everybody is capable of redemption, then wishing them dead before they have a chance to find their redemption is a horrific thing. I don't believe that. I don't endorse that.
On the other hand, maybe if all these people who deny science and don't give a fuck if their actions threatens the lives of others would just contract COVID-19 and fucking die already, this world would have a chance to heal without their standing in the way.
This morning I found myself debating these two sides of the coin. I'm not proud of it, but that's what this has come down to now that I'm losing my entire summer and am badly missing my friends and family.
Rather than beat myself up too badly over being so awful, I'm just going to watch ducks eat a bowl of peas and attempt to find my center...
If you must know, the duckies are named Pepé and Arnold...
And now I think I will get the duck offline and try to avoid reading yet more incidents of ignorant assholes who refuse to follow Washington State's mask-mandate as they take out their frustrations on minimum wage workers just trying to do their jobs and tell people they have to wear a mask in order to shop. Holy fucking shit am I sick of this crap.
Posted on Monday, July 20th, 2020

Last night the skies were as clear as they ever are, so I decided to wander and see if I could find a place where I might see the NEOWISE comet. I keep running into these amazing shots other people are taking, and grabbed my binoculars in an attempt to at least see something.
My cats, not accustomed to my abandoning them after sundown were upset. As I was passing through the catio I heard comotion at the cat door and went to see what the issue was. Turns out it's just Jake and Jenny both trying to squeeze through at the same time so they could follow me...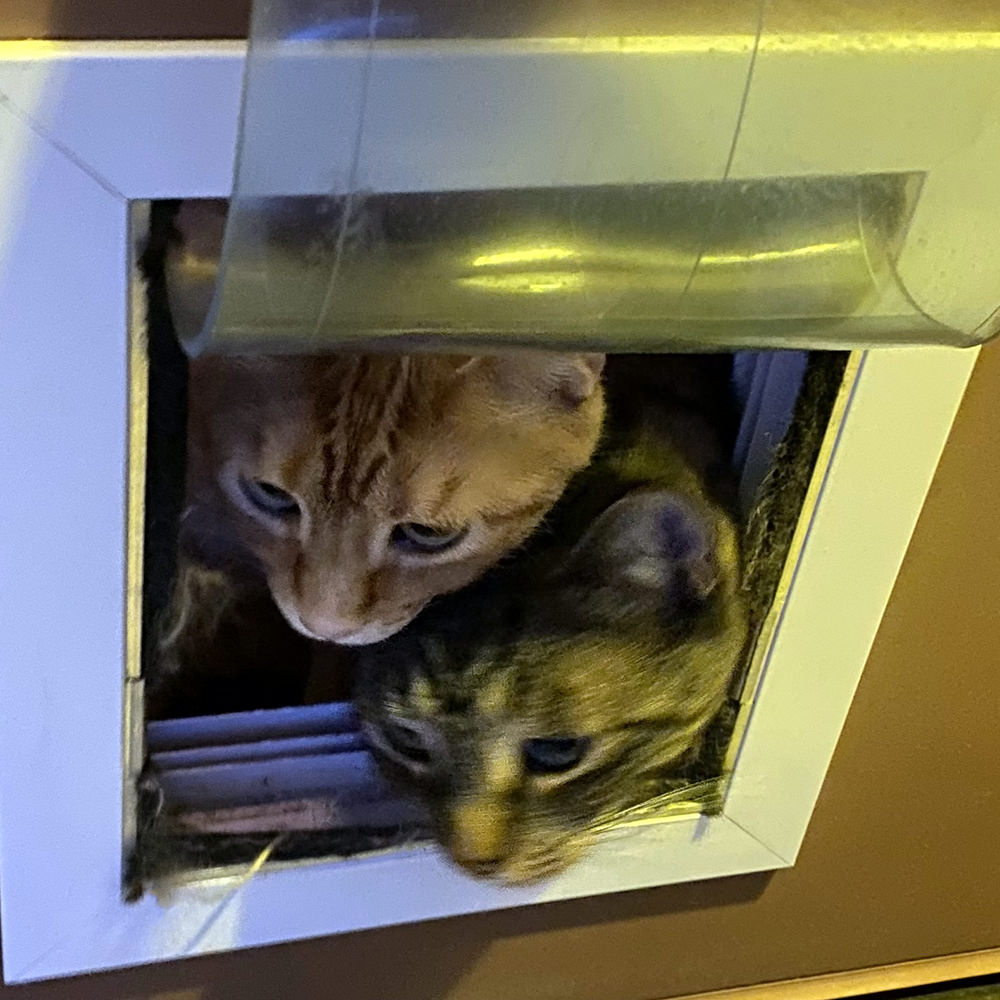 Eventually Jake snaked through so Jenny could follow. They then watch through the catio fencing with forlorned faces as I walked around to see if I could get clear of the trees and hills blocking my view.
No such luck.
Oh well. My cats were waiting to greet me after my comet-spotting failure, so that was nice.