Posted on Saturday, September 23rd, 2023

How I know that it's time to haul out the electric blanket and the heating pads for the cats?
They start using me as an electric blanket. I mean Jake usually sleeps with me...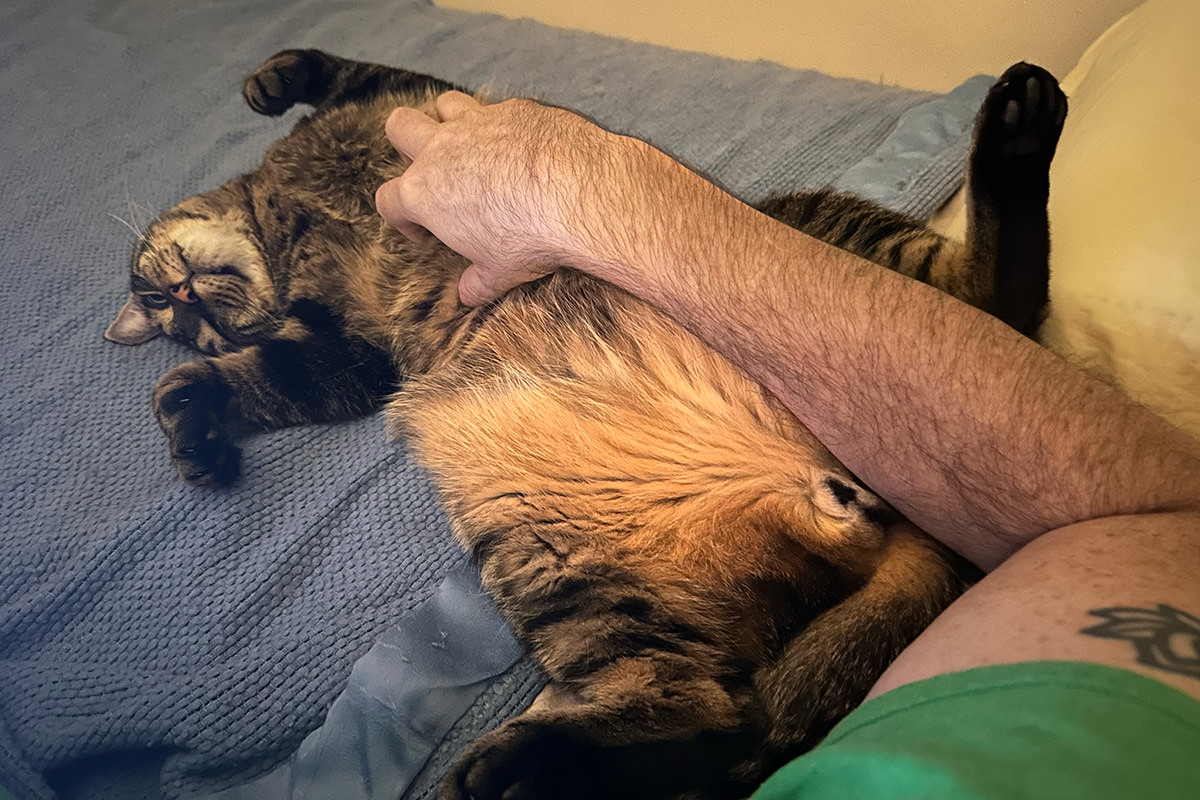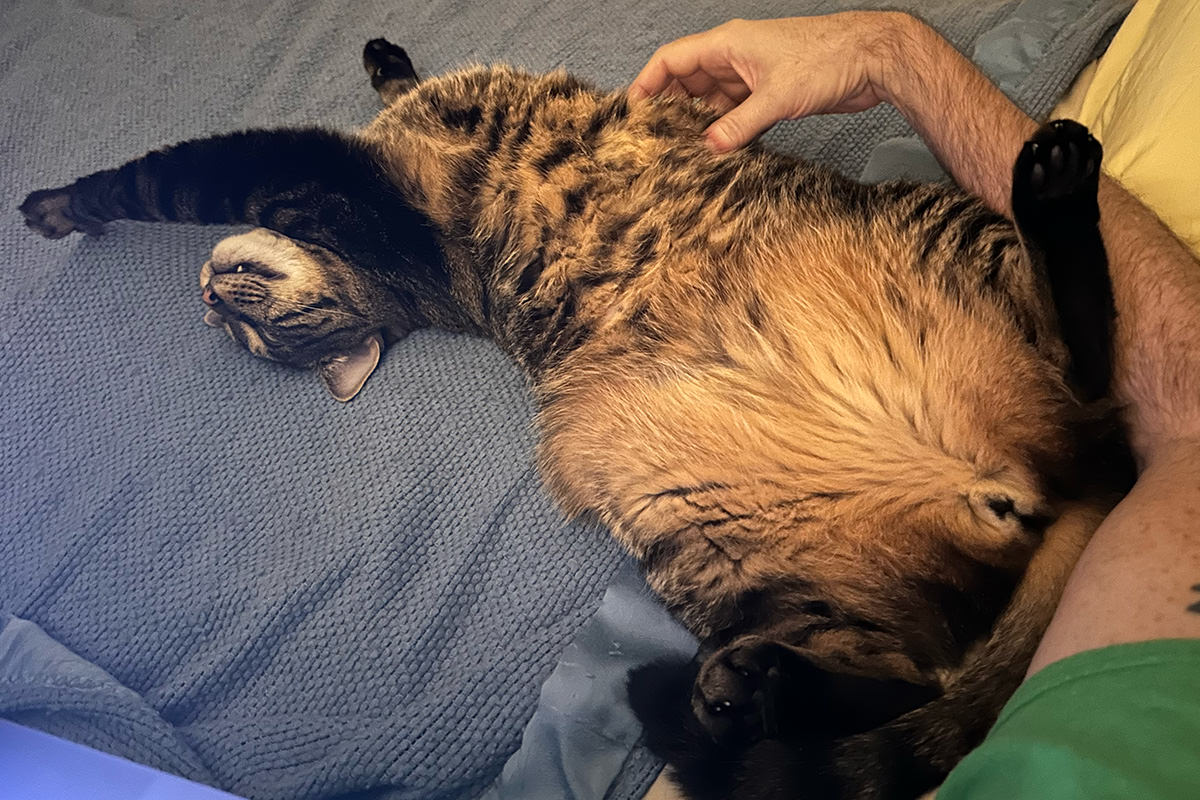 but when it gets colder he's on top of me...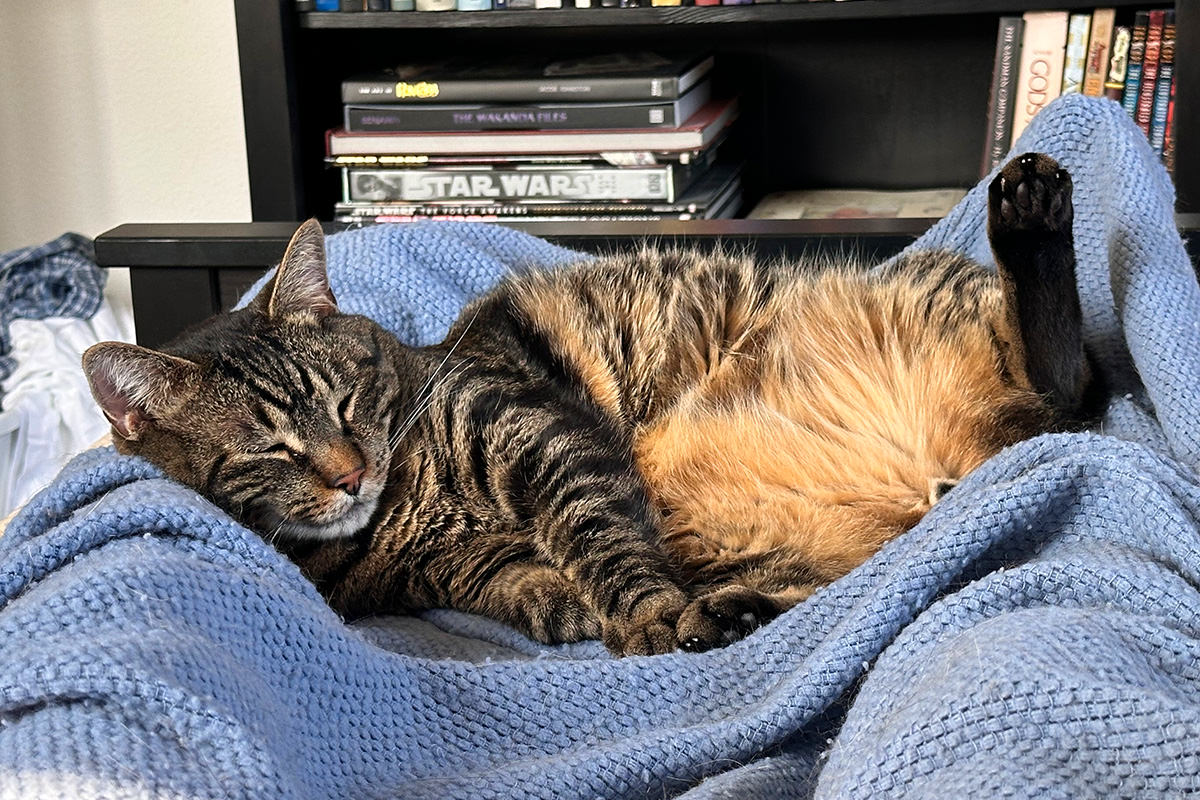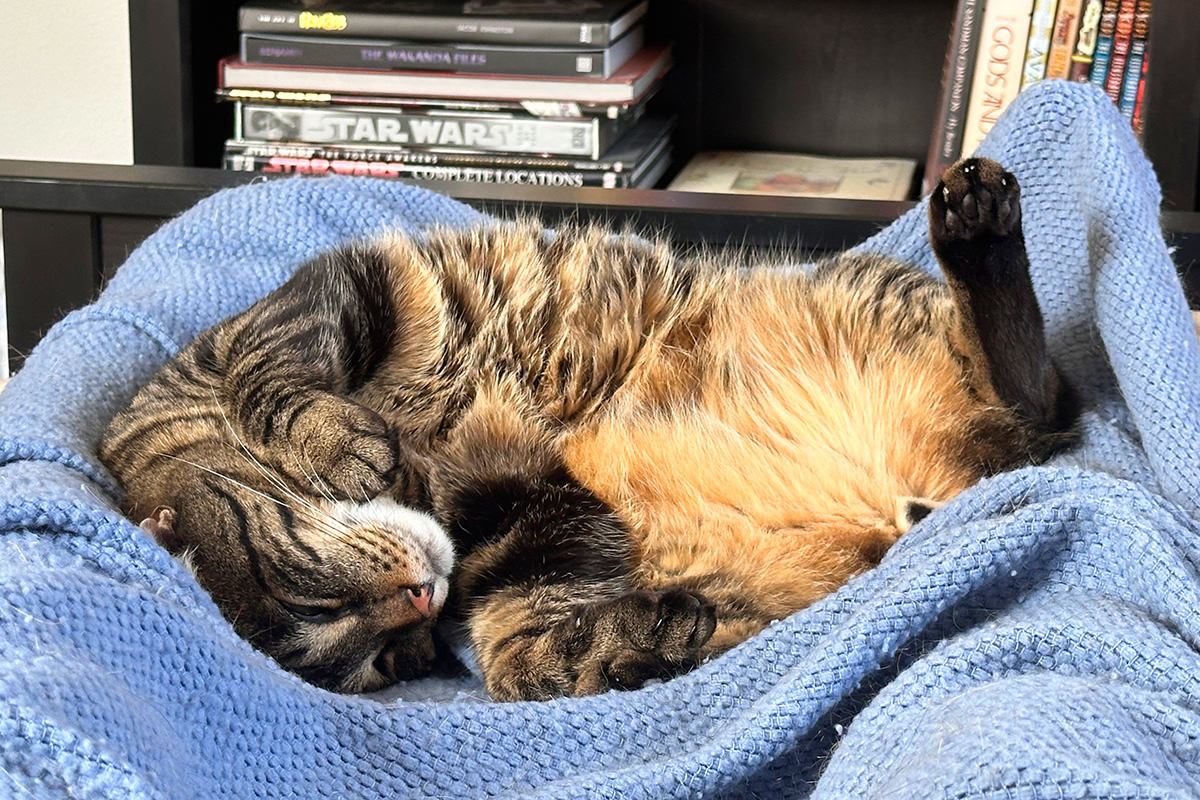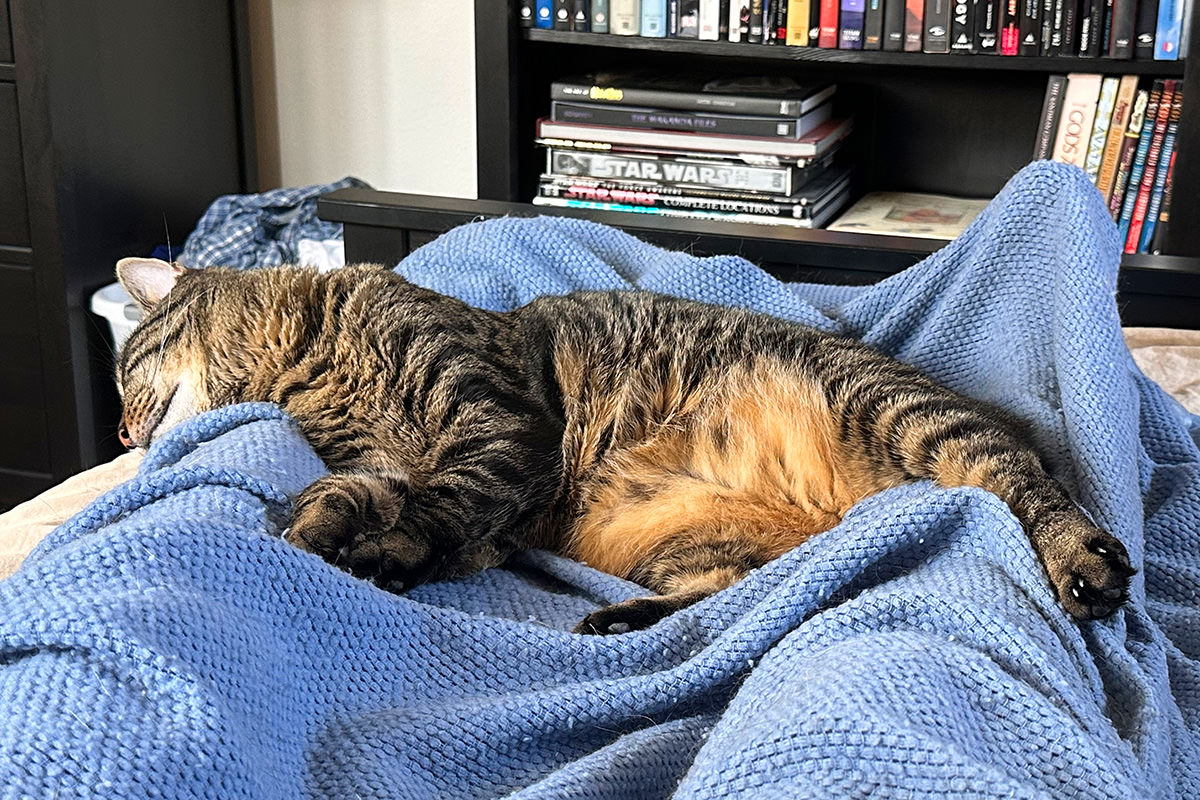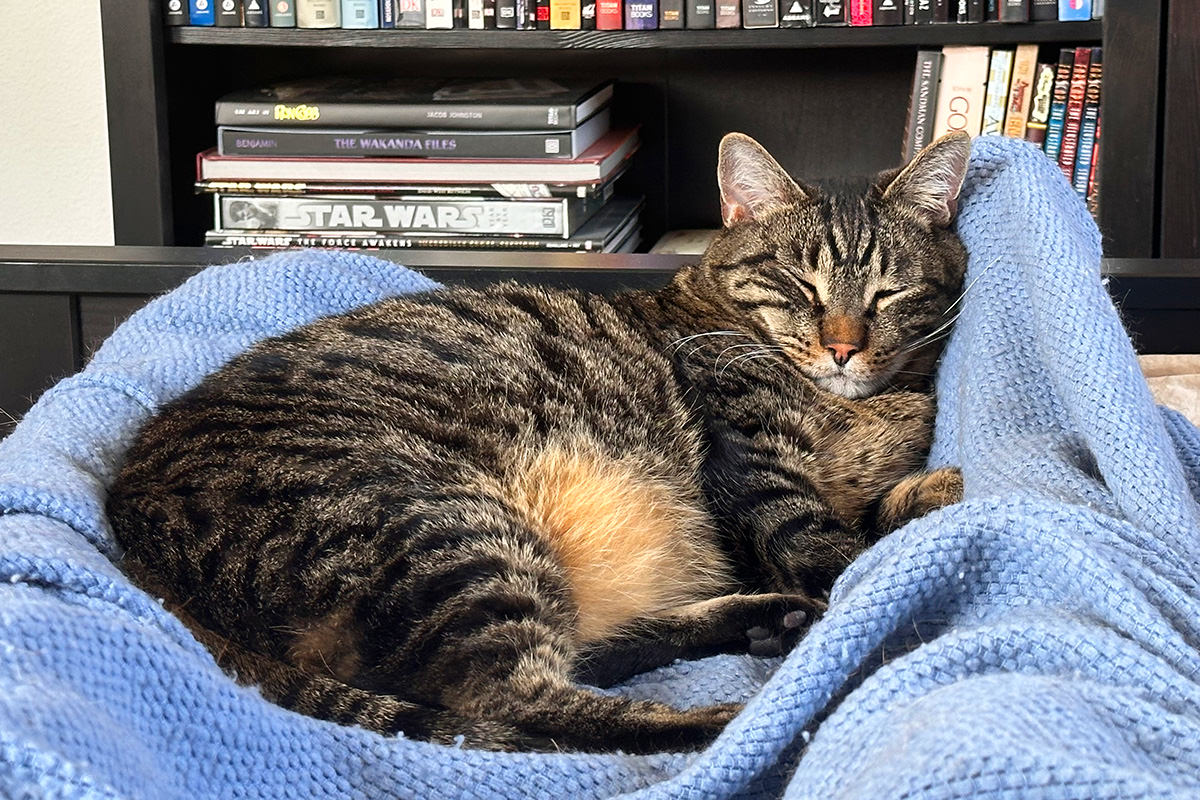 And if he can't squeeze between my feet, he'll sleep on top of them...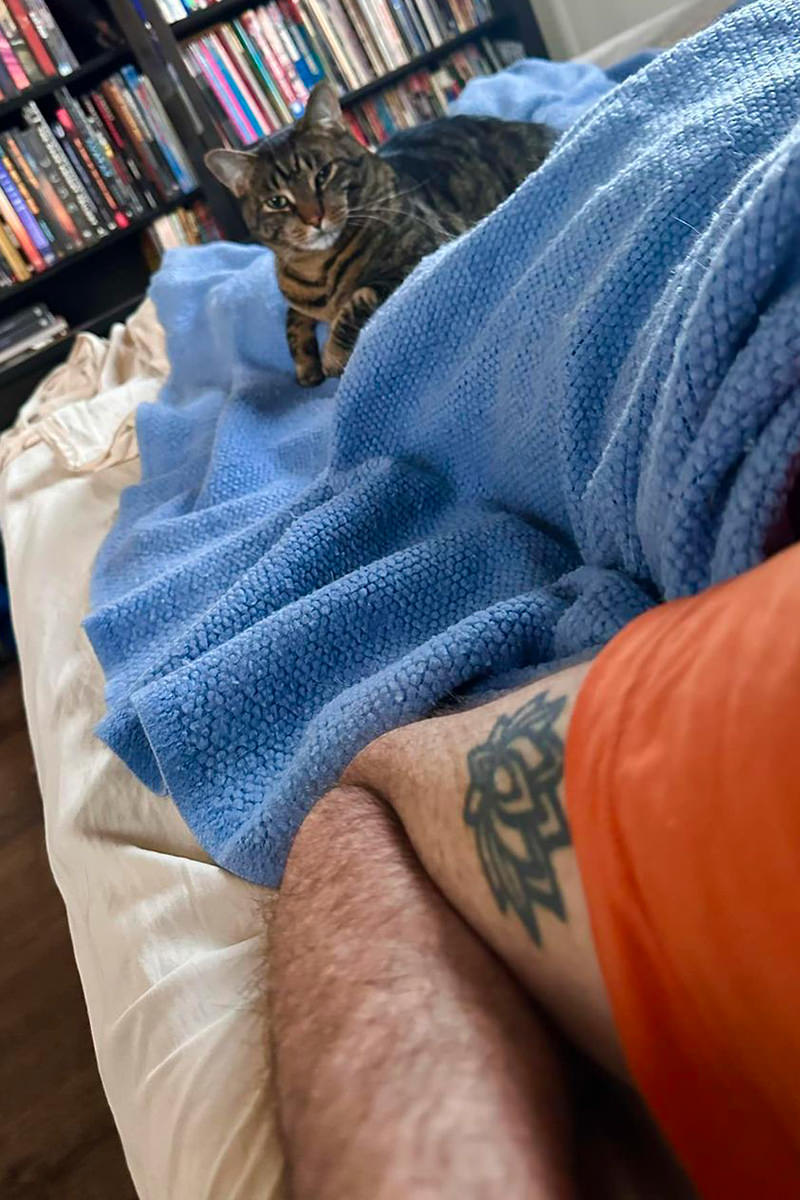 As for Jenny? She's been squeezing beside me on the couch when I'm sitting length-wise on it. But now? She will dig behind me even if there's no room to use me as a heating pad...
And so... I put out the warming pads for them...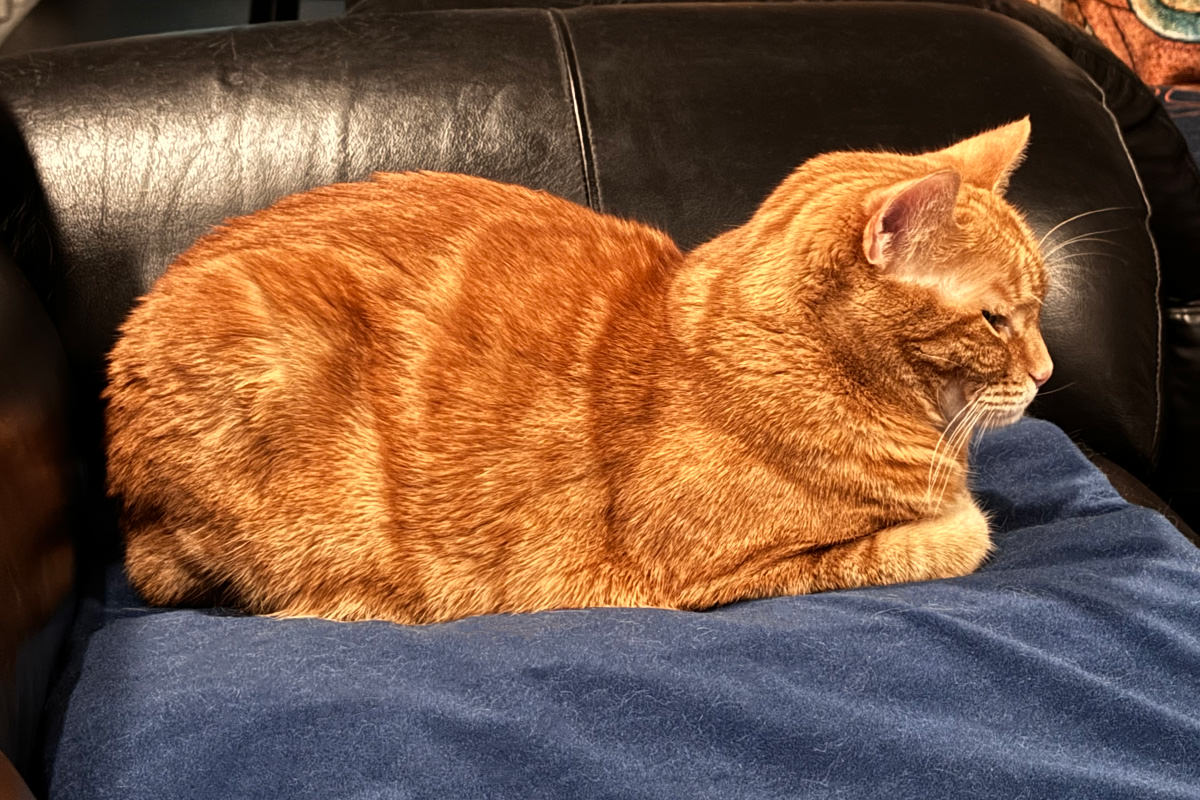 And so... I guess they've got their favorite place to sit for the next five months.
Posted on Friday, September 22nd, 2023

Today I was much like a kid at Christmas given that my new Apple Watch Series 9 and iPhone 15 Pro Max arrived. It happened the morning I was hanging out with my friends, so I was anticipating the transfer from my old phone to be shit-butt city as we went bar-hopping and I was climbing on and off Wi-Fi all afternoon.
Turns out I had nothing to worry about. Unlike last year when I upgraded to the iPhone 14 Pro Max, everything went off without a hitch. Well, almost. There's one teeny tiny problem that's giving me fits, but I'll get to that.
Apple Watch Series 9
As I mentioned during the keynote, I had zero intention of upgrading my Apple Watch Series 6. There just doesn't seem to be anything worth upgrading for. Well, except having a new battery, since the one in my old watch would no longer last the day if I had the always-on display set to "on." Still. With the display off except for tap-to-wake, I easily made it through the day and it did everything I needed it to do.
What tipped the scales for me was the fact that Series 9 does most all Siri processing locally. Which means that simple requests aren't passing through the cellular radio on my iPhone for a round trip that causes a noticeable delay. And, sure enough, the Apple Watch is really quick with Siri requests, which makes the price of admission worth it for me (once you factor in the $115 that Apple will give me to trade in my old one).
But it turns out this isn't the best part of upgrading.
The display is not just brighter... it's bigger!

It's five o'clock somewhere...
I have to get the little watch since, as you can see, my arms are so thin. The Series 6 is 40mm. The Series 9 (in red) is 41mm. But there's also the fact that the display goes out further to the edges. Everything looks bigger. Very nice.
The double-finger-tap control works as advertised. Everything is very zippy. Fast and smooth. Overall, a good upgrade from where I was. I dunno if this is a worthy upgrade if you've got a Series 8, but for me it was a good choice.
iPhone 15 Pro Max
I gave serious consideration to skipping an upgrade for a year so I could own my iPhone 14 Pro Max outright. But ultimately I figured one of the benefits of being in the Apple Upgrade Program is getting the latest and greatest, so I caved. Mostly because I use it more as a camera than a phone and the 5× optical zoom lens plus claims of better night photos swayed me. Along with the fact that iPhones hold their value well... but not so great that I'm leaving loads of money on the table from what I can tell looking at the 13 Pro Max used market.
Camera aside, I honestly don't notice a big difference with the 15. Sure it's a touch lighter, but all the things I like are mostly the same and the one thing I hate (Apple's silicone cases do not stay attached like they used to) is also the same. It's fast. It's capable. It runs all my apps very well. The end. Maybe I'll buy a game that has ray-tracing to see how that looks. Stunning, I'm sure.
Setup was far, far better than the past two years. Pairing my new Apple Watch was seamless. Everything copied over just fine. The only problem I have is that my phone app shows a red badge notification with a "1" in it... even though there's no fucking notifications when I look everywhere in the app. I've restarted three times and shut it down once. No joy. I finally just turned off badge notifications. Hopefully Apple will fix this shit one of these days. UPDATE: Turned off my iPhone for 20 full minutes then restarted. That did the trick.
Other than that, my complaints are A) They don't have a (Product)RED silicone case for it... B) The new Action Button is a cool thing, but it's WAY up on the side, so it's only hand if you're holding your phone horizontally... and you can't customize it for double-click or triple-click, and... C) The blue that I got is pretty much black with a blue cast... in the right light. And it's like... what's the fucking point? You've already got a black phone. So why not make a bright red (Product)RED phone or something that will truly look bold and different? Why do Pro users always get fucked with these boring-ass "premium" color choices? Of course, I'll take these over the fucking PASTELS that the regular iPhone 15's got. Because yikes. Those look like total shit. Maybe I should have gone with Raw Titanium color to have something different? Meh. It doesn't bother me that much. It's just disappointing.
Lastly there's USB-C 3.2 Gen 2 which will allow you to transfer much, much faster than Lightning (480 megabytes per second vs. 10 gigabytes per second). If you've got the right cable. And it's about fucking time. Jesus. Apple puts these massive sensors in their cameras and allow shooting RAW, but it takes an eternity to get them off of it because the resulting files are huge. I didn't even bother to shoot RAW, because it can take days to get them all in your computer to actually work on them. I've got USB-C 3.2 cables, so maybe now I will. Thank you to the EU for mandating USB-C on all phones... otherwise Apple would probably stick with obsolete Lightning ports for years longer. The one thing I don't understand it why they didn't just go with Thunderbolt4 (100Gps) compatibility to really make it worthwhile. Guess they're saving that to get you to upgrade in the future? In any event, you can record ProRes 4K 60Hz video directly to an external SSD now, which is pretty special.
iPhone 15 Pro Max Camera
First a caveat on that spiffy new 5× lens. It needs good light to function. If you don't got that, it switches back to you main camera. This did not happen with the 3× lens on my old camera. At least not that I recall. This is a pretty big downgrade, if you ask me. It may very well be a deal breaker for some people who would rather have a 3× lens with more flexibility. As for me? I'm greedy. I wish we would have gotten both. Add a fourth lens on the Pro Max to get the best of both worlds! Or, ideally, give us a 3× and a 10×. UPDATE: If you want to force the camera to use the 5× lens in low light, some third party camera apps (like Halide) will let you.
That being said, when you've got some light it's very nice. This was shot in a bar with not great lighting, but look how good it turned out at 5×! Very sharp and the color is beautiful, despite the fact that we're very clearly entering HDR "Deep Fusion" territory here...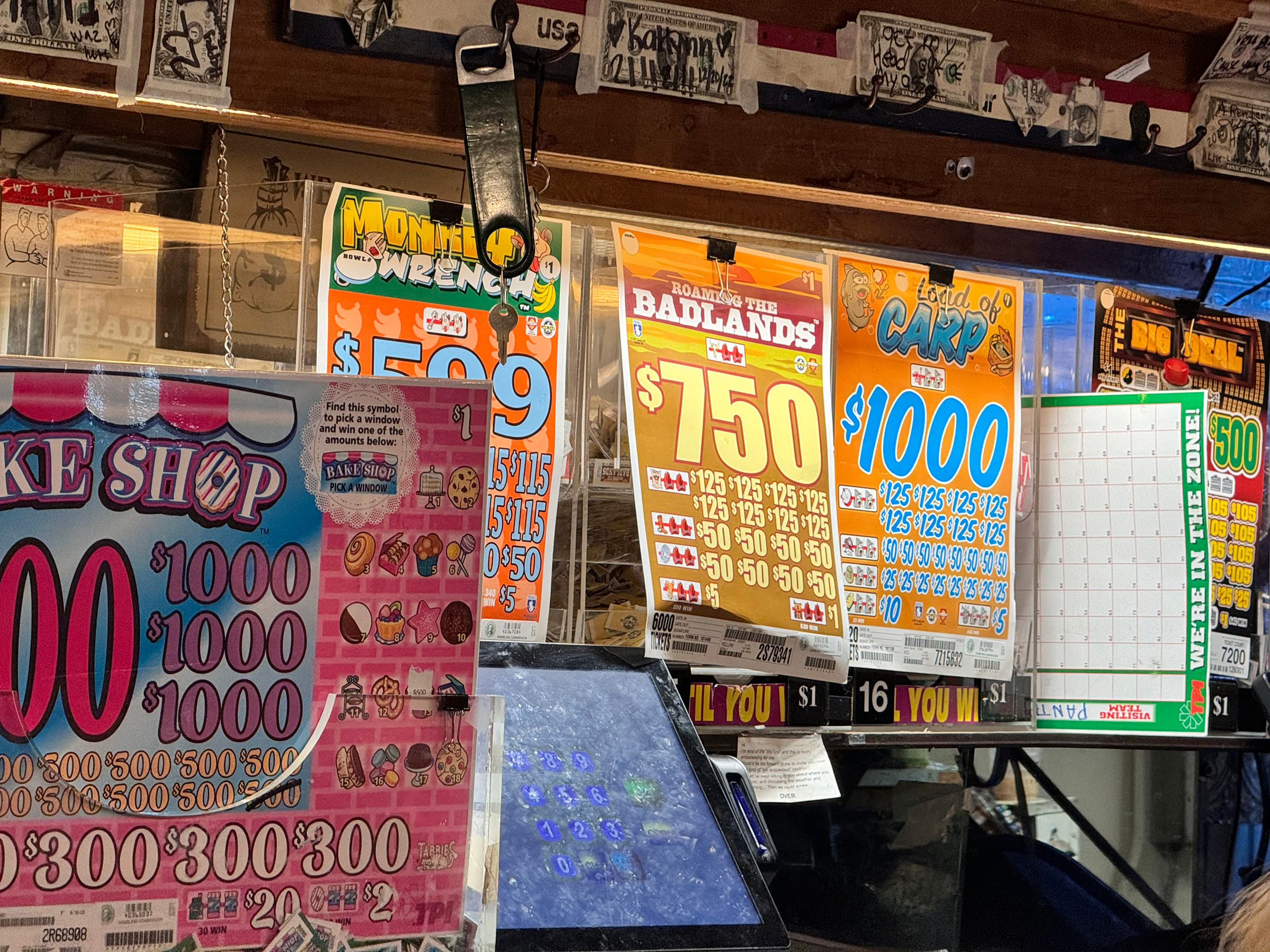 Click here to look at a bigger version.
Click here to see the full size version.
That's pretty impressive... but the main lens really looks great...

Click here to look at a bigger version.
Click here to see the full size version.
Interesting that Apple now calls the "Main Camera" the "Wide Camera" and the "Wide Camera the Ultra Wide Camera. Note that the "Wide Camera" has a goodly number of pixels more than the previous generation (but with bigger files, natch)...
Now... I have only had the camera for a tiny amount of time. I will obviously be taking more photos and a closer look at the features and quality sometime soon (especially when it comes to being able to change the focal point after the fact... because in playing around with it, this is a very cool feature). And of course I'll want to look at how well it shoots ProRes video (especially its ability to shoot LOG video that can be color graded easily and pushed in directions you can't get easily otherwise).
But last thing I want to say before I go is how Apple's claim that the new camera has "seven lenses" is not quite the bullshit it seems given that there's only three lenses on the back. The main lens allows you to use "virtual lenses" that crop into the data with common focal lengths (24mm, 28mm, and 35mm). But you still end up with 5712×4284 images, which means that Apple is upscaling or doing some kind of magic to get there. And the result is very good. I did the same thing in Photoshop to compare, and Apple's method always comes out on top. Which means that they must have specialized computational photography routines to come much closer than a mere crop.
Ultimately I don't know that going for the upgrade was the best choice for me. I likely could have gotten along with the 14 Pro Max for another year without issue. But as somebody who likes any improvement Apple will give me on the cameras, the 15 Pro Max will likely make me happier overall.
Until next year.
Posted on Thursday, September 21st, 2023

I'm just going to be brutally honest: I am getting all the vaccines. I 1000% believe in the same science that's eradicated polio and allows me to have a phone /slash/ computer /slash/ camera in my pocket. So long as there's something that is tested and proven to help people survive COVID, I'm here for it. Especially as I get older and COVID keeps roaring back with new levels of hospitalizations and death.
I've got cats that are counting on me to be alive.
Today I got the new 2023 Super COVID Vaccine. The only reason I waited so long is that there were no appointments available when it arrived here on Tuesday. They don't have Pfizer in my neck of the woods yet, so I snatched up Moderna SpikeVax. My first dose was Pfizer so I've gotten all my boosters from their releases... but I researched and found that's not necessary any more.
This was COVID mRNA vaccine dose No. 6 for me and the easiest one yet. Zero arm soreness. Zero reaction.
I hope I didn't get a dud!
Next Friday they're having flu vaccinations at work and I'm getting that one too.
And when I'm eligible for the RSV and Pneumonia vaccines, I'm fucking rolling up on those two as well. If there's something out there to add any measure of protection in my declining years so I have better quality of life or... you know... don't end up dead? Bet that I'm in line for it.
Interesting to note that I was told by the nice lady jabbing me that there are no more boosters. It's just an annual COVID shot like the flu shot. I didn't know that. I'm a bit concerned at this though. Last I read they were worried that vaccine boosters weren't lasting the 6 months it took to get the next one... now they're lasting a YEAR? Here's hoping.
And then...
I never eat at Taco Bell anymore because I just can't afford it, but I needed something to distract me from the fact that I've got THE DEVIL'S mRNA RUNNING THROUGH MY VEINS. My lunch with no drink: $18. Wow...
Remember when Taco Bell was affordable food?
It doesn't help that I have to pay for meat I have them take off.
But hey... it was delicious as always.
Posted on Wednesday, September 20th, 2023

The Maui wildfire that devastated a community has provided too many sad stories all too regularly. Victims are still being identified six weeks later, wealthy real estate predators are descending on people to buy their land, and people are struggling.
But amidst all that... there's hope.
The Maui Banyan Tree, planted in 1873 and aged over 150 years, was horribly burned in the fire. But today I saw this...
Hope.
Life sometimes finds a way.
Posted on Tuesday, September 19th, 2023

This morning I checked into Facebook, which is a morning habit I can't seem to break. After scrolling for a minute, a friend posted this...
"I have a trans friend who lives in Chicago who was working as an aide in an after school program. The company she worked for was contracted by the school district and they were based in Indiana. As a result, she just got fired for being trans, because that's the law in Indiana now, even though she works in Chicago. She was legally fired because she is trans, and for no other reason. She has no legal recourse for this. This is the country we live in."
After reading it, I commented thusly:
American Freedom: where you're free to be who we say you can be, not who you are.
I've written a few times about my friend Margot... who is one of the most funny, generous, kind people I know. She's a good member of her community. She works hard. She pays her taxes. She never had a bad word to say about anybody. And she's donated tons of her times to causes she believes in. By every metric you can throw at her, she's a model American citizen. And proud to be one.
Margot isn't a close friend. But we do keep in touch. We exchange memes. We share life's happenings. We talk about our hopes and dreams. I love her as I love all my friends. She is inordinately special to me because of who she is as a person.
Which happens to be a trans woman.
I'd say that this has absolutely no bearing on our friendship, but how could it not? Her being a trans person has shaped her into the person I care about so much.
She's been physically assulted twice. That I know of. The last time, she had to be taken to the hospital. What made her deserving of the attack? She was walking home after meeting up with friends. She got assaulted for merely existing. All she's doing is playing the cards she was dealt to the best of her ability, and that was enough reason for her to be beaten. And this doesn't even account for the number of times she's been verbally assaulted, which I'm sure is a lot. I know how people are.
Which is to say that I know how society has conditioned them to be.
And it starts from the very top.
Anti-trans legislation is spreading like a plague, and good people just trying to live their lives are suffering because of it. People hate them, and want to write that hate into law, so they do. It's not just Indiana, just look at this map from TrackTransLegislation.com...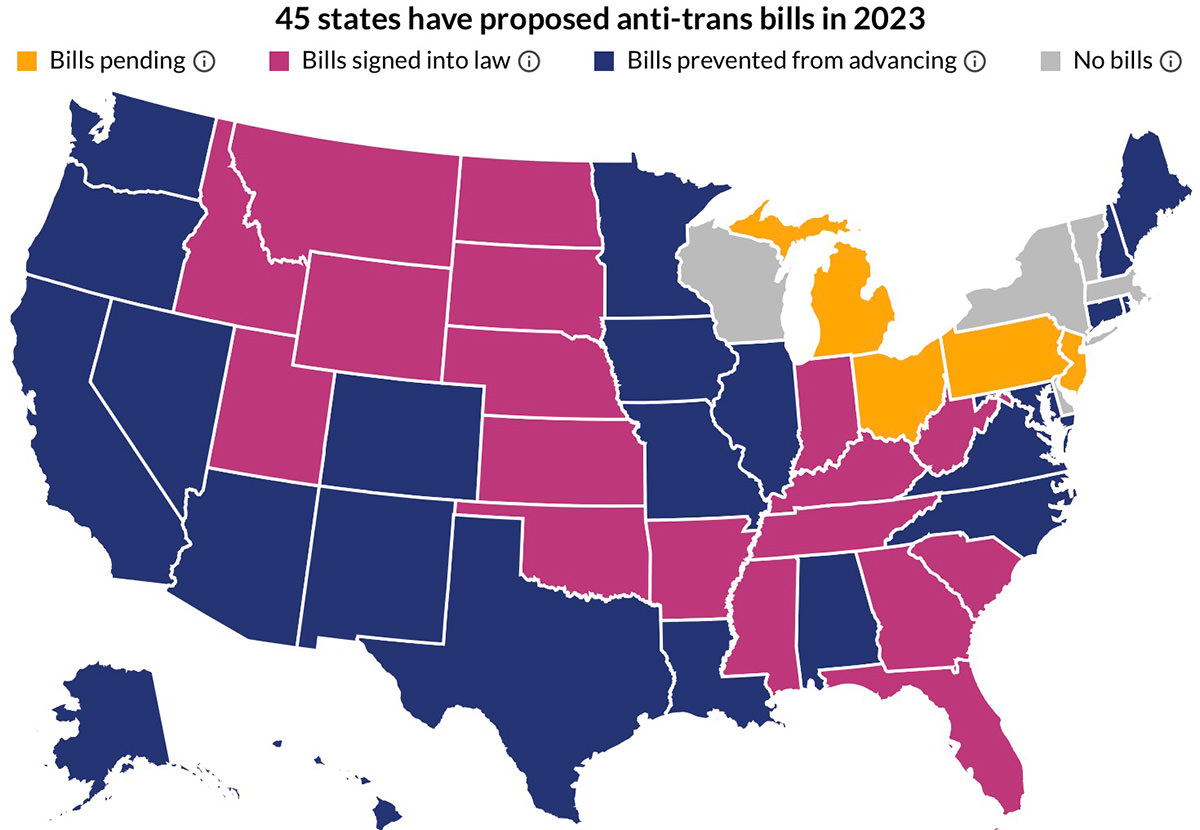 So, yeah, our laws are conditioning our citizens to hate Margot for absolutely no reason. They don't care who she is as a person. They don't give a shit what's in her heart or how much she does for others. And yet they elect people who do heinous shit (like passing laws against her) just because they can. She's done nothing to anybody, and yet here we are.
God bless America. This is the country we live in.
And of course the excuse is always about "protecting women" or "protecting children" or some such bullshit. If "protecting women" were true, they'd be passing laws guaranteeing women's right to abortion care, but instead women's lives are in mortal danger because if something has gone wrong with their pregnancy it's illegal to help them in places. If "protecting children" were true, they'd be passing laws against churches having access to children, but instead kids are being sexually assaulted in record numbers by churches. Every time I've seen an anti-trans argument comes up, it's easily refuted. There are still people out there who believe that a seven-year-old can walk into a hospital and demand sex-reassignment surgery and get it, which is a lie. And despite the fact that hormone blockers have been used since the 1980's... for forty years... for all kinds of reasons (and are reversible) there are people who believe that they are dangerous instead of saving the lives of trans kids.
So miss me with your anti-trans bullshit.
Because all of it is just people being suckered into a huge misdirect. They don't want to persecute the untouchable politicians, pastors, and priests who have actually been sexually assaulting kids, so they blame it on trans persons and drag queens so people have a place to focus their faux outrage.
Which is grounds for actual outrage.
And yet an awful lot of the 99% of people who aren't trans persons don't give a shit. On the contrary, they actively participate in the massive misdirection going on, gleefully and willfully ignorant of the fact that it protects those who are the real danger to others.
It seems to be the new American Way.
And what American Freedom has become.
Posted on Monday, September 18th, 2023


I worked 11-1/2 hours today. I'm done.
Posted on Sunday, September 17th, 2023

It may be getting cold enough that I'm contemplating turning on the heat, but it's always warm on my blog... because an all new Very Special Video Edition of Bullet Sunday starts... now...

• Kookaburra! Now, granted, I would not want this outside my window (and I remember them very well from my trip to Australia), but it's sure nice to admire them from afar...
So cute. Are there any baby creatures that are not adorable?

• Andor! Diego Luna is precious and life-affirming. This entire video is fantastic...
On top of that? He's a remarkably gifted actor. I am dying for the second season of Andor to arrive.

• ¡Yo Quiero! "It's the same thing in a different thing." — HE'S FIGURED IT OUT! HE'S DISCOVERED THE TACO BELL FORMULA!
LOL. These foreign takes on quintessentially American things never gets old!

• Does Whatever a Spider Can! Video games have reached the point where you're basically playing a feature film. This looks incredible...
This was a Spider-Man game when I first started playing...
Insanity. And soon we'll have much, much better VR experiences, which could take it to an even more immersive level.

• Unreal! If you want a look into the absolutely fascinating world of 3D computer graphics, this is an amazing behind-the-scenes look at how photogrammetry works...
Now, I've written about the Unity gaming engine a couple times before. The stuff people are doing with it is breathtaking (including companies like Lucasfilm and Marvel using it for producing their projects). It is an amazing, amazing tool. Unfortunately, they've just unveiled a hugely controversial licensing model, which is gouging game developers in a terrible way. It's easy to say "Just switch to a different gaming engine if you don't like the cost!" Except video games take years to develop. Even for large studios with hundreds of employees. So if you've been working on a game for two or three years... how can you afford to switch to a different engine? This is a major deal. So major that some game projects are being canceled... and some developers are going to switch engines despite the additional time needed...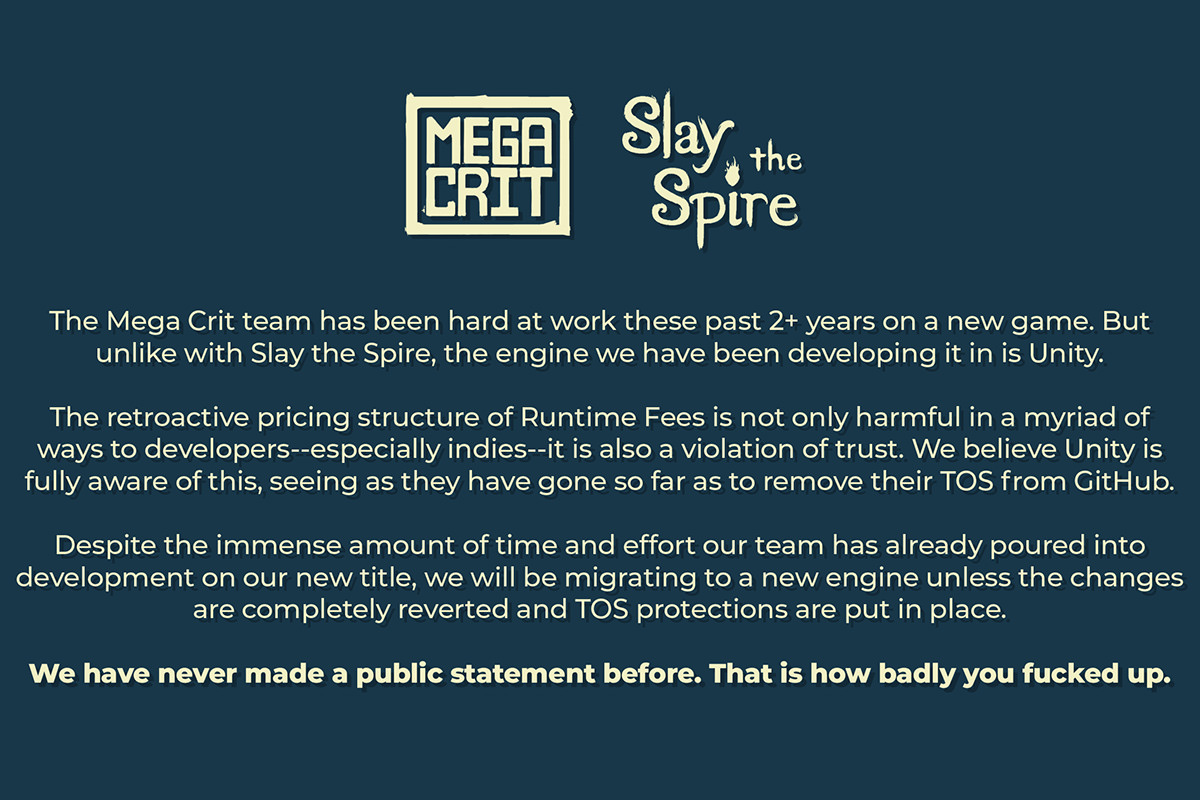 Of course the people behind Unity deserve to get paid for their hard work. But to kill developers to get there seems like a horrifically bad business model. Hopefully they will re-evaluate what they're doing and come up with something more reasonable.

• SCIENCE! Despite an inexplicable (and highly selective) anti-science movement by fucking idiots, science marches on. And this is fascinating...
Fascinating and scary. Plants screaming? But in brighter news... research into Alzheimer's just keeps advancing. Very promising that one day we might have a cure.

• HomeShit! For anybody saying that I am exaggerating about just how fucking shitty Apple's HomeKit is, this guy is a total expert and even he can't solve the problems he's been having. He finally ended up resetting and rebuilding his entire HomeKit setup...
If I get this desperate, I'm just going to bail on HomeShit altogether and go with Matter and some kind of smarter home hub (like Homey Pro). In the meanwhile, I am just applying Band-Aids to try to solve the massive fucking problems I'm having. As an example, I just installed a light and motion sensor in my garage as a backup to automatically turn the light on when the doors open since HomeShit automations keep dying on my door sensor for some reason (even though the light switch and sensor itself is operating perfectly).

And on that happy note... enjoy the rest of your Sunday.
Tags:
Apple Stuff
,
Bullet Sunday
,
Food
,
HomeKit
,
HomeShit
,
Science
,
Television
,
Video Games
Categories:
Apple Stuff 2023
,
Bullet Sunday 2023
,
Food 2023
,
Television 2023
,
Video Games
—
Click To It:
Permalink
—
1 Comment: Click To Add Yours!
Posted on Saturday, September 16th, 2023

Sleeping arrangements for my cats is ultimately wherever they feel like it. And they are happy to sleep just about anywhere. Although this time of year they're mostly sleeping with me as a human hot water bottle because the temperatures are falling and I haven't turned on my heat yet.
Jenny has been sleeping in kitty beds scattered around because they are insulated and keep her warm...
Another favorite spot while in the living room is the backs of the couches. I usually have a blanket folded up over one spot, which they started fighting over, so now I unfold it out across the entire length so they can both lay on it...
Something Jake likes to do is wait until Jenny has fallen asleep next to me... then wedge himself in-between us so he can use Jenny as a pillow. Sometimes she swats at him or runs away... but other times she seems okay with him being annoying...
Once the heat is turned on, they'll probably go back to sleeping near the vents. It's the most comfy place to be. Which reminds me... I need to reverse the direction of the ceiling fan in my bedroom.
Posted on Friday, September 15th, 2023

All week I've been trying to finish up a project that should have been finished last week. But something always came up. Which is why I was doubling down in committing myself that, come hell or high water, I would finish it up today.
And then I went in to the office. And was immediately hit with numerous crises that had nothing to do with my job, but needed to be handled by somebody which, alas, ended up being me.
Needless to say, I never even got to touch what I was planning on working on today.
Which means I'm working this weekend.
I thought Fridays were supposed to be the best day at work?
Posted on Thursday, September 14th, 2023

Love her or hate her... Katie Porter always brings the receipts and always knows the score. And what this doesn't show is that AMERICAN TAXPAYERS fund some of the R&D that goes into these drugs in the first place and get high prices in return. But Big Pharma has a massive lobby that doles out billions to buy off our politicians so they tell us lies.
This isn't just Republicans... a lot of Democrats are sucking Big Pharma dick. Here in Blue Blue Super-Blue Washington State, our Senators Patty Murray and Maria Cantwell voted against cheaper drug re-importation from Canada out of "safety concerns" because of all the massive deaths in Canada from their un-safe drugs that you read about in the news every day. Oh... I misspoke... that doesn't exist. Nope. It's just bullshit to cover the fact that they take money from Big Pharma and are safeguarding their billions in profit...
If they took money out of politics so that politicians would have to service their voters instead of servicing the dicks of corporations for cash, how much better off would this country be?
I don't know.
But I'd sure like to live there.