This Sunday is 17% more lethal than usual... because an all new Bullet Sunday starts now...

• Vote! Voting in the August Primary was fairly easy for me. If you're a Republican, I Google to see how hard you've worked to disavow President Trump and his entire cesspool of an Administration. If you haven't... or, heaven forbid, you support the assholes... you get no vote from me. I then look at all the Democrats and research who is in a best position to defeat the Trump-enabling Republican running. Because right now? That's all I give a shit about. Making sure that every last fucking Republican who isn't whole-heartedly disavowing Trump goes down in fucking flames. I don't want Republicans to LOSE in the upcoming election... I want them to be UTTERLY DECIMATED AND DESTROYED. I used to vote with no regard to party affiliation and ended up with both Republicans and Democrats on my ballot. Not any more. After Trump, Republican politicians don't deserve air to breathe, let alone my fucking vote...

Has there ever been so petty a piece of shit president in this country? LeBron has done more for education by opening up ONE SCHOOL than Trump, DeVos, and their entire administration has ever done.

• Shit! Late-night television is really something else. SexToys followed by Larry King? Seems about right...
And after that? More shit, along with some other program before it...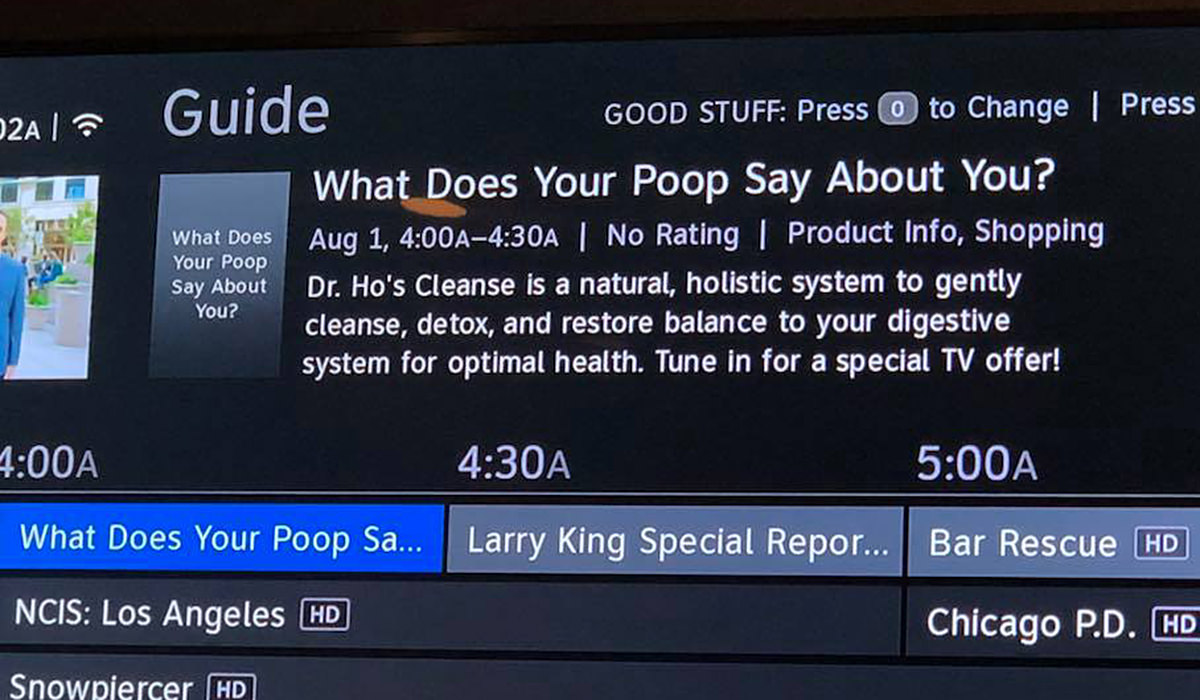 Larry King is one of those people who I can't for the life of me understand how they got famous. He has to be one of the worst interviewers of all time. He has no fucking clue what he's talking about and always seems woefully unprepared and completely ignorant as to the person he's interviewing. At least now he's putting is "talent" to appropriate use by hawking senseless shit in infomercials.

• Cool! This week I took the "What I have in my refrigerator" challenge...
Coke Zero, Sprite Zero, original Coke (for guests).
Various sugar-free sodas (which I don't like).
Leftover Vitamin Water (from the plane).
Atkins shakes (for high blood sugar days).
Pickles.
Emergency water jug.
Six kinds of cheese.
Sugar-free jellies (strawberry & blackberry).
Ketchup, mustard, pizza sauce.
Spreadable butter.
Trader Joe's slivered almonds.
Four kinds of mayo.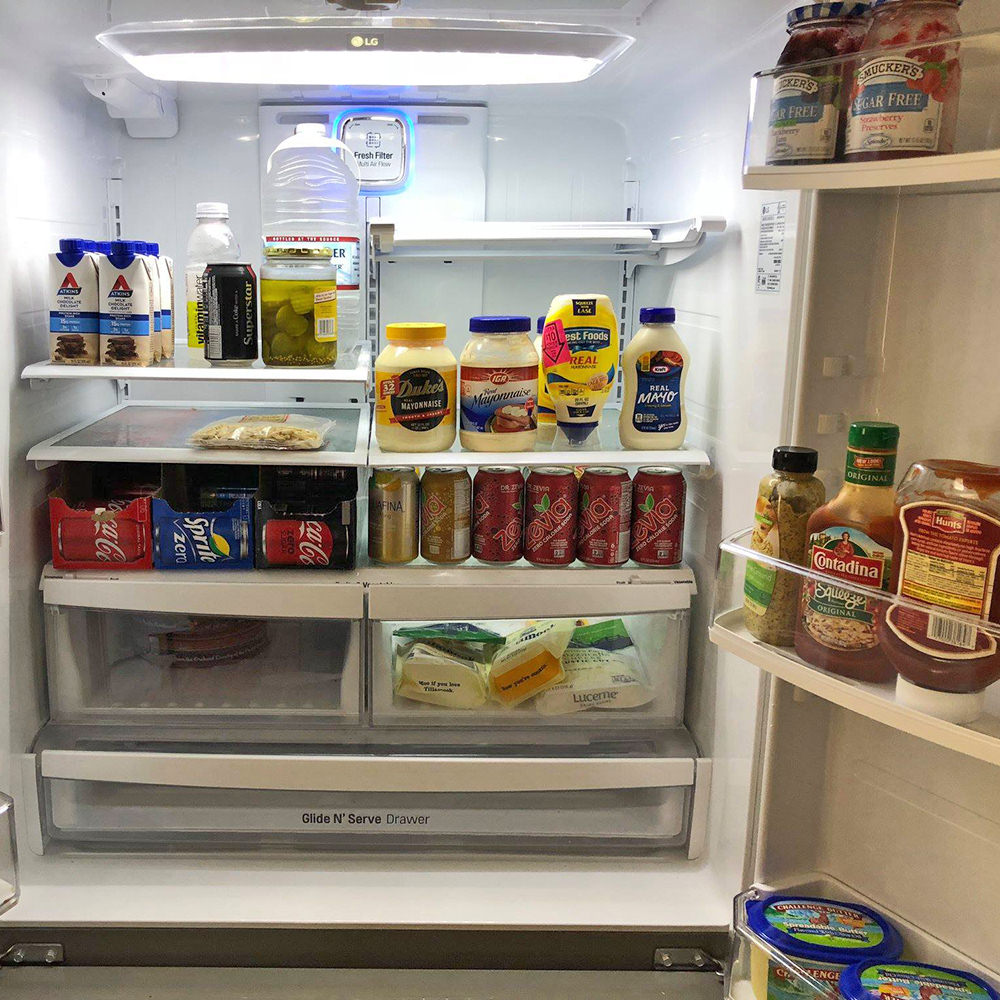 YES! FOUR KINDS OF MAYO!!! I use the cheap stuff for salads, Best Foods for burgers, Kraft for egg salad, and Dukes for fries (I use it when I'm out of Dutch mayo, like now). If I had to give them all up, I'd eat only Dutch mayo.

• Big Gunn Two! Another take on where we are now...
Twitter... memories that never really go away...

• Failure to Launch! Johnny Rockets, where I first discovered Boca Burger patties years ago in Santa Monica, has now replaced them with a Black bean patty. Which is stupid as fucking hell. People go to Johnny Rockets for a BURGER. Even vegetarians go there for a BURGER. They just don't want to kill a cow to get one. And what's really stupid? THEY'RE ALL FUCKING FROZEN! They could have had both of they wanted a black bean burger so badly. And so... after decades of visiting Johnny Rockets around the globe... no more Rockets, bitches. No more Rockets for me.

• Liberty! And, lastly, here it is for those eating paste right from the jar...

NEWS: Attorney General Jeff Sessions announces "Religious Liberty Task Force."
This is the most insane, fucked-up bullshit yet. We now need a task force to protect Christianity?!? Because it should be painfully obvious that they are NOT doing this to protect Muslims, Buddhists, Jews, Hindus, Sikhs, or any other NON-CHRISTIAN religions. Since when are Christians a minority in need of protection? Last time I checked, they weren't fucking BURNING CHRISTIANS IN THE STREETS. Last time I checked, you could still go in a fucking UNITED STATES GOVERNMENT POST OFFICE AND BUY NATIVITY STAMPS FOR CHRISTMAS. Last time I checked, CHRISTIANITY WAS THE LARGEST RELIGIOUS GROUP IN THE COUNTRY. Make no mistake... NO MISTAKE... this is nothing more than a full-on attack on gay, lesbian, and transgender persons... and any other American who doesn't fit into the mold that these fucked-up assholes feel is acceptable. Disgusting. Task force? Horse shit. Nothing like your own government spreading fear and persecution to keep their power. I wonder if they'll be required to wear uniforms? Brown shirts, perhaps? No... probably more like white hoods...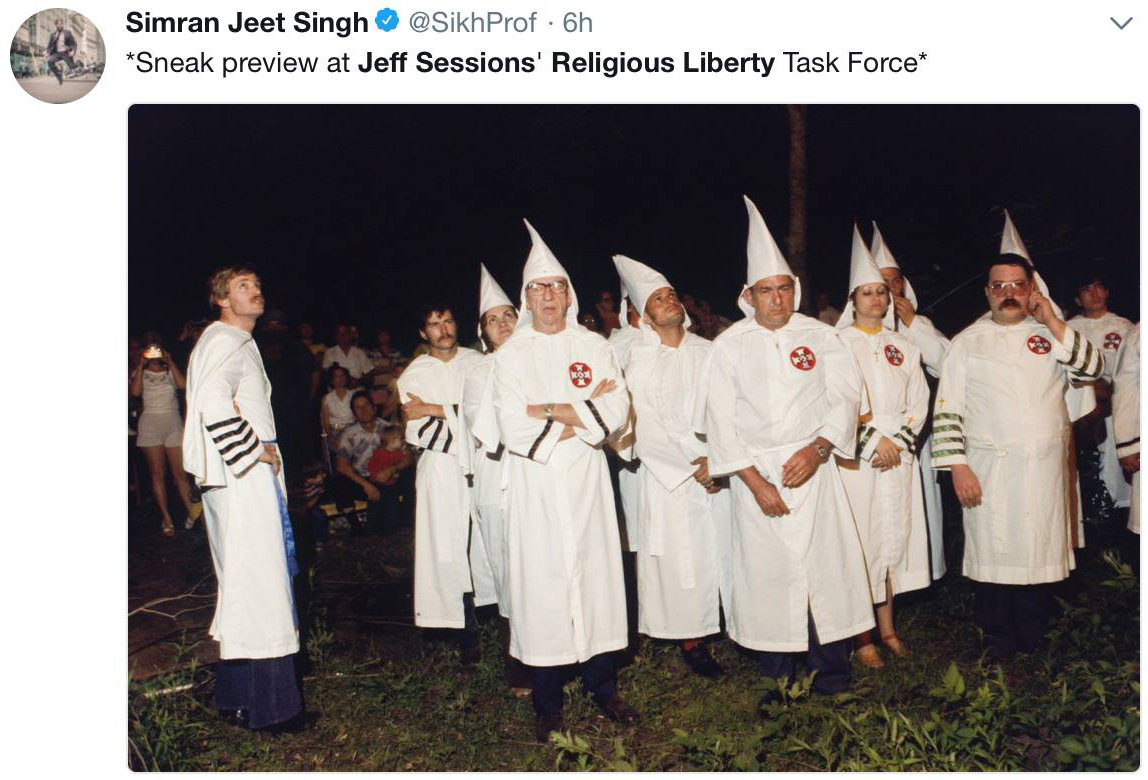 Until next Sunday then...
---
Continuing on with my revisiting of every Marvel Studios movie...
MARVEL STUDIOS MOVIE OF THE DAY, No. 4: Thor
Original Grade: B+ • Today's Grade: B+
I was never a huge fan of the Thor comic books. Sure I read them off-and-on... sure I loved what Walt Simonson did with the character in his run... but he never got to the level of Doctor Strange or Black Panther or Fantastic Four or Iron Man for me. But then this movie dropped and I became a pretty huge Thor fan. Partly because the movie was done so well... but mostly because I could see just how Thor would work as another piece of the Marvel Cinematic Universe. A lot of the credit can be given to Kenneth Branagh for bringing a majesty to the character and to Asgard that the film needed to sell the story. Asgard was epic in scope and beautifully designed. Silly concepts like Bifröst, a "rainbow bridge," were given perfectly believable representations that worked. And though his full potential wouldn't be seen until Ragnarok, how frickin' perfect is Chris Hemsworth in the role? Not anybody else was a slouch in the acting department. Anthony Hopkins is about the best possible Odin we could have hoped for. Tom Hiddleston brought so much energy to playing Loki that the character has been as much a lynchpin for the MCU as its heroes. Idris Elba, Natalie Portman, Renee Russo, Stellan Skarsgård, Kat Dennings... anybody and everybody was so wonderfully, thoughtfully cast. And a standing ovation to Patrick Doyle for the score. Soaring and beautiful, it was a tangible presence throughout the film. Overall, Thor was a crucial step on the road to Avengers that could have been a disaster. Instead it's a worthy addition that totally holds up.

SCENE TO BEAT: The frost giant battle puts a pin in what makes Thor be Thor.

COULD HAVE BEEN BETTER: There are two problems with this film that I have a tough time getting past. 1) The entire span of the film happens over like... what... two... three days? Yes I love the movie, but if you stop a minute and think about how insane the timetable is, things get a little ridiculous. 2) They bleached Hemsworth's eyebrows and it looks crazy distracting. Thankfully they gave up on this absurdity in future movies.

SIDENOTE: When they decided to do away with the whole secret identity nonsense in Iron Man, I honestly thought that would be the end of it. But then along comes Thor, and Dr. Donald Blake was brought up, then dropped like a hot potato. It was a fantastic decision which has been carried forward (more or less) with each new movie. So smart. Given the rather short runtime of a major motion picture, there's just not time to waste on the whole idea, so why bother? It was cute in the original Superman movies, got tired in the Batman films, and is downright silly now. Sure special effects are so economical and amazing that we can show Superman doing all kinds of crazy awesome stuff... but let's blow precious screen-time having Clark Kent investigate a story. And while Hawkeye is the butt of a lot of jokes when it comes to the Marvel Studios films, I have to say they gave him a really good cameo here as we ramped up for Avengers.