Posted on April 16th, 2023
Posted on September 11th, 2020
Posted on April 12th, 2020
Posted on March 12th, 2020
Posted on February 14th, 2020
Posted on December 11th, 2019

I have been working day and night to complete a project by my Friday deadline. It hasn't been easy because my brain has turned mooshy and it's difficult to think when you have a mooshy brain.
One consequence of concentrating everything I have on work is that I am completely ignoring the outside world. To be honest, I'm probably better off. When I was flipping through channels so I could get to Hallmark, I landed on some kind of news program discussing some people's desire for a "second civil war" if President Trump is impeached, and that was enough. I mean, come on. He did it. There is overwhelming evidence he abused the power of his office for personal gain and should be impeached... and quite possibly removed. Cases like this is why impeachment exists! And yet... there are people who say this should be ignored because they are so caught up in the non-stop lies of the Trump Administration that they refuse to listen to the truth. Seriously, if President Obama had done even the tiniest fraction of the crap Trump has done, these same people would be calling for him to not only be impeached and removed, they'd want him to be executed. It's complete madness.
But oh well. Such is the world we live in.
Anyway...
I had my nose in my laptop and didn't look outside all night. When I did, I was surprised to see that it's snowing out...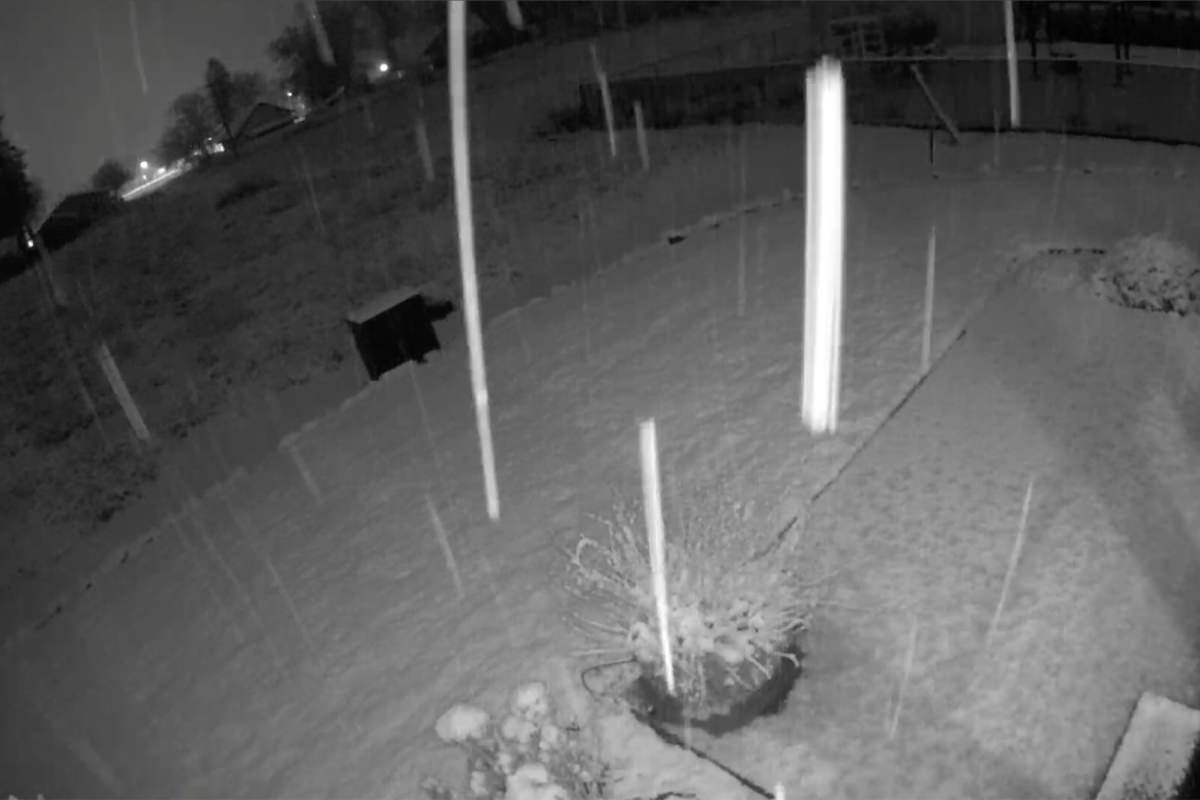 Only time will tell if it will last. Tomorrow's forecast says it will be sunny skies through the afternoon with the temperature gettiing up to 42 degrees... which then has a 70% chance of leading to rain in the evening. In which case, bye bye snow. Personally, I would be happy if the snow didn't stick around and hold off until I'm done traveling on the 31st.
But since when do I get what I want?
Some little kid who is much more pure of heart than I is probably wishing for a white Christmas and we all know who Santa is going to listen to.
Posted on November 19th, 2019

I honestly don't know where I land on all the impeachment stuff.
I mean, yeah, the president abused his office for personal gain. There is no debating this. It all really happened and there's a preponderance of evidence that it happened. Of course the president denies it happened... but then, like every other time he's accused of something he did, he tries to suppress evidence and tell lies to convince people it didn't happen. Then real evidence is uncovered, proof is found, and he starts screaming "Fake News" so his supporters will look the other way. This has been happening since he assumed office. And it's obviously a strategy that works for him because he should have been thrown in jail long ago.
Except... don't all politicians do crap like this?
The issue at hand here is that President Trump's corruption is so much easier to see. Because. He's. Just. That. Damn. Stupid. And he surrounds himself with fucking morons like Rudy Giuliani who is happy to go on live television interviews and admit everything. And, oh yeah, President Trump's crimes run bigger, badder, and worser than most politicians, so there's that. He is effectively giving this country to billionaires, special interest groups, and foreign countries (many of them our enemies)... all while eradicating small business and the middle class to do it. People who benefit him get everything. People who cannot benefit him get fucked.
Same as it ever was.
Same as it ever was.
So, yeah, sure. Impeach him. Remove the president from office. Let bat-shit crazy insane Vice President Pence eradicate what few personal liberties remain and start World War III by nuking all the non-Christian nations (it's the jihad he's been masturbating over for decades). Or let President Trump continue his term... possibly get a second term... and run this country so far into the ground that it can never recover. Either way, we're fucked. The world is fucked.
The only way that impeachment will actually mean anything for the rest of us is if ALL the crooked politicians get thrown in jail. ALL of them. Then we can establish term limits... eliminate gerrymandering... abolish lobbyists... curb corruption... strive for equal representation... nurture personal liberties... repair our environment... protect our wildlife... set our clocks to permanent Daylight Saving Time... and work towards being a country that lives up to the ideals of who we want to be. Who we really want to be once all the slime has been eradicated and our government works for everyone and not the few.
Make that happen and I would gladly tune into the hearings.

In other news... I hope Netflix is offering Aamer Rahman a pile of money for his own special. I've shared a video from him before, but here's some more...
Some of his stuff is wonderfully insightful, flipping the script on race to illustrate exactly where we're at...
I don't find anything offensive in truth. If people do, then that's probably a good thing.
Posted on October 27th, 2019

A busy, busy week for me has ended but I'm just getting started, because an all new Bullet Sunday starts... now...

• Monster. I have been toning down the politics on Blogography because it's just so pointless. Unless you are living under a rock, you already know the horrific shit our president is doing, so there's really no need to repeat it here. But lately it's gotten so bad that my disbelief has escalated to a level I didn't even know I had in me. Fortunately John Oliver was back tonight to put one of the most tragically awful events into perspective...
Holy shit.
There really is no bottom. President Trump lives in a fantasy world where everything he does is perfect and everybody loves him for it. Somebody this detached from reality has no business running the country, and I hope that people are really, really scared about what damage could come next.

• Idiocity. And speaking of damage, I saw this headline on The Verge yesterday: Donald Trump wants the iPhone home button back. OH FUCK NO! With all due respect Mr. President, go back to using a flip-phone and leave technology advancements to those of us who know how to form complete sentences which people can actually make sense of.

• Good. When I was at Uluru (which the colonizers dubbed "Ayer's Rock") in Australia, there was a sign saying that it was a sacred place to the people who own it and they ask you not to climb it... despite there being a chain path to climb it. So I didn't climb it. There were also signs posted at a few points around Uluru asking you not to photograph it at that point because something sacred to people happened there. So I didn't photograph it there. I don't understand why it's so difficult to follow the wishes of the people whose land you are visiting. You're their guests, and should be grateful that they allow you to visit their home at all. I know I sure was...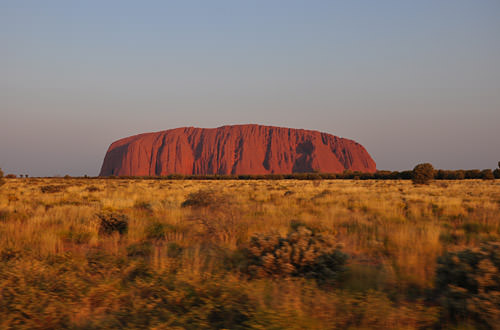 By banning people from climbing on it after the month is over, Australia is righting a great wrong. I hope people respect the new ban on climbing Uluru and adhere to the Anangu People's request. It literally is the least people can do.

• Kangaroo Cats. I ran across an interesting Facebook post this week which was talking about the "primordial pouch" which appears on some cats. I think it's genetic. Jake and Jenny both have big pouches. When they run, the skin flops back and forth... it's kinda hilarious, but doesn't seem to bother them at all. For the longest time I just assumed they were mutants. But apparently that's not the case...
Interesting stuff, that evolution!

• Rhinos! Will of Burrard-Lucas Photography is the reason I selected the Antarctica tour that I did. His wildlife photography is the most inspiring and beautiful I've ever seen, and getting a behind the scenes look at how he does what he does is about the coolest thing you'll see on YouTube this week...
Thanks to his BeetleCam invention, nobody does wildlife photos like Will Burrard-Lucas. He amazes me with each new book he publishes.

• Pepper. You really do learn something new all the time. My homemade pizza sauce recipe calls for green peppers. I don't normally eat them because I prefer the sweeter red peppers, but the recipe tastes so good that I do what is called for. On Tuesday I came home from work and was already too tired to cook... but then realized that I actually needed to clean my kitchen before I could cook. Double the horror. It's while cleaning that I notice something strange... WHAT HAPPENED TO MY GREEN PEPPER?!?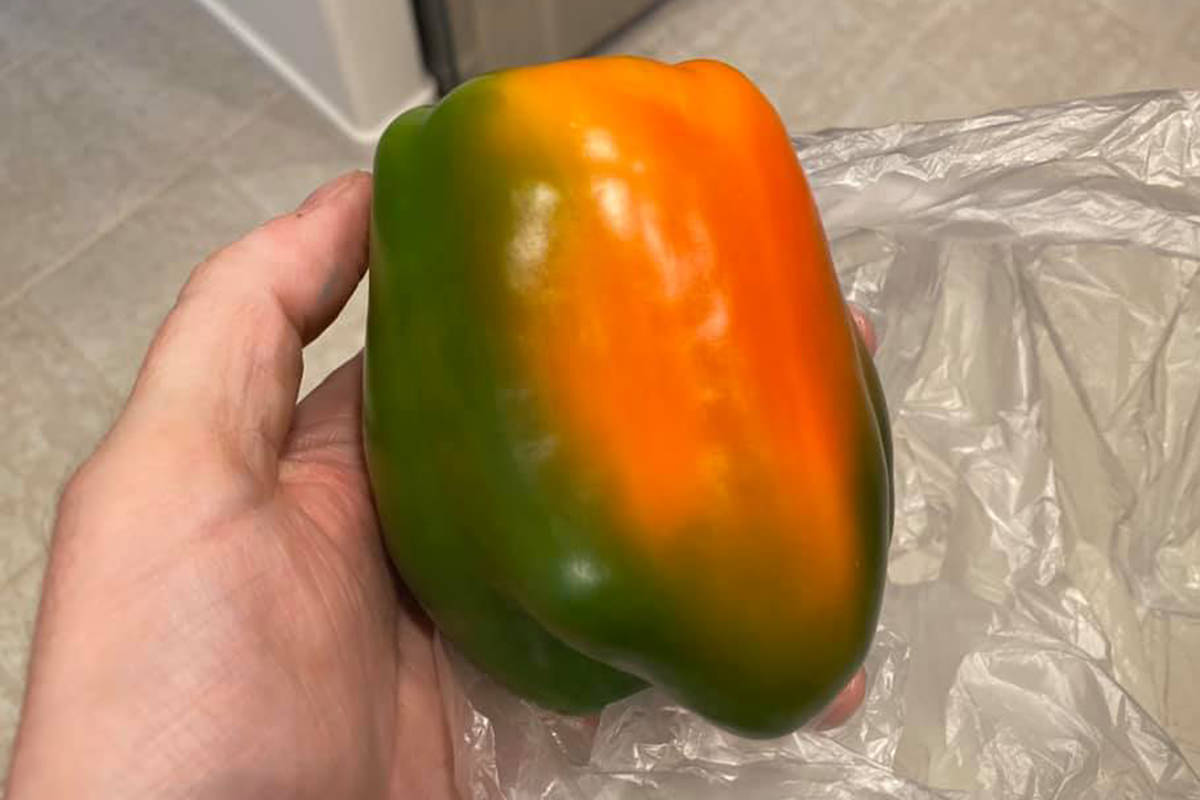 It's then that my Facebook friends had to inform me that green peppers aren't ripe and, like tomatoes, they will turn from green to orange to red as they ripen. I honestly had no idea. Until Tuesday, I truly thought that they were all different species of peppers.

• Hallmark Moment. As you can imagine, I am in full-on Hallmark Movie Mode now that their 10th Annual Countdown to Christmas is in effect. I almost never watch live, choosing instead to DVR the movies so I can jet past commercials. But the new movies for 2019 I have been watching live, and this commercial came up...
Well done. Somebody at World Market really knows their Hallmark audience. I don't understand why any company spending the huge amount of money required for a national ad doesn't put this kind of care into creating them. Most ads are just terrible and something you want to skip. Why would you waste money like that?

And now... time to wash underwear so I have something clean to wear to work tomorrow. You're welcome, my co-workers.
Tags:
Advertising
,
Africa
,
Bullet Sunday
,
Cats
,
Dumbassery
,
Food
,
Hallmark
,
Photography
,
President Trump
,
Television
,
Travel
Categories:
Bullet Sunday 2019
,
Cats 2019
,
Food 2019
,
News – Politics 2019
,
Photography 2019
,
Television 2019
,
Travel 2019
—
Click To It:
Permalink
—
0 Comments: Click To Add Yours!
Posted on August 8th, 2019

Like everybody else I have opinions.
Unlike everybody else, my opinions seem to get me into trouble entirely too often. Which is why I should probably just keep my big mouth shut. Problem is, I can't seem to do that.
And there's nothing like political opinions to bring on the rage and hatred.
I get it from both sides because I am not a fan of Republicans or Democrats.
Right now I'm much harder on Republicans because they unleashed this idiotic piece of shit president on us and that's always good from some Right-Wing-based anger. But my criticism of some of President Obama's stupider moves always guaranteed copious amounts of Left-Wing-based anger, so what can you do? Since keeping my big mouth shut doesn't seem to be an option, I guess I'll just have to bathe in the hate. Like my hero Emperor Palpatine from the Star Wars movies*...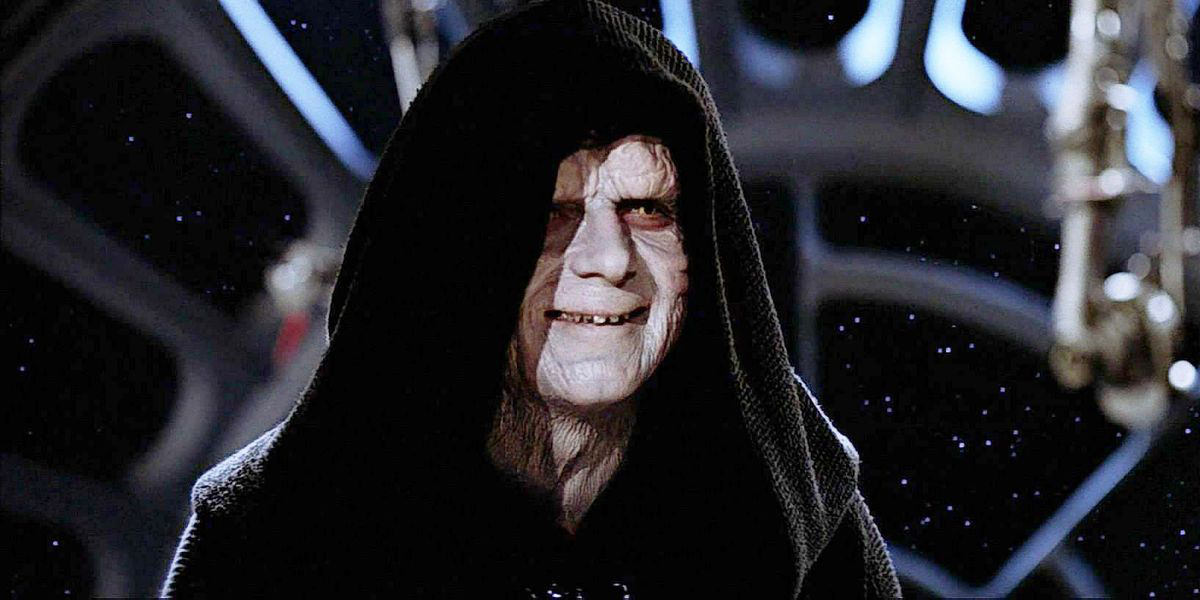 One topic that never fails to incite hate from all corners of the internet is talking about gun violence. Regardless of where you stand, somebody will hate your opinion. This is perfectly understandable given how lots of people are dying because of them. Gun violence is a persistent threat to every American, and temperatures are bound to be running hot when you debate how to solve such a problem in a country where gun ownership is at our foundation.
And every time there's another mass-shooting (which, let's face it, is all the time now) a blog post I wrote two years ago titled Second Amendments and Horse Shit starts getting clicks.
And an awful lot of hate.
Eventually I had to turn off comments on the post because it seemed like all the non-regular-readers didn't have anything constructive to add to the conversation (something I'm always in favor of)... they just wanted a place to unload their hate.
People against gun ownership of any kind hate that I support the Second Amendment at all, even though I painfully lay out why it really doesn't matter if I do or I don't thanks to impending technology advances.
People for gun ownership of any kind hate that I would place restrictions on the Second Amendment, even though I detail why it's a stop-gap measure that's critical to keeping gun ownership viable.
People who want to put all the blame for gun violence on mental illness hate that I am advocating for the mentally ill or could possibly suggest there could be reasons other than mental illness for mass-shootings.
People who advocate for the mentally ill hate that I "blame mental illness for gun violence" which, while not entirely accurate, is my fault for expressing myself poorly (see below).
People who detest the NRA hate that I dare to say anything good about the organization, even though I clearly state that the only things I ever liked about them is what they used to be.
People who love the NRA hate that I dare attack them for being a bunch of psychopaths who have abandoned their mission of safe gun ownership in lieu of radicalizing this country to a highly dangerous degree at the behest of the gun manufacturer payola.
People who fear technology hate that I am advocating for investment in technology to help save us from gun violence when this will just result in technology enslaving all mankind.
People who embrace technology hate that I am "spreading fear about technology."
And then there's the general hatred which gets directed at anything and everything you can imagine... from me wanting higher taxes (huh?!?) and daring to say that Ronald Reagan favored restrictions on gun ownership (he absolutely did)... to my "attitude" and using the word "cock" multiple times. You name it, I'm catching hate over it.
What's weird about all this? Back when I wrote that entry I worked hard not to appear biased, and tried to find talking points everybody can agree on. That was likely a mistake, because too much of it can be taken in different ways depending on the biases of the person reading it.
If I were writing the same post today, I wouldn't bother trying to be so careful. I would totally call out President Trump as a racist white supremacist asshole who is constantly inciting violence against immigrants, and must be at least partly to blame when these violent white supremacists keep mentioning him as inspiration when they commit these heinous acts of gun violence. I'd likely also talk about how ironic it is that we are losing so badly to white supremacy when this country fought a fucking world war to end the Nazis. And I'd definitely mention exactly how stupid it is to blame video games for mass-shootings when countries like Japan and South Korea play video games at a far higher rate than we do, but they don't have a violence problem like we do.
I'd also choose a different approach in discussing mental illness as it pertains to gun violence. A part of my thinking was that somebody who picks up a gun and tries to kill a massive number of people must have mental issues. But that's a pretty shallow armchair analysis. During times of war soldiers are convinced they need to pick up a gun and kill a bunch of people, so what about that? I'd argue that killing civilians when you're not at war is a distinction that's hard to miss. But when you've got The Commander in Chief of the United States Military essentially declaring war on immigrants and saying that the "immigrant infestation must be stopped for the good of the country"... isn't that pretty much the same thing? If you agree with what the president is saying and feel it's your patriotic duty to "fight the immigrant invasion," then no mental illness is required... just hate.
In any event, I want to be perfectly clear that I categorically do no believe that all persons battling mental illness or who are dealing with mental problems are prone to violence. That would, in fact, be absurd levels of hypocritical of me. Shallow armchair analysis aside, implying this might be the case was not my intent, and what I said about eliminating the stigma of mental illness and being more proactive when it comes to mental health in this country still stands.
Sometimes when laying out your opinions, mistakes can be made. And while I'll never apologize for having an opinion, I'm definitely sorry about being guilty of unclear, incomplete, or plain wrong statements I make when stating my opinion.
I may be one of the smartest humans on the planet, but I'm still human, after all.
*Apparently Palpatine is going to play a part of the new Star Wars film: The Rise of Skywalker. Assumably in flashbacks since the guy is like... dead... and everything. Or maybe he comes back as a Force Ghost like Obi-Wan? Can Sith Lords do Force Ghosts? I guess we will have to wait and see.
Posted on June 6th, 2019

D-Day... the day that the Allies invaded Nazi-occupied France during World War II in order to liberate the country and secure victory on the Western Front... is a landmark event in world history. The United States, The British Empire, Canada, Australia, New Zealand, France, Norway, Poland, and Czechoslovakia came together to fight a great evil to escape from an unthinkable future against incredible odds. That the Allied Forces were victorious is a testament to cooperation, courage, and sacrifice. On this somber day of remembrance, it's our duty to pay respects those who risked everything, including their lives, in service of all humanity. You will not be forgotten.
According to President Trump, it's also a time to air your petty grudges by calling Robert Mueller a "fool" and Nancy Pelosi a "disaster"...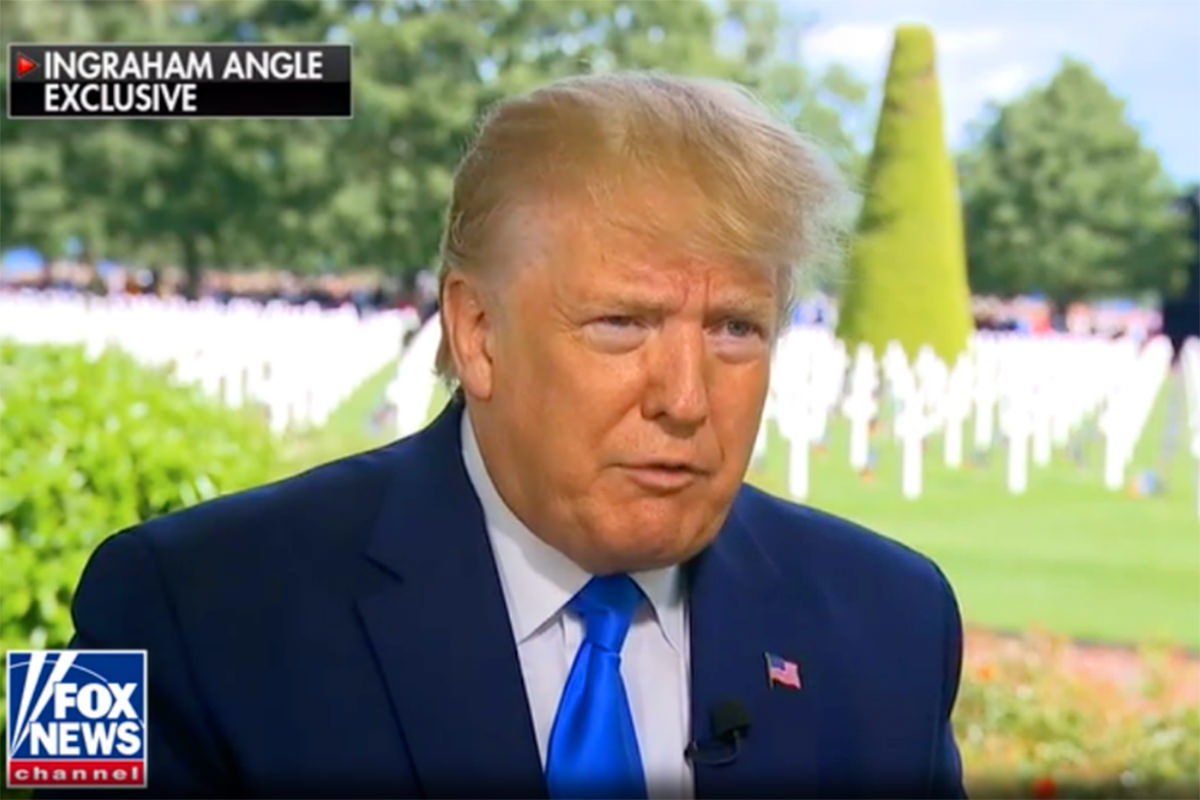 Well, if there's anybody who would know something about being both a fool and a disaster, it would be our president... the pathetic, loathsome, disgusting, moronic, vile, horror story that he is. Boy it would be nice if he could go just one damn day without embarrassing us in front of the world, but I guess that's too much to ask.
Anybody, anybody at all, with even the tiniest amount of humility and decency would have declined to discuss this kind of ugliness on this day... especially when you are sitting across from the Normandy American Cemetery Memorial which honors those US soldiers who made the ultimate sacrifice. All he had to say was "I'm sorry, but now is not the time or place to get into that... I'm here to pay my respects and honor the memory of some truly great American heroes and nothing else." But, of course, we all know that humility and decency are two traits that President Trump doesn't possess, and so here we are.
Can you imagine... can you even fathom... what the reaction would be at FOX "News" if President Obama had unloaded this kind of petty sniping under the same conditions? Can you?!?
If not, just Google it. Theirs was a non-stop parade of condemnation for far, far less offensives... or nothing at all... for the eight years that he was in office. As propaganda ministers for the Far Right that's their job, after all.