My ideal presidential candidate is an intelligent, young, artistic, Black, atheist, lesbian woman who served in the military. And I'm not even joking. I want somebody in The White House who understands that freedom and liberty are more than just words... and what it's like to be marginalized by society so they will fight for everybody. Not just stupid, old, white, Christian, straight male billionaire trust-fund assholes. EVERYBODY.
If I can't have that, I'll take anybody... anybody... who checks as many of those boxes as possible and can beat President Trump in our next election.
Because right now this country does not belong to its citizens. It belongs to career politicians in the pocket of the absurdly wealthy, and they don't represent us. They don't even care about us. All they care about is (more) money and power... and re-election, of course.
Right now the candidate I like is Pete Buttigieg...
He's young, in the Navy Reserve (served in Afghanistan), gay, married to his husband, and knows seven languages (one of which he learned because he wanted to read a book in its native Norwegian). He's a Harvard kid, yes, so his professor parents have money... but he was president and valedictorian of his high school class and graduated magna cum laude from college as a Rhodes Scholar, so he knows hard work.
His political experience is not great, but I see that as a definite plus. Especially since what experience he does have is stellar.
Of course, it's still early, so who knows what else there is to know about Pete Buttigieg. Just my luck he's a serial killer or something equally heinous.
The big question is... can he beat President Trump in an election fight?
I honestly don't know.
For me, all he would have to do is show up to a debate, smile, say nothing, and let Trump be Trump. But for the majority of Americans, the fact that he's actually smart means he's not somebody they want as president. He's also gay, which too many people don't want to even exist. Apparently people want somebody who says they're smart when they're a total dumbass. And who is a serial adulterer and misogynistic asshole (so long as they're straight) and terminal liar (so long as they are lying about being a Christian).
I'd hope for a scandal that will send Trump's approval rating spiraling, but the numerous scandals he's already been involved in don't seem to hurt him, so that's a lost cause.
I suppose I just have to hope that the American people will smarten up and vote for somebody who actually has their best interests at heart...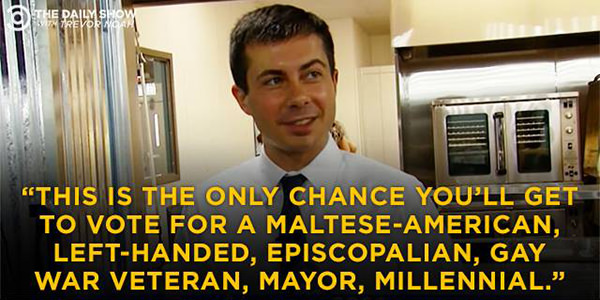 So I guess we're doomed then.