Thank heavens I'm taking half-a-day off work, because an all-new Bullet Sunday starts... now...

• Stop the Insanity! Make it permanent... abolish it... split the difference... I honestly don't give a fuck. Just make it so that we're not dicking around with the clocks twice a year. This stupid shit... this utter madness... has got to end...
Seriously. If Trump wants to do ONE FUCKING THING that will benefit humanity in a way that every other fucking thing he's done has not... GET RID OF THIS IDIOTIC BULLSHIT!!!

• Healthcare. Finally. Broken down so even I can understand it! The puzzling way Republicans want to replace the individual mandate, explained with a cartoon.

• Wonderful. Do I dare get my hopes up after DC has shit the bed so many times now?
It could be incredible. If... only if...

• Loneliness. A sobering article that makes for an interesting... albeit more than a little depressing... read: The biggest threat facing middle-age men isn't smoking or obesity. It's loneliness...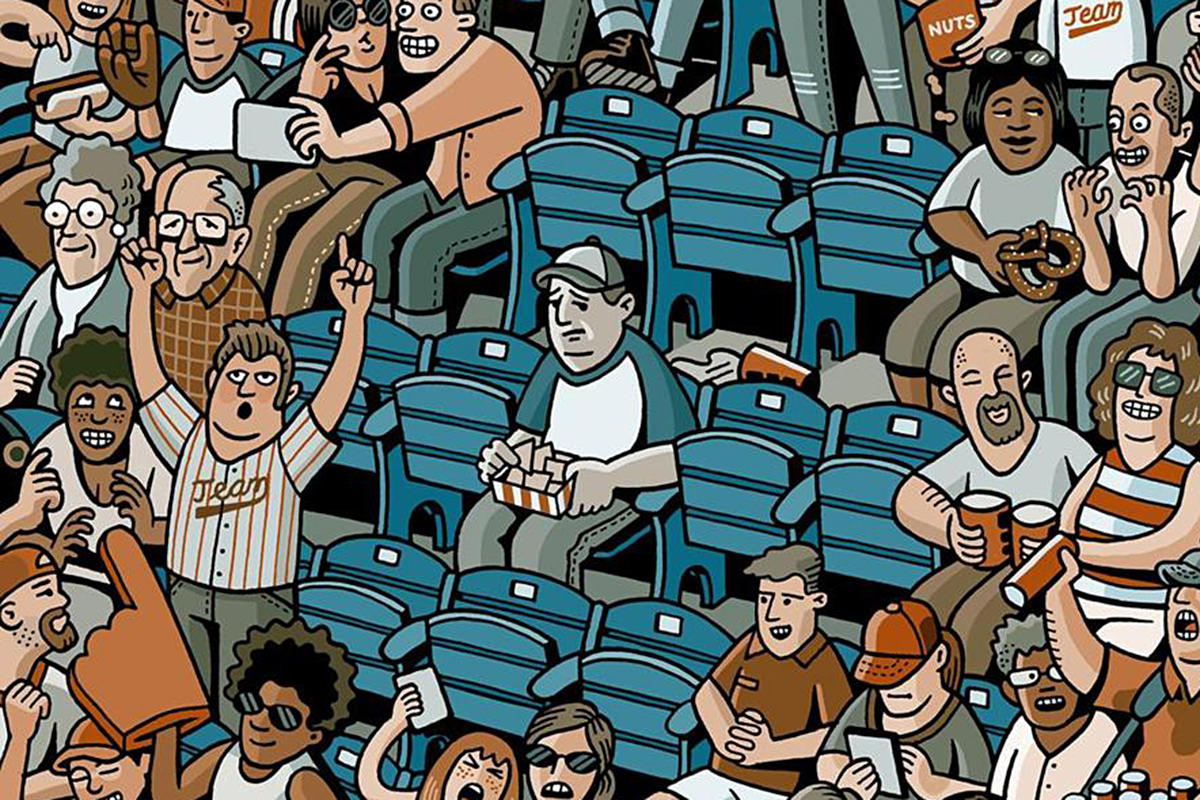 Illustration by Mario Zucca / Boston Globe
I don't know that I'm "lonely" so to speak. But most of the people I'm closest to don't live near me, and that can be difficult.

• Olive Garden. I had no business laughing at this as hard as I did. The whole concept of people in Olive Garden commercials acting like they've never seen a restaurant... or food... before, is epic...
I dare say that President Trump existing has made Saturday Night Live the funniest it's been in years. Even for sketches that don't feature President Trump.

• The Most Important Thing You'll See All Day. Yes. You can resist authority. In some cases, you're obligated to resist authority. Like when you are being lied to and your rights are being violated by authority. The video below is in three parts. Watch all three of them. Know your rights...
And here's a follow-up interview (good information, terrible sound)...
Have a phone with video capabilities? Film everything. Always film everything when it comes to the police. Even if you support the ideal of law enforcement (as I do)... Always. Film. Everything. Even when it's not happening to you. Because the police are not above the law and you just never know.
Note that the guy who filmed the video, Jesse Bright, tried to handle this without going public. All he wanted was an apology for having been lied to and illegally searched. Only after he was deterred at every turn did he released to video... not for personal gain, but to let everybody know what their rights are. He has no interest in any officers being punished or fired or anything. He just wants this critical information out there. Good for him.
I have a card in my wallet and in my car with the following statement:
Statement If Stopped or Questioned by Police or any Government Official

"Officer, I Assert My Fifth Amendment Rights As Stated On This Card"

Pursuant to the law, as established by the United States Supreme Court, my lawyer has advised me not to talk to anyone and not to answer questions about any pending criminal case or any other civil, administrative, judicial, investigatory or adjudicatory matter. Following his advice, I do not wish to talk to anyone about any criminal, civil, administrative, judicial, investigatory or adjudicatory matter, without my lawyer present. I waive no legal rights, nor give any consents, nor submit to any tests or other procedures, without my lawyer present. I ask that no one question or talk to me, without my lawyer here to advise me. I do not wish to answer any questions. I want to see my lawyer. Please call my lawyer immediately.

See: Miranda v. Arizona, 86 S.Ct. 1602, 384 U.S. 436 (1966), Maness v. Myers, 419 U.S. 449 (1975), Hoffman v. United States, 341 U.S. 479, (1951), Lefkowitz
Know. Your. Rights.

And now it's time to chew gum and vacuum. And I'm all out of gum...

I've written/deleted/rewritten a post about Sandra Bland a half dozen times since I saw her bullshit arrest video. I just can't wrap my head around it.
Yes, if she were nicer, the cop might have let her off with a warning for her traffic violation. But I am getting sick and tired of this notion that everybody should have to tiptoe around the police because you never know if the officer your dealing with is a psychotic asshole on a power trip that's going to escalate a minor infraction into an arrest just because he can.
Absolutely nothing Sandra Bland said made her deserving of the treatment she got. NOTHING. She was asked a question. She answered it. But even if she had told the officer to go blow himself, his only response should have been to either give her the damn ticket or let her go. There was no reason whatsoever for him to threaten to "light her up" or order her to extinguish her cigarette or even order her out of her car in the first place. If he's got a tiny penis and needs to aggressively order people around to feel like a big man, that's his fucking problem and he should leave that shit at home instead of forcing it on the people he's supposed to be serving and protecting.
Ugh.
I'm getting ready to explode all over again because of this never-ending cycle of out-of-control police brutality. But rather than erase yet another post, I'm just going to let Larry Wilmore take it from here...
Yes, yes, I know... most cops are good. Only a few cops are bad. Yadda yadda yadda.
But what does it matter when crap like this is even possible?
Make whatever excuse you want. Put all the blame on her you want. But ultimately Sandra Bland was jailed for three days and counting because she didn't kiss a police officer's ass enough.
And now she's dead because of it.
Where were those sworn to protect and serve her while she was in their care?