Posted on March 14th, 2016

Wait a second.
Our military spending already outpaces Mexico FIFTY TO ONE.
Our military is larger than any other country on earth by a vastly huge margin.
Our stockpile of weapons could destroy this planet a hundred times over. And yet here comes Drumpf saying he needs to "rejuvenate" our military so he can go to war with Mexico... OUR ALLY... if they won't build a wall?
Who the fuck would vote for this dumbass after listening to this absolute lunacy? I'm just beside myself here. I loathe Hillary Clinton with every fiber of my being... but if it comes down to her and this piece of shit? How is this even a contest? Why not just threaten to NUKE Mexico? The result would be the exact same in the international arena. The US would lose every ally we have. A country would have to be fucking insane to ally with us after we strong-arm a current ally possessing a military 2% the size of our own over a fucking wall THAT WON'T EVEN WORK!
A Drumpf presidency would mean the end of us.
The literal end.
There is nowhere to go after that.
Everything we are would be gone. Everything we stand for would be gone. Even worse, we would deserve it. That this asshole can even be considered a candidate is unthinkable. That he's most likely going to be the GOP nominee is unthinkable. But I guess that's how we got here. People refuse to think any more.
Why every nation on earth isn't considering a first-strike scenario against the United States if President Drumpf becomes a reality is beyond me. It wouldn't even be considered an act of war. It would be self-preservation.
Posted on March 5th, 2016

So small.
So very, very small...
But scary. So very, very scary.
Posted on February 13th, 2016

As the possibility of a Trump presidency starts to get all too real, it's only natural to stop and try to figure out how we got here.
A good part of it... and the part I fully admit to embracing... is the fact that he's a complete political outsider. Who doesn't dream of a country where their politicians aren't so far up the ass of lobbyists and billionaires that they vomit shit every time they open their mouths? The vast majority of our "public servants" don't give two shits about the people they "serve"... they only care about maintaining power and getting re-elected. That takes money. Lots and lots of money. And so our politicians gleefully sell themselves to the highest bidder, fucking over the American people while they do so. That's how we end up with things like outrageous health insurance premiums that go not to maintaining our heath... but to keep the private jets for billionaire insurance company owners flying. It's how we end up with toxic chemicals in our water supply. It's how we end up with jobs being shifted overseas. It's how we end up with new net-neutrality killing bills being introduced again and again and again. Politicians simply do not give a fuck if the laws they make completely screw over average Americans trying to make a decent living. They've got their political careers to think about.
But not Trump.
At least not in ways that really count.
He's got money. It doesn't matter how he got his money, he just has it, and he doesn't have to pony up to the lobbyist trough for political survival. Sure, he's probably had to make some shady deals happen with some shady people... you don't amass that much wealth without having some skeletons in the closet but, politically, he's about as independent as you could hope for.
It's what he chooses to do with that independence that's the problem.
While he may actually do some amazing things... like breaking up insurance monopolies and weakening pharmaceutical cartels... it's the other half of the equation that makes a Trump presidency possible.
Appealing to bigotry, racism, hatred, and the general stupidity of the population at large.
Trump proudly runs with all of it right out in the open. And his supporters love him for it. "He says the things people are thinking!" they say.
Which would be great, except for all the bigotry, racism, and hatred.
But that's not even the worst part about Trump. At least with him all the bigotry, racism, and hatred is out in the open where we can see with it and deal with it honestly. This would certainly be a refreshing change from the closeted bullshit that is going on behind the scenes now.
No, the problem with Donald Trump is that he's Donald Trump.
At this point, I don't even care about the embarrassment factor. I got through the non-stop humility of George W. Bush representing the US on the international stage, I can certainly survive Trump. And it's not even about the stupidity factor. Trump may be a fucking idiot, but he's leagues above the dimwit dumbfuckery that defined Bush. Leagues above.
No. No. It's the fact that Trump is such a pathetic, gaping asshole.
Just imagine it.
Any semblance of tact and decency is out the fucking window. Trump does what Trump wants and to hell with everybody else. So what if he calls President François Hollande a pussy on his first diplomatic to France? Who cares if he drops his pants and takes a shit on the table in front of Prime Minister Justin Trudeau while negotiating trade agreements in Canada? What does it matter that he grabs Chancellor Angela Merkel's breasts at a summit in Germany? He just doesn't care enough about what people think about him to be at all restrained... or even remotely presidential.
Which is exactly what his supporters seem to want, regardless of how such assholery is going to reflect on our country.
And that's the thing that bothers me the most. Not necessarily that our country is going to be a laughing stock in the global community... we've been down that road... but that people are okay with that.
I'm not a fan of Bernie Sanders. He's a massive con-man who is somehow convincing people that the president actually has the power to do all the things he's been promising on the campaign trail. As if "President of the United States" is like a king that makes laws by royal decree instead of having to assemble of bipartisan coalition to get anything done. Are we really supposed to believe that a Republican-dominated Congress is going to let President Bernie unleash his brand of democratic socialism? Of course not. Even if the Republicans weren't in power, he'd have a hard enough time getting all his fellow Democrats to support him. Hell... how many of his fellow Congressmen are supporting him now? Two? Maybe? It doesn't matter if enough people buy into Bernie's vision for America to get him elected... he has nowhere to go when he occupies the White House, and I remain dumbfounded that his supporters don't seem to realize this. Still, in a contest between Pie-In-The-Sky-Sanders and Asshole-Trump, I'll take the delusion of any day. Meaningful change ain't going to happen... because it can't happen like this... but at least Bernie won't set back social change a few decades.
I'm really, really not a fan of Hillary Clinton. I loathe her on so many levels that my teeth grate just typing her name. Why I feel that way I've gone into many times. But in a contest between Hypocrisy-Is-My-Agenda-Clinton and Asshole-Trump? Hillary 2016, baby.
On the Republican side, things are a bit more difficult to measure.
Would I rather have Ted Cruz as the nominee over Asshole-Trump? Oh fuck no.
Would I rather have Marco Rubio as the nominee over Asshole-Trump? Probably not.
Ben Carson? BWAH HA HA HA HA HAAAAA! Um. No.
I might prefer Jeb! over Asshole-Trump, but he's going down faster than a lead weight and has no chance.
I dunno enough about John Kasich, but it's not like he's a factor anyway.
If I had to make a prediction now, I'd put money on a Clinton 2.0 presidency. She ultimately comes down to the lesser of all evils, and I think that's what is going to carry her to victory. Obviously not my ideal presidential scenario.
But it beats the hell out of President Asshole-Trump, and that's what I'm trying to focus on.
Posted on January 18th, 2016

Turns out MadTV had a handle on the current state of the Republican Party all along.
Not bad for a show airing twenty years ago...

Preach it, sister!
And, seriously, this wasn't written as parody yesterday... it's from nearly twenty years ago...
Darlene McBride really needs to come out of retirement.
Of course, we've already got Mike Huckabee, so she's almost redundant... but still...
Posted on January 16th, 2016

Huh.
I really had no plans to vote Bernie Sanders into The White House, but this is such a compelling argument as to why I should that I may just have to reconsider...

Bill O'Reilly gone? Will he take his dipshit show to Ireland with him?
Yeah, that's totally worth becoming a socialist.
Posted on December 12th, 2015

Compared to any of the Republicans running? ANY of them?
Yes. I'll take George W. Bush.
And that terrifies me more than I can say.
Posted on December 10th, 2015

Please.
Please stop.
Please stop talking.
Just stop.
This country is in bad enough shape as it is. We don't need you making things worse.
But you just can't seem to be able to help yourself... can you?
Posted on August 27th, 2015

All eleventy thousand candidates letting you down?
Looking for a president you can believe in?
You know you want it.
Posted on August 6th, 2015

Well that was... uhhh... horrible.
I had planned on doing a little serious analysis on the Republican Presidential Candidate Debate that went down this evening, but the whole thing was such a farce that there's nothing I can actually take seriously...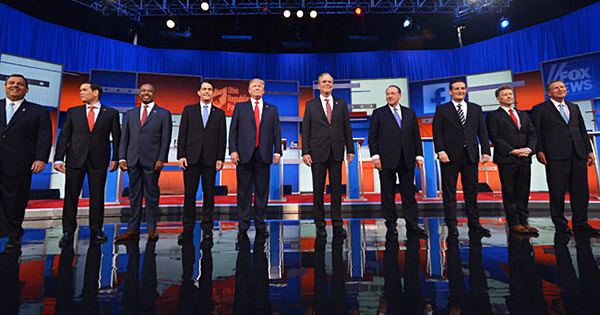 Photo from Getty Images

Though I would be hard-pressed to pick a "winner" for the evening, I think it's pretty safe to say that Carly Fiorina and Marco Rubio were the stand-out candidates. Realistically, anyways. One could make an argument for Donald Trump (and they wouldn't be wrong... he definitel stood out) but he's just not a realistic option, and most of his time was spent reinforcing why he'd make a awful president. What a petty, useless, waste of a human being.
Picking a loser is far easier. Rand Paul is such an attention-grabbing dandy douchebag that he actually makes Trump look sane by comparison. I definitely get the appeal from a Constitutional standpoint. If you're into it, that's all he does. But the guy lives in Fantasyland, and his policy positions are so unrealistic in the world we live in that he's nothing more than a pathetic joke.
The big surprise for me was just how bad Jeb! Bush comes across. For the longest time now I've distilled this race down to Bush vs. Clinton 2016... but now I just don't know. Jeb! doesn't feel the least bit presidential. Not that it matters. His brother felt even less presidential... and he was the president. Putting Ron Paul aside, nobody had a worse night than Bush in my humble opinion.
Scott Walker needs to remember that he has to appeal to women voters. I hope he and his imaginary friend fetus are very happy together, because neither of them are going to The White House.
Ben Carson impressed... but not enough. I don't see anything in him that would ignite the Republican base to turn out in droves during the big election.
John Kasich was probably the most helped by the debates because he did okay and people actually knows who he is now. Problem is... he is grossly overshadowed by just about every other candidate in attention and recognition.
As for Huckabee, Cruz, and Christie? They can go fuck themselves. Like Rubio, I think they're all self-absorbed assholes who have no interest whatsoever in representing all Americans, and I don't give two shits about any of them. In other words, they're Trump without the cash. The difference being that at least Trump is honest about what he is.
So... Fiorina vs. Clinton?
Blech.
I have no qualms... none whatsoever... about us getting a female president. On the contrary, I welcome the idea of a woman Commander in Chief with an enthusiasm that I can barely contain. But these women? Not on your life.
Fiorina ran HP into the ground on a bunch of shitty decisions that have me questioning her sanity... let alone her ability to run the country. On top of that, her tirades against Planned Parenthood and women's reproductive health have me seriously questioning her commitment to her own gender.
Clinton's tenure as Secretary of State was a massive failure and I've slowly come to loathe everything she stands for. Her meddling fucked up Libya beyond repair and is indebted to foreign interests and defense contractors up to her eyeballs. Despite all her proclamations, she is the very essence of the political establishment we need to be rid of.
Right now there isn't a Republican or Democrat in the running that I want anywhere near The White House.
Good thing the office of the president is growing more and more irrelevant as The Powers That Be who actually run this country let their money make all the decisions. That makes me less depressed that somebody entirely unworthy is going to win the election and pretend to run the country.
Or is that more depressed?
I can't really decide.
Posted on July 9th, 2015

Screw it.
I've got my candidate...

Might as well. It's not like anybody else that's running is worth a crap.