Posted on September 4th, 2022

It's the middle of a 3-day weekend, but I won't let that stop me... because an all new Bullet Sunday starts... now...

• There Be Dragons Here! We're three episodes into House of the Dragon and I'm fairly impressed. Not so much for the show, which is okay and I'm certainly enjoying it... but because anybody who has read Fire & Blood already knows what becomes of all these characters, and that's kind of exciting. At least we think we do. Heaven only knows that they could change events in order to drag the show out and have it end in a pile of shit like Game of Thrones...
In the books... this period in Westerous history which culminated in the disastrous "Dance of Dragons" war, was actually quite cool and interesting. If they stay faithful to it, the HBO series could have a great ending. If not? Well, strike two, I guess.

• POWERRRRR! In Amazon's absurdly expensive competition for the above, The Rings of Power, we've returned to Middle Earth (last seen in Peter Jackson's Lord of the Rings trilogy and The Hobbit trilogy). While watching the first two episodes, I was confused. What in the heck is this supposed to be? We're in The Second Age, which is fine... but it's not feeling very "Tolkien." Nor does it seem to be coming from The Silmarillion (Tolkien's book of stuff that happens in the First, Second, and Third Age). Sure, you've got Elrond and Galadriel, but not in a form that they're recognizable. At least not to me...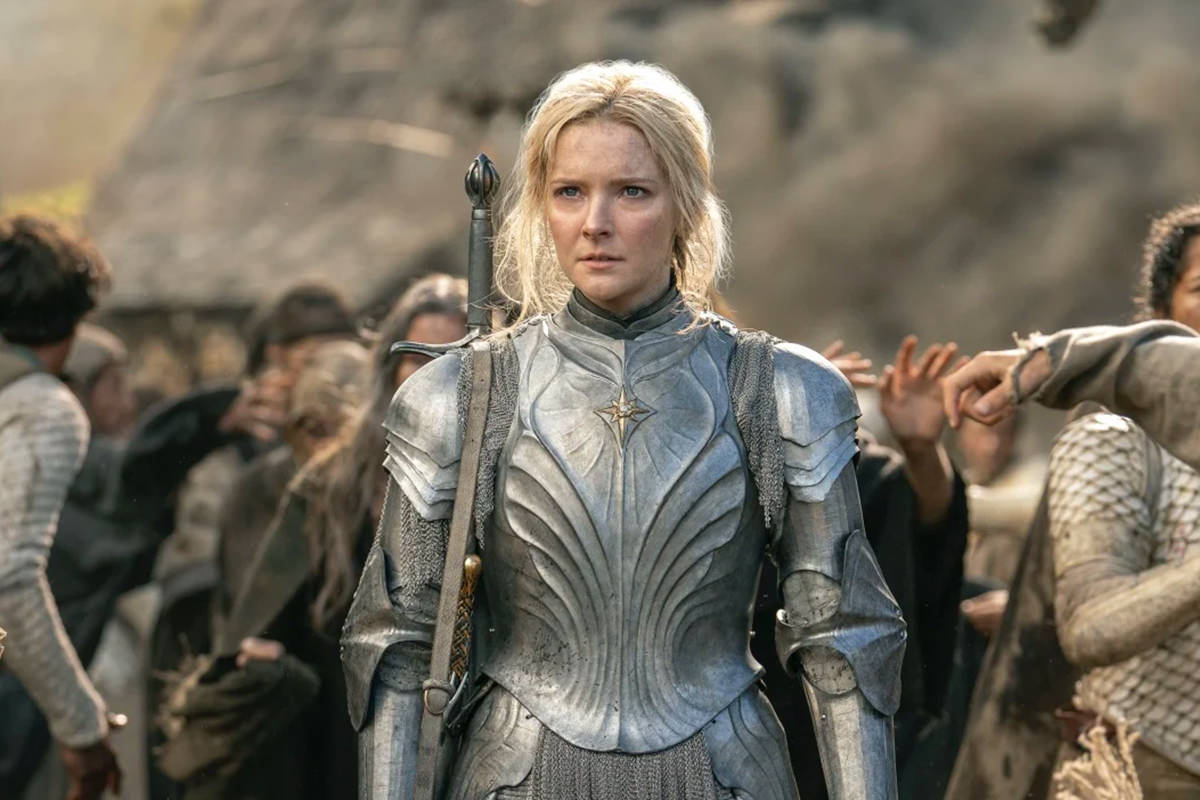 Not knowing what to think, I ran to Google to find out. Turns out that Amazon didn't buy the rights to The Silmarillion at all. All they got were the books which have already been made into movies, including the appendices, which is where the concept for Rings of Power came from. But the actual story? Pulled out of their asses. The show is visually stunning. The acting is great. And the story doesn't suck. I will absolutely keep watching. But, it's like, WTF? You would think that the Tolkien Estate would want for the series to be close to Tolkien's vision as possible. But I guess not. Money speaks louder than Elvish, I guess.

• GAH! MY GOD! WHAT DID HAPPEN TO MEN?!??? (here's a link in case TikTok is being a dick)...
I've heard this so many times in my life. "WHAT'S HAPPENING TO OUR MEN?!" It's such a laughable question to be asking. Harry Styles doesn't represent "all men" any more than a landing craft full of men during (assumably) D-Day does. Or any more than the alarmist snowflake in this video does.

• Booster for my Booster's Booster Booster! The minute it's available to me... "If you have had your primary series, with or without any number of boosters, you are eligible to get a bivalent booster this fall, as long as it has been at least two months since your last COVID vaccine."

• ZOMFG!!! I do not even know how to respond to this (here's a link in case TikTok is being a dick)...
Now, I love mayonnaise. It's one of my most favorite foods. No stupid-ass "factoid" like this woman is spinning would make me reconsider. Which is why I'm sharing this, because Dan Fisher's measured response is all that needs to be said.

• Your Sexism at Work! Yeah. Not enough people are talking about this: Grey hair: Fine for George Clooney but not Lisa LaFlamme?

• Food! GAH! I AM IN LOVE AGAIN! This woman's cooking TikTok is the best thing on the internet right now (here's a link in case TikTok is being a dick)...
Seriously, go watch her videos. She's absolutely lovely, has amazing recipes, and her videos are wonderfully entertaining.

• Safety. A quick and important read if you own an iPhone: How to Hard Lock an iPhone to Prevent Unauthorized Biometric Access (I don't know how this works on an Android phone, but you should find out if you own one).

See you in seven.
Tags:
Assholes
,
Bullet Sunday
,
COVID-19
,
Dumbasses
,
Food
,
Lord of the Rings
,
News
,
Streaming
,
Television
,
Vaccination
Categories:
Bullet Sunday 2022
,
Food 2022
,
News – Politics 2022
,
Television 2022
—
Click To It:
Permalink
—
1 Comment: Click To Add Yours!
Posted on July 24th, 2022

It's the most geektastic time of the year... because a Very Special Comic Con Edition of Bullet Sunday starts... now...

• Wakanda Forever! This is the movie to beat, right? Though it will forever be tainted by the tragic passing of Chadwick Boseman's Black Panther, we're getting most of the other amazing characters that came out of Black Panther plus the MCU debut of Namor, the Sub-Mariner. So, yeah, can't wait for November 11...

• Sandman! Based on one of the most beloved comic book series ever made (and one of my all-time favorites) the only question to be asked is Will it be any good? Well, if the trailer is any indication, the answer is yes. Looking very faithful to the books, and of course I am dying to see it. Fortunately we only have to wait until August 5th...

• She-Hulk! I've been waffling on this one. It sounded like a great idea when it came out... looked intriguing with the glimpses we got... and looks absolute fire now that we've got an actual trailer. Coming August 17th...

• John Wick 4! I love the John Wick franchise. And it just seems to get better with each new installment as they flesh out the organization built around The High Table. John Wick 3 was the best one yet, filled with a cool story and action that was more over the top than ever. And here we are at the fourth one, coming March 24, 2023...

• I Am Groot! It looks cute as hell, like we knew it would. I could speculate, but there's not much point when we'll see for reals on August 10th...

• Black Adam! The DC Comics movies have been mostly bad as of late, Wonder Woman and The Suicide Squad being the exceptions. Everything else that came after Nolan's Batman trilogy has been crap. This doesn't look half bad, but (especially where DC is concerned) looks can be deceiving. They have before. Guess we'll know on October 21...

• Rings of Power! I don't know if the Amazon Prime Lord of the Rings series is going to be any good... but it sure looks like they put a ton of money into it. ..

• Shazam! Fury of the Gods! The first Shazam was a horrendous pile of shit and I hated it. Hopefully this one won't be as stupid and uneven, because it certainly could be a good movie character. And Helen Mirren makes an intriguing villain to be sure. Good or bad, it's coming on December 21...

• More Marvel Studios! There was more from Kevin Feige in Hall H yesterday...
Armor Wars - 2023??? There was not a peep about this series at Comic Con, which feels ominous. Supposedly it starts filming later this year, but are they re-thinking things? I had always imagined that something which happens in this show will end up leading into Ironheart, but maybe not? Regardless, Rhodey has been around since the very beginning of the MCU, and it's about time he gets a shot.
Ant-Man & The Wasp: Quantumania - February 17, 2023. I was sincerely disappointed that we didn't get a trailer for this highly anticipated film. All we know is that Ant-Man, The Wasp, and Stature (Scott's adult daughter Cassie) get sucked into the Quantum Realm. Where they run into one of The Avengers' nastiest foes... Kang the Conquerer. Not exactly sure what that's going to be about because King ends up being in the next Avengers movie (see below).
Secret Invasion - Spring 2023. In the comic book series, evil Skrulls replace various super-heroes in order to... well... invade the earth. It was a shocking event in the comics which shook things up in weird ways because it came out of nowhere. The replacements had happened and had been foreshadowed for a while, even if people didn't know it. It seems unlikely that this kind of far-reaching plot device would be ingrained into the MCU in the same way for a Disney+ series, but I guess you never know.
Guardians of the Galaxy Vol. 3 - May 5, 2023. Adam Warlock? The High Evolutionary? The origin of Rocket? Sounds about perfect, right? The only problem being that James Gunn has stated that this is the end of the road for his Guardians movies. Hopefully it will be a good one to go out on.
Loki Season 2 - Summer 2023. The first season was a pretty good compromise between allowing the character to continue on while not sabotaging his sacrifice in what came before. Unfortunately I didn't think it was as compelling as it could have been. The whole Sylvie-as-Loki-Variant angle on The Enchantress didn't work for me, and it felt like the entire point of the show wasn't to be about Loki... but getting King into the MCU. Hopefully the second time around will be for Loki and not something else.
Echo - Summer 2023. Of all the characters who could be given their own Disney+ series, this one is a head scratcher. Echo? Seriously? I dunno. I guess it could be interesting, but it seems like a waste. My guess is that it selected because it would be a cheap series to make. I hope that's not the case.
The Marvels - July 28, 2023. Thanks to Ms. Marvel, we already have an inkling about this film. But we don't know anything concrete, which feels weird given how close it is.
Blade - November 3, 2023. Don't get me wrong, I'm all for Blade coming to the MCU (I liked all three of the Wesley Snipes films... yes, even the third one), but there are so many other movies I'd rather see. Blade had his cinematic shot already, and could have easily fit into a Disney+ series instead of snagging a coveted movie spot. It's as if Marvel Studios is rolling dice to find the next Guardians of the Galaxy franchise, which is fine, but I had hoped for something more than this.
Ironheart - Fall, 2023. Riri Williams is a great comic book character... and if Marvel Studios ever wants to get the whole Young Avengers situation moving, she would be a great part of that. But this is taking forever to assemble. The "Young" Avengers won't be young by the time it actually happens. And maybe it won't ever happen. But hopefully we'll get a good Ironheart out of it all.
Agatha: Coven of Chaos - Winter 2023/2024. I honestly don't know. Do I want to see more Kathryn Hahn? Absolutely. But whether it's worth watching will depend entirely on what they've got for a story. If they go too silly or stupid, it'll be a toothless joke. If they go too dark and serious, Hahn will be wasted. They need to find a story that is a good balance of both... as well as provide a compelling enough reason for the show to exist. Here's hoping.
Captain America: New World Order - I sure hope that they give Sam Wilson a fair shot at being Cap. He's a great character, has paid his dues, and deserves his shot. And if we can get Bucky along for the ride, that would be great.
Daredevil: Born Again - Spring 2024. The comic book version of this story was character-defining. It documented the fall of Daredevil at the hands of The Kingpin, and how he managed to battle back from it. Now, some of the story arc has already been adapted in previous seasons of the Netflix Daredevil series, so I'm not exactly sure where they're going to go with it. But I certainly plan on finding out.
Thunderbolts - July 26, 2024. The comic book version of this film was kinda epic. Super villains band together in disguise as a new team of super heroes... who secretly want to take over the world (what else?). It is logical to think that this is a follow-up to Secret Invasion when the world has lost faith in heroes who aren't what they seem to be. But how they will manage to make it fresh for the movies when the concept from the comics is so well-known is a mystery.
Fantastic 4 - November 2024. If there's a movie that deserves to find success, it's one featuring the First Family of Adventure. The first two were pretty bad. The third one was fucking horrendous. So here's hoping the fourth time's a charm. It would be amazing if John Krasinski actually is Mr. Fantastic after his appearance in Doctor Strange in the Multiverse of Madness... but that would give the film too much of a chance at success, so who knows.
Avengers: The Kang Dynasty - May 2, 2025. This is so far out as to be ridiculous... almost three years. Marvel just wanted something completely unknown to drop to their rabid fans at Comic Con. What's so intriguing here is that King is going to be menacing the MCU for over two years (he started in the first season of Loki, remember?). I guess this is the big finale, but who knows who might be an Avenger this far away. Will we even care? Probably.
Avengers: Secret Wars - November 7, 2025. I'm guessing this will be the epic finale of "The Multiverse Saga" where all the various variants are taken to a world so they can battle it out for the amusement of the powerful cosmic entity known as The Beyonder. At which point the Multiverse will likely be shut down Crisis on Infinite Earths style. For which I'm thankful, because the stakes are less when there's an unlimited number of universes to draw replacements for characters that get killed. The good news is that the cast will be absolutely epic, drawing together heroes new and old from the entire length of the MCU.

• And The Rest! And here's some other things that might prove interesting...
Picard I've always been more intrigued with the concept behind Picard than the show itself. The first season was nice, even though it didn't stick the landing. The second season bored me, and felt like a wasted opportunity. The third season seems as if it will hinge on nostalgia for The Next Generation, of which I have none.
Interview with The Vampire I liked the books okay... what ones I've read, anyways. But I have zero interest in a series. They already did a movie, it was fine, and dragging things out with a TV show doesn't seem like time well-spent. It's just a continuation of a trend.
Dungeons & Dragons: Honor Among Thieves Given the absolutely abysmal track record of D&D-based sword and sorcery in film and television, it seems like a longshot that this will be worth a crap. Except... the trailer actually doesn't look half bad. So maybe? Could it be another Lord of the Rings or (early) Game of Thrones? and not a complete waste of time, talent, and money? Stranger things have happened.

So... until next Comic Con, I guess. See you next year.
Posted on February 5th, 2012

Blogography is locked and loaded, so Bullet Sunday starts... now...

• Buzz! When my hair gets so long that I have to blow-dry it, something has to be done. But since I spent all my money on new Gingher shears yesterday, I couldn't afford to get a haircut. Fortunately, a Google search convinced me that this was something I could do myself.
And, because I'm me, I live-Tweeted the whole thing...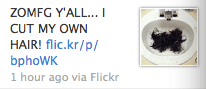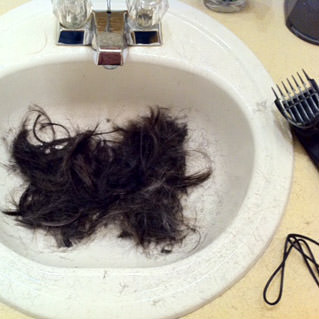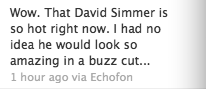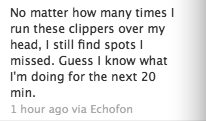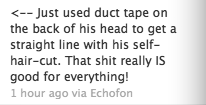 And this is how it all turned out...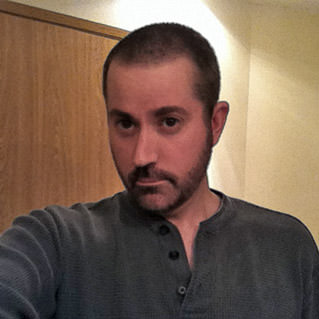 Not bad for free! I should totally give myself my own medical advice now.

• LEGO! The more I see of the LEGO Lord of the Rings MiniFigs, the more I realize that my life will not be complete until I possess them all. I mean, come on! Has there ever been a LEGO MiniFig cuter than LEGO Hobbits?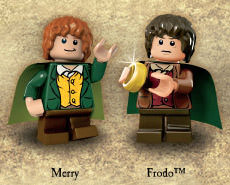 And has there ever been a LGO MiniFig scarier than LEGO Gollum?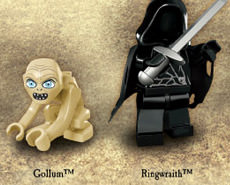 I mean, seriously...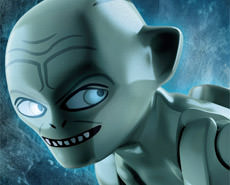 SERIOUSLY!!...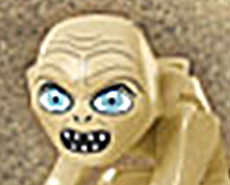 I can't wait for The Preciousses to be mine!

• Miley! Yes, as I've said a number of times now, I'm a fan of Miley Cyrus. She was funny as hell in Hannah Montana, and she's had some good songs come out of her music career. But the thing that fascinates me most is how she's unapologetically taken on a role in leading her generation towards acceptance and equality...
"We all should be tolerant of one another and embrace our differences. My dad, who is a real man's man, lives on the farm and is as Southern and straight as they come. He loves my gay friends and even supports same-sex marriage. If my father can do it, anyone can. This is America, the nation of dreams. We're so proud of that. And yet certain people are excluded. It's just not right."
—Miley Cyrus, Glamour Magazine
This is what scares the shit out of the backwards, crazy-ass, hard-core anti-equality crowd... the future is coming, and their antiquated bigotry is not a part of it. Game over. It's only a matter of time.

• Sweet! I swear, at a time when our horrible society has me convinced that we all deserve to be extinct, something like this comes along to restore my faith in humanity. I love it...

• Network! Today I dug out an old "Airport Express" unit for my new computer at work. Since the iMac only has one ethernet port, I thought perhaps I could use WiFi for my second network connection. Ten minutes later, I found out I could. Apple has a "Bridge Mode" which allows you to put a WiFi interface on an ethernet connection. Simple!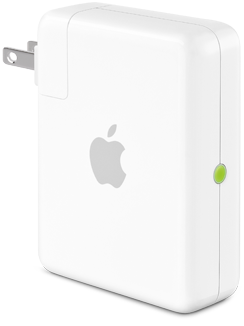 Since this is an older model, it can only do 802.11g. If I want the speed increase of 802.11n, I'll have to shell out $99 for a newer model. But the IEEE just released a draft of the even faster 802.11ac standard back in November, so maybe I'll wait for that.
Even though iMac won't be able to take advantage of it, who wants to buy old technology?
Of course, all technology is old technology when you think about it.

• Avengers! Holy crap. Seriously, HOLY CRAP...
A super-hero team movie done right is the dream of every comic book fanboy. Given what I've seen so far, my expectations are impossibly high for this film. May 4th cannot get here soon enough.

And now... PUPPY BOWL!!!
Posted on January 29th, 2012

Buckle up and strap in, another edition of Bullet Sunday starts... now...

• Fight! As Florida's Republican Primary draws near, the battle between Newt Gingrich and Mitt Romney is really getting nasty. Partly because the attack ads flying back and forth are pretty harsh... but mostly because nasty-ass Rick "Piece of Shit" Santorum is still hanging on the election like a nasty-ass used condom stuck on the side of a nasty-ass trash can...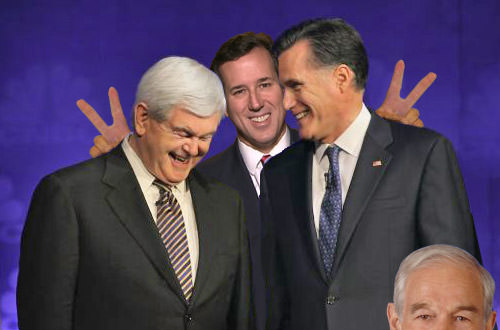 Heeeeeeere's Santorum! — Photos by Scott Olson/Getty and ABC
I wonder how Gingrich and Romney are going to get rid of him? Maybe they could look into how to get shit stains out of underwear and give that a try.

• Hobbits! LEGO announced that they have a license for new sets based on The Lord of The Rings. I dare say that I am actually more excited about this than I was when they got the Batman license (if such a thing is possible)...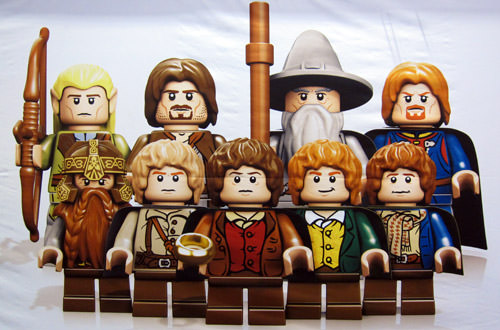 Photo taken from Brickset!
When the LEGO Lord of the Rings video game comes out, I will be deliriously happy.

• Noooooo! It's not all good news in the world of LEGO though... the incredible LEGO UNIVERSE massive multi-player online game is shutting down at the end of the month...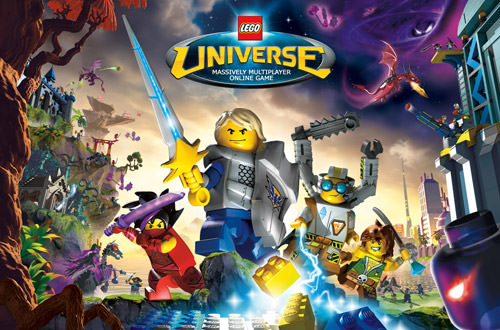 The game is really well done and a lot of fun but, unfortunately, I rarely had time to play it. I wish that they would take all the game assets and release it as an offline adventure game, because there was a lot of good stuff in there.

• Mode! A friend sent me this video of a guy and his two kids performing Depeche Mode's awesome song Everything Counts. So epic it hurts...
Here's hoping that they take on People are People as a follow-up.

• Render! My work requires that I be able to render 3-D images from time to time. 3-D itself is fairly easy, and there are apps that make it dead simple to do basic stuff. Where the challenge comes is doing 3-D rendering well. This requires some very good tools that usually come with a steep learning curve. I started out with a program called Electric Image Animation System to render, because that's what Industrial Light and Magic used when they re-did the special effects for the Star Wars films. I needed a 3-D modeler, so I had to learn Form-Z. Eventually EIAS got its own modeler, so I learned that. After a while EIAS dropped their modeler. This pissed me off, so I dumped EIAS and learned Cinema 4D. But Cinema 4D didn't render as nicely as EIAS, so I went back to EIAS and learned how to use modo for my modeling. Eventually I got sick and tired of jumping back and forth between EIAS and modo and dumped both of them for NewTek's all-in-one package called Lightwave 3D. Lightwave was moving to a cool new technology called CORE, and I wanted in. But then NewTek dumped CORE so I dumped Lightwave 3D. Not wanting to start all over again, I went back to EIAS and modo. But then modo started adding its own rendering and animation tools that were really sweet, so I dumped EIAS. Now I use modo for everything and love it.
Except... in the background there has always been Maya, a hideously cool 3D package that I've always lusted after but could never afford. For even a basic Maya setup, you're paying $3500 minimum (and the license upkeep is equally pricey). But yesterday I was offered a Maya license for a project that's coming up. So now I'm torn. Do I really want to take the time to learn a new program all over again? The answer to that is ABSOLUTELY! I have never shied away from learning something new, and this is a dream come true. The problem is that I don't have time to take the time to learn Maya, so I had to decline this most generous offer.
Nothing quite like watching Reality walk into the room and crush a dream right in front of you.

And on that happy note, the weekend is over.
Wah!