Posted on April 30th, 2020

Life doesn't hold enough pleasant surprises. All too often the surprises we get are crap. Especially lately. Take, for example, the Coronavirus. Could there have been a worse surprise for 2020? Though, given how health experts have been warning that a pandemic was nigh, I suppose the real nasty surprise was how ill-prepared that world governments have been for it actually happening.
What's nice is how people are stepping up to drop some nice surprises in our laps to make our quarantine-filled days a bit sweeter. My favorite is the bands who are either streaming old concerts for free or live-streaming new performances. Tomorrow one of my favorite contemporary bands, The 1975, is having a listening party... then on Saturday Orchestral Manoeuvres in the Dark is unleashing their 2019 Hammersmith Apollo show with new footage.
A lot of other bands are doing something... so check in with your favorites on social media to see if they've got something going on.
And yet...
The problem is that so many of these things are starting to overlap. No sooner did I get The 1975's listening party in my calendar than Erasure announced that they would be having a "Conversation About Nothing in Particular" at the exact same time! Two of my favorite bands competing for my affections! What to do?
I'm going to try doing both.
I used to roll my eyes over movies like Mrs. Doubtfire and 27 Dresses having characters double-booked for two critical events, then letting hijinks ensue to make it somehow "funny." It's just too ridiculous to be taken seriously... even in a comedy. Who does something that idiotic?
Apparently the answer is me. I do something that idiotic.
Wish me luck!
Posted on April 29th, 2020

There was a time I loved going to the movies. Me and my friends meeting up to catch some Summer blockbuster that I'd been dying to see. Sitting in front of that big screen waiting to be blown away by the lush sounds and the smell of popcorn. It was an experience like no other.
But then my attitude started changing as time marched on. There's always been rude people at the cinema, but it just keeps getting worse and worse as society degrades further and further. And once mobile phones became commonplace, the experience became unbearable. I actually blogged about it ten years ago when I went to see the Angle Jolie thriller Salt while in Chicago. The entire fucking film was spent looking at a sea of mobile phones glowing in the darkness...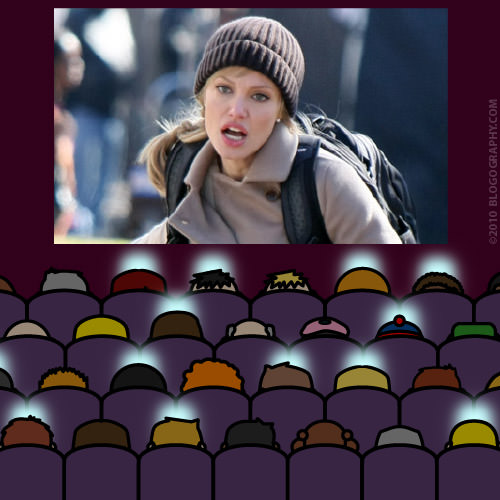 I was livid.
Going to the movies is not cheap. And now that movie studios are demanding a bigger cut of the films they release, theater owners have to compensate for their losses by charging huge amounts of money for popcorn, candy, and drinks.
At this point I downright loathe going to a movie theater. You pay absurd amounts of money to be constantly distracted by rude assholes. It sucks.
So I don't go to the cinema any more. I'm done. Occasionally I make exceptions so I can see a Marvel Studios movies before any spoilers leak... or will go to hang out with my friends if there's a movie they feel strongly about seeing in a theater... but that's about it. Even then I never go to a "regular" theater but instead go to the "premium" theater in the hopes of having a decent experience.
The beauty of it all is that I really don't have to go to the theater any more. Not when I have a theater of my own at home. I've got a big-screen TV with a great picture and really good surround sound. Popcorn and drinks at my house are dirt-cheap. There's no assholes to spoil my movie-viewing experience unless I invite them over. It's perfect, really. I love watching movies at home! And, thanks to digital downloads, I can get them the minute they are released! No trudging to the store for a DVD or waiting for it to arrive in the mail.
The only down-side is that it takes months for the movies to be released digitally because first they have to have a theatrical release. At least they did.
Enter COVID-19.
Thanks to people having to quarantine and movie theaters having to close, movie studios are having to release movies to home video without a theatrical release. It's expensive, sure... $20 to rent the movie... but is it really more expensive than going to the cinema? After you buy a ticket and get gouged for popcorn and a Coke, you're likely in for $20 anyway. And if you are a family of four? A $20 rental is far, far less expensive than going to the theater.
Right now there is a huge dust-up over the movie Trolls: World Tour because Universal Pictures claims that the film made $100 million without ever having seen the inside of a theater. This disclosure made the AMC theater chain so livid that they quickly banned all Universal films from being shown in their cinemas (once they reopen).
Which is about the most stupid thing they could have possibly done given how it's going to be a long while before people are comfortable sitting in a theater with a bunch of people who may be carrying the plague.
Furthermore, anybody wanting to see a Universal film is going to have to go to AMC's competition... or not bother seeing it in theaters at all. They should have been understanding as to why Universal had to do a home-rental release to get their money back on a film that was being lost in the Coronavirus shuffle. And why they had to release the non-box-office numbers so they could assure stockholders that they weren't losing money with their decision. Universal literally didn't have a choice here!
And, who knows, Universal may very well end up saying "Okay then. Fuck it. We don't need theaters anyway!" and just release their movies directly to consumers at $20 a pop rental. Or even $40 a pop if it's a huge expensive movie. I'd gladly pay $40 to watch Black Widow and all the Marvel Studios movies at home! Hell, I'd pay $75 if it meant I didn't have to go to a movie theater to see it on opening night! The theater experience is so shitty now-a-days that I'd do just about anything to avoid it. Whether that means waiting months (for movies I think I like) or paying more up-front (for movies I know I'll like), it doesn't really matter.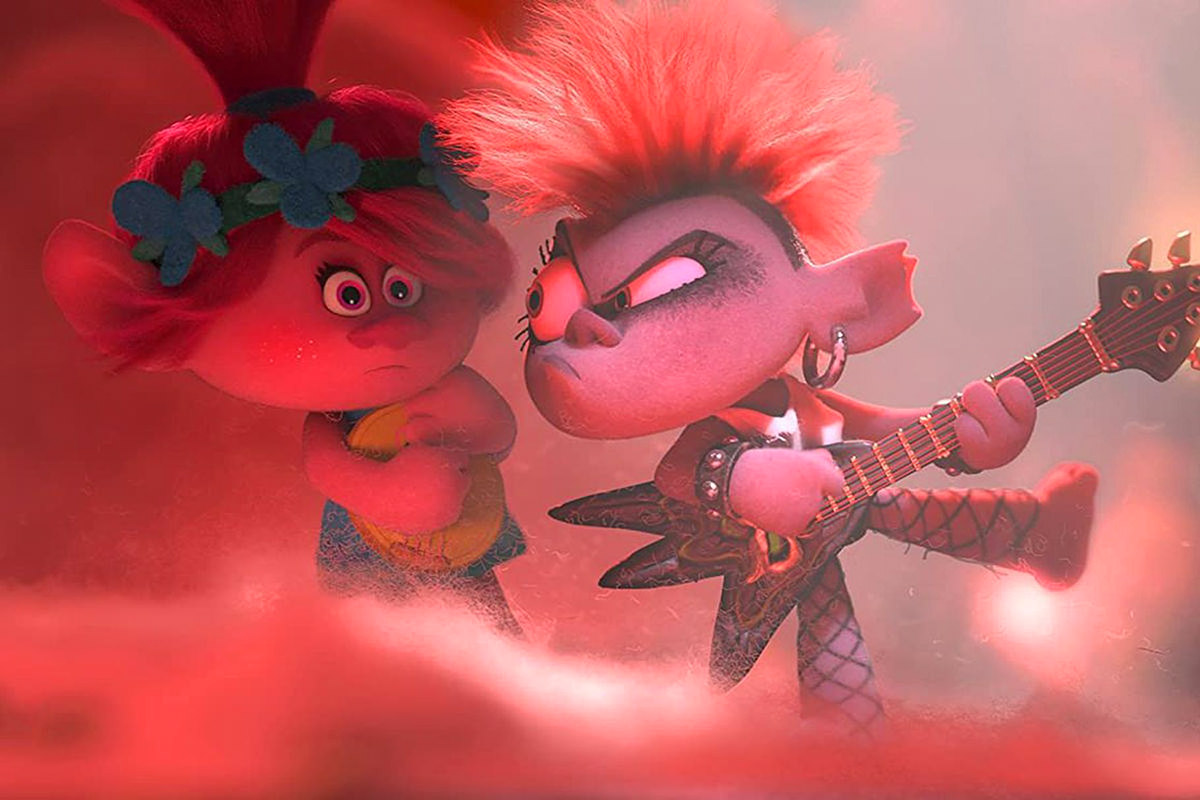 One thing is for certain... when this whole COVID-19 thing is over (if it's ever over!), it's doubtful we will ever go back to how things used to be. Every decision we make is going to have to be tainted with the realization that there is a risk involved. People will have to weigh whether going to a movie theater is worth potentially being exposed to a virus or disease. On top of all the other risks that we take just by walking out the door.
It's a hard truth for AMC to face, I know. And I most certainly don't blame them for the pandemic we're all living with. They are losing money every day and I'm sure a lot of theaters will end up closing in the fallout, so I understand their frustration. The situation is sad for them and for people who love to go to the theater. But lashing out at the hand that feeds you at a time like this is just bad business. Everybody is doing the best they can to accommodate what's happening in the world right now, so let that sink in before making rash decisions... like banning movies from your theater.
People need to stop acting like it's "business as usual" when it's anything but "business as usual" right now.
Posted on April 28th, 2020

My allergies are not improving. In previous years my body manages to adjust after Spring starts springing. As I get older, it takes longer. But usually in early April I start to feel better. It's almost May and I am feeling worse. And last night in the middle of my geek documentary marathon, I ran out of the only thing that works... Benadryl.
I thought perhaps I could make it until I was done with work, but at 10am I couldn't take my running nose and itchy eyes any more and decided to put on my mask and head to the grocery store for more. While there I picked up some groceries which, much to my surprise, included toilet paper, paper towels, and flour! The only thing on my list I couldn't get was yeast and Comet cleanser scrub. I forgot to check and see if rice noodles were available this time (last time I found it strange that they were out of stock).
Grocery shopping was a horrific experience thanks to one dumbass who was proudly proclaiming that he was an asshole who wasn't going to wear a mask. Which, fine, whatever, you do you. Right now there's no law here about masks being required even though they help halt the spread of the Coronavirus, so be an idiot if you want to. But then he leaned into me as he was passing and said "You know, it's okay if you catch it!" which was rage-inducing. THIS is the kind of thing I worry about when forced to leave my home. There is ALWAYS going to be something out there... now it's COVID-19, later it will be something else... and some people are just going to be fucking assholes when it comes to the greater good and protecting their fellow citizens, friends, family, and neighbors. Just like drunk drivers, their stupidity hurts us all.
I did not react well to this particular asshole and said something I really shouldn't have. It was all downhill from there as I attempted to curb my allergies by taking way too much Benadryl. Not a fun day to be sure.
And so... $190 spent restocking my pantry, refrigerator, and shelves for another month or two.
At which point I'll have to go out amongst the assholes again. Wheee.
Posted on April 19th, 2020

Life in isolation may be better than no life, but your life is about to get measurably better... because an all new Bullet Sunday starts... now...

• Dough! I finally broke down and baked a couple loaves of my beloved SourJo bread. It was too hard going without, so I used the last of the flour I had been saving and went for it. The result was as delicous as it was beautiful...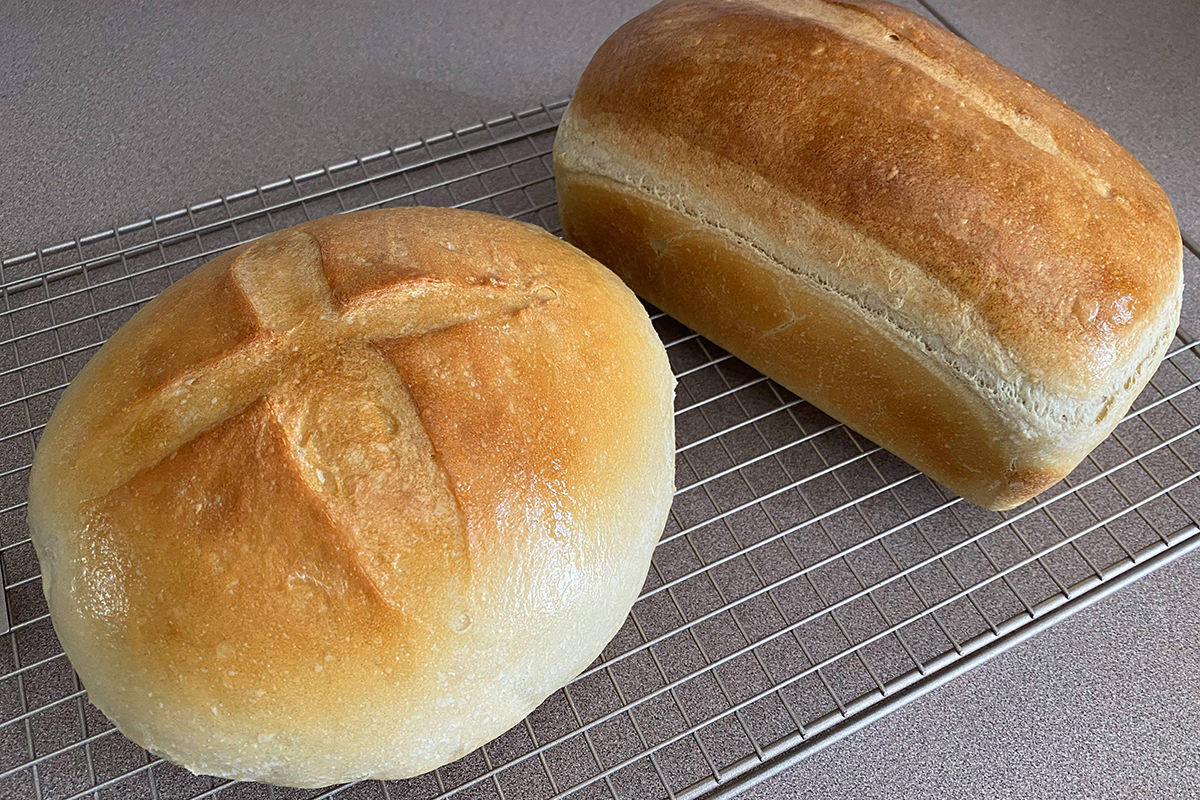 I have decided to slice and freeze the pan-loaf so I can thaw it out as toast when I need a bread fix. The round loaf, however? That I'll be eating in copious chunks with butter and jam! I sure hope that flour, sugar, and yeast come back to grocery store shelves sometime soon.

• Various Corn! Oh look... John Oliver is back to drop some truth on the outrageous levels of stupid shit that have been plaguing us as of late...
The Below Deck: Sailing Yacht drop-in was particularly wonderful for those of us who are fans of the show.

• Terms of Agreement! HOLLYWOODREPORTER.COM: COURT RULES PHOTOGRAPHER GAVE UP EXCLUSIVE LICENSING RIGHTS BY POSTING ON INSTAGRAM. This is categorically absurd. A feature of Instagram is that people can embed and share what you post. Mashable wanted to use the image without embedding the Instagram framing. They offered money. The artist refused the amount of money. So Mashable just used the Instagram framing as it was DESIGNED TO BE USED!! If you don't want people using your work in ways that social media was designed to be used... THEN DON'T FUCKING POST IT TO SOCIAL MEDIA! Especially a site like Instagram where you have to agree to their terms specifically allowing this kind of thing when you sign up for an account. Put your work on a PRIVATE SITE and EXPLICITLY STATE the terms of use (or lack of use) where you are sharing it. This is not rocket science. Nobody should be shocked or surprised as to what can happen when you post your work to social media. THIS IS WHY THEY CALL IT "SOCIAL MEDIA!"

• Sucks So Good! One of my favorite movies of all time is What We Do In The Shadows. It's hilariously funny in all the right ways. It spawned a television serious on FX that was every bit as well-done and hysterical. And now they've started their second season...
I was late to the television series (I didn't know it even existed), but now I'm crazy for it. I pre-ordered the entire season at iTunes because I just know that I will be watching them over and over again. Highest possible recommendation.

• Moo! Cows are truly some of the most gentle and beautiful animals. Part of why I can't bring myself to eat them...
THAT is one content kitty right there!

• Color! This is probably the coolest thing I've seen all year. A series of RGB colorspace books which depict every color imaginable...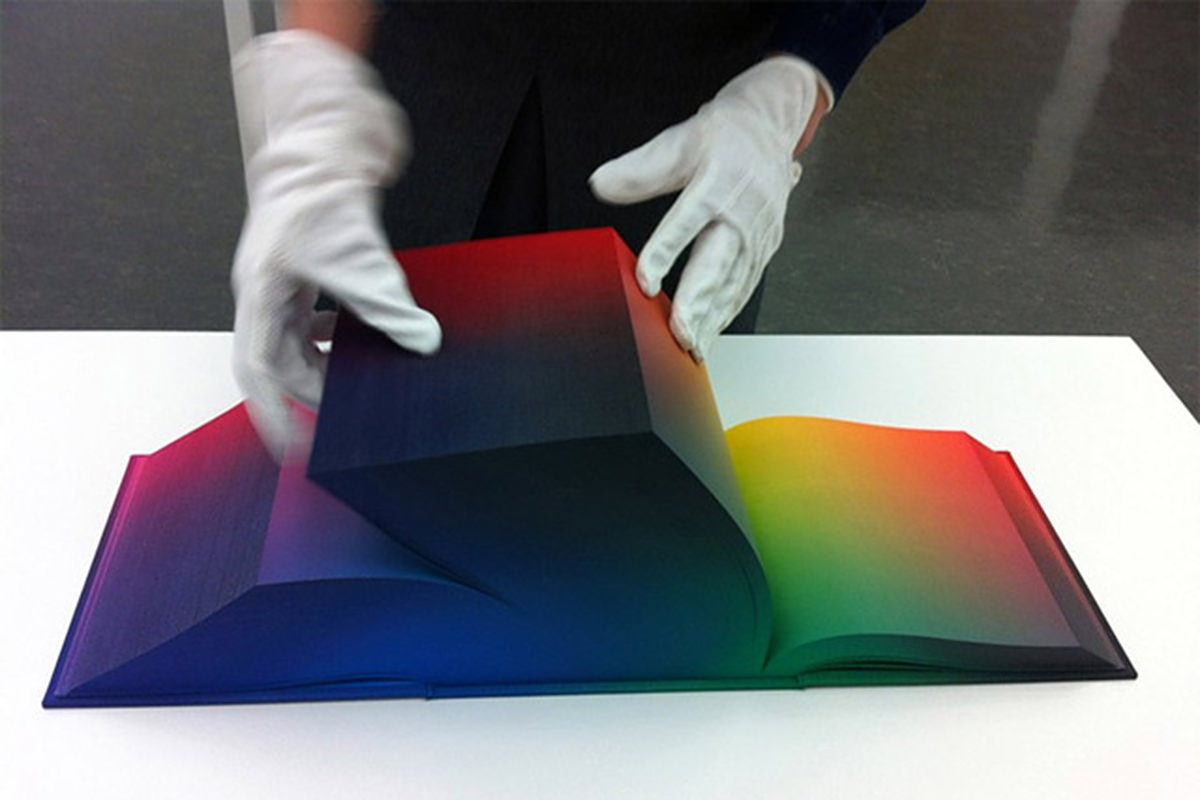 Image attributed to Brittany Schall


Photo by Vegard Kleven
You can read about the RGB Colorspace Atlas over at Colossal. You can see the work over at artist Tauba Auerbach's site.

• 'MURICA! And let's wrap this up with a shut-out to the brave nurses confronting IGNORANT STUPID FUCKING ASSHOLES protesting lockdown BY BARRICADING STREETS DURING A PANDEMIC WHEN AMBULANCES MAY NEED TO GET THROUGH...
I am so fucking sick and tired of this idiotic trash that I want to vomit. You can read about it here.

And that's all she wrote for bullets this Sunday.
Tags:
Art
,
Bread
,
Bullet Sunday
,
Cats
,
COVID-19
,
Dumbassery
,
Dumbfuckery
,
Idiocy
,
News
,
Social Media Idiocy
,
Television
Categories:
Bullet Sunday 2020
,
Cats 2020
,
Television 2020
—
Click To It:
Permalink
—
5 Comments: Click To Add Yours!
Posted on March 22nd, 2020

Things seem grim indeed, but hang in there... because an all new Bullet Sunday starts... now...

• Wellington! I love penguins. In case you haven't seen it, The Shedd Aquarium in Chicago is letting them run around the place since there's no people showing up to entertain them. It's all kinds of adorable...
It's frightening to think of how zoos, aquariums, and nature parks are going to be able to continue to afford to feed the animals in their care if the outbreak goes on for an extended period of time.

• Bulbs! One of my favorite places in Europe... The Keukenhof in the Netherlands... is apparently not going to open on time this season due to the cornavirus outbreak. Lucky for all of us, they are giving a virtual tour of their amazing gardens...
A video is nothing like visiting in person, but better than nothing. Hopefully the quarantine will end soon so they can open for at least part of the season. Their opening season is so short any way, and all those bulbs are incredibly expensive to maintain. UPDATE: The Keukenhof has announced that they will not open at all this year due to the Netherlands having their safety measures extended until June 1. This is a terribly sad thing to have happen.

• Tumbling' Tumbleweeds! Leave it to CGP Grey to come up with a fascinating video over the most unlikely of subjects...
If you haven't gone down the CGP Grey rabbit hole yet and are looking for entertainment as you socially distance yourself... his entire channel is amazing.

• This Virus is Unforgiving. Dr. Emily Landon, chief infectious disease epidemiologist at the University of Chicago Medicine, drops a hard does of reality on recent events...
We are in some serious shit. Taking things seriously is the only way we can get through it. The longer people stop taking steps to isolate themselves and stop the spread of COVID-19, the longer this is going to drag on.

• No Wipes! Good Lord. THINK, EVERYBODY: People Are Using Alternatives To Toilet Paper, And It Could End Up Clogging Sewage Pipes All Over.

• Wash & Sing! Everybody is sharing the songs they sing to make sure they are washing their hands for a fully twenty seconds. Here's mine... One One Thousand, Two One Thousand, Three One Thousand, Four One Thousand, Five One Thousand, Six One Thousand, Seven One Thousand, Eight One Thousand, Nine One Thousand, Ten One Thousand, Eleven One Thousand, Twelve One Thousand, Thirteen One Thousand, Fourteen One Thousand, Fifteen One Thousand, Sixteen One Thousand, Seventeen One Thousand, Eighteen One Thousand, Nineteen One Thousand, Twenty One Thousand. — You're welcome!

• Nasty! I hate to end this Sunday on a sour note, but it cannot be helped. You've probably seen this video popping up several times already. I honestly don't care. This should be shared until you're seeing it from every last person you know. This is not a partisan attack. This is a clear demonstration of a president who is a horrendous leader in general... and an even more horrendous leader in a time of crisis. Any normal, sane human being would have used this as an opportunity to reassure the American people that our government is doing everything possible to keep us safe and address the unfathomable events that are unfolding. Instead we get a 2-year-old in poopy diapers going completely unhinged at a valid question that deserves to be answered with compassion and understanding. We've gone way past our president being a disgrace to his office and this nation... he's an abomination to all humanity...
Un-fucking-believable. What Americans want is somebody who acts like they're in charge of the situation and getting things done to get us through this. Not a piece of shit who can't even answer a softball question that any normal president would have welcomed as an opportunity to allay fears and inspire confidence...
May God have mercy on us all.

And that's all I can stomach for tonight.
Posted on March 17th, 2020

I am doing as well as can be expected given everything that's been going on. I occupy my time with lots of work, lots of television, lots of movies, lots of video games, and lots of time with my cats. Basically anything to keep my brain focused on anything except the outside world. Because if I start paying attention I would probably end up with a brain hemorrhage. Especially when our president is going 180º on the coronavirus. First it was a Democratic hoax that's been overblown by the media and going to disappear any day now because he's doing such an amazing job... now it's him knowing it was a pandemic before it was even declared a pandemic... all while none of his followers are calling him out on his crap. I don't expect our government to ever be truthful about anything. We know they're fucking incapable of such a thing. But I don't expect people to roll over and not call politicians out on their bullshit, regardless of which political party they support.
Oh well. I'm getting used to being perplexed by blind party loyalty.
And getting used to getting this crap out of my head by re-watching my favorite entertainment. Last night it was What We Do In The Shadows, which is a movie I love beyond all reason...
Followed by a marathon of the television series, which is SO good because the original creators are still involved (and even make an appearance in an episode!)...
A second season is dropping on April 15th, and I cannot wait to see it.
Tonight I will be watching my second-favorite Hallmark movie of all time, A Winter Princess, which was just released on home video...
Hallmark movies are cheesy and ridiculous to extreme levels which is what makes them so entertaining. I particularly like this version of the holy-shit-it-turns-out-they're-royalty trope because the actor playing the princess (Natalie Hall) actually looks like a frickin' princess. I mean... damn is she brutally gorgeous. The story in this one is tired, but the movie is actually pretty good. Interesting to note that they filmed it at the Big White ski resort (outside of Kelowna, BC) doubling for a ski resort called "Snowden Peak" in Colorado. It is an amazing location and they (surprisingly) make pretty good use of it. From a design perspective, I loved how they made the "Snowden Peak" logo an exact duplicate of the "Big White" logo so that they didn't have to change it out in the long shots. Smart, smart production team there. Anyway... worth a look if they are playing it on the Hallmark Channel, which I have started watching again since they've been working with GLAAD to not be such homophobic idiots.
Posted on March 12th, 2020

Last night I could have sworn I was coming down with a fever... but never felt hot to the touch. Maybe it was psychosomatic because of everything happening in the world. Maybe it was wishful thinking because I really wanted to stay home. Or maybe I'm just imagining things because I'm getting old.
Regardless of why I thought I had a fever, I started running through everything that would happen if I had to self-quarantine myself. I have plenty of groceries and supplies. I bought Coke Zero and Quaker Brand Chocolate Chip Rice Cakes yesterday. Everything I need can be ordered online and dropped at my door. And I can work from home if I have to.
So... not a big deal, right? I could totally use a staycation. Right?
Because, hey, if Tom Hanks and Rita Wilson can make it through COVID-19, then I can. Right?
Everything will be okay if we can just stay calm and trust that the people in charge of keeping us safe have a handle on things. Right?
Yeah, it was great watching this ignorant, stupid, confusing address by our president show just how fucked we are. You could literally watch the stock market go into free-fall as he was talking! You know it's bad when a presidential address does more harm than good and we would have been better off if he had never said anything at all.
And it looks like our choices for the election come November are this hot mess and... Joe Biden?
Jesus. Spring may be coming, but the winter of our discontent is neverending and Friday just keeps getting further away.