Posted on October 15th, 2021

"Well, shit, I'm alive. The COVID booster didn't kill me. So I guess I have to go into to work."
Zero side-effects from the third Pfizer shot. Which worries me a little bit... how do I know that it did anything if there's no side-effects from my immune system getting charged up with COVID-fighting instructions? Though I didn't have side-effects the second time either (only the first, where I had a fever for three hours and soreness in my arm for three days).
In my county here in Central Washington, there's been 102 COVID deaths out of 10,912 total cases since tracking of the pandemic began. Right now they say that 638 people have tested positive in the first half of October. When I check the CDC site, it says that the eligible population here in my county is 73.6% vaccinated and 34 new people have been admitted into the hospital. If it's accurate, that's really good news. Given the number of anti-maskers out and about, I really expected us to be under 50% vaccinated. Some counties east of me in Idaho and Montana are 40-some-odd-percent, which is pretty scary. But not as scary as those counties sitting at 20% once you head over to the Dakotas. Holy shit. It's like a COVID incubater in some parts!
Which is how we end up with COVID variants like Delta, Beta, Gamma, Lambda, Mu, and the variants of those variants. It's all pretty crazy when you consider that the virus will only become more communicable and deadly as it changes to survive.
But that's nothing compared to the heinous level of idiocy coming out of the mouths of pieces of shit like Marjorie Taylor Greens, who is just the worst...
God she's awful. There's really no level to which this horrific excuse for a human being will stoop. I am disgusted to my core.
I'd say that I can't wait for her to get COVID, but you just know that she's been vaccinated. Pandering to her base with this hipocritical bullshit is how she stays in office.
Tags:
Assholes
,
Bat-Shit Insane
,
Bullshit
,
COVID Deniers
,
COVID-19
,
Fuck This Shit
,
Fucking Assholes
,
Fucking Scumbags
,
News
,
Pandemic
,
Pig-Fucking Assholes
,
Politics
,
Stupidity
,
Truly Stupid People
,
Vaccination
,
Worthless Pieces of Shit
Categories:
News – Politics 2021
—
Click To It:
Permalink
—
2 Comments: Click To Add Yours!
Posted on October 14th, 2021

I qualified for the Pfizer booster shot and I leapt on it like a starving lion.
Ever since they announced that the Pfizer vaccine lacked the long-term protection that Moderna offered, I was waiting for my chance. Don't get me wrong... it still does a great job of protecting you from death... it's just that breakthrough cases for the vaccinated can have harsher symptoms than expected. And "harsher symptoms" are something I can't really afford to risk.
And so, I made the appointment at the local clinic's drive-through site (a fiasco in itself, that I'll write about below).
For my previous vaccinations, I went to the mass-vaccination site. For my first dose, barely anybody was there. For my second dose, nobody was there. But at the smaller clinic drive-through, there were at least a dozen people getting shooted. That was unexpected and nifty.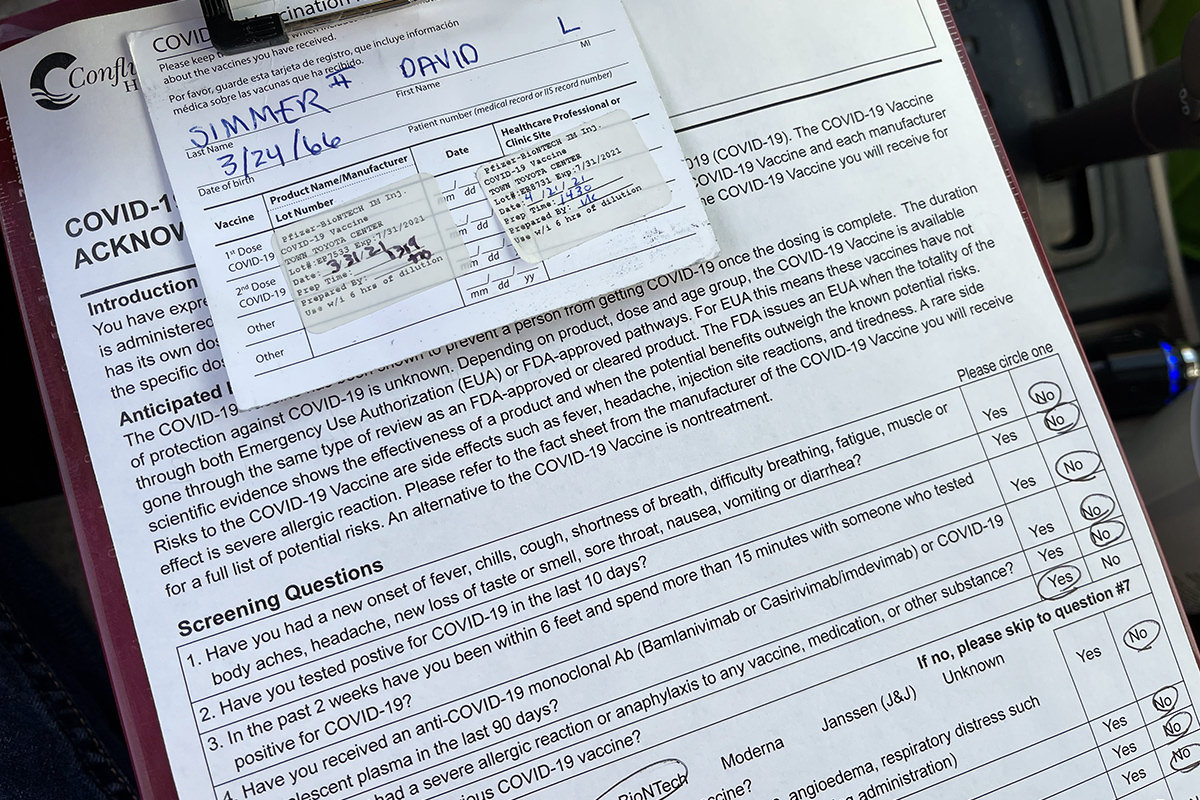 I can hear it now... "Holy shit, dude! You're stupid enough to get a THIRD vaccination? You're going to die for sure now!" — Which is what I'm guessing all the people who said I'd be dead by September after my initial vaccination are going to say. Because of course.
AND YES I ASKED FOR DOUBLE LIZARD DNA!!!
UPDATE: SHIT! NOT ONLY DID I NOT EXPERIENCE ANY PAIN OR SIDE-EFFECTS ALL DAY TODAY, I ALSO DIDN'T START TURNING INTO A LIZARD PERSON! THERE GOES MY DREAM OF JOINING THE ELITE LIZARD PERSON CABAL THAT RUNS THE WORLD!!
And now for the absolute absurdity it took to confirm my appointment (which I made by phone this morning).
Holy crap I wish Confluence Health would move away from MyChart.
It is the most inanely frustrating system to deal with. Nothing makes sense.
They send me an email to check in for my appointment. I click on the checkin link button. I then get taken to their website WHERE THEY WANT ME TO VERIFY THE EMAIL ADDRESS THAT THEY JUST SENT THE CHECKIN LINK TO?!? WHAT THE FUCK?!? And so I click the link to be sent a code that verifies my email... AND IT NEVER COMES. So, essentially, I can't check in as requested by email because they can't verify the email? And I know that if I call tech support the solution will be "check your spam folder." It's always "check your spam folder." Like people don't already know to do that by now. And it's not just MyChart. The Confluence Health website is shit too. Wanna login to MyChart? Well, first you have to scroll down and find the MyChart link. Then you go to the MyChart page and have to scroll all the way down the page for the "LOG IN TO MYCHART" link. Why not just put that fucking link at the top of the home page so people don't have to do all this work? Or, better yet, PUT THE LOGIN AT THE TOP OF THE FRONT FUCKING PAGE! They want you to use MyChart to save on staffing costs, but make it a hassle to do so. Which begs the questions... does anybody at Confluence Health use this shit themselves? Of course not. If they did then it would be a hell of a lot less shitty.
At least one would hope so.
Oh well. I finally got my booster.
I'm assuming that since a ton of people aren't getting fucking vaccinated that COVID will continue to mutate in the anti-vax people and we'll have to get annual boosters like the flu vaccine to handle that shit.
Which ain't fun, but it beats sucking on a tube of horse dewormer.
Posted on October 7th, 2021

There are so few movies that I'll go to the theater to see. All the Marvel Studios movies... maybe one or two others each year... that's it. The theater experience is so horrifically awful that suffering through it is asking too much.
And then there's the pandemic.
Is any movie worth getting sick and potentially dying to see? Not for me it isn't. And even though theaters require masks, you just know once the lights go down that anti-mask, anti-vax people won't be complying.
And it's tough. Because just look at what's coming...
No Time to Die
Dune
The French Dispatch
Eternals
Ghostbusters: Afterlife
Spider-Man: No Way Home
The King's Man
The Matrix Resurrections
It's a slate of movies from two years piled into the final three months of 2021. All of which I would have likely seen in a theater if COVID wasn't out killing people.
Now, two of them... Dune and The Matrix Resurrections... will be on HBO. Not the best way to see movies that were built for the big screen (especially Dune, which looks positively epic), but something is better than nothing...
A few weeks ago I took a flight. I wasn't comfortable doing so but I got through it. And the reason I got through it is that, unlike a theater, an airplane has flight attendants walking down the aisles making sure everybody kept their mask on. Which is to say that there's no "getting through it" when it comes to the movies for me.
I want to see Eternals more than just about anything.
Except not dying.
Posted on September 23rd, 2021

And now this... Idaho COVID crisis: Hospitals overflowing with sicker, younger patients.
Now, I don't celebrate anybody's death or want anybody to get sick. All life is precious, even if you can't see why, and I try very hard to remember this. But when people buy into the reams of misinformation about getting vaccinated, then clog up the hospitals so that somebody who has a heart attack can't get a bed... that's just fucking irresponsible, selfish, and disgusting. I was told that I'm going to die any minute now because I got vaccinated... I was told my DNA is being rewritten because I got vaccinated... I was told all kinds of absurd, stupid, impossible stuff because I got vaccinated. All from people who actually believe it. And yet here I am. Still.
For people on the fence about getting vaccinated... think about this for a second: If the vaccine was actually dangerous, the government would be giving it to poor people and minorities so they would create heard immunity for the rich and powerful people that own our government. But that's not what's happening. The rich and powerful were first in line to get the COVID vaccination because the government knows it's not just safe... it's UNDENIABLY safe. Know your history. Because if you did, you'll know this statement is 100% accurate.
Here's an article to get you started.
Stop believing the anti-vax propaganda nonsense. Start believing that COVID is the actual danger to you and those you care about, then do something about it. It's free.
I mean, for Christ's sake... Dolly Parton helped to fund the Moderna COVID vaccine, then stepped up to get the jab the minute she was eligible. YES, THAT'S RIGHT... DOLLY PARTON IS SUCH A SAINT THAT SHE REFUSED TO CUT IN LINE EVEN THOUGH SHE EASILY COULD HAVE!
If you can't trust Dolly Parton, who the fuck can you trust?
In other news...
When I got my flu shot today THERE WAS NO CANDY AFTERWARDS! NOT EVEN A SINGLE M&M! I WISH SOMEBODY HAD TOLD ME BEFORE-HAND... I WOULD HAVE REFUSED TO GET IT! NO CANDY... NO SHOT!
Wait a second... maybe THIS is why people aren't getting the COVID vaccine? No piece of candy after? Would the CDC please get on this?!? Could it really be as simple as "I would have totes got the COVID jab, but no candy after, so absolutely not!"
It's worth a shot.
Because the shot is worth it.
Posted on September 21st, 2021

Yesterday I took a COVID test so I could be relatively sure that I wasn't infected before heading back to the office. It seemed the responsible thing to do after flying to Hawaii and back... especially when my throat was a bit sore after the trip. We were as careful as we could be and Maui has some of the most restrictive guidelines in the country, so I wasn't overly-surprised when it came back negative... though the incubation period is up to two weeks, so I'm not completely in the clear.
Not that any of us really are.
Thanks, Delta Variant.
A part of me continues to wonder if I've ever been infected with COVID. It's certainly possible. I was a little sick at the end of 2019, and a lot sick in the beginning of 2020. Was it COVID? I dunno. Washington State was where it is thought to have all started, so maybe. I have no idea how the antibody test works... or even if I could even get one. Probably if I could afford to pay for it. Not that it matters. My pre-COVID life isn't going to magically return if I had it way back when. But I am curious. It would be weird not to be, wouldn't it?
Eh, maybe not.
They are discovering new long term effects of having COVID every day. Perhaps it's best not to know so I don't worry about it. If I do end up with COVID problems... it will be a surprise.
And I'll finally know, at last.
Posted on September 11th, 2021

Flying on 9/11 is an interesting concept, to be sure. Couple that with flying during a pandemic and... well... yeah.
My day started at 3:30am because I had an early flight. This wouldn't have been a problem except my cats sensed that something was going on last night and both of them took turns wanting to be petted. For two hours. So instead of going to be at 9:00pm, it was more like 11:00pm. A smarter person might have locked them out of the bedroom so they could get some sleep, but I think we all know that I'm not that guy.
All things considered, today was an uneventful day.
I don't know what I was expecting my first flight in two years to be like, but it wasn't the smooth sailing I got. Made it to the airport. Got checked in. Made it to Seattle. Got my PRE-CLEAR wristband to get me into Hawaii. Got upgraded to First Class. Had an easy flight over the Pacific Ocean. Easy trip to the hotel. Arrived in time for a nice dinner. If I hadn't had to wear a mask the entire time, this was a trip like a hundred others.
No anti-masker meltdown. Nobody being dragged off the flight in handcuffs. Nobody being an asshole even. Just everybody doing whatever they had to do to get to where they were going.
Nice.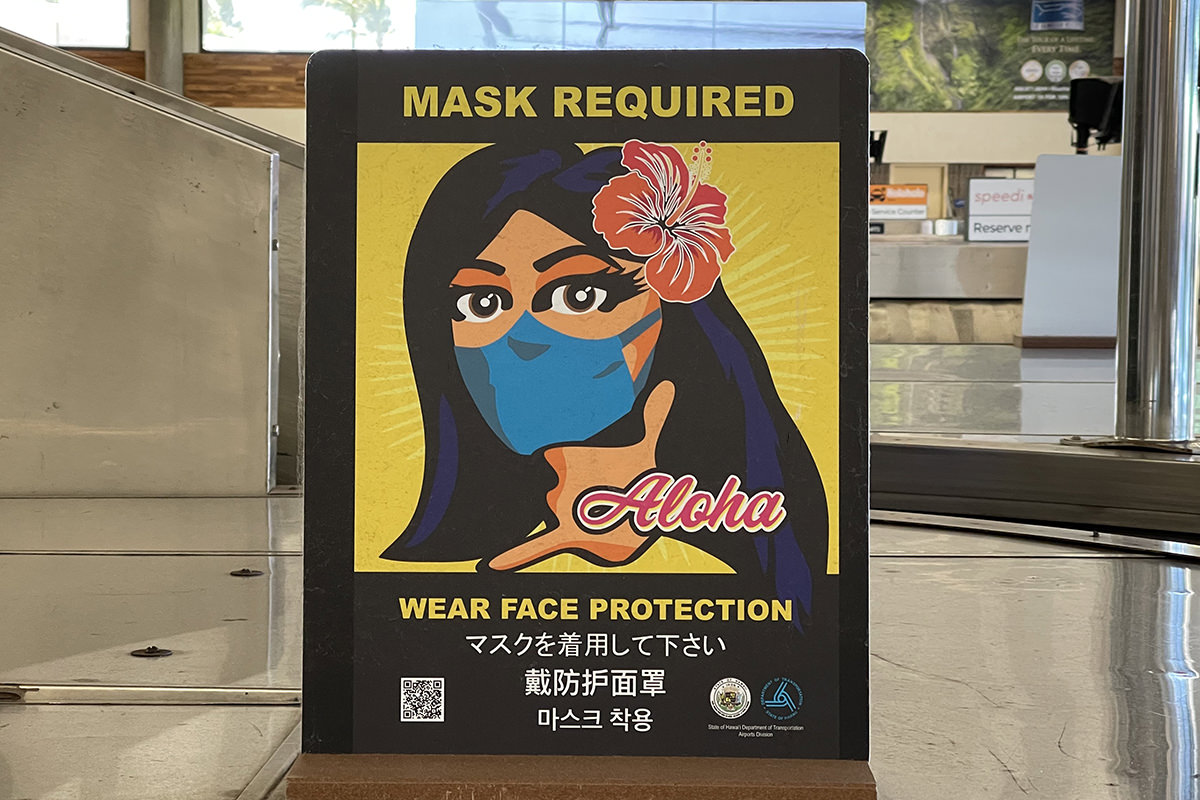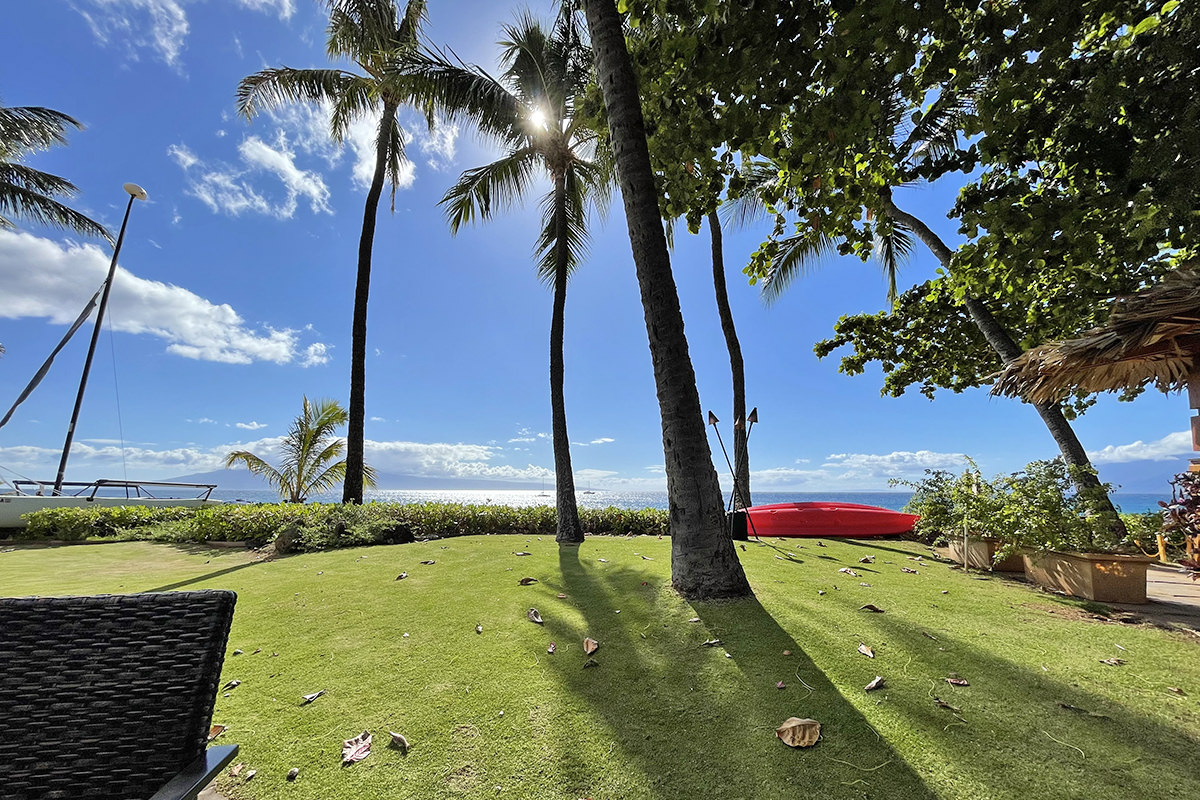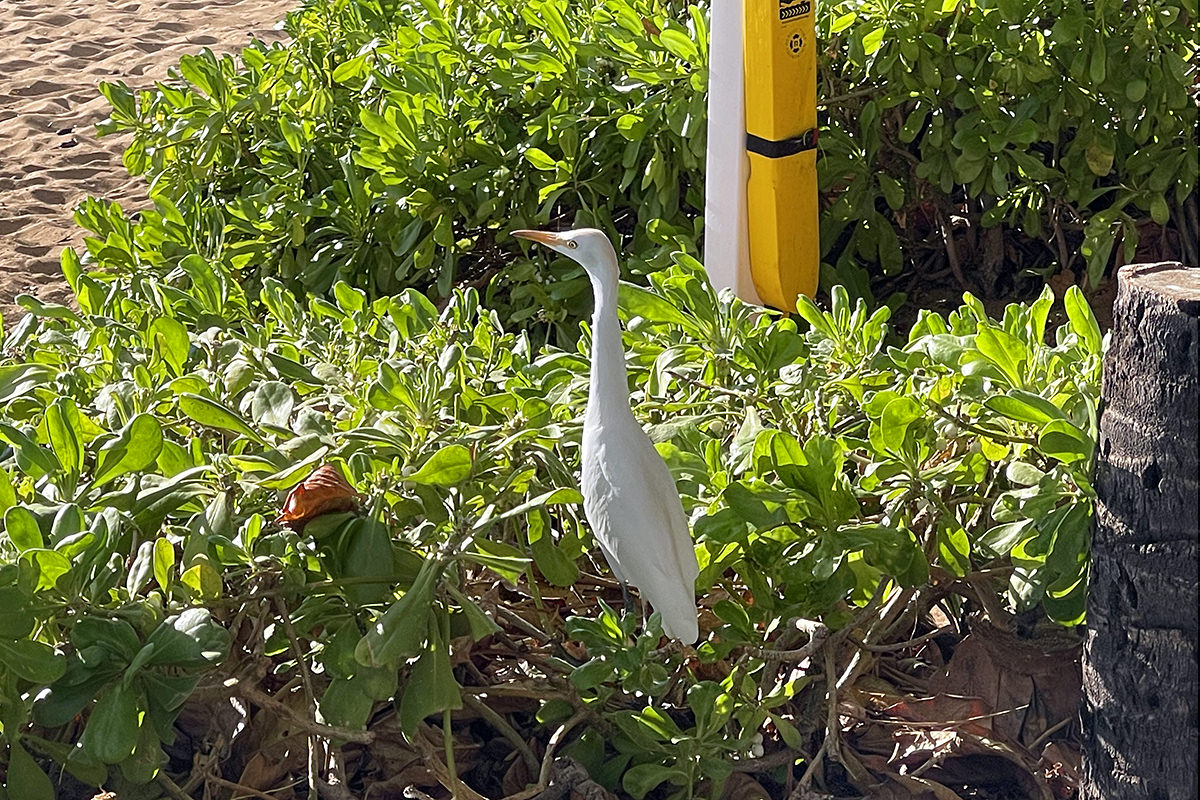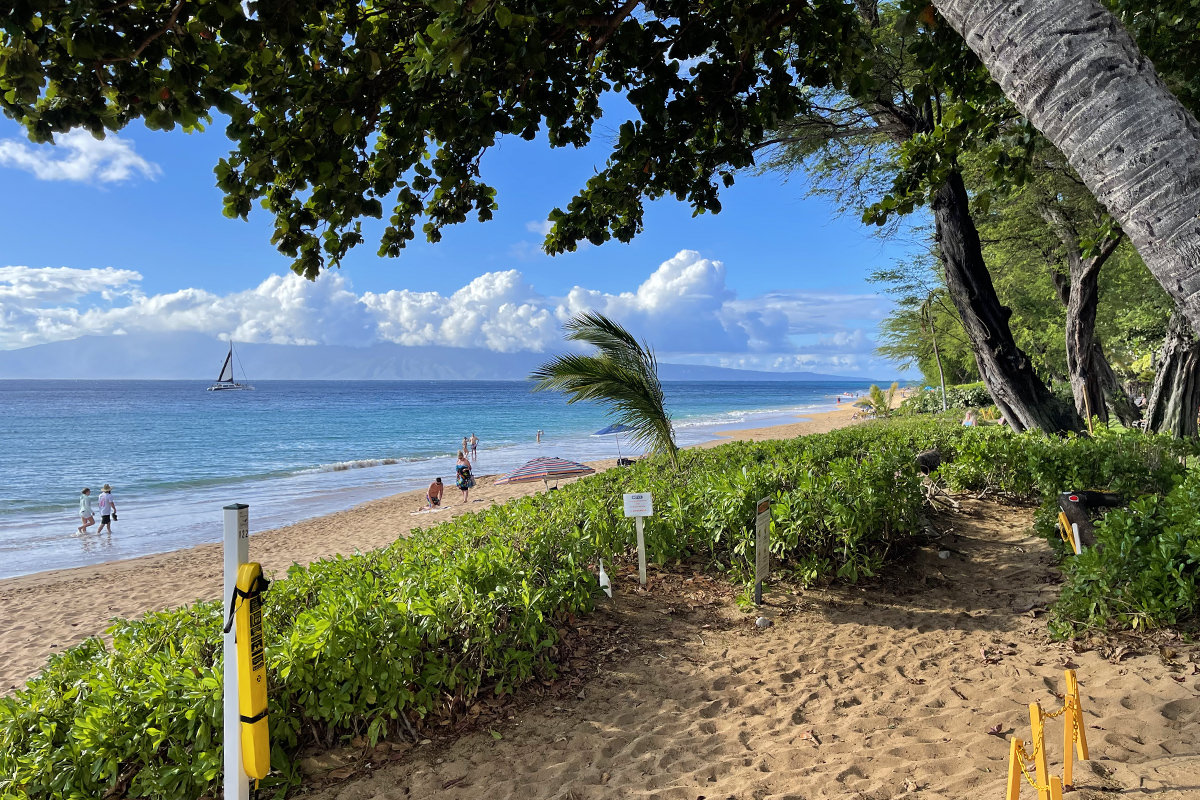 My PRE-CLEAR band managed to survive the trip, so I'm just going to leave it on...
And now for some sleep. It's been a very long day.
Posted on September 10th, 2021

I'm off to Maui for a "celebration of life" ceremony for one of my best friends to scatter his ashes in the waters of a place that he loved. We've had many adventures together in Hawaii. We got certified to SCUBA dive in Maui together. We took a hop over to Kauai to be chased by wild boars... and have even had a guy with a shotgun tell us to get off his property when we made a wrong turn. Along with friends, we've been all over the island, and it only seems appropriate that his ashes end up there.
Originally it was discussed for the Spring of 2020. But COVID. So then the Fall of 2020. Then the Spring of 2021. Then (finally) got planned for Fall of 2021 (which seemed sensible at the time since the vaccine was so widely available... but we all know how misinformation turned that into a fucking shit-show). And so here we are. Getting ready to fly over to Maui tomorrow.
The road to get to The Garden Aisle has been long. And made difficult in order to keep everybody safe as the COVID Delta Variant continues to explode.
In theory, meeting the requirements are a simple matter. But in practice? Not so much.
First of all, Hawaii requires the AlohaSafe Alert app be on your phone and enabled. This is actually pretty smart, because if you've come into contact with somebody who has a COVID diagnosis entered into the system, it will anonymously let everybody know who was in their vicinity. Smart. Assuming people keep it turned on AND enter their diagnosis into the system. Two failure points that will most certainly cause AlohaSafe Alert to be rendered useless. But it's required, so whatever.
Second of all, Hawaii requires a negative COVID test result within 48 hours or proof of vaccination to enter the state... unless you want to quarantine for a couple weeks. I'm vaccinated, so no problem there. I uploaded photos of my vaccination card to the travel.hawaii.gov "Safe Travels Program." No confirmation. No verification. No nothing. Apparently you need a digital pass in order to take care of this on top of the card scans? Who knows.
So I got a digital pass with the VaxYes app, thinking I could link that to Safe Travels. Nope. VaxYes is worthless.
So then I tried to get a CLEAR HealthPass via the CLEAR app. There were some initial problems, but I managed to get it taken care of and linked to my Safe Travels account just fine. Perfect. I can now fly into Hawaii.
BUT THEN... Oahu and Maui announced that they would require negative test results or vaccination proof to eat at restaurants and bars via the state-sanctioned CommonPass. No problem. I download the CommonPass app thinking I can just use my VaxYes, CLEAR, or Safe Travels pass to get that set up. NOPE! In order to use CommonPass, you have to have received a SMART Health Card. But the only way you can get a SMART Health Card is if your vaccination site offered it. My vaccination was from the Washington State Department of Health, and they don't offer SMART Health Cards (of course not... Washington State NEVER is on top of tech shit like this). Which means I have no way... none... of getting CommonPass for eating in restaurants or bars when I'm in Hawaii. Hopefully I can just show one of the other fucking passes I've had to get and that will do. I'll also bring my physical vaccination record card (which is a pain in the fucking ass because whomever designed this stupid shit made sure it doesn't fit in a fucking wallet).
So, essentially, it took two websites, four apps, and my vaccination card to get me this far. And I still have absolutely no idea how any of it works or even if any of it will work.
I guess if I show up in Maui and they refuse to let me in or decide to quarantine me, I'll finally find out that it didn't work.
So fingers crossed.
Posted on August 25th, 2021

Earlier in the week the Pfizer mRNA vaccine received full FDA approval... and a stupid as hell new name "Comirnaty." Boy would I have liked to have been a fly on the wall of that marketing discussion. Because I'm sure if there was an actual marketing professional in the room, they would have objected strongly to branding that sucks this hard. The idea is that the name is a mash-up of "COVID-19, mRNA, Community, and Immunity." Well, yeah... it sounds like a mash-up of too many things trying to do too much. Effective branding is simple and memorable... not a random assortment of letters from different words that sounds like something I would say after drinking a bottle of Jägermeister. This drug is helping to SAVE LIVES and they've shit all over it with idiocy that rivals the whole "New Coke" fiasco.
AND SPEAKING OF NEW COKE...
Coca-Cola Company has taken a dump on my favorite sugar-free beverage... Coke Zero. They've gone and "new and improved it" which is to say that they learned nothing from past mistakes and "New Coked" it...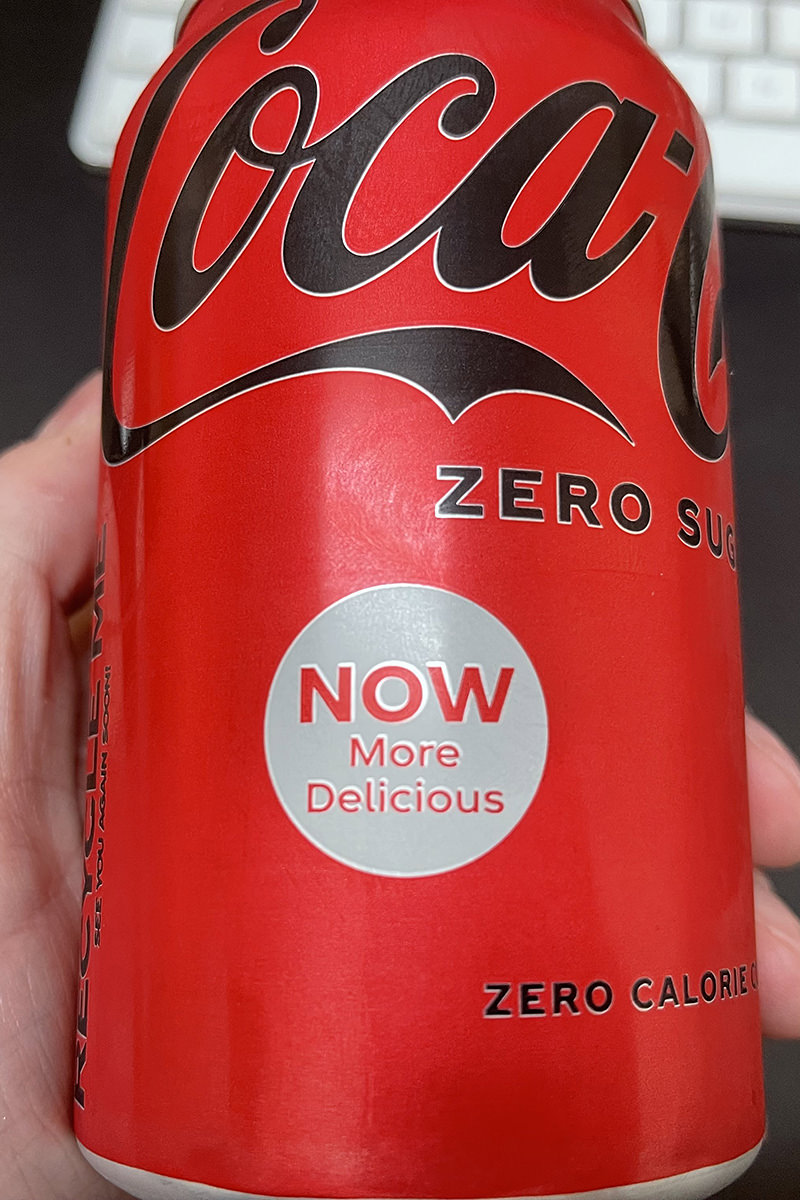 "More delicious?" Are you fucking kidding me? It tastes like shit. It's syrupy, the sweetness is way off, and I'm left with a taste in my mouth that's not at all pleasant. I can't even drink it without food because I don't want to be left with that lingering weirdness on my tongue. But I don't want to drink it with food either. It's an all-around crap product that I hope fails spectacularly. Fuck you Coca-Cola Company, you dumbass pieces of shit. If this is so fucking delicious, then why didn't you change your top-selling "Diet Coke" and leave "Coke Zero" alone?
And the worst part? The can design has changed... but they still have the old 12-pack carton design. Which means I bought 4 cartons of these things without even knowing it. Had they clearly marked the cartons, I would have been more cautious.
Apparently Coca-Cola Company's goal was to create a diet soda that tastes more like regular Coke. Why? If people want the taste of regular Coke, they can just buy regular Coke! Sure it has sugar in it, but it's probably better for you than the chemical sweeteners in diet shit.
Needless to say I am fucking livid, if you couldn't tell.
But back to "Comirnaty"...
I can't help but wonder if the people who didn't get vaccinated because the vaccines were "rushed to release without FDA approval" will now get the vaccine because it's FDA-approved. Probably not. It was just an excuse. They'll find another. It doesn't matter that nothing was actually rushed... that vaccines for coronaviruses have been in research for over eight years... that mRNA vaccine research has been in development for even longer... that all safety protocols were observed and passed in one of the largest human trials ever... and that mRNA vaccines are actually safer that old-style vaccines because all they do is give your body instructions on how to fight COVID by itself, contains no actual viruses, and then fucking disappears... the misinformation campaign has been drummed into people, and that's the end of it. Facts don't matter. Science doesn't matter. Nothing matters except some fucking idiot on YouTube with conspiracy theories that have all been disproven.
We're living in a world where people won't take a safe, FDA-approved vaccine... but will instead wait to get deathly ill from COVID-19 and take horse de-wormer to try and cure themselves. Horse dewormer. Made for horses.
Oh well. According to the dumbasses, everybody who took the vaccine is going to die in three months... in six months... in nine months... any day now... so maybe I'll be lucky and die before drowning in stupid.
And by "drowning in stupid" I mean we get stuck in a perpetual pandemic so the virus just continues to mutate until it kills us all.
And we deserve it.
Well, not me specifically... I got my fuckiing "Comirnaty" vaccinations and wear a mask... but humanity in general deserves it.
God gave us science and discovery so we could understand His miracle of life better... but half of us choose pestilence and death. More often than not in His name. That's an irony that cuts pretty deep.
Posted on August 22nd, 2021

I hate to break it to you, but I'm still blogging here... because an all new Bullet Sunday starts... now...

• Ted! My third time watching the latest Ted Lasso. ALL THEY ARE DOING IS WALKING BY AND COLLECTING NESPRESSO MACHINES AND I AM AM DYING. Each time I go back and watch the player reactions in the background as they're picking up their machines. And this time I noticed that Paul didn't grab one? And if he didn't... then why couldn't Nate have his? And I love how Isaac is a big guy... but carries his with two hands so he doesn't drop it while all bundled up...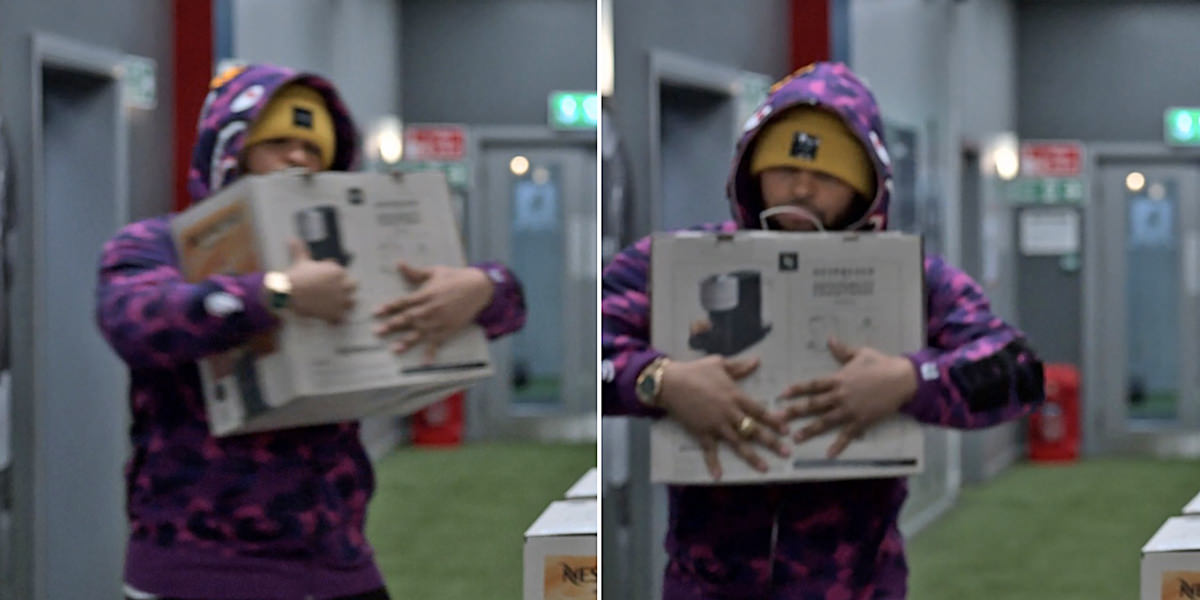 And how Jamie looks like he's trying to figure out what it is that he's getting! BWAH HA HA HA. And this is what I mean when I say that this show just nails the details. Even the tiniest things are well-realized. Oh how I love this show. And then there's Roy...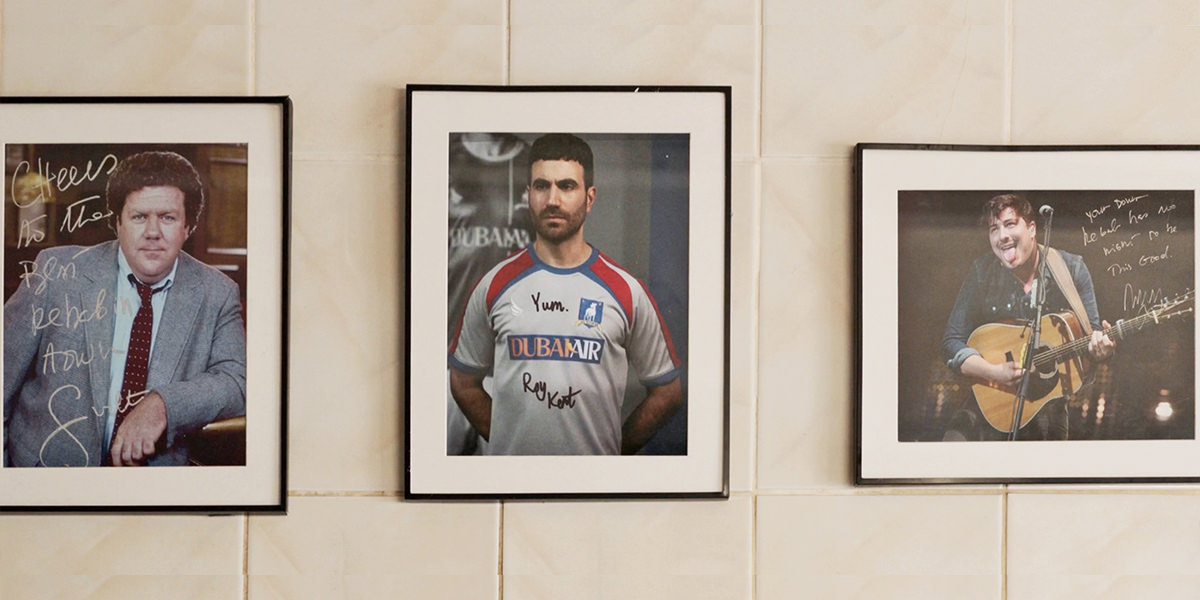 =sigh= Roy Kent is easily my favorite television character of all time and this episode just cemented it. If you are not watching this show... please stop hurting yourself!

• I'll Take a New Host for $500! I guess I was in the minority in that I actually LIKED Mike Richards' job as Jeopardy host. But with all that's come to light about his past actions, I am not sad for him to step down as permanent host. He's not a good choice to fill Alex's tremendous shoes. I suppose that I am also in the minority in saying that I hope Aaron Rodgers gets the gig now...
By the end of his episodes he was relaxed, fun, charming, smart, personable, and let the contestants shine in a way that was a bit lacking with the other hosts. My least favorite was Ken Jennings, but apparently he's the frontrunner? I dunno. I'll still watch Jeopardy regardless... the reason I watch is to see how much I know and learn new stuff. But it would be nice to have a host I like as well.

• Trust! Okay. I don't mind saying that I teared up a little bit... 103 days, and FINALLY the pet seagull landed on his hand!
I swear I've been watching for 80 of those 103 days! Good job buddy!

• I HAVE THE POWER! I was hugely disappointed in the He-Man reboot... but this? THIS HE-MAN?!? Looks awesome...
He-Man for kids that's actually more interesting than the show for adults. Sweet. And it looks visually fantastic to boot.

• A Seldon Crisis! Another Foundation trailer. I'll say it again... this looks spectacular. But it also looks like they made the same mistake that Jupiter's Legacy made. Rather than adapting the original books that people love, they're folding in stuff from the sequel prequels that people don't give a shit about...
And I think we all know what happened to the Jupiter's Legacy series.

• MANDATE! I hesitate over the idea of mandatory vaccines. Sure I believe that employers and private companies should be able to mandate vaccines if you want to work there or shop there or use their service... I support that 100%. If an airline says "We require vaccination for you to fly with us"... well, there you go. You can make a choice as to whether you want to fly with them or work there. What I'm talking about is making it mandatory for people who just sit around the house and hang out with their neighbors in their back yard and stuff. A part of me is like... well, sadly, that's their choice and they'll have to live with it. So long as they mask-up when requested outside their home in enclosed spaces, you do you. Except now the latest COVID wave has gotten so bad that such people are filling up hospitals and infecting kids too young to be vaccinated. It's a serious problem that many people are making decisions for themselves and their family out of ignorance and misinformation. They listen to absolute nutjobs who have no idea what the fuck they are talking about, and it ends up being a public safety risk. This is perfectly encapsulated in this video from The New York Times...
I mean... what do you do here? The people refusing the vaccine are getting deathly sick at a rate monumentally higher than vaccinated people. And they are filling up our hospitals. As it gets worse, a vaccinated person who was careful as they can be who has a heart attack may not have a hospital bed available to them because they're full up with unvaccinated COVID patients. Patients who were given every opportunity to get vaccinated but didn't. How is it fair? I read an article that talked about the very real possibility of unvaccinated COVID patients being cut loose and denied a hospital bed in favor of vaccinated patients. The thought of it terrifies me. But... it certainly seems more fair than shafting vaccinated people who at least tried their best to be safe when it comes to COVID. So I dunno. I am grateful I don't have to make those kind of decisions. But it sure seems unfair that doctors will have to. So-called "death panels" may be coming and it has nothing to do with "Obamacare."

And on that horrific note, I guess we're out of bullets.
Posted on July 1st, 2021

And... just like that... the year is half over.
And on a frickin' Thursday of all days. After having 2020 pass so slowly thanks to a COVID-mandated hallscape, we're back to time flying by again, I guess?