Posted on November 20th, 2016

Guess Bullet Sunday is just going to have to wait, because I've got one last day in San Francisco...
Which started rather late, because I was wiped out from a late night of enjoying the smooth, soulful, vocal stylings of Jester and Mustache Harbor for their second sold-out show at Bimbo's 365 Club last night.
It was every bit as awesome as Friday's show, where we were once again transported to OUTERRRRRRR SPAAAAAACE...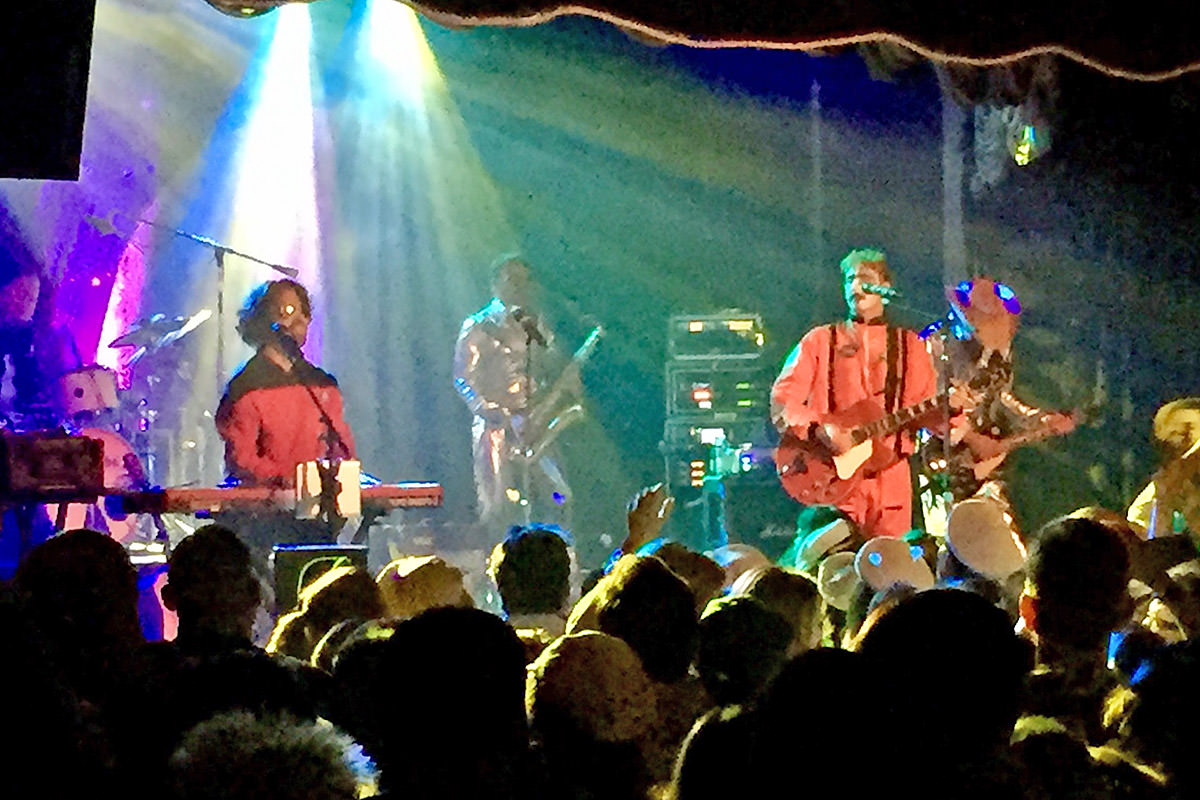 WE LOVE YOU, ACE FONTANA!!!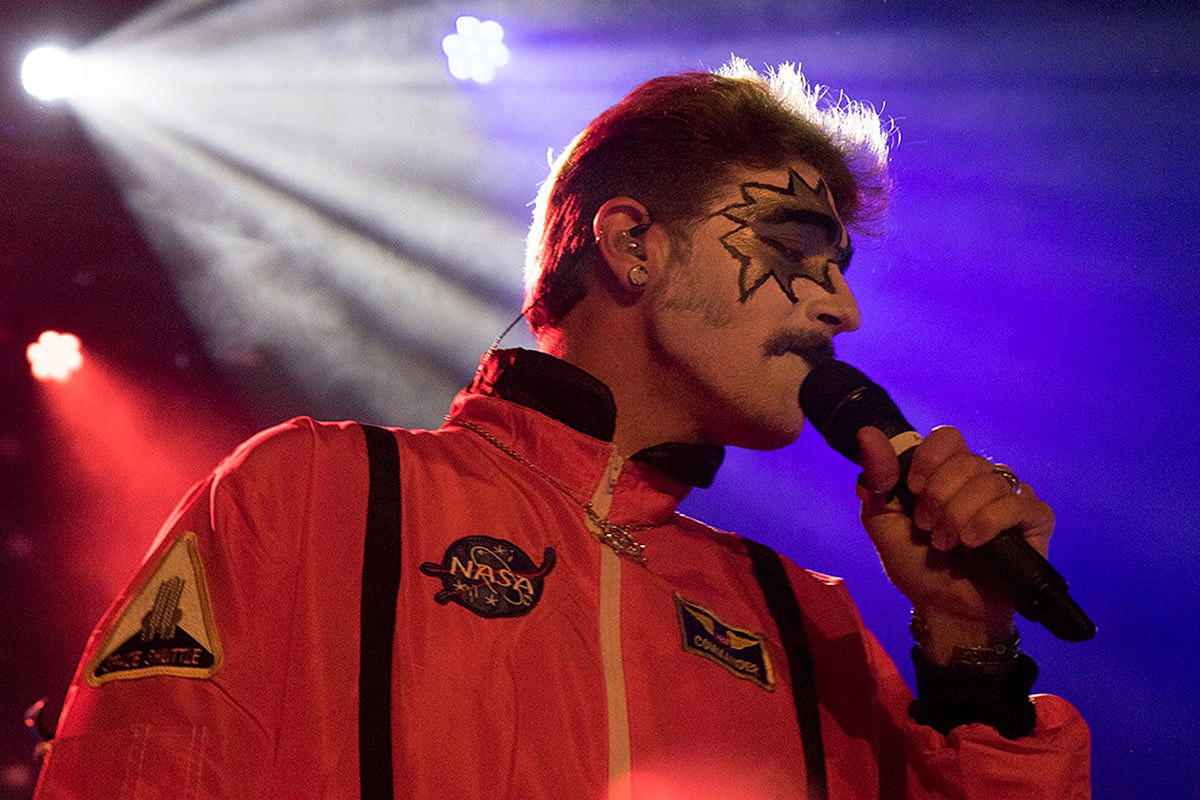 Jester as Ace Fontana as Ace Frehley — ©2016 by Tananarive Aubert Photography

I had two things left on my San Francisco agenda, which Jester was willing to accommodate... 1) A FALAFEL WRAP SANDWICH... and... 2) FORTUNE COOKIES FROM GOLDEN GATE FORTUNE COOKIE COMPANY...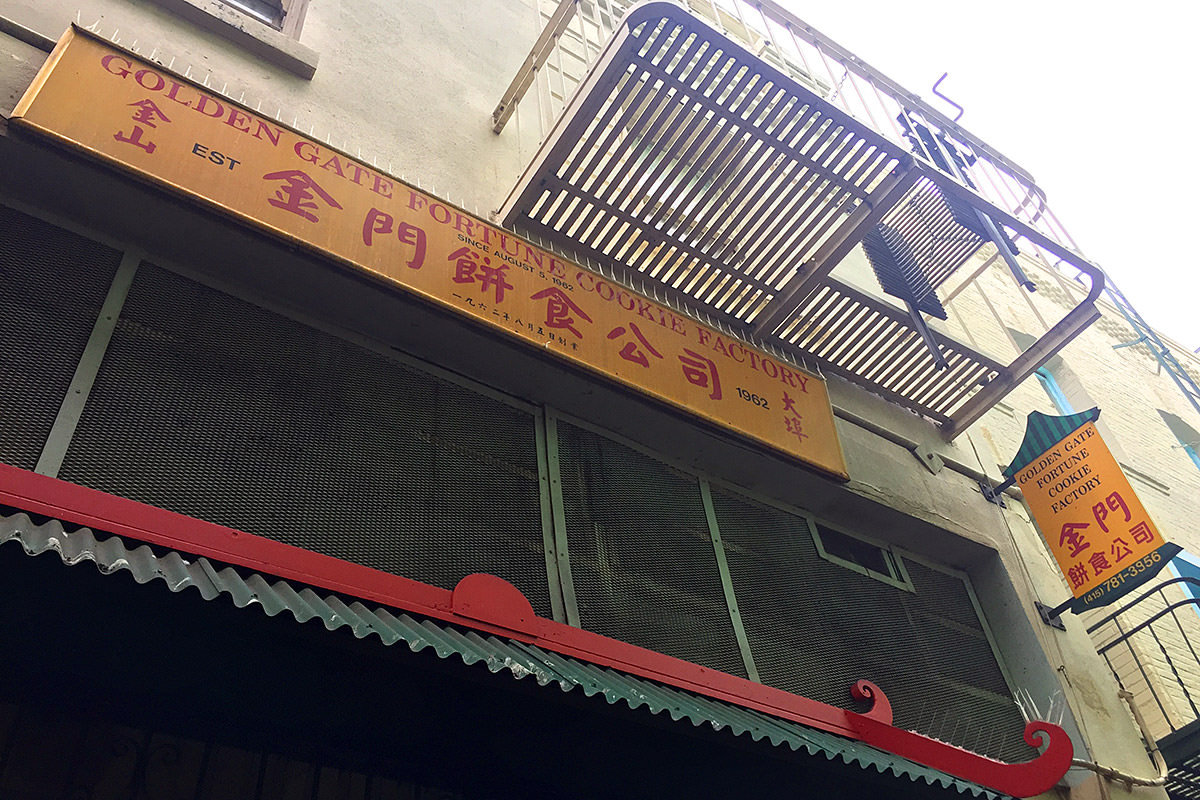 After that it was off to the airport so I can rest up before tomorrow's early morning flight.
Thanks a million times to Jester for making everything in my San Francisco holiday possible!
Posted on November 19th, 2016

Live music is a treat I don't get to experience often enough. Mostly because I almost always have to travel to get to it. This trip to San Francisco was all about getting to finally see a Mustache Harbor show... of which my long-term friend, Jester, is a part.
Last night was the first of two sold-out shows at Bimbo's 365 Club, and it was glorious...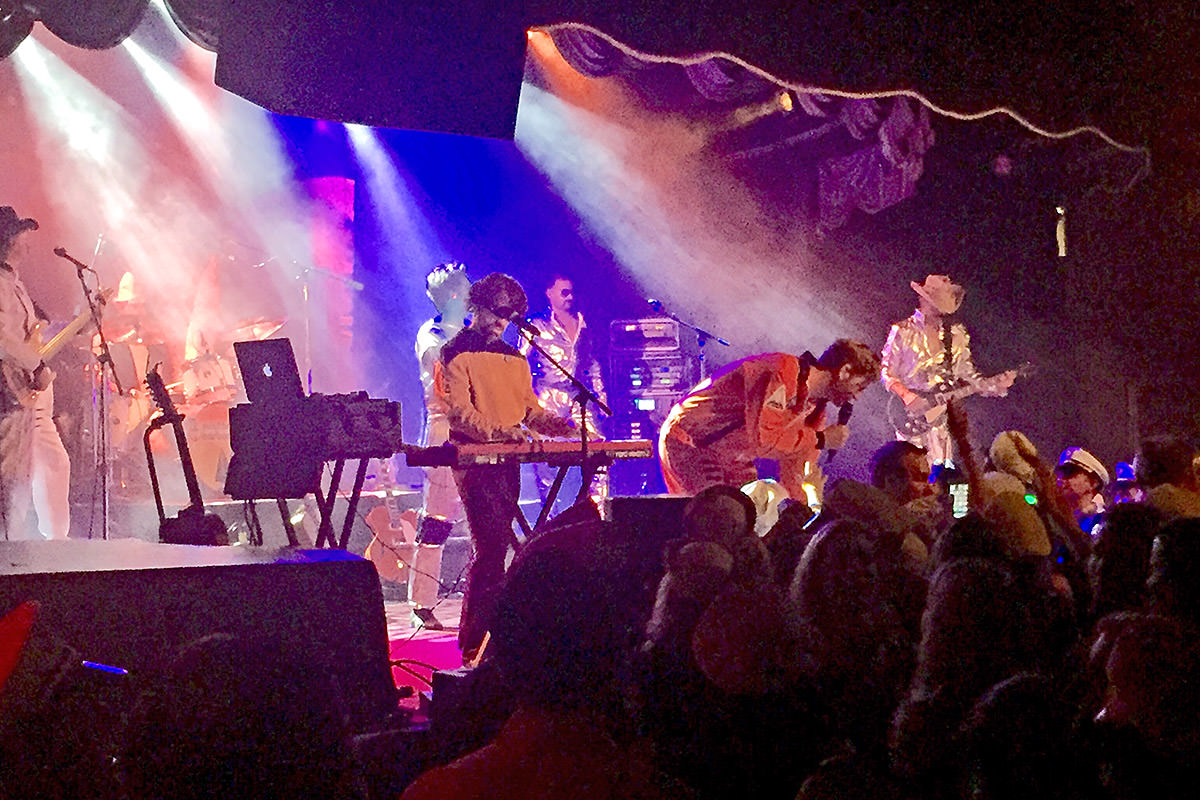 Jester as "Ace Fontana" singing to a legion of Mustache Harbor fans on SPACE NIGHT!

Fantastic show. And a pretty great way to spend an evening. Needless to say, if Mustache Harbor is ever playing in your neck of the woods, they are well worth checking out.
Because who wouldn't want to experience a band brought together by their astrological signs and a love for vintage soft rock and sweet staches?
Posted on November 18th, 2016

I love tattoos. LOVE them.
Had I started getting tattoos earlier in life, my arms would already be covered and I'd be starting in on my back and (probably) my legs. We have no choice as to what genetics are going to deal us in the card game of life, but being able to permanently make visual changes with tattooing is a wonderful freedom I'm fully onboard with.
Today I got my seventh, thanks to the unparalleled line-work talent of Michael Dematty at Black & Blue Tattoo in San Francisco. My right arm tattoos are all Buddhism-inspired designs I've drawn up, but I have yet to get an actual Buddha. The problem being that my arm is too skinny to get a classic "Buddha on Lotus with Om" design that will look how I want it to look.
So I took a cue from the culinary world and deconstructed it into separate pieces... which ended up fitting the space perfectly and turned out exactly as I had hoped. Which I knew it would, because that's what you get when you hire somebody as talented as Michael Dematty to ink your work...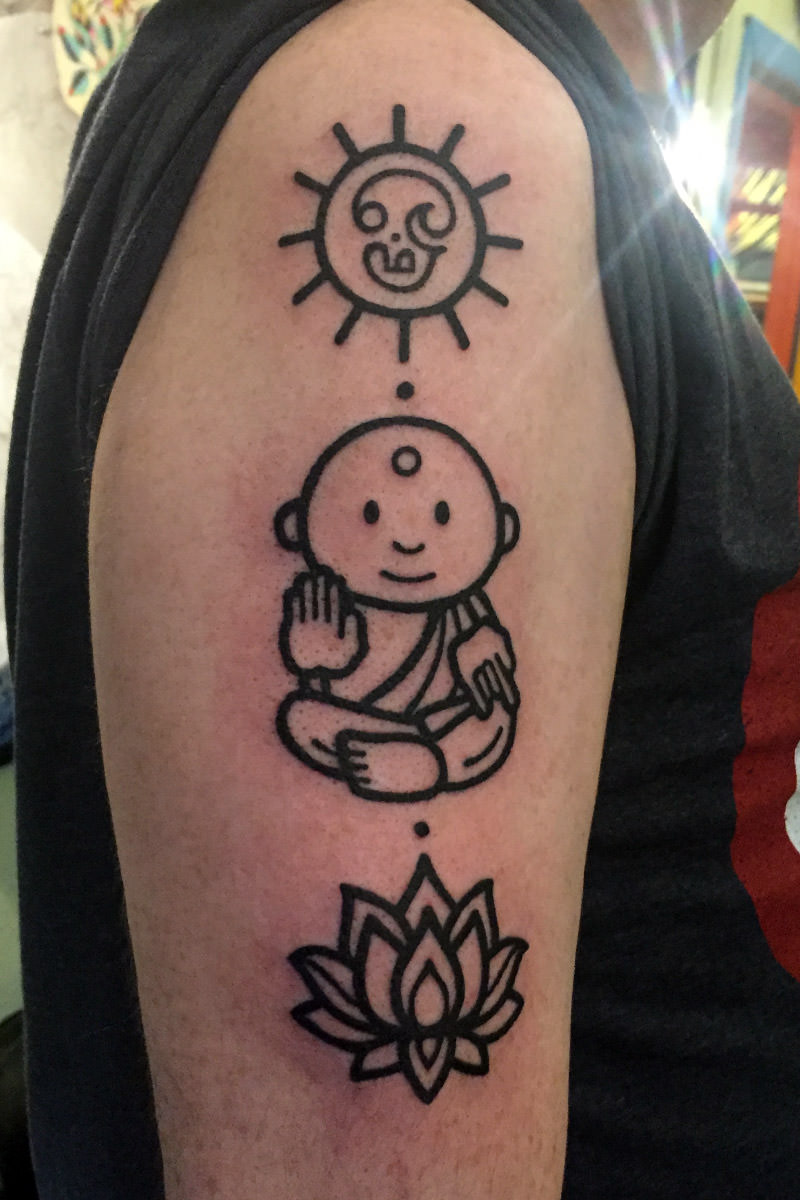 As with all my tattoos, I drew them up in DaveToon black-and-white style. The "om" enlightenment at the top was written in Tamil (one of the oldest languages on earth) so it would look different from the om in my more traditional "om mani padme hum" tattoo that's already on my inner arm...

Annnnnnd... guess it's time to start thinking about my next tattoo...
Posted on October 27th, 2015

Last night was my first time seeing Walk The Moon live.
It was also my first time seeing a show at the Nob Hill Masonic Center.
Hopefully it won't be my last for either one. Thanks to Jester for inviting me to such a fantastic show...
The venue is right across from Grace Cathedral...
The evening began with an opening set by Holy Child, which I had previously seen live when I was in San Francisco for Betty Who. They were followed by a band I had never heard of before called Saint Motel...
I really, really enjoyed their set. Saint Motel is an amazing live band. Wasn't as impressed with their studio albums, but maybe they'll grow on me.
The main act was Walk The Moon and they were fantastic...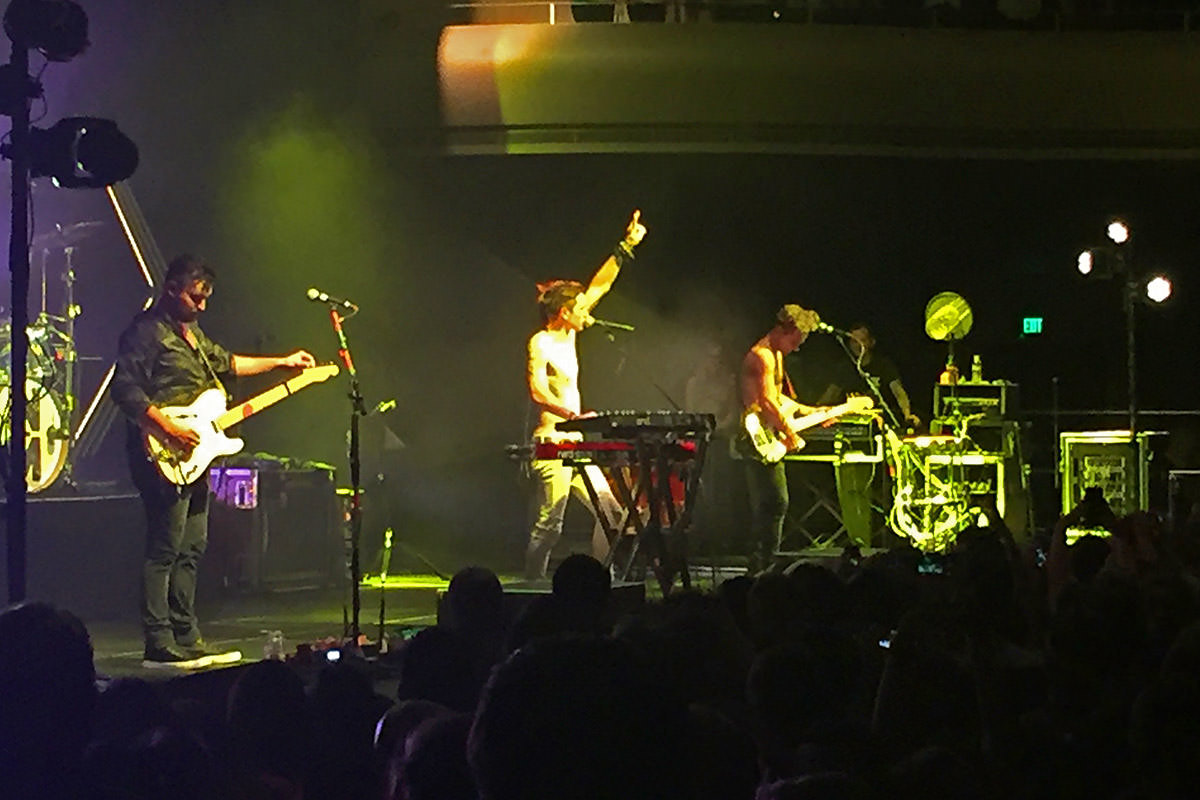 You can get a taste of what they're like live in this video for Different Colors...
They are best known for their hit single Shut Up And Dance...
I was worried that my favorite song off their latest album was skipped, but We Are the Kids came along in the encore...
If you ever have the chance to see Walk The Moon live, it's an opportunity you absolutely should not pass up.
Back to real life.
Posted on October 26th, 2015

And so today I flew to San Francisco for one night only to attend a concert with long-time blogging buddy, Jester.
Needing to kill ten hours before the big event, Jester drove us up to Marin County. Believe it or not, the only part of the region I'd ever visited was Sausalito at the bottom-most tip. Everything north of that was a mystery. A MYSTERY IN THE FOG...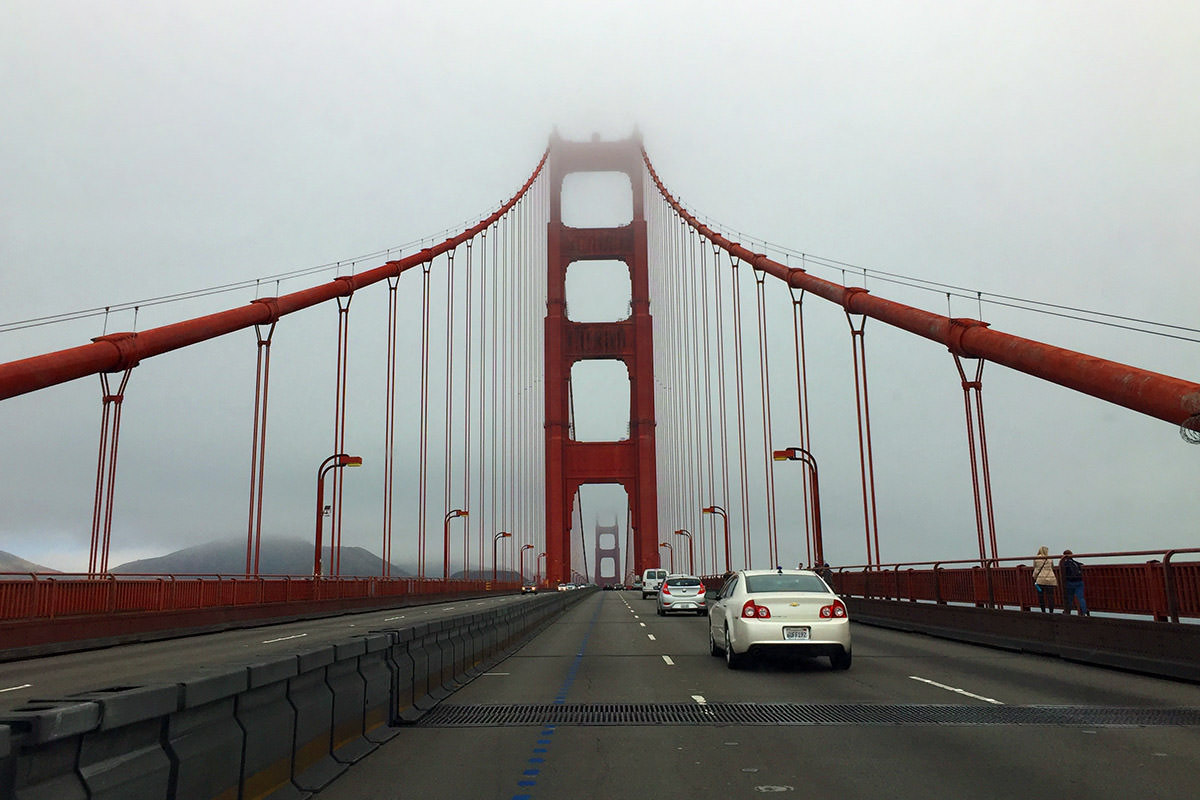 Our first stop was a pumpkin patch because Jester wanted to make pie...
Pumpkin measured $12... including tax!
Further up the coast...

And finally we arrived at out destination, Point Reyes and the Point Reyes Lighthouse...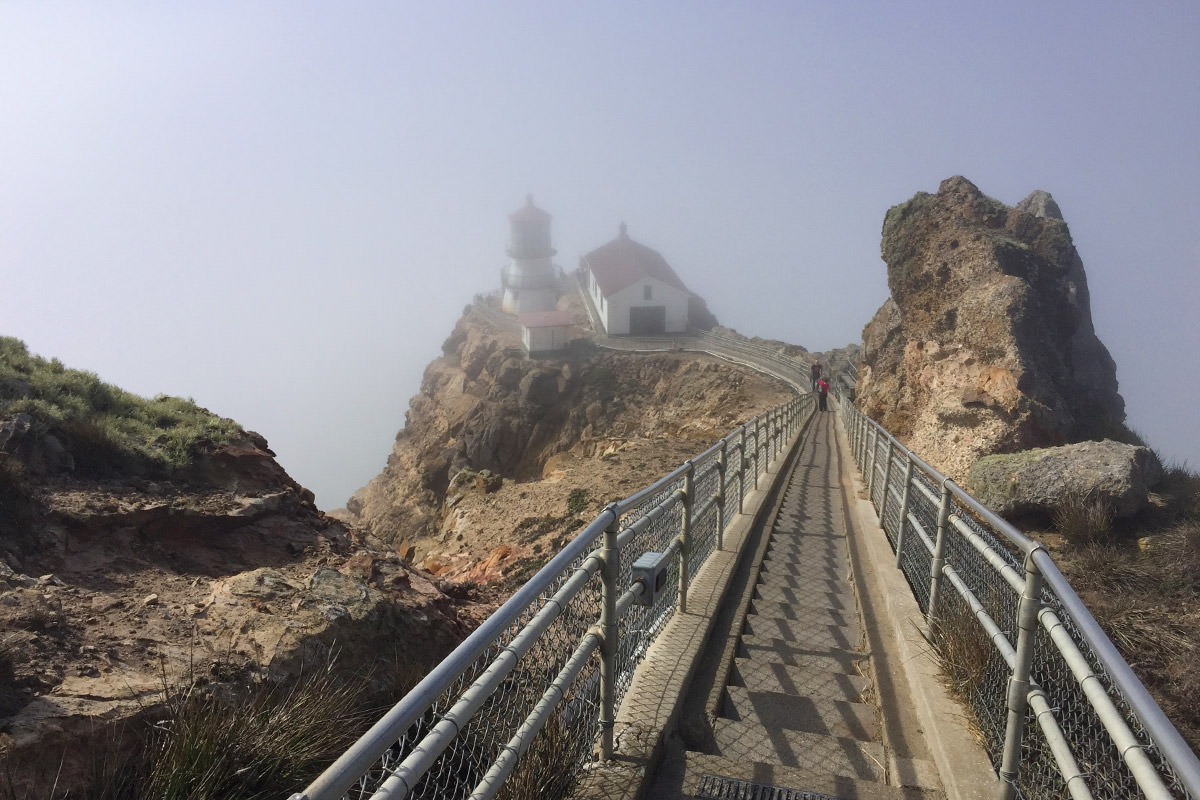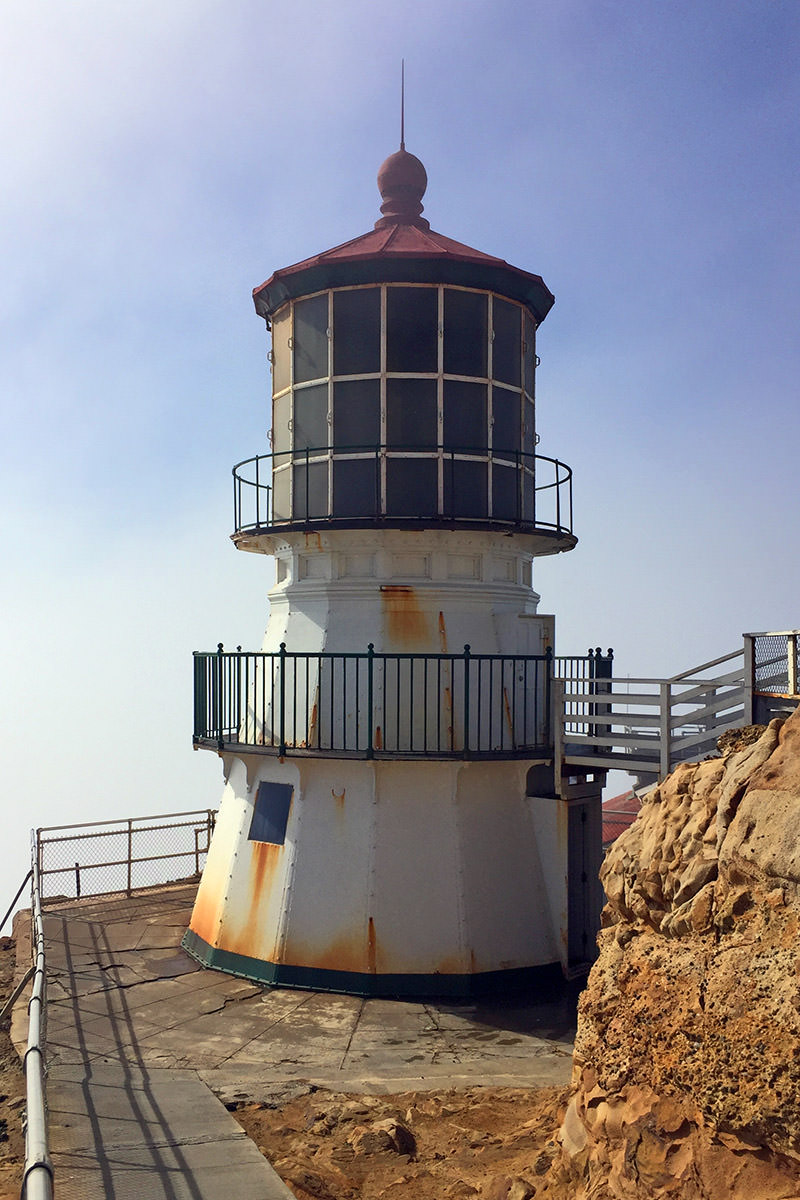 The hundreds of stairs down weren't a big deal... the thousands of stairs back up was agony for an out-of-shape bastard like me...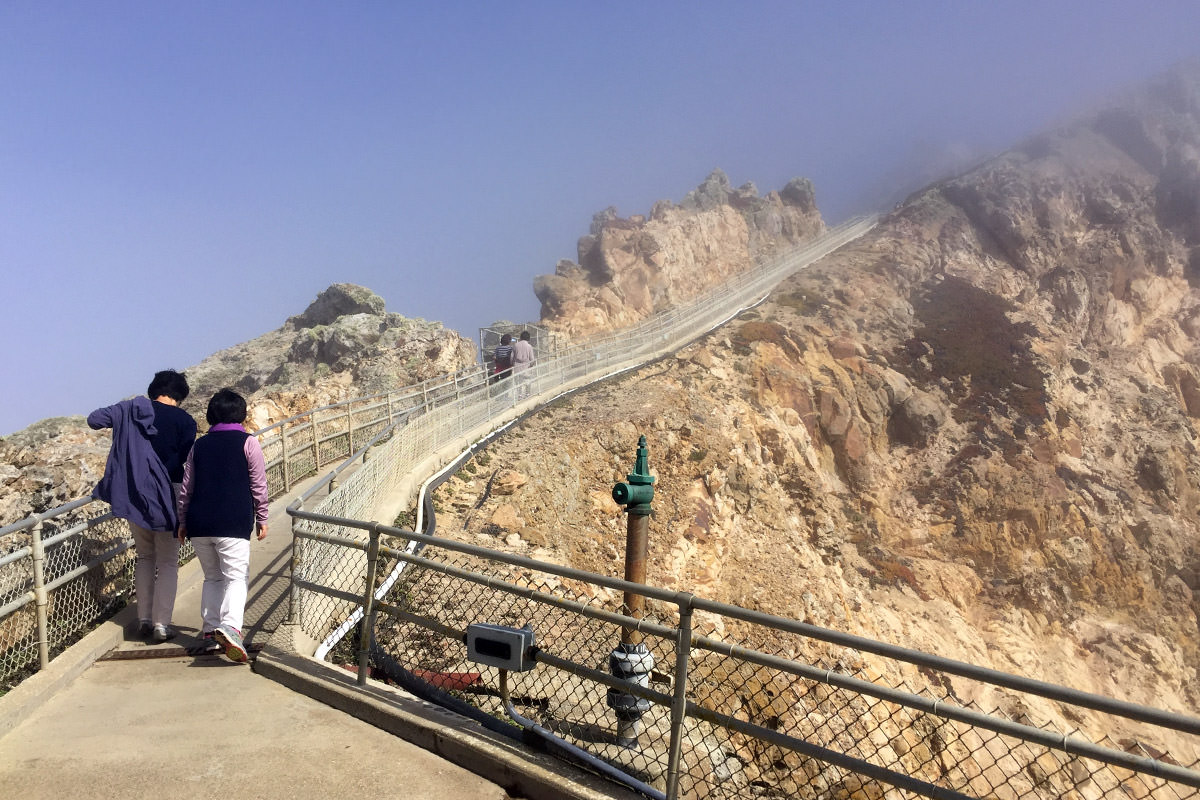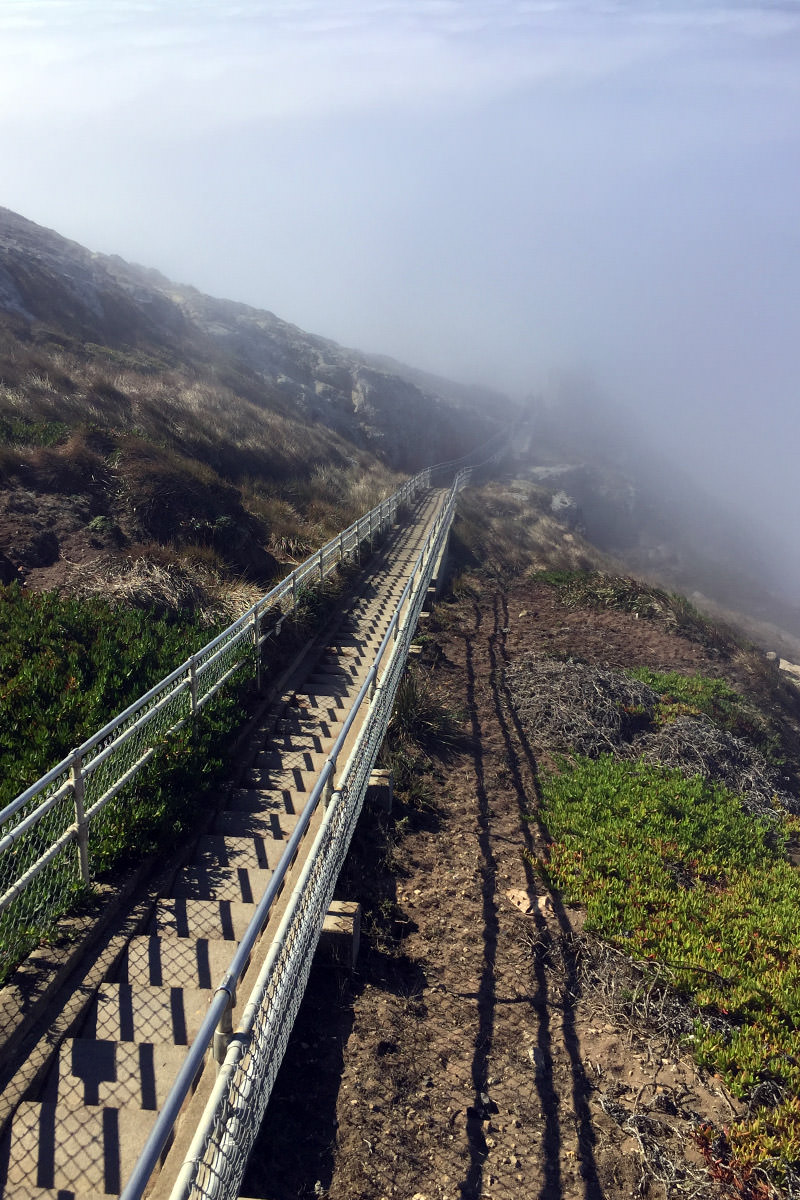 On the way back, Jester and I saw something odd. A kind of weird machine or something...
A stop at Olema Farm House Restaurant for mac & cheese lunch...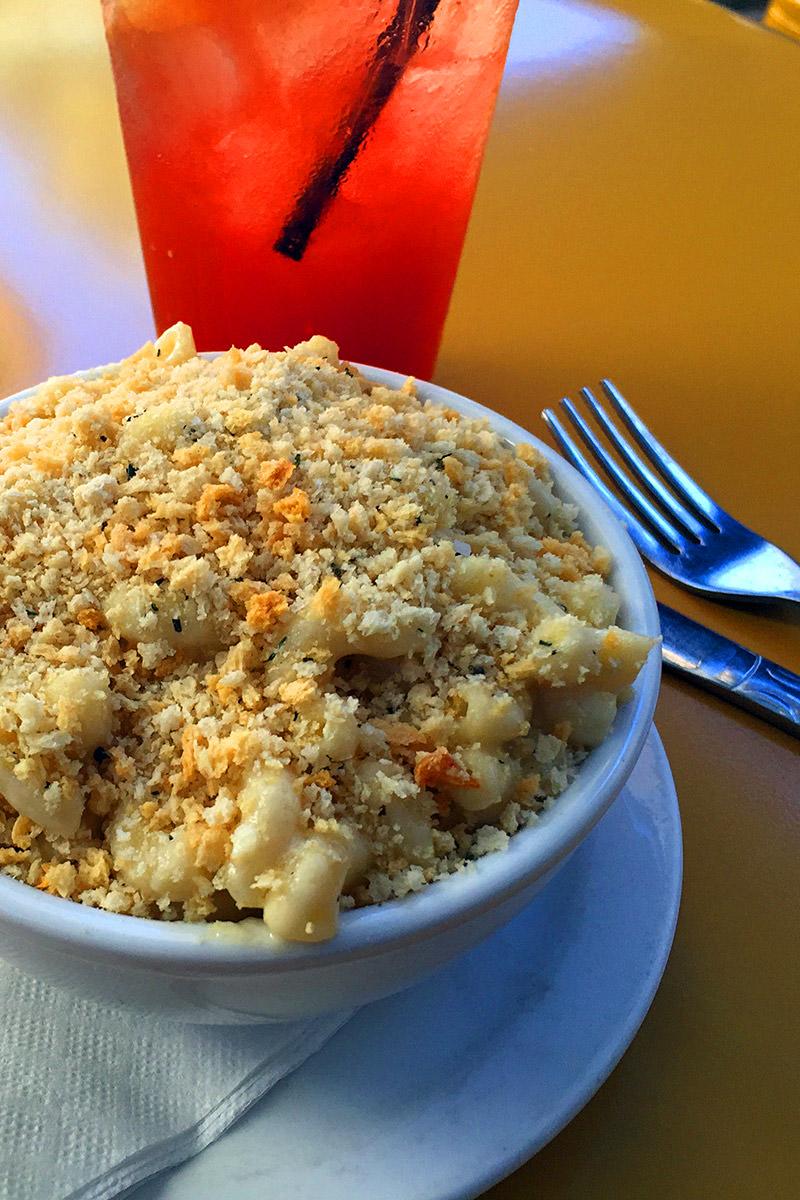 And then... a quick stop at Stinson Beach before heading back to the city...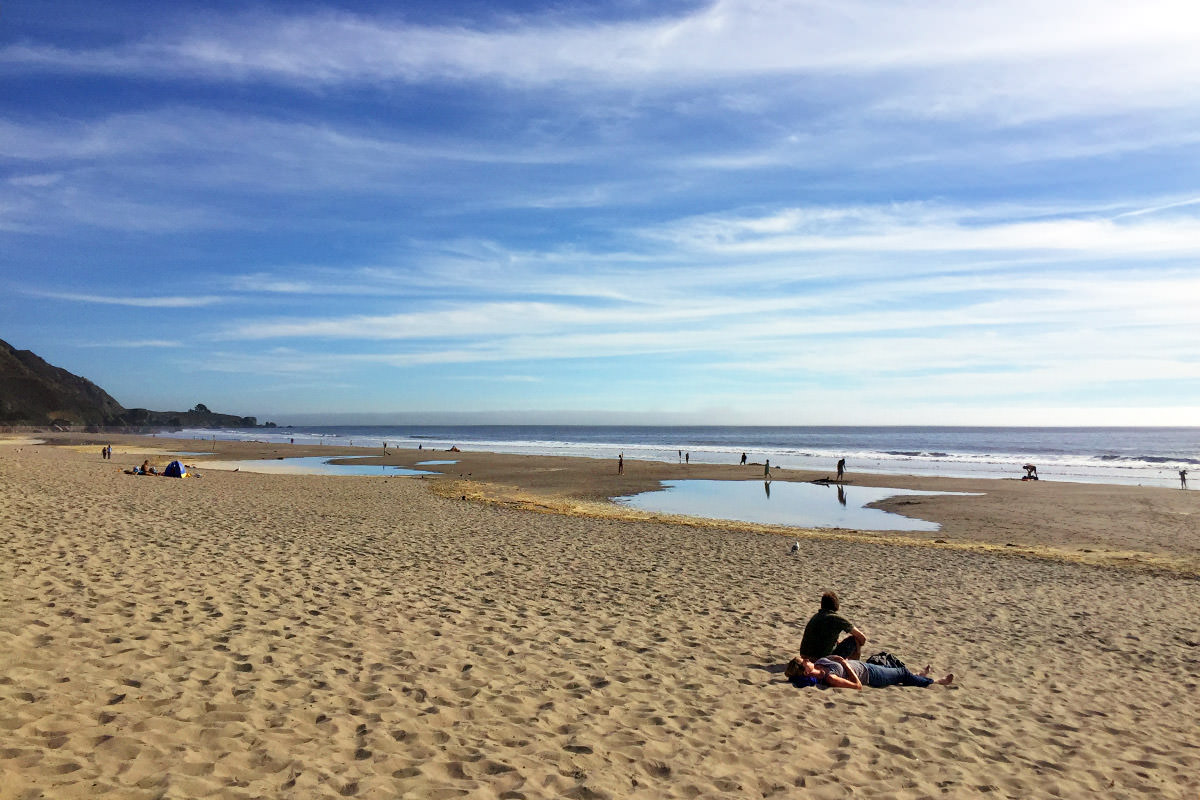 Where we saw a seagull hauling off a whole crab...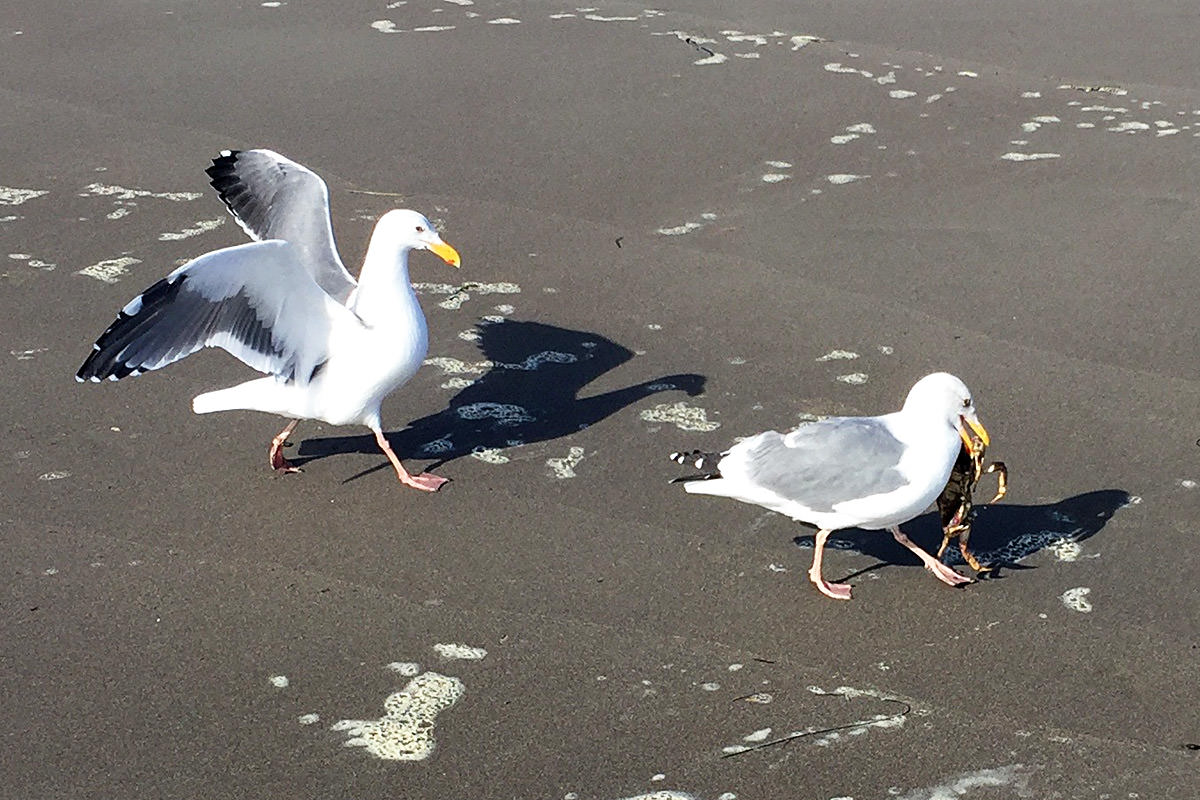 A great day, and the main event hadn't even started.
Posted on April 18th, 2014

My lunch routine on a full work-day in San Francisco has been the same for years...
• Taxi to the Fisherman's Wharf.
• Johnny Rockets (Streamliner Burger, no grilled onions, no mustard, add ketchup and mayo).
• Crazy Shirts (T-shirt shop).
• The Pier 39 Sea Lions.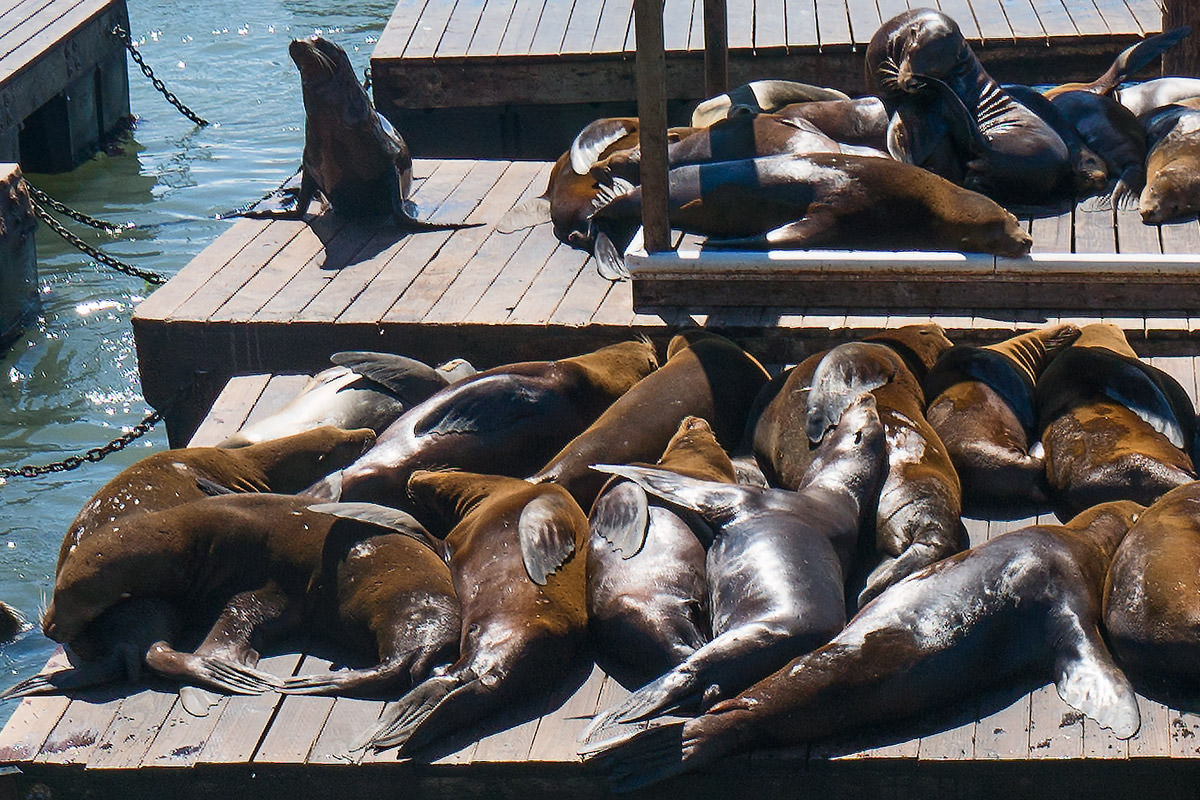 • Trish's Mini Donuts.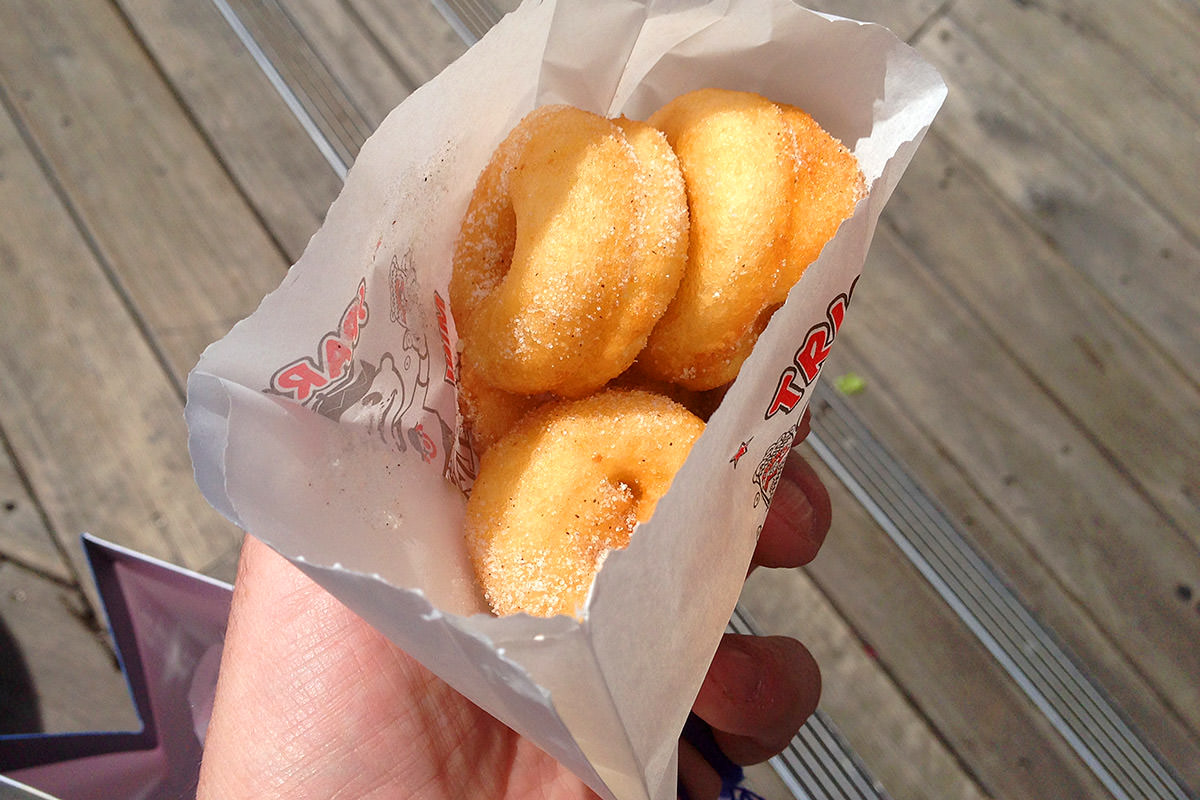 • Hard Rock Cafe (to check out any new pins).
• Street Car back to work downtown.

It's always the exact same thing.
Which is why I appreciate it when something happens to break up the routine. This time it was when I was walking past a guy buying a hotdog at a small food shack called the Doggie Diner...
After he picked up his food, he asked where their bathroom was.
I'm sure the order-taker told him there were public restrooms at Pier 39. I would have told him to use the garbage can out front.
And that's a wrap on my lunch hour.
Posted on April 17th, 2014

San Francisco is one of the easiest gigs I have because it's only a two-hour flight out of Seattle. Adding in a drive to the airport, wait time, flight time to Seattle, and layover time... and I can get to The City by The Bay in under 6 hours. This is nice, because if I have an afternoon meeting I can fly down that morning instead of the day before. Heck, I could even fly back same-day if I wanted to!
In theory, it all sounds great when I'm booking my flights, as I'd really rather spend a night in my own bed than a hotel room.
Until the alarm goes off at 3:30am and I am forced to climb out of my own bed so I can get ready for my drive to the airport.
At which point it completely sucks, and I curse myself for being so stupid as to schedule such an early flight.
Which is why I just spent the last hour and a chunk of change-fee money to reschedule my next four flights. But it's all worth it, because I am definitely getting too old for this shit. 3:30am wake-ups are a game for the young, dammit.
So if science wants to go ahead and figure out the whole Star Trek teleportation thing, I'd really appreciate it.
In the meanwhile, here I am in San Francisco again. Guess I'd better get to work.