Posted on February 13th, 2013

Back in June when I got my first tattoo, it was the culmination of 26 years of planning. I kept delaying, thinking that maybe I'd change my mind... or decide I want something different... or otherwise regret my decision. But the ink I wanted never changed, so I finally found the perfect tattoo artist and decided to just go for it.
Turns out my only regret was that I didn't do it sooner.
I loved my new ink, and was content that I'd finally gotten the tattoo bug out of my system.
I was wrong, of course, and knew almost immediately there was no way I was going to wait another 26 years to get another. I did decide I'd wait at least a year so I could come to fully appreciate my first tattoo though. It seemed only fair.
I managed to make it eight months...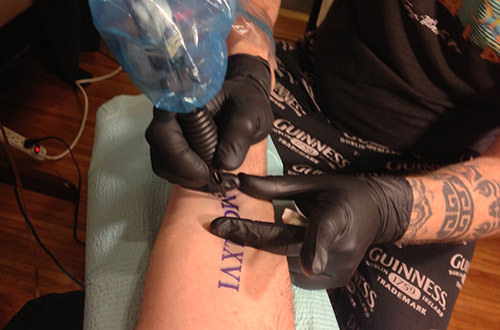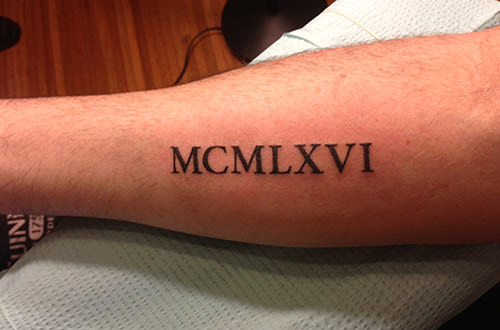 My original plan was to do something fairly elaborate and interesting on my opposite upper-arm. But five months of working on ideas didn't produce anything that grabbed me.
So instead I decided to go with a tattoo band around my forearm that I could complete in stages.
A lot of ideas went through my head for the first piece, but ultimately I decided on my birthday. In Buddhism, your birth is a highly important day for a number of reasons. Mostly because it's a celebration of the day that you were given the ultimate gift... the gift of life... but it also symbolizes other high concepts like suffering (by your mother during your birth) and sacrifice (by your parents to care for you)... along with love, light, hope, and dozens of other aspects of the human condition. And since my birth-year looks very cool in Roman numerals, that was what I decided on.
And now every time I see my new tattoo, I'll be reminded of everything my birthday represents, and that the best way to honor all that is to live my life to its fullest.
I love it, of course.
One piece down, five more to go...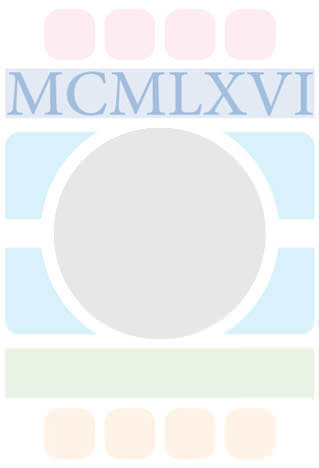 &nbsp
UPDATE AUGUST, 2013: Part two has been added.
Posted on June 15th, 2012

One week later and still lovin' it.
My morning routine is five minutes longer now...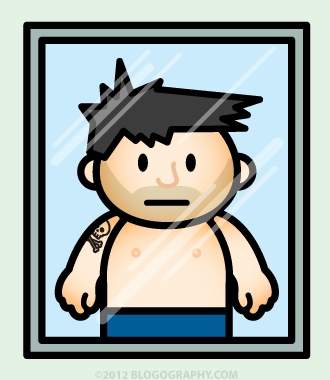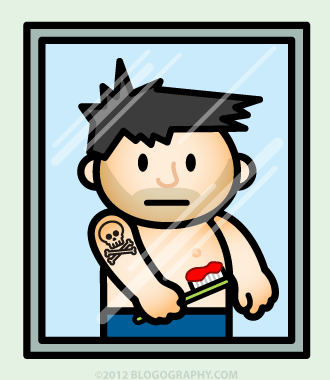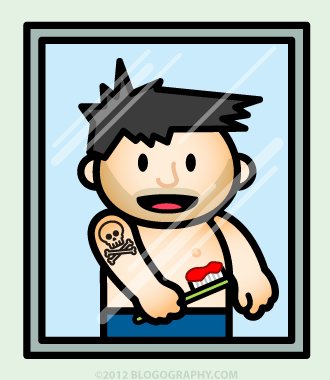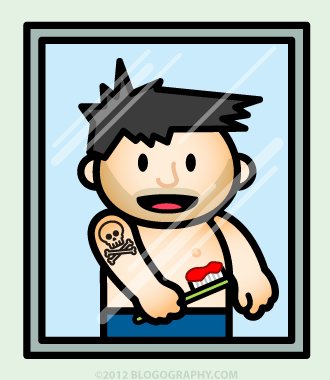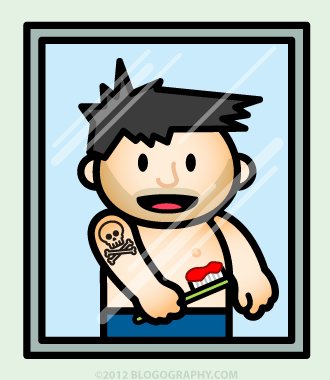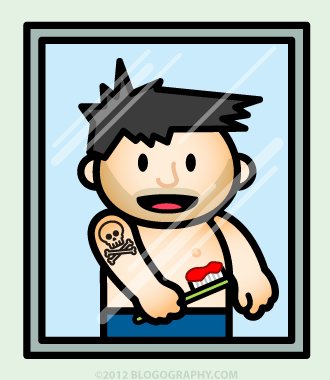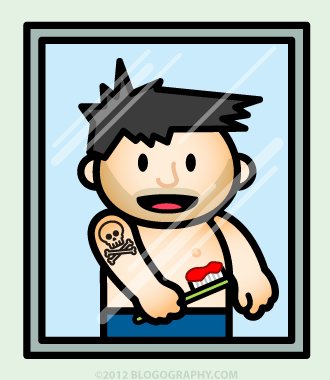 Posted on June 9th, 2012

ZOMG! WHAT HAVE I DONE? WHAT WAS I THINKING? I CAN'T BELIEVE I MADE SUCH A TERRIBLE MISTAKE!
How could I have forgotten to pack my lucky boxer shorts?
This will be a tragedy that haunts me for the rest of my life. If my plane goes down on the flight home Monday, at least now you'll know why.
And now for some questions/comments that have popped up since getting a tattoo yesterday...

• Why not Bad Monkey? Six year ago when I was joking about getting a tattoo, I thought it would be funny...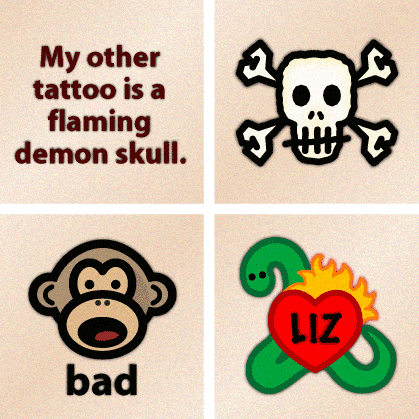 But the only serious option I ever considered was the skull and crossbones. Bad Monkey would make for a cool tattoo, and maybe one day that will happen. But first it's got to be what I've been wanting for 26 years. In any event, I think Lil' Dave and Bad Monkey would approve...

• Where'd you get that design? I drew it. Which is kind of odd, because I was pretty dead-set against designing my own tattoo for the longest time. But Michael encouraged me to send in my ideas, and eventually he kind of led me to where I needed to be. Ultimately, it kind of makes sense, so I'm glad things ended up that way. But it was not an easy process. I drew dozens of different versions before I had answers to the questions that were keeping me up at night... Bones behind or bones under? Eyepatch or no eyepatch? Cheek bones or no cheek bones?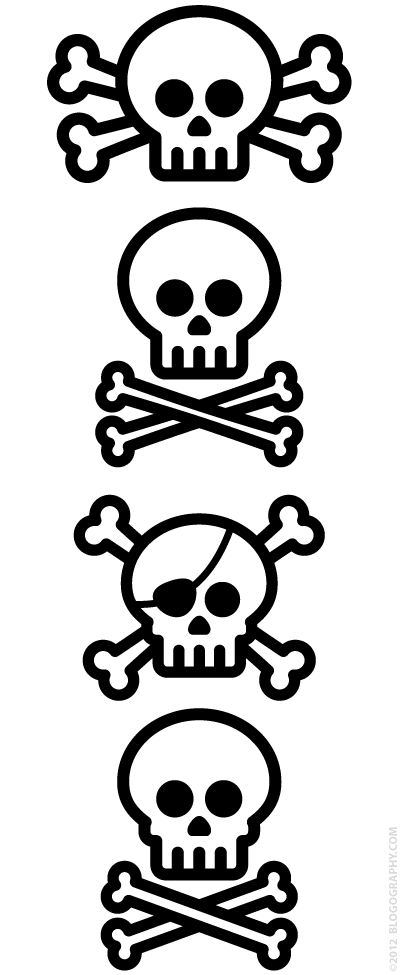 No eyepatch. Yes to cheekbones. Bones under so it would fit better on my skinny arm. In the end it couldn't have been any other way.

•It's bigger than I thought! I get that a lot, thanks. OH... YOU MEAN THE TATTOO! Yeah, at first I had pictured something around 2-inches tall. But Michael said that I should take a look at something bigger, so I made cutouts at my hotel that morning and played around with how the sizing would look. I quickly found out that he was absolutely right... the bigger I made it, the better I liked it. This was the opposite of how I thought it would work on my bony arm, but it felt right. Eventually I printed out four different sizes of big and let Michael pick which he felt was the best fit. It turned out so badass awesome that now I can't imagine I ever considered it having it inked so tiny.

• Did it hurt? No. Not even a little bit. I was the first person to think that I'd be sobbing uncontrollably and screaming like a little girl, but it never happened (at least not during the tattooing). The outlining felt like somebody was dragging a needle across my skin, scratching it. The filling-in felt like somebody was dragging a popsicle stick across my skin. It didn't hurt at all. I was told that eventually it would feel like I had a bad sunburn, but that never happened. Then I was told it would sting in the shower when water hit it, but that never happened either. If it weren't for being able to look down and see it, I wouldn't know that I had it done. I chalk it up to my mutant healing factor, because this is apparently not typical.

• Weren't you nervous? No. And I wasn't excited either. The whole time it felt like this was something that had already happened and I was just reliving the moment. I can't explain it any better than that, but it was a bit surreal how unaffected I was over getting something permanently marked on my body. I guess I knew it was meant to be all along.

• How long did it take? One hour, forty-five minutes after we decided where it should be placed and got the stencil applied.

• Will you get another tattoo? It's strange... after wanting this so badly for 26 years, I thought that finally getting my skull & bones would get it out of my system and I wouldn't think about tattoos anymore. But now that I have it, all I can do it think about how I would like to add something to it and expand the design down my arm just a bit... or try something different somewhere else. Maybe the feeling will pass but, as of right now, I can't imagine not getting another piece of ink.

Annnnnd... it's time to get out and enjoy the incredible weather going on here in the Bay Area...
Posted on June 8th, 2012

As far back as I can remember, I've had a bit of an obsession with pirates. This led to an infatuation with their "skull and crossbones" symbol, which I've been drawing on my stuff for decades. Ultimately, it kind of became my personal symbol, and was even part of my signature at one point.
So, on a trip to Maui 26 years ago when the idea of getting tattoos was floated, I knew exactly what I wanted... the skull and bones.
It never happened, but the idea of getting a tattoo was planted.
But there were always excuses. "What if I change my mind in five years and regret getting skull and crossbones?" or "What if a total stranger gives me a crappy tattoo?" So I never got one.
And then I slowly came to realize that I hadn't changed my mind in 26 years as to wanting a skull and crossbones for my ink, so I probably wasn't going to change my mind five years from now.
And then I started seeing the amazing stuff that my Facebook Friend Michael DeMatty was posting to his wall, and all my excuses vanished. So today was the day...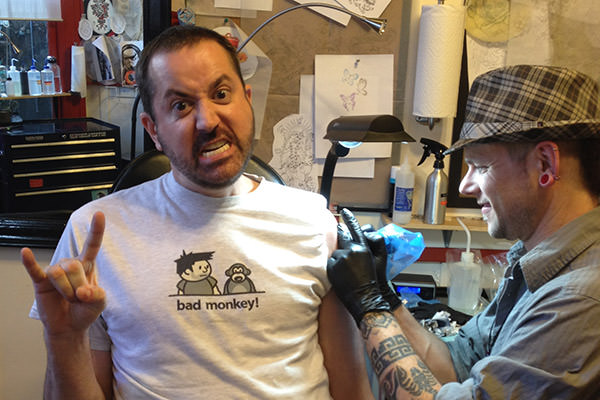 Now, I'm not nearly macho enough to pull off a badass "realistic" skull and crossbones... but a DaveToon skull and crossbones? Definitely more my style...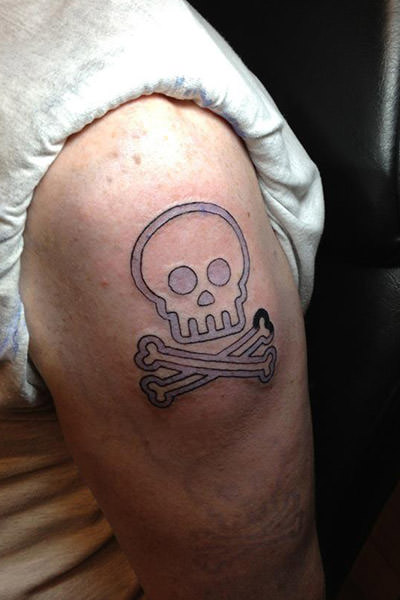 Done!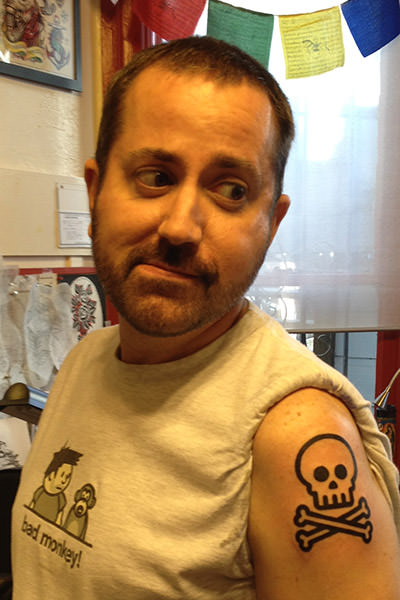 I couldn't be happier with it...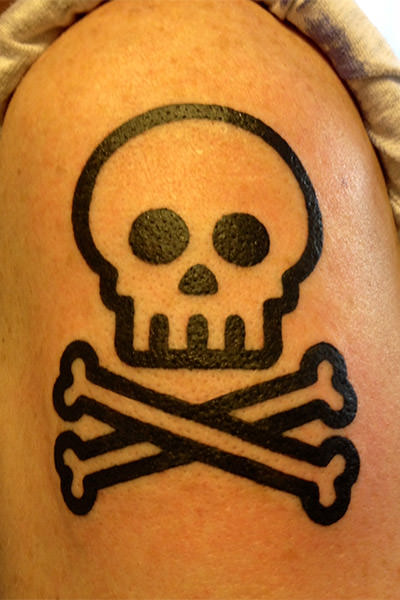 And so at long last... after 26 years of dreaming about it... I finally have my first tattoo. Thanks to Michael at Black & Blue San Francisco for working so hard to make it happen!