Last night as I was hanging up my laundry to dry, I slipped on a patch of wet floor and fell. Hard. No idea where the water came from. Twisted my ankle... ripped the toenail off my big toe... blood everywhere... scraped up my leg... slammed my elbow into the door frame. It was a mess. And as I was laying there in agony, I called my cats to please help. They just sat there on the cat tree and stared at me.
The peril of living alone, I guess. I'll probably end up dying while Jake and Jenny watch. I really need to find out if Alexa can call 9-1-1 for me so I can call an ambulance before I pass out and my cats eat me.
But, when it comes to bad news, that's not all!
I really don't have any extra money to spend right now because I bought a bunch of stuff I shouldn't have. New clothes and camera gear for my upcoming trip. New books and movies that were on sale. New kitchenware. A couple new tools. It's a non-stop parade of extravagance up in here. The good news is that I'll have it all paid off by mid-October and can end the year back on track.
At least that was the plan until my router died on Wednesday.
Since I don't exist without the internet, I rushed to Amazon to see if there were any cheap deals on a decent router. There were. Sweet.
But then...
As I was browsing I ran across the Google Wifi Mesh Router...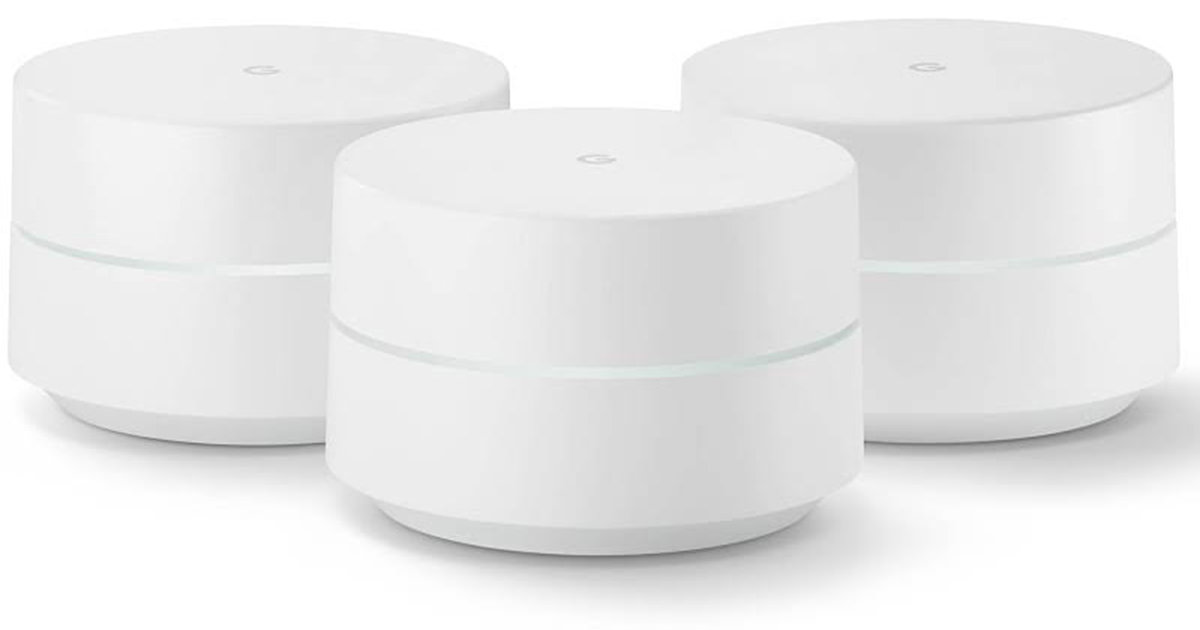 The reviews were stellar so I decided to research it a little bit. After a half-hour of fun-times Googling reviews on Google WiFi I had a 3-Pack in my shopping cart. $257 later* and it was ordered.
And let me tell you why.
The average US home is 2,687 square feet. Mine is smaller... around 1500 square feet. That's twice as much as I really need now that my mom is gone, but I have a room for guests and plenty of space for the cats, so it's all good. You would think that since my home is smaller and two-story that a single WiFi router would cover everything just fine.
You would think.
And to a certain extent it does.
But a reliable signal cant seem to make it from the fiber box at the back of my house all the way through my main floor and garage to the security cameras at the front of my house. This causes occasional drop-outs which can be annoying when I get an alert from the security system that motion has been detected and I can't use my cameras to see what's going on.
Also... my Ring Pro doorbell drops its signal way too often despite there being a straight-shot from the back of my house to the front door. That never happened with the original Ring doorbell, so I have no idea what's happening. Ring probably just used cheaper components to make the newer models and it requires a stronger signal.
I tried a WiFi extender, but could never get it to work very well. I was having to reboot it once a week.
And so... mesh WiFi.
Instead of one router with WiFi serving the entire house, mesh networks spread the signal out to nodes throughout your home, eliminating dead zones. I've got the node with the fiber connection at the back of my house... another node above the stairwell in the middle of my house... and a final node in the garage at the front of my house. They all work together to blanket my entire home with sweet, sweet WiFi goodness. Kinda like this...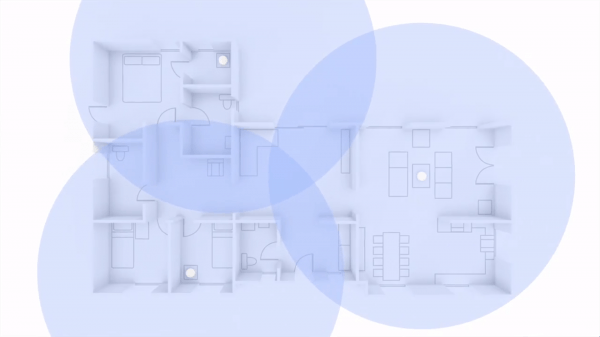 Not my house, but you get the idea.
But wait, there's more!
Google has done some very smart engineering to make WiFi setup and management so much easier. First of all, you have just one network name to worry about. This has always been true for mesh networks because the system switches you to the node with the best signal automatically... just like a cell phone does as you drive around. But where Google takes it further is that your 2.4GHz and 5GHz networks also have the same name! If a device is getting good signal from the faster, but less powerful 5GHz band, it will use that. If a device needs the stronger signal on the slower 2.4GHz band, it will use that. And it's all 100% automatic. This right here was where I decided that Google Mesh WiFi was for me. You don't have to decide anything. You let the nodes and your devices figure it all out.
Setup was laughably easy.** It's literally a matter of plugging it in, scanning QR codes on your nodes, and naming your network (I used the same name as my old one so I wouldn't have to go around reconfiguring all my devices). I had the extra step of authenticating the new router with my ISP, but it was no big deal. The only irritating part was that I have fiber which doesn't have a modem, but the setup assumes there's a modem and made me wait around for a modem reboot that I never had. What a waste of time.
Turns out all the reviews were right. Google's Mesh WiFi system is amazing. Speed tests shows that I'm getting better speed than I ever got with my old router. What's really strange is that a single node with no antennas sticking out had pretty much the same range as my old router which had ugly antennas sticking out everywhere! And once all three nodes were set up, I get full bars on signal absolutely everywhere. Even in my driveway and to the edges of my yard!
And this makes for some intriguing possibilities when it comes to my home automation obsession, because Google WiFi has IFTTT (If This Then That) integration and can trigger IFTTT actions or be triggered by them. I just added two actions in minutes... one to prioritize bandwidth on my Ring doorbell when it senses motion... and another notifies me when my iPhone connects to my Google Wifi. This second one is just a test right now. What would be cool would be if Nest allowed IFTTT actions to adjust image quality on Nest Cams. That way I could have all my cameras use max bandwidth and best image quality whenever I'm out of the house, then go back to normal quality when I'm home so I can use my bandwidth for other things...

Another thing I absolutely love about Google Mesh WiFi? The cool tools it has built in! Before I had fiber internet, it was a real struggle to balance device bandwidth... especially since I had no idea how much bandwidth each device was using. This became less of an issue when I got fiber, but it's still nice to know how much bandwidth my cameras are using so I know what quality picture to broadcast. With Google, this is a piece of cake. Open the app, find the device you're curious about, click on it, and the upload/download bandwidth is displayed. Simple. After a few hours of poking around, I found that I could increase the picture quality on some cameras without causing problems for any other devices.
Many of the "standard" toys for a router are also included. Like a firewall, NAT, DNS, WAN, PPoE, and device prioritization. But there are a few things missing for advanced network configuration. Things like being able to decide what IP block to use. Out of necessity, my non-cloud security cameras all have static IP addresses at the back-end of the 192.168.0.X block (instead of getting IPs dynamically like my cloud cams do). But Google WiFi uses the 192.168.86.X block and I found no way to change this. Which meant I had to reconfigure all six cameras in an IP reservation I made in the .86 range. Such a pain in the ass. Another pain in the ass? There's no web interface. You have to use a phone app. Which would be fine if the app were stellar, but it's really not. It's "serviceable," and that's about the best thing you can say about it. At the very least they should have an option to display IP addresses instead of just MAC addresses on your device list. It's rage-inducing to have to open every device just so you can see its IP and try to figure out what all the "Unknown Devices"*** are so you can name them.
And speaking of devices... when you run a speed test on all your devices, or click on an individual device to get more information... you can see which node the device is connecting to...

For the most part, each device is connected to the node closest to it. But not always. My Harmony Television hub is connected to the hub upstairs... instead of the primary hub that's right next to it. No clue why that is, but I'm guessing Google WiFi has its reasons. So long as everything works, I'll choose not to worry about it.
So far the only thing that's given me pause over the whole Google Mesh WiFi experience is being forced to tie everything to Google. Believe it or not, the main node has to be connected 24/7 to your Google Account to even function. What the hell? I'm guessing the excuse is that your settings are stored in your Google Account in case you ever need to replace or upgrade your system. Which is bullshit, of course... why not just be able to download a backup? I have no idea if this means Google is tracking all my online activity, but it wouldn't surprise me. I haven't investigated migrating my Nord VPN account to run from Google WiFi, but I should probably do that.
In the end? Very happy with Google's mesh router system. It's weird to me that Google is now occupying problem-solving space that Apple used to, but the system is priced very well, is easy to set up, works automatically to give you the best possible WiFi, and seems to have solved some nagging problems I was having.
Can't help get me up off the floor when I fall, but it can't do everything.

UPDATE: Welp. All of a sudden my iPhone could not connect to the internet but my MacBook could. I called up the Google WiFi app but couldn't connect to the Google WiFi router, which was odd because my MacBook still had internet. Just as I was ready to start screaming, my MacBook also lost internet. Then the Google WiFi router restarted on its own and everything began working again. I hope this isn't a regular occurrence, because that will drive me batshit crazy. Also? Here is where only allowing connection via an app can really screw you. It would have been nice if I could have logged into a web interface while my laptop was still able to get internet so I could try and figure out what was going wrong. Also? WHERE IN THE HELL ARE THE LOG FILES?!? I have no idea what happened, and without log files I'll probably never know.
*Regular price is $300, but Amazon had the three-pack on sale for $257 plus tax as of this writing. SCORE!
**The only hiccup was that my "smart outlet" lost its internet connection during the transition, which caused it to power-cycle the Google WiFi router as I was adding nodes. Oops. Had to force-quit the Google WiFi app because it got stuck in a loop so I could start over...
This was my fault for not making sure my outlet was plugged into internet after I got the primary node set up... but Google needs to fix their app so it doesn't get stuck like this. You can't escape the error dialgue no matter how many times you press "OK" because it just pops back up again.
***It drives me insane when device manufacturers don't put the name of their devices... or, at the very least, their company name... in the networking table along with the MAC address. How in the hell am I supposed to know what all these "mystery" devices are on my network? Sometimes you can get a clue by looking up the MAC address owner, but not always. This results in my having to pause the device's internet access so I can try to figure things out that way. Doesn't always help, which means I'm running around the house turning devices on and off in an attempt to figure out which devices are what.